Let's talk about the 12 best Mac OS compatible Audio Interfaces you'll find in 2023.
We've assembled a list of some fantastic offerings from the finest companies, including Behringer, M-Audio, Presonus, Focusrite, IK Multimedia, Audient, Shure, Roland, RME, Tascam, Universal Audio, MOTU, and Avid.
Today's manufacturers make sure that their versions of the audio interface cater to the needs of both PC and Mac users because of the presence of USB ports. However, any Audio Interface with a Thunderbolt 3 connection jack will work perfectly with modern Mac systems.
Some older Macs are FireWire enabled, while the newer versions now have only Thunderbolt connectors. So be sure to check the ports on your computer and the ones the user interface you're considering comes with so that you make the right choice and your money doesn't go to waste.
When choosing audio interface for Mac, remember to ensure the interface is compatible with Mac systems. Secondly, how much you are willing to spend is a significant factor when purchasing a new recording unit. Finally, depending on why you need it, the number of inputs and outputs an audio interface has is key.
Audio Interfaces for Mac: Top 12 Great for Mac Users 2023
1. Presonus Studio 1824c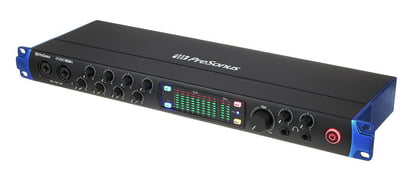 This sleek interface measures 1.75″ x 19.0″ x 5.5″ (4.4 cm x 48.3 cm x 14.0 cm) and weighs 4.8 lbs (2.2 kgs), and has a lot going for it.
The 1824c box contains 2 USB cables, a 40″ Type-C to Type-C cable, a 39″ Type-C to Type-A standard cable, power brick, start guide, safety information, four rubber feet (for resting on the table), software (like studio One and plugins), and the interface itself.
This unit provides 18 in and 18 out, a 2.0 USB Type-C interface, and a 24-bit/ 192kHz for sample rate capabilities. It hosts Presonus XMAX preamps which perform exceptionally well. The interface os sized to fit perfectly on a 1U rack.
Key Features:
Front Panel Overview


The front panel has t

wo combo instrument/ microphone line inputs. At a time, an XLR cables (for microphone) or a Quarter inch cable (for instruments) can connect to the interface.

 The '1-2 Line' button is also at the front of the panel to switch between instruments or LineLines. The 

line button should be used for an electric or bass guitar with active pickups, keyboards, or mixers.

 The front panel also hosts 

knobs that can be used for controlling gain. 

Phantom Power, Knobs, Jacks & LEDs


There's also a 

dedicated 48V Phantom power button which can easily cater to most condenser microphones.

 When the Phantom power button is on, it'll apply to all microphone inputs, 

including two at the front and six at the device's back

. The front panel also hosts an input meter display. 

Red lights mean a clip, so stay in the green zone.

 

A mute button is present, under which is a Mono button to collapse the signal from stereo to mono.

Presonus XMAX preamps


The interface hosts 

Presonus XMAX preamps with a class-A input buffer and dual servo gain stage.

 This allows the device to produce a v

ery high 80 decibels gain range and very low noise.

 The gain knobs at the front of the device can adjust the 

gain between -15 to 65 decibels.

 This means all microphones, even low-output dynamic microphones, will work perfectly with the interface.

Rear Panel


The back of the device features 

six combo inputs which are microphone line only

, and 

eight quarter-inch outputs,

 which are also DC coupled. To the left of them, there's the main output (left and right) for connecting studio monitors. Next, you'll find an 

S/PDIF input and output, an ADAT input and output, a BNC output, MIDI IN and MIDI OUT, a USB-C port (compatible with USB 2.0 or USB 3.0), and a power connection.
Pros:
The interface is compatible with Mac OS. The 1824c has been sized to fit perfectly on a 1U rack and comes with rubber pads, should you choose to set it on a desk. The unit also hosts a great gain range for its price.
Cons:
The device doesn't feature independent 48V Phantom power switches. Instead, at the press of a button, you'll get phantom Power for all eight microphone inputs.
2. M-Audio AIR 192|14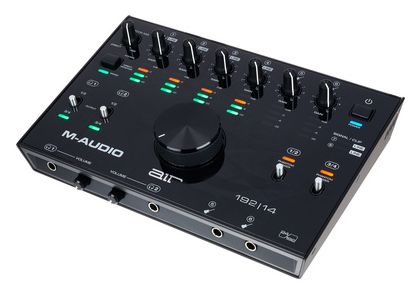 This interface possesses fantastic audio quality 'crystal preamps and an explosive dynamic range.'
The device hosts easy-to-access controls and offers a lot of gains to amplify your low-sensitive dynamic microphones. The unit feels great, gives a premium look, and functions wonderfully well.
This offering by M-Audio measures 10.2″ x 7.3″ x 3.6″ (25.9 cm x 18.6 cm x 9.1 cm) and weighs 3.9 lbs. 1.8 kg. This audio interface is bigger and heavier than most currently available with similar specs.
Key Features:
Top Panel


The module's top panel hosts two Input Gain knobs that control the input gain level. The LEDs

 to the left side of the panel indicate the input signal level from the Instrument Input or Combo Input. The 

LEDs check clips and peaks to avoid any kind of distortion in the audio.

 The U

SB/ Direct knob adjusts the mix

 of the audio signal from your inputs (Direct) and your computer's audio output (via USB). The audio will then be sent to the Main Outputs and Headphone outputs.

 

Volume, Monitor Level, LEDs


The knob to the right 

controls the volume of the headphone output.

 

The monitor level central knob

 is the biggest in the center of the panel. It a

djusts the volume of Main Outputs

. Right next to the big knob are 

LEDs for Power and Phantom Power

. The Power LED lights up when a connection is made with your PC or laptop, and the interface is ready.

Rear Panel


You'll find a 

USB Type-C slot

 on this side of the interface. The device comes with a 

USB Type-C to USB Type-A cable and a USB Type-C to USB Type-C cable.

 The rear panel also hosts two balanced quarter-inch TRS outputs for monitor connectivity and an 

XLR and TRS combo input where the XLR

 in is used as an input for microphones and the 

TRS as a line-level input

. The rear of the interface also features a Kensington security port.

Front Panel


You'll find an instrument input on the interface's front panel (it can't be swapped with a line-level input). You'll also find a 

48V Phantom power switch for the mic input on the same side

, along with a 

quarter-inch headphone jack.
Pros:
The interface has a strong plastic exterior lined internally with metal. It is compatible with Mac OS. The unit has an ultra-low noise preamp, excellent frequency response, distortion performance, and many gains to amplify low-sensitive dynamic microphones.
Cons:
The interface is larger and heavier than most interfaces available. The dynamic range is decent but could have been improved. The device doesn't allow for Line and a microphone source simultaneously.
3. Focusrite Scarlett 8i6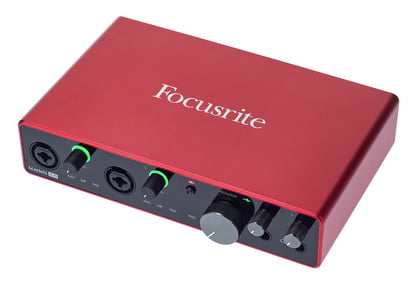 This offering by Focusrite is genuinely great in so many ways. It's a powerful device with great features packed in a solid metallic chassis.
The interface comes equipped with two mic preamps, two instrument inputs, 6 line level inputs, four balanced outputs, two headphone connections, MIDI connections, air function, SPDIF digital audio, and comes with Focusrite Plugins.
In the box, you'll find a USB Type-A to Type-C, a power adapter with plugs for different regions, and of course, the interface itself, which measures 8.27″ x 5.89″ x 1.87″ (21.0 cm x 14.96 cm x 4.75 cm) and weighs 1.9 lbs. (0.9kg).
Key Features:
Front Panel


The front panel features two 

XLR quarter-inch combo jacks which you can plug into a microphone or a musical instrument. A 48V Phantom power button allows Phantom Power for mic inputs of the connectors.

 When turned on, a red indicator lights up. The 

two GAIN knobs control the input signal gain at inputs 1 and 2

. The knobs have halo-shaped lights around them, which turn green to indicate at least a -24 dBFS input level, yellow at -6 dBFS to show the signal is close to clipping, and red at 0 dFBS.

INST, AIR, PAD, MIDI & LEDs


INST LED indicators will light up when INST is on,

 which means that the gain range and input impedance are altered, and the input is unbalanced. This will optimize it for the direct connection of instruments. A

lso on this side of the panel, you'll find two LEDs to indicate that AIR mode is on for Inputs 1 and 2 from Focusrite Control. Two green LEDs signify PAD has been selected from Focusrite Control for Inputs 1 and 2.

 This reduces the signal level by 10 dB. An LED on the front panel turns green when MIDI data is received at the MIDI IN port. Once connected to the computer and after being recognized, a Green LED indicating a USB connection will light up. 

A big Monitor Knob controls the output level for outputs 1 and 2 (located at the rear panel).

 

Back Panel


The rear panel of the device 

hosts an ever-convenient power button

, 

an external DC power input, a SPDIF IN and OUT, a MIDI IN and OUT, a 2.0 USB Type-C port (USB cable included in the box), four line outputs (1, 2, 3 and 4), four line inputs (3, 4, 5 and 6)

 and a Kensington security slot.

Software


The purchase of the 8i6 interface will allow you to download First 

Focusrite Creative Pack, Pro Tools, Softube Time and Tone Bundle, Ableton Live Lite, Focusrite's Red Plugin Suite, and one free XLN Addictive Keys virtual instrument

. You'll also get a 3-month subscription to Splice.
Pros:
Justifying exceptional value for money, the interface has a solid metallic build and offers fantastic 24-bit/ 192kHz converters, MIDI, ultra-low latency, and comes with a handy set of software.
Cons:
At times, the interface moves sluggishly between sample rates. The headphone preamp could be more robust. The interface is only compatible with Mac OS 10, 12, or later and Windows 7 SP1 or later.
4. Behringer U-PHORIA UMC1820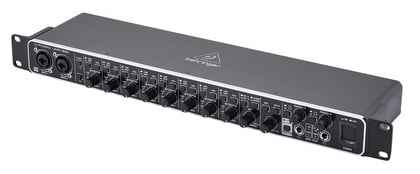 Outstanding in every aspect, this is an 8 in 10 analog out USB audio interface that justifies the best value for money, priced under $200.
Two of this device's eight inputs are at the front, with the other six on the rear panel. You'll also be getting 48V Phantom Power. However, the device has only two Phantom power buttons, the first of which caters to the first four inputs and the second to the remaining four.
You'll also get a sturdy Pad, 2 LEDs for CLIP and SIG, and a silky-smooth GAIN knob for each of the eight inputs. The entire interface feels tremendous, and all the knobs, switches, and ports are substantial and secure. The power button is very convenient, and it also feels great.
Key Features:
Phantom Power


The interface's front panel hosts an 

input that accepts XLR or a quarter-inch connection

 and accepts microphones, instruments, or any line-level device. The unit also holds a 

48V Phantom power for XLR inputs 1 to 4 and 5 to 8.

 Phantom Power can damage your equipment, so it is imperative to read the manual first.

LINE/ INST, PAD & SIG


The device's front panel also hosts 

LINE/ INST and PAD, which decreases the input signal level from the quarter inch and XLR input. LEDs are in place to indicate SIG and CLIP

. The SIG LED indicates the presence of an audio signal, and the CLIP LED indicates that the signal needs to be reduced.

Input, DIM, MUTE & Main Output


Then there's a 

GAIN knob that adjusts input levels

, a switch for monitoring Input 1-2 or 1-8, and a mono or stereo mode switch. Then there's a Knob for monitoring that adjusts the mix between the direct inputs and playback on the computer. 

A DIM switch is in place to reduce the output level

 of the main out, and the MUTE switch cuts the primary out signal. 

The MAIN OUT knob controls the output level

 of the main output.

OPT I/O, SPDIF, ADAT


The 

OPT I/O chooses the function of the rear panel optical and coaxial RCA I/O ports for SPDIF, ADAT (96 kHz or 88.2 kHz, 48 kHz or 44.1 kHz).

 There's a phone selection switch. Selecting 1-2, you can listen to the 

stereo MIX signal channels 1-2

 from the monitoring section. Setting 3-4 will allow you to listen to the playback signal from your computer or laptop.

Phones, TRS, MIDI I/O LEDs
A 

knob for PHONES level lets you adjust the volume

. There's a Phones quarter-inch TRS stereo output followed by 

MIDI I/O LEDs which, of course, signal MIDI activity. A POWER LED

 will light up if an adaptor is connected, supplying Power, and the power switch is pressed in. 

The +48V LED signifies that 48V Phantom Power

 

is on (1-4 / 5-8).

 A convenient POWER switch has also been placed on the interface's front panel.

Rear Panel


The back panel hosts a

 POWER IN slot in which only the adapter that comes with the device is to be connected

. A cable holder is also present to keep the power cable secure by preventing it from being pulled out accidentally. The device comes equipped with a 

USB type B connector

, ensuring computer connectivity (USB cable included in box). The 

MIDI IN/OUT port can connect MIDI controllers

 and other devices. The rear panel also supports 

ADAT or S/PDIF Optical I/O ports for S/PDIF, ADAT, or S/MUX.

 Then there are S

/PDIF I/O ports, LINE OUT 3-10 balanced quarter-inch TRS outputs

for recording and monitoring. 

Final Impression


The device is 

exceptional for this price point

. In terms of the number of inputs and outputs it can host at a time, 

no other interface even comes close.

 It has a high-quality plastic chassis but feels great and functions even better.
Pros:
The audio interface is incredible. It has a solid build quality, a great appearance, and is fantastic value for money. The device has a lot going for it, like great preamps, and competes with many higher-end products.
Cons:
The noise also increases as the number of inputs attached to the interfaces increases. The device is compliant with Mac OS, but an additional driver must be installed on Windows systems.
5. IK Multimedia iRig Pro I/O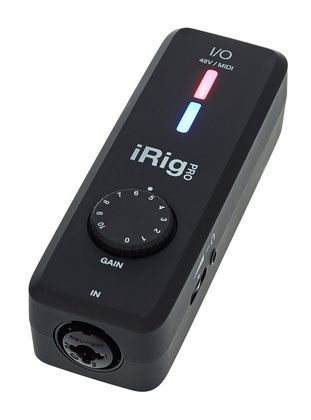 The unit is possibly the smallest of its kind, reaching new levels of portability. The iRig is an all-in-one audio interface for iOS, Android, Mac, and Windows OS.
A great addition to this audio interface is the MIDI in and out. It's a handy feature, a rarity in portable audio interfaces. The interface is lightweight at just 120g (4.23oz) and ridiculously small in size, measuring only 1.69″ x 5.0″ x 1.46″ (4.3 cm x 12.7 cm x 3.7 cm).
This lightweight plastic exterior and compact design make this audio interface an extremely easy-to-carry option, promising great performance. The fact that it also comes with exceptional software more than justifies its value for money.
Key Features:
What's in the Box


The interface is accompanied by a user manual and a registration card for software including 

AmpliTude for iOS, AmpliTude 4 for Mac/PC, SampleTank 4SE for Mac/PC, T-RackS 4 Deluxe for Mac/PC, VocaLive and Guitar Band

. You'll also get an iPhone lightning cable to 5-pin, MIDI to 2.5mm cables, USB to 5-pin cable, two standard 5-pin MIDI to 2.5mm cables, a velcro cable strap, and a pair of AA batteries.

Look and Feel


The front of the device features a gain control knob (0 to 10) and two sleek LEDs for input Gain and 48V Phantom Power. The device's base features a 

combo jack for XLR, a microphone cable, or a quarter-inch instrument cable. The top of the interface hosts a DC in slot (cable sold separately) and a five-pin connection port.

 To the right side of the device, you'll find two 2.5 Midi inputs and a switch for 48V Phantom Power. You'll see a port for headphones with volume control on the left of the audio interface. 

AA batteries

 are inserted at the back of the device. The rear also has two resting rubber supports.

Final Impression


The audio interface 

boosts audio in made ways, adding richness, color, and clarity, thereby improving the quality by leaps and bounds.

 It's incredible how something so small can have such a significant impact. Some inbuilt microphones can record great sound, but this 

device delivers quality

 on a whole new level. This truly impressive device has made quite an impact since its release, and that's why it's been 

rated so highly.
Pros:
The interface has plenty of power options and headphone level control and provides crisp, clean recordings. It comes with excellent software. The device has a high-quality compact exterior and weighs just 120g. It can operate with an adapter or on 2 AA batteries.
Cons:
Turning the interface's gain knob to 10 causes distortion. The optional PSU seems a little expensive. Those who require more inputs and outputs would consider this a niche product they wouldn't fancy.
6. Audient iD14 (MKII)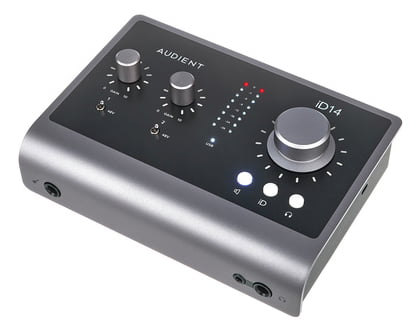 The device looks great and performs even better. It delivers professional features and quality and is, overall, an excellent desktop audio interface.
In the iD14 box, you'll find a USB Type-C to Type-C cable, a quick start guide booklet, the interface itself, and access to a significant number of software downloadable from the official Audient website.
The device has an extremely solid chassis constructed entirely of metal. It feels very robust and durable. The dials are also very sturdy, the buttons share the same quality, and the switches and jacks are firm, too, with no extra wiggle room.
Key Features:
Top Panel


The audio interface also sits on the table nicely, with zero wobbles. The device measures 2.44″ x 6.81″ x 4.72″ (6.20 cm x 17.30 x cm x 11.99 cm) and weighs 1.69 lbs. On the top panel of the interface, you'll find two neighboring Gain control knobs for input one and input 2. Below the knobs are two independent 48V Phantom Power on/ off switches (one for each input). 

Next, an LED meter indicates the range from -36 decibels to 0 decibels, showing the level of the speakers or headphones being adjusted. It also shows the playback level.

The lower right corner of the panel hosts a USB button that lights up to signify that the headphones are plugged in. 

Front and Back Panels


The front panel of the interface looks very simplistic. It houses a 

single HI-Z quarter-inch input allowing an instrument to plug in. A quarter-inch and an eighth-inch jack occupy the right side of the panel. The rear of the interface houses a USB Type-C port for Power and transfer of data, an optical input for ADAT, and four balanced quarter-inch outputs

 so you can run monitors or headphone Amps, followed by two SLR combination jacks for line level or microphones.

Technical Capabilities


The device 

records up to 24-bit 96 kHz. The preamps have 48K Phantom power, a range of gain of 58 decibels, an EIN of -129 dB, and a signal-to-noise ratio of 101 dB.

 Version 2 has greatly improved over its predecessor, especially in the dynamic range of converters (5dB in A-D and 9dB in D-A).
Pros:
The interface has excellent build quality. The device is Bus powered. It comes equipped with preamps and DI input that are exemplary in terms of performance. The inclusion of expandability in an interface is unheard of for the price.
Cons:
The audio interface needs Power through a 3.0 USB Type-C to operate optimally. The device cannot record external stereo line signals and feels a little limiting. Other features of the interface still justify its value for money.
7. Shure MOTIV MVi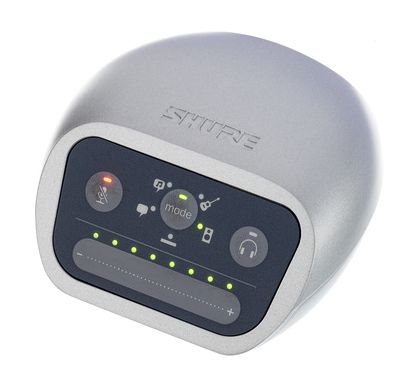 Compatible with PC, Mac, and iPhone, this interface is easy to carry with its tiny but unique form factor.
In the MVi box, you'll get a 1m USB cable, a 1m Lightning cable, a user guide, a 2-year warranty card, and the audio interface. The device measures 3.3″ x 2.8″ x 1.7″ (8.4 cm x 7.2 cm x 4.2 cm) and weighs 310 g.
The interface has a solid metal chassis with a smooth silver matte finish. The unit is convenient as it ensures portability and allows you to plug in a phone and a microphone and be ready to start expressing yourself without needing a computer.
Key Features:
Front Panel


The front features a touch display panel with

 a slider bar for the headphone volume and microphone input gain. Instead of turning a knob, we slide our finger rightward across the screen,

increasing the volume and leftward to reduce the volume. We see eight bright yellow dots above indicating the volume and gain. The left of the display hosts a microphone mute feature. The opposite side of the screen features a similar headphone icon to switch the control of the slider bar from microphone to headphones. 

Back Panel


The back of the interface hosts a 

zero-latency monitoring 3.5mm headphone jack, right next to which is a combo XLR quarter-inch jack for a quarter-inch microphone,

 an XLR microphone, or a musical instrument. This side of the interface also hosts a USB port that can connect the device to an iOS or Windows OS.

Specifications and Software


The audio interface features 

48V Phantom Power or 12V with the lightning cable.

 The unit also offers the option of 

16-bit or 26-bit and a sampling rate of 44.1 kHz or 48 kHz.

 The interface works with a free app, Shure Motiv, for Android and iOS. This application enables recording and sharing audio.
Pros:
This pocket-sized audio interface has a solid exterior and is an excellent choice for travel, especially for single-mic use. The device is also a wonderful choice for beginners as it is easy to use and offers quality performance.
Cons:
The interface only has one combo XLR quarter-inch jack. This means you can only use a microphone or a musical instrument at a time. The response of the display could be improved, but overall it is very usable.
8. Roland Rubix2
The audio interface measures 4.92″ x 6.50″ x 1.81″ (4.5 cm x 16.5 cm x 4.6 cm) and gives out a solid boxy feel, weighing just over 2 lbs. at 2 lbs. 4 oz.
The audio interface brings great value for money, priced between the $150 and $ 200 mark. By registering the device online, you'll also be able to enjoy a free membership for up to 6 months of using the Roland Cloud Pro.
The unit comes equipped with two inputs, two outputs, and the capability of recording at 24-bit/192kHz. It is compatible with Mac OS version 10 or later, Windows 7 or later, and iOS 9 or later. You'll need Apple's iPad Camera Connection Kit to connect an iPad to the interface.
Key Features:
Unboxing and First Impression


In the box, you'll find a detailed user manual booklet, a USB Type-A to Type-B cable, and the interface

. The interface has a smooth finish, and it feels sturdy overall.

Front Panel


The front panel of the device, grey and light grey in color, features two small black knobs for volume control of inputs 

1L and 2R, with sleek indicators next to each. The light indicators turn green to show that the audio signal exceeds -24 decibels and red if the input level is less than -3 decibels. The panel hosts a Hi-Z button underneath for the impedance of the input one jack (Hi-Z for Electric or Bass Guitar, Lo-Z for other equipment).

 

Power Indicator


Then we have a power indicator that, when lit up, means the device is connected to a PC system and is ready for use. If the light indicator stays unlit, the device isn't picking up any signals from the system.

 You'll find a big knob under the light indicator for setting the audio signal's output level. Next, you'll see a headphone knob to regulate the jack's output level. A headphone jack is placed at the bottom right corner of the front panel.

Rear Panel




This side of the device is the same color as the rest of the chassis. The back panel of the device comprises a 

5V DC connector, a power switch, a USB connectivity port, MIDI in and out connectors,

 a switch for the direct monitor, a Ground lift switch, two balanced TRS output jacks (1L and 2R), and a handy Kensington security slot.
Pros:
The interface has a robust all-metal exterior and promises excellent value for money for its price with features like ground lift, dual power supply, and the option of switching the direct monitor from mono to stereo and vice versa.
Cons:
The preamps aren't the best but are decent, great for the price. The output volume is relatively low, but you can still connect the device to audio monitors. The design is very ordinary. However, the exterior is very solid and well-assembled.
9. RME Babyface Pro FS
Molded to produce a unique design form factor, the audio interface is unlike any currently available.
The interface has a strong aluminum exterior that houses very detailed and well-put-together circuitry, holding features that perform exceptionally well in most comparative tests.
Measuring 7.13″ x 4.25″ x 1.38″ (18.11 cm x 10.79 cm x 3.51 cm) and weighing 1.5 lb (680 g), the Babyface is a solid tabletop interface with XLR sockets at the back and controls on the top panel.
Key Features:
What do you get?


This great machine comes with a 

color-printed box sleeve (packaging), a hard-shell case for the interface and cables, a soft sleeve for the device MIDI cable, a USB cable,

 a user manual, and a driver CD.

Top Panel


The top panel hosts two Select and DIM buttons

 and the device's main knob, which is very smooth and perceptive. Above the knob, you'll find buttons for input, A (set), B (mix), and an output button. Some of the buttons can be assigned functionality via DAW. Then on the top panel, you'll find very vibrant level meters for input, output, gain, and volume. You can even change the brightness of the level meter. 

Rear Panel


The rear of the device supports two XLR inputs for mics that may be substituted for line level via DAW.

 The rear panel also houses two XLR outputs for studio monitors. The left side hosts a USB Type-B connection (Cable included in box), a DC power connecter, a MIDI connection, and optical input and output. The device's base hosts a tiny switch to change what the system outputs from 

+4 dBu to +19 dBu and vice versa at full volume. The switch to +4 dBu may serve as a protective feature for those studio monitors

which may be too loud or cause distortion at the + 19 dBu setting. 

Performance


The 

audio interface has an exceptionally dynamic range of 116dBa and great preamps

. The device also shows a fantastic performance in terms of distortion, which only starts to slither under -105 dB. The device provides outstanding noise performance and a solid maximum output of around 16 dB.
Pros:
High-quality materials have been used to build the solid chassis. It hosts customizable buttons and is equipped with the option to use S/PDIF or ADAT to extend the number of inputs and outputs. The device performs well in just about every test.
Cons:
The interface looks a bit bland and outdated, though very unique. The interface is on the expensive side but does justify its value for money. The live streaming performance can be improved.
10. Tascam Series 102i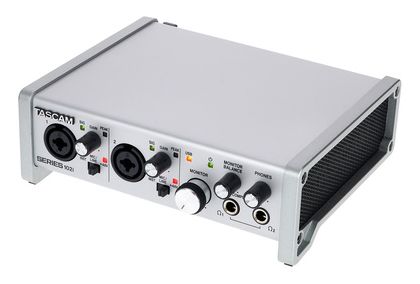 Geared toward singer-songwriters, this audio interface was released alongside the larger 208i.
At first glance, the device's exterior appears inspired by a traditional design but looks modern with its curved edges and smooth silver finish. The angled side supports make it more convenient to use as it rests on a tabletop.
The series I hosts independent 48V Phantom power buttons, gain control knobs, and ADAT or S/MUX input for eight additional mics. The unit measures 7.32″ x 2.56″ x 6.30″ (18.6 cm × 6.5 cm × 16.0 cm) and weighs 1.1 kg (2.43 lbs.).
Key Features:
Front Facing Panel – First Section


The first thing you'll notice on the forward-facing panel is the TASCAM logo on the top left corner. You'll also notice that the panel is split into three divisions with two subtle vertical lines. The first of the divisions incorporates an Input 

1 XLR/ TRS combo jack for high impedance inputs (such as an electric guitar) and a dedicated Input switch with INST and Mic/Line options

which can be set depending on the device you wish to connect. 

Second & Third Sections


The second portion of the device hosts identical controls for 

Input 2, an XLR/ TRS combo jack, a dedicated Input switch with INST and Mic/Line options, an input level gain knob, and indicators for SIG, PEAK, and 48V Phantom Power.

 The third portion starts with 

two light hands for USB and Power. The USB indicator lights on when the device is connected via USB and working correctly.

 

Rear Panel


This side of the device hosts a 

standby switch, a cord holder, two balanced Line out jacks, a MIDI out connector, a MIDI in connector, an optical S/MUX connector,

 a USB port for computer connectivity, a DC in 12V connector, and a Kensington security slot.

Software


The audio unit comes with a 

suite of plugins, including the T-RackS and Amplitude 4.

 This adds value to the interface, especially for the singer-songwriters and the new entrants to the field.
Pros:
This audio interface is a great blend of hardware and software features. The interface has been designed to sit atop the table, and the angled front adds a lot of convenience. The plugins included are great too. All in all, the device more than justifies its worth.
Cons:
There are some improvements that the brand can consider for the next iteration. Firstly, including a longer power cable is a good place to start. Secondly, being loaded with advanced features, it's strange that the interface lacks a Thunderbolt 3 port and USB C-type ports which in this day and age is a strange miss.
11. Universal Audio Apollo x8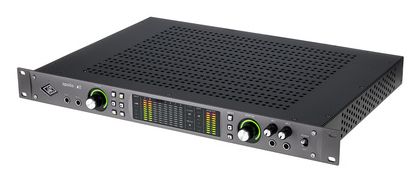 The x8 is a solid overall performer with a great-looking audio interface and great features.
This audio interface bears a sleek design allowing it to be inserted onto a rack. It has a high-quality build, and the Universal Audio logo's power indicator is a great touch. It lights up to ensure that the device is getting adequate Power.
The device measures 19.0″ x 13.5″ x 1.8″ (48.3 cm x 34.3 cm x 4.6 cm) and weighs 4.1 kg (9.0 lbs.). The ideal temperature required for this unit to function at its optimum is 32 degrees to 104 degrees Fahrenheit (0 to 40 degrees Celsius).
Key Features:
Unboxing


Inside the box, you'll find a 'getting started' guide, a detailed instruction booklet, a power adapter and a power cable, screws (for placement in the rack), and the audio interface, which is absolutely beautiful.

The Front Panel


The front of the interface comprises a power indicator to signify sufficient Power and a Talkback microphone, the software which comes with the interface. 

The inclusion of a talkback microphone is a rarity in interfaces. The panel also features two Hi-Z inputs, 1 & 2, located below the 'Apollo X8' logo.

Next, you'll see a knob that controls channel selection as well as preamp gain. Pressing the knob switches between preamp channels, and rotating it allows you to set the preamp gain. 

Buttons & Indicators


Then we have six buttons for preamp options, an Input Mic/Line button, a Low Cut filter button, a button for 48V Phantom Power, a Pad button, a Polarity button (Phase)

, and a stereo link button. Then we have Input indicators (Mic, Line, Hi-Z, Unison 1/2/3) to denote which hardware input is active for the channel and whether Unison technology is active on the input. Next are Channel select indicators (1 to 4) and Channel level meters, which display the signal peak of inputs and outputs for channels 1 to 8. The host indicator to the right shows the status of connectivity with the computer system.

 A red light is for a system error. Under this, there are two Clock indicators representing the internal and external clock and two Meter indicators for Input and Output analog signal levels.

 

Switches


Then there are three switches arranged vertically. The meter switch regulates if channel input meters are showing input signal levels or those of outputs, followed by a Monitor ALT switch and an assignable Monitor function switch (FCN). 

Then there is a Monitor Level & Mute knob and a Monitor Level & Monitor State Indicator (disk-shaped), followed by Headphone Level Knobs 1 and 2 and Headphone Outputs 1 and 2.

 To the rightmost side of the front panel is a sturdy Power switch.

The Rear Panel


This panel hosts a Power input, ADAT S/MUX optical ports, a Word Clock I/O for word clock in and out, S/PDIF ports, Thunderbolt 3 ports, 

Line outputs 1 to 8, Left & Right Monitor Outputs, Line inputs from 1 to 8 and a Microphone in from 1 to 4.
Pros:
The device provides incredible features and looks absolutely beautiful. The built-in Talkback microphone feature is a rarity in most interfaces and is a handy feature to have. In addition, the design makes it easy to mount on a rack.
Cons:
The device carries a slightly larger price tag than most competitors. However, it justifies the price tag. You can only connect quarter-inch unbalanced TS mono phone plugs to the Hi-Z inputs of the device. TRS stereo plugs cannot be used.
12. MOTU UltraLite-mk5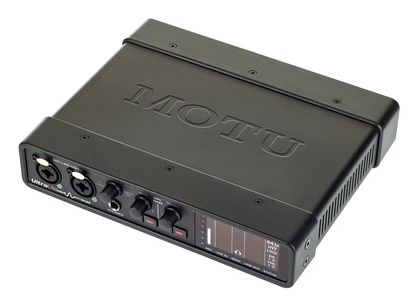 This interface is a great all-rounder in that it has a rugged overall design, a robust metal chassis, firm knobs, and sockets, and performs well.
The interface comes equipped with two mic/line or instrument inputs, six line level inputs and ten line level outputs, a headphone output, and even more channels via the digital I/O, which is surprising for such a small form factor.
The headphone's impedance is very low. The interface deals with latency superbly well. The device can go toe to toe with some much higher-end devices in terms of performance. The build quality is fantastic, rugged, and durable.
Key Features:
Unboxing


The UltraLite-mk5 audio interface comes with a USB Type-C to Type-C cable, USB Type-C to Type-A cable, a DC power adapter, and a user guide. The device 

measures 8.6″ x 6.9″ x 1.75″ (22 cm x 17.5 cm x 4.5 cm) and weighs 2.88 lbs. (1.31 kg).

Front Panel


The audio interface is equipped with two combos 

XLR/TRS input jacks (Mic/ Line/ Inst). These jacks can hold a microphone cable or a quarter-inch cable, balanced or unbalanced. Right next to these, we find a quarter-inch 'Phones' jack for headphones and a volume control knob that doubles as a power button.

 Click this knob to switch from headphone volume or main out volume and vice versa. When the audio device is turned off, you can click the power button to turn it on. Keeping the knob pressed down for 3 seconds will power off the device. Next, we have an independent 

pair of Pad and 48V Phantom power buttons for both inputs.

 

The Back Panel


Two subtle lines divide the back panel into three portions, the first of which hosts MIDI in and MIDI out, a 15V DC power slot, a Type-C connectivity port for connecting the device to a computer, 

two optical ADAT "light pipe" in and out ports for providing eight channels of 24-bit ADAT optical digital I/O at 1x sample rate (44.1 or 48 kHz) and four channels at 2x sample rates (88.2 or 96 kHz). This portion also houses RCA S/PDIF in and out sockets.

 The second portion hosts ten additional analog outputs for studio monitors or sub-mixers and two main outputs for speakers or monitors. The third panel bears six balanced TRS quarter-inch inputs for premium quality 24-bit 192 kHz recording.
Pros:
The audio interface provides excellent sound quality, with negligible distortion, great preamps, a lot of gains, and a fantastic dynamic range. The chassis is rugged and durable. The device also has independent mixers and real-time effects for monitoring.
Cons:
Priced around the $600 price point, this audio interface is on the pricy side of its class, but the value it brings is tough to beat. The effects are very limited. The equalizer only has four bands. The ratio can't be adjusted in the gain effect.
Conclusion
Today we've covered some exciting audio interfaces from some of the top brands in the market. Every unit on the list is a formidable force in its own right. However, why you're looking for an interface and the size of your recording setup are the things you need to consider before you make the final buying decision.
The IK Multimedia i-Rig Pro, Shure MVi iOS, and Roland Rubix 22 are some of the most modest units regarding inputs and outputs, making them ideal for home studios and other smaller settings. Ideally suited for mid-sized setups, the Focusrite Scarlett 8i6 and M-Audio Air 192|14 offers 8 inputs, while the Tascam Series 102i, Audient iD14 MKII, and RME Babyface Pro FS provide 10 to 12 varying inputs.
Finally, if you have a more extensive setup and never want to be bothered by the limitations of your audio interface, any of the UAD Apollo X8, Motu Ultralite Mk5, Behringer U-Phoria UMC1820, and Presonus Studio 1824c can be worthy options. Comparing price vs. affordability, the Behringer interface is head and shoulders above the rest.
Sultan Zafar is a guitar player from Islamabad, Pakistan. He has been playing music with various mainstream musicians for over 20 years. He is a song writer and music producer. These days he spends his time exploring different music genres and collaborating with fellow musicians on various projects. Read more..