Some people think plugging a distortion pedal into a tube amp is redundant. 
For one, tube amps have that saturation you don't normally get from a distortion pedal. But with technological improvements, I believe many distortion pedals available in the market can provide for that saturation. It might not be an exact emulation, but it does the job.
Honestly, I believe it's not at all redundant to use a distortion pedal with a tube amp. There is some wisdom in using a distortion pedal with a tube amp.
Why should you consider using a distortion pedal with a tube amp?
Consider using a distortion pedal with a tube amp because the overdriven tones don't match your preference. If you have a Fender Deluxe Reverb, but you want to play metal, the gain section of these amps aren't enough to meet these requirements. A nice high gain distortion can fulfill this need.
If your tube amp doesn't have a channel or gain selector, a distortion pedal can remedy that. You just have to plug the distortion pedal into your tube amp's input and balance the volume between the amp and pedal.
Some tube amps don't have an overdrive channel. Therefore, you can't expect gain from it, unless you plug a distortion pedal into it.
And in the worst case, if the preamp section of your tube amp is failing, using a distortion pedal into the power amp section of your tube amp can also provide a quick fix.
14 Best Distortion Pedals For Tube Amp 2023
1. Proco Rat 2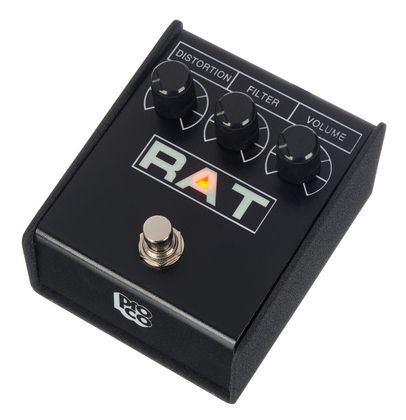 The Proco Rat is one of the most popular distortion pedals in guitar history. Since its creation in the 1970s, this pedal has become a popular choice for distortion due to its versatility. The origins of this pedal started with a heavily modified Fuzz Face and introduced new features.
Notable guitar players who have used the Proco Rat include Dave Grohl, John Scofield, and Graham Coxon. The Proco Rat 2, the latest version, takes the original circuit design and features a different IC chip but maintains similar tonal characteristics to the original.
This pedal has been copied, or derivatives have been produced as a testament to its classic design and success. Notable pedals that carry similar circuits as the Proco Rat 2 include the TC Electronic Magus, JHS Pack Rat, and the Electro-Harmonix Flat Iron Fuzz, which I personally use due to its smaller form factor.
Key Features: 
The key features of this pedal revolve around the Distortion and Filter controls. These two knobs allow you to tweak the Proco Rat 2 into the versatile pedal that it is. I believe these two are the heart of this pedal, which makes it special. Plugging this into a clean tube amp will give you interesting distortion sounds, which can introduce a different sound that might be hard to get from a cranked tube amp.
Distortion Knob
The Distortion knob might initially seem self-explanatory since it adjusts the amount of gain churned out by the pedal. But make no mistake here; the distortion knob is just one-half of the formula behind the Proco Rat. At lower settings, the Proco Rat 2 can work as a booster or light overdrive that works for blues and even jazz settings. Moving it up further introduces more gain and evolving it to distortion. Now cranking up further and combined with the filter knob can turn this pedal into a fuzz pedal.
Filter Knob
The Filter knob works as a hi-pass filter. When set to the minimum, the Proco Rat 2 retains the high frequencies of your guitar. Turning it clockwise lessens the amount of treble and can give you wooly tones. You can turn the Proco Rat 2 into a fuzz pedal without too much grit when combined with the distortion control.
Pros: 
One of the things I liked about the Proco Rat 2 is its versatility. As I have two bands but only one pedalboard for both, the Proco Rat 2 is a versatile pedal to introduce distortion to any backline amp I use in a gig. I like how I can use it for garage rock and crank it for doom-metal sounds. It might not be good for djent or chugs, but it gives me that sludgy distortion.
Another thing I liked about this pedal as a distortion for a tube amp is that it works well with almost any tube amp I've used. I've tried using it on a Fender Deluxe Reverb and Orange Terrors, which yielded promising results.
Cons: 
Tone-wise, I have nothing against the Proco Rat 2. It might not clean up that well, but personally, I'm using this as a distortion pedal with solid state and tube amps, so being able to roll off the distortion isn't my thing since I have a separate overdrive to cover that feature.
If there's anything I didn't like about the Proco Rat 2, it's the form factor. The pedal is a little bulky for me and takes up more space than a standard Boss or MXR pedal. This is why I gravitated more toward the Flat Iron Fuzz, which does exactly the same thing but in a more compact form.
2. Boss DS-1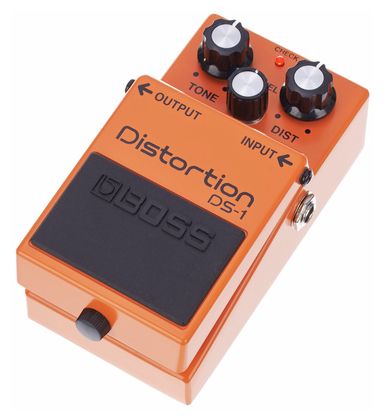 Mention distortion pedal, and the Boss DS-1 is a highly mentioned pedal in this field. The Boss DS-1 is the first distortion pedal made by Boss and has been highly used since its release in 1978. Its no-frills design makes it ideal to match with a clean tube amp.
Many say that the Boss DS-1 gets too muddy. While that is a valid point, it takes some tweaking to unlock this pedal's potential. If you watched Rhett Shull's video on the DS-1, you'll better understand where you can begin tweaking this pedal. To help me understand this pedal, I had to rewatch the video to better grasp the tones possible.
The Boss DS-1 has been produced for quite a while now. It's had different versions come out, although with little variation. Recently, Boss released a Wazacraft version of this pedal and added a more modern tone. This pedal is also a popular choice for modification, notably the previous service offered by Robert Keeley.
Key Features: 
Like the Proco Rat 2, the secret to the Boss DS-1 lies in tweaking the tone and dist control. Working these two together will allow you to unlock this pedal's potential, especially when used with a tube amp. You'd be surprised at how versatile this pedal is despite it being marketed as a distortion.
With just three knobs, you can input different distortions on your tube amp, especially when used with an amp on the edge of break up.
Tone Knob
The Tone control has this interesting behavior. Not only does it control the balance between low and high frequencies, moving it around also shifts the mid frequencies. That means you get a wider EQ sweep with only one tone knob to create different distortions on your tube amp.
Dist Knob
The Dist knob controls the overall distortion produced by the pedal. Interestingly enough, the gain knob offers different flavors. At its lowest setting, you can use the Boss DS-1 as a booster to any tube amp on the edge of break up. Setting it higher gives you distortion with increased sustains, and maxing out the gain gets you close to a fuzz, although not unlike the Proco Rat 2.
Pros: 
One thing to like about the Boss DS-1 is its versatility. It is a distortion pedal and can also work as an overdrive and boost pedal. And with the right tweaking, you can turn the pedal into a fuzz, although it is not as wooly as a Big Muff or even the Proco Rat 2.
With tweaks on its controls, you can survive a gig with only this as your distortion pedal, even when running a single-channel tube amp. If you're forced to do other songs, the DS-1 has your back. And because it's a Boss pedal, you can expect it to last with its durable casing.
Cons: 
Getting the DS-1 to sound good with a tube amp takes patience. If you're unfamiliar with how the behavior of controls interacts with each other, you might not get it right at once. As I had listed earlier in this article, you should not have a problem finding what sounds good to your ears.
The DS-1 might not be suitable for heavier guitar tones as a standalone distortion. You may need to get some added gain and push it with the DS-1 to get tones associated with djent or metal.
3. TC Electronic Dark Matter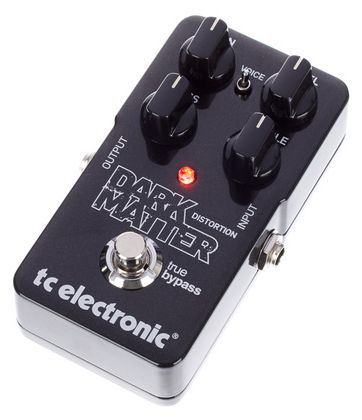 The TC Electronic Dark Matter distortion pedal comes close to the plexi tube amp distortion made popular by many bands in the 80s. But don't let that fool you, as you can get even modern distortion sounds with a flick of a toggle switch.
Initial impressions with this pedal are that it's slightly wider than a standard Boss pedal. Nonetheless, it still takes less space on a pedalboard and should fit easily into any gig bag pocket for grab-n-go gigs.
When paired with a pedal platform tube amp, this distortion pedal proves quite capable. It's no one-trick pony, especially with its voicing switch.
Key Features: 
The heart of the Dark Matter distortion pedal lies in the two-band EQ and voice switch. Set the EQ flat and dial your tube amp to taste so the distorted tone remains neutral.
You can say that this distortion pedal works like any other gain pedal in the market, but some things make this pedal stand out even when used with a tube amp.
EQ Control
The EQ control has this interesting sweep for bass and treble controls. But I think the landmark feature of the EQ is the notch, which lets you set the control flat when set in the middle. This notch "clicks" when set to flat, so you can make the Dark Matter sound more neutral with your tube amp.
Voice Switch
The Voice switch lets you choose between vintage and modern distortion settings. The vintage settings give you mid-shifts, which work for different applications. Using this switch and the two-band EQ gives you different distortion voicings with respect to your tube amp.
Pros: 
One thing to like about the Dark Matter is that it works well as a standalone distortion pedal. That means you can use it as the basis of your distortion tone for any tube amp and build a rig around it. The sound comes close to a tube amp with EL34 tubes, so it's a good way to introduce a different distortion tone.
Cranking the gain can bring it to fuzz territory, especially with low frequencies. This may or may not work for you, depending on what distortion sound you're after. It's not an overdrive, after all. Considering the sound this distortion pedal introduces into your tube amp, it's an excellent choice for most genres. Even blues players will like this pedal with the gain lowered.
Cons: 
The Dark Matter doesn't sound as pleasing when used with single-coil guitars. It lacks some punch to it, often associated with humbucker guitars. Using an equalizer or compressor pedal might be able to give it that punch, but it's not always guaranteed.
Sound-wise, the Dark Matter may struggle a bit when using this distortion pedal with metal. It would need a little push, such as from overdrives like the Tube Screamer or Klon Centaur. It also doesn't work that well as a booster
4. Behringer VT999 (Budget Choice)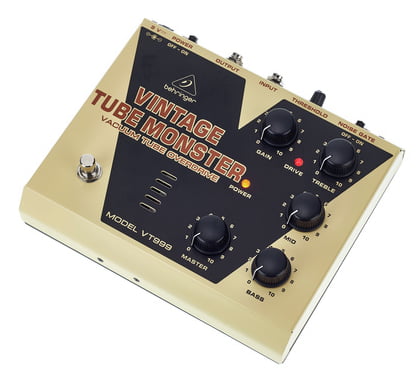 Among the pedals in this list, the Behringer Vintage Tube Monster (VT999) stands out for its size and because it's the only one with a built-in vacuum tube. This tube distortion pedal uses a single 12AX7 tube to deliver more gain and saturation to your amp.
While the pedal says it's a tube overdrive, I believe the Vintage Tube Monster can deliver searing tube distortion. For tube-like tones, I'd say this pedal is a steal for around $100, making it a budget-friendly option for distortion pedals to go with your tube amp.
This tube distortion pedal has some interesting features that merit attention and consideration for pairing with your tube amp.
Key Features: 
I wouldn't say there's a central feature on this pedal, despite the single 12AX7 tube being the main selling point of this pedal. There are other features included in this pedal that make it worthy to be part of the list.
That said, let's take a look at what this pedal has to offer your tube amp.
12AX7 Tube
The built-in vacuum tube is what Behringer made the selling point of this distortion pedal. Adding a vacuum tube can introduce tube saturation into your distortion tone, adding flavor to any tube amp. If you use the Vintage Tube Monster as an always-on pedal, you can also plug this pedal into the effects loop to replace the preamp on your tube amp.
Noise Gate
While this pedal is relatively quiet, this pedal comes with a built-in adjustable noise gate. You have the option to bypass the noise gate on the front panel. The adjustment knob can also be made on the knob beside the switch. The noise gate is handy for killing excess hisses when playing at high gain.
Three-band EQ
Adding a three-band EQ gives you more tone-sculpting capabilities for your distortion. Used with a tube amp, you can have a variety for tube tones. You can have a scooped mid for your clean tone, then boost the mids when you kick in the Vintage Tube Monster.
Pros: 
One thing I liked about this pedal is the built-in noise gate. If you want to charter into high-gain territory with this pedal, the noise gate can help you tame any excess hisses. Considering the size of this pedal, that's one less pedal to think about.
Including a 12AX7 tube is also much welcome in adding tube warmth to your distortion tone. Using it with a tube amp, it's like being able to change your preamp section with another tube preamp.
The three-band EQ also adds versatility to your tone. As some amps have certain characteristics, such as scooped mids, the built-in EQ lets you compensate for certain tone frequencies. You can also use the EQ to boost certain frequencies, especially for solos.
Cons: 
The first thing that I didn't like about this distortion pedal is the size. This pedal takes up a lot of pedalboard real estate, which might be hard to put into your rig. As someone who tries to travel light, I prefer something smaller. It's worth noting that other tube distortion pedals have a smaller form factor, such as the Butler Tube Driver and the Blackstar HT Dual.
Another thing that I was disappointed with is the power requirement. While it is noteworthy that the Tube Monster can run on a standard 9V DC power supply, the tube runs on a starved design. With a lower voltage, you don't get the full potential of the tube tones from this distortion pedal. At some point, you may have to rely on the preamp section of the tube amp.
Lastly, it's a bit of a challenge to replace the tube. You need to insert it properly and snuggly for the Tube Monster to recognize the tube inserted. Though with the starved voltage design, you don't have to worry too much about replacing tubes often.
5. Electro Harmonix Metal Muff With Top Boost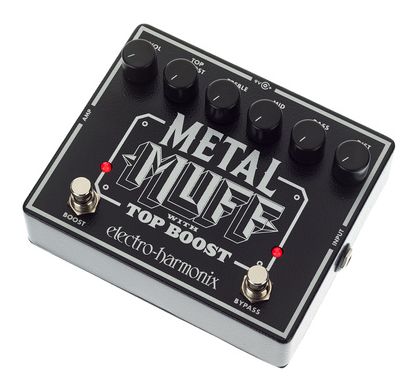 The Metal Muff with Top Boost is Electro-Harmonix's take on the Big Muff design but for metal. You can think of it as a Big Muff on steroids, making this grunge and garage rock favorite into a metal machine that delivers the same grit but is made heavier.
There are two components on this Muff pedal. The Metal Muff features a three-band EQ and the Top Boost, which you can control with a knob and a footswitch.
There's also a smaller variant of this pedal, although it does not include the Top Boost circuit.
Key Features: 
This distortion pedal has two main components: the main circuit and the boost circuit. These help you sculpt the distortion tone on your tube amp, especially if your amp can do high-gain stuff. There are two footswitches on this pedal; one is to bypass the main effect, and the other is to bypass the boost circuit.
The Metal Muff with Top Boost has the same size as many of Electro-Harmonix's, although wider than a Boss pedal, to accommodate the Top Boost circuit.
Main Circuit
The Metal Muff side is marketed as a souped-up Big Muff pedal with an added three-band EQ instead of a single tone knob that's common among muff pedals. With this three-band EQ, you can sculpt the tone of your distortion from your tube amp.
Top Boost
The Top Boost section acts as a boost circuit. Using this control makes your distorted sound more trebly, which works best with black metal, according to many users. This circuit can be bypassed with the Boost footswitch.
Pros: 
One thing to like about this pedal is how it incorporates a three-band EQ into a fuzz pedal, which often only has a tone control. With a redesigned circuit that makes this fuzz pedal into a mean metal machine, you can add distortion to any tube amp that doesn't suit your gain preferences.
The Top Boost circuit is also an interesting way of cutting through the mix. The Top Boost works like a treble booster without the added volume. It does make your guitar more distinct in the mix.
Cons: 
The EQ section of this pedal tends to be sensitive. A slight cut in the mid-control can lead to a larger scooping of mids. Keeping the mids past the middle level should be heard in the mix.
The second thing I observed about this pedal is the distortion tone. While it does get heavy, it doesn't have that amp-like capability. Sure, it can chug, as Ola Englund pointed out, but my observation is that it cannot replace the preamp section of your tube amp. It's still better to run this pedal into the preamp section of your amp.
Another thing I didn't like about this pedal is the overly exaggerated boost circuit. While it does boost the signal, it can get too trebly. You need to back off the treble control on this circuit if you want to use the Top Boost feature. I would have preferred if they integrated a mid-boost instead since metal distortions often lack mids, and a mid-boost can help in soloing.
Lastly, it would have been better if the Top Boost section were independently controlled. To use the Top Boost, the Metal Muff section needs to be active. You can't use it with other distortion or overdrive pedals without the Metal Muff adding distortion to your tube amp.
6. MXR M75 Super Badass Distortion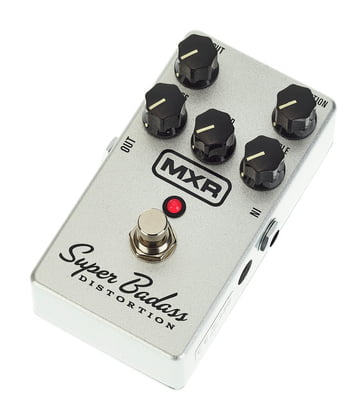 The MXR Super Badass Distortion is a straightforward distortion pedal that works with many tube amps. Aside from its bypass switch, it doesn't feature any added switches, making tone tweaking straightforward. You can tweak the EQ section and distortion to taste.
According to the people at MXR, the Super Badass Distortion can deliver distortion tones made popular in the 70s and handle modern distortion sounds. They also say that the Super Badass Distortion cleans up nicely so you can use it as a clean boost.
Key Features:  
As mentioned, the Super Badass Distortion is a straightforward distortion pedal that should work with almost any tube amp on the market. The simplicity in design allows you to dial in quickly distortion tones from the pedal.
Distortion Control
The Distortion knob on the Super Badass cleans up nicely, whether you roll off the knob on the pedal or your guitar. It has a little grit when the distortion knob is set to zero, but nonetheless, it still boosts any cranked tube amp. Cranking it to full, and you can create searing saturated leads with some tweaks on the EQ control. Put a light overdrive before it, and you get a nice chug machine.
EQ Control
The Super BadAss has three-band EQ section that lets you adjust frequencies in your tone. You can create those scooped mids easily for a more 80s-sounding distortion tone on your tube amp. As the distortion pedal cleans up nicely, you can use this to shape the existing gain channel on your tube amp, similar to an EQ pedal, except much simpler.
Pros: 
The simplicity in design is what got me here. It might not be as simple as a tone knob like the Boss DS-1, but with a three-band EQ section, you get more flexibility in this distortion pedal when used with a tube amp. If you like using an overdrive or distortion pedal to add flavor to your tube amp, this pedal should be a candidate for your rig.
Another thing I like about this distortion pedal is its gain control. I like how it cleans up nicely, although there is still some grit to it. It makes a good grab and go pedal if you only need one pedal with your tube amp's gain channel for short gigs. It's good enough to introduce more flexibility into tube amps that only have a single tone control but with a good gain stage.
Cons: 
If there's anything I didn't like about this distortion pedal, it's still the gritty tones you get at zero gain. Granted that it's a distortion pedal, I still prefer something that's almost zero gain when plugging into a tube amp for boosting a cranked channel.
Another thing that I didn't like, although minor, is the placement of the DC jack. I prefer top-mounted DC jacks for my pedals, similar to the Electro-Harmonix pedals.
7. Suhr Riot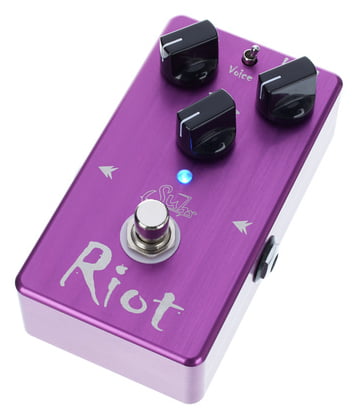 The Suhr Riot is another simple and compact distortion pedal made. Patterned to emulate the response of a 100-watt tube amp, the Suhr Riot offers high gain distortion without offering too many complex controls. It fits perfectly in most pedalboards and may be used as a standalone.
According to Suhr, this distortion pedal is an original design of the company, offering three different voicings to compliment your tube amp. It might not be the best alternative to their best-selling tube amps, but it does produce a stand-out tone that's good for many serious players.
Key Features: 
The controls of the Suhr Riot are what make it special. They have a particular way of interacting with each other, which makes this distortion pedal a perfect match with many tube amps on the market.
This distortion pedal has three knobs and a three-way toggle switch that delivers different voicings. Playing around with the voice switch will help you unlock the potential of this amp.
Control Knobs
There are three control knobs on this pedal The volume knob has a response that can crank any existing tube amp to overdrive. The gain knob allows this pedal to reach high gain territory based on where you set the knob and voice switch. The tone control allows you to get good rhythms and soaring leads.
Voice Switch
The Voice Switch dictates the behavior of the gain control. The first setting is similar to a low to medium gain overdrive that allows you to boost any overdriven signal, such as a tube amp or another overdrive pedal. The second setting boosts the mids on the pedal while providing a more solid low end. Lastly, the third setting produces high-gain tones similar to a vintage tube amp with proper note definition.
Pros: 
The Voice Switch is a huge plus, considering how it helps shape the overall distortion. By introducing diverse voicings, the Suhr Riot is a versatile distortion pedal to pair with any tube amp. If you can't take too many pedals with you and are limited with backline tube amps, the voice switch allows you to cover more bases for your tone.
The volume control's behavior is also worth noting. By being able to crank a tube amp by just increasing the volume, you get another option to put distortion into your amp with only one knob.
Cons: 
If there's anything that I didn't like about the Suhr Riot, it's the price. Considering how much it costs, there are plenty of better options available. At some point, the money to be spent is enough to get a good gigging amp, such as the Boss Katana.
Another thing for consideration is that it doesn't have enough gain for the heavier stuff, such as downturned songs. A good alternative for this would be the Suhr Riot Reloaded, which was designed for lower frequencies.
8. Revv G3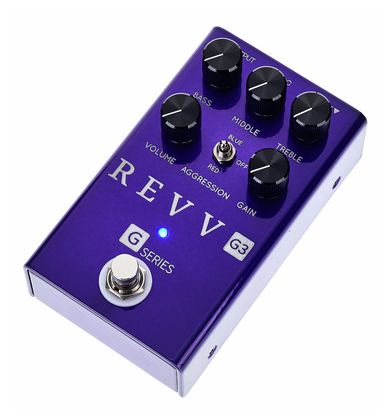 If you love the Revv Amps, here's one way to get the Revv tone in a smaller package. The Revv G3 pedal features the distortion tones patterned by the Purple Channel on the Revv Generator 120 tube amp. But this amp is no one-trick pony, as it offers three voicings.
This one should be short-listed for those looking for a legitimate amp-like distortion. Patterned from the Generator 120 tube amp, this distortion pedal introduces tube-like saturation without an actual tube.
It gets even more interesting with the voicing switch, which we shall discuss further.
Key Features: 
The Revv G3 distortion pedal offers tube amp users what I would call the "recommended controls" to tweak pedals: It has a three-band EQ aside from a volume and gain control. A three-way aggression switch also determines the voicing of this pedal.
Aggression Switch
The Aggression Switch is similar to the one found on the Generator amps. This switch acts like a mini overdrive that lets you push the Revv G3 further for tighter distortions. When set in the middle, the Aggression is bypassed, so your signal goes straight to the main circuit, which is good even for low-gain situations. The red setting pushes some serious gain into the main circuit for crushing distortion tones on your tube amp, perfect for death metal. The Blue setting is a medium gain setting, which you can use for blues to hard rock settings.
Three-band EQ
The three-band EQ offers a wide sweep of the essential frequencies that must be covered. You can make this a soloing distortion tone with cranked mids or your base tone for scooped mids. When used with the Aggression switch, you can sculpt different tones for various types of music.
Pros: 
What I liked about this pedal is how it works even for single-coil guitars. I initially thought it was meant for metal or hard rock bands, but after watching this video, I was convinced that even single-coil players like me can benefit from this pedal. It's definitely not a one-trick pony.
Speaking of one-trick ponies, the Aggression switch also ups the ante on this pedal. Because of this switch, you can opt not to have another overdrive or distortion pedal before the G3 in pushing distortion tones to your tube amp. It makes pedalboard building easier, although using an external overdrive produces interesting results.
Lastly, the top-mounted jacks are also welcome. It helps save on space when building or updating your pedalboard.
Cons: 
The only thing that I didn't like about this pedal is the lack of a battery power option. The battery box was sacrificed to cram as much circuitry as possible while maintaining a smaller form factor. Personally, I do not mind having a slightly bigger pedal footprint if it means having the option for wireless power. But with that in mind, the low current requirement still makes it possible to use USB to 9V power supplies, such as the BirDCord.
9. Walrus Audio Eras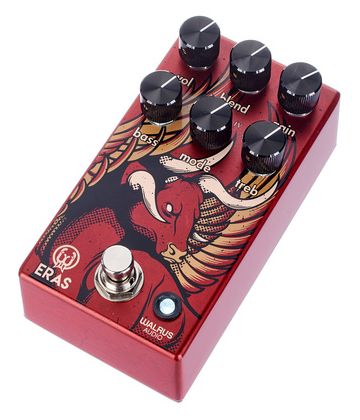 Here's something for those who are looking for different distortion voicings. The Walrus Audio Eras not only has one, two or three distortion settings, but it features five possible settings. Each setting offers different clippings and diodes to let you play around with for distorting your tube amp.
Out of the box, this pedal offers a two-band EQ, aside from the standard volume and gain control. It gets even more interesting when you start tweaking the blend and clipping knobs.
Key Features: 
I think the landmark features of this pedal are the blend and clipping knobs. These two controls offer different ways of making this distortion pedal complement your tube amp.
Blend Control
The Blend knob simply mixes your distorted signal with the original signal. This feature is useful for blending another clipped signal into the mix. If you're a bass player, you will find this distortion pedal useful, as you can maintain the tone definition of your bass. I'd say it's a good tool to have also if you want some aggressive bass tones.
Clipping Control
The clipping control is what I believe is the heart of this pedal. You get five clipping settings that emulate different distortion tones found in the era of guitar, hence the name "Eras".
The first mode offers a little mid-cut with LED hard clipping that works well for palm mute lines. The second mode also offers a mid-cut, but this time uses silicon hard clipping with some compression and smoothness. Mode III offers dual clipping with mid cuts, made possible with silicon and LED hard clipping, ideal for adding sustain. The fourth mode works well for rhythms with scooped mids and LED hard clipping. Lastly, the fifth setting offers silicon hard clipping with some mid-cuts that deliver warm distortion.
Pros: 
What I like about this pedal is how you get five different distortion settings. You won't need to bring too many distortion pedals to match with a tube amp, as the Eras has it all. Simply cycle and fine-tune the distortion pedal to taste with respect to your tube amp.
You don't see the blend control often in a guitar pedal. Use it with a bass, and you get more note definitions. Try boosting this with a bass pedal, such as the Electro-Harmonix Bass Soul Food, and you can produce three different signals by working the blend knob on each pedal.
Cons: 
What I don't like about this distortion pedal is its lack of setting to increase the mid frequencies on a guitar. Mids are important for any guitar, especially when trying to stand out solo. While you can use a volume or clean boost to compensate, sometimes mids are what you need to stand out so that you're properly placed in the mix.
You may want to increase the mids on your tube amp if you want to use this distortion pedal. Those mids are essential; try to compensate somewhere to maintain your tone.
10. Fender Pugilist Distortion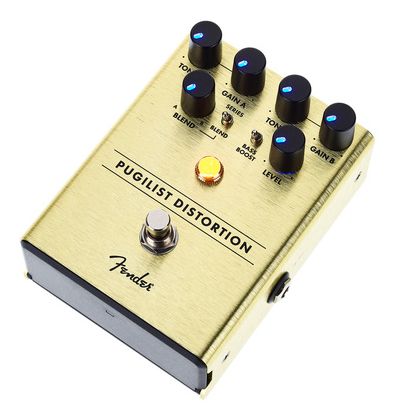 The Fender Pugilist Distortion is a two-channel distortion pedal that offers flexible routing options. One might think that the name implies use for hard rock or any genre that needs high gain distortion. But you'll be surprised that this pedal can also cover lower gain settings, such as those for blues.
To be honest, I wasn't too keen on this pedal. But after checking how others used this pedal, I had second thoughts about this distortion pedal. At the very least, it does work with tube amps.
If you're familiar with the Boss OS2 Overdrive/Distortion, this pedal functions similarly, except you have better control over the tones you get with the Pugilist.
Key Features: 
There are a lot of interesting features on this pedal that I'll explain in this article. But at the core of this pedal are two distortion channels and a master volume control. The distortion channels are similar, and using a master volume reminds me of the Electro-Harmonix Hot Wax, although the latter has different circuits.
Toggling through the switch unlocks the fun thing about this pedal.
Series-Blend Switch
The Series-Blend switch controls the overall behavior of the pedal. Set to series, you drive the input of one channel into the other. When put to blend, you can run each channel in parallel, wherein you can set how much of one channel is present in the signal. Set it in the middle, and you'll have a 50/50 blend of each channel. Setting all the way to the left or right lets you use only one channel of the pedal.
Bass Boost
Use the bass boost function if you're looking to fatten up the pedal's tone. This feature is good if you're looking for a tighter low-end.
Pros: 
Blend controls are often taken for granted. But what I can tell you, however, is that the presence of a blend control makes this distortion pedal powerful when paired with a tube amp. While it may not have the capability of replacing your preamp section, it does offer interesting results. Slamming one channel into another gives you this high-gain signal rich in saturation.
Setting it at a low gain is another strong point on this pedal. It might not be a tube screamer, but stacking two low-gain channels gives you searing lead tones also. Adding a master volume is also welcome, as you don't have to worry about setting things to unity gain.
The knobs also have LEDs, which are useful in dark stages. Sometimes the lighting is inadequate in bars, and having lit knobs can help you navigate the pedal.
Cons: 
While this pedal has a lot of power, I don't like some things. For one, I wish that each channel was switchable independently. That would have done wonders, especially if you need two different gain flavors in a song. If it had independent switching per channel, that would have made this pedal a good candidate for grab-n-go rigs.
Another thing that I wish was present was a treble boost instead of a bass boost. I'd prefer increasing treble frequencies when trying to cut through a mix, but the bass boost still yields interesting results.
11. JHS Pedals The AT+
][/B][IMG]https://thumbs.static-thomann.de/thumb/bdbmagic/pics/prod/433583.jpg[/IMG]
The JHS AT+ is Andy Timmons' signature pedal made by JHS Pedals. Based on the Angry Charlie pedal by JHS (based on a Marshall JCM800), the JHS AT+ is based on the modifications that Andy needed with the Angry Charlie, hence the AT was born.
During the second version, the AT was reborn to have an independent boost switch. The AT+ is one of the most popular signature pedals today.
Key Features: 
Some features on the AT+ make this distortion pedal an interesting complement to solid-state and tube amps. This pedal is like having three kinds of amps in one pedal. Likewise, some features aren't explicitly written on the pedal.
9 – 18 volts
You have the option of running the AT+ from 9 – 18 volts. Running at higher voltages gives the distortion pedal more headroom, which is perfect for tube amps. You also get better dynamics on this pedal. You can only run the AT+ up to 18 volts, as anything higher can damage the pedal.
Wattage Switch
The wattage switch emulates the tone of different Marshall tube amp wattages with distinct tones. Set to 25 watts, the AT+ gets more compression while sounding lower. At 50 watts, you have less compression while emulating a cranked power amp. At 100 watts, you get the most headroom with more dynamics.
Pros: 
One thing I like about the AT+ is the three-band EQ. I prefer using amp-in-a-box pedals with three-band EQs to properly set the mids and even low frequency without sacrificing each other or the treble.
Another thing to like about this pedal is the independent boost channel. I can stack another pedal with the AT+ and use the boost as a standalone without turning on the main circuit. That allows me to alternate between different amps-in-a-box tones as if I had two different amps. The independent boost control also works well with tube amps, which can crank them naturally.
The increased voltage design is also a plus, which lets me increase headroom as needed.
Cons: 
I only see one disadvantage to this pedal, which is the boost feature. I wish the boost were interchangeable so that I could use it to increase the overall volume of the AT+ without cranking it. Again, this is just a personal preference, so other than that, this distortion pedal does wonders to any tube amp.
12. Wampler Sovereign Distortion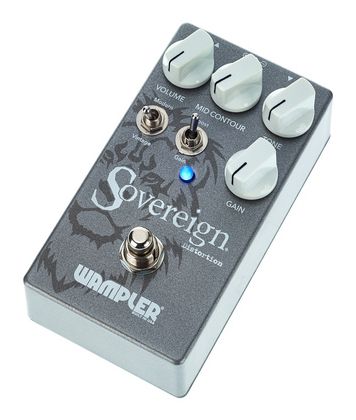 The Wampler Sovereign Distortion is what many hail as one of Brian Wampler's best works. This distortion pedal is known for creating a smaller package of classic overdrive and modern distortion tones. According to Wampler, this distortion pedal is an original design that complements any amp with its transparent distortion tone.
The Sovereign Distortion might look confusing at first. It's also worth noting that the newer version sports different labels on the layout. But once you get acquainted with the controls based on the manual, you can easily use this distortion pedal with any tube amp.
Key Features: 
The Sovereign Distortion has the usual volume, tone, and gain control as a starting point to tweak your sound. These controls are rather straightforward and should be a good starting point in using this distortion pedal with a tube amp.
The main sound of the Sovereign Distortion lies in the two toggle switches and the mid-contour knob. You get to open up possibilities for different sounds, as there are already four possible combinations with the toggle switch.
Modern/Vintage Switch
The Modern/Vintage switch (Bright/Even in previous versions) allows you to toggle between two distortion voicings. The modern setting tends to put more treble in your distortion, which is helpful when adjusting a dark or bassy signal. The vintage setting, meanwhile, focuses on more emphasized mids and balanced bass and treble frequencies.
Boost/Gain Switch
The Boost/Gain switch (Standard/Boost in previous versions) lets you toggle between different gain behaviors. The Boost setting increases the gain available, while the Gain is the standard distortion setting.
Mid Contour
The Mid Contour (or Mid Behavior in previous versions) allows you to sculpt how much mids are in the distortion tone. If your tube amp tends to have a mid scoop, you can use this pedal to add some mids to cut through a mix.
Pros: 
The nice thing about this distortion pedal is its transparency. You can set it to retain the characteristics of your tube amp, giving it a nice gain stage as if the gain came from the amp. With the help of the Mid contour knob and some tweaks in the tone control, you can capture that tone.
The Modern/Vintage is also a plus point for this pedal, allowing you to dial in more treble or mids in one switch. You can go from classic to modern tones with just one switch. The Mid contour is also noteworthy, considering how much mids you can add or remove in your tone.
I also like that you can run this pedal at 9 – 18 volts. You get more headroom with a higher voltage, but ensure you don't exceed 18 volts.
Cons: 
There isn't anything not to like about this pedal. While I prefer a two- or three-band EQ control, the toggle switches and mid-contour are enough to compensate for these EQ controls' lack.
13. Marshall The Guv'nor
Marshall revived one of its most coveted pedals, the Guv'nor. Before its reissue, this pedal and the Bluesbreaker and Shredmaster were raking in large amounts of money in the used market. This reissue gives pedal aficionados an option to get these pedals at cheaper prices.
The Guv'nor is also known for its Marshall JCM tones. This pedal should do the job if you can't afford to lug around a JCM tube amp head. It's not as small as the next generation of Marshall pedals, but it's still compact enough to fit in your gig bag.
Key Features: 
The Guv'nor has some interesting features, considering that it looks rather straightforward. Let's look at what the Guv'nor has to offer.
Effects Loop
The Guv'nor allows you to chain effects in its loop to plug this distortion pedal into the power amp section of a solid-state or tube amp. This feature is similar to the MXR Tom Morello overdrive, except that you need a Y-splitter cable to connect effects to the loop.
EQ Section
The Guv'nor has an active three-band EQ that gives you the full potential of the pedal, whether as a preamp or as a distortion with a tube amp.
Pros: 
One thing I like about the Guv'nor is the effects loop. It's easy to streamline your modulation and time-based effects into the loop. This feature is useful for emulating the power amp section of a JCM800 and plugging it into the regular input jack of a tube amp without an effects loop.
The gain on the Guv'nor is probably the closest you can get to that JCM tube amp tone. That doesn't just include the distorted side but also the clean tones. With that considered, you can also use the Guv'nor as a replacement for the preamp section of your tube amp. I use my amp-in-a-box pedals this way, which gives very promising results, especially when stacked with other dirt pedals and plugged into an effects loop of an amp when available.
Cons: 
Tone-wise, I have nothing against this distortion pedal ran to a tube amp. It works, and I dare say it's the real deal. After all, it's a Marshall.
I do have something against the form factor, although I get why they maintained these enclosures to somehow balance the reissues and the previous versions of this pedal series.
14. MXR Distortion+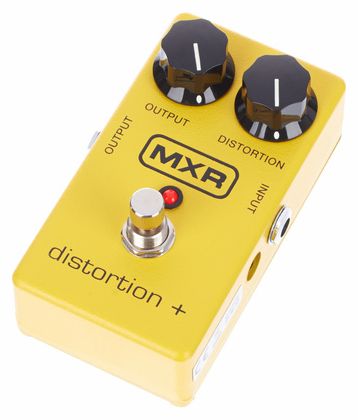 The MXR Distortion+ is another classic pedal that has been around for quite a while. It's known for its simple design that can morph into different distortion voicings. One of the popular users of this pedal include Randy Rhoads, who used it with his Marshall tube amp heads.
This pedal continues to be produced to this day, with modifications in its design, including the addition of an LED indicator, and rubber knob protectors.
Key Features: 
The Distortion+ only has an output volume and distortion control. These two knobs work closely with each other to create interesting tones with your tube amp.
Overdrive
You can set the distortion low and crank the output volume high to create a light overdrive tone. You can even use this setting to send a tube amp on the verge of break up into overdrive.
Distortion
The distortion setting is towards the middle settings of the distortion knob. You can adjust the volume according to taste.
Fuzz
The Distortion+ can also reach fuzz territory, although it isn't that gritty. What you can do here is set the distortion to full and adjust the volume accordingly. You can get grittier tones with an already overdriven tube amp.
Pros: 
One thing to like about this pedal is the versatility when you tweak the knobs. I like how it can work as an overdrive. In fact, the DOD Overdrive/Preamp are almost alike, with a few differences in components. You can say it's because of this similarity that you can get these overdrive tones.
This pedal is also quite affordable. If you need a quick fix for an existing tube amp, this pedal will set you back by $100 or even cheaper if you look at the used market.
Cons: 
If there's anything MXR could improve here, I wish there was a tone control for more versatility. Brian Wampler of Wampler Pedals actually made a mod to include a tone control for this pedal. That said, including this circuit in an existing Distortion+ would take some effort.
Bonus
1. Behringer UM300 (Budget Metal)
For those looking for an alternative to the Boss Metal Zone within a reasonable budget, the Behringer UM300 is a good option to consider. This budget metal distortion allows you to introduce metal tones into your tube amp, even if it doesn't have a sufficient gain channel.
This pedal comes in an enclosure similar to a Boss pedal and uses FET switching. However, there are some differences to note between the UM300 and the Boss Metal Zone.
Tone-wise, the distortion on the UM300 is also similar to the Metal Zone and sounds better when plugged into the effects loop of a tube amp.
Key Features: 
The UM300 and the Boss Metal Zone have similar controls. However the Boss uses concentric pots, while the UM300 uses individual controls. If there is anything to note about the UM300, I'd say it's also the Mid-frequency and three-band EQ control.
Mid-frequency
One way of getting a decent sound on the UM300 is by tweaking the mid frequency knob. Setting the mid frequency allows you to pinpoint which part of the mids in the frequency are you adjusting. Once you find the spot you want, you can adjust the mid knob from there.
Three-band EQ
Another secret to the UM300 is the three-band EQ. Many people tend to scoop the mid frequencies, which can result in creating a box of bees. The mids allow you to put more body into the distorted tone on your amp. That's why you need to work the EQ settings along with the mid frequency shift control.
Pros: 
Personally, I'm not a fan of the Metal Zone distortion. But if I were on a budget and needed a metal distortion pedal to run into a tube amp, I won't hesitate to get this pedal.
What I appreciate with this pedal is the inclusion of the mid frequency shift, which allows you to tweak the which part of the mid spectrum you want to boost. Because amps have different characteristics, the mid frequency allows you to pinpoint which part needs boosting.
And again, for the price, $30 isn't a bad deal at all.
Cons: 
Setting aside all biases for distortion tones, the only things I don't like about this pedal is the plastic enclosure and switch. I've had some switches on Behringer pedals give up on me. The plastic enclosure also felt cheap for me. But soundwise, I don't mind using this pedal in an emergency.
2. Tech 21 Sansamp GT-2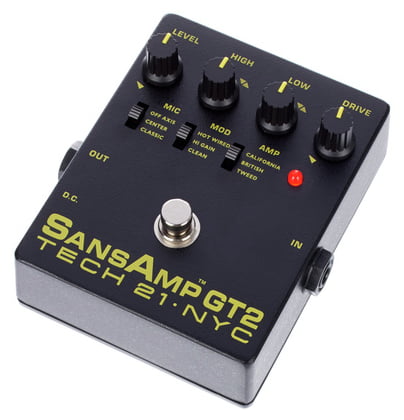 The Tech 21 Sansamp GT-2 deserves special mention in this article. For one, it emulates three different amp styles made popular. It's also one of the more popular amp-in-a-box pedals that continue to be used today. It's a popular choice both for studio and live settings.
This distortion pedal is a good option to pair with a tube amp. If you don't like the preamp section of your amp, you can use this pedal and plug it into the effects loop of the tube amp.
I've been a fan of the Sansamp series for the longest time, so I'm dedicating a spot to its most popular model.
Key Features: 
The Sansamp GT-2 has a two-band EQ aside from the level and gain control. But what I consider the heart of this distortion pedal are the three slide switches.
Amp
The Amp switch allows you to choose the amp voicing of the Sansamp. You can choose between Tweed (Fender), California (Mesa), and British (Marshall). My personal favorite is the California setting, which I use to get some heavy tones.
Mod
The Mod switch lets you choose between three gain settings. You can set this to clean, hot-wired, a light gain setting, or high gain. The Tweed setting matched with high gain produces searing tones for blues lead lines.
Mic
Lastly, the mic setting lets you shape the cabinet simulator on the Sansamp GT-2. For those who don't know, this distortion pedal also has a built-in cabinet simulator that lets you use this pedal to go straight to your recording interface. You can choose from off-axis, center, and classic mic positions.
Pros: 
What I love about the Sansamp GT-2 are the three amp types you can choose. This setting pretty much covers different flavors of amps in the market today. With the Mod switch, you can get interesting tones from your tube amp with this distortion pedal.
I also like that this pedal can be used to record straight into an interface, making it a handy recording tool. You can also use it for live settings, such as ampless setups.
For me, this pedal is one of those you ought to have a duplicate of. Keep one in your practice room or studio and have another ready for gigs. You'll never know when the preamp section of the backline amp doesn't suit your taste. There was a time I had a Sansamp GT-2 as a backup preamp in case the backline amp at the gig was too scratchy or didn't match my tastes.
Cons: 
While I like the built-in cabinet simulator, I have some issues with it.
First, I wish they would allow you to bypass the cabinet simulator feature when you use this as a distortion pedal in your tube amp. Having a cabinet simulator into a real guitar cabinet sounds redundant and may not bring out the best sound from your amp. Luckily, future variants of the Sansamp came up with a bypass switch for the cabinet simulator.
Another thing that could be fixed here is updating the cabinet simulator. The design feels outdated to my preferences. Tech 21 should consider releasing an updated Sansamp GT-2 that includes an IR loader.
Conclusion
All things considered, many options are available in the market. You may have to audition these pedals to see which works best. That means bringing your amp to your local guitar store and testing as many distortion pedals as possible to work with your amp.
That said, my favorites on this list are the Sansamp GT-2 if I need a direct replacement for a preamp section. Another one that I like is the Proco Rat 2, which I consider a versatile pedal. The Wampler Sovereign is another good option to complement any existing tube preamp section.
Trust your ears with this one in your search for the ideal distortion pedal for your tube amp. Don't hesitate to try as many pedals as possible with your guitar and tube amp.
Guitar Related Topics:
Are Expensive Guitars Worth It? Electric, Acoustic & Bass
Top 12 Best Bass Guitar Brands 
8 Best Strings for Slap Bass & Funk Guitar 
Why Do My Guitar Strings Feel So Tight/Loose? Solved
Why Are My Guitar Strings So Hard to Bend & How to Fix It
Can I Use Guitar Pedals For Bass? Is it okay?
Why Do My Guitar Strings Keep Breaking At The Bridge?
Cheap VS Expensive Guitar Pedals: Main Difference, Pros & Cons
The 14 Best Combo Amps For Acoustic Guitar 
Top 13 Fuzz Guitar Pedals (All Budgets)
The 14 Best Compressor Pedals For Jazz Guitar 
The 9 Best Preamp Plugins (For Vocals, Guitars & More)
The 12 Best Tuner Pedals For Bass & Guitar 
Top 7 Ring Modulator Pedals For Bass & Guitar 
Top 11 Plugins For Making Metal  (Guitars, Drums & Effects)
Top 10 Guitar Amp Plugins (And 5 Best FREE Simulators)
Top 6 Overdrive Pedals For Worship Guitar 
Best Small/Mini Guitar Pedalboards 
Top 12 Small Guitar Volume Pedals  (Mini Pedals)
Top 12 Audio Interfaces For Guitar (On All Budgets)
Top 7 Available Arpeggiator Guitar Pedals 
The 5 Best Autopan Guitar Pedals 
Top 12 Guitar Pedals Great For Telecaster 
11 Best Effect Pedals For Jazzmaster Guitar 
Top 12 Effect Pedals Great For Les Paul Guitar 
Top 9 Pickups For Worship Guitar 
Top 12 Guitar Pedals Great For Stratocaster 
12 Best Mics For Recording Acoustic Guitar 
Top 12 Multi FX Pedals For Acoustic Guitar 
Can You plug a Guitar into a Keyboard Amp?
Top 17 Best Guitar Pedal Brands In The World 
How To Make My VST Guitar Sound More Realistic? – 8 Tips
How To Make Bass Guitar Sound Like Synth – Tips & Advice
Do Left-Handed Guitar Players Have An Advantage?
How To Make Bass Guitar Sound Deeper / Get a Great Bass Tone?
Top 12 Electric Guitar Brands In The World 
Top 13 Acoustic Guitar Brands In The World 
Top 7 Acoustic Guitar Plugins (And 4 Best Kontakt Libraries)
Top 6 Electric Guitar VST Plugins (Best PAID & FREE Picks)
Top 6 Classical Guitar Plugins & Kontakt Libraries (And FREE Guitars)
Top 10 Guitar Libraries For Kontakt  (Acoustic, Electric, Bass & Freebies)
Top 12 Plate Reverb Guitar Pedals 
Top 12 Plugins For Mixing Guitar (Acoustic, Electric & Bass)
Why Did My Guitar String Break While Tuning Down?
Are Guitars A Good Investment? Cons & Pros & What To Look For
Can You Use A Pa Speaker As A Guitar Cab? Answered!
How To Use Guitar Pedals In Logic? Answered
Top 7 BitCrusher Guitar Pedals Available 
12 Best Acoustic Guitar Strings For Beginners 
Top 12 Guitar Pots For Strat & Telecaster 
11 Best 4×12 Guitar Cabinets (Marshall, Diezel, Messa…)
Top 12 Guitar Wiring Kits (Three Types)
11 Best Guitar Humidifiers on Any Budget 
Top 9 Left-Handed Bass Guitars (With Best Value)
The 11 Best Ambient Guitar Pedals 
The 12 Best Guitar Amp Attenuators 
Top 8 Bass Guitar Strings For Metal 
The 7 Best 1×12 Guitar Cabinets (All Budgets)
12 Best Acoustic Guitars Under $2000
Top 12 Classical Guitars Under $1000
Does Playing Guitar Strengthen Your Hands? Answered
9 Best Bass Guitar Plugins (And 2 Best Freebies)
Top 10 Doubler Plugins For Vocals, Guitars & More 
Top 12 Spring Reverb Guitar Pedals Available in 
Top 14 Harmonizer Guitar Pedals (Best Rated)
The 20 Best Guitar Preamp Pedals  (Best Rated)
How long does it take to learn Fingerstyle Guitar?
Top 7 Bass Guitars For Stoner, Doom & Sludge Metal 
12 Best Ample Sound VST Plugins (Guitars & More)
How to Fix Crackling & Popping Bass Guitar?
How To Use Channel Strip Plugins in Your Mix (Drums, Bass, Guitar)
How To Use Preamp Plugins? (On Guitars, Vocals, Bass & Drums)
How Loud Should My Guitar Amp Be For Recording? 6 Factors
Best Lo-Fi Guitar Effect Pedals For Unique Tone
Can I Run Vocals Through The Guitar Pedals? Answered
Why Do My Guitar Strings Smell Like Metal/Garlic/Pee?
Top 4 Limiter Pedals You Can Get (Best Guitar Limiter Pedals)
Do Electric Guitars Sound Good Unplugged?
Should I Learn 4, 5 Or 6 String Bass Guitar & Why? (Complete Guide)
Can I leave My Guitar Tuned Down a Step? Yes, But Is It Safe?
Can a 6 String Bass Be Tuned Like A Guitar?
Can You Play Two Guitars Through One Amp?
How often guitar necks need reset? Answered & Explained
Can I Play Classical Guitar On A Steel-String Guitar?
How Often Does A Guitar Need a Setup? (Acoustic, Electric, Bass)
If I Learn Acoustic Guitar Can I Play Electric Guitar?
Do Fender Guitars Appreciate In Value? (Are They Worth It?)
Top 2 Best Guitar Sidechain Compression Effect Pedals 
How to Record Electric Guitar Into Logic Pro X?
Is Electric Guitar Too Loud for an Apartment? Can Neighbors Hear it?
Top 6 Guitar Amplifiers For Prog Metal 
How To Chain Your Guitar Effects Pedals? Ultimate Guide
How To Fix Distorted Bass Guitar Sound?
Should You Put Stickers On A Bass Guitar? Does It Affect The Done?
Why Are Bass Guitars So Heavy? Answered & What You Can Do
Top 10 Guitar Pickups for Low Tunings 
Top 14 Pedals For Garage Rock (Distortion, Overdrive & Fuzz)
Is It Worth Upgrading Bass Pickups? Answered
Overdrive vs Distortion vs Fuzz: What's The Difference?
How Long Do Batteries Last in Your Active Bass?
John Narciso is a guitar player and music technology hobbyist. He loves exploring guitar effects processors in pedal and plugin format and free music applications. His music preferences tend to be diverse, listening to genres spanning from metal to alternative rock and a little hip-hop.