Today, we'll look at the 9 best 49-key MIDI keyboards in 2023 on a tight budget.
A quality MIDI keyboard is essential for any recording musician, from bedroom recording to high-end studio spaces. When writing, recording, producing, or even mixing, using MIDI in your work results in endless possibilities, and a quality MIDI keyboard can often make the difference when sampling and using virtual instruments. 
If you're looking for a 49-key MIDI keyboard, and happen to be on a limited budget, then here is a comprehensive list that will move you in the right direction. We considered various factors in this selection, including quality, durability, performance features, brand reputability, and preference based on personal experience. So, let's look at the following 9 MIDI keyboards to get the most of these essential tools.
9 Best Cheap 49-Key MIDI Keyboards Under 200$ (2023)
1. Native Instruments Komplete Kontrol A49 (219$)
Native Instruments brings a performance piece of gear that you will make an essential part of your home studio.
Innovative, sleek, and essential for all passionate about music and exploring new ways to produce with an added creative touch. The Komplete Kontrol A49 is highly integrative and lets you do almost everything without even lifting your head. From its transport controls to semi-weighted keys, it has an impressive feel and texture. Capturing ideas is made seamless and makes you like feeling you are in control. Let's see why.
Key Features:
Smart Play
A great help in a producer's music because this feature allows you to activate and edit the scales, chords, and arpeggiator. You can edit these using the engine parameters in Komplete Kontrol, such as setting chromatic scales, chord modes, arpeggiator sequences, etc. It is just phenomenal.
Navigation And Mode Buttons
When it comes to navigating, the A49 makes it easy to browse your Komplete Kontrol library as well as being able to navigate in your DAW with the 4-D encoder (which moves up, down, left, and right, can be pressed, as well as a continuous rotation function). In addition, you can access control functions for the selected plug-ins and track control functions, among other things, with these buttons above the encoder.
Transport And Control Sections
You have quick access to these functions with buttons for loop, metronome, tempo, stop, record, and play. You will barely even have to use your mouse or look at your screen. There are also secondary functions like count-in and restart when pressed with the shift button. The control section includes eight endless knobs (you can tap them also), which allow you to adjust parameters.
Komplete Kontrol Software
With advanced host integration, Komplete Kontrol gives you so much information, presets, and parameters that you can adjust to your preferences. It essentially brings together all Native Instruments, effects, loops, and samples into one plug-in. In addition, the software includes the Komplete Select bundle, which gives you high-quality virtual instruments, including Massive, Monark, and Reaktor Prism. It works with a host DAW, or it can also be standalone.
Pros:
Besides all the other noteworthy features not mentioned, like the display, undo/redo buttons, quantize, and high-quality keys, the A49 has a training mode to find a control without accidentally triggering actions. And there is also a set of accessibility features offered for visually impaired users. So nothing can stop you from creating your best work yet, thanks to Native Instruments' ingenuity.
Cons: 
It all seems too good to be true. One drawback is that the host integration for Komplete Kontrol is not available to use on every DAW. So one must be mindful of this. Also, a MIDI Out would be a nice added feature to connect this supreme controller to a sound module.
Nektar products are rising in popularity, and once you can see what makes them have an impact on their users, you will understand why.
The Impact LX49+ has synth-action keys that are covered to protect them against dirt. With so many features to list, this product would need its very own review. It hosts octave and transpose buttons, and there's also a nice touch on the pitch and mod wheels. The control center in the middle tells its own story, and the Nektar DAW integration gives a consistent workflow to all popular DAWs. With all this and more at your fingertips, you can rest assured that this keyboard works in unison with you.
Key Features:
8 LED Pads
The LX49+ spoils you with eight velocity-sensitive LED illuminated pads. They can be used as regular MIDI buttons and perform your drum beats and percussive melodies. You can load and save up to four different pad setups with pad maps. And pad learn allows you to change a pad note assignment. Colors range from green, orange, yellow, and red – depending on which pad map is currently loaded.
9 MIDI-Assignable Faders And Buttons
You can control so many more parameters with these assignable faders and buttons, which allow choosing which function you want to adjust and automate in your production process. These parameters include envelopes like attack, decay, sustain, volume control, effects, etc.
8 Pots/Knobs
Also, MIDI-assignable, these pots give you options to program them to various effect parameters like wet/dry for reverb, chorus, pan, filter cutoff, resonance, etc. Simply program what you want each pot to represent in the DAW, and you're on your way. Great also for automating effect transitions.
6 Transport Buttons And LED Display
Full range of transport buttons: loop, rewind, fast forward, play, and record. They also have secondary functions like undo, click, and mode when pressed with the shift button. There is barely any use for a mouse with this amplified transport section. The LED display shows three characters with seven segments which lets you see which current parameter values are being adjusted.
Pros:
The LX49+ has a lot going for it. It is a producer's all-in-one workstation because of its numerous features. There is also a mixer control button that, when pressed, assigns the faders to the mixer channels in your DAW. The Instrument button assigns all controls to the instrument parameters. It just goes on and on. The keyboard can also connect to an iPad using the required connector. And Bitwig 8-Track software is included too.
Cons: 
Although it's excellent that there are pots/knobs included on the keyboard, they are not endless in turning, which can cause some frustration when changing plugins or presets, and the knob is set at the value you had previously turned it. There is also no MIDI out.
3. M-Audio Oxygen Pro 49
USB powered controller that M-Audio has made it easier to bring your ideas to life in the bedroom and studio.
It took my breath away seeing what the Oxygen Pro 49 MIDI controller can do. With a sturdy weight of 9.3 lbs/4.2 kg, it will leave its mark wherever you place it (figuratively). Because once you start using its great keys, backlit pads, controlling your parameters with its faders, and even expressing your ideas with its chord, scale, and arpeggiator functions, it will be difficult to change to another controller.
Key Features:
16 RGB Pads
Velocity-sensitive pads send a MIDI note on/off messages and perform other MIDI assignments. These pads can change to thirteen different colors and have a note repeat function. The 'Pad Row Play' buttons on the right allow you to play through the audio clips assigned to each pad in the corresponding rows.
9 Faders And 9 Buttons
Faders perform their assigned controls by being pushed up and down. Underneath these faders are eight function buttons (that control some internal functions such as arp, latch, chord, scale, and time division), and the ninth button is the mode button with LEDs (this activates secondary modes for the function buttons such as record arm, select, mute and solo)
8 Assignable Knobs
The knobs perform their assigned controls, and when working with a DAW, the assigned controls will be predetermined by default. However, you can edit the controls when they're operated with a preset or the User DAW selected. Finally, it is worth noting that both faders and knobs are enabled with a "soft takeover." Meaning that the physical fader or knob will not work when you switch banks with the newly selected software control unless it is positioned at the current value of the new control.
Bank Buttons And Transport Section
If you operate in the DAW mode or one of the custom presets, these buttons can switch between the selected bank for faders, knobs, pads, and function buttons. With four banks, this gives you the equivalent of 36 faders, 32 knobs, 32 buttons, and 64 pads.
The transport section has rewind, fast forward, loop, stop, play, and record buttons.
Pros:
Collectively this is a plethora of functions to take full advantage of. Keys are semi-weighted, velocity-sensitive, with aftertouch. The keyboard also boasts smart scale, chord, and arpeggiator modes to enhance your performance. In addition, it has a software package, including Ableton Live Lite, MPC Beats, and virtual instruments from AIR Music. And it also has a MIDI Out.
Cons: 
The screen is relatively small for its numerous features. Also, as briefly mentioned, the knobs are not endless for turning. Therefore, changing to new software control parameters will need to be adjusted. There is not much to say since you would essentially buy on a tighter budget. These are minor issues in comparison to the value gained overall.
4. Roland

A-49 
As we know, portability leads to compromised features and functions, but Roland has made this easy-to-use keyboard with a professional quality feel playing.
The A-49 allows you to play fast strokes with stable keyboard action preventing keys from moving in unwanted ways, yet it keeps a slim design and is easy to travel with, weighing about 5 lbs 9oz/2.5 kg. It is also great for live performance. No need to feel shy to go all out when playing these keys because of Roland's quality keyboard design.
Key Features:
Controllers
The unique pitch bend and modulation lever are found on the left. S1/S2 buttons transmit program changes, causing your sound module to switch sounds. You will find C1/C2 knobs above, which can change the functions assigned, but the default is cutoff and resonance. The D-BEAM controller is used by moving your hand up and down above it.
4 Modes
You can select between Play mode (when performing with keys, pitch, mod, MIDI sound module, etc.), Function mode (transmits control messages or makes settings for the A-49 itself, using the keyboard), SuperNATURAL mode (controls Roland's SuperNATURAL sound module via MIDI, using Behaviour Modeling Technology), and Visual Control mode (which lets you synchronize video with keyboard performance)
Various Connectors
Connectors would include a 1/4″ hold jack input (for sustain pedal), 1/4″ expression jack input (only for the specified EV-5 expression pedal, which is sold separately), MIDI out, and also the USB Type B computer port.
Ableton Live Lite 
This package provides the Ableton Live Lite serial number needed to install the software. Suitable for introducing you to Ableton DAW if you have never used it, and although the software features are limited, you can still learn it pretty well.
Pros:
You can select a function to use aftertouch on the keys, which is a nice bonus. In addition, you can also set the keyboard to control the aftertouch with the D-BEAM controller. Its structure's feel, sensitivity, and quality make it a lovely addition to your home setup. You can also play it with the Apple USB Camera Kit on an iPad.
Cons: 
For some beginners, the setup of the keyboard can be challenging. The keys are slightly smaller, but not too much to make a big deal about them. It would generally just depend on the person, But one piece of advice, if you can have an opportunity to see it in your hands before you buy, then do that first.
Korg would be among the top of the list in popularity as a music brand, and they have a simple and practical product in their range.
The microKey MkII has the same straightforward attributes as its predecessor but has some new features that enhance its characteristics, such as a pedal jack input. There are also the options of having 25, 37, 49, and 61-key models. In addition, they have designed their mini keyboard with Korg's Natural Touch.
Key Features:
Mini Keys
Compact keys comprise the layout, making the MicroKey easier to place in limited space. They are velocity-sensitive and adjustable in their velocity curve, of course. They are well designed in weight for when you are composing, even though they are much smaller than usual.
Pitch Bend and Mod Wheel
Standard with keyboards, yet these stick out and have lined grooves for finger grip on both of them. In addition, they are pretty sturdy in their design and serve the purpose intended when you need to automate the pitch or adjust modulation.
Lightweight
The design has a professional look one would expect from Korg, while it is made with plastic. The keyboard weighs in at just 3 lbs/1.4 kg; it is easy to maneuver for its size when needing to move around. And the rubber pads underneath plant it firmly on the table, so no slipping occurs.
Korg Software Bundle
You can expect to receive the code for this bundle which includes Korg Gadget, Korg Module, and the M1 Le (from the Korg Collection). In addition, the Korg Control Editor software would allow you to access various performance features and operational parameters for the MicroKey.
Pros:
The feel of the keys is exceptional for their compact size; they are not flimsy and don't rattle when you strike them in a more pressure-infused performance. For a 49 key, it is certainly more portable and can also connect to an iPad or iPhone using an Apple Lightning to USB camera adapter.
Cons: 
The keys are slimmer and not for those who want the whole piano playing experience. It probably wouldn't be the best choice if you are learning to play the keyboard. There is no MIDI out either, so you can only use it via a USB connection with plugins/software.
A company predominant in keyboard and MIDI interface manufacturing, we will look at one of Nektar's more simple keyboards.
A plug-and-play solution for your home setup, the SE49 works with any MIDI music software and is relatively light even though it has full-sized keys. The pitch bend and mod wheels are large and have an excellent grip with good resistance, making your flow more seamless when playing and automating.
Key Features:
Octave And Transpose Buttons
Control the shifting of octaves up and down, and you also transpose the keyboard up and down in semi-tones. A secondary function is switching the function to control transport (play, record, rewind, and stop) on your DAW.
USB Class Compliant
Its plug-and-play functionality work on pretty much all computer systems. You can use it from Windows XP or higher and any version of Mac OSX. And you can install Nektar DAW integration files on Windows Vista/7/8/10 or higher, Mac OSX 10.7 or higher, and all common DAWs.
Assignable Fader
Just above the pitch and mod wheels, there is a MIDI-assignable fader that can be programmed to change the parameters of the desired function. The smooth motion of movement and comfortable grip make this fader a great little addition.
Bitwig 8-Track Software
Included is a full version license of the Bitwig 8-Track DAW software, meaning that if you are new to making music, you can install the software and start recording your MIDI notes and creating your songs. It has a large selection of instruments, effects, and modulators and allows you to work on eight tracks with audio or MIDI.
Pros:
With the stylish design and colors, its appearance is likened to one of the more high-end keyboards. There is not much confusion for programming, as the SE49 is simple to set up and edit functions like velocity curves, presets, control assign, etc., once you see how to do this.
Cons: 
The keys have a pretty plastic feel and touch about them, so it does take some time to get used to them. However, their feel is significantly more apparent if you are more advanced in piano playing. Also, there is no LED screen to monitor which current parameters are changed when programming and editing keyboard functions.
7. Miditech Midistart Music 49
Miditech has products focused on interfaces and MIDI tools, and it is good that they have this MIDI keyboard to complement their catalog.
As the name would suggest, the Midistart Music 49 is plug-and-play. In addition to this, it is USB class-compliant, working without any further installation with Windows and Mac OSX computer systems. With a semi-large build, it is not much of a surprise that it weighs around 7.5 lbs/3.4 kg and has dimensions of 82.5 x 20 x 7.5 cm (W x D x H).
Key Features
MIDI Out
Allows you to connect the keyboard to a sound module for MIDI use. This feature is essential because, although it lacks many other features, you can at least interconnect the keyboard to perform with other devices via MIDI cable.
Sustain Pedal Input
1/4 inch jack input behind the keyboard gives you the option to connect a sustain pedal. There are generally two types of pedals. One is open contact (when pressed, it is closed), and the other is closed contact (when pressed, it is opened). Midistart needs an open contact pedal.
Pitch/Mod Wheels And Octave Buttons
Pitch bend and modulation wheels have a decent design and grip, nothing too fancy. In addition, you will also find the octave up/down buttons just above them. Very simple.
Software Bundle 
The purchase includes software like Magix Samplitude Pro X2 Silver, Toontrack EZ Mix 2 lite, IK Multimedia Amplitube CS, Imageline Poizone Synthesizer, and more. This bundle will give you a nice kickstart in your production process.
Pros:
The keys themselves are of good quality. Great for if you have piano playing experience and are used to more solid and sturdy keys, not as light and flimsy as other keyboards within the same price range. If your main focus is simply the artistry of playing keys, this is worth buying.
Cons: 
As you may see from first glance, it is very limited in features. It is as simple as it gets. This keyboard is not for you if you're looking for something more dynamic in features and functionalities. The keyboard is also slightly heavier than many other 49 keys out there.
8. M-Audio

Keystation 49 MK3
The M-Audio brand is a household name for all music producers, having among the world's best-selling keyboards.
M-Audio keep the quality they are known for even in their more affordable products, and this keyboard is no different. The Keystation 49 MK3 boasts its well-designed pitch-bend and modulation wheels and fully assignable octave buttons. In addition, it is excellent for performing live because of its added functionality controllers and lightweight, making it easier to travel to gigs.
Key Features:
Volume Slider And Advanced Buttons
Sends MIDI messages to control the volume of the notes played. The fader can also be assigned to different effects like pan, attack, reverb, chorus, etc. It comes in useful when you are doing a live performance. With the advanced button, you can go into edit mode.

Directional Buttons


Just above the volume slider, there are five directional buttons. With these, you can use MIDI, Mackie Control (mixer and control surface equipment), or HUI (Human User Interface) protocols to control certain software functions that support them.
Transport Buttons
It consists of stop, play, and record buttons. The transport section (like the directional buttons) can also use MIDI, Mackie Control, or HUI protocol. Allows for smoother performance when controlling your DAW.

Software Download Cards


As if this keyboard wasn't enough, M-Audio has included download cards for Pro Tools | First M-Audio Edition and Ableton Live lite. Also, virtual instruments like Mini Grand, Velvet, Xpand!2, TubeSynth, Electric, and Bassline (all from AIR Music Tech) make these a special bonus deal.
Pros:
Synth-action keys are full-sized with a softer and more natural feel than one would expect. It is also compatible with iOS devices by using the Apple Lightning to USB Camera Adapter, which allows you to perform with music apps on your iPad or iPhone.
Cons: 
There is no MIDI out for connecting to sound modules. Also, the transport section is limited to only stop, play, and record buttons. It would be nice to include loop, rewind, and fast-forward buttons. It's not a big deal, considering its value and everything else it offers.
9. Swissonic EasyKey 49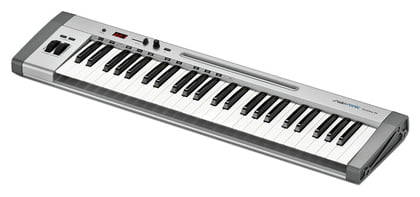 Being one of Thomann's brands, Swissonic ranges in various products, including this rugged keyboard.
The EasyKey 49 lives up to its name because it is simple and effective in its design. It is one of the more affordable keyboards and does not promise a world of features, yet it gives you what you need for your fundamental composing and recording needs. Hosting a MIDI output, rotary encoder, pitch-bend, and modulation wheels can be a worthwhile introductory keyboard for anyone wanting to start making music but who does not want to spend a lot.
Key Features:
Robust
The solid aluminum housing has a rugged exterior and is quite durable. The side panels are made of plastic, and although they are synthetic, they serve their purpose for comfort and appearance.
Tablet Shelf
This neat feature allows you to position your iPad or tablet on the keyboard to play simultaneously with music apps or read scores. Perfect for when you are learning to play piano and general practicing. You can also fit score sheets on this shelf should you not be using an iPad.
Volume Control Slider
The fader can also be assigned to another MIDI command but is primarily used for adjusting the volume. When assigned, it has the typical parameter values (001 – 127), which you can also view on the LED display next to it.
Edit Button
Specific piano keys have special functions when they are programmed in 'Edit Mode.' For instance, touch sensitivity (velocity curve), setting the encoder to a function, storing/loading presets, MIDI bank and channel assignment, etc.
Pros:
The keys are semi-weighted enough to play without having to feel compromised in your performance. Good enough for when you want to practice or just lay down recordings without needing too many add-ons. It has a MIDI out, which is good. And for its price, you can create some good songs, as long as you know how to maximize it.
Cons: 
Features are limited to most people's preferences. It could have had a few extra attributes to make it stand out among some of the other keyboards. Its weight (10.5 lbs/4.77 kg) makes it one of those studio tools that you should not want to move around too much, although to credit the keyboard, it is because of its sturdy aluminum housing.
Conclusion
There are so many 49-key controllers out there, and most of them go a long way for their price. However, when your budget is somewhat limited, your options are generally fewer. Yet the ones we have recommended here show you that less budget doesn't necessarily mean you will get less value.
The various keyboards listed have a different style, feel, and weight of keys. And although you may be more experienced with keyboards or pianos or just starting, you would still need to get accustomed to the keys of your controller selected. They all have a sustain jack input, pitch bend and modulation, and octave buttons, yet they offer various add-on features according to your personal needs and budget.
When deciding on buying a keyboard, you would look at your production needs and how the keyboard can enhance your workflow. For example, if you are mainly a composer, pianist, or songwriter, one of the more sturdy keyboards with fewer features will suffice for your needs. And if you are more of a beatmaker or producer who incorporates various instruments, drums, and percussion and works with automation, keyboards with pads, faders, and knobs will better suit you.
Other MIDI Topics:
11 Best Ableton-Friendly MIDI Controllers 
Top 11 MIDI Keyboards/Controllers For FL Studio 
Best MIDI Keyboard/Controller For NI Kontakt 
12 Best Websites For Samples, Presets, Loops & MIDI 
4 Best MIDI Controllers With Weighted Keys 
Best Mini/Small MIDI Keyboards: 12 Picks To Save Space 
Top 12 MIDI Controllers With Semi-Weighted Keys (All Sizes)
Top 12 Best 88-Key MIDI Keyboards (On Any Budget)
How To Connect MIDI keyboard To Ableton Live – Step By Step
Best 73-Key MIDI Keyboards Available  For Full Control
5 Best 37-Key MIDI Keyboard Controllers  (On Any Budget)
The 6 Best 61-Key MIDI Keyboards (On Any Budget)
Top 5 Best 25 Key MIDI Keyboards (On Any Budget)
Should I Buy A MIDI Keyboard Or Synth? (Are Synths Worth It Anymore?)
Should I Buy MIDI Controller Or Keyboard? Cons, Pros & Tips
Shaurya Bhatia, is an Indian Music Producer, Composer, Rapper & Performer, who goes by the stage name MC SNUB, and is also 1/2 of the Indian pop music duo, called "babyface". A certified Audio Engineer & Music Producer, and a practicing musician & rapper for more than 6 years, Shaurya has worked on projects of various genres and has also been a teaching faculty at Spin Gurus DJ Academy.