Let's discuss the best 76 key digital pianos available in the market.
Like in every category of keyboards, each brand offers different variations related to the nature of the keys, the features of the key bed, the available tones, and the effects offered.
Considering the sizes and features different keyboards offer, the 76-key-sized instrument falls in the mid-range. You get the freedom of having more workspace compared to the compact-sized instruments while getting almost the same features as the 88 key versions.
Some digital pianos offer a very detailed list of features and effects. For example, you get complicated control panels and have the option to fine-tune the sound to get it just right. You can also choose from different key types like the weighted hammer or graded soft touch keys, among others.
Here we look at some options in the 76-key range and attempt to give a brief rundown of the specs so that you can have all information you need to pick your next instrument.

The 3 Best 76-Key Digital Pianos (Stage & Non-Stage)
1. Nord Stage 3 HP76 (Best Stage Piano)
The Nord Stage 3 HP76 is a 5th-generation instrument from the Stage product line.
Nord is a Swedish company that prides itself in making some of the most popular keyboards, pianos, and organs for the live player. Each instrument is made by hand. Because of the impeccable quality control and attention to detail, the Nord Stage 3 has become renowned for its excellence and versatility on the live stage.
The HP76 is the mid-range keyboard in terms of its price, size, and functionality compared to Nord's Stage 3 Compact 73 and the Nord 3 88 Stage Keyboard, the other two offerings from the Nord Stage 3 range. The HP76 is loaded with features and still manages to stay within the realms of portability.
Key Features:

Appearance & Build
On the Nord Stage 3 HP76, you get 76 "weighted hammer keys" capped on both sides by wood panels. A comprehensive control panel rests above the keys for easy access while playing. Since the HP76 has been made specifically for live playing, you get all your controls on the main panel, so you don't need to go through complicated menus to find the sound or program you need. You also find a couple of helpful Oled displays to help you navigate through the functions on the go. The overall build of the HP76 is solid but light. The unit weighs around 12.4 Kg.
Multitimbral Instrument
Panel A & B buttons give you access to two front panels per program, which turns the Nord Stage 3 into a multitimbral instrument. This means that you can split sections on the key bed into 4 different zones and also have the ability to play more internal and external sounds. Add a mod wheel and pitch stick controls to that combination, and you have an instrument that can manage any live performance situation.
Character & Sound
If you're the kind of player that doesn't want to commit to any particular style of playing and wants access to a piano, organ, and synth sounds at your fingertips, the Nord Stage 3 HP73 has you covered. Nord has gone to great lengths and meticulously selected a wide variety of instruments for sampling sounds, including upright pianos, grand pianos, electric pianos, synthesizers, and organs.
Piano Section
The piano section of the HP76 gives you access to carefully selected classic sounds from Nord's library, including Velvet Grand, Bambino Upright, Wurlitzer Electric Piano, Digital Piano (full tines), and many more. You also get a layering option with which sounds can be easily layered on top of each other and played simultaneously.
Organ Section
The organ section uses Nord's award-winning C2D Organ Engine, which has several organ simulations of classic transistor organs and pipe organs, including Vox Organ, Farfisa, and B3, among others. It is also possible to blend two different organs and play them simultaneously, which opens more tonal avenues for the organ enthusiast in you.

Synth Section 


The synth section is powered by the same engine created for the Nord A1 Synth. With the A1 Synth engine, you get warm-sounding analog models and intuitive oscillator configurations to create fascinating tonal results. The synth section also has a brand-new oscillator category that incorporates super wave sounds. You also get a barrage of other simulations to get creative with your sound, including strings, guitars, choirs, brass instruments, and the vintage Chamberlin and Mellotron.

Effects Engine 


The HP76 houses a powerful effects section with various effects you can select, including tremolo, phaser, chorus, wah, flanger, and many others. You also get compressors, delays, and reverbs that can be applied to the available sounds. The HP 76 also has 3 split points across the key bad, which can be used to initiate the crossfade function.
Pros:

You get a flavor of pianos, synths, and organs in an all-in-one, creative, user-friendly instrument. The onboard sound samples sound professional, and the powerful effects engine provides unlimited tonal qualities. Changing tones is seamless and fast.
Cons:

The HP73 is designed specifically for live performance and is unsuitable for studio recording. In addition, the HP73 comes with a hefty price tag. There are no built-in speakers for sound. At this price point, a touchscreen could be added for better navigation.
2. Yamaha Piaggero NP-32 (Best Digital Piano With Speakers)
The Yamaha Piaggero NP-32 is simple but effective. 
You get some premium-sounding tones without the substantial price tag. The user interface is so easy that anyone can just walk up to the NP-32 and start playing their favorite tunes right away.
It can be a good option for beginner-level musicians venturing into the world of keyboards.
The Yamaha Piaggero NP-32 is lightweight and takes portability to the next level as you can power it with 6 AA batteries that give you a play time of almost 5 hours.
You can also hook it to your iPhone and download an app to explore it further through the aesthetically designed app interface.
Key Features:

Appearance and Build
The Yamaha Piaggero NP-32 give you 76 box keys of the "Graded Soft Touch" variety, which means that they are lighter/softer to the touch as compared to some of the other keyboards with hammer action keys. The NP-32 has a dimension of 49″ x 10.18″ x 4.12″ but weighs only 5.4 kg.
Controls
The control panel on the NP-32 is quite uncomplicated. You get 10 buttons that help you select the different tone options. Other than that, you get a demo button and a metronome button. There are also dedicated record and play buttons on the interface. The only other thing you find on the front panel is a USB port and a master volume knob for the built-in speakers. The NP-32 possibly has the simplest interface on a keyboard of this size.
Character & Sound
The Yamaha Piaggero NP-32 has two built-in 6-watt speakers for stereo sound. You get 10 different buttons, each representing an instrument. The list includes vibes, strings, and 2 varieties of pianos, electric pianos, organs, and harpsichords. 
Layering 
The NP-32 lets you layer any two sounds of your choosing with relative ease to enrich the sound. All you need to do is hold down the dedicated tone buttons that you wish to layer, which shows how easy it is to use the Piaggero NP-32.
Reverb, Metronome, and Transpose Functions 
Another feature the NP-32 has is the digital reverb which gives you a concert hall ambiance as you play. You also get a metronome to practice staying in time and a transpose feature that helps you change the key of any song to instantly match any vocalist's range.
Pros:

The Yamaha Piaggero NP-32 comes with a very low price tag and is good value for money. The built-in tones are impressive. You also get 2 speakers onboard for stereo sound. The unit is very light and can be powered with 6 AA batteries, adding to its portability. 
Cons:

The key on the NP-32 is touch-sensitive, but some more advanced players may find the sensitivity too subtle.
Also, you don't get a lot of effects on board like others keyboards in the 76-key category offer. There is also not a lot of customization that can be done to the available tones.  
3. Viscount Physis Piano K5 EX (Stage Piano & Master Keyboard)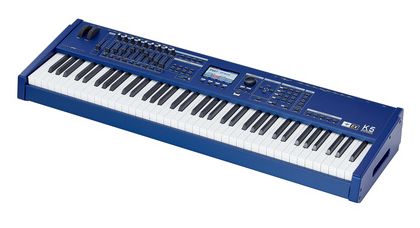 Viscount Physis's K series has gained great popularity among live performers.  
The series includes the Italian-made K4 EX and the K5 EX keyboards that are feature rich and have a unique way of presenting these features with some intuitive space-saving controls. In addition, the layout is simple and easy to get familiar with.
On the Viscount Physis Piano K5 EX, you get a wide array of input/output options with enough slots to connect your external sound devices, computer, external speaker systems, and pedals of all kinds.
You can also connect your iPhone and other portable devices with it through the given ports.
Key Features:

Appearance
Viscount Physis Piano K5 EX comes in sturdy metal housing and has 44″ x 14″ x 5″ dimensions. It weighs heavier than the other instruments on this list at almost 15 kg. There are two helpful grip holes on both ends to make it easier to carry the keyboard and move it around. On the K5 EX, you get 76 velocity-sensitive hammer action keys. These are box-style keys and have an after-touch feature that can be set between a range of 0% to 100%. A vibrant color display on the controls section gives clarity on the features and tones that are selected. You get two-wheel controls. One for pitch bend and the other for modulation.
Controls
On the control panel, you find a group of 4 banks. While playing live, you can assign different sounds to these 4 banks and have the option to micro-edit each with the help of nine control knobs, a fader for each knob, and a row of nine buttons. These controls enable you to edit various parameters that are relevant to the selected bank, so you have access to 108 combinations in total.
Performance Mode
The K5 EX has a performance mode to help you manage your scenes. Each performance can have 4 scenes, and each scene can have up to 8 sounds. For example, if you need different tones and effects for a verse in a song, you can save them in the first scene, and if you need another combination of sounds for the chorus, you can save them in the second scene to recall it in a live situation by pressing the relevant scene button. 
Character and Sounds 
Physis has used physical modeling technology on this unit to create every aspect of its sounds rather than sample technology which is an entirely different concept. As a result, the Physis Piano K5 EX gives you some highly professional acoustic and electric pianos, classic organs, and synth sounds. You also get 8 split zones across the 76 keys key bed. This allows you to assign different tones and effects to each zone. You can also get creative and layer your sounds. These can be either assigned to a zone on the keyboard or recalled through the scene button from the performance mode.
Pros:
The performance mode has been executed very well for recalling scenes during a live event. The 4 banks combination with knob and fader controls helps you dig deep to reach the perfect sound. With the K5 EX you also get all the necessary input/output options that you might need.
Cons:

The K5 EX is quite heavy. Switching tones is not seamless as you may get some interference when switching between modeled sounds.
Physis doesn't seem to have a widespread presence online in terms of product reviews and tutorials, so you have to figure the instrument out on your own.
The K series firmware is outdated and it doesn't look like an update will be coming anytime soon.
Conclusion
Regardless of which stage you are at in your musical journey, picking the right digital piano can be a tricky affair for beginners and experts alike.
If you are intrigued by the world of digital pianos and need a good starting point that gives you some basic features, impressive professional-level sounds, and a couple of effects to have some variety, the Yamaha Piaggero NP-32 is a good choice.
The unit is powered by 6 AA batteries and offers 2 built-in speakers, making the NP-32 ready to play right out of the box. So you get portability as well as affordability in one package.
However, if you are an advanced-level player who has spent years mastering his craft while playing on different pianos, keyboards, organs, and synths, picking the Nord Stage 3 HP76 over the competition is a no-brainer.
You get three different sound engines giving you a taste of your favorite pianos, organs and synth sounds all in one sophisticated instrument. The effects engine gives you total control over your samples and opens doors to unlimited tonal possibilities.
All onboard sounds are customizable, with the option of replacing them with downloadable samples available on the Nord website making the HP76 an exceptional choice for the seasoned live performer.
The Viscount Physis K5 is another suitable choice for live events and studio playing. You probably don't get the likes of three different sound engines as with the Nord Stage 3; nonetheless, Physis's physical modeling technology gives you some rich-sounding professional-level tones.
In addition, the simple layout and easy-to-recall features make live playing a cinch.
Several variables come into play when deciding to buy an instrument, including your skill level, playing style, preferred music genre, purpose, and of course, how much you are willing to spend. 
Sultan Zafar is a guitar player from Islamabad, Pakistan. He has been playing music with various mainstream musicians for over 20 years. He is a song writer and music producer. These days he spends his time exploring different music genres and collaborating with fellow musicians on various projects. Read more..