Today we will discuss the 8 best pedals for Rickenbacker bass of the year 2023; we have selected the best pedals that go well with Rickenbacker basses' pickups.
The Rickenbacker bass is one of the most played stringed instruments in the world. It's no secret that many aspiring bassists set their sights on a Rickenbacker bass because it has been played by many of the genre's all-time greats since the '70s.
These basses are revered for their famous sound and stunning aesthetic. Basses made by Rickenbacker have a unique sound that other companies can't replicate exactly; they have dual pickups, dual volume, and dual-tone controls. Modern basses contain a vintage/modern switch that allows them to sound either retro or contemporary.
Their mid/treble rich tone is unparalleled, especially for solos boosted with delays and other effects in psychedelic and progressive rock bands. The Rickenbacker is not an ideal choice for those seeking a flexible bass. E.g., achieving a deep, rumbling P-bass sound in gentle music requires extensive EQ manipulation.
Related Readings:
Top 12 Bass Pedals For Metal 2023 (Distortion, Overdrive, Fuzz)
Top 12 Reverb Pedals For Metal 2023 (Any Budget)
Top 10 EQ Pedals For Metal 2023 (Any Budget)
Cheap VS Expensive Guitar Pedals: Main Difference, Pros & Cons
How To Make Bass Guitar Sound Like Synth – Tips & Advice
How To Make Bass Guitar Sound Deeper / Get a Great Bass Tone?
First, we need to understand their pickups to discuss the best pedals for Rickenbacker bass. The point is that Rickenbacker basses have single coil pickups, which can cause a problem when choosing pedals for Rickenbacker bass, as some pedals can destroy the character of these pickups.
But even though it may seem like it's really hard to choose pedals for Rickenbacker basses, know that these basses are versatile if you understand their needs. For example, these basses are often found in Metal bands, specifically in genres where Fuzz pedals are often used, such as Stoner Metal. So you can also play at high gain levels with these, which denotes that these basses have a wide range of tones.
These are the 8 best pedals for Rickenbacker basses in 2023, which is more like a complete setup that will give you a wide range of tones.
8 Best Guitar Pedals For Rickenbacker Bass 2023
1. Zoom B1X Four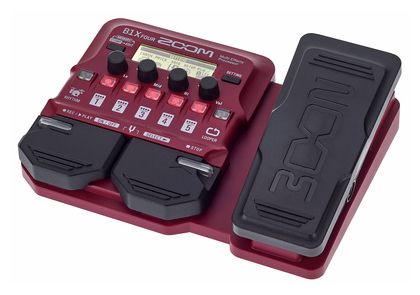 The Zoom B1X is surprisingly compact for its power, which makes him a portable effect processor with a wide variety of valuable features.
This pedal features over 70 fx and amp types, a looper, an in-built rhythm section, and an expression pedal, all of which help to elevate your bottom tone to new heights. Moreover, you fully use Zoom Guitar Lab, which features hundreds of downloadable musician patches and fx.
Create your style with over 70 vintage and boutique effects like octaver, fuzz, and bass synth. You can get your stage sound with these nine classic amp and cab combinations again. Record a 30-second bass line and then endlessly layer on top of it to create an intricate, multi-part composition.
Key Features:
Drum Patterns
The Zoom B1X FOUR's built-in drum machine features 68 individual drum patterns in meters ranging from 4/4 to 3/4, among others. Two performance modes facilitate seamless patch and effect switching during live performances. Put your pedal on a desktop to adjust your sounds and settings at home or studio.
Effects
More than 60 effects and 9 amp models are available right from the pedal. It's also possible to employ five effects at once, and you can toggle each one on or off in "neutral" mode. With the B1X, you may load up to five different effects into a single patch. The effect processor comes preloaded with various patches; however, you can modify an existing patch or create a new one from scratch.
Looper
Like other loop stations, the looper function is easy to use. As a result, you can record a 30-second loop and use it to make elaborate arrangements with multiple parts. After pressing the record button, the effect processor will begin counting down from the desired time. This way, you can layer several loops while switching between patches and effects.
Character & Sound:
The B1X's display is quite simple, yet it shows everything clearly and in a novel and practical way, making think of the LCD screen on the original Nintendo Gameboy. There are a lot of features, but it's still a free-effect processor that everyone may use.
The B1X can be used effectively without prior knowledge of effect processors or loop stations. Since several preset patches have been loaded, experimenting with new tones is a breeze. The edit mode clarifies which effects are associated with each patch for further customization.
Setting a beat and pressing play is all there is to using the looper function. You then initiate the recording of your first loop on your looper. To hear your loop again, press the record pedal; if you're not happy with it, simply hold it down for a few seconds. Therefore, a large-scale effect processor with highly user-friendly controls.
Pros:
The B1X is ideal for guitarists who want to try out new tones without breaking the bank on expensive amplifiers and effects. Bassists may be particularly intrigued by the integrated rhythm section. The band won't go crazy if you play infinite bass loops, and the looper feature will let you play over your playing. If you're a bass player, this opens many doors for you.
Cons:
In order to drive headphones to a usable volume, a separate practice amplifier or preamp is required. Another area for improvement is that several of the effects that users wished to use frequently (such as amp and cabinet modeling or overdrive) are just so poorly implemented that you couldn't even use them for practice due to digital faults.
There are also some strange tracking issues. If your palm mutes a string, for example, the instrument's electronics detect the change in string length and respond by producing a note that is a half semitone or a full semitone sharp.
Again, this occurs acoustically occasionally, but it appears to such a degree with this box that it makes it very hard to achieve a natural sound while palm muting. This happens not only with the overdrive setting but also with the clean amp and cabinet simulations. A few other effects need to be fixed so that you can't even use them for testing.
2. Tech 21 SansAmp Bass Driver DI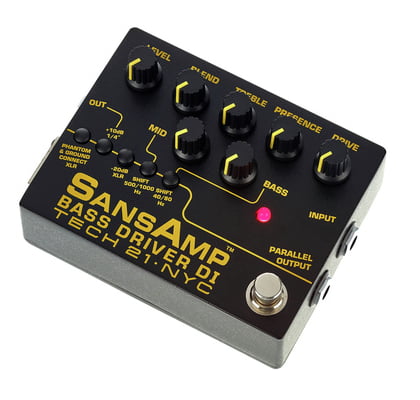 The SansAmp Bass Driver DI V2 is based on the original pedal, a mainstay of countless live and recording setups, and it provides a wider range of tone control well suited to today's bass setups.
The enlarged low-end control is a favorite among bass players, as it allows players to set the bass control's center frequency anywhere from 80Hz to 40Hz, making it suitable for both 5-string and 6-string basses. In addition, version 2 is a great pedal for both bass amps and live systems, and you can adjust its middle frequency to work with a wide variety of pickups.
Key Features:
Drive and Presence
You can get great sound out of your bass with the help of the pedal's extensive tone-shaping controls. The drive control makes it simple to add some sass to your tone, and at full volume, you'll hear a wooly distortion that can offer some depth to a sparse mix.
For instance, slap bass tone can be adjusted with the help of a presence control, which emphasizes harmonic overtones to make the instrument sound louder than it is.
Speaker Simulation
The Amplifier Emulation has an in-built speaker simulation. It's made to work with any bass speaker cabinet and has a uniform response like that of a cabinet that's been mic multiple times, without the dips and spikes that come with a single mic.
Housing and Controls
This pedal has a sturdy metal casing that will protect it for years and ensure its continued functionality. At first sight, you might think you're looking at another original SansAmp pedal, but that's not the case.
In its place, it has seven control knobs (Level, Blend, Treble, Mid, Bass, Presence, and Drive), as well as several switches (including a Mid Shift switch that shifts the frequency from 510 Hz to 1 k Hz and a Bass Shift switch that shifts the frequency from 30 Hz to 70 Hz), and an XLR Output Level switch, and a +10 dB Boost switch.
Many Uses
Because of its multiple functions, the V2 is a favorite among gigging bassists because it ensures that you will never be without a usable bass setup again. This pedal's DI V2 has both 1/4″ and XLR outputs, making this possible.
This pedal's output can be routed straight into an amplifier's effects return, eliminating the need for the amplifier's preamp. Similarly, you can bypass batteries and AC by sending the signal directly to the PA via the XLR  and powering it with the phantom. You may send the affected signal to the PA while providing a clean signal to your bass amp for on-stage monitoring, all thanks to the parallel output.
Character & Sound:
The SansAmp Bass Driver v2 is dynamic, making it one of the best bass overdrive sounds you can get. The more you dig, the harder it works, while a softer touch will provide a pleasant, smooth sound. For more than four strings, the SansAmp bass drive tone is even more developed, becoming the trademark sound of the company.
Pros:
You can use it as a Bass DI box in addition to its primary functions as a tone shaper and bass overdrive. It does a great job of simulating amps, is very quiet, and has great sounds built right in. Bass Driver DI has been improved upon from its first release by adding features that will appeal to modern five and six-string bassists.
Cons:
The onboard speaker emulation is always on and cannot be turned off independently; it is a part of the SansAmp tube amp simulation. However, this is not a problem in practice, even when plugging the pedal into a bass amplifier, because bass rigs are often full-range.
Some initial confusion may be caused by the five pushbuttons' varying labels and placements, but you'll get the hang of things quickly and likely just set and forget most of them.
The XLR plug can be ground lifted, or the pedal can be powered through phantom power. Unfortunately, because of how phantom powering operates, you can't do both at once.
3. Electro-Harmonix Micro POG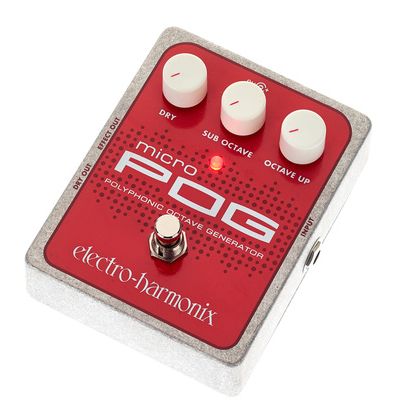 The Electro-Harmonix Micro POG is a polyphonic octave generator pedal that can flawlessly transform your bass into an eight-string instrument or an organ simulator.
It's a terrific tool for bass, adding depth to your low end and providing a wide range of groovy tonal shadings. The Micro POG has an Octave knob for adding an extra octave above the base pitch and a Sub Octave knob for adding a second octave below. The Micro POG is an excellent addition to your pedalboard because of its small size and durable construction and its Dry knob for adjusting the degree of impact.
Key Features:
Separate Controls
The pedal features three central knobs allowing full volume and tone adjustment. Adjust the volume of your dry tone with the first knob. The second knob lowers the volume of the tone by an octave, while the third raise it by the same amount. As you'll see in the following paragraphs, even with this minimal equipment, you have a lot of sonic flexibility.
Outputs
The Micro POG provides a choice between two outputs. When you turn on the effect pedal, your dry tone will still go through one of the outputs, while the other will send out the pedal's effect. It also implies that the Micro POG can be added to the signal chain and sent to a different amplifier or effects chain without impacting the primary setup. This is a scenario I plan to investigate further down the road.
Pitch Shifting
Having this function is crucial for any pitch pedal. Some pedals are only intended for use in a monophonic context; therefore, playing chords or arpeggios will result in audible faults. The Micro POG was made to play multiple notes simultaneously, accommodating any riffs or ideas you may have.
12 String Effect
A second string accompanies each string of a 12-string guitar tuned an octave higher. Because of this, the Micro POG can imitate the same sound by blending in a signal that is an octave higher. Since we don't want an octave lower, we'll need to turn the Sub-Octave slider down.
Then, once you've found a good balance, turn the Dry and Octave Up controls to your liking. For optimal results, adjust the dry level so that it is just a hair louder than the octave up a level.
Housing
The Electro Harmonix Micro POG's unexpected feature is more about its appearance than its functionality. When Electro Harmonix deviates from its standard minimalist pedal design, it typically employs retro aesthetics.
For an EH piece, this one appears quite contemporary. The enclosure is as sturdy as one can hope for. Your controls are located in the top panel and are relatively simple to operate on the fly.
Controls
The interface's control scheme is straightforward. An industry-standard stomp switch and three knobs let you fine-tune the pedal's settings. Dry, Octave Up, and Sub Octave are the names of the knob settings.
Dry adjusts the mix, Sub Octave adjusts the lower octave volume, and Octave Up adjusts the higher octave volume. It may not seem like much, but those are the only controls you'll need to dial in a killer sound.
Character & Sound:
The nicest part of the Electro Harmonix Micro POG is that it provides a polyphonic octave effect that is so effective it makes it sound like you're playing an eight-string bass instead of a four-string one.
Its rapid tracking allows you to perform chords, arpeggios, and other complicated forms that would be impossible to play with a standard octave pedal. This stompbox's rising stardom can be attributed to just that kind of showmanship.
Pros:
The Electro Harmonix Micro POG offers a great playing experience compared to standard octave pedals. However, this effect pedal requires a different approach than a classic octave stompbox; however, the extra care you take in using it will pay off handsomely when you finally hit a chord and hear how natural and undistorted it is. It's not the cheapest pedal out there, and it will take some planning to afford it, but it's well worth it.
Cons:
This pedal is not for you if you're a bass player searching for an organ-like sound. Though many people have used the POG for this purpose in the past, it was before the B9 Organ Machine was made available to the public. The B9 Organ Machine Pedal is a fantastic choice if you're looking for an organ effect pedal. The Micro POG comes close, but the Organ Machine is far superior in terms of quality.
4. MXR Bass Compressor M87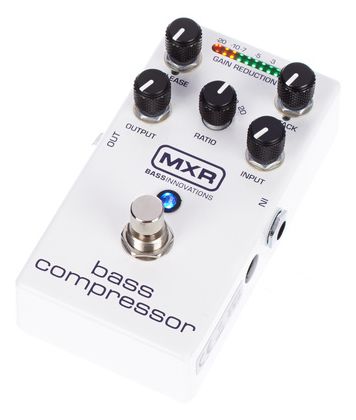 With the M87 Bass Compressor from MXR, you can get skilled bass compression on your pedalboard.
The M87's settings provide you full command over compression functions. Built-in Constant Headroom Technology guarantees adequate room space. You want your bass to sound like your bass even when you're cranking up the volume. Due to the M87's open design, your sound will never suffer, even when using compression. Ten visible gain-status LEDs indicate the threshold for compression.
Key Features:
Circuit
"Constant Headroom Technology" will guarantee sufficient headroom space. The term "headroom" refers to the amount of voltage swing over the normal range of use. If you have enough "headroom," you can use a considerably stronger signal without experiencing any distortion.
When employing compression, you don't want to change the sound or have your bass lose its distinctive quality. As a bonus, the M87's transparency ensures that your sound will remain unaffected by the compression you employ.
Housing
The pedal's design is unquestionably attractive. With a crisp white coating, it exudes a sophisticated air. After several months of constant trampling, though, its appearance may suffer. However, fresh from the manufacturer, it appears to be high quality.
And to top it all off, blue LED light shines through when the pedal is engaged. The unit is 2.7 by 5.4 by 4.5 inches and is constructed entirely of aluminum. Given that it's made of aluminum, portability should also be excellent.
In and out jacks are located on opposite sides of the device. Aside from being well-constructed, the footswitch is also very reliable. There are five ergonomically placed knobs and a ten-light LED display. They are visible indicators of when your compression level has hit its limit. In a similar vein, it has True Bypass. The quality of construction is adequate, and it is sturdy enough to accomplish the job.
Controls
The control knobs are not overly huge, making them difficult to use. It can be difficult to make fine changes on some pedals since the knobs are so close together. You shouldn't have any issues with these. There are five knobs to adjust various audio parameters. It's a set of knobs and dials that makes getting the right sound a breeze.
The LED display and responsive controls place it among the top bass compression pedals available today. The LED screen reports the current state of the threshold you've established. It not only reveals how near you are to your limit, but it also directs your playing approach. Identify the parts where you've pumped up the intensity. Helpful in creating new methods.
Character & Sound:
Turning the knobs on the M87 produces a wide variety of sounds, making it a highly versatile pedal. It doesn't alter your natural tone because of its transparent nature. However, the dynamism is preserved while the low end thickens and the highs tamed. In far of compressing skills, let's just say this puppy is parred for the course for high-quality products.
Use the maximum values for Attack and Release to create a formidable barrier against those persistent pests and flatten any peaks you encounter with the help of the Ratio.
Depending on your tolerance for pushing the envelope, you can play about with Ratio settings as high as you like. M87 is an excellent compressor and limiter; it can detect just what your bass requires. In addition, the meter is useful since it streamlines the procedure.
Pros:
The MXR M87 is a very adaptable pedal that you can use to compress your sound quickly. It's built to last and portable enough to take anywhere from the studio to the stage. Despite its imposing appearance, the M87's pedal is easy to use if you read the product handbook that comes with it.
Cons:
It would make it much more convenient to replace the 9-volt battery, which currently necessitates removing four stainless-steel screws. One of the screws proved challenging to replace, particularly when it attempted to cross-thread into the more malleable metal container.
If you're plugging it into the wall, this isn't a problem, but if the lights are low onstage, you should avoid swapping out the batteries. Although a 20:1 ratio is sufficient for most limiting applications, sure bassists may prefer a compressor that offers variable or higher ratio options for limiting.
5. Boss OC-5 Octave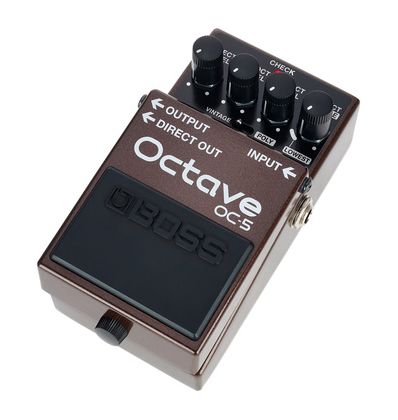 The OC-5 is equipped with a brand-new tracking engine that borrows technology from BOSS's most advanced effects pedalboards.
This octave effect has extremely little latency and is one of the smoothest you'll ever hear. For faking 12-string textures and screaming traditional lead lines, the OC-5 provides a +1 octave dial in addition to the standard -1 and -2 octave adjustments.
You may adjust the OC-5's tracking for electric/acoustic guitar or bass via a dedicated instrument switch. The input signal is preserved via a parallel Direct Out dry path for use with an external amplifier or public address system. The OC-5 is the next logical step in developing the classic BOSS Octave sound.
Key Features:
Controls
The OC-5 is a Boss pedal that contains distinct parameters for Direct Level, +1 OCT level, -1 OCT level, and -2OCT/RANGE. The OC-5's small toggle Mode Selector (which toggles from Vintage and Poly modes) makes it look like a Waza Craft pedal.
When in Vintage mode, the OC-2's signature monophonic bass tone is activated; the -2OCT/RANGE knob controls the volume of the two lowest octaves, and the +1 OCT control allows for the addition of an upper octave.
Poly Mode
In Poly mode, you may adjust the frequency range from low to high with the -2OCT/RANGE knob, concentrating the octave effect on the lower strings, so it fits in with regular chording without seeming out of place. Adjust the -2OCT/RANGE slider to its lowest setting to focus on the lowest note in a chord.
Power
The BOSS OC-5 only uses about 55 milliamps of power so it can run for about 7 hours on a single 9-volt battery. Therefore, it's a fantastic choice for those who prefer a carbon-zinc or alkaline tone. Standard center-negative wall supplies are sufficient for current pedalboards.
Tracking Technology
The OC-5 also incorporates the most cutting-edge Boss tracking technology, resulting in a responsive and natural playing experience. Furthermore, the pedal's design has been simplified. In contrast to the OC-3, which required two separate inputs for guitar and bass, the OC-5 has a guitar/bass switch on the rear that tailors the amp's sound to either instrument.
In addition to the original guitar signal and the octave effects being mixed in the mono output, you can process the original signal and the octave effects independently via the direct output. The new tracking technology implemented in the OC5 is worthy of acclaim. It played well and quickly, with a realistic tone and feel, even during bends and vibrato.
Character & Sound:
This new version of Boss's legendary octave pedal not only improves upon its predecessor but also surpasses its users' lofty expectations. The OC-5, in contrast to the OC-2, features superb tracking and nearly latency-free performance, making for a great feel when playing accurately.
When playing multiple notes in succession, the OC-5 does a better job of taming the transient artifacts that can occasionally jump to an upper harmonic octave or something else entirely. The OC-5, when switched to Vintage mode, is an invaluable tool for guitarists looking to add enormous rumble to power chords and an underground layer of low end to basslines.
You can add some warbly chime to the higher registers or a hint of 12-string shimmer with the OC-5's upper octave control. The stacked octave bottom tones help cleanly isolate the low root notes to accompany your chording in Poly mode for more density.
Poly mode allows you to blend all three voices over three octaves to create incredibly full organ textures and synth-like impressions. A sample setting image might be helpful for guitarists unfamiliar with the OC-5, but otherwise, it's not necessary.
Pros:
It's worth pointing out how precisely the OC5 records your performances. The pedal can easily keep up with anything from extremely deep, dense chord voicings to quick legato runs. This is the pedal's claim to fame, and it's also why the original BOSS Octave pedal is still favored over four decades after its first debut.
Cons:
It has poor tracking speed, especially audible in poly mode with the lowest range setting, and it constantly jumps between the root and 5th of the E, Eb, and D chords, no matter how open or high you play them. Putting it into single output mode rendered it completely ineffective.
6. Fender Downtown Express Bass Multi-Effects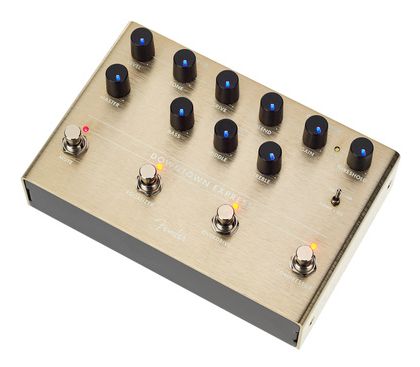 Aguilar's original Fender circuit is housed in the Downtown Express, making it a one-box solution for adjusting bass tones.
Fender has released several stomp boxes over the past few years to solidify its position as an effects industry leader; now, the company has introduced the Downtown Express Bass Multi-Effect.
The Downtown Express is a multi-effects pedal that combines a compressor, 3-band equalizer, and analog overdrive into a single unit. This pedal comes into its own when you combine its various effects or utilize them individually. The variety of tones available with this pedal will excite tone hounds at first listen.
Key Features:
Compressor
By turning up the threshold and the mix, you can tighten the tone of slaps and plucks, making them sound amazing when played more staccato, thanks to the true-rms compressor's three knobs for blend, gain, and threshold. All three knobs can be turned up to eleven, and each note will still be audible; this is a great tool for squeezing the sound of your groove.
EQ
Standard bass, middle, and treble controls are included on the equalizer, but the built-in conductor in the middle band is where the real magic happens, stealing major amp tones reminiscent of '70s models.
Having the mids turned up this high will give your bass a strong, piercing tone with a lot of gain that is reminiscent of a bygone era. By increasing the lows and decreasing the mids, the EQ can be "scooped" to create a full-bodied, almost dub-like sound with deep rumbling without losing the pitch center.
Overdrive
You may adjust the overdrive in the standard ways (volume, tone, and "drive"), and it sounds like any other drive unit. When all three knobs are cranked, the distortion is severe and profound. The drive function comes to life and acquires great body when the EQ is activated, and the low, mid, and high frequencies are boosted. EQ boosts are a vital part of the pedal for musicians looking for a full overdrive with substantial tone flexibility.
Character & Sound:
This pedal provides a wide range of tonal options, from deep and powerful to tight and stringy. In addition to being a lot of fun to experiment with and producing a wide range of tones that work well with passive and active basses, the pedal's intuitive controls and construction make immediate sound modifications a breeze.
A short-scale instrument run through the compressor yields a tight, muted palm punch, while a deep B rumble from a five-string through the overdrive and EQ demonstrates the unit's vast dynamic range.
Pros:
When you wait for something as long as Fender did for their first bass effects pedal, you realize how much you need it. You can't find a 3-in-1 pedal with as much versatility and precision as the Downtown Express at such a low price.
Every bass player needs this multi-effect pedal in their chain because it offers so many useful options that you'll be happy to leave on for the duration of your set. Even though Fender has tried and failed at this before, this time, they've succeeded by cramming all the sounds a bass player needs into one convenient unit.
Cons:
Problems with the noise floor exist. Unless you want to get rid of everything beyond 2k, this pedal is useless in a professional recording environment. It's been an issue, and you might get away with it in real life. No matter what you do, the direct output will continue to hiss noisily.
It doesn't help that the compressor is loud, pulling excessively tightly, with no middle ground. Parallel compression sounds like a strong limiter with a rapid attack, even when using the mix knob.
7. Dunlop Cry Baby Bass Wah 105Q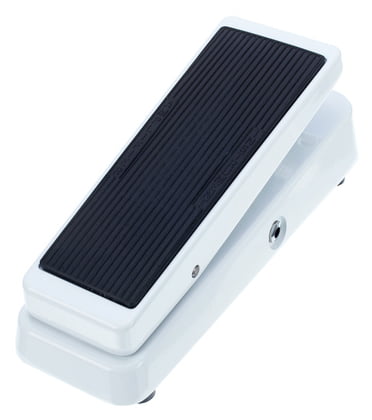 This is the very first wah pedal that was developed specifically for bass players by bass players.
The 105Q is equipped with a specialized potentiometer and bespoke equalization circuitry that they developed to improve bass frequencies. You may play solos or throw in fills without disrupting your low end when you use the Cry Baby Bass Wah because it only applies the wah effect to the mids and highs, leaving a firm fundamental to holding down the bottom.
Dunlop's Crybaby brand of effects pedals is an undeniably popular selection for professional and amateur musicians, as is evident to anyone familiar with numerous of today's most used pedals.
Many of Metallica's scream solos are executed on Kirk Hammett's Crybaby Rack Wah, and even Eric Clapton has occasionally used that same legendary Dunlop Wah. But if you're worried that this Crybaby is just another guitar-focused version with the name bass slapped on it and resold, your worries are unfounded; this wah pedal is explicitly designed for bassists.
Key Features:
Controls
In terms of actual controls, the Bass Wah is simple. There are only two dials on this device: volume and variable q. In the words of the user manual, "you may control the maximum of the filter with just this adjustment" via the Variable Q knob.
This implies that you can adjust the Wah effect's tone by turning this knob. If you turn the knob clockwise, more high frequencies will be amplified, creating an effect similar to a harmonized vocal that is somewhat more apparent and well-suited for use on bass solos or upfront funk lines.
You can achieve a thinner, more musical sound that supports the backbeat and fills by turning the Q knob counter-clockwise. The volume knob controls how much of the effect is added to your bass.
Auto-Bypass
When it comes to bypass, the Dunlop Crybaby Bass Wah is sadly not equipped with genuine bypass, so if your pedal dies, the signal won't be able to pass through, and your entire effects chain will be dead. However, this pedal uses "auto-bypass," meaning that the pedal must be on for the signal to pass through (not the effect). You'll need a 9-volt battery or one of Dunlop's DC power bricks.
Housing
The Dunlop Crybaby Bass Wah is well-constructed and looks like it might withstand some abuse; however, the design makes it awkward to use when you have to stomp on the edge since it wobbles. Nonetheless, it's more of a minor quibble than a fatal flaw.
If you rock the pedal back and forth, you'll feel some give because it's spring-loaded. This may or may not be a helpful feature, but the pedal's functionality in activating and deactivating the effect is rock solid. The effect has a very fast pedal response, so the wah will be on as soon as you press it, albeit there is a tiny delay when turning it off.
Character & Sound:
The Q control is the key to unlocking the pedal's full potential, not the auto-return trim pot. Turning the control counter-clockwise produces a smoother, warmer tone with a softer attack and less pronounced peaks. Guitarists will appreciate the high-register noodling, and bassists will appreciate the funky effect of the heel-down and toe-down positions.
You'll find a snappier, more aggressive wah with boosted high frequencies by turning the Q knob clockwise, but be careful as it becomes a touch wild as you approach close to full rotation. Since the Mini Wah's effect can be easily toggled on and off, using it intermittently is a novel and exciting method to put it to use.
Pros:
Dunlop's latest addition to the Cry Baby line for bassists is a great improvement. Its compact design saves valuable pedalboard real estate, and its functions will please guitarists of all skill levels with their ability to shape tones and add unique textures. The Dunlop Mini Bass Wah is a great entry-level wah pedal, or if you're an experienced player wishing to experiment with a wah that deviates from the norm, a must-try.
Cons:
There is no tonal variety, and the gain is relatively low. It reduced the bass range rather than expanded it. Many users also experienced issues with the electronic actuator, but mechanical plunger switches performed considerably more reliably.
8. Fender Trapper Bass Distortion
The Trapper Bass Distortion is a great way to give your bass a bit of a bite.
This distortion pedal has been made with electric bassists in mind, with two independent circuits that can be stacked for added tonal versatility. Crossover-blend circuitry in the primary distortion channel keeps the low-end clean for punchy clarity, and a second distortion channel delivers additional gain and crunch.  The Trapper Bass Distortion is a unique Fender circuit designed by the company's in-house tone experts.
Key Features:
Housing
Gigging is a breeze with this pedal. The anodized aluminum housing is lightweight and durable enough to withstand any abuse you can dish out on stage. Even on a dark stage, you'll be able to rapidly check your settings thanks to the LED backlighting on each knob.
Incorporating a replacement battery is a simple and fast process. The 9-volt battery door has a magnetic clasp, and the company has sought a patent on this feature, so you can take it apart and replace the batteries in seconds. It's brilliant engineering, especially if your pedal dies in the middle of a song.
Duo Channels
Each channel has a unique purpose, it has a crossover blend circuit in its primary distortion channel. This keeps the bass end clear, promising an intense and crystal-clear sound. There is also a dedicated distortion channel that provides an abundance of gain and crunch. The frequency and sub-level settings allow you to fine-tune your sound.
Crunch/Bite
This pedal is about adding a good amount of crunch to your bass end. The heart of a Trapper is a pair of independent distortion circuits that you can stack. Still, it's an endearing little device with two drives (labeled Dist 1 and Dist 2) with Gain, Tone, and Level knobs for each.
It doesn't even try to compete with pedals like the Myung in terms of bass output, and the Sub-Bass setting on Dist 2 is its only hope. Adding a little low end is facilitated by this; however, there needs to be genuinely thumping bass to be had.
The best thing about it is how cheap it is, but it still sounds massive if low mids are your preferred frequency range. It has been designed to meet the evolving tonal needs of the electric bass, and if anyone can handle this, it's Fender.
Character & Sound:
As a beginner, Dist 2 is the ideal place to start, and you may be surprised (or not) to find that it takes time to transform your bass into industrial fuzz. When used at lower gain settings, it can sweeten your bass tone by adding some warmth, and when used at higher gain settings, the distortion thickens up beautifully without saturating to the point where clarity is lost.
Dist. 1 tends to be a bit rowdier, especially as the gain approaches midday. It's easy to picture these tones supporting a Commodore's session, shining behind the funk guitar. At three, the strength increases even further. When you combine both circuits, the distortion becomes more three-dimensional and chaotic, but you can still tailor it to your subwoofer's needs by adjusting the volume and tone controls.
When it comes to music, there are a wide variety of contexts in which this could be useful. Distorted bass, unlike the distorted guitar, can be used in more moderate settings, providing the low end necessary to contrast with higher-pitched instruments like strings and synths. You can use the Trapper Bass Distortion in a variety of ways.
Pros:
There are more monster bass distortion pedals available. Still, the Trapper is a good choice if you need a dual-distortion with adjustments to accommodate different pickups and setups and the ability to stack both circuits. The Trapper Bass Distortion combines two classic Fender circuits for a powerful effect that might make it an essential effect on your pedalboard whenever you want to crank up the low end.
Cons:
Most folks find the Trapper perfect except for the white control lettering on the orange-gold backdrop. Even though the text looks crystal clear in the accompanying images, it is somewhat difficult to read due to the metallic surface and the strong lighting.
Bonus:
Electro-Harmonix Bass Big Muff Pi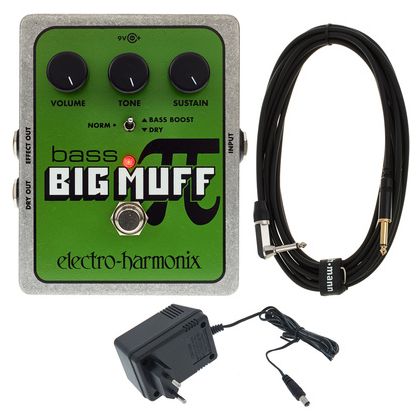 Fans of bass distortion have praised Electro-Bass Harmonix's Big Muff Pi for years, but the new Deluxe model raises the bar.
If you're looking for that iconic bass fuzz sound, theBig Muff Pi has it, and it also gives you the flexibility you need to make it fit into your music. This pedal is their response to the many requests it has received from working bassists for more advanced tonal controls. To account for active pickups, for instance, there is a -10dB pad onboard and a gate to help you maintain a tight performance.
Key Features:
Crossover Controls
When the Deluxe Bass Big Muff Pi was released, its crossover controls surprised everyone. The dry low-frequency sound can be smoothed out with the variable lowpass filter, making room for high-frequency fuzz.
In contrast, the fuzz is cleaned out by the highpass filter, which extracts low frequencies. The foot-switchable crossover portion of the pedal is the icing for its ability to provide instantaneous, dramatic tonal changes.
Three Separate Outputs
Electro-Harmonix anticipated that bass players like you would want to use them in both live performances and studio recordings, so they designed it accordingly, which is why three separate outlets are attached. You can send only the dry signal to the monitor or onstage amp through the output. The Deluxe Bass Big Muff Pi has a standard 1/4″ output jack, two additional jacks for optional effects "a balanced XLR out for direct connection to a PA or recording interface, and an additional output for your main amp.
Blend Dial
With the Deluxe Bass Big Muff Pi, you can achieve a massive bass fuzz tone without sacrificing the dynamics and definition you need. This is because the classic Bass Big Muff Pi from Electro-Harmonix now features a blend control, allowing the player to add some undistorted signal back into the distorted sound.
Character & Sound:
The Blend knob combines the distorted and dry signals, while the Crossover switch applies a lowpass filter to the dry signal and a highpass filter to the distorted signal in series.
This is remarkable since it not only tames the harshness of the distorted sound but also adds an element akin to funky parametric tone shaping, making it deserving of its pedal. This pedal has two different effect outputs, a clean direct out and a Pad switch for use with either passive or active basses at the input.
Pros:
Outputs in various formats allow for easy configuration and optimal sound quality. Powerful blending and gating variables The Bass Big Muff's foot-switchable crossover circuit brings it to the new musical territory at a low price.
Cons:
It's challenging to find criticism with this pedal. However, when it comes to distortion, bassists have particular needs, such as preserving the low end. The Deluxe Bass Big Muff Pi equips you with all the tools you need, like a Blend knob, to steer clear of those problems and produce fantastically distorted tones without sacrificing your bass.
Conclusion
These are the best pedals for Rickenbaker bass in 2023. These selections represent an entire pedalboard of effects, with which you can recreate iconic tones or new ones.
First, we must start with this new version from Boss, recreated after their octave pedal. The OC-5 is a precise pedal that achieves a deep tone, dark voicings, or even quick legato runs. We consider the pedal a claim to fame from Boss, which remains one of their best options to this day.
We chose the MXR Bass Compressor M87 for this top best Rickenbaker pedals because it offers you their CHT (Constant Headroom Technology) circuitry that gives you a perfect room space in your sound. This pedal has basic controls, like a standard compressor, and the LED screen is beneficial regarding the threshold you set.
The MXR Bass Compressor M87 is a versatile pedal, seemingly meant to be used in conjunction with the Rickenbacker bass. It doesn't alter your bass tone because it's a transparent pedal with a dynamism designed to articulate your lows and attenuate your highs appropriately.
Fender Downtown Express Bass Multi-Effects is their answer for fans of the brand. This muti-effects pedal was chosen for this top of the best pedals for Rickenbaker because we know how important efficiency is, and this pedal delivers that standard.
It possesses a surprisingly good overdrive that provides profound yet articulate distortion. The EQ works perfectly in conjunction with the overdrive and the compressor that the pedal has. This True-RMS compressor holds three controls, blend, gain, and threshold, that can be turned to eleven, making this function a great tool when trying to get to grips with your Rickenbacker bass.
Well, now that you understand the best pedals for Rickenbaker, we hope we have inspired you to buy the bass in case you were worried that it is not versatile in your playing style. Also, how you will build your musical identity with Rickenbaker bass is special; you can't get such an experience on the market's current (modern) basses.
Related Readings:
The 12 Best Tuner Pedals For Bass & Guitar 2023
Top 7 Ring Modulator Pedals For Bass & Guitar 2023
The 13 Best Fuzz Pedals For Bass 2023 (All Budgets)
13 Best Overdrive Pedals For Bass 2023 (All Budgets)
The 11 Best Wah Pedals For Bass 2023
The 13 Chorus Pedals For Bass 2023 For All Budgets
11 Best Autotune & Pitch Correction Pedals 2023
The 13 Best Phaser Pedals for Bass 2023
13 Best Distortion Pedals For Metal 2023 (All Budgets)
Top 6 Overdrive Pedals For Worship Guitar 2023
Can I Use Guitar Pedals For Bass? Is it okay?
Top 12 Pedals For Metallica Tone 2023
Top 12 Mini/Small Guitar Volume Pedals 2023
Top 11 Reverb Pedals For Synths 2023 From Top Brands
Top 12 Harmonizer Pedals For Vocals 2023
Top 9 Best Glitch & Stutter Pedals 2023
Top 13 Vibrato Pedals For Bass 2023 (On All Budgets)
Top 7 Available Arpeggiator Guitar Pedals 2023
13 Best Compressor Pedals For Bass 2023
Top 12 Pedals for Princeton Reverb 2023
20 Best VST Pedal Plugins 2023 (Chorus, Distortion,Reverb,Delay)
12 Best Mini/Small Compressor Pedals 2023 (All Budgets)
Top 12 Guitar Pedals Great For Telecaster 2023
11 Best Effect Pedals For Jazzmaster Guitar 2023
Top 12 Delay Pedals For Vocals 2023 From Top Brands
Top 12 Effect Pedals Great For Les Paul Guitar 2023
20 Best Pedals for Guitar Solos 2023 (Boost, Delay & More)
Top 12 Reverb Pedals For Vocals 2023 From Top Brands
Top 12 Guitar Pedals Great For Stratocaster 2023
Top 12 Multi FX Pedals For Acoustic Guitar 2022
6 Best Noise Reduction Pedals Available in 2023
Top 12 Plate Reverb Guitar Pedals 2023
Top 14 Rotary Pedals & Leslie Sims 2023 (Best Rated)
Top 10 Pedals For Techno, House, DnB & EDM Music
Top 11 Pitch Shifter Pedals 2023 For All Budgets
How To Use Guitar Pedals In Logic? Answered
Top 7 BitCrusher Guitar Pedals Available 2023
Top 12 Delay Pedals For Metal 2023 (Any Budget)
Top 12 Reverb Pedals For Metal 2023 (Any Budget)
Cheap VS Expensive Guitar Pedals: Main Difference, Pros & Cons
The 11 Best Ambient Guitar Pedals 2023
Top 8 Boost Pedals For Metal 2023 (For All Subgenres)
Top 10 EQ Pedals For Metal 2023 (Any Budget)
12 Best Wah Pedals For Metal 2023 Update
Top 12 Spring Reverb Guitar Pedals Available in 2023
Top 20 Guitar Preamp Pedals 2022 (Best Rated)
Top 11 Hardware Vocoders 2023 (Best Synths & Pedals)
12 Best Fuzz Pedals For Metal (Doom, Sludge, Stoner & Death)
Best Lo-Fi Guitar Effect Pedals 2023 For Unique Tone
Can I Run Vocals Through The Guitar Pedals? Answered
4 Best Analog Saturation Pedals 2023 (Tone Shapers & Tape Saturators)
Top 4 Limiter Pedals 2023 You Can Get (Best Guitar Limiter Pedals)
Top 2 Best Guitar Sidechain Compression Effect Pedals 2023
Top 6 Modulation Plugins 2023 (Flanger, Phaser, Chorus…)
Top 6 Chorus VST Plugins 2023 For Musicians (And 3 FREE Plugins)
Top 7 Phaser Plugins 2023 (And 3 Best FREE Phasers)
Best Flanger Plugins: 6 Picks To Emulate Your Sound 2023
The 7 Best Tremolo VST Plugins 2023 | Eventide, SoundToys..
The 7 Best Vibrato VST Plugins
Top 9 Leslie & Rotary Speaker Plugins 2023
Death metal enthusiast here. I am a Romanian musician and producer with over 13 years of experience in the music industry. I've experienced all types of Metal up until now, playing Melodic Death Metal, Brutal Death Metal, and Black Metal with different bands. Learning by doing is my base principle, which is why I've been drawn to sound design from an early age. Read more…