For today's installment, we will be looking at the 7 best semi-open back headphones for mixing, mastering, and recording.
Semi-open-back headphones offer the best—and the worst—qualities of both open and closed-back headphones. Closed-back headphones use a sealed enclosure for their drivers, improving isolation and providing a deeper bass response. However, this is at the expense of stereo width and depth.
On the other hand, open-back headphones have vents/openings in the ear cups to allow air to travel freely in, around, and out of the driver's enclosure. The open design allows for a more expansive sound stage, a natural tone, a lighter build, and better breathability for your ears. But, this is at the expense of portability, isolation, and deep bass response.
The semi-open design marries the two to create headphones that offer a natural and tight bass response—there are exceptions, great mid-range clarity, an open and wide sound stage, reasonable isolation (differs from model to model), and good comfort.
However, they can be plagued by isolation, comfort, and portability issues. With exceptions to the bass response, you may find the bass underwhelming—especially if the cups don't seal well around your ears.
Top 7 Semi-Open Studio Headphones 2023 For Mixing, Mastering & Recording
1. AKG K-240 MKII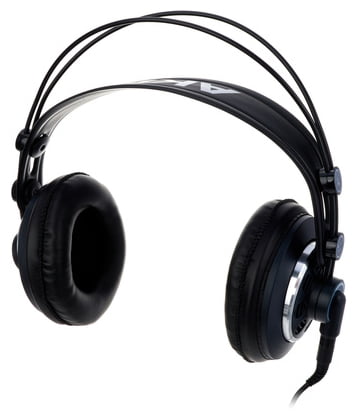 Like their predecessor, the K240 Studio, the MKII offers the quality you would expect from AKG. There are a handful of slight differences between the two models, but none affect the heart of what makes them sound great.
The AKG K240 MKII are over-ear, dynamic, semi-open back headphones. They use identical 30mm XXL transducers and patented Varimotion diaphragm found in the K240 Studio but sport a black and blue design, offer an extra pair of velour pads, and a 5m coiled cable.
Key Features:
Frequency Response
The response is smooth and neutral in the mid-range and crisp and clear in the high-end. Unfortunately, you will need to forgive the bass response because it does roll off despite ranging from 15 Hz to 25 kHz. However, the frequency response does respond well to EQ, so if you feel the bass needs a helping hand, you can comfortably boost it.
Impedance
The impedance is rated at 55 Ohms. Since this falls into the high impedance category, they will perform best when used alongside a headphone amplifier.
Ear-cups
The ear-cups use the same faux-leather padding as their predecessor. However, a pair of velour pads are included with the headphones should you prefer a softer touch. Moreover, the velour pads allow your ears to breathe better than the faux-leather pads, which is a must for long studio sessions.
Connection
AKG includes more cables with the MKII. Previously, you were only given a straight mini female XLR to 3.5mm cable, but now you are given the straight cable and a coiled alternative.
Character & Sound:
You can expect a neutral and detailed tone with AKG's K240 MKII. They favor the clear reproduction of highs and smooth mids over deep bass. In addition, the wide, immersive sound stage and depth improve their smooth, natural tone, making them a fantastic pair of headphones for mixing, mastering, and recording.
Pros:
You can expect to own a comfortable pair of headphones that offer exceptional sound. The tonal quality holds up even at low volumes, so you can still expect quality sound if you prefer not to mix too loud.
Cons: 
The cups are shallow, so you may find your ears touching the driver while wearing them. You may be able to stuff the pads to thicken them, but this will affect the tone as your ear moves further away from the driver. Unfortunately, they are no longer made in Austria, so the price has increased slightly.
2. Beyerdynamic

DT-880 Pro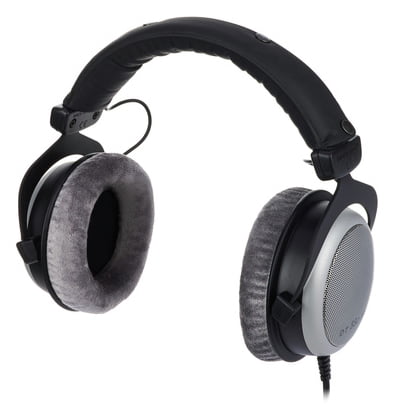 The DT-880s have been a studio standard for many years. And have been the go-to choice for many engineers wanting to upgrade their headphone's mixing and monitoring quality. They come at a price and have a reputation, but are they for you?
Beyerdynamic's DT880 Pro's are over-ear semi-open back headphones designed for mixing and mastering. They offer a clear, crisp sound, a reasonably wide sound stage, and excellent imaging. Alongside the headphones, you will receive a ⅜" to ⅝" adapter and a drawstring sack for storage.
Key Features:
Frequency Response
For the most part, the DT880s have a narrow bass range and an accented treble range. Bass frequencies start to roll off from 92 Hz, so you won't get much deep bass response if you are used to closed-back headphones or prefer more bass. The mid-range is relatively flat and neutral. The high-end is where the most activity happens. There is a +12 dB peak near 9 kHz and surrounding frequencies, from 6 to 10 kHz, average a +5 dB increase.  
Impedance
You will need a headphone amp to use Beyerdynamic's DT880s. They have an impedance rating of 250 Ohms. High-end consoles and interfaces may be able to drive them, but a direct connection to a PC will result in a severe drop in volume and tone.
Ear-cups
The ear-cups have soft and comfortable velour padding. They are light enough that you will barely notice they are there during long mixing sessions. And each cup is suspended from a padded spring steel headband that provides fantastic support and enough clamping to fix each over your ears securely.
Connection
They use a single-sided connection. The left ear-cup will have a fixed coiled cable that ends with a threaded 3.5mm connection. As mentioned, a ¼" jack adapter is included.  
Character & Sound:
You can expect a wide sound stage and excellent imaging with the DT880 Pro. Couple this with their smooth bass and mid-range response, and you have a pair of headphones that deliver brilliant clarity.
However, with that being said, if you are sensitive to the high-end, you may find them too bright/harsh.
Pros:

They have an incredibly durable design, so you can expect to use them for many years. In addition, everything is made and assembled by hand, so should you need to replace any parts, they are readily available for purchase online.
Finally, the Pro edition features a tighter fit, so you will have a better seal, slightly improving the bass response.
Cons: 
Not having a detachable cable could be a problem in the long run since you will need to open the left cup to fix any loose connections. However, if you are ready to modify your pair, You can replace the cable with an input jack to allow the use of a detachable cable.
3. Samson Technologies SR850
The SR850 is an affordable pair of headphones created by the well-known audio hardware company Samson Technologies. With some searching, you may come across the SR860s, which only differ in appearance and are supplied by online audio, video, and musical hardware retailer Photo Savings.
Samson Technologies' SR850 is an entry-level pair of semi-open back headphones designed for mixing, monitoring, and audiophiles. Each pair offers comfortably padded velour ear-cups, an adjustable hammock-style head strap, a built-in 3.5mm connection, and a ⅜" to ⅝" adapter.
Key Features:
Frequency Response


The frequency response is stated to cover from 10 Hz to 30 kHz. It is crucial to remember that the semi-open back design limits the bass response. The high-end is boosted so it can become sharp at louder listening levels. However, the brighter frequency response can help identify any inconsistencies when mixing. The mid-range response is clear and precise, which can help you identify and create separation between instruments when mixing.
Impedance
The SR850s have an impedance of 32 Ohms. If mixing in the box, you can connect the headphones to your PC without a dedicated headphone amplifier.
Ear-Cups
The velour ear-cups are designed to go over your ears, but the size may not suit all ear sizes. Thankfully, you can remove the ear-cups and replace them with aftermarket padding should the stock pads not be a comfortable size for you. In addition, they do not offer excellent ventilation, so you may find your ears heating up after a lengthy mixing session.
Adjustable Headband
The hammock-style headband has quite a high tension, so using them for extended periods may cause discomfort. Unfortunately, only the height of the headphones is adjustable.
Character & Sound:
You can expect sharp and clear highs with good mid-range presence, and the low end has just enough body to be present without being overly thumpy or boomy. As mentioned above, the treble range can become sharp at high listening levels, but You can remedy this by using an audio manager software's EQ to lower that area.
The sound stage is slightly narrower than can be expected from semi-open back headphones, but you can still expect a wider stereo sound than what you would have with a closed-back design. So, if you prefer wider-sounding headphones for mixing, these may not be the headphones for you.
Pros:
The audio quality is exceptional for the price range. And, the ear-cups are easily modifiable, so if you find the padding too flat and your ear too close to the driver, you can stuff the pad with extra material to thicken the ring. Otherwise, you can replace the pads entirely.
Cons: 
The built-in 3.5mm connection could pose a weakness over time. A common reason headphones must be replaced or fixed is a loose connection to the driver.
If you feel confident enough in your ability to solder, you can disassemble the cups to reattach the wire to their respective terminals. In addition, the cable crosses over from the left ear's cup to the right through the plastic tubes. Should the right side stop functioning, you may be unable to fix it.
4. AKG K-240 Studio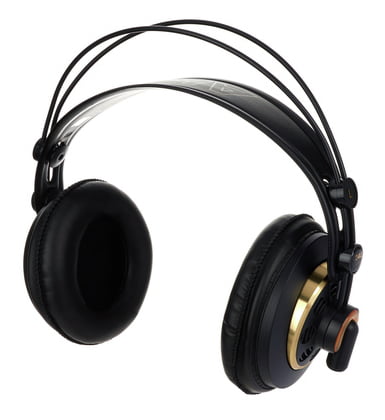 The K240s have been a staple in studios worldwide for decades. The K240 Studio model adds to that legacy with a budget-friendly yet high-quality modern remake.
AKGs K240 Studio is over-ear and semi-open back headphones designed for mixing, recording, and mastering. They use a dynamic driver to produce sound and have a mostly-plastic housing and faux leather pads.
Key Features:
Frequency Response
You can expect a smooth frequency response encompassing most of the frequency spectrum. The range covers from 15 Hz – 25 kHz. Audibly, the bass region doesn't extend too low as it rolls off steadily from 100 Hz, so if you prefer more bass in your headphones, these are not the pair for you. However, they do respond well to EQ, so you can boost the bass region to get more thump, but it won't rival bass-boosted headphones. Overall, the response focuses on the mid-range and clear, gentle reproduction of treble frequencies.
Impedance
You will need a headphone amplifier to get the best tone since the impedance is rated at 55 Ohms. You can use them without an amp, but the tone and volume will suffer. They won't require a powerful amplifier since the maximum input power is 200 mW.
Ear-Cups
As mentioned, the ear-cups use faux leather pads. They provide a good seal and add to the overall comfort of the headphones, so you will barely notice they are there. However, if you prefer velour cups, you can opt for the K240 MKII, which comes in stock with velour pads and have all the same components and characteristics as the K240 Studio.
Connection
The left ear-cup has a built-in mini-XLR connector, and you are given a straight mini female XLR to 3.5mm cable with the headphones. Alongside the cable, you will receive a ¼" adapter. Unfortunately, the cable provided isn't too durable.
Character & Sound:
The K240 Studio offers a colorless, smooth, and open tone overall which is ideal for mixing and mastering since it allows you to pinpoint any problem areas easier.. As stated above, the bass response isn't too high, but that can be alleviated using an EQ. The focal point of tone is the mid-range.
You can expect a smooth response that details instruments and vocals well. The high-end is clear and gentle. And lastly, the sound stage is broader than you would find in closed-back headphones.
Pros:
The lightweight design makes them comfortable to wear, a substantial positive for long studio or mixing sessions. Also, their light weight makes them a comfortable option if you wear glasses. One of the most significant positives would be the sound quality. For headphones this inexpensive, you are given the exceptional sound quality.
Cons: 
Because of their mostly plastic and lightweight design, they are not very durable, so handling them with care is essential. In addition, the cable provided is flimsy and won't last for years, so you will need to purchase a higher-quality cable.
5. Fostex T50RP-Mk3 Headphones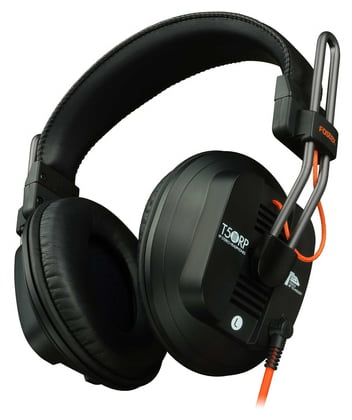 The T50Rp-MK3s are Fostex's third generation in their line of semi-open back RP headphones. These headphones are known for their accessibility to modification. They have a community of DIY-ers dedicated to finding creative ways to improve their sound and comfort, especially since Fostex's biggest drawback is the comfort of their headphones.
Fostex's T50RP-MK3s are semi-open back planar magnetic headphones designed for monitoring and mixing. They offer a smooth and transparent soundscape perfect for providing an uncolored ear for your mixes/recordings.
Key Features:
Frequency Response
Despite ranging from 15 Hz to 35 kHz, the frequency response doesn't reach lower than about 80 Hz without modification, so you won't have any audible deep bass right out of the box. However, with modifications, you can extend and improve the low-frequency response; swapping the stock pads for a pair of Brainwavz Memory Foam pads dramatically improves the bass response. The mid-range is elevated slightly between 400 Hz and 2 kHz and is followed by a +14 dB peak shortly before 4 kHz. As for the high-end, you will find a peak at 10 kHz.
Impedance
You will need a dedicated headphone amplifier to use the T20RPs. They have an impedance rating of 50 Ohms, meaning that low-impedance devices like a PC's motherboard don't supply enough power to drive the output sufficiently.
Ear-Cups
The pads are well known for being uncomfortable, especially if you wear glasses. They are not very thick, so they are more akin to an on-ear design than the over-ear design stated by Fostex. However, the pads are easily replaceable and support a wide variety of aftermarket pads. Plenty of modders have shared their thoughts online if you are looking for the ideal pads for a pair of T50RPs. Otherwise, Shure's Alcantara 1540 is a favorite for adding comfort and better bass response.
Connection
The T20RP-MK3s offer a locking female 3.5mm connection built into the left cup. The locking mechanism only works with Fostex's cables, and they do supply replacement cables. Otherwise, you can use a standard 3.5mm headphone cable to forego the locking mechanism. Ideally, use an L-shaped connector, so the cable doesn't bend too much.
Character & Sound:
Overall, the tone is detailed, transparent, and controlled which is why they are recommended for mixing. The soundscape is tamer than you would find in dynamic driver headphones, so you won't find thumpy bass, authoritative mids, or sizzling highs.
Still, you can expect an honest representation of the audio you are mixing. The bass response is controlled and distinct. The mid-range dips slightly but provides the clarity to distinguish instruments and vocals. And lastly, the high-end do sit more forward but don't overpower the rest of the spectrum. However, they do add to the clarity.
Pros:
If you are prepared to tinker with them, you could have a pair of headphones that far surpass their price tag. Also, the sound stage and imaging are excellent, making them ideal for mixing.
Cons: 
The input jack's locking mechanism is known for being unreliable by cutting out audio or occasionally lowering the volume on a single side.
Thankfully, the earcups are easy enough to open, and the jack can be replaced or changed to a permanent wire fixture with minimal effort (as long as you have the soldering experience) but the need to fix these headphones yourself is a cause for concern.
6. Superlux

HD-668 B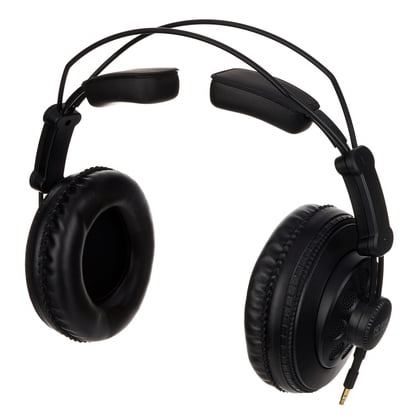 Superlux offer a great pair of neutral sounding budget headphones with their HD668B. And they are a common alternative for budget minded entry-level audiophiles, musicians, and engineers.
Superlux's HD668B are over-ear, dynamic, semi-open back headphones that offer a clear, neutral sound. They feature faux-leather pads, a smooth mid-range response, and a male 3.5mm jack on the left ear for connecting a female to a male cable.
Key Features:
Frequency Response
The frequency range is the same as Samson's SR860s, covering from 10 Hz to 30 kHz. The bass is higher and tighter than the SR860's but can be prone to distorting at high volume levels. Also, the treble range is boosted to give a spacious air to the tone. Overall, they have a V-shaped sound profile with a slight accent of the bass and a high accent of the treble range.
Impedance
The impedance level is higher than the SR860s coming in at 56 Ohms. The impedance level does fall into the high impedance range for headphones so the volume may suffer when plugged into a pc directly. Using a headphone amplifier will offer you the most when using them.
Ear-Cups
The cups' large faux-leather pads encompass the ear and seal the cup, ensuring sound doesn't escape. The material can get uncomfortable and stiff, but the pads are easily replaceable. A common alternative to the stock pads is the velour pads for the AKG K420.
Padded Headband
The headband comprises a hammock-style strap with two faux-leather pads resting on your head. The pads are pretty stiff, making them uncomfortable when used for extended periods.
Character & Sound:
The HD668B's offer a detailed sound with a good low end that doesn't overshadow the low-mid range. As mentioned, the bass region can become distorted. And the high range can become sharp, especially when mixing female vocals.
However, with some careful EQing and some modifications, you can improve their sound quality immensely. Otherwise, the shrillness can be mitigated by placing fabric underneath the circular pads covering the driver.
Pros:
The tone is full, and the sound stage is open and airy for headphones at this price point making them a good option for those looking for affordable headphones for mixing.
They come with a fabric carry-pouch which can be great for storage when not in use. Alongside the pouch, you will receive two cables: a 1m female-to-male 3.5mm and a 3m female-to-male. You can connect the two cables to create a 4m long cable should you need the extra length.
Cons: 
You cannot adjust the headband, so depending on your head size, you may find them uncomfortable to wear. In addition, the small pads on the headband can place concentrated pressure on your head, which may make them uncomfortable for long mixing sessions.
Unfortunately, you may struggle to master using the HD668B because of the bass distortion that occurs at high volumes.
7. Fostex T60RP
Fostex International's T60RP is the high-end consumer-level alternative to their well-established professional audio line—most notably their T20RP, which was popular in the late 80s. They sport a few aesthetic, comfort, and connection changes but use the same proprietary Regular/Regulate Phase (RP) planar magnetic driver.
The Fostex T60RP is a pricey consumer-grade pair of semi-open back planar magnetic headphones. They have African mahogany cups, a leather head-strap, and faux leather over-ear pads. And lastly, they support balanced and unbalanced connections.
Key Features:
Frequency Response
The frequency range reproduced covers from 15 Hz to 35 kHz. The sub-bass rolls off steeply from 50 Hz but rises slightly between 50 Hz and 150 Hz. Despite the slight boost in bass, the low-end is tame, so if you prefer headphones with more bass, these may not be for you. Although, they do offer a controlled and tight bass response. The mid-range peaks slightly near 1.5 kHz but dips before 4 kHz, so you can expect a smoother soundscape within a mix. As for the high-end, there is a boost from 6-8 kHz, so you can expect more detail when mixing.
Impedance
Coming in at 50 Ohms, Fostex's T60RPs fall in the high impedance category, so if you do not own a headphone amplifier or Digital-to-Analog Converter (DAC), you will need to purchase one to use these headphones effectively when mixing.
Ear-Cups
As mentioned, the ear-cups are made of African mahogany as opposed to Fostex's usual plastic cup design and use faux leather over-ear pads. The padding can become uncomfortable over long periods, so replacing the pads is recommended if you plan on mixing for many hours on end. As for the openings on the back of the ear-cups, they offer a reasonable amount of acoustic transparency and add substantial depth.
Accessories Included
Alongside the headphones, you will receive a carry pouch which is great for storing your pair when not in use to avoid dust accumulation. In addition, you will receive a 1.5m unbalanced gold plated 3.5mm cable with a woven polyester exterior. However, should you wish to use a balanced connection, Fostex offers three connection alternatives: a 3.5mm to 2.5mm, 4.4mm, or XLR connector.
Character & Sound:
The T60RPs focus on clarity, accuracy, and space, making them great for monitoring and a good option for mixing. The bass response is controlled and tame enough that it doesn't overshadow the mid-range. The mid-range is smooth until the upper mids, where it dips slightly, reducing the harshness commonly found in vocals and guitars. The high-end is open and precise, but those sensitive to the treble range may find the tone tinny. On low impedance sources, like smartphones and direct connection to PC, you will experience a drop in volume, so—as mentioned above—you will need to connect them to a headphone amplifier/DAC when mixing.
Pros:
The most prominent positive would be the spacial clarity and how that translates to mixing. Knowing exactly where a sound is sitting in a mix makes manipulating and fine-tuning it easier.
Outside of the spacial clarity, they offer a relatively smooth and open tone which can be great for mixing if you prefer achieving a direct representation of performance over production value. In addition, they are good for mastering since they give a brutally honest sound and can handle high volumes.
Cons: 
The biggest drawback would be their necessity to modify the headphones to achieve the best sound. This necessity goes against ease-of-use, so if you prefer not to tinker with your headphones too much, these are not for you.
In addition, they lack deep bass. The lack of deep bass can be fixed using an EQ, but because the drivers use a planar magnetic design, you may run into issues with distortion in the low end.
Conclusion
Headphones are a very personal investment—especially for sound engineers—so ultimately, reviews can only help so much in the decision-making process. Especially since frequency response varies from person to person and is affected by personal taste, the listeners' ear shape, and perceivable frequency range.
So the main thing is to take this as a guideline and consider what you like and don't like.
When looking at the overall cost and whether you can use them right out the box without any extra expenses/gear, the Samson SR850s are the pair to look at.
Their impedance rating is low enough that you don't require a headphone amp to power them, which is excellent for anyone who does not have an amp (or cannot buy one). And their sound quality is good enough that you can mix comfortably.
Regarding sound quality and price, the 668Bs would be the better option since they offer a better bass response and neutral frequency response over the SR850s, but they will require an amplifier to get the best tone.
On the other hand, if you have an amplifier and the budget to spare, the AKG's K240 Studio is great for mixing and is a step up from the two previously mentioned.
If you can budget more than $200, prefer a brighter sound, and have a headphone amplifier, Beyerdynamics DT880 Pro will be a welcome addition to your setup when mixing and mastering.
However, if you prefer a darker tone and are willing to modify your headphones, Fostex's T60RP is the pair for you.
A part-time sound engineering lecturer and musician based in Pretoria, South Africa. He has had a passion for all things music since he was big enough to sit on his cousin's bed and strum away on an old guitar. All while his uncle, in a room below him, stood with a broom in hand and drummed along on the ceiling. When he isn't teaching others the basics of sound theory, how to record, and how to mix, you can find him sitting with a guitar fiddling away, completely lost to the world.