In today's post, we will be talking about the best hardware grooveboxes for music production & jamming.
A groovebox is an electronic musical instrument that includes a sequencer and multiple sound generators. Nowadays, many grooveboxes include both samplers and synths to produce drums, synth bass, leads, pads, and sampled acoustic instruments.
So, they help you create numerous styles of music on a standalone instrument. Furthermore, they are relatively more straightforward and streamlined than a DAW program.
Top 6 Hardware Grooveboxes 2023 (On Any Budget)
1. Akai Professional Force
Akai Force is a comprehensive electronic music production and performance workstation in a compact size.
Akai Professional set out to create a hardware groovebox capable of essentially replacing your laptop and MIDI controllers. It comes with a lot of features you find in modern DAWs and built-in samples and sounds. Furthermore, you can record audio and MIDI with outboard gear if you want to.
The groovebox's main panel features two parts: a top section with all the navigation controls and a lower part with the launch grid. Much of the connectivity is on the back edge of the device, whereas the front features a headphone jack with a volume control alongside a cue mix knob and an SD card slot.
Combine all of these with the Ableton Live-inspired workflow, and you'll discover a world of possibilities and inspirations.
Key Features:
MIDI, Audio, And More
Akai Force employs 1/8" MIDI in, out, and thru ports. It comes with 1/8"-to 5-pin MIDI adapters that allow you to connect MIDI controllers, drum machines, or synths. Furthermore, two USB ports let you connect Force to your computer and load files from USB flash drives. And an Ethernet connection allows Ableton Link to your computer or other connections to compatible devices.
Similarly, Force provides two XLR or ¼" TRS inputs to connect microphones, mixers, etc. It features a built-in 48V phantom power supply to power your condenser mics. Furthermore, there are two pairs of ¼" TRS outputs for monitor speakers, mixers, etc., alongside a headphone output on the front edge. Likewise, four 1/8" TS ports send control voltage (CV) and Gate data for modular devices.

Intuitive


The most noticeable thing on the main panel is the 7" multi-touch color display. It allows you to intuitively input commands, edit parameters, and provide a DAW-like experience on hardware. Similarly, you'll find volume, transport, main menus, and key screen modes (browser, matrix mode, clip, mixer, navigate, etc.) on the left of the screen. And the right side features a "data dial" endless knob, plus-minus buttons, and a crossfader.
Next, you'll find eight assignable knobs with LED display strips right below the top panel. Then, you'll come across an 8×8 matrix of sixty-four velocity-sensitive pads. These function in three modes: Launch mode to launch audio/MIDI clips, Notes mode to play drums, melody, and chords, and Step mode to use the pads for step recording. Furthermore, using the edit buttons while operating the pads allow you to make quick selections, copy-pastes, etc. Other functions include an arpeggiator, tap tempo, mute/solo tracks or cues, record arm, etc.

Built-In Sound Library


Akai Force provides over ten GB of samples grouped over six categories. These include drum samples, loops, basslines, chords, vocals, etc. Similarly, you'll find eight instrument plugins: Mellotron, Solina, Odyssey, DrumSynth, Hype, TubeSynth, Bassline, and Electric. Furthermore, it features over ninety effect plugins by AIR Music Tech and Akai Professional. These include the AIR Vocal Suite, Half-Speed, limiter, Stutter, Diffuser Delay, Akai Granulator, Sample Delay, etc. All of these ensure that you are equipped with everything you need to get started with producing polished tracks from day one.

Sixteen Tracks


Akai Force allows you to have up to sixteen tracks per project. Much of the operation is similar to Ableton Live, which will feel familiar if you're used to the DAW. However, to summarize, you can create and edit clips per track and view them on the Matrix page that shows all the clips per track so that you can launch them. Furthermore, the Matrix Mode features an Arrangement row, which lets you create linear arrangements to build songs out of the clips.
Once you have a basic arrangement, head over to the Mixer page and add up to four effects per track to mix your song. You can also create four sends, returns, and sub-mixes.
Character & Sound:
Akai Force can produce quite a variety of sounds thanks to its built-in sound library and custom samples. Furthermore, it features multiple synths and a few sampled instruments, adding versatility.
However, genres that require a lot of tracks and complex automation can be tedious to produce on this gadget alone. So, you'll end up simplifying your projects a lot, which is, frankly, the whole point of owning hardware in a way.
Likewise, if you produce music that relies on looping like hip-hop, trap, deep house, etc., Akai Force could be the ideal instrument for you.
Pros:
Akai Force provides plenty of power for both studio production and live performance. It features many onboard instruments and plugins with intuitive GUI, straightforward hardware design, and wide-adapted connectivity.
Likewise, it provides built-in storage, although most of it is packed with the factory library. However, an external SSD/HDD port and an SD card slot allow you to expand the storage to accommodate your needs.
Furthermore, it even has a built-in Wi-Fi connection that you can use to access your online Splice library. Similarly, it allows you to connect to MIDI devices via Bluetooth, although it does introduce a lot of latency.
However, I found it handy for transport control when recording vocals in a booth.
Cons:
The biggest issue I found is that Force doesn't operate with an internal battery. Instead, it requires you to stay hooked up to its power adaptor at all times, which may be limiting during live performance. Furthermore, as impressive as its factory library is, it doesn't feel quite as versatile when it comes to modern genres.
For example, Force excels at creating hip-hop beats, but it can be tedious to create future bounce.
So, as a general rule, I find Force ideal for electronic genres that you can perform live. And I hope that future updates on the firmware will make Force even more versatile than it already is.
2. Roland TR-8S
The creator of some of the most renowned classic drum machines does it again with this powerful AIRA-lineup rhythm performing instrument.
Roland's AIRA series is a lineup of products that use Analog Circuit Behavior (ACB) technology to recreate some of their classic hardware sounds while providing the kind of flexibility music production today needs.
And as the name suggests, Roland TR8S recreates the sound of the TR-series machines, including the 808, 909, 707, 606, and 727, alongside mods of these models.
Furthermore, it adds a whole new FM synth engine to take your rhythm to another level. Dial precise values, build an entire kit from scratch, or even load custom samples.
Furthermore, onboard effects help make your kits sound even more polished. Let's check out some more of its key features.
Key Features:
Powerful Engine
Roland TR-8S features circuit-level models of the brand's classic TR drum sounds, making the instrument far more flexible than any sampled TR instrument available nowadays. Similarly, you can select the FM synth engine to produce intricate percussion sounds with control over the FM depth, ratio, and feedback via the Morph parameter.
Of course, the best way to customize your drums is by using custom samples. And TR-8S allows you to load both mono and stereo samples that you can blend with the drum synth. Furthermore, you can control the sample's tuning, decay, start points, speed, and playing direction.

Mixing


The drum machine provides filters, distortion, and compression on each drum track. Furthermore, you'll find reverb and delay sends as well as some master effects. The reverb and delay effects are also quite flexible. For example, the delay lets you change the algorithm to tape-style and configure the tape heads. And the master effects include a side-band filter, phaser, flanger, compressor, etc.
Additionally, Roland TR-8S provides eight assignable analog outputs for the drum tracks on the rear edge of the hardware. You can route any number of drums to any output. So, you could connect these to a mixer, outboard effects, or an audio interface to mix them individually or in buses.
Sequencing
Roland TR-8S provides a 16-step sequencer that allows both step recording and live. Furthermore, each pattern features up to eight variations, which you can "chain" together to create a longer pattern. Likewise, you can switch from one variation to another to use it as a different pattern.
Moreover, the variations allow you to copy-paste while playing live, modify the copy while still playing the original pattern, and then chain or switch to the new variation you created. And since you have eight variations per pattern, you could make the pattern length up to 128 steps. Similarly, you can have up to sixteen patterns per bank and eight banks in a session. Hence, the machine provides an enormous amount of pattern memory.
A cool feature in TR-8S is the sub-step. It allows you to create multiple steps in a single step. Also, you can change how many steps you want on each sub-step, which is excellent for creating ratcheting hi-hat patterns in, say, a trap beat. Similarly, "motion recording" allows you to step/live-record automation on almost any parameter on the drum machine. This feature lets you add dynamic motion to your drums or sample clips.
Character & Sound:
Roland's ACB technology allows the TR-8S drum machine to accurately reproduce the transistor-based sounds of the original hardware drum machines. It's fabulous how so many of the revered classics are in a single rhythm engine with a spot-on sonic resemblance.
Furthermore, despite the track labeling with drum elements (like the bass drum, snare, hi-hat, etc.), the drum machine allows you to load any type of drum sound on any track. So, you could have multiple instances of the same drum sound if you want. Similarly, the built-in track, send, and master effects completely allow you to customize the sounds.
Combine all of these features with its FM synth engine and custom samples, and it becomes clear that we have a star here.
Pros:
The most significant feature is that you receive all of Roland's ACB drum sounds. So, if you are a fan of the original Roland drum machines, TR-8S becomes a no-brainer.
You can also extend the sonic possibilities by adding custom samples, effect plugins, etc. Similarly, it has one of the best sequencers available on a drum machine alongside multiple outputs, USB audio, parameter modulation, and more.
Cons:
Roland TR-8S noticeably attempts to stay simple in many aspects. For example, while it allows some level of sample manipulation, it comes nowhere near the capabilities of modern DAWs.
Furthermore, the drum machine only allows queued variation or pattern changes, requiring you to program fills in a specific way. Similarly, it doesn't detect the pitch or allow chromatic playing, making recording pitch changes a bit jading.
3. AKAI Professional MPC X (Groovebox/Sampler)
Akai Professional MPC X is one of the most powerful, hybrid DAW-less music production solutions available today.
While the previous MPCs were controllers for the Akai MPC DAW software, the MPC X is a hybrid groovebox capable of standalone operation and controlling the DAW. So, you could start projects on MPC X, transfer the file to your computer and finalize them there.
It does so by including a multicore CPU, 2 GB of RAM, and 16 GB internal storage. Furthermore, the MPC X doubles as an audio interface allowing you to record and sample straight into the hardware, where you'll find all the editing features of the MPC DAW software.
Key Features:
Factory Library
MPC X comes with over ten GB of sounds from top sound design brands like CAPSUN ProAudio, MVP Loops, and CR2 Records alongside Akai Professional. This collection is called the Vault 2.0 and includes drum beats, one-shots, vocals, instrument samples, basslines, chords, keys, etc. Furthermore, you can add even more sounds by downloading expansion packs from your account using MPC X's Wi-Fi. And adding an SSD or HDD allows you to install many more sounds, including custom sounds from your computer. You can do so using USB connections or via the SD card reader.
Connectivity
Other than Wi-Fi, MPC X features Bluetooth MIDI, which allows you to control the MPC or input notes using a supporting device, albeit with some latency in most cases. Furthermore, MPC X provides two XLR + ¼" TRS inputs with a 48V phantom power supply. Similarly, you'll also find two more TRS line inputs on the back alongside two on the front for easy access when playing instruments.
Then, a USB-B and two USB-A ports allow you to connect to a computer, access a flash drive, or use MIDI devices. Similarly, two main TRS outputs, six more TRST channel outputs, and a headphone output comprise the audio outs. And you'll find eight 3.5mm CV outputs, two 5-pin MIDI ins, and four 5-pin MIDI outs.
Advanced
As I've mentioned, MPC X has all the features you find on the full-fledged MPC DAW. Furthermore, the hardware gets a firmware update soon after the DAW gets an update. So, you will get all the features that Akai Professional develops in the future. Some of the most significant features include audio warping, beat detection, real-time time-stretching and pitch-shifting, clip launching, and routing with sub-mixes, FX Returns, etc.
Straightforward
This hardware will feel very familiar if you are familiar with MPC DAW. Furthermore, its design makes the device easy to learn even if you aren't familiar with the previous versions of MPC. A 10.5" high-resolution, tiltable display shows you all the editing and navigating pages. Similarly, sixteen Q-Link knobs allow you to assign and control any parameter you want. Many of the plugins and edit pages already have factory assignments that help you make the most significant changes easily. These knobs are also touch-sensitive.
And finally, the heart of the MPC X is the set of 4×4 velocity-sensitive trigger pads that allow you to launch clips, play notes, perform various editing functions, etc. Combine live performance with step-recording to get the perfect performance for your song. Further, introduce four effects for each channel from a library of over a hundred plugins from AIR Music Tech.
Character & Sound:
Whether you're making hip-hop, trap, or pop beats or modern EDM tracks, MPC X works flawlessly and keeps getting more and more powerful. The built-in audio interface is excellent and delivers crisp audio recordings.
Similarly, the library of sounds and effects provides professional-quality sound design and mixing out of the box. Furthermore, you can edit any audio clip in detail, from basic slicing and moving to warping and real-time stretching/pitch-shifting.
Pros:
MPC X is one of the only truly capable DAW replacements by today's standards. It provides a comprehensive collection of sounds and effect plugins. Similarly, the mic inputs with the phantom power supply let you record vocals straight into the device without using an audio interface or preamp.
The touch screen, rotary encoders, and trigger pads are responsive. And finally, it provides extensive connectivity to ensure you can work with multiple devices and controllers with MPC X as the centerpiece of your workflow.
Cons:
The biggest problem with this fantastic instrument is that it only has eight stereo audio tracks when working standalone. So, that severely limits how you work with audio recordings and samples.
Similarly, MPC X doesn't operate with battery power, making it somewhat less portable than you might wish. And the mere 2 GB RAM fills up quickly when working with audio because the device automatically converts the audio into WAV.
4. Native Instruments MASCHINE +
Based on the former MK3 edition, Maschine+ goes independent for a DAW-less music production environment.
Maschine+ is a highly intuitive music production environment that takes the best of both hardware and software. It provides all the tools you need to start and finish music production.
However, Maschine+ doesn't attempt to limit your creativity by forcing you on one platform. Instead, it embraces a modern music production system by providing a complete integrated DAW for both PC and Mac, dedicated to refining your projects.
Similarly, you can also use other DAWs for the same purpose.
Key Features:
Built-In Computer


Maschine+ is essentially a hardware sequencer that features a computer inside. It includes a quad-core processor, 4 GB of DDR3 RAM, and 32 GB of internal storage. You can also expand the storage capacity using the SD card reader on the left-hand side of the module. You can use SD cards to store samples, instruments, and projects.
Furthermore, Maschine+ features built-in Wi-Fi connectivity. You can log into your Native Instruments account and other compatible platforms straight from the hardware. So, downloading a new firmware or additional samples/loops into your device is super easy.
Maschine Software & DAWs
While Maschine+ is an independent music production environment, you can still connect it to your computer to get even more control and flexibility over your project. One of the easiest ways to get hands-on with your music production is using Maschine+ as a controller for Native Instrument's Maschine DAW software. Furthermore, you can switch to Storage mode to access the internal storage of the hardware on your computer. It allows you to copy your projects, samples, loops and sounds to your computer easily, where you can refine the Maschine projects.
Of course, you can also use the built-in Ableton Link feature to sync the hardware with another DAW (like Ableton Live). Furthermore, it comes with a VST, AU, and AAX plugin version. This feature allows you to refine your projects in your favorite DAW like Cubase, REAPER, or FL Studio.

Intuitive


Maschine+ is a highly intuitive piece of hardware with two color screens, a four-directional push encoder (joystick), a Smart Strip that lets you modulate parameters, etc. The screens allow you to get in-depth with your samples and MIDI. For example, you can chop up audio recordings and edit using a piano roll to edit your clips to perfection.
Ins & Outs
Maschine+ features one mic in without phantom power and two TS line inputs. Since it doesn't have phantom power, the mic in is a TS port and not an XLR port, which makes sense for guitars but may require converters for dynamic mics. Similarly, you'll find a pair of TS line outputs alongside a TRS headphone output. The hardware features a professional 24-bit 96 kHz audio interface built-in.
Library
Maschine+ features eight GB of samples, one-shots, sliced loops, drum synths, sampled instruments, presets, MIDI patterns, drum kits, and demo songs. You can download and load a Komplete 13 Select library with over forty-five GB of additional sounds. Likewise, you'll find twenty-five studio-quality effect plugins like filters, EQ, delay, reverb, compressor, and distortion. Hence, you're fully equipped for music production from day one.
Character & Sound:
Maschine+ is a highly versatile music production system with a variety of sounds. You could produce a wide range of styles in it, from pop, EDM, and hip-hop to recording rock, jazz, or blues. However, it is undoubtedly more catered towards electronic music, especially hip-hop. While the device is a hardware groovebox, it uses an internal computer to provide the same transparent technology as a modern computer.
Pros:
Maschine+ feels like a very balanced blend of a hardware sequencer with a modern software program. It provides a massive library of factory sounds and instruments alongside twenty-five effect plugins.
Similarly, you can hook up a class-compliant audio interface via USB to get more inputs or outputs. Furthermore, you can connect it to a computer to get even more flexibility.
Cons:
While there is plenty to praise in Maschine+, Native Instruments could improve some aspects. First, with so much potential in this hardware, the lack of 48V phantom power limits the ability of this groovebox. Similarly, it doesn't provide any CV outputs, which would've made working with external hardware even easier.
And finally, a battery power supply would've made the Maschine+ even more portable.
5. Roland MC-707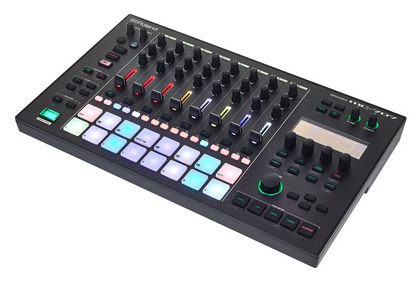 Roland MC-707 is a powerful, efficient, and fun-to-use groovebox with built-in virtual analog synthesis.
This groovebox is the only release in this range since Roland's MC-808 all the way back in 2007. And as with many other modern Roland hardware gear, the clip-based MC-707 groovebox also falls under the umbrella of the AIRA products, meaning it recreates the sounds of the classic drum machines and synths, albeit with ZEN-Core technology and not ACB tech.
ZEN-Core utilizes a mix of PCM audio samples and virtual analog synthesis to emulate hardware gear even more efficiently. Furthermore, you'll find more than merely classic drum machines. These include synths like the JUNO-106, SH-101, TB-303, etc. Let's have a look at its key features:
Key Features:
Internal Library
As you'd expect, the groovebox is full of drum kits from Roland's golden years. These include the TR-808, TR-909, and more, totaling eighty preset drum kits with sixteen drum sounds each. Similarly, there are over three thousand "Tone" presets

(melodic/harmonic) for playing leads, basslines, keys, etc.
The drum engine allows limited controls like tuning changes. So, it is a slight downgrade when compared to the ACB technology with circuit-level modeling. However, the good news is this new technology offers a 128-voice polyphony! So, the tradeoff was essential for a groovebox with a built-in subtractive synthesizer per track.

Sampling


Besides its built-in synth and drum machine, MC-707 offers a practical sampler that synchronizes your project's tempo (essential for drum loop sampling). You can record vocals, instruments, and samples straight into the hardware (up to 12 hours of mono audio and 6 hours of stereo audio). Furthermore, you can tweak and mangle the recordings by slicing, truncating, and reversing them. Likewise, you can trigger them while performing or sequence them into an arrangement.

Effects


MC-707 offers a collection of built-in digital effect plugins. These include chorus, delay, reverb, distortion, guitar amp simulators, etc., per track. Furthermore, you'll find master effects, including a bit-crusher, filters, and a bus compressor. You can also use these to process external audio sources. However, none of these effect plugins have a GUI. So, you will be working with parameter labels and number values like traditional sequencer hardware.

Intuitive


The set of volume faders on the MC-707 is likely the coolest feature on this groovebox. Similarly, user-assignable knobs let you control various parameters as needed. And the 8×2 trigger pads are excellent for triggering clips, playing the drums, and even inputting melodies, thanks to the virtual keyboard LED lighting.
Furthermore, you'll find 5-pin MIDI input and two outputs on the back edge of the groovebox. Similarly, there are two inputs (one mic), two sends and returns, two assignable outputs, and a mix out alongside a headphone out. All of these audio ports are ¼" TS ports. And it doesn't provide a 48V phantom power for condenser mics.
Character & Sound:
The Roland MC-707 is an efficient 8-track groovebox with built-in sounds. Combined with some effect processing, the drum sounds are ideal for many electronic genres like house, pop, trance, hip-hop, etc. Furthermore, the subtractive synthesizer allows you to explore the sounds of vintage Roland synths.
Similarly, you can find even more sounds and features by updating the hardware with new ZEN-Core sound packs from the Roland Cloud Manager. You can do so using a computer by connecting your MC-707 via the USB port on the back edge.
Pros:
Roland MC-707 balances simplicity with functionality well. A large number of factory presets and sounds allow you to start creating music out-of-the-box. Similarly, it provides excellent effect plugins for individual tracks as well as for the master mix, a feature seldom seen in similar hardware. And it looks esthetically pleasing and professional.
Cons:
The hardware provides a lot of sounds and effects, but the workflow doesn't feel as modern as comparative products by other brands. Although, the clip-based workflow will feel familiar to Ableton Live users.
Furthermore, it lacks individual track outputs. Again, you can do so via USB, but it doesn't feel as straightforward. And finally, you cannot sample one-shots or slice up loops like a modern DAW.
6. Korg Electribe
Let's have a look at the re-introduction of the Electribe series from twenty-one years ago in 1999.
Korg Electribe is a synth-based groovebox with many types of dedicated oscillators, filters, and operations. You can use these to generate a variety of sounds, including drums, synth, instruments, sound effects, and percussions.
So, you're equipped with many instruments required to create electronic music. Of course, you can use the device alongside other gadgets or a computer to get even more flexibility and power.
Key Features:
409 Oscillator Types
Digital synthesis sure has its perks. Korg Electribe is equipped with 409 types of oscillators in the following categories: kick (56), snare (58), clap (16), hi-hat (42), cymbal (14), tom (16), percussion (55), voice (16), synth fx (18), synth hit (18), inst hit (16), synth (55), instrument (28), audio in (1). The instruments category includes acoustic instruments like piano, organ, brass, and guitar. Each oscillator type also provides independent parameters.
Additionally, each track provides a filter with sixteen algorithms, including MS-20, OB, Acid, MG, Prophet 5, etc., from acclaimed vintage synths. These can be modulated using a modulator that provides seventy-two types with independent speed and depth control.

Scales & Keys


The velocity-sensitive trigger pads of Electribe double as a melodic keyboard. However, you can set the key signature and the scale type of your project in the edit menu. This feature makes the 8×2 matrix function as two octaves of scale degrees/notes. Furthermore, you can press the step buttons to increase or decrease the key range by up to two octaves. Lastly, the chord mode allows you to play chords according to the selected scale.

TouchPad


The square touchpad at the bottom left of the user interface allows you to swipe and play an instrument or alter the gate arpeggiator. The X-axis changes the gate speed, whereas the Y-axis changes the length of the sound. You can use it to create risers or downers and fills.

Modulation


The groovebox allows you to add a "motion sequence" or automation to various parameters. These include oscillator edit, pitch, filter cutoff, resonance, envelope, modulation speed/depth, amp envelope, independent effect sends, master effects, etc. Furthermore, you can record these changes in step or while playing live.
Inserts
Electribe offers thirty-two insert effects that you can add individually for all parts. These effects include a compressor, overdrive, EQ, punch, bit-crush, ring modulator, chorus, flanger, etc. So, you can create basic mixes of your instruments right inside the groovebox. Of course, if you need more flexibility, you can connect Electribe to your computer, where you can export the project into Ableton Live.
Character & Sound:
For a 16-track groovebox, what Electribe can do is rather impressive. It provides plenty of instruments covering various genres, including classic house, hip-hop, techno, Chillwave, tech house, EDM, etc.
Furthermore, the built-in effects provide a high-quality finishing touch to your mixes. However, it maintains a warm, hardware-esque sound that doesn't quite sound modern.
Pros:
Korg Electribe provides a lot of power for such a small machine. It prioritizes live performance. Although, it provides a nice "integration" with Ableton Live by exporting 16-bit 48 kHz WAV files of the patterns and creating a couple of Live sets (one for Live Lite and the other for regular).
Of course, you could import the audio files into any DAW and fare just fine. Furthermore, it provides MIDI sync ports, MIDI connectivity, and six AA battery backup.
Cons:
While the minimalistic design makes the instrument easy to use, the lack of multiple outputs and headphones output makes little sense for a portable multi-track instrument. And while Korg specifies a 24-voice polyphony, the actual polyphony depends on your track's complexity, making it somewhat unpredictable.
Furthermore, working with long lists of options and menus can be tedious. And lastly, it only has a single master reverb instance, despite the boast of individual track effects.
Related Reading:
The 6 Best Drum Machines On Any Budget (Hardware)
Top 9 Drum Machine Plugins (And Groovebox Plugins)
K. M. Joshi is a multi-award-winning composer and sound designer, specializing in film, game, and TV audio. He enjoys making cinematic music, rock, blues, and electronica. Read more..