In this post, we'll be looking into the six best 32-key MIDI keyboards in 2023 that musicians can get on any budget. We'll also be exploring the main features that make these certain keyboards most suitable for your needs.
It's getting to a time now when beatmakers and producers are looking for a little something extra to work. It's especially true if you are a musician traveling more and need a lightweight and portable keyboard that is slightly more significant than a 2-octave.
It would help if you had some extra functionality to go with it. Or whether you need something to add to your home setup that won't take up too much space, you'll get some insights into these keyboards selected. Let's get to it!
6 Best 32 Key MIDI Keyboards 2023 (On Any Budget)
1. M-Audio Keystation Mini 32 MK3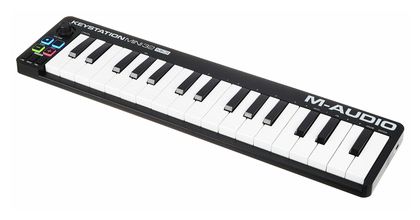 M-Audio's Keystation Series has something understandable and straightforward and offers the user creative expression with this MIDI controller.
An affordable keyboard with mini keys, the MK3 has selectable velocity curves, allowing you to change the velocity sensitivity. It is USB class-compliant and can be connected to your iOS device with Apple Lightning to USB Camera Adapter, which you can purchase separately. It is also lightweight and fits nicely into your luggage when planning to make music on the move. It is ideal for beginners and traveling musicians who want a budget-friendly keyboard for quick and easy production.
Key Features:
Pitch Bend And Modulation Buttons
Unlike the usual wheels or even touch strips for pitch bend and mod, the Keystation Mini has buttons for this feature. With the pitch bend buttons, you can bend the pitch up and down by two semi-tones, as in the default setting; however, you can change the range. Pressing the modulation button imitates the rotation of a wheel. You can also reassign these buttons in Edit mode.
Comprehensive Edit Mode
You can access advanced features of the MK3 via the Edit Mode. Pressing the button switches your keyboard into edit mode, whereby you can select various advanced features and enter data controlled using the keybed. In edit mode, the button would now be blue.
Assignable Volume Knob
When playing the notes, you can control the volume using this knob. It is helpful as an extra control to use when making music, as there are limited features to choose from. You can assign different parameters such as pan, attack, reverb, chorus, delay, and more.
Sustain Button Included
Having a button that can sustain the notes you are playing means that this feature gives you the option to have that extra functionality, much like a sustain pedal you would use on a piano. Pressing the button engages, and pressing again disengages sustain.

Pros:
The octave buttons are primarily used to shift the octave increments up to and down. In addition, they change colors from green, and orange to red, respectively, making it pleasant aesthetically in dimmer workspaces. You can assign other functions to these buttons, including transpose. In addition, it includes software like MPC Beats, Melodics app, and some virtual instruments.
Cons: 
Although it is friendly for beginners, having a sustain button can be quite a drawback to more experienced keyboard players who prefer a sustain pedal for more intuitiveness. The modulation button does not lock in place when you play the keys. You have to hold the button down physically for modulation to take place. Features are somewhat limited, but you could not expect a whole array for its price.
2.

Arturia 

Keystep
Careful thought went into Arturia's Keystep 32 to give the portable functionality with the more advanced analog and digital combination.
The Keystep is small but mighty and more of a performing keyboard with sequencers and arpeggiators,
and you won't find pads, faders, or knobs on it. But, of course, i
t also has pitch bend and modulation strips
and octave buttons. It is more for
the performers who are into hardware and running modular devices from it,
connecting to multiple devices to run from one controller.
Key Features:
Sequencer And Arpeggiator Section
This section includes a sequencer/arpeggiator toggle switch, seq/arp modes, time division, and rate controllers. You can record up to eight different sequences, each having up to 64 steps. The arpeggiator generates a series of notes in various scales and plays them back according to the arp mode setting.
An Array Of Connections
Behind the keyboard, you will find a USB input, 9V DC input (to give it power without a computer), sustain pedal input, MIDI input, and MIDI output. In addition, you will also be able to send electrical inputs to an external device such as Arturia's popular analog synthesizers or a modular analog synthesizer with the Pitch/Gate/Mod outputs. Clock Sync input/output jacks allow the Keystep to interface with pre-MIDI technology.
Basic Transport Section
Having record, stop, and play/pause for essential transport functions, these buttons also control the sequencer, arpeggiator, and external MIDI devices using MIDI Machine Control. Each button also has an additional secondary function when creating a sequence, such as Append, Clear Last, and Restart.
Unique Buttons Added
Buttons include the 'Tap Tempo/Rest/Tie,' which allows you to tap and set the tempo of the active sequence or arp while in session and enter rests or tie two notes together when creating a sequence. You also have access to a 'Hold/Chord' button that allows you to add up to 32 notes to the arpeggiator while running. When used with the shift button, you can switch on/off Chord mode.
Pros:
The vast range of connectivity and the sequence/arp section make this controller favorable. It can also connect to an iPad with the Apple Camera Connection Kit. You can record your manual sequences and change the timing divisions of your recordings, which is nice. The keys have aftertouch, and the software that comes with it includes Analog Lab Intro.
Cons: 
It may have so much going for it; However, the keys are pretty slim, which could be challenging for some to play. Also, once you receive a MIDI start message, you can't stop the sequencer from playing unless you give up one of the slots for sequence messages and use the software by deleting all the notes from that sequence. It also depends on if this bothers you or not.
3. Native Instruments Komplete Kontrol M32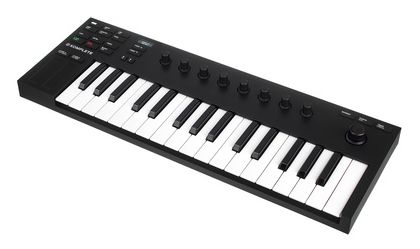 Native Instruments has the S-series and A-series keyboards which make up a fundamental part of your studio; let us see why their sibling in the M-series is so special.
You can truly enhance your workflow with this powerful controller.
It gives you great control when you are working on the software and now has the pitch bend and modulation strips
(as opposed to their A-series having wheels). In addition,
the small display is neat and lets you monitor parameters.
These are just a few of the many things that make the M32 a clever little device.
Key Features:
Smart Play For Expression
Scales, chords, and an arpeggiator allow you to play with just one note. These functions can be edited to your needs in Komplete Kontrol and programmed using the keyboard in the perform and edit sections. Various banks, types, and time signatures give you complete control.
8 Control Knobs / Navigation / Mode Buttons
Boasting eight endless, assignable, and touch-sensitive knobs, the M32 gives you more freedom to automate and adjust various parameters. The navigation and mode buttons include browser, plugin, track, and a 4-D encoder that moves in all directions, rotates, and can be pressed down.
Concise Transport Section
Here you will find the loop, metronome, tempo, play, record, and stop buttons. You will barely need to lift your head to the computer with this section. Although it is not an entire transport section with rewind or pause buttons, it still allows you to perform smoothly.
Powerful Software Included
As if the keyboard itself was not enough, you get the download links for Komplete Kontrol software on a purchase. And the Komplete Select software bundle includes NI's impressive synthesizers like Monark, Scarbee Mark I, Reaktor Prism, and Maschine Essentials to help you create the music you want.
Pros:
It has a stylish and elegant design, and the keys have excellent playability, even though they are smaller. It has a sustain pedal input, and you can also use it with an iPad using the Apple Camera Connection Adapter. I like that you get added function buttons like Page Left, Page Right, and Undo.
Cons: 
There is no MIDI output, which would have been a great addition to this excellent keyboard. Another thing is that only certain DAWs have host integration with Komplete Kontrol, so make sure to check yours to make sure before you decide to purchase. However, it is a good investment overall.
4.

M-Audio 

Oxygen Pro Mini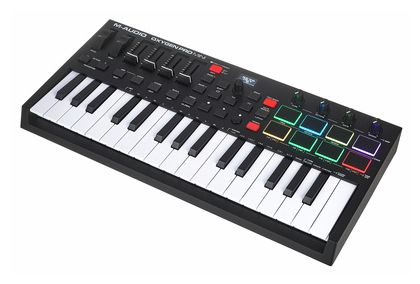 M-Audio knows what they're doing when they design products; having among the world's highest-selling keyboards, they're bringing the professional into mini.
For a 32-key USB-powered MIDI controller, M-Audio has
the combination portability and seamless production in this Oxygen Pro Mini.
With a myriad of options to choose from in the controls and buttons, it has keys that have comfort in playing, despite their smaller size. In addition,
it has a MIDI output and a sustain pedal input to increase its performance ability.
Also to mention the software includes Ableton Live Lite, MPC Beats, and some AIR virtual instruments. So you could spend a lot of time exploring this Pro Mini in your studio time.
Key Features:
8 RBG Pads
Velocity-sensitive and assignable pads make for your drumming and MIDI mapping and trigger various parameters on your DAW. A significant part of these rubber-feel pads is that they can also change colors, which is good for remembering what they're programmed. Also, you can select between two banks using the pad bank button.
4 Assignable Knobs And Faders
With the faders and knobs, you can control various parameters like track volume, panning, effect amounts, etc., depending on what you decide to assign these controls to in the DAW. The controls are also enabled with "soft takeover," which means when banks or plugin controls are changed, you would need to move the physical fader or knob to the position it is on in the software to have an effect.
Arpeggiator, Scale, And Chord Modes
Having buttons to program each of these modes, respectively, gives you an added advantage when wanting to make more dynamic chords and melodies. Accessible to program and play, you would press the chord button, for instance, and by pressing shift and choosing a key, you can change the root note like that. Or with shift and pressing pads, you can change the time signature for arpeggiator, etc.
Display And Various Function Buttons
The display is handy for showing the status of the last used controls and monitoring parameter levels as you adjust them. You also have access to transport buttons like rewind, fast-forward, loop, stop, play, and record. There is also the bank, tempo, DAW/preset, and octave buttons included, which all have secondary functions
Pros:
The select/scroll encoder is an added benefit to speed up your workflow when changing settings and parameters (in edit mode). The pitch bend and modulation are actual wheels. Also, you get various quick functions such as pressing 'select' buttons (to arm, solo, mute, or select) for the faders corresponding in the DAW. It is activated with the Mode button. A MIDI Out also takes TRS 3.5mm to MIDI cable and a sustain pedal input.
Cons: 
Unfortunately, the Pro Tools | First M-Audio Edition, which is included in the purchase, does not use the DAW controls on the keyboard. Another thing is that the keys do not have aftertouch, so if this is something you find essential, then this won't be providing this. But, overall, the pros far outweigh the cons, and for a smaller keyboard, these are minor things.
5. Alesis Qmini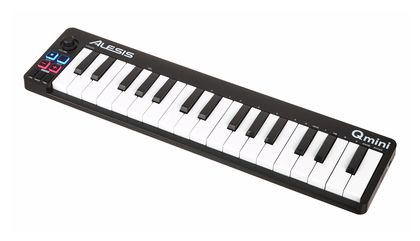 Alesis has been around since 1984 and has numerous top-selling products, from electronic drumkits to children's keyboards.
A songwriting companion that you can travel with easily.
It has velocity-sensitive keys, and in the edit mode, you can transpose, program change, do some tuning, adjust modulation rate, etc.
It also has octave buttons that can light up different colors. First, however, I must ask the question – did Alesis and M-Audio collaborate at one point? Because the Qmini is pretty much identical in features to the Keystation Mini 32 Mk3.
Key Features:
Lightweight And Compact
Being very lightweight (1 lb./ 0.5 kg), it is suitable for carrying anywhere. Its plug-and-play USB connectivity makes it a suitable tool for your mobile production because of its easy setup. Make music "on the fly" when you connect it to your iOS device using the Apple Lightning to USB Camera Adapter (sold separately)
Pitch Bend And Modulation Buttons
The three buttons are pitch left, modulation, and pitch right. Not very common, but at least the feature is there for adding your expression to your notes played. When pressed, the pitch bend is altered by two semi-tones and can also be changed in edit mode. These buttons are re-assignable and can be changed to fulfill different parameters.
Volume Knob And Sustain Button
The encoder, set at default for changing the volume, is also assignable. So, you can set the parameter to another of your choice from your DAW. Having a sustain button helps sustain notes by pressing the button once to engage. Pressing it again deactivates the mode.
Decent Software Bundle
Offering you software that you can download is a perk, especially if you are new to making music. For example, you will receive MPC Beats and Melodics (an app to help you learn to play the piano. This bundle includes 60 free lessons). And more.
Pros:
It is a very affordable keyboard, light, and simple plug-and-play. I want to emphasize again that this is very similar to the Keystation Mini 32 Mk3, so the pros and cons are pretty much the same.
Cons: 
Limited in features, but it serves what it needs to for its price. Just know that if you are using it to graft in ideas and need something without too much functionality, this can serve you well, especially on the move.
6. MIDIPLUS AKM320
One could say that Midiplus is not exactly a well-known name, but they've surprised us with the AKM 320 keyboard.
When we talk straight to the point, it has a simple interface design, is compact and light, and you can travel without worrying about how delicate it is. In addition, it is one of, if not the most affordable 32-key MIDI keyboards on the market today. A great place to start as a producer when needing to move up in production creativity from using the mouse to playing on a keyboard; this will get you there and won't break the bank either.
Key Features:
Pitch Bend And Modulation Wheels
With many smaller keyboards these days using the touch strips, it is sometimes preferable to work with the wheels when bending your pitch or modulation. There is something more tangible about the feel of actual wheels, and although they are plastic, they are more tactile than strips.
Octave And Transpose Buttons
The 32-key range can be enlarged to 88-key using the octave up and down buttons. Every keyboard has octave buttons, though, but it's worth mentioning this point because of the buttons, which are soft and backlit. A neat addition is transposing up and down buttons as well.
Volume Control And Pedal Input
Having a volume slider can allow you to add a parameter to it to change or just use it for the volume. A surprising feature is the sustain jack input, allowing you to connect a sustain pedal to the keyboard and play more dynamic sessions.
Pros:
The Midiplus AKM 320 is a very straightforward, easy-to-set up, plug-and-play controller. It is sturdy, lightweight, and compact. With 32 keys for its price, it is very affordable and will take you along your budget.
Cons: 
The keys are stiff when you play, compared to other similar keyboards. There is a velocity curve, but it's not so good, especially if you want to play with more expression. Also, it does not come with any software.
Conclusion
These days, there are many MIDI keyboards to choose from. And now more than ever, people want ones that are quick and easy to set up, have more functionality, are more compact, and offer the quality they expect for what they pay.
In this list we've highlighted all have more compact key sizes. And although they're all small, they have different feelings and pressure sensitivity which you can adjust to over time if you're not used to them.
So, whether you are a beatmaker, composer, songwriter, or want to get into music-making from scratch, you will find clarity in your decision and enhance your production in what we've recommended here.
And the last thing is that no matter how experienced you are in keyboard playing or music-making, most controllers differ in how they feel and operate, so we're all constantly learning, especially when it comes to music tech. So, instead, choose according to your production and creative needs.
Readings that you may like: 
Other Recommended Gear:
Top 12 NearField Studio Monitors On Any Budget
Top 10 Midfield Studio Monitors For Home Recording
Best Biggest Studio Monitors (FarField Monitors)
Top 10 Guitar Pickups for Low Tunings 
Top 10 Analog Compressors For Mixing & Mastering (On Any Budget)
Top 12 USB Audio Interfaces Under 150$, 200$, 300$ 400$ (Any Budget)
Top 12 Hardware Equalizers (Analog EQs For Mixing & Mastering)
Top 6 Analog Hardware Limiters 
Top 6 Solid State Bass Amps (On Any Budget)
Top 6 Ribbon Mics On Any Budget (For Vocals, Drums & Guitars)
Top 6 Cheap Dynamic Mics For Vocals Under 50$, 100$, 200$ & 300$
Top 6 Chorus Guitar Pedals (On Any Budget)
6 Best 61-Key MIDI Keyboards (On Any Budget)
9 Best 49-Key MIDI Keyboards Under 100$ & 200$
Top 5 Best 25 Key MIDI Keyboards (On Any Budget)
Top 12 Acoustic Drums (Best Kits/Sets On Any Budget)
Plugin Roundups:
Genre Focused:
Top 10 EDM Plugins  (And 10 Best FREE Plugins For EDM)
Top 10 Plugins For TRAP Beats (And 5 Best FREE Trap Plugins)
20 Best Plugins For Rock Musicians (+ 6 FREE Plugins)
Top 14 Trance Plugins (Uplifting, Tech, Progressive, Vocal, Dream, Hard)
Top 10 GOA & PsyTrance Plugins (Best Psychedelic Trance Tools)
Top 7 Plugins For Dubstep (With 10 Best FREE Effects & Synths)
Top 20 Synthwave Plugins (+ 11 Best FREE Plugins)
Top 15 Plugins For Techno, House, Electro, Tech House, UK Garage
Top 6 Plugins For Latin Music  (And 4 FREE Tools)
Top 12 Plugins For Hip-Hop (+ Best Kontakt Libraries)
Top 7 Plugins For Game & Film Scoring  (+ 6 Best Kontakt Libraries)
Top 10 R&B And Pop Music Plugins & KONTAKT Libraries 
30 Best Free Plugins For DnB, EDM, IDM & Experimental Music 
EQ Plugins
Top 12 Free EQ Plugins For Precise Mixing & Mastering
Top 9 Mid/Side EQ Plugins  For Mixing & Mastering (+ 2 Free Tools)
Top 7 Graphic EQ Plugins  (With 3 Best Free EQs)
Top 7 EQ Plugins For Mastering In | And Best FREE Mastering EQs
Top 6 Passive EQ Plugins (Klevgrand, SPL, UAD, Waves, IK Multimedia)
Top 11 Plugins For Making Metal (Best Guitars, Drums & Effects)
Metering:
Top 5 Audio Metering Plugins (LUFS, RMS, LRA, True Peak)
Top 6 Spectrum Analyzer Plugins  – Spectral Analysis Tools
Top 6 Oscilloscope Plugins To See The Waveforms
Top 5 Key Detection Plugins & Software  (+ Best FREE App)
Kontakt Libraries
20 Best Kontakt Libraries For All Categories (Synths, Drums, Vocals)
Top 7 Drum Libraries For KONTAKT (And 4 Freebies)
Top 7 Trap Music Kontakt Libraries (And Best Lo-Fi Kontakt Library)
Top 7 Metal & Rock Kontakt Libraries (Best Guitars & Drums)
Top 10 Guitar Libraries For Kontakt (Acoustic, Electric, Bass & Freebies)
Top 7 Trailer Scoring Plugins & Kontakt Libraries 
20 Best Free KONTAKT Libraries For Various Instruments
Top 9 Piano Kontakt Sample Libraries  (And 5 Best Free Pianos)
Top 10 Percussion KONTAKT Libraries  (And 3 Freebies)
Top 7 Kontakt Libraries For Horror & Thriller Scoring (No VSTs)
Audio Restoration, Calibration & Utility:
Top 6 Noise Reduction Plugins (And 3 Best Free Tools)
6 Best Audio Restoration Plugins & Software 
Top 7 Phase Alignment Plugins To Fix Your Bass & Drums
Top 10 Room Calibration & Headphones/Speakers Correction Plugins 
Instrument Plugins: 
Top 6 Vocoder Plugins (Effects & Synths + FREE Vocoder)
11 Best Rhodes VST Plugins (AND 5 Free Rhodes Plugins)
Top 12 Randomizer Plugins Including FREE Plugins
Top 6 Kick Drum Plugins (Best Kick Designer Tools)
Top 12 Woodwind Plugins (And KONTAKT Libraries)
Top 10 Double Bass Plugins (Best Upright Basses)
Top 5 Strings VST Plugins (AND 4 Best Free Instruments)
Top 6 Sampler Plugins (And 3 Best FREE Plugins)
Top 6 Classical Guitar Plugins & Kontakt Libraries (And FREE Guitars)
Top 12 Sub Plugins (Best 808 & Bass Tools For Massive Low End)
Top 10 Plugins On PluginBoutique (And 7 Best Free Plugins)
Top 11 Plugins On Plugin Alliance 
Top 7 Acoustic Guitar Plugins (And 4 Best Kontakt Libraries)
9 Best Bass Guitar Plugins (And 2 Best Freebies)
Top 6 Electric Guitar Plugins (Best PAID & FREE Picks)
Top 10 Arpeggiator VST Plugins (Best Synths, MIDI Effects & Tools)
Top 10 Modular Synth Plugins (And 3 Best FREE Plugins)
Top 6 Choir Plugins & Sample Libraries (And 3 Best Free Plugins)
11 Best Percussion & Drum VST Plugins (And FREE Plugins)
Top 8 Piano Plugins (Best Sounding Pianos & 5 FREE Piano Plugins)
Top 6 Organ Plugins Ever Made  (And 3 Best Free Organs)
Top 14 VST Plugins For Beginners (And 9 FREE Plugins)
Top 9 Drum Machine Plugins (And Groovebox Plugins)
4 Best Banjo Plugins (Best Banjo Instruments)
The 5 Best Ukulele Plugins & Kontakt Libraries 
Top 13 Synth Plugins (And 5 Best FREE Synths Plugins)
Top 13 Sequencer Plugins  (Synth, MIDI & Step Sequencers)
The 10 Best Multi-Effect Plugins (And 3 Best Free Plugins)
Top 12 Plugin Bundles For Musicians (Synths, Mixing & Mastering)
Processing & Sound Design:
8 Best Lo-Fi Plugins (PAID & FREE)
Top 11 Plugins For Mixing Vocals  (For Home Studio)
Top 12 Saturation Plugins (Best Mixing & Mastering Tools)
Top 6 Pitch Shifter Plugins (And 3 Best FREE Pitch Shifters)
Top 6 Chorus VST Plugins For Musicians (And 3 FREE Plugins)
Top 6 Limiter Plugins For Precise Mastering & Mixing
The 8 Best Filter Plugins For Precise Cuts & Boosts (+ 5 Free Filters)
6 Best Autotune Plugins To Improve & Enhance Your Vocals
Top 10 Transient Shaper Plugins (VST, AU, AAX)
Top 7 Enhancer Plugins (For Bass, Drums, Vocals & Harmonics)
Top 6 Flanger Plugins (And 5 Best FREE Flanger Emulators)
Top 7 Phaser Plugins (And 3 Best FREE Phasers)
Top 10 Plugins For Mixing Drums (And 3 Best Free Plugins)
Top 7 Bitcrusher Plugins (And 4 Best FREE Bitcrushers + 3 Bonuses)
Top 6 Plugins For Voice-Over & Dialogue Cleaning (Post Production)
Top 10 Stereo Imaging Plugins (Best Old & Modern Picks)
Top 5 Multiband Limiter Plugins 
Top 7 De-Esser Plugins For Better Vocals (And 4 FREE Plugins)
Top 7 Clipper Plugins (Best Limiter Alternatives)
Top 6 Chord Generator Plugins That Inspire Melodies (+ FREE Tools)
7 Best Exciter Plugins For Mixing & Mastering
Top 7 Channel Strip Plugins (And 2 Best Free Plugins)
Top 11 Distortion Plugins (And 4 Top Free Plugins)
Top 5 Comb Filter & Resonator Plugins | Melda, Kilohearts, Tritik
The 7 Best Vibrato VST Plugins | Audec, Audiority, Melda
The 7 Best Tremolo Plugins | Eventide, Melda, SoundToys, Kuassa…
The 7 Best Harmonizer Plugins | Eventide, Melda, Aegean Music
7 Best Sidechain Plugins (VST, AU, AAX) | Xfer, Cableguys..
Top 10 Noise Gate Plugins (And 6 FREE Free Gate Tools)
The 6 Best Ring Modulator VST Plugins | KiloHearts, Melda
7 Best Autopan VST Plugins | CableGuys, Melda, Waves, Soundtoys
The 6 Best Frequency Shifter VST Plugins
Top 11 Granulizer Plugins For Future Sound Design
29 Best Sound Design VST Plugins
Compressor Plugins
Top 11 Free Compressor Plugins (VCA, Vari-Mu, FET, Digital)
Top 7 Multiband Compressor Plugins (And 4 FREE Plugins)
Top 5 Diode-Bridge Compressor Plugins 
Top 6 Mastering Chain Plugins: Complete VST Solutions 
The 7 Best VCA Compressor Plugins (VST, AU, AAX)
Top 11 Mastering Compressor Plugins (And 2 FREE Plugins)
Top 10 Opto Compressor Plugins For Transparent Sound
The 7 Best Vari-Mu Compressor Plugins (And 2 Best FREE Tools)
Reverb & Delay Plugins:
Top 12 Reverb Plugins (And 5 FREE Reverb Plugins)
The 6 Best Spring Reverb VST Plugins | AudioThing, GSi, u-he, Eventide
Top 12 Delay Plugins For Music Production In (VST, AU, AAX)
Top 10 FREE Delay Plugins (VST, AU, AAX)
The 10 Best Convolution Reverb Plugins 
Amps & Preamps:
Top 10 Guitar Amp Plugins (And 5 Best FREE Simulators)
Top 10 Bass Amp Plugins (And 5 Best Free Simulators)
Top 9 Preamp Plugins (For Vocals, Guitars & More!) + Free Preamps
Guitar/Amp Focused:
Can I Put Nylon Strings on a Steel-string Guitar?
Do Electric Guitars Sound Good Unplugged?
Buying Your First Guitar: 2 Things To Know
Are Tube Amps Worth It? (Tube vs Solid-State Amps)
How Often Does A Guitar Need a Setup?
Can I Play Classical Guitar On A Steel-String Guitar?
How often guitar necks need reset?
Can You Play Two Guitars Through One Amp?
Can a 6 String Bass Be Tuned Like A Guitar?
Can I leave My Guitar Tuned Down a Step? Yes, But Is It Safe?
Should I Learn 4, 5 Or 6 String Bass Guitar & Why?
How To Know If your Guitar Amp Is Broken?
How To Fix Distorted Bass Guitar Sound?
Do Fender Guitars Appreciate In Value?
Should You Put Stickers On A Bass Guitar?
How Acoustic And Electric Guitars Are Made?
Is Electric Guitar Too Loud for an Apartment?
Does a Preamp Improve Sound Quality?
If I Learn Acoustic Guitar Can I Play Electric Guitar?
How Many Hours A Day Should You Practice Bass Guitar?
Do I need an AMP/DAC To Run Bookshelf Speakers?
How to Record Electric Guitar Into Logic Pro X?
Do headphones get worse with age?
DAW Related:
Best DAWs For Musicians Available (With FREE DAWs)
What's The Most CPU Efficient DAW? – 5 DAWs Compared
How To Make Music Without Using A DAW?
Pro Tools Guide: How To Use AutoTune & Pitch Correction?
Ableton Review: Is It Worth The Money? (Cons & Pros)
Logic Pro X Review: Is It Worth It? (Cons & Pros)
How To Use Auto-tune & Pitch Correction In Cubase?
How To Fix Ableton Crackling, Crashing & Freezing? Step By Step
Plugin Related:
What Are Audio Plugins? Different Types of Plugins Explained
What Are The Best Tools To Develop VST Plugins & How Are They Made?
Cost of Developing Audio VST Plugin: Several Factors (With Table)
VST, VST, AU and AAX – What's The Difference? Plugin Formats Explained
Complete Guide To Noise Gate – What It Is, What It Does & How To Use It?
How To Clip My Drums? Here Is How & Audio Teasers (Before/After)
Complete Guide To Limiter: How To Use It (+ Best Plugins & Analog Limiters)
Mixing With Reverb: How To Add Life To Your Mixes
Linear Phase vs Minimum Phase EQ – Full Guide
Difference Between LUFS, RMS & True Peak Loudness Meters
How And When To Use Algorithmic And Convolution Reverb In Your Mix?
Difference Between Active EQ, Passive EQ and Dynamic EQ
Headphones & Studio Monitors:
Do headphones get worse with age?
Monitors vs Studio Headphones For Mixing & Mastering
Top 10 Room Calibration & Headphones/Speakers Correction Plugins 
Are Noise-Canceling Headphones Good For Music Production?
Can Headphones Break in Cold Weather?
Why do headphones & cables get sticky?
Can Wearing Headphones Cause Hair Loss?
How Do I know If My Studio Monitor Is Blown?
Side Effects Of Sleeping With Your Headphones On
Do You Need Music Amplifier For Studio Monitors or Studio Headphones?
Do Headphones or Earphones Damage Your Brain?
Can Headphones or Earphones cause Deafness or Toothache?
FarField, MidField & NearField Monitors – Their Uses, Pros & Cons
MIDI & Synths:
Should I Buy A MIDI Keyboard Or Synth? (Are Synths Worth It Anymore?)
Why Is Audio Gear So Expensive? (Especially Synths)
Top 12 Synth Brands – Analog, Digital & Modular Synth Manufacturers
11 Tips How To Choose MIDI Keyboard 
Should I Buy MIDI Controller Or Keyboard? Cons, Pros & Tips
Chris Maiken is a producer, DJ, and sound engineer based in South Africa. He has experience in producing various electronic genres and specializes in house music.