The effects are very important in the mixing, mastering, and music production processes. Its main objective is to modify the character of analog or digital signals by passing them through circuits and processing them to achieve new results.
Reverberation, along with compression and equalization, are the main effects that are part of sound editing processes. It is common to find units of this type in all professional recording studios. A hardware reverb unit can accentuate, deepen, and even add character to a mix or track you are working on.
This is possible thanks to the fact that each reverb unit contains configurable parameters that allow you to modify the sound consciously, as required by each situation. At the same time, it can be combined with many other options for processing modules. Although a hardware reverb unit is the most suitable option when it comes to processing sounds, many users choose virtual reverbs for convenience and budget reasons.
What's Special About a Hardware Reverb Unit? Virtual vs Hardware
A reverb unit can work along with an interface without consuming computer resources since it has its own processor. When processing the signal directly, its results are more evident. They have a more noticeable character than if you use digital plugins that do the same but through an emulation.
Another reason they are so popular is that they have shaped and defined the character of the instruments from decades ago to the present without losing prominence. Although nowadays virtual reverbs have managed to come very close in terms of performance and definition to hardware units, there are still situations where they cannot compete with them. Hence, every major recording studio owns several of them.
To delve a little deeper into the subject, in this article, we will review some of the best hardware reverb module processors of 2023.
Top 5 Hardware Reverb Module Processors You Can Buy 2023
1. Behringer Virtualizer 3D FX2000

(Reverb, Delay & More – Best Value)



The 3D virtualizer made by Behringer is a multi-effects with everything you need to work in the studio or live performances and has twelve Reverb settings. It offers 24-bit sound quality, high-quality A/D converters, and its build is slim and rugged.
With one hundred memory banks that allow you to save your settings and one hundred presets, this versatile unit offers many effects possibilities in a compact and easy-to-operate piece. Its algorithm-based reverb adapts to each situation to obtain the most realistic effect possible. Its price is around 150 dollars.
Key Features:
12 Reverb Options
This module offers all the classic reverb options (cathedral, room, studio, stage, etc.) and more variants. It has a Reverse Reverb mode that gives you a different character to the effects by making them act with less intensity at first and then increase.
11 Effect Combinations
In addition to the reverbs, you can combine a large number of effects, including delays, modulations (flanger, chorus, phaser, etc.), dynamic FXs (compressor, expander, denoisser, de-esser, etc.), psychoacoustic FXs (exiter, enhacer, ultra bass, stereo imager, etc.) amp simulators, EQs, distortions, filters and even special FXs (vocoder, vinylizer, sampler, resonator, and voice canceler). This makes the 3D virtualizer an extremely versatile option for combining effects.
MIDI Implementation
Thanks to this MIDI implementation with IN, OUT, and THRU inputs, it is possible to connect keyboards and controllers to activate parameters comfortably. Connecting to a computer or any device with MIDI inputs to send the signal once processed is also possible.
XLR and TRS Connectors
This unit has two balanced stereo XLR input and output channels and two input and output TRS channels to ensure the necessary connectivity. It also includes a -10dB pad to attenuate signals with an excessive gain when necessary.
Pros:
It offers an almost unlimited number of effects and options that give it a lot of versatility. Its structure is firm and compact. It is easy to place on any rack. Considering the facilities it offers, its value for money is very good.
Cons:
Some users claimed that the manual does not correctly specify how to use some of its functions that, being so many, take time to master. Some of its effects can add some noise to the signal.
2. Doepfer

A-199 Spring Reverb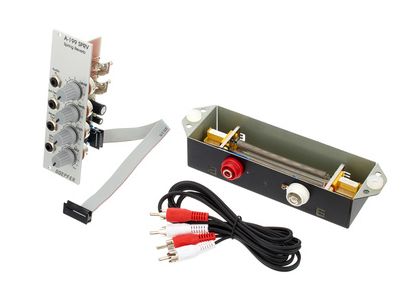 The Doepfer A-199 Spring Reverb is an analog unit for eurorack with qualities of sound and tone vintage thanks to its three integrated springs that recreate the sound of the old amplifiers.
It is easy to place, its operation and functions are simple but effective, and it has four knobs to regulate the reverb parameters and outputs in and out. It can work perfectly with any other type of module or synthesizer. This eurorack module is around 150 dollars.
Key Features:
Spring Tank
It contains three springs separated from each other, with different sound characteristics with which it is possible to achieve even a large and deep reverb effect. This system also gives you a vintage character that stands out for its warmth. The removable spring tank is very useful when changing springs to obtain different results.
4 Level Knobs
Its parameters are controlled by four knobs that include signal level, feedback, emphasis to control the level of the middle frequencies, and mix. It has two inputs (audio in, external feedback) and two outputs (reverb out, mix out). Through the feedback loop, it is possible to include external modules to expand the sound possibilities. As a bonus, you can achieve self-oscillation by taking the feedback input to high levels.

Good Price/Quality Ratio


You can get a perfectly functional unit with a remarkable effect quality for a much lower sum than what other reverb modules cost.
Pros:
Easy to place and with simple parameters. Its use is very intuitive, its sound stands out due to the metallic finish of its springs, and its external input widens the possibilities. Its price is very good. The possibility of using other spring tanks is an interesting option.
Cons:
Because your springs can be prone to picking up signals from other devices, it's important to follow the directions and place the spring tank in a location that won't pick up noise. The quality of the included RCA cables is somewhat low, so it is recommended that you replace them with higher-quality cables to protect the integrity of the signal.
3. EarthQuaker Devices Afterneath Eurorack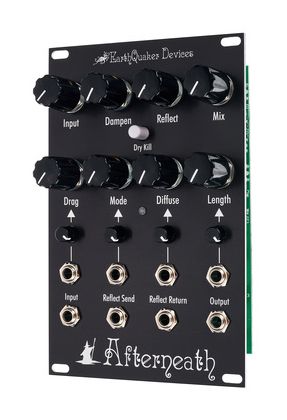 This eurorack unit created by Afterneath has everything a reverberator needs. The EarthQuaker has a series of delays and reverbs covering a wide spectrum of sounds and fully editable environments, which sometimes become strange modulations.
It includes eight Knobs to modify parameters and four control voltage knobs with an attenuverter to change the values when you want. This module is a great option for those who like to experiment with sounds and is around 250 dollars.
Key Features:
9 Selectable Modes
You can choose from options like unquantized, chromatic Scale, pentatonic Scale, Octaves, Fifths, and others by moving the Mode Knob. This allows you to create varied ambiances with deep reverbs and heavily accented delays. In addition, next to the control mode, there is a status led that changes color with the different functions.
8 Input Controls
It includes a general input control, dampen control to regulate how much wet enters the signal, and reflect control to add or remove echoes. Reflect control can also act as a self-oscillator when the signal is high (and it can also act as an attenuator when a signal is patched to the reflect return jack). It also includes a mix control to regulate the balance between the wet and dry signals. The Drag control offers a more delayed signal when moved counterclockwise and a more reverberated signal when moved clockwise. The mode control allows you to choose between the nine possible options, while the diffuse control softens the delay repetitions, with transients sharper when moving it counterclockwise or more washy when moving it clockwise. Finally, it also has a Lenght control.
Input Options
This module can handle both sends from other modules and instrument signals and offers various send options along with four CV controllers to go from clear, classic reverb to a much more modular and experimental sound.
Pros:
It has a wide variety of options in a well-designed unit, not only as a reverb but also as generating modulations intuitively. The led light that changes color according to the mode is very useful for identifying parameters. Its cost is commensurate with what it offers.
Cons:
Beyond its versatility, it is not a multi-effects module, so opting for other options with a higher budget is advisable for those looking for a unit with more variants.
4. Strymon StarLab Time-warped Reverberator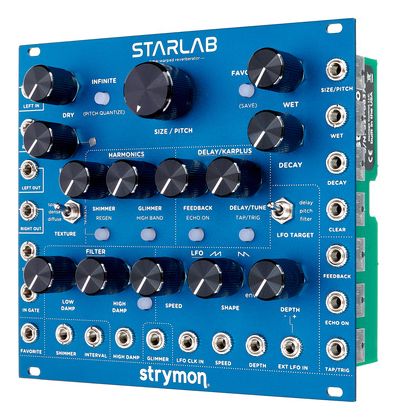 The Starlab Time-Warped Reverberator, designed by Strymon, is a eurorack with features and professional character. This module is designed to be used almost as an instrument, and the arrangement of its knobs provides practicality.
Through Starlab, you can play both reverb and modulations thanks to its wide range of settings and even play your own sounds thanks to its Built-in Karplus-Strong string synthesis. This module is around 550 dollars.
Key Features:
Easy Knob Layout
Its knobs are divided into three areas for a better interpretation. At the top, you can find the reverb parameters. In the central part, you will find the harmonics and delay controls; in the lower section, you will find the filters and oscillators. In addition, it also includes a texture switch with three options and another LFO target switch.
3 Reverb Types
You can choose between sparse, dense, and diffuse reverbs and shape the parameters via the knobs. The general character of this reverb is of great depth, and added to the available filters and variants that Starlab offers, you can achieve very defined environments.
Karplus String Synthesis
In addition to the conventional parameters, the Starlab includes a built-in synthesizer with four octaves of string and pad sounds with short delay times and long feedback loops. This makes its sounds very expressive and can be combined with other filters and effects.
4 Custom Presets
It also provides the ability to store up to four configurations you can easily access from the front panel once saved. It also includes a USB port on the back of the module to update the firmware if necessary and four available stereo inputs, two in and two out.
Pros:
This unit has everything necessary to generate simple and complex environments, with a wide number of variants of filters and textures. Its components are of quality. While it may take some time to master all of its features, it's a very accomplished unit. Its integrated synthesizer is a strong point.
Cons:
Due to the price and the number of variants it offers, it is perhaps not recommended for someone starting in the module processors world.
5. Neve AMS RMX16 500-series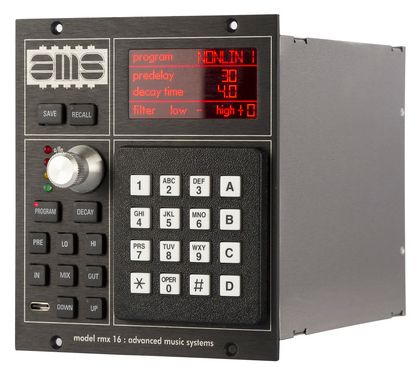 When it comes to digital reverb units that have defined the sound of music today, the Neve AMS RMX16 500-series is part of that discussion. Originally released in 1982, it is still strong and in high demand.
Physically, it is a solid unit that maintains its parameters, front panel, and original functions. It offers high-fidelity shapeable reverbs, memory banks, and very intuitive parameters. This unit is around 1300 dollars.
Key Features:
32-bit DSP Processor
The RMX16 comprises a high-performance processor that offers 24-bit/48kHz sampling, high-quality AD/DA converters, and the ability to shape sounds at a professional level. Because of this, from its inception to the present day, this reverb unit has been used by many established artists.
18 Reverb Programs
It includes the nine classic programs characteristic of this unit, such as the Non-lin Reverb or the ambiance, and nine additional programs developed from rare algorithms that significantly expand the possibilities.
100 User Presets
The possibility of saving up to 100 personalized configurations and accessing them simply and quickly, thanks to its endless rotary pot and alphanumeric keyboard, allows much control over the production process.
Vintage-Look
The AMS RMX16 500 retains the original appearance that gives it a classic touch and a solid construction made from high-quality components. Its OLED display, located in the upper part of the front panel, provides the necessary comfort to adjust parameters and monitor the values you are working with.
Pros:
It is a unit designed exclusively to shape reverb, comfortable and intuitive, with effects that we have all heard at some time, and has been chosen by many artists during the last four decades. Its layout, construction, display, and settings are strong points.
Cons:
While it enjoys a great reputation, it costs twice or three times what other reverb units on the market with similar features cost. Its type of connection means you need an additional special adapter to connect instruments or consoles.
Bonus:
Intellijel Springray 2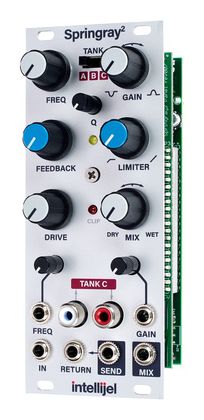 The intellijel Springway 2 is another great reverb module option that offers that characteristic pitch sound only springs can deliver, plus a parametric EQ and a simple and effective layout.
As a remarkable point, it includes a Drive control knob with which it is possible to add saturation to the signal and greater harmonics. This compact eurorack unit is around 250 dollars.
Key Features:
Three Tank Options
This module has a selector in the central part of its front panel where you can choose between A, B, or C spring tanks. A and B tanks can be connected at the rear, while tank C is connected from the front panel. Thanks to this, it is possible to experiment with different types of spring tanks and place them in the most comfortable position.
Parametric EQ
Thanks to its integrated EQ, you can individually boost or attenuate frequencies to shape the signal to your liking. It also includes a limiter that makes it easy to control feedback and a Drive Knob to add saturation to the signal.
Send/Return Loop Inputs.
Thanks to its inputs, you can add external effects to the queue to expand the possibilities. It also includes a CV input to regulate filter frequency. Its construction is robust, and its components are of high quality.
Pros:
It is a compact unit with good features. The possibility of choosing between three spring tank configurations is a high point. The built-in EQ adds versatility.
Cons:
Its cost is somewhat high concerning other units with similar characteristics. Spring tanks are not included, so they must be purchased separately.
Conclusion
The options available on the market for experimenting with sound processors are vast, and the combinations are virtually endless. Reverbs play an important role in those options thanks to their particular way of shaping analog and digital signals.
The clearer you are about where you want to take your sound, the easier it will be to choose the right options. Experimenting in this field is essential to understand how the processing modules behave, and the possibilities each of them can offer. With this list, we review some of the most sought-after options of 2023, and I hope it will be useful for you when choosing your own modules. Thanks for your time!
I am a composer, session musician and producer based in Argentina, with more than 20 years of experience in music. I play guitar, bass, keyboards and sax, I was part of different projects and I am familiar with musical genres like rock, pop, soul, reggae, funk, r&b, cumbia and others. Read more..