Let's discuss the 5 great FireWire audio Interfaces of 2023. 
There are two important factors on why a FireWire audio interface is right for you. The first is transfer data speeds that make it much easier for the signal between a direct-input instrument or microphone to transfer data to the Digital Audio Workstation (DAW) and latency. Latency is the delay before a data transfer begins to follow instructions for its transfer.
For example, a guitarist is playing their guitar in real-time by directly plugging it into their audio interface. As a result, the guitarist feels the delay of the notes being played to what their digital audio workstation is recording.
Second, audio recording and music production can be expensive; we did the work for you and created this guide for you, so you don't have to worry about spending every last dime to bring your creations to life. So now, let us begin.
The 5 Best FireWire Audio Interfaces 2023
1. Focusrite Saffire Pro 14
The Focusrite Saffire Pro 14 is more of a budget-friendly option for your home studio or smaller professional audio production setups.

If you're easily intimidated by multiple knobs, buttons, and complex display gauges, you don't need to worry. The non-complicated front panel has two combo ports with gain control for each, a master volume control for your monitor, and a headphone jack with a volume knob. The back panel is equally simple with some more input/output options.
You can use a microphone or plug in your preferred instrument for live and direct input recording. In addition, you can utilize the Saffire's MixControl feature, which includes an ultra-low-latency DSP mixer and router.
The Pro 14 is compact, easy to use, and offers a wide range of features compared to its diminutive presence.
Key Features:
8 inputs (2 Mic Preamplifiers)


The Saphire Pro 14 includes 8 inputs with 2 mic pres compatible with XLR and Instrument 1/4" jack. The mic preamplifiers take your recorded analog signal and convert it into a digital signal, making recording live instruments easy and seamless. Utilize the direct-line inputs for recording multiple instruments directly into your DAW without sacrificing audio quality.

6 Outputs (4 of the outputs are Analog)


6 outputs provide the versatility of connectivity. Included with the 6 outputs of this interface, you have 2 TSR instrument cable 1/4" output jacks that plug directly into your studio monitors. In addition, you also have 2 MIDI outputs that make it easy to connect to your favorite MIDI devices and 2 SPDIFs for the pure digital audio output signal to your mixing board.

Sound Quality & Latency


At 24 bit/ 96 kHz recording quality, the Focusrite Saffire Pro 14 offers studio-quality audio production in a smaller package. An 18 x 6 DSP mixer makes it easy to record six instruments simultaneously with no latency issues.

Midnight Plug-in Suite


The Midnight Plug-in Suite combines an ISA110 equalizer and an ISA130 compressor that is coherent and feature-rich. The ISA110 is a multi-band equalizer for coherently mixing recorded audio. In addition to the ISA110 equalizer, the ISA130 compressor is an analog quality compressor that is perfect for Mastering your tracks. Both of these plugins are a $99 value for free.

Software Bundle


Another feature of the Saffire Pro is that it comes with some AU/VST processing plugins to take the load off your computer. You also get a lite version of the Ableton Live 8 software and some royalty-free loops to start your recording journey.
Pros:
Being a budget-friendly device with easy-to-use features, the Saffire Pro requires almost no time to set up and can be a starting point for beginner-level enthusiasts. The 24-bits/96kHz sound quality is a good value for the price.
The software bundle that accompanies the Focusrite Saffire Pro 14 is all you need to unleash your creativity. The Focusrite Saffire Pro 14 is a suitable option for smaller setup music producers.
Cons:
If you want to record more than one instrument without using a direct input signal chain, you would have to purchase more mic preamps to accommodate the loss of mic pres. Only having two mic pres make it much harder to record a live performance. 
2. M-Audio ProFire 610
The M-Audio ProFire 610 packs a real punch and provides value for money in terms of the features it offers.
Riding on the coattails of its predecessor, the FireWire410, the 610 comes with several new features encased in rugged packaging. In addition, it shares some groundbreaking features with the flagship ProFire 2626 device. The interface has been kept simple but has all the necessary front-facing controls like two combo ports, a master control, and an input for your headphones accompanied by adjustment knobs.
In the 610, you will find M-Audio's Octane preamp technology, a DSP mixer that can handle most of the work done by third-party plugins, and 24-bit/192kHz of premium sound quality.
If you want to convert your computer into a full-fledged recording studio with the added benefit of portability and versatility, the M-Audio ProFire 610 is another budget-friendly option.
Key Features:
6 ins/ 10-out


The M-audio Profire 610 FireWire audio interface comes with 6-ins and 10-outs. Two of those inputs are mic preamps that you can use for recording live audio. The two mic preamps offer award-winning Octane technology that offers clean, transparent sound that is low noise with exceptional headroom. Headroom is essential because it can provide a little more drive for recorded instruments, making it ideal for recording loud audio recordings. The M-audio Profire 610 FireWire audio interface also provides MIDI I/O so that you can connect to your favorite MIDI devices without hassle.

Premium Digital Converters


The M-Audio Profire 610 FireWire audio interface offers pristine Digital Converters. A digital converter is essential for audio production because it takes the nuances of analog sounds and converts them into a digital signal. Now the signal is captured by your digital audio workstation without sacrificing analog sound characteristics and nuances.

Onboard DSP Mixing


Onboard DSP Mixing is essential for audio recording. The reason is that onboard DSP mixing provides flexible control over your output levels while you have total control of multiple independent monitor mixes. Having that flexibility for your output levels will help mitigate your levels when you go and master your final audio recording, reducing audio clipping.
Pros:
The M-Audio ProFire 610 is an audio interface that you can consider if you are looking for a user-friendly device having multiple input/output options that should have you covered for a while without needing to upgrade.
The DSP mixer gives you more control of your input and output signals. The Profire 610 comes with a price tag that is comparatively on the lower end.
Cons:
The thing about M-Audio ProFire 610 Firewire Audio interface is that it has major driver issues. Driver issues pose a significant problem for those not keen on fooling around with audio drivers to ensure the audio interface is working at its full potential.
3.

MOTU 

Audio Express 6 x 6
The MOTU Audio Express checks all the boxes if you're looking for an economical audio interface for your studio.
It will take care of your recording needs and help you record simultaneously from multiple mics and instruments regardless of whether you're using an Apple computer or a PC. In addition, the device works seamlessly with all popular recording software out there.
If you're not looking to mix sounds from multiple inputs and output channels, the MOTU Audio Interface can act as a standalone mixer with dedicated controls for each set of inputs and outputs. The MOTU Audio Express offers 24-bits/96kHz sound quality.
Irrespective of being so easy to use, the device can be a suitable choice for beginners and expert-level music producers.
Key Features:
Mixer on Board


The Motu Audio Express essentially has a mixer that is built in. As a result, you have the option of creating four stereo mixes that each musician can hear directly through headphones at the time of recording or when playing at a live performance.

CueMix FX


Another fantastic feature is the ability to pair your iPad with the CueMix FX software that comes with the Audio Express. This way, you can wirelessly adjust all the controls that play a big part in the mixing process, like adjusting levels, adding gains, etc., over a Wi-Fi network. This saves you the hassle of running back to your computer whenever something needs a little tweaking.

6 inputs/6 outputs & Hybrid Connectivity


It has enough inputs/outputs for all your recording and mixing needs. You can plug in guitars, keyboards, mics, and speakers simultaneously and have separate knobs to control the inputs. Also, be it a PC or a Mac, the Audio Express has you covered with USB and FireWire connectivity options which are present on the back panel of the device.

Pros:
While recording with the MOTU Audio Express, the latency is almost negligible. The device has both Firewire and USB collectivity options. Just plug and play as the Audio Express is easy to integrate into any DAW. Having two combo inputs (mic/instrument) is a handy feature to have and gives you the flexibility of plugging in any combination of mics and instruments.
Cons: 
The MOTU Audio Express is a bit buggy with some operating systems. Your computer may start acting up and freeze altogether, demanding a reboot. Also, you may hear random popping and crackling noises, which are not very pleasant when the creative juices are flowing, and the musician is shoulder deep in the mixing process.
4. MOTU 828 Mk III Hybrid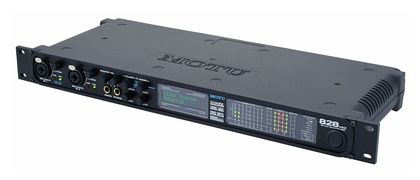 What gives the MOTU 828 MK III its "Hybrid" name is the fact that it works with Mac and Windows systems.
The MK III also has its own EQ and other effects like compressions and reverbs that can be applied and manipulated through the CueMix FX software, eliminating the need to invest your time and money on separate plugins. The device can also act as a standalone mixer and has multiple inputs/outputs for all your mixing needs.
In addition, it has combo inputs on board that can accommodate your mics and your instruments in any combination that you can come up with. The MK III Hybrid takes versatility to the next level by offering the high-quality sound of 24-bit/192kHz while recording.
The MOTU 828 is stable and gives a well-rounded performance on Mac systems.

Key Features:
28 inputs/30 outputs


The MK III provides a barrage of I/O ports so that you are ready to go in any recording or mixing situation. This can be very useful if you have multiple instruments that need to be recorded simultaneously.

CueMix FX


The CueMix software, which comes with the MK III, keeps you wirelessly connected. All the CueMix parameters can be easily adjusted through your iPad, which pairs very quickly with the software. In addition, the CueMix can apply separate EQ settings, compression, and reverb to all the available inputs and outputs.

Combo Jacks


The 828 MK III plays it smart and utilizes the available space on the interface by adding two combo jacks. These are equipped to provide hi-Z input when an instrument is connected and a lo-Z input in case a mic is connected via XLR cable.

Standalone Mixer


The Motu MK III also features high-end recording capabilities and can work as a standalone mixer. With all the input/output ports at your disposal that have separate controls for adjustments, you can freely jam or play live with multiple musicians on stage.
Pros:
All the settings of the 828 MK III can be accessed directly from the front panel, making it user-friendly. Pairing the CueMix with an iPad gives you wireless controls at your fingertips. The device has no latency and provides high-end sound quality for Mac and PC users. The 828 MK III works flawlessly on Mac systems and remains stable during even the most demanding sessions.
Cons: 
Some MOTU devices are notorious for creating problems for those using Windows operating systems; unfortunately, the 828 MK III is no different.
You may end up trying a combination of restarting your system or reinstalling the drivers (which aren't regularly updated) to get it to work again. In addition, one may frequently hear annoying popping or clipping noises when recording.
5. MOTU 896 Mk3 Hybrid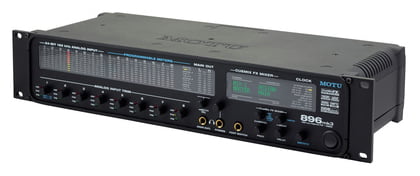 The MOTU 896 MK III Hybrid borrows some of its features from its predecessors.

The 896 works well with any system you own, thanks to its hybrid connectivity options catering to Mac and PC users. Most of the issues that Windows system users had in the past have been looked at in detail and fixed or improved. However, it has a hefty price tag nearing the 1K mark and is one of the priciest of the MOTU product line.
Seemingly a little bulky in its presence, the rack-mountable 896 is quite light on your system as most of the programming and processing is done within the unit itself.
With a multitude of input and output options, you can connect all the mics, instruments, speakers, and monitors you could imagine into this one unit. The device has better stability and works seamlessly with  Mac and Windows systems.
Key Features:
A Mixer with Premium Sound Quality
Some of the features it offers and shares with its more budget-friendly versions include the ability to work as a standalone mixer which is very useful if you want to jam out live with a bunch of musicians. Much like the 838 MK III Hybrid, the 896 provides similar high-level sound quality at 24-bit/192kHz.
CueMix FX with Onboard Effects
A better version of the CueMix FX software returns with the 896 and gives the user wireless connectivity when paired with an iPad. This adds value as well as convenience to the overall experience.  The CueMix FX software gives you access to some built-in effects, including an EQ and compression, and reverb. In addition, a new feature includes the emulation of the LA-2A classic leveling amplifier that does fascinating things with your percussions and bass, enhancing them and enriching their sound.
Hybrid Connectivity with Zero Latency
Firewire and USB ports are there, justifying the "Hybrid" name. The MOTU 869 removes any latency by doing most of the processing within itself to keep your computer operating on an optimum level while mixing, allowing you to record liver performances as well.

Front & Back Panels
The front panel is simple yet comprehensive. 8 analog inputs have their dedicated display with corresponding rotary encoders for quick adjustments. Some notable features of the back panel include main out (left & right channel), 8 combo ports that are available for any combination of mics/instrument inputs, and 8 XLR outputs.
Pros:
One can be sure of never running out of input/output ports due to the plethora of options available. The 869 has 24-bit/192kHz sound quality which seems more than sufficient for professional-level recording and mixing.
In addition, the device requires only half the storage space (250 GB) as compared to the 839 or the flagship MOTU 1248. The MOTU 869 runs seamlessly on Mac and most Windows operating systems.
Cons:
The knobs can be a little noisy and give out hissing and popping sounds when rotated. In addition, the functionality of the preamps seems to be a bit buggy, and the input and output signal sounds muddy and slightly distorted at times.
The display panel may also dim out over time. The device comes with a big price tag, so someone with lesser requirements may prefer a more economical unit.
Verdict
Having gone through all the options shared here, you now know what each of these audio recording/mixing devices has to offer. You have a variety of features and price points to choose from. The final decision rests with you and will depend on your preference and requirements.
If you're a solo artist who is looking to record vocals and a limited number of instruments, with a slight room for more, then perhaps the MOTU Audio Express would be a good choice.
If you have a bigger setup and often collaborate with multiple musicians, or perhaps you need a solid mixing option for a live mega-event, then you would prefer the flexibility in terms of more input/output options. Going for the pricier versions like the 828 or the 896 can be a suitable choice for you if you can manage to spend the big bucks.
Sultan Zafar is a guitar player from Islamabad, Pakistan. He has been playing music with various mainstream musicians for over 20 years. He is a song writer and music producer. These days he spends his time exploring different music genres and collaborating with fellow musicians on various projects. Read more..