Today we're looking at the 5 best 37-key MIDI keyboard controllers in 2023 for musicians. Then, we expand on these specific keyboards to help you select what is suitable for your personal preferences.
There's always time to look into getting a new keyboard. And as your experience increases, you start to push the envelope on how far you can expand creatively. Having a new or different keyboard can help facilitate this because you will come to experience features, settings, and parameters with which you are not yet familiar.
So, in this list, we will explore a small range of keyboards that can get you to the next level in your production. So, let's get to it!
5 Best 37 Key MIDI Keyboard Controllers 2023 (On Any Budget)
1. Arturia Keystep 37
A mighty medium-sized controller that lets you control hardware and software, the Keystep 37 has velocity-sensitive slim keys – which makes it more compact – and is an excellent tool for creative expression because of its sequencer, arpeggiator, scale, and chord functions. 
It is suitable for the producer who wants to level up from a more basic controller for greater creative output.
Key Features:
Sequencer And Arpeggiator Section
Having a toggle switch that allows you to change between sequencer and arpeggiator, this section lets you select which of the eight active sequences in Seq Mode; and which pattern will be used to playback the notes you're holding on the keyboard in Arp Mode. You have encoders for changing the modes, time division, and rate. You can record your notes as a sequence.

Chord Button With Related Knobs


The Keystep 37 lets you

go into chord mode by holding Shift and pressing the Hold button,

and there are also a couple of other ways you can go into chord mode. But the point to emphasize is that

you can add notes to make the chord of a root note with the Type knob, set the chord span

(number of notes in the chord up to 16)

with the Notes knob, setting the Velocity to Notes knob ratio, and also selecting strum type with the fourth Strum knob.

Transport Section


Using MIDI Machine Control,

the record, stop and pause/play buttons control the sequencer, the arpeggiator, and external MIDI devices.

All three buttons are active in the sequencer mode, yet only Play/Pause and Stop can be used with the arpeggiator. You also have secondary functions with each button when creating a sequence:

Append, Clear Last, and Restart.

Numerous Rear Panel Inputs/Outputs
Arturia has equipped this keyboard with various inputs and outputs

for you to truly get the most out of this keyboard. A USB port to connect to your computer and a 12V DC IN (with an optional adapter). Pitch/Gate/Mod outputs (to send electrical signals to an external device), sustain pedal input, Clock Sync input/output (allows you to interface with pre-MIDI technology capable of synchronization), MIDI in/out ports.



Octave, Transpose, And Kbd Functions


Not only can you shift octaves up and down on the keyboard, but

you can also press Oct+ or Oct- and add notes while the arpeggiator is running.

In addition,

transpose mode is enabled with Shift as a secondary function and Kbd Play mode

(which allows you to play keys independently in addition to the part the sequencer is playing).



Arturia KeyStep 37 Review // 6 tips and generative ideas // Full tutorial
Pros:
A row of 37 LEDs above the keys helps you check the status of notes played and those the sequencer and arp are playing. It is also well built and sturdy, giving you comfort in its stability. You can maneuver with it as well if needing to travel.
Cons: 
Some of the main functions, like switching root notes, require two hands to change, which could be an issue in live situations. But for many people, this would not be such an issue, especially if you play only one live instrument.7
2. Novation Launchkey 37 MK3
Novation has several Launchkeys, such as 25, 37, 49, and 61-key models, and they have done a superb job in all of their designs.
A feature-rich keyboard that is a great addition and investment to your studio setup, the Launchkey 37 Mk3 is like a beatmaker's dream.
Purely for the fact that the 16 pads and knobs included make this an all-in-one keyboard, and you would hardly need anything else besides a computer to make your next hit. The faders are the only thing it lacks as opposed to its larger 49 and 61-key siblings.
You can also expand your creativity with its chord, scale, and arp modes. Let's look into why this keyboard is so great.
Key Features:
Fixed Chord, Arp, And Scale
Giving you more creative freedom when producing, you can store any chord played, and then it can be played as a fixed chord when any note is played on the keyboard. In addition, the Arp mode gives you several different arpeggiator types, which you can change by holding Shift and pressing the relevant key. And the Scale mode allows you to play notes in a scale you select over the entire keyboard.
16 RGB Lit Pads
You can choose from many ways to use these pads, such as Drum Mode (hold the Shift button and press the pad written 'Drum' underneath), allowing Launchkey's pads as velocity-sensitive drum pads. They can assign volume, pan, and sends in Mixer Mode, make adjustments in Device Mode, etc. In addition, the pads can also trigger clips in Ableton Live using Session Mode.
8 Rotary Pots
Having a range of eight pots/knobs gives you more control over the parameters you are working within your DAW. You can control mixer components in Ableton Live, such as volume, pan, and sends. You can use them to transform your arpeggios like the tempo, swing, gate, mutate and deviate. Pot Pickup can be turned on in the settings menu, preventing any sudden changes in control value. There are also four pot custom modes.
Navigation And Transport Sections
Accessibility is made so much easier with Launchkey's navigation section, which includes the button that puts the keyboard into navigation mode, whereby you can browse samples and presets. There are up, down, left, and right buttons that get you through rows of pads, clips, drum racks, and tracks in Live. The transport section includes play, record, stop, and loop. In addition, you will find Capture Midi, Quantize, Click, and Undo buttons above.
Incredible Ableton Live Integration
Although this keyboard can work with most HUI DAWs like Studio One, Cubase, Pro Tools, etc., it has been designed for Ableton Live and has immediate access to all the controls. As a result, you can seamlessly work with scenes, clips, capture notes, quantize, etc., all at the end of your fingertips, so you can put the mouse aside when you're producing. It also has full integration with Logic and Reason.
GREAT BUDGET MIDI KEYBOARD! Novation Launchkey MK3 Unboxing, Features, and Making A Track
Pros:
It is relatively lightweight, making it easier to move around if necessary. The keys are also full-sized, which is good if you are more well-versed in keyboard/piano playing. Because of its chord, arp, scale modes, pads, and knobs, it is excellent for beginners who are willing to invest in it. And for more experienced music-makers. Finally, for all its features, it is pretty affordable.
Cons: 
Although there is one MIDI OUT, it is not suited for producers who are more interested in controlling a bunch of hardware; it is more for users who work with DAWs, mainly Ableton. Keys are relatively light compared to other keyboards in the range, but you can get used to it, so it's not an issue. Also, there is no aftertouch.
3. Arturia Keystep Pro
Arturia has evolved their Keystep controller from the original to the 37-key previously mentioned, and now they have this Pro.
A seemingly ornate keyboard with polyphony sequencing is not so overwhelming once you can learn it.
Create exceptional ideas with its tracks, sequencers, arpeggiators, scales, chords, and step buttons, just to name a few. It also has pitch bend and modulation strips, which light up for you to see parameters, and a looper just under that allows you to alter the playback of a project in real time.
It is for the more intermediate producer who can afford to invest in this quality keyboard.
Key Features:
4 Track/Sequencer Sections
The four different colored tracks/sequencers on this keyboard would activate and adjust the sequencers and arpeggiators. The sequencers are polyphonic, so you can press a chord to enter the sequence loop instead of a single note. The arpeggiator is the notes played on a chord that is played back individually rather than simultaneously. There is so much that this feature is capable of doing. It would need its very own analysis section.
A Multitude Of Available Connections
Apart from having the USB and 12V DC IN in the rear panel, there are many connections here. Such as MIDI (1 x input, 2 x output) and four (Pitch/Mod/Gate) analog connections that send control voltages to modular synthesizers and other non-MIDI devices. You have eight drum gates outputs and Clock in/out. Another great addition is the metronome output and the sustain pedal input.
Control Section
You would find the control section on the left next to the track/sequencer section, and this includes a project button that helps you prepare for performances by saving sequences and drum patterns into projects. There is a utility option, and in this menu, you can change global functions. In addition, there is an Exit/Undo button, as well as a copy, paste, save, erase, and a control button (this button changes the function of the five main encoders)
5 Touch-Sensitive Encoders
These quality encoders allow you to change the parameters of your patterns like pitch, gate, velocity, time shift, and randomness. Compared to standard encoders, these are different because they will have a small click or series of clicks when you turn them slow. In addition, these would dimly illuminate the encoder's lights in increments, giving you 128 distinct positions when turned slowly.
16 Step Buttons
In addition to these 16 buttons, the Step Edit also allows you to program and edit your step settings. How this works is akin to that of an old-school drum machine, meaning that you can press each desired step to associate with the selected sound. They are also color-coded to match the selected four tracks (i.e., track 1 is green, track 2 is orange, etc.)
Arturia KEYSTEP PRO // Review & full tutorial // vs BeatStep Pro and SL mk3
Pros:
The fact that you can control various devices like hardware synths, modules, drum machines, and such makes this a keyboard powerhouse. It can also connect to an iPad. You can also create splits, for example, having the arp play on the lower part of the keyboard while the sequencer is playing on the upper part.
Cons: 
Although it's packed with much more features compared to the Keystep 37, it does still lack the full-sized keys, which for some composers/producers is preferable to have. You would only compare the cons to more higher-end controllers, which would not be ideal for this specific review.
4. IK Multimedia iRig Keys 2 Pro
IK Multimedia has a range of products in their catalog ranging from interfaces to software to keyboards and aiming for ease of use.
Something different and having a neat and stylish appearance, the iRig Keys 2 Pro is simple to set up on Mac or Windows, iOS, and Android devices, thus making this keyboard very handy for your portable production.
Some minor features like a volume knob, octave up and down buttons, and a setup button also help your production become more fluid.
Key Features:
iOS and Android Compatibilty


One of the features that the iRig products are most known for is the compatibility with iOS devices, namely iPhone, iPod Touch, iPad, and Android devices. This feature allows you to have more mobility, and although the Keys 2 Pro has 3 octaves of full-sized keys, there is less worry of having to move with a laptop unless you want to.

Pitch/Mod Wheels And 4 Control Knobs


Smooth pitch bend and modulation wheels will make for more timely and precise performance, allowing you to be more deliberate in your movements (compared to pitch/mod strips). In addition, four assignable control knobs can change the various parameters you program them and can double up to eight with the '5-8' button.

Programmable Buttons And Encoder


Above the keys, you will find a volume knob and then the octave up and down buttons (which also function in Edit Mode when pressed together)—followed by program buttons (which you use for switching sounds in sound modules like virtual instruments or plug-ins). There is also a Data push encoder that acts as a browsing control.

Cables And Rear Panel Inputs


For a keyboard of this type, it is excellent that there are MIDI IN/OUT inputs, a USB input, sustain pedal input, and a 1/8" TRS output for headphones or speakers to be plugged in. They also provide the package containing a lightning cable, USB cable, and a MIDI cable adapter (allowing you to plug a MIDI cable into the adapter to connect external devices).

Works As Standalone


It is fantastic to know that iRig Keys 2 Pro can work as a standalone controller when no host is connected. You can control an external MIDI module (with MIDI OUT port) and connect an external MIDI device to the MIDI IN port. The keyboard would need to connect to a USB power adapter via the USB power outlet.
IK Multimedia iRig Keys Pro 2 MIDI controller keyboard tutorial by Laura Reynolds
Pros:
The keyboard has full-sized keys, which many keyboard players generally prefer. In addition, you can use headphones to monitor your audio from the keyboard. You also receive software like SampleTank 4 SE, iElectric, and iGrand.
Cons: 
It would be nice if they added a few more features, such as transport control or some pads. Also another shortfall is the software bundle is minimal, and they could have given more. It has cables such as a lightning connector, but no Micro-USB-OTG to micro-USB cable is included in the package. So that would need to be bought separately.
5. Korg microKEY 37 MkII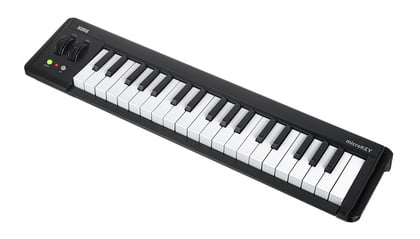 Japanese electronics company Korg is all about hardware synthesizers and electronic musical instruments and is also for the more entry-level producer.
The second generation of the microKEY is simple, plug-and-play works with your favorite DAWs, and is light and compact.
The tinier keys have Korg's Natural Touch, making it easy to play and have the right feel for a keyboard of its size.
You can also connect a sustain pedal to the input on the side to give you more dynamic performance. Suitable for an upgrade to start producing with an actual keyboard instead of using a mouse to place notes.
Key Features:
Velocity-Sensitive Mini Keys
The MicroKey MkII has 3 octaves of mini keys. And although the keys are more compact, they have been designed to play how you like to (after you get used to the size). And they still have a good feel with the quality you would expect from Korg, and you can adjust the velocity curve to fine-tune your performance.
Octave And Transpose Functions
You can change the octave from -4 down and +4 up with this specific keyboard. A color change switches from green to orange to red; the higher (or lower) you go in the octave range, respectively. The transpose parameter allows you to go up or down in one semitone increments, ranging from -12 to +12.
Pitch Bend & Mod Wheels And Pedal Input
Having the better-known wheels to adjust the pitch bend and modulation allows you to get that tactile feel when making these adjustments in your compositions. Some people prefer this instead of the strips that are on some of the other keyboards. On the rear side, you will also find a ¼" input jack that can accept a PS-1 footswitch or PS-1H damper pedal.
Great Selection Of Included Software
Upon purchase of the microKey MkII, you will have access to download a range of software such as Korg Gadget and Korg Module, the M1 Le, Arp Odyssey, MS-20, Polysix, Mony/Poly, M1, Wavestation, and the MDE-X effect plug-in. In addition, you will also get the Korg Kontrol Editor, which allows you to customize keyboard preferences.
Pros:
It is very lightweight, being a mere 2.2 lbs/1 kg. Although it is slightly longer due to having 37 keys, it is pretty easy to move with, and it uses little space on your desk. In addition, you can get used to the default velocity sensitivity of the keys quickly after playing them. It is also iOS compliant, so that you can connect to your iPad or iPhone.
Cons: 
If you are a frequent keyboard player and do a lot of your production with one, this is not for you because of the limited features and compact keys. On the other hand, if you rarely use a keyboard and just need to lay down some notes from time to time, then this is for you.
Conclusion
There are so many options to choose from when you don't have to consider the budget and to summarize the keyboards into only six makes it a little tricky. However, if you're looking to enhance your production capacity according to your creative needs, you can look into one of these recommendations.
If you're more into hardware synthesizers and modular and are not constrained by budget, you can look into Arturia's selections above. Or if you have a more beat-making style and prefer features and portability, then some of the others like the Launchkey.
And if you're more of a songwriter or composer, are into capturing ideas, or rarely use keyboards but like having them for specific times, then the microKey or the iRig will be sufficient for you. It simply comes down to knowing what you want to accomplish your desired music-making goals.
It's also important to note that this list is not exclusive to seasoned or experienced musicians. However, even if you're starting and have an idea of what you would like, these recommendations will hopefully move you swiftly in the right direction.
Readings that you may like: 
Other Recommended Gear:
Top 12 NearField Studio Monitors On Any Budget
Top 10 Midfield Studio Monitors For Home Recording
Best Biggest Studio Monitors (FarField Monitors)
Top 10 Guitar Pickups for Low Tunings 
Top 10 Analog Compressors For Mixing & Mastering (On Any Budget)
Top 12 USB Audio Interfaces Under 150$, 200$, 300$ 400$ (Any Budget)
Top 12 Hardware Equalizers (Analog EQs For Mixing & Mastering)
Top 6 Analog Hardware Limiters 
Top 6 Solid State Bass Amps (On Any Budget)
Top 6 Ribbon Mics On Any Budget (For Vocals, Drums & Guitars)
Top 6 Cheap Dynamic Mics For Vocals Under 50$, 100$, 200$ & 300$
Top 6 Chorus Guitar Pedals (On Any Budget)
6 Best 61-Key MIDI Keyboards (On Any Budget)
9 Best 49-Key MIDI Keyboards Under 100$ & 200$
Top 5 Best 25 Key MIDI Keyboards (On Any Budget)
Top 12 Acoustic Drums (Best Kits/Sets On Any Budget)
Plugin Roundups:
Genre Focused:
Top 10 EDM Plugins  (And 10 Best FREE Plugins For EDM)
Top 10 Plugins For TRAP Beats (And 5 Best FREE Trap Plugins)
20 Best Plugins For Rock Musicians (+ 6 FREE Plugins)
Top 14 Trance Plugins (Uplifting, Tech, Progressive, Vocal, Dream, Hard)
Top 10 GOA & PsyTrance Plugins (Best Psychedelic Trance Tools)
Top 7 Plugins For Dubstep (With 10 Best FREE Effects & Synths)
Top 20 Synthwave Plugins (+ 11 Best FREE Plugins)
Top 15 Plugins For Techno, House, Electro, Tech House, UK Garage
Top 6 Plugins For Latin Music  (And 4 FREE Tools)
Top 12 Plugins For Hip-Hop (+ Best Kontakt Libraries)
Top 7 Plugins For Game & Film Scoring  (+ 6 Best Kontakt Libraries)
Top 10 R&B And Pop Music Plugins & KONTAKT Libraries 
30 Best Free Plugins For DnB, EDM, IDM & Experimental Music 
EQ Plugins
Top 12 Free EQ Plugins For Precise Mixing & Mastering
Top 9 Mid/Side EQ Plugins  For Mixing & Mastering (+ 2 Free Tools)
Top 7 Graphic EQ Plugins  (With 3 Best Free EQs)
Top 7 EQ Plugins For Mastering In | And Best FREE Mastering EQs
Top 6 Passive EQ Plugins (Klevgrand, SPL, UAD, Waves, IK Multimedia)
Top 11 Plugins For Making Metal (Best Guitars, Drums & Effects)
Metering:
Top 5 Audio Metering Plugins (LUFS, RMS, LRA, True Peak)
Top 6 Spectrum Analyzer Plugins  – Spectral Analysis Tools
Top 6 Oscilloscope Plugins To See The Waveforms
Top 5 Key Detection Plugins & Software  (+ Best FREE App)
Kontakt Libraries
20 Best Kontakt Libraries For All Categories (Synths, Drums, Vocals)
Top 7 Drum Libraries For KONTAKT (And 4 Freebies)
Top 7 Trap Music Kontakt Libraries (And Best Lo-Fi Kontakt Library)
Top 7 Metal & Rock Kontakt Libraries (Best Guitars & Drums)
Top 10 Guitar Libraries For Kontakt (Acoustic, Electric, Bass & Freebies)
Top 7 Trailer Scoring Plugins & Kontakt Libraries 
20 Best Free KONTAKT Libraries For Various Instruments
Top 9 Piano Kontakt Sample Libraries  (And 5 Best Free Pianos)
Top 10 Percussion KONTAKT Libraries  (And 3 Freebies)
Top 7 Kontakt Libraries For Horror & Thriller Scoring (No VSTs)
Audio Restoration, Calibration & Utility:
Top 6 Noise Reduction Plugins (And 3 Best Free Tools)
6 Best Audio Restoration Plugins & Software 
Top 7 Phase Alignment Plugins To Fix Your Bass & Drums
Top 10 Room Calibration & Headphones/Speakers Correction Plugins 
Instrument Plugins: 
Top 6 Vocoder Plugins (Effects & Synths + FREE Vocoder)
11 Best Rhodes VST Plugins (AND 5 Free Rhodes Plugins)
Top 12 Randomizer Plugins Including FREE Plugins
Top 6 Kick Drum Plugins (Best Kick Designer Tools)
Top 12 Woodwind Plugins (And KONTAKT Libraries)
Top 10 Double Bass Plugins (Best Upright Basses)
Top 5 Strings VST Plugins (AND 4 Best Free Instruments)
Top 6 Sampler Plugins (And 3 Best FREE Plugins)
Top 6 Classical Guitar Plugins & Kontakt Libraries (And FREE Guitars)
Top 12 Sub Plugins (Best 808 & Bass Tools For Massive Low End)
Top 10 Plugins On PluginBoutique (And 7 Best Free Plugins)
Top 11 Plugins On Plugin Alliance 
Top 7 Acoustic Guitar Plugins (And 4 Best Kontakt Libraries)
9 Best Bass Guitar Plugins (And 2 Best Freebies)
Top 6 Electric Guitar Plugins (Best PAID & FREE Picks)
Top 10 Arpeggiator VST Plugins (Best Synths, MIDI Effects & Tools)
Top 10 Modular Synth Plugins (And 3 Best FREE Plugins)
Top 6 Choir Plugins & Sample Libraries (And 3 Best Free Plugins)
11 Best Percussion & Drum VST Plugins (And FREE Plugins)
Top 8 Piano Plugins (Best Sounding Pianos & 5 FREE Piano Plugins)
Top 6 Organ Plugins Ever Made  (And 3 Best Free Organs)
Top 14 VST Plugins For Beginners (And 9 FREE Plugins)
Top 9 Drum Machine Plugins (And Groovebox Plugins)
4 Best Banjo Plugins (Best Banjo Instruments)
The 5 Best Ukulele Plugins & Kontakt Libraries 
Top 13 Synth Plugins (And 5 Best FREE Synths Plugins)
Top 13 Sequencer Plugins  (Synth, MIDI & Step Sequencers)
The 10 Best Multi-Effect Plugins (And 3 Best Free Plugins)
Top 12 Plugin Bundles For Musicians (Synths, Mixing & Mastering)
Processing & Sound Design:
8 Best Lo-Fi Plugins (PAID & FREE)
Top 11 Plugins For Mixing Vocals  (For Home Studio)
Top 12 Saturation Plugins (Best Mixing & Mastering Tools)
Top 6 Pitch Shifter Plugins (And 3 Best FREE Pitch Shifters)
Top 6 Chorus VST Plugins For Musicians (And 3 FREE Plugins)
Top 6 Limiter Plugins For Precise Mastering & Mixing
The 8 Best Filter Plugins For Precise Cuts & Boosts (+ 5 Free Filters)
6 Best Autotune Plugins To Improve & Enhance Your Vocals
Top 10 Transient Shaper Plugins (VST, AU, AAX)
Top 7 Enhancer Plugins (For Bass, Drums, Vocals & Harmonics)
Top 6 Flanger Plugins (And 5 Best FREE Flanger Emulators)
Top 7 Phaser Plugins (And 3 Best FREE Phasers)
Top 10 Plugins For Mixing Drums (And 3 Best Free Plugins)
Top 7 Bitcrusher Plugins (And 4 Best FREE Bitcrushers + 3 Bonuses)
Top 6 Plugins For Voice-Over & Dialogue Cleaning (Post Production)
Top 10 Stereo Imaging Plugins (Best Old & Modern Picks)
Top 5 Multiband Limiter Plugins 
Top 7 De-Esser Plugins For Better Vocals (And 4 FREE Plugins)
Top 7 Clipper Plugins (Best Limiter Alternatives)
Top 6 Chord Generator Plugins That Inspire Melodies (+ FREE Tools)
7 Best Exciter Plugins For Mixing & Mastering
Top 7 Channel Strip Plugins (And 2 Best Free Plugins)
Top 11 Distortion Plugins (And 4 Top Free Plugins)
Top 5 Comb Filter & Resonator Plugins | Melda, Kilohearts, Tritik
The 7 Best Vibrato VST Plugins | Audec, Audiority, Melda
The 7 Best Tremolo Plugins | Eventide, Melda, SoundToys, Kuassa…
The 7 Best Harmonizer Plugins | Eventide, Melda, Aegean Music
7 Best Sidechain Plugins (VST, AU, AAX) | Xfer, Cableguys..
Top 10 Noise Gate Plugins (And 6 FREE Free Gate Tools)
The 6 Best Ring Modulator VST Plugins | KiloHearts, Melda
7 Best Autopan VST Plugins | CableGuys, Melda, Waves, Soundtoys
The 6 Best Frequency Shifter VST Plugins
Top 11 Granulizer Plugins For Future Sound Design
29 Best Sound Design VST Plugins
Compressor Plugins
Top 11 Free Compressor Plugins (VCA, Vari-Mu, FET, Digital)
Top 7 Multiband Compressor Plugins (And 4 FREE Plugins)
Top 5 Diode-Bridge Compressor Plugins 
Top 6 Mastering Chain Plugins: Complete VST Solutions 
The 7 Best VCA Compressor Plugins (VST, AU, AAX)
Top 11 Mastering Compressor Plugins (And 2 FREE Plugins)
Top 10 Opto Compressor Plugins For Transparent Sound
The 7 Best Vari-Mu Compressor Plugins (And 2 Best FREE Tools)
Reverb & Delay Plugins:
Top 12 Reverb Plugins (And 5 FREE Reverb Plugins)
The 6 Best Spring Reverb VST Plugins | AudioThing, GSi, u-he, Eventide
Top 12 Delay Plugins For Music Production In (VST, AU, AAX)
Top 10 FREE Delay Plugins (VST, AU, AAX)
The 10 Best Convolution Reverb Plugins 
Amps & Preamps:
Top 10 Guitar Amp Plugins (And 5 Best FREE Simulators)
Top 10 Bass Amp Plugins (And 5 Best Free Simulators)
Top 9 Preamp Plugins (For Vocals, Guitars & More!) + Free Preamps
Guitar/Amp Focused:
Can I Put Nylon Strings on a Steel-string Guitar?
Do Electric Guitars Sound Good Unplugged?
Buying Your First Guitar: 2 Things To Know
Are Tube Amps Worth It? (Tube vs Solid-State Amps)
How Often Does A Guitar Need a Setup?
Can I Play Classical Guitar On A Steel-String Guitar?
How often guitar necks need reset?
Can You Play Two Guitars Through One Amp?
Can a 6 String Bass Be Tuned Like A Guitar?
Can I leave My Guitar Tuned Down a Step? Yes, But Is It Safe?
Should I Learn 4, 5 Or 6 String Bass Guitar & Why?
How To Know If your Guitar Amp Is Broken?
How To Fix Distorted Bass Guitar Sound?
Do Fender Guitars Appreciate In Value?
Should You Put Stickers On A Bass Guitar?
How Acoustic And Electric Guitars Are Made?
Is Electric Guitar Too Loud for an Apartment?
Does a Preamp Improve Sound Quality?
If I Learn Acoustic Guitar Can I Play Electric Guitar?
How Many Hours A Day Should You Practice Bass Guitar?
Do I need an AMP/DAC To Run Bookshelf Speakers?
How to Record Electric Guitar Into Logic Pro X?
Do headphones get worse with age?
DAW Related:
Best DAWs For Musicians Available (With FREE DAWs)
What's The Most CPU Efficient DAW? – 5 DAWs Compared
How To Make Music Without Using A DAW?
Pro Tools Guide: How To Use AutoTune & Pitch Correction?
Ableton Review: Is It Worth The Money? (Cons & Pros)
Logic Pro X Review: Is It Worth It? (Cons & Pros)
How To Use Auto-tune & Pitch Correction In Cubase?
How To Fix Ableton Crackling, Crashing & Freezing? Step By Step
Plugin Related:
What Are Audio Plugins? Different Types of Plugins Explained
What Are The Best Tools To Develop VST Plugins & How Are They Made?
Cost of Developing Audio VST Plugin: Several Factors (With Table)
VST, VST, AU and AAX – What's The Difference? Plugin Formats Explained
Complete Guide To Noise Gate – What It Is, What It Does & How To Use It?
How To Clip My Drums? Here Is How & Audio Teasers (Before/After)
Complete Guide To Limiter: How To Use It (+ Best Plugins & Analog Limiters)
Mixing With Reverb: How To Add Life To Your Mixes
Linear Phase vs Minimum Phase EQ – Full Guide
Difference Between LUFS, RMS & True Peak Loudness Meters
How And When To Use Algorithmic And Convolution Reverb In Your Mix?
Difference Between Active EQ, Passive EQ and Dynamic EQ
Headphones & Studio Monitors:
Do headphones get worse with age?
Monitors vs Studio Headphones For Mixing & Mastering
Top 10 Room Calibration & Headphones/Speakers Correction Plugins 
Are Noise-Canceling Headphones Good For Music Production?
Can Headphones Break in Cold Weather?
Why do headphones & cables get sticky?
Can Wearing Headphones Cause Hair Loss?
How Do I know If My Studio Monitor Is Blown?
Side Effects Of Sleeping With Your Headphones On
Do You Need Music Amplifier For Studio Monitors or Studio Headphones?
Do Headphones or Earphones Damage Your Brain?
Can Headphones or Earphones cause Deafness or Toothache?
FarField, MidField & NearField Monitors – Their Uses, Pros & Cons
MIDI & Synths:
Should I Buy A MIDI Keyboard Or Synth? (Are Synths Worth It Anymore?)
Why Is Audio Gear So Expensive? (Especially Synths)
Top 12 Synth Brands – Analog, Digital & Modular Synth Manufacturers
11 Tips How To Choose MIDI Keyboard 
Should I Buy MIDI Controller Or Keyboard? Cons, Pros & Tips
Chris Maiken is a producer, DJ, and sound engineer based in South Africa. He has experience in producing various electronic genres and specializes in house music.