Top 13 Hardware Synths For Basslines & Analog Low End 2023
1. Access Virus Ti2 Keyboard

(Analog Modeling Synth With Unique Bass)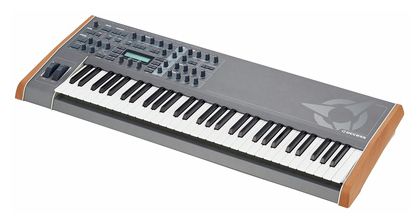 Access Virus Ti2 keyboard is known for its versatile and unique bass sounds and its high-quality & analog low-end.   
It's a wavetable synth with a distinctive characteristic sound and great capabilities, so you can load up some great wavetables that are specifically for bass from different genres. That gives you the flexibility to create some fresh & unique bass sounds, and also basslines of almost any genre and style.
Key Features:
Powerful effects section
In addition to a bunch of time-based effects like phaser, chorus, flanger, and frequency-based effects like Ring Modulation, ring shifter, and EQ, the Ti2 lets you add studio-quality effects like Tap Delay, frequency shifter, and distortion effects for harmonic enhancement.
Specifically, the distortion, ring modulation, and ring shifter effects allow you to create some dirty and gritty basslines.
Analog Nature
In addition, there are new "character" effects, which lets you adjust the timbral characteristics of sounds using Analog Boost, Bass enhancer, Lead enhancer, Vintage 1/2/3, and Stereo widening, resulting in huge earth-shaking bass sounds. In total, there are 129 parallel effects that you could choose from.
Virus control plug-in for more control
You can enhance the control over Virus Ti2 using its plug-in version in your preferred DAW, in which you can also access a wider range of presets that you could also sort, edit and search. You can also use the dedicated remote mode to turn this keyboard into a universal remote control for VST/AU plug-ins.
Efficient sound design capabilities
The Ti2 contains three LFOs (with 64 different waveshapes) and two ADSTR envelopes. It also has two fully independent filters (High pass, low pass, band pass) and a MoniMoog cascade filter-inspired Analog Filter. In addition to that, it also contains a 2-dimensional mod matrix.
Sound Sources
Further, there are three main oscillators and one sub-oscillator available per voice, in which you can access Wavetable oscillators and HyperSaw oscillators, capable of using up to 9 sawtooths. That results in some fat and solid bass sonics, especially using the hyper saw and sub oscillators.
Character & Sound
The color in the sound is added primarily by the hypersaw and wavetable synthesis, along with a wide variety of effects that this machine offers, which is perfect for creating 80s synth-pop music. A lot of renowned acts like Madona, Nine Inch Nails, Stevie Wonder, Tiesto, Armin Van Buuren, etc., have used this synth and its presets in a lot of hit songs because of its massive and anthemic bass, lead and sub sounds, which cut through the mix with a lot of punch and impact.
It is equally capable of creating ambient soundscapes with its long ADSRs, which translates into creating lush sounds. With that, Virus has developed a trademark sound.
Access Virus TI2 FM Bass Sound / Sound Design
Pros:
The Ti2 is a very reliable and heavy-duty piece of gear, made for the rigors of touring due to its high build quality which is usable even in temperature changes and dust and is rock-solid. Built on the virus synth engine, it has a unique flavor, which is hard to emulate by any other synthesizer.
It uses the best of both software and hardware worlds and also comes as a plug-in that we can use inside our DAW. It can also be used as a soundcard, hence the name TI, which stands for total integration. We can control the plug-in synth via the hardware synth, and can Ti2 can also act like a MIDI device and record musical information from it.
It's a 61 keys velocity-sensitive keyboard with good quality knobs, buttons, and solid construction. In addition, it has 6 Analog outputs of 6.3 mm jack, and 2 Analog inputs of 24 bit of bit depth. 
Cons: 
It is not the best device for creating heavy and hard-hitting percussive sounds, which makes this a not-so-versatile instrument because of its one-of-a-kind sonic scape. Also, many of its customers and users have complained about bugs and software issues.
2. Moog One

(Analog Synth)
Moog launched its first polyphonic Moog synthesizer in thirty years, called Moog One.
It's a tri-timbral analog synth with great capabilities in terms of the richness & punch of the sound, and a state-of-the-art design, and is capable of generating fat and punchy bass sounds. Physically, it's a large machine that requires a lot of space.
The front panel features single-function knobs like oscillators, filters, envelopes, and LFOs together by module. We can also add digital effects to our sounds, but for the purists and the fans of analog sounds, we also have the option to bypass the digital effects, if we want it to be 100% analog.
Packed with up to 48 voices, digital synth effects, a 20-slot modulation matrix, various input/output and control options, an arpeggiator, and a 64-step polyphonic sequencer, this is a highly ambitious piece of equipment. However, the central control section with a large screen to search and browse presets and its laid-out knobs & buttons make the workflow easier.
The analog circuits of Moog are known for their richness, harmonic nature, and natural quality basslines, due to which Moog has been one of the primary instruments of artists/bands like George Harrison, Beastie Boys, The Doors, etc. Moog One is also widely used in programming groovy basslines for West Coast/G-Funk, club genres, and various other styles.
This synthesizer carries that nature of sound, along with its elaborate programming capabilities, and polyphonic & multitimbral character, which gives you a good combination of classic analog sound and modern tech to manipulate and shape the sound. 
Key Features:
Cutting-edge Sound Design Capabilities
Moog one comes in 8- and 16-voice versions and three Voltage Controlled Oscillators (VCOs), that is, up to 48 voices at once, and also packs two independent analog filters- Variable State filter and Moog Ladder filter, giving the perfect analog texture of fatness to design bass sounds.
Rich Waveforms & Premium Modulation Options
The 3 oscillators could output a user-defined blend of triangle/saw and square/pulse oscillators, giving it a harmonically rich texture. To that, digital modulations like Ring Modulation, Frequency Modulation, Hard Sync, etc., can be applied for grittier bass.
There's an option to add a dual-source noise (pink, white, red, purple, etc.) generator with its own envelope shaper, which can give you a sound with full-spectrum and transient capabilities. 
Ease of Creation
With more than 73 knobs and 144 buttons, and 61 keys, the Moog synthesizer is designed to spark creativity. It's a great technology due to its innovative bass design and ease of use. You can save tens of thousands of presets and can also recall a time-stamped snapshot of a preset using an LCD center panel, in which you can browse and control different presets and settings.
Analog-Digital features
You can also use digital effects on your synths and master output, for example, the eventide reverb (Room, Shimmer, Hall, Blackhole, and Plate) and other high-quality effects of distortion, compression, etc., for versatile bass sound design.
Modulations
The four LFOs, and three DAHDSR Envelope Generators

can be applied in series or parallel to each voice, to further add sonic depth and movement to your basslines. 

Easy connectivity
There are 2 x 1/4″ stereo headphone outputs, 1 x ¼" external audio input (line-level), 4 x ¼" hardware inserts (TRS), 1 XLR + ¼" TRS combo external audio input, 9 assignable CV/GATE I/O (5-in/4-out), a LAN port, and USB drive support for saving and backing up system settings and presets.
Moog ONE - Simple Bass Tutorial - Part 1
Sound Design with the Moog One!
Pros:
The tone generators, filters, and modulators in this machine are high quality and the best you would find. On top of that, it's tri-timbral, which essentially makes it a three-in-one synthesizer, along with which its interface is intuitive and well-thought-out, with very few hidden features. You can do a lot more than create basslines with the synthesizer.
It has a great sound design workflow and the ease of applying modulations, filters, and effects make it stand out. The Moog one is a reliable gadget with a rich & vast sonic universe, owing to its classic Moog circuitry, which gives this machine a sweet, warm, and unique analog low end & overall tonality.
Film & Music studios, sound designers, and engineers who are looking for a machine with uncompromising abilities, who do not have any constraints on the budget, and who have a good know-how of how analog synthesis works are the ideal customers for the Moog One.
Cons: 
Priced at $8,999, many bedroom music producers cannot afford to buy such an expensive machine. However, it's only designed for premium music and film studios. Apart from being pricy, this is a heavy machine and weighs about 45 lbs, making it quite challenging to carry around.
The Moog One is also huge in size, with an area of 7 x 42 square inches. Lastly, it's complex and not easy to use and it could take a while to get used to its workflow, especially for beginner sound designers & music producers. Unfortunately, it's ahead of its time and may not be the best product-market-fit.
3. ASM Hydrasynth Keyboard

(Digital Synth)
The Hydrasynth is a digital instrument with 8-voice polyphony that comes in two different versions.
One comes with a velocity-sensitive 49-keys keyboard with polyphonic aftertouch, and another comes in a desktop version. Both are fully digital synths with virtual analog FM and wavetable oscillators, five envelopes and five LFOs per voice, and an extensive effects section, which makes them perfect for creating bass sounds of all genres & styles. 
The Hydrasynth is the debut synthesizer of Ashun Sound Machines, a Chinese company. They priced it at about $1299, which is pretty affordable, given its advanced features and innovative design. 
Key Features:
Next Level Virtual Analog sound design capabilities
The ASM Hydrasynth packs a 32-slot modulation matrix, three Wavescan oscillators with 219 waveforms, and four waveshaping mutators. Each of the five envelopes can sweep through exponential and logarithmic curves, which creates scope for long evolving modulations and make the synth great for bass sound design.
High-performance Parameters
For live sound designing and performances, the ribbon controller gives you accessibility to control pitch bend or modulation amount. That lets you create 8o8 sounds with interesting slides, and also funky 80s-type basslines with groovy bends.
PolyTouch gives you more command over the aftertouch curves, offsets, and release times, shaping your sounds in more controlled and creative ways. Lastly, it also gives you macro controls, that is, ways by which you could control multiple parameters by just a single knob.
Hands-on control of the interface
The intuitive interface makes your sound design process simpler and easier, with plenty of knobs and buttons to tweak what you're looking for. In addition, we can easily access each section and functionality of this synth with just a press of a button.
Character & Sound:
ASM places a lot of importance on recording the expression of the performance by packing the Hydrasynth keyboard with aftertouch, connectivity for sustain peddles, and velocity sensitivity. Hence, what you play on this instrument will truly be recorded. Moreover, sonically, the low-end on it sounds fairly analog and warm for a digital synthesizer.
Apart from varying bass sounds, you can create anything from a pad to a pluck sound to percussions to fat and gritty synth bass sounds to strings with varying ADSRs to punchy and bright 80s stabs, etc., hence making it a good sound design tool for modern music producers.
Hydrasynth Mastery Course: Preset 1 Bass Tutorial
Pros:
Hydrasynth combines several sound design methods, like wavetable synthesis, subtractive synthesis, linear FM, Pulse Width Modulation, and more which gives it limitless functionality, which means that there's no limit to the genre and style of bass you want to program on it. 
Further, eight macro control presents make the sound design workflow easier, combined with a solid build and a high-quality effects section. Lastly, the Polyphonic aftertouch and Ribbon Controller are its topmost USP after its attractive price point.
the LFOs have 11 different assignable waveforms.

Cons: 
The keyboard has a complex & overwhelming sound design workflow that may take time to get used to. Hence, Hydrasynth is not the most beginner-friendly instrument. Lastly, lacking sequencers could be a huge dealbreaker for many music producers, making its versatility questionable.
4. Behringer NEUTRON

(Semi-modular analog synth)
The Behringer Neutron is a Eurorack-mountable monophonic, semi-modular synthesizer that offers a switchable paraphonic mode.
Alongside the paraphonic feature, you will have access to an LFO, a filter, two ADSR generators, an overdrive and a delay effect, a sample and hold function, a slew rate limiter, and two attenuators. The semi-modular gives its bass sounds a good analog texture, the overdrive knob can add more grit & girth to the sound, and the modulators can create a good movement & rhythmic composition in your bass lines.  
Key Features:
Two Oscillators with Paraphonic Switch




The two VCOs can be set to act in tandem or individually if the paraphonic button is engaged and two or more MIDI notes are being played. 

You can shape the sound using five waveforms

: tonal modulation, square/pulse, sawtooth, triangle, and sine. The voltage-controlled factor in the oscillator will give your bass sounds a punchy & warm analog feel.  

Multi-Mode Filter




You can 

set the filter to remove frequencies using a high-pass, band-pass, or low-pass filter

. In addition, you can use the patch bay to wire in a second filter. Outside of the usual resonance control, you will have access to an optional keyboard tracking feature that will adjust the filtering according to the note being played.
That will allow you to create realistic bass lines & performances. Moreover, the filter can output an additional self-oscillating sine wave if the resonance control is at the maximum and keyboard tracking is activated.

Bucket Brigade Delay




The BBD offers 24 to 640 milliseconds of delay. The delay unit offers three parameters: time, repeats, and mix. Depending on how the delay unit is set up and whether you have an LFO modulating any parameters, you

can create various effects ranging from dub delay to chorus to flanger

 and beyond.

Slew Rate Limiters




If you want to 

add glide or portamento into your bass sounds

, then the built-in slew rate limiter can help achieve that. The limiter smoothens the signal at a rate between 1ms to 3s so you can achieve creamy lines that slide into one another. This is great for creating punchy 8o8 lines with intense movement, and also funky bass lines & lead synths sound for West Coast style of beats. 
Behringer Neutron EXPLAINED
Character & Sound:
The tone of the Neutron varies wildly and can cover many bases. Depending on the base waveforms selected and how/whether each oscillator is mixed, the sonic quality of the bass can vary from thick and smooth to warped and metallic. The sonic possibilities are vast and may not be apparent at face value, especially when the patch bay is thrown in the mix.
Pros:
The frequency range of the dual oscillators can be tuned low enough to become LFOs which you can patch to external gear if you use a modular setup. That also makes the synth great for sub-bass and programming frequencies below 60 Hz. 
The software included adds an extra level of control over the synth's parameters and can be a great companion for those looking to tinker with their sounds at a deeper level.
Cons: 
The overall level of the synth is relatively high and is a hair away from saturating at all times. Also, it doesn't have a built-in sequencer or keyboard, so you will need to connect it to external gear or a controller/keyboard if you want to perform and play bass in live settings.
Lastly, it doesn't have a hard sync feature for the VCOs, and since the tuning knobs are extremely sensitive, you may find it difficult to sync them perfectly. That may create a problem while designing pluck bass sounds. 
5. Behringer TD-3-MO

(Desktop Synth with Analog Circuitry)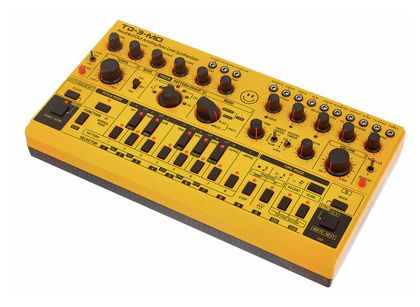 The TD-3-MO is a monophonic, analog bassline synthesizer.
It offers a heft of new features over the TD-3 that allows more envelope control through additional attack and decay dials, musical expression with the sequencer through their slide and accent controls, a thicker tone through a sub-oscillator, and a variety of CV, gate, and filter inputs and outputs.
Key Features:
Single VCO
The VCO has a three-way switch for switching between two waveforms and an off position. You can use either a biting sawtooth or a hollow square wave to form the basis of your bass lines. Also, you can add a sub-oscillator with a 3-pole switch for the level that plays one octave below a sequence.

4-Pole Low Pass Filter with Keyboard Tracking


The low pass filter attenuates frequencies above the cutoff point by 24 dB per octave and has a comprehensive range, extending as low as closing the sound off completely to roughly 5 kHz for squealing runs. Moreover, the filter does track the keyboard, so the filter's cutoff shifts depending on the note, which gives bass lines a slightly more natural characteristic.
16-Step Sequencer
The sequencer has an adjustable step range that reaches a maximum of 16 steps in a sequence. You can set the timing for each step to either a sixteenth note, to tie sixteenth notes, or for a sixteenth note rest. In addition, you will be able to add accents and slides to the individual notes in your loops.
Track & Pattern Modes
Similar to the TD-3, the MO has four selectable pattern banks with individual A and B banks; overall, you can store up to 16 patterns on the device. Once you have your selection of patterns, you can create a sequence of patterns changed together in track mode.

Seven tracks are available, each corresponding to a particular pattern bank. 
Character & Sound:
By default, the tones are smooth and deep, but because of the filter's extensive range, you can create highly sharp/squelching tones. If you need to add an extra level of grit to your bass, the overdrive effect offers a warmer, saturated tone to the mix without becoming overly distorted.
And outside of the filter, you can use a muffler function to tame harmonics, giving you flexibility over how you wanna sculpt the bass sounds in your sound.
Behringer TD-3 MO | Overview & Tutorial | Thomann
Pros:
They feature great control for creating musical passages. Steps in a sequence can be accented for a more dynamic sounding pattern. Moreover, the decay for accented and normal steps have separate dials, so that you can create a fluid distinction between the two.
Unlike the TD-3, you will have access to a filter FM input with dedicated control for adjusting the amount of frequency modulation for the filter.
Cons: 
The manual provided lacks in-depth explanations for the controls. It gets the job done if you just want to know what the various controls are. But, if you want to know what the controls do, you may find the explanations underwhelming.
6. Korg OPSIX

(FM Synth)
Korg Opsix is often compared with the well-known and industry favorite Yamaha DX7, and is claimed to be its recreation.
However, if we look beyond that, this machine has many more capabilities. Primarily, it is a 37 keys FM synthesizer with six operators. It has five internal sound engines: Subtractive/Filter, FM with forty different algorithms, Filter FM, RM, and Wave (21 waveforms including white noise) folder, which can do expansive digital synthesis.
It has six oscillators that can work in any of these synthesis engines. The subtractive mode has extensive filter types like the MS-20 and Poly-6. Forty algorithms organize each of the six operators in different structures, giving you feedback loops and interactions you could work around. As an FM synth, this allows us to set any operator as the carrier or the modulator waveform.
The subtractive synthesis sound engine is great for creating pluck bass, Reese bass, and 8o8 bass, and FM & RM can help you create interesting FM bass and wobble bass sounds.
Key Features:
Futuristic approach to FM Synthesis
We get a decent number of hardware controls on the Korg Opsix, which gives us a good hands-on approach to bass synthesis. By using the screen, we can also see the envelopes, parameter values, algorithms, and presets we are choosing.
Each operator has its slider and a dedicated envelope generator. We can select a waveform, out of 21 different waveforms, for each operator and set algorithms in which these operators modulate each other. We can easily do data entry using the rotary encoders.
Extensive sound engines and programming capabilities
The five different synth algorithms give us the option to shape our sound to create tonal variations from the operators feeding from and into each other. There are three envelope generators for modulations, 3 LFOs with 23 LFO waveforms, 12 virtual automation patches, and one multimode filter.
The arpeggiator comes with seven different patterns, and there are 30 effect types that you can apply to your sounds.
KORG OPSIX BASS SOUNDS DEMO REVIEW
KORG OPSIX - All FM Bass Factory Presets
Character & Sound:
The Opsix is great for creating gritty and glitchy bass sounds, especially percussive & plucky bass and kick sounds, for the cyberpunk music era. Not just limited to bass, it's also great for creating lush and soothing ambient sounds that sound full and can easily fill up any space.
The digital characteristic is at the core of the sound. This synth is versatile due to an intuitive hands-on interface being like an upgraded version of the DX7, just with more capabilities.
Pros:
The biggest pro of this instrument is that it makes FM easier and offers immense flexibility and control. Due to the control it offers, along with a room of randomness, it gives us a scope to innovate and create & discover new sounds. That is great when you're doing bass sound design for dubstep music.
Five hundred in-built patches and an interactive interface make it easily usable and programmable. With a lightweight of fewer than three kilograms, it's easy to carry around and is one of the best synths to design 80s sounds.
Cons: 
The sequencer has up to 16-tracks only, within which one has to stay limited to 16 steps and hence 16 lanes of automation. It responds to aftertouch only as a MIDI device and not otherwise, and the keys are narrow, making it hard to play.
7. Erica Synths DB-01 Bassline

(Analog Synth)
Erica Synths DB-01 is an analog monophonic synth with the prime objective of being the ultimate bass synth. 
It's a powerful mono synth with a transistor-based gritty sub-oscillator, along with overdrive, detune, and analog delay knobs/effects that can further make your sounds punchier and huge. The sound is massive, and you get FM and a noise oscillator to spice things up. It has snappy, highly responsive, easy-to-use envelopes and LFOs for plucky sounds and instant modulations. 
Key Features:
Detune knob
The detune knob is not what you think it is; it is two analog bucket brigade delays, each with their independent LFOs that move the delay speed and creates an interesting pitch-shifting effect, wobbly textures, and thickness in the bass sound. That also adds some interesting harmonic structure to the sound, making the sounds bigger and more upfront, and it works great in subtleness.
Sequencing workflow
The sequencer allows you to lock parameters to the lanes of the sequencer. So, for example, you can add a different cutoff frequency at each step of the sequencer. That can create some lanes of automation and result in some unique & interesting movements.
Analog feel
The voltage-controlled oscillator, adjustable between saw, square, and triangle waves, and the transistor-based sub oscillator result in some great-sounding analog warmth to get started with. In addition, the synth sounds fairly analog because of its Polivoks-inspired filter, analog drive, and BBD detune effect.
Other features
The 64-step sequencer with an arpeggiation option, mod slides, and per-step pitch envelope is a great feature too. Further, the LFO has varying wave types and can be synced to the tempo. Lastly, you can use a multidirectional analog clock, and triggering with MIDI and CV/Gate is also possible.
Character & Sound:
The synth is great for creating pluck bass of different types due to its fast response to analog filters & envelopes, which makes it suitable for house, techno, future pop, and other EDM genres. The DB-01 has great sub-bass which is perfect for films & trailers' sound design & scoring, and also for creating thumpy 8o8s in trap, drill, and hip-hop music beats.
Sonic LAB - Erica Synths DB-01 Bassline
Pros:
Overall, Erica Synth DB-01 is a powerful bass machine and sound design tool, with commendable analog circuitry that lets you create gritty and punchy bass lines, and one can also sequence or program funky bass movements. MIDI and CV/Gate connections are huge pros and allow us to use it as a monosynth too. 
Other huge pros are the FM and overdrive controls that let you make aggressive bass sounds and even upfront & punchy lead sounds.
Cons:
Except for the master volume control, which is hidden in the settings menu, the synth has a few more gaps. One of which is its envelope which is too basic, and another is that you can't save presets on it. A screen giving some visual feedback could have been a good addition to the synth. 
8. Moog Subsequent 37

(Analog Synth)
Subsequent 37 by Moog is a 37-key analog synthesizer with a re-tuned multidrive circuit and great power. 
It features a 3 octaves, long velocity sensitive keyboard in an analog/digital hybrid model with an analog signal path and digital controls. It also has a well-built physical structure made of steel and wood, and its duophonic mode makes it great for performance. 
Key Features:
Duo mode
The Sub 37's duo mode allows you to play the oscillators separately or together, so both of them can play a different note simultaneously. So, for example, you can hold a bass note, play a lead over it, and play in different harmonic intervals.
Get handy
You get immense hands-on control of the device with 37 after-touch playable keys, 40 tweakable knobs, and 74 switches waiting to be manipulated and played with. Diving into menus is not an option when you get such command over your synthesizer.
Multidrive circuit
The detuned multidrive circuit gives you enhanced gain and higher dynamic range to blast more aggressive, dirtier, and grittier analog-sounding basslines. It also gives you more headroom to enhance the signal, for example, by boosting its harmonic processing.
Versatile & Easy Synth Engine
You get 256 presets to get started with in sixteen different banks of sixteen patches, covering various types of sounds. In addition, it features the famous smooth Moog filter with resonance, MultiDrive, and selectable slope controls. On top of that, there are two modulation buses and a DAHDSR envelope with sync.
Character & Sound:
Overall it's a great synthesizer for creating bass sounds of various kinds, whether you want something funky, something plucky, something smooth, or even aggressive. From creating 80s-style bass to wobbly bass to Reese bass to portamento bass, you can do it all.
Moog Subsequent 37 Sweetwater Bonus Banks — Daniel Fisher
Pros
The synth's versatility and ease of use, given its silky smooth interface, compact size, and velocity-sensitive keys with aftertouch, make it great for studio and live purposes. It's great for all genres and styles of bass. 
Cons
The arpeggios, sequencers, and modulation controls are not as intuitive and require some menu diving. Secondly, it's expensive, given the features it offers are not significantly enough different from the Sub-37. Further, it's too difficult to navigate menus with just three buttons, and the lack of CV/Gate inputs makes its connectivity questionable. Overall, it could be less buggy and cleaner. 
9. Novation Bass Station 2

(Analog Synth)
Bass Station 2 by Novation is an analog mono synth that you can control digitally. 
It's a hundred percent analog synthesizer with digital controls, such that it has two switchable oscillators with four adjustable waveforms, either of which can be easily edited. In addition, you can set the course and fine pitch of the oscillator, along with a modulation envelope, LFO, and a pulse-width knob.
Key Features:
Connections
You get a headphone, line output, external input, sustain pedal switch, MIDI i/o, USB connection to use with a computer, and a DC power supply. Hence, you can connect external equipment, including a computer, to the system.
Sturdy-built and hands-on-control
The knobs, sliders, switches, pitch bend/modulation wheels, and other controllers are high-quality and tweakable, along with an LED display and a 2-octave keyboard with an after-touch.
Synth engine
There are two main oscillators, one sub-oscillator, and a noise oscillator, to start with. Then there's a filter with cutoff, resonance, overdrive, and LFO 2 & envelope knobs. Finally, you also get an arpeggiator, 2 LFOs, an ADSR envelope, and a distortion effect knob.
Character & Sound:
Bass Station 2 is great for programming progressive and dark bass lines, especially the type that Atticus Ross and Trent Reznor make. The dark, mysteriously underground, and gritty soundtracks like that of Delhi Crimes, The Social Network, Limitless, and Tron Legacy could be best created by the synth. 
It has a warm analog characteristic, and can easily adapt to cool movements, with the opening & closing of LFO-modulated filters.
Novation // Bass Station II 2.5 - Overview
Pros:
The extended filter options increase the scope of your sonic horizon, with a heavy-duty arpeggiator and step sequencers, and good hands-on onboard control. The sound is fairly analog, and the ring modulation & square and saw waves enable you to create dirty bass sounds, which are harmonically rich. 
Cons:
Its aftertouch is not as sensitive and requires a lot of pressure. Also, it's very similar to the Arturia MicroBrute and doesn't have a control voltage input or output. You cannot trigger the arpeggiator/sequencer from an external source, and the size of the instrument is limited.
10. Roland TB-03

(Bassline synth)
Roland TB-03 is a recreation of the classic TB-303 Bass Line Synthesizer. 
Roland has recreated the single octave TB303 without changing its layout control and keeping the sound intact with its futuristic ACB (Analog Circuit Behaviour) technology, which authentically mimics the original synth, and has added some new features to it to make it fitter for the modern use. For example, it has a 4-units LED display for better visual feedback and more efficient programming.
Key Features:
Effects
It has onboard digital effects like overdrive and delay that lets you add a new dimension and depth to the sound, so they can be more upfront and easily fit the space. The overdrive is a single-knob effect that lets you control the intensity of the effect using the knob, and delay uses time and feedback knobs to set the effect right.
Studio expansion
The synth is not just for live performance but can also be used as a great instrument for studio purposes; with its MIDI and USB ports make it act like a sound card and can also be used to transfer signals to the computer or the interface.
Ease of use & portability
It's the perfect bass instrument for touring as it can operate on 4 AA batteries and be powered via USB. In addition, it also has a mini speaker on it, for instant inspiration and feedback. Further, the hands-on control over parameters like cutoff, resonance, envelope, etc., gives you great command and expression with the sounds.
Programming capabilities
You get a built-in sequencer that can switch between write and play modes. Writing modes are also available for time, pitch, and step expressions. Further, the pattern creation features, tempo control, overdrive and delay effects, and the LED display contribute to its efficient programming.
Character & Sound:
Sonically, the synth works well in the dark and filled spaces with huge monitoring systems and has a fat, warm, and punchy analog sound that can surely rock underground parties, EDM festivals, stadiums, and even works well as a recording instrument for studio & playback, and can also connect with DAWs.
Roland TB-03 Bass Line In Depth Review
Pros:
Its connectivity is also open to external analog gears via its CV/Gate output, by which it can command, program, and sequence other instruments. Lastly, it has a high-quality sound, compact packaging, flexibility, portability, and a decent overall build & workflow.
Cons:
It lacks a real-time recording mode and a power supply. Apart from that, it's pricy and unnecessarily small.  Lastly, you cannot control it with an external device.
11. Moog Sub Phatty

(Analog Synth)
Sub Phatty by Moog is a sound design tool and a bass instrument known for its aggressive sound and punch.
It has a dark and gritty sound engine based on the classic analog Moog circuits. In addition, it features two octaves of full-size keys and 31 knobs that give you immense hands-on control over the device.
Key Features:
Sound engine
It features two variable wave shape oscillators, a pink noise generator, and a sub oscillator for maximum range coverage. The multidirectional circuit by Moog adds warmth at lesser mix levels and delivers a high-distortion effect at higher levels. Lastly, it has modulation, filter, and envelope control windows to add more movement & depth to the sound.
Free software editor
There are 51 hidden parameters in the editor/librarian software version that you can tweak and get greater hands-on control over your sounds. You can also tweak, manage, and share presets using that.

Analog sound


The circuitry and sound are 100% analog and can be polyphonic and monophonic. The keys are semi-weighted, and pitch bend & mod wheel controls are also present. Further, the live arpeggiator lets you create interesting motion and groovy bass lines.
Character & Sound:
The synth almost always sounds overloaded, even at very minimal settings, as it is designed to be aggressive and hard-hitting. It sounds overdriven naturally but can get even more fierce when the multi-drive feature is activated. On top of it, the sub-bass on it can drive your system crazy!
Moog Sub Phatty Analog Synthesizer Demo
Pros:
It has a powerful PWM, and you can choose the initial waveform from triangle to sawtooth, and the low pass filter has various slopes. Overall, its high-quality build and material seem clunky, rugged, and durable. It also runs on Mac and windows without problems and has good connectivity.
Cons:
Many of its parameters are latent in shift modes and hidden functions, which is frustrating and non-intuitional. It's hard to play it as a solo instrument due to its small size. Apart from that, it lacks aftertouch, has only one LFO for modulations, and doesn't have a separate control for headphones level. Lastly, cheaper alternates are available in the market, and it also lacks sufficient memory for presets.
12. Moog Minitaur

(Analog Synth)
The Miniataur is a compact analog bass machine that can also integrate with your DAW.
It's the latest addition to the Taurus family of analog bass by Moog and is great for performing live and using it in a studio by integrating it with a computer. Unfortunately, it doesn't have a dedicated keyboard, so it needs an external MIDI keyboard player to use as a LIVE instrument. However, it's a great tool for creating huge, upfront, and analog bass sounds.
Key Features:
Sound engine
Miniature starts with two VCOs which can be mixed in different proportions to create the sound, which you can switch between square wave and saw waveforms. Then, there's a filter section, an ADSR envelope section, and an LFO modulation section to shape the sound further. Finally, its polyphony is another feature that needs to be highlighted.
Software control
The free software accessible with the Miniataur allows you to access various hidden parameters and store & recall 128 presets. Further, the DAW integration allows you to access a new possibility of sonic shaping & control. You can control every onboard control via MIDI.
Huge sound in a small package
The bass device can fit into your backpack, it's so small, yet it sounds massive. You can easily integrate it into a keyboard stack, DJ rig, or studio room. It's also extremely light, which makes it highly portable and easy to use.

Connectivity


The backside of the device includes a headphone Jack, a quarter-inch plug, an audio Jack out, external audio input, and 4 CV inputs. In addition, there are USB type B and MIDI connectivity available.
Character & Sound:
Despite being a monophonic synth, it sounds powerful and is great for designing and composing bass lines that stand out and shake the room, stage, club, or wherever it is you're playing. Its fat analog oscillators with square & saw textures make it cut through and translate through every sound system.
GREEN VALLEY 2022 - Moog Minitaur Analog Bass Monosynth Performance
Pros:
Some features are not available on the main panel and can only be accessed using the editor or shift functions. Apart from that, the instrument is quite versatile, as it can produce a wide range of bass sounds and can also be used to create fat and upfront lead sounds. In addition, the DAW and VST/AU compatibility expands its horizons and makes it an even more attractive instrument.
Cons:
It lacks a keyboard and hence can't be used as a performance instrument, and it could have expanded to more than being just a bass instrument, as it has great functionality. Without the MIDI CCs and editor, you can't use the device to its fullest.
13. Arturia Matrixbrute

(Analog Synth)
The matrix brute by Arturia is a monophonic analog synthesizer with a powerful and interactive synth engine.
It features three brute oscillators, a Steiner-Parker filter and a ladder filter, five analog effects, and a comprehensive modulation matrix. You can set customized routings in the matrix and select any preset from its 256 presets with just a click of a button, without any menu diving.
Key Features:
100% analog
The signal flow of the matrix brute is completely analog and has a great sonic quality, advanced sequencing and arpeggiation options, and great flexibility with the sound.
Sound sources
The instrument features two analog exponential VCOs of saw, ultra-saw, triangle, metalizer , and sub-combinations. It also features one analog linear VCO/LFO with waveform options ranging from saw, square, triangle, and sine. Then there's a noise generator with pink, white, blue, and red noise.
Filters & modulators
The synth features Steiner Parker and Ladder filter with 12+24 dB per octave modes, with Drive, Brute factor; Low Pass, High Pass, Band Pass, and Notch editing options. On top of that, there are two LFOs (Sine, Tri, Square, Ramp, Saw, Random, S&H waveforms), three envelope generators, and a 16 x 16 modulation matrix panel.
Other features
It includes time-based analog effects like delay, reverb, flanger, chorus, etc., and 12 CV/Gate I/Os, MIDI, USB I/o, and pedal inputs for more expressive playing.
Character & Sound:
It has presets created by some great sound designers & music producers, to suit different genres and styles. The feature richness combined with the navigatable interface lets you explore your artistry to create out-of-the-box sounds. You can create anything from fat & bright dance-based bass line to dirty 8o8s for your underground bangers.
Pros
It's a feature-rich and highly expansive analog beast that can do way more than creating & programming bass. It's a comprehensive sound design machine that is modern, sounds great, connects with almost every device, and is highly versatile.
Cons:
Its filter is not completely accurate, as it lets the oscillator bleed through it, which is a huge bummer. Secondly, there are no modulations like frequency and ring modulations available, which makes it difficult to create dubstep-style bass, wobbly bass, and FM bass sounds. Lastly, the sequencer lacks a metronome.
Bonus
Korg Volca Bass

(Analog Synth) 
Volca Bass is a compact and analog bassline groove box for all your bass needs.
Featuring an Electribe-inspired sequencer and a synth engine capable of creating anything from fat hip-hop sounds to funky & danceable basslines, the Volca Bass is a highly versatile synthesizer. In addition, the overall interface and workflow are intuitive for even beginner music producers, composers, and performing musicians. 
Key Features:
Analog Sound Engine
It features three oscillators routed into analog filters with crisp and bright resonance, analog warmth and fast plucky response, voltage-controlled filters, oscillators, amplifiers, envelope generators, and LFOs.

Sequencing engine


The Electribe series inspires the loop sequencer. In addition, you can edit the step functions for making creative and groovy bass lines with unique rhythmic compositions. Further, the slide control is great for creating acid house and other similar genres.
Ease of use
The self-tuning control creates convenience for tuning the natural pitch drift of an analog synthesizer. Then there are sync options available, battery-powered functionality, and a built-in speaker, allowing you to use the instrument anywhere you want.
Character & Sound:
From chill Longue music to party bangers, you can trust the Volca Bass for your bass sound design & performance needs. It is also great for vintage sonic spaces, and because it's instantly comprehensible with a gentle learning curve, it's inspiring and fun to work with.
Pros
It's one of the best bass-focused pocket-size sound design tools, which is feature-rich and simple. Its absolute analog texture and versatility make it a great instrument for creating bass, lead, pluck, and various other sounds. 
Cons:
There's no way to create automation for filter cutoff and resonance. It's limited when it comes to sonic range, and is not a versatile or one-in-all bass instrument.  The unconventional keyboard may take some time to get used to as it's too sensitive to touch.
Conclusion
 The post has covered the best synths of all types, prices, and ranges, to create or program world-class synth bass, whether for a song, film soundtrack, sound design, or a live session. We have created this list to weigh all factors like sound quality, ease of use, price, accessibility, and more. 
The DB-01 by Erica Synths, TD-3 by Behringer, and Moog Miniataur are the most affordable choices for a dedicated synth with high-quality analog bass. However, if you want something that's versatile & caters to other sounds too, and you have a good budget set, you can go for the Hydrasynth by ASM, Moog One, and the Virus Ti2 by Access.  
The Korg Opsix is a great option for something not expensive yet expansive. Lastly, Moog Sub Phatty & Moog Miniataur are great options if you want something you can integrate with a computer or a DAW. Hope the article was of help; thank you for reading. 
Shaurya Bhatia, is an Indian Music Producer, Composer, Rapper & Performer, who goes by the stage name MC SNUB, and is also 1/2 of the Indian pop music duo, called "babyface". A certified Audio Engineer & Music Producer, and a practicing musician & rapper for more than 6 years, Shaurya has worked on projects of various genres and has also been a teaching faculty at Spin Gurus DJ Academy.