In today's post, we'll take a look at the 12 best affordable nearfield studio monitors in 2023 for musicians. We'll also give you some tips in picking the best monitors for your environment.
Studio monitors specialize in reproducing how your song really sounds by maintaining a flat frequency response. In contrast, commercial speakers enhance various frequencies while lacking others. This unbiased listening environment helps you make comparisons with reference tracks and ensure proper translation across all speakers.
Before we jump into details, here is our list of the best nearfield monitors in 2023 for your consideration:
How To Pick The Best Studio Monitors?
Before considering any pair of monitors, you must understand the acoustics of your room. A treated space highly improves any set of monitors' accuracy and overall listening experience. It's best to choose monitors that fit your room, working desk, and budget but that also attend to your professional needs.
The truth is, it doesn't matter much what pair of monitors you get if your room is not up to par. This fact is not only true for music producers, as anyone working hours in front of monitors will benefit from a great sounding environment.
Thankfully, treating your room can be as inexpensive as the cheapest set of monitors on our list, and you can do it yourself with a bit of patience. Since this is not the focus of our article, though, we'll leave you a helpful video that explains how to DIY your way into room acoustics:
Now that the room's sound is not a problem anymore, you can start assessing which monitor speakers would be the best fit for your space. You'll want the tweeters in your monitors to level in height with your ears when you're sitting. If you can afford the extra space and price, speaker stands positioned behind your desk are the best solutions since they'll eliminate resonances with the desk.
First, know what your goals are before you select your speakers. If you intend to offer mixing services, for example, you will need a higher-end pair. However, if you are a hobbyist or a video editor who just wants to upgrade from a pair of headphones, consider a low to mid-tier pair.
Monitor speaker prices range from as low as $120 to $5000 or even more, depending on their size, quality, and performance. For example, despite having 8-inch woofers, some may not be as loud or as bass efficient as others. Keep your purpose and budget in mind, and narrow down your research.
Ensure your ideal monitors fit your studio desk and form an equilateral triangle between the two speakers and yourself. It is necessary because the treble frequencies are directional. Hence, the triangle position ensures you can hear everything in detail and without phase issues.
Most monitors these days are active, which means they have built-in amplifiers. They are often 2-way or 3-way studio monitors: the former has a woofer for the lower frequencies and a tweeter for the higher ones, while the latter has three separate drivers for bass, mid, and high frequencies. In this article, we'll be focusing on two-way monitors.
Also, check this video out for more tips:
3 Tips For Choosing Studio Monitors - RecordingRevolution.com
What Size Studio Monitors Should I Get?
For rooms larger than 40 sq. meters, we recommend 8″ monitors. If you're in an apartment or anywhere that neighbors might be a problem, consider smaller woofer sizes. Anything from 3.5″ and 5″ should do the trick, assuming you're in a small room. However, larger woofers offer a significantly more low-frequency response.
Choosing a cheaper 5″ monitor may end up being a more expensive decision in the long run. That's because someday, you might need to buy a subwoofer to compensate for the lack of lower frequencies, which is costlier than buying a 7″ or 8″ in the first place.
But then again, it depends on your room's size and sound. If your room has too much bass buildup, buying a subwoofer won't help you at all. In this case, sticking to a smaller monitor and learning to work around its limitations will take you much further.
The same goes for large monitors. If you buy them because you want a better bass response, but your room isn't big enough, you'll end up having to monitor at a shallow volume. And while that is a good technique for some cases, why invest in giant monitors if you're going to do that? The best option is to find the balance between room size, room treatment, and monitor size. Doing so will ensure that your work environment is always comfortable and reliable.
So, it's finally time to upgrade your monitoring system. If you're here, it's most likely because you've reached that point when headphones and old speakers can't hold your abilities anymore. 
Whatever the case, on this list, we'll explore some established names and newcomers that deserve your attention at this crucial time. Let's dig right in!
The 12 Best Studio Monitors For Musicians On Any Budget
1. PreSonus Eris E3.5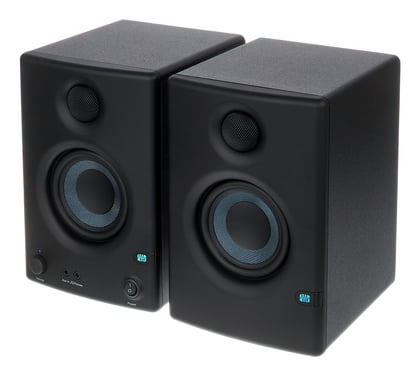 Let's start with the most affordable studio monitors around that can still provide crisp audio quality.
Despite their price, the Presonus Eris E3.5 has a rich, warm, and accurate sound. Adjusting the trim controls is also very simple, making them ideal for producers, game developers, and filmmakers looking for an economical solution that can still deliver impressive results. They are also great for their portable size if you're always on the move and taking your work with you.
Key features
Versatile
The Presonus Eris offers versatility and accuracy that are unbeatable for this price range. The 3.5″ woven Kevlar woofer reproduces an ample amount of lower frequencies and an overall rich sound that'll satisfy anyone working in a small room studio
Pristine High Frequency
The one-inch Kevlar tweeter with a silk-dome is bigger than the ones you'll find in other monitors of the same size, resulting in an excellent high-end frequency reproduction. Surprisingly, these monitors can reach 100 dB, allowing (almost) a live music experience at close rang
Convenient
There are three input options: a stereo RCA input, a pair of balanced L/R 1/4″ TRS jacks, and a stereo aux 1/8″ TRS jack on the front. The two inputs on the back let you connect two simultaneous sources. However, if you plug anything into the front aux input, it will disable the backports. There is also a headphone jack on the front panel.
Character & Sound
Upper-mid and high-end details are very clear, and lower frequencies are not enhanced, so what you'll hear is the most authentic sound. The frequency response ranges between 80Hz to 20kHz, and the speaker's high/low-frequency acoustic tuning controls allow adjusting the output to your preferred settings.
You can use it to apply up to 6dB of high-shelf boost or attenuation above 10kHz. The Eris 3.5 lets you do the same on the lower frequencies but in a low-shelf configuration below 100Hz.
The accurate sound and excellent frequency balance make it a perfect option for music recording and mixing. Still, you may find the low-end frequency reproduction lacking in depth. For a large room, you should add a subwoofer to your setup.
PROS
First, the sound clarity is phenomenal, considering the price. The bass is flat, and the high frequencies are smooth and transparent. And the small speaker size makes this pair an ideal solution for a home mixing environment. If you are after the ultimate low-cost workhorse speaker set, look no further.
CONS
The very thing that makes it ideal for home studios makes the speakers inadequate for a larger studio. For example, if your room is bigger than 40 sq. meters, Eris 3.5 will not produce enough bass to compensate for the room loss. Similarly, compared to the depth and clarity of the high frequencies, the subpar low-frequency response may make the sound feel unbalanced.
2. KRK Rokit RP5 G4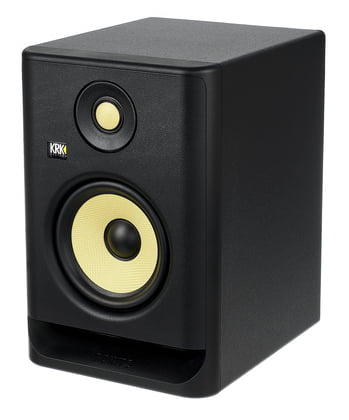 With its yellow cones, RP5 by KRK offers one of the most iconic and recognizable studio monitors in the market.
The latest Rokit G4 series provides a lot more than a distinctive design. The RP5 is the line's entry model, but it's already a dedicated active monitor in its own right. On the back, the monitor offers a digital interface with a rotary pot that lets you fine-tune your sound for enhanced playback.
The RP5 G4 provides a single balanced input on the back that enables you to connect either an XLR or a 1/4″ TRS connector.
Key features
Unique Design
The yellow Kevlar LF and HF cones are visually unique and offer optimal playback quality. The small monochrome LCD screen on the back and the turn-and-push knob are used to access and adjust settings.
Modern
KRK provides a smartphone app to change the sound directly from your phone or tablet. The app also offers a spectrum analyzer, level meter, and a great function that helps you place both monitors at the same angle. Additionally, it can tell you which of the available EQ curves will be best for your room.
Robust
On top of being one of the most reliable pairs of speakers, the RP5 comes with speaker grills that can go over the monitor to prevent scratches. Furthermore, their design ensures no interference when it comes to sound reproduction.
Character & Sound
The default settings deliver a clear and pronounced sound, ideal for listening and gaming, but the highlighted lower frequencies might not appeal to professionals looking for a neutral soundscape. Luckily, the KRK Rokit offers extensive tuning options, which are extremely simple to tweak.
Overall, you can feel confident about buying them even if you have to place them too close to a wall or a corner. The features make the KRK monitors seem the best option for DJs. However, if you're looking for a true, flat response, you should consider something else.
KRK ROKIT 5 Studio Monitors Overview and Audio Demo
PROS
Interestingly, the RP5 comes with an accompanying app for sonic customization. This feature is something we haven't seen in any other speaker before. Furthermore, if you are a DJ or an electronic music producer, you'll be interested to know that it reproduces transients accurately, thanks to the Kevlar cones.
CONS
KRK has artificially enhanced the speaker's low frequencies to make the speakers appealing to the general market. It can potentially make the bass overly punchier and deeper. In addition, it only has a single input. If you have multiple devices to connect to it, you will have to plug them in one at a time.
3. Yamaha HS 5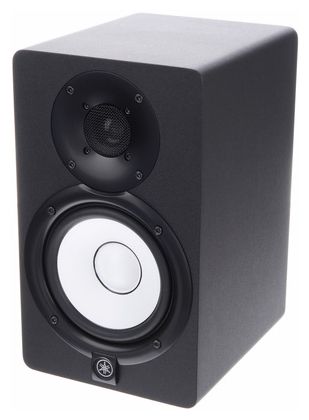 Yahama has been setting standards in professional audio for decades, and the HS series is another proof of the company's commitment to quality.
HS5 is the smallest studio monitor of the series but delivers a balanced, flat, and clear sound at an affordable price for a small-sized studio speaker. If you haven't treated your room correctly, it will work wonders to even out your sound since the entire bass region sits at -3dB compared to the rest of the spectrum.
Key features
Portable
The HS5 is tiny and lightweight: 17cm in width, 28.5cm in height, 22cm deep, and weighing just 5.5kg, making it the ideal speaker for touring professionals or those who lack space. Also, since it's an active speaker, you don't have to worry about a discrete amplifier.

Universal


The noise reduction technology is advanced and provides area control filters of 2dB or 4dB low-shelving cut below 500Hz. The design and build quality of the monitors is superior compared to monitors within the same price range.

Efficient


The separate 5-inch woofer and the 1-inch tweeter amplifiers offer extreme versatility and efficiency while mixing and producing tracks. The built-in filters and level control allow adjusting the sound to your needs.
Character & Sound
The Yamaha HS5 delivers excellent sound, but it has a few issues. For instance, anechoic chamber measurements show an extreme peak at 1kHz, which changes the tone of all instruments. This peak can be bad for mixing since the user will compensate for the frequency boost.
However, the HS5 is a great speaker for untreated rooms due to its bass response. In properly treated rooms, though, you'll have to use the bass boost controls on the back to achieve an even response. As it's a 5″ monitor, the bass roll-off is very steep at around 80Hz.
As with most monitors, it's part of the owner's job to learn its sound and work around it to craft exquisite mixes. Another Yamaha favorite, the famous NS-10, has a nasty high-mid boost, but that didn't stop it from finding its way into most commercial studios globally, where it still reigns as a reliable secondary reference.
Studio Monitor Speaker Review: Yamaha HS5
PROS
The build is lightweight and small. However, it still feels excellent and rugged, so it's a definite win. Further, the filter section on the back of the monitors allows plenty of customization, which can come in handy for countering room issues or your general preference.
CONS
Even if the frequency response is primarily flat throughout, a sharp peak at 1 kHz disrupts the listening experience to shrewd ears. However, note that it's a minor issue that your ears adapt to soon. Another thing worth mentioning is the somewhat disappointing low-frequency performance.
4. Alesis Elevate 5 MK II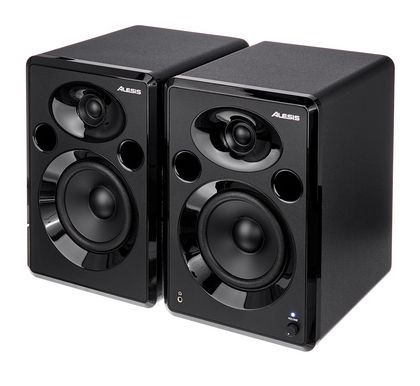 For over 25 years, Alesis has made a name for itself with economic studio monitors.
The Elevate 5 MKII is one of the best solutions for those on a budget looking for a clear, pure sound. You can input audio via either an RCA or a balanced 1/4 TRS connector.
Key features
Sound Prioritized
Everything is about the sound on these studio monitors. The design is simple, and the build quality is good but not exceptional. These tiny speakers can get to 80 Watts, which will offer pure sonic resolution at any volume.
Ample Bass
The dual bass ports increase the low-frequency SPL, which enhances the overall bass level considerably. On top of that, the Bass Boost switch is an ideal solution when you want to enjoy music and emphasize the lower frequencies.
Character & Sound
It's not as transparent as other monitors in the same price range, but it does offer a versatile performance on any music genre. When compared to other similar monitors, the Elevate 5 sounds a bit dark and boomy. That can end up making you turn up the highs on your mix a bit too much, but it's nothing that you can't counter with some experience.
With a 55Hz-20kHz frequency response, its features can satisfy most home studios' needs. Audiophiles and DJs will love the possibility of making the bass punchier, while music producers will appreciate the accuracy of these monitors' performance.
PROS
The ample bass and punch make the set appropriate for a wide variety of music genres and timbres. Despite the bass ports, the bass isn't boomy or muddy at all. All of this in one of the most affordable pairs of monitors makes the Elevate 5 considerable.
CONS
While the monitor does come with a high RMS power, we noticed that it loses clarity and transparency at higher volumes due to the small-sized cones.  Similarly, since the bass boost is done by porting, you cannot choose the crossover frequency of the boost.
5. Mackie MR824
With an 8-inch woofer, this is the biggest option in the MR series by Mackie, another brand that has managed to deliver fantastic quality that doesn't break the bank for years.
We are now leaving the 5″ realm and stepping into more giant monitors with a lot more bass response. We don't recommend these for untreated spaces since the more prominent low-end can cause too much build-up and resonance. If you don't have or aren't planning on getting your room treated, these may not be the best option for you.
Key features
Well Balanced
The MR824's bass is deep and well-defined, and the highs are even and stable. The tweeter cone shows the same curvature as the woofer cone, which improves the high-frequency dispersion until it matches the woofer. It's no wonder, considering how the MR824 was designed to deliver an accurate and balanced sound.

Customizable


On the back, you'll find the acoustic space controls that allow you to adjust the frequency output of the monitors depending on their position. You can cut 2 or 4 dB on the low frequencies and boost a 2dB high shelf from 3kHz.
Character & Sound
The bigger woofer does a fantastic job at capturing low frequencies without emphasizing the higher ones, resulting in an overall immersive and accurate soundscape ideal for mixing. However, there seems to be a slight broad dip between 1 and 2 kHz, which breaks the flat response.
The high-end frequencies are clean, and the optimal stereo separation gives an even more realistic flavor to the audio experience. Thanks to its internal bracing, the monitors reduce vibrations with whatever surface you have positioned them on.
That guarantees distortion-free playback, even if you don't have them placed on speaker stands. For home studios, this is a clear advantage. Lastly, with 65 Watts per channel, they can get quite loud.
Studio Monitors Review | Mackie HR824 | Unboxing and Review
PROS
Mackie is one of the best mid-end monitor speaker manufacturers out there, and MR824 adheres to the standard well. The sound of this pair is immersive and impressively accurate, with both the bass and the treble well-balanced and clear. Similarly, the internal bracing makes the pair vibration-free even without proper stands.
CONS
Since the bass is deep and forthcoming, an untreated space will suffer from extreme bass buildup. It can often cause problems for more home studio owners. Furthermore, you cannot buy the speakers in pairs, which adds to the price.
6. Dynaudio BM5 MKIII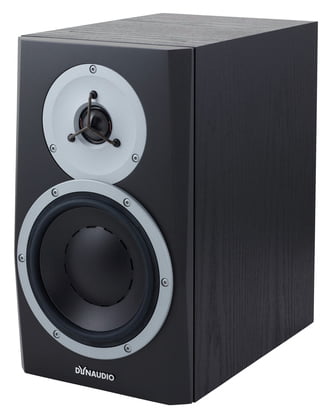 Dynaudio first introduced the BM series in 1997.
Since then, they've become a popular choice for radio stations and producers alike because of their accuracy and versatility in mixing. Still, they do a good job when used as regular speakers too. The lightweight components make for an exact transient response, and the extended high-end brings beautiful detail to any music being played back.
Key features
Deep Tone
The BM5 MKIII has a7 inches mid-woofer which gives depth to all lower frequencies. The monitors offer low frequency, mid-frequency, and high-frequency boosters to adjust the sounds depending on the environment.
Convenient
Like other monitors on our list, this one also provides a sleep mode, which is handy. For further convenience, you can purchase Dynaudio's External Volume Control, which ensures you don't need to grope around the back of the monitors to change the volume.

Self Protection


The speakers also have a built-in protection circuit that prevents damage to the woofers. It's a safety net limiter that reduces the output when the audio reaches a specific threshold.
Character & Sound
The BM5 MKIII is particularly good at capturing vocals and has excellent control over high-level frequencies. The overall sound is pristine and well defined, but the low-mids can get boomy depending on the room. The fast transient response, combined with the ultra-wide frequency range of 42Hz-24kHz, makes the BM5 MKIII the ultimate tool for music studios of small and medium sizes. The output is transparent and, together with the whole array of features, provides the most accurate conditions for mixing and mastering audio.
Dynaudio BM5 mkIII Reference Monitor Overview
PROS
The BM5 comes with a built-in limiter to protect your speakers from extremely loud peaks. And its wide frequency range makes it a fantastic reference monitor, not to mention its accurate transient reproduction. Overall, the sound is the primary advantage this speaker has over others.
CONS
The downside of this monitor speaker is that the low-mid frequency can get a little boomy due to room buildup. Similarly, the sound is also arguably less dynamic. And there's something of a bug in its Sleep Mode; it engages even if the speaker is working at a low volume.
7. Focal Alpha 65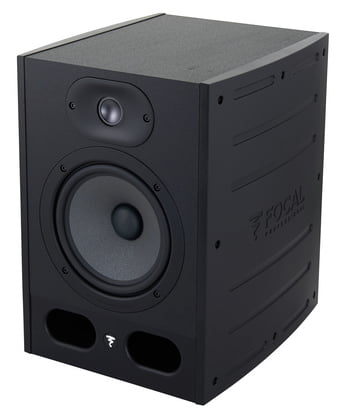 Focal is an established French brand known to build high-quality studio and music equipment at a "professional" price for audiophiles, hi-fi, cars, and the music industry.
Luckily their latest series, Alpha, has a price more in line with home studio producers but offers the outstanding quality the French brand is known for. You can get a pair of these for under €500, which is astounding for sound fidelity. Most likely, you'll never complain you do not hear enough of any given frequency range or that the speakers lack in detail.
Key features
Deep Tone
Unlike many other monitors we spoke about, with a pair of Focal Alpha 65, it's unlikely you'll need a subwoofer for your home studio mixing. They encompass a broad frequency spectrum and have a beautifully detailed frequency response.
Automatic Shut Down
Another fantastic feature is the automatic power off, which will automatically turn off your speakers when you stop using them for 30 minutes.

Tonal Control


The high and low shelving knobs give you complete control over the playback curve, with six positions for each shelf, plus the flat mode.
Character & Sound
The clarity and balanced sound a pair of Focal Alpha provides are stunning. The stereo image offers a clear soundscape; each frequency gives a sense of reality which is hard to achieve with any other monitor. Mid-level frequencies are rich and detailed, and so are the lower ones, with a depth that's unparalleled at this price range. 
However, at high volumes, you might end up hearing some buzzing through the bass ports due to the inexpensive enclosure material. Even so, mixing and mastering classical music is a joy with these monitors, as they're capable of capturing every single detail.
PROS
Focal is well-respected for its sound quality, and the Alpha 65 is arguably the best monitor speaker in this price range. The sound quality and fidelity are outstanding. Similarly, it also has an automatic power-off feature to save energy.
CONS
The build quality can feel a little cheap, especially on the bass port panels. It can result in buzzes and weird vibrations when you play at a high volume.
8. Neumann KH 120 A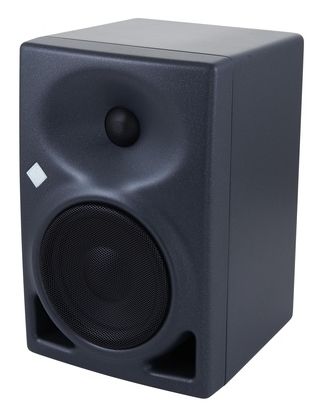 Neumann has made professional microphones of the highest possible quality since 1928.
With their KH 120 A, the Berlin-based company successfully maintained a quality-oriented approach, offering a flabbergasting audio monitor at a reasonable price. This speaker is definitely a piece of equipment for pros or anyone making the transition. The monitors allow you to hear everything in an acoustically treated space, making it ideal as a professional studio nearfield reference.
Key features
Neutral Sound


A 5¼ inches woofer and a 1-inch dome tweeter are all these little monitors that need to give you an accurate and neutral sound. They get as low as 49 Hz at -2 dB and offer a crisp soundscape throughout the entire stereo spectrum.
Elegant Design
They're aesthetically pleasing and highly robust, which, also considering their size, makes them a perfect choice for touring professionals. The Neumann logo on the front will flash red whenever the volume goes too loud to help conserve the driver's health.
Character & Sound
The monitor's output is transparent and all-encompassing. The speakers are calibrated, and the stereo image is astonishingly accurate even when you work at high volumes (100 Watt as a combo). The sense of depth and space is realistic, and the entire sonic spectrum is masterfully balanced.
Furthermore, the KH120's completely flat response makes all frequencies audible even at low volumes, perfect when you need to fix problems in a mix. If you want to make the most of your audio experience, you can get its subwoofer partner, the KH810.
Neumann KH 120A Studio Monitor User Review
PROS
Neumann's top-notch standard maintenance is prominent in this speaker. The KH 120 A is an ideal near-field monitor speaker for practically any genre. With accurate reproduction of every timbral quality, its audio fidelity and transparency are virtually unbeatable.
CONS
Compared to the other entries on our list, the price is undoubtedly hefty for a 5″ speaker. Therefore, it feels like an over-investment if you run a home studio, which is what the speaker size is for, anyway. Similarly, the lack of a TRS input can be a bit of an annoyance.
9. Adam Audio A7X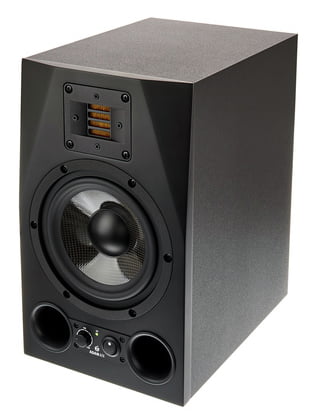 First released in 2006, the Adam Audio A7X has become a legendary studio monitor for electronic producers thanks to its balanced frequencies and proper resolution, even at high volumes.
It's currently one of the most sought-after studio monitors, which shows how reliable and precise they are. Furthermore, the Adam Audio A7X has received several awards that place it as the industry standard within its size. On top of that, the industrial design makes it a perfect fit for the studio environment.
Key features
Large Tweeter


The latest generation of A7X has a 2″ X-ART tweeter, which extends the range up to 50kHz, providing a broader frequency response than its predecessors. This feature is excellent when recording or mixing high-resolution or analog audio.

Loud


With 114db of peak loudness, these monitors can give you a club-like experience at close range without compromising sound quality or adding distortion.
Character & Sound
All the fuss about these monitors is due to Adam Audio's proprietary technology behind the woofer and tweeter. The company has actively invested time and effort into evolving the tech behind these transducers. The results are compelling but not harsh mid and high-frequency reproduction, while the deep lower frequencies go way down the spectrum. The output is expansive and highly detailed, offering a soundscape with which audio professionals of all kinds will be impressed.
Adam Audio A7X Review - Should You Buy Them?
PROS
The A7X combines traditional technologies and Adam Audio's custom research to deliver one of the best sonic reproductions yet. For example, the 2″ X-ART tweeter provides excellent performance across the mid and high frequencies both. In fact, you can use the versatile speaker even for hi-fi applications.
CONS
While the loud and punchy sound is perfect if you are into electronic music, it may not be the best fit for other genres. That's not to say that working with it is impossible, but it has certainly gained a reputation as being geared towards electronic music. Other than that, there isn't much lacking.
10. HEDD Type 07 MK2 
From one of the founders of ADAM comes HEDD, a Berlin-based company Klaus Heinz created with his son in 2015 to continue creating monitors that deliver authentic and precise sound quality at a great price.
The MK2 series was released in January 2023 and had been getting traction ever since. Besides its fantastic sound, the innovative CoP technology has been calling many producers' attention due to the extended flexibility it offers.
Key features
Modern


HEDD is the first manufacturer to introduce a Bridge Port Slot, connecting the speakers to digital working space through Ethernet-based systems such as Dante or Ravenna networks. This particular model does this through a dedicated XLR input and output on its back.

Loud and Impressive


With a maximum peak of 116dB at a 1-meter distance and a ±4dB adjustment at 20/50Hz, they provide a neutral sound at any volume, customizable to your environment.

Ported or not


The CoP technology lets you choose closed or ported monitors, which naturally changes the bass response. So if you're working on anything that needs less bass, you can simply flip a switch on the back and close the cabinet with the CoP plugs.
Character & Sound
The high-fidelity and sound transparency make the 07 a monitor comparable to ADAM A7x and Neumann KH 120 A G. Although the sound accuracy is similar across the whole spectrum, the HEDD's monitors appear to have a more balanced output that makes them a perfect choice for audiophiles as well.
The sound's "softness" reduces ear fatigue and makes long hours of mixing more enjoyable.
Overview of the new HEDD Audio Type 7 MKII Studio Monitor
PROS
The sound is pleasant and accurate, making it a good choice for professional mixing engineers and audiophiles. Type 07 also offers multiple options for digital connections. Similarly, it has a filter section on the back to adjust the sound to your needs. Further, you can turn the bass port on and off.
CONS
There aren't many limitations in this speaker unless we start getting very picky. However, we must say that the price may be pretty steep for most music producers.
11. Focal Solo6 Be 
Focal's flagship monitors provide a hyper-realistic listening experience for studio professionals and audiophiles alike.
The build quality ensures the product will last indefinitely, and the sound bridges the gap between different listeners with sound quality that's both neutral and pleasant. At this price point, these are the best studio monitors you can get.
Key features
Impressive Highs


The inverted beryllium tweeter propagates sound better than any other material. It opens up the stereo width of high and mid-frequencies in a way any different monitor rarely can.

Smooth Response


The audio quality is the best you can find. Your ears will absorb it with minimum fatigue, thanks to the overall balanced frequency spectrum.
Character & Sound
The Focal Solo6 Be translates sounds coming from your audio interface faithfully. Its accurate transient response will give you enough precision to create mixes that will sound good anywhere. With a specified frequency response of 40Hz-40kHz, ±3dB, these speakers offer a perfectly balanced, uncompromised sonic performance.
There is no emphasis on any particular frequency range, which ensures an entirely flat response.
Focal Solo 6be First Impressions (Watch this before you purchase)
PROS
The build quality of the Solo6 is remarkable, making it one of the few products with a long-lasting life. And, to boot, the audio quality is just as good and fit for professionals and audiophiles alike. Its generous frequency response provides the ultimate listening experience.
CONS
The Solo6 doesn't come with volume control, making you rely on your audio interface's volume alone. Further, the only input connection is an XLR port. The "contour" or tone adjustment knobs require a flathead screwdriver for adjustment, and neither can you change the shelf frequency.
12. Genelec 8030c
Tiny but extremely powerful, transparent, and stylish, the Genelec 8030c is a nearfield studio monitor introduced by the Finnish brand in 2017 and has since become a favorite of professional producers of all genres worldwide.
You can put these against any other pair of monitors on this list, and the Genelecs will stand tall. The frequency response is as flat as possible, and there's little to no harmonic distortion at higher volumes.
Key features
Stylistic
With a unique design that differentiates it from the relatively common audio monitor style, the build quality is excellent.
Elegant sound
The sonic response is as striking as the build, with a clarity encompassing the entire frequency spectrum at any volume, with a frequency response accuracy of ± 2.0 dB (54 Hz – 20 kHz).
Automatic Power Control
The Genelec Intelligent Signal Sensing will automatically switch off the monitors while you're not using them or switch on when it detects the incoming signal. It helps save power and keeps the internal amplifier cool.

Customizable


The Genelec 8030C offers five tonal controls on the back that let you fine-tune the playback sound to counter the room's deficiencies. Although, adjusting them can be a bit of a doozy.
Character & Sound
The 8000 Series offers a degree of flexibility and clarity that's hard to describe in words. Even though they're small, the 8030C has enough bass to fill up a big room. The stereo imaging allows moving sounds around and creating more intricate soundscapes.
You can adapt the monitors to the room they're in, which solves one of the biggest problems studio professionals have. The entire 8000 series offers uncompromising precision and high-fidelity across the whole frequency spectrum.
PROS
The 8030C offers extensive tonal controls giving it the ability to adapt to any room and setting. Not only that, the speaker itself is calibrated perfectly to provide a highly accurate response. Similarly, the unique design makes it stand out aesthetically.
CONS
Unfortunately, it only comes with a single XLR input and no other type of connection. This limitation may be an obstruction if you aren't equipped with a variety of wirings. Similarly, you could easily find other units that provide more convenience and flexibility at this price range.
Conclusion
Nowadays, there's an endless variety of studio monitors in the market that can fit any budget. So, it all comes down to what you need them for. If you simply want to improve your listening experience, you can opt for one of the cheaper options we recommended.
It'll significantly improve sound quality and transparency and suit any studio producer, video editor, or game developer working in a small environment.
If you are a professional sound engineer with a medium/large studio room at your disposal, we highly recommend buying high-end monitors. These would encompass all frequencies and give the clarity you need to deliver the most accurate sounds.
It's also worth repeating that it doesn't matter how you improve your monitoring system if your room isn't well treated. A resonant or reflective space can make even the most expensive monitors sound imbalanced and inaccurate. 
Studio Headphones & Studio Monitors Topics:
Why Do Headphones Distort? (Especially at high volume)
Why Do My Headphones Make a High-Pitched Noise?
How To Keep Cool Ears While Wearing Headphones?
13 Best Cheap Closed-Back Headphones
Why Do Headphones Sound Like Underwater?
Do Bluetooth Headphones Lower the Sound Quality?
Why Are My Bluetooth Headphones So Quiet All of a Sudden?
Top 7 Cheap Open-Back Studio Headphones For Mixing
Why Pros Wear Earbuds & Headphones?
Do headphones get worse with age?
Could Cheaper Headphones Sound Better?
Can Noise Cancelling Headphones Cause Nausea & Headache?
Why do headphones & cables get sticky?
Can Headphones Break in Cold Weather? (Wireless, Wired & Bluetooth)
Are Noise-Canceling Headphones Good For Music Production?
Will Loud Volume Damage Your Headphones?
Can Wearing Headphones Cause HAIR LOSS? (While gaming or producing music)
Do Headphones or Earphones Damage Your Brain?
Side Effects Of Sleeping With Your Headphones On
FarField, MidField & NearField Monitors – Their Uses, Pros & Cons
Do You Need Music Amplifier For Studio Monitors or Studio Headphones?
Top 7 Studio Monitor Controllers (Best Rated)
How Do I know If My Studio Monitor Is Blown? (How To Fix & Avoid That)
Top 10 Studio Monitor Brands In The World
Are Studio Monitors good for DJing?
Can You Use Studio Monitors as Regular Speakers?
Top 10 Studio Monitors For Untreated Room 
Best Passive Studio Monitors Available
Are Studio Monitors Worth It In The Untreated Room? – 7 Tips
Best Midfield Monitors: 10 Picks For Your Studio
Best Biggest Studio Monitors  (FarField Monitors)
Is Playing Music Loud Bad For Studio Monitors?
How To Stop Headphone Wires From Twirling/Twisting
K. M. Joshi is a multi-award-winning composer and sound designer, specializing in film, game, and TV audio. He enjoys making cinematic music, rock, blues, and electronica. Read more..