Looking for a tuner pedal but don't want a full-size version? Today we'll talk about the Top 12 Small/Mini Guitar Tuner Pedals 2023. 
One of the essential aspects of performing live is maintaining pitch accuracy. One of the worst things that can happen during a performance is for your bass or guitar to get knocked out of tune without a practical way to adjust it. Fortunately, if you use a tuner pedal, you won't have to worry about that anymore.
The exterior of a tuner pedal is similar to that of any other stompbox effect pedal; it often has a footswitch and a small digital screen to display the notes that need to be tuned. It will plug your guitar into the tuner pedal, and you'll use the footswitch to turn it on and off before playing a note to tune it.
Also, pitch of whatever note you play will be displayed on the pedal. The pedal's display also indicates whether or not it's in tune or needs to be adjusted. It would be best to put your tuner pedal right at the start of your effects chain. This means you may skip the amp and go straight to the tuner with your guitar.
It's accuracy will suffer if you position it in the center or at the end of your pedal board configuration, as the sound from your guitar will have to travel through all of the effects pedals first. Placing the tuner at the front of your pedalboard guarantees that it will serve as a buffer for the rest of your effects.
In this Top 12 Small/Mini Guitar Tuner Pedals 2023, you'll find products from well-known brands that have either downsized their offerings without sacrificing quality or are now available in a more portable form. We've also selected guitar-tuning options that are widely regarded, user-friendly, and precise.
Let's see which are the Top 12 Small/Mini Guitar Tuner Pedals 2023.
12 Best Mini Tuner Pedals 2023 (Small Pedals)
1. Ibanez BigMini
The Ibanez BigMini tuner pedal is an effective instrument that offers a variety of settings.
If the pedal lives up to its moniker, it must provide cutting-edge functionality in a remarkably compact package. This chromatic tuner fits neatly on any pedalboard and offers to pinpoint accuracy across a wide enough frequency range to accommodate virtually any guitar or bass setup.
The needle and strobe tuning modes on its LED display make fine adjustments a breeze, and a custom calibration feature lets you dial your intonation to a finer degree.
Key Features:
Tunning Range And Accuracy


It provides extremely precise tuning within +/-1 cent, making it ideal for guitar, bass, or any other electronic instrument. You can adjust pedal frequencies between 27 Hz and 4 kHz. Its LED display is customizable, allowing you to choose between Strobe and Needle tuning modes. The needle mode is for standard tunings, whereas the strobe mode is for less prevalent ones.
Circuitry And Housing
Featureing a real bypass switching, so you may play clean without worrying about its effect on your signal chain. The tuner pedal's calibration ranges from 435Hz to 445Hz, and its sturdy metal chassis ensures it will last through years of use.
The pedal packs a lot of features into a very compact footprint, as its name suggests. Because of this, it's ideal for guitarists and bassists who have little room on their pedalboard but need a wide variety of tuning options.
Tuning Modes
The pedal allows you to switch between two different tuning modes: Needle mode, which provides visual precision, and Strobe mode, which is designed for less conventional tuning techniques. It can be tuned to within 1 cent precision, features a bright LED display, and true bypass switching. You won't find a better guitar tuner pedal than this.
Pros:
This alternative to conventional tuners is not only more space-efficient than conventional tuners, but it is also more cost-effective than conventional tuners. Even when every inch of pedal board space is essential, experienced musicians will find this guitar tuner is more than appropriate for their needs.
It has a large display and a wide range of tuning options. Even better, it takes less place on their pedal boards than other pedals do. Using this tuner pedal will greatly assist guitarists who are just starting out on their adventure with the instrument.
Cons:
It lacks the precision of several other pedals on the market. It demonstrates that a string is in perfect tune even when the pedal indicates that it is sharp or flat. While it is in bypass mode, there is a buzzing sound.
A costly power source powers it, and when it is bypassed, it creates a buzzing sound that is low in volume but constant. Other pedals accomplish this using the same power supply and line, implying that some units are not insulated or grounded correctly.
2. Donner Dt-1 2-Mode
The Donner DT-1 is one of the best live and solo tuners pedals you can buy, and it won't break the bank.
This chromatic tuner is reasonably priced yet features a true bypass and exceptional clarity. Since it is distinct from the output of other tuners, it initially appears muted. Even if you can't make out the letter, you can tune a string and tell when it's right from a distance. The entire screen will turn green when you've reached the optimal frequency. This is a great tool if you want to move around the stage.
Key Features:
Power And Circuit
Sadly for battery enthusiasts, this pedal requires an external power source other than batteries. The simple bypass circuit in this babe ensures that your signal will not be distorted or muted. Because of this, you may rest assured that the only thing your pedal won't fix is your off-key singing.
Good Tunning Range
Amazingly for such a cheap tuner, the tuning range is from 27.5Hz to 4186Hz. Accuracy and good tracking are guaranteed with a precision of +/- 1 cent. To fine-tune your sound, you need only this pedal, and it includes everything you could ever want.
It's very user-friendly, and if it lacks several capabilities that would make it useful in various situations, it will easily meet your basic requirements. The cost and ease of tuning have never been better.
Controls
You can feel lonely and sad in the control group because of how small it is. Nothing you look for offers much room for adjustment, no matter how hard you try. While this may seem like a drawback, it is the nature of tuners. The footswitch is the sole control you'll need, you'll be able to adjust the pedal's settings after pressing it.
Then, you'll need to strum the string you believe is out of tune, and the screens will take it from there. If you follow their instructions, you won't need any other pitch preparation. Our work would be much more pleasant and less physically demanding if all tools were as intuitive as this one.
As guitarists, though, we are accustomed to putting in long hours and know exactly what it takes to make it as a working musician. Simply put, all you have to do to use this pedal is plug it in and start playing. You can either leave it on at all times or turn it on as and when you see fit. That wraps up the manual for the command center.
Pros:
This pedal is one of the better ones the business has to offer. It offers the basic characteristics necessary for simple tuning and gives you the means to fix your pitch easily. If you are trying to save money, this is a great choice. It's cheaper than eating at a restaurant. Don't overthink it; get your hands on this one right now on the internet.
Cons:
This is far from being accurate in any way. It is conceivable to be fairly flat or sharp, but the tuner will still tell you that you are totally in tune, even though your ear would tell you that the pitches are drastically off. This is because the tuner measures pitch differently than your ear does.
Some consumers bought this tuner because of the display, but after doing so, they learned that it produces an extremely loud hum when connected with additional pedals and a daisy chain of 9-volt power supplies. After that, they turned it on, and the hum quickly transformed into a hissing and terribly loud and unpleasant high-pitched hum.
3.

SubZero Tundra
The Subzero Tundra tuner small pedal is an essential piece of equipment for any artist who performs live shows regularly.
Because of its high-quality LCD and 11-point fine-tuning bar, its tuner is easy to use and visible in dim lighting, making it a convenient accessory. Stomp button and jack in/out ports allow for straightforward activation and bypassing of the effect. While the pitch button provides access to nine reference frequencies, the flat button allows for detuning in semitone increments.
Key Features:
Clear Display
The tuner has an uncomplicated user interface and is simple to read, indicating the note being played and 11 tuning increments for fine-tuning. Regardless of the ambient lighting conditions, the unit's high-powered LED lights make it an excellent choice for live performances and practices.
The tuner may be turned off by a second push on the pedal's top switch, which makes it compatible with various effects units. The pedal is activated by stomping on its top switch.
Accuracy
This tuner allows you to tune to your precise specifications with the push of a button, which is very convenient. The tuner's expansive tuning range, which extends from A=436 to A=445Hz, enables it to be utilized in any given circumstance.
Transpose
You can transpose and tune your instrument down by up to three semitones, one semitone at a time, using the button on the control panel. It is possible to tune your guitar to any note between B0 and B7 with the tuner, which is compatible with all guitars.
Pros:
When compared to its low price, the pedal has a size that is acceptable for its purpose and appears to be constructed from durable materials. The screen is fantastic and has all the necessary qualities for a gig, including being simple to read, spacious, well-lit, and dependable.
Although it works well for live performances, certain musicians may prefer a finer tuning for their instruments. The adjustments have been successful, and the situation is currently stable.
Cons:
The drawbacks are insignificant, but they are nonetheless an annoyance. The tuner is very particular about where on the board's circuitry you should place it.
Initially, users reported substantial digital whining, particularly at higher gain settings, where the noise remained audible even after bypassing the pedal. Initially, users encountered significant digital whining. Even though it is located in a less-than-ideal location on their board, they finally found some peace there.
4. TC Electronic Poly Tune 3 Noir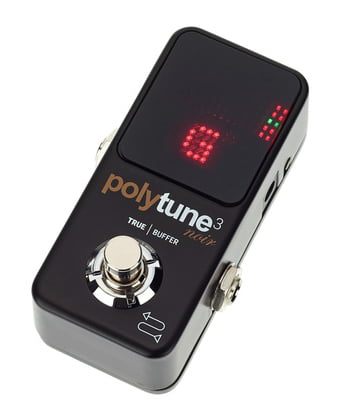 The PolyTune 3 Noir Mini is a scaled-down version of the full-sized pedal that retains all its tone-preserving and tuning abilities.
The pedal is as quick, reliable, and easy to use as ever, with precision and a straightforward method of tuning guitars and other instruments. You can strum all the strings to hear them and see which sections are out of tune, or you can tune them up one by one.
As soon as the pedal detects a mono or poly signal, it instantly toggles between the two modes. The pedal's high-quality analog buffer (which can be toggled to true bypass) will help maintain your tone even when using longer wire runs.
It's the next best thing to plugging straight into an amplifier in terms of bite, presence, and transient response. Changing between tuning modes is quick and simple, so you may experiment with different approaches to your art even when you are middle of a high-pressure performance.
Key Features:
Reduced Size
Many guitar players would be foolish not to pick this pedal as their go-to, considering how many useful features it packs into its diminutive size. The obvious benefit is how compact it is.
No one wants their tuner to take up precious pedalboard real estate in a world where so many people enjoy tinkering with elaborate pedal arrangements. It may be used vertically or horizontally, making it versatile for many pedalboard configurations.
Great LED Visibility
Maintaining a compact profile is appealing, but a clear display is essential for accurately tuning your instrument on stage. The pedal has 109 super-bright LEDs that will make you visible in any lighting situation, whether a dark club or a bright outdoor venue. There's even a built-in light sensor that modifies the screen's brightness based on the lighting in the room.
A Lot Of Tunning Modes
This pedal also introduced the first polyphonic tuner to the pedalboard. The instrument serves as a quick and easy way to check the tune of your guitar's strings. To use, you press the pedal and strum each string separately; the display will then reveal which strings need to be sharpened or flattened to an accuracy of within a cent.
But, if you pluck each string individually, the tuner will convert to MonoPoly mode and function just like any other tuner. In this setting, you can switch between a regular chromatic mode with just an accuracy of +/-0.5 cent and a stroboscopic mode with an even higher accuracy of +/-0.1 cent.
In addition, the pedal works with a wide variety of common alternate tunings, which is great news if you want to tune your guitar fast without thinking too deeply about the notes. To go to Drop D mode, you must press and hold the primary switch for a few seconds; to return to conventional tuning, you must do the opposite.
Switch
You can choose between different tunings by pressing the tuning switch on the pedal's right side. The chromatic tuner makes it possible to tune to any desired note, and it's worth mentioning that the tuner's A0–C8 tuning range makes it ideal for tuning a bass guitar and other stringed instruments.
True-Bypass 
In particular, this pedal's true bypass switching places it entirely outside your signal chain when it is not in use. Using a lot of cords between your instrument and amplifier might diminish the high frequencies; thus, some guitarists prefer using a buffered-bypass pedal instead.
You should check out the models to have the flexibility of employing either of these bypass methods since they feature a high-quality buffer that can be turned on or off.
Circuitry
They squeezed the trophy BonaFide Buffer circuitry from TC into a small enclosure so you could use it on any pedalboard. Newer versions of this popular pedal enhance your tone even when using long cable lengths. If you put a real bypass pedal at the front of your board, where it will have the least impact on your tone, you can use cables up to 50 feet long without worrying about muddying up your sound.
Pros:
The tuner pedal is among the smallest of its kind. This is great news because you are probably more interested in adding distortion, delay, and other pedals to your pedalboard. Despite its diminutive stature, the ultra-bright LCD does a great job of revealing the pitch of each string in any lighting.
The smaller size has one drawback: it can't be powered by a 9v battery, although most people use some external power source anyway. There are several tuning options available with this pedal. Polyphonic tuning mode is an invention of TC Electronic that monitors the pitch of all six strings at once within a cent.
It's a terrific way to get a fast visual check on your tune and make fine adjustments. Picking individual strings activates MonoPoly mode, which shows your pitch via a chromatic needle tuner accurate to within +/- 0.5 cent or by a stroboscopic tuner accurate to within +/- 0.1 cent. TC Electronic's reputation as a manufacturer of high-quality, reliable audio gear spans decades.
Cons:
There is no buffer in the circuit of this pedal, which may be a problem for some players due to high-frequency information being lost when the signal goes through longer and more cables. You can choose between true bypass and buffered bypass with a simple switch, so if you're interested, look at the available options.
Then again, this is a minor drawback because many individuals utilize a sole power source or a power converter to guarantee their pedals are always working properly. Larger variants with a 9v battery are available if you're set on having this feature.
5. Snark SN-10S
Snark Tuners has released a cheaper pedal tuner that retains its renowned pitch accuracy while being more portable for use on the road.
The tune is one of the most cost-effective pedal tuners due to its combination of prison-like durability and extensive utility. The pedal tuner's pinpoint accuracy in tuning, expansive, well-lit screen and instantaneous responsiveness are all impressive. Nothing is missing, and the price is unbelievable for what it is: a fully chromatic stompbox tuner. 
Key Features:
Power Options
The pedal tuner operates on a 9v battery, but no AC converter is included. You don't want to be on stage having to switch out a battery, but you also don't want to be dragging along a bunch of cables just for your pedals, which is why some people aren't fans of using batteries to power them.
The Spedal solves this problem by featuring input and output jacks that can be daisy-chained with other pedals using the same power source, as demonstrated with the Snark pedal. The pedal is best used with a Power Supply, which we highly suggest. It's more cost-effective to purchase the pedal, adapter, and daisy chain setup than to invest in a dedicated multi-pedal power supply. In addition, you can use the guitar tuner as a free extra.
Faultless Tracking
Although it only performs one thing and doesn't provide you with a lot of variety, it does that one well. The flawless tracking is the most notable aspect of this one. Without making a single error, it will identify your playing and make any necessary tuning adjustments.
Its big, vivid screen will tell you whether your notes are sharp or flat and make tuning an adventure instead of a chore. The Lights, thankfully, are bright enough to be seen whether the stage is lit or not. Having your instrument in pristine condition is essential for any concert or recording session.
Controls
The control part maintains the same minimal design as the rest of the program. Here, you won't find a lot of buttons—in fact, you won't find much of anything. Pedals known as "tuners" don't need any adjustments to sound great.
What matters is their inherent competence, so keep an eye out for that. Stop looking for dials; you may set up even the most high-tech equipment without them. The pedal has a few buttons, but they're used to fine-tune the controls for maximum precision.
The Calib and Up/Down buttons will allow you to fine-tune the calibration to your liking. As expected, a footswitch is a key actor here. As a result, you can quickly enter tuning mode by pressing the pedal once. In this approach, you can make any necessary adjustments in the blink of an eye without drawing attention to the fact that you are doing so.
Mute The Output Option
This pedal may silence the output to prevent others from hearing you carelessly strumming your strings while tuning. You won't even notice that you're missing out on any features with this simple baby solution to your tuning woes.
This is the situation when the importance of delivering stellar performance outweighs the need for flexibility. When your pedal can't even accomplish anything basic, variety becomes irrelevant. With no effort at all, this pedal will fine-tune your tone.
Display And Visibility
The screen is the best feature of this footswitch. With this bad boy, you won't have to fumble about with tiny, illuminating screens; instead, you can climb a ladder and have a look. It needs to be clarified what was meant by the claim that the screen was invisible from the street. It's safe to think they needed a new battery.
Quick Reaction
A quick response time is essential to get the most out of your guitar tuner. To avoid waiting for your tuner to catch up every time you hit a note, you should set it to detect pitches automatically. There won't be any issues with the pedal tuner in that regard.
Because of the pedal's quick responsiveness and reliable output, you won't waste time with a microphone tuner. This fantastic tuner is accurate down to low B and lower, making it ideal for 7- and 8-string guitars.
Pros:
In general, it's a tool that every player, from amateur to pro, should have in their arsenal. Although not the most versatile device, the quality of this straightforward tuner will turn your life upside down. It's challenging to find fault with it because its issues are all nitpicks that won't affect regular use.
Cons:
The sturdy metal construction is great, except that the 9v battery is more difficult to get. Naturally, it's not impossible; it's more challenging than other pedals. Some people aren't big fans of pedals that require batteries; therefore, they've always preferred to use pedals powered by an external source with a backup battery.
6. Mooer Baby Tuner

It's likely that once you put the Mooer Baby Tuner on your pedalboard, you won't want to take it off again.
It has been demonstrated that smaller pedals, which are becoming more prevalent as downsizing becomes more common, are proving to be as effective as their larger counterparts. This trend is growing more popular as downsizing becomes more common. You will require a mains converter because it is so little, but it should be able to fit quite comfortably on your pedal board.
Key Features:
Display and Size
The tuner is a very compact gadget that is the same height and width but noticeably thinner, and the only tuning options it offers are chromatic tunings.
The instrument is played by strumming each string individually, and a bright LED "needle" displays whether the string is in tune (blue), out of tune (red), flat (right), or sharp (left) (left). It should be easy for you to read what is on the screen when you are standing up.
Controls
To begin using the pedal, one needed to plug it in, depress the footswitch, and begin picking at the strings. This was all that was necessary to get the pedal up and running. This screen was far larger than the others, but they all had less illumination than this one.
Similarly, the tuner swiftly identified even minute differences, as seen by the needle's display of red on both sides of the center, to signify sharpness and flatness. Even if it were true, the other person was more attuned to the circumstances of the scenario.
Power
You must use only an AC adapter that provides 9V, center negative, and plug it into the socket specifically allocated for this usage. Any voltage higher than 12 volts is considered harmful and could cause electronic devices to fail, start a fire, or lead to a variety of other unpleasant results. Ensure that the AC power adapter is turned off whenever it is not being used and when there is a storm.
Pros:
This small tuner is incredible in its own right. The screen is rather sizable and intuitive to use. It has a high degree of accuracy, and the response time is quick. If tuning the B string on a 5-string bass has been difficult for you in the past, but this small pedal handled it wonderfully, you should try using it.
The pedal has a very sturdy construction. It gives the impression of being robust and heavy-duty when held in the hands and when walked on. Because of its small size, it only consumes a small amount of space on the pedalboard. Both the switch and the connections are of high quality throughout.
Cons:
It has some problems or a lack of functions that you would rather have than not have, but overall, it is a good pedal. The display likewise lights up when the tuner is turned on, but the guitar's sound does not play. When you turn off the tuner, the display will also turn off, but the guitar's sound will remain on. The asking price for this pedal is excessively excessive.
7.

Rock Stock Nano
This pedal is one of the accessories you can add to a pedal board that is considered the most beneficial.
Nonetheless, they need to be more laborious in their execution. You will be able to free up some much-needed real estate on your pedal board if you make use of the Nano Tuner. The pedal is almost the same size and weight as a smartphone, which means that it is incredibly portable due to its small size and weight.
Because it is just one-half the size of other pedal tuners available on the market, you can utilize it even on pedal boards with an extremely high density of other pedals. It allows for additional pedals to fit into the space that was there before.
Key Features:
Housing And Size
Given that its dimensions are roughly analogous to a mobile phone, the pedal is a true feat of miniaturization. Because of this, it can be mounted on pedal boards with an extremely high density of other pedals. Because doing so would make using the pedal more difficult, the on/off switch and tuner display have been combined into a single knob.
Turning the tuner on or off is only possible by placing one's foot on the circular screen provided for that purpose. The housing of this pedal is composed of aluminum alloy, which betrays the pedal's sturdiness despite the pedal's relatively modest size. This pedal tuner has been tested extensively, and the findings indicate that it is safe for use on public streets.
Accuracy
Due to the instantaneous nature of the feedback, it is possible to make small modifications down to the nearest 0.5 cents. You will be able to conserve room on your pedalboard and always sound amazing, regardless of whether you play an acoustic or electric guitar, electric bass, or even an electric mandolin. This is because the effects provided by this pedal are universal.
Switch
The on/off switch and the tuner display has been integrated into a single knob in the most recent iteration of the pedal that has been made available. Turning the tuner on or off is only possible by placing one's foot on the circular screen provided for that purpose.
Do not let the pedal's modest size mislead you; the housing is composed of aluminum alloy, which lends it a quite sturdy quality despite its small size. This pedal tuner has been tested extensively, and the findings indicate that it is safe for use on public streets.
Pros:
The Rock Stock Nano Tuner is, in fact, the world's tiniest guitar pedal tuner, which is precisely what the company advertises it to be. It takes up only a quarter of the area that a conventional tuner pedal does, but it is also quite accurate and very simple to observe while performing.
If you combine this with flat patch cables, you'll be able to free up enough room on your board to add an entire additional pedal to your setup. In addition to its minuscule size, it has a high degree of precision and solid construction. Because it operates on 9VDC, virtually any power supply you own can power it.
Cons:
When it arrives, it is sort of in bits, and the display round knob needed to be screwed together before you could use it. If you used some thread locker on the threaded ring that holds the glass or plastic show cover, you could fix the issue with how consistently lost it is.
That works sometimes and not other times. If you don't play guitar on every song, the tuner pedal can be invaluable for keeping the guitar muted while you're not actually playing it. You have to keep pressing the stomp to get it to tuning/mute mode while you are tuning, and then suddenly, your guitar is live in the system even though you thought it was in tuner mode.
8. D'Addario Chromatic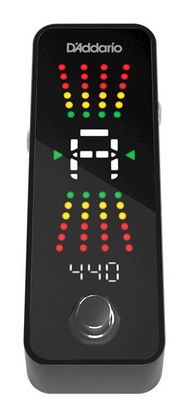 Even tuning can be a creative endeavor with the D'Addario CT-20 Chromatic Pedal Tuner.
This sleek device helps you keep in tune without interrupting the performance, thanks to its durable aluminum shell, simple one-button design, and vivid color display. The compact design of this pedal makes it perfect for transport to and from gigs.
You can permanently install the tuner in a pedalboard for the avid pedal enthusiast. The pedal is as accurate and reliable as one would expect from them. It provides instant feedback, a bright, readable color display, and true bypass wiring.
Key Features:
Housing And Display Visibility
The metal housing of the tuner is sturdy and stylish. It's not too heavy to move around if it's affixed to your board but substantial enough to keep itself in place if it's freestanding. The tuner's massive full-color vertical LED display is one of the largest I've ever seen, and its brightness makes it legible from a great distance whether the stage is lit or not.
It's easy to read, with many yellow and red dots illuminated on the upper LEDs indicating a sharp note, and the lower LEDs indicating a flat one. When the note is at the correct pitch, the area around it is illuminated by green lights and an arrow.
Note Accuracy
Like many of the best pedals, this pedal has a single purpose and fulfills it admirably. That "thing" happens to be tuned in this instance. With a 32-bit CPU, it could instantly detect notes, and the brilliant vertical display made even the most nuanced readings easy to see. The speed, combined with the single switch, makes it simple to verify your tuning instantly.
The 32-bit CPU helps the note detection to be as fast as it says. It's possible to adjust the brightness from A-415 to A-475 with a single press of a side button. When you first turn it on, it will tell you that A-440 is the factory setting.
Beautiful Design
Its tuner's high-quality design and construction ensure that it will find a home on the pedalboard of even the most discerning guitarists. The display takes center stage, with its simple lighting design giving it a "hardware" vibe instead of a "software" one.
When you turn the pedal on, it becomes visually appealing, luminous, and understandable. When it's turned off, it's just a black metal slab that blends in with the background. The Chromatic Pedal Tuner may be the only tuner you ever need if you're a guitarist who plays live or if you use effects pedals.
Powerful Circuitry
Insight into the design process behind the pedal is immediately apparent. It has shamelessly high-end construction and is remarkably easy to use. The sole footswitch appears sturdy. This body's aluminum construction ensures that it will last. With a true bypass setup, you will notice the pedal is there when you need to tune your instrument. After that, it's as close as tapping your toe.
Pros:
In comparison to that standard, this tuner is outstanding. It tracks quickly, is quite simple to see even under bright light from all different angles, and is fully multicolored in appearance. Tuning a double-neck steel guitar was just as simple as tuning a telecaster, which is to say, not at all.
Because some strings on a steel guitar are tuned slightly sharply, the over-and-under pitch display that uses LEDs is very popular. Because it is the same size as a Boss pedal, you may readily install it onto an already-used pedalboard.
The pedal does not automatically engage when the power is turned on when an external power source is used, which is a wonderful feature. There is a mono input, a mono output, and a button that allows you to modify the frequency in hertz.
Cons:
One of its drawbacks is that it only has a very small '#' indicator, which can be frustrating because you might be trying to tune to A. Still, you might be tuning to A# because you are blinded by all of the other aspects of the display, which means you can't see the very small '#' sign.
9. On-Stage GTP7000 Mini
On-Stage GTP7000 Mini promises that you are prepared for anything.
The musicians are accustomed to coping with all aspects of performing in front of an audience, includeing the mayhem that comes with touring, the constraints of a stage, and the unpredictability of the event itself. We are pleased to introduce you to the On-rugged, a sturdy and portable pocket-sized pedal created by Stage to ensure that you are prepared for anything.
You can use this pedal with both the guitar and the bass, and it has a large-print, high-contrast backlit LCD that makes the readouts legible in any lighting condition. It is compatible with both electric and acoustic instruments.
Key Features:
Pitch Range
Because you have a tuning tolerance of 0.5 cents, you can be positive that you will arrive exactly where you need to be within the pitch range of 430-450 Hz. This is because you have access to a tuner.
The pedal's diminutive size makes it an ideal option for usage in conjunction with a 9-volt DC power supply or a portable battery bank, both of which are good options for powering the pedal. The true-bypass circuitry that is integrated into the pedal provides an additional guarantee of the best possible signal purity. This is achieved while maintaining the lowest possible amount of overhead.
Tolerance
It is not difficult to deduce that the company prioritizes the presentability, scalability, and overall quality of the product. The pedal tuner is a portable chromatic tuner that operates remarkably well in both recorded and live settings.
It is responsible for maintaining this standard, the pedal can be tuned to 440 Hertz and any frequency between 430 and 450 Hertz, and the price is quite reasonable. In addition, you may set the pedal to any frequency between those two ranges.
Size And LED Modes
Any artist, regardless of the lighting circumstances they are performing in, has access to significantly more straightforward tuning possibilities thanks to the standard, strobe, and half-strobe display modes. This foot pedal is manageable despite being crammed to the gills with helpful features while maintaining its compact design.
This pedal tuner, which has a width of only 1-1/2 inches, is the smallest one in our collection; as a result, it is a perfect addition to any pedalboard. Because your pedal chain has true-bypass circuitry, you will be able to direct your attention solely toward the creation of a tone that is consistent with itself. This will ensure a minimum amount of noise produced by the output.
Pros:
A tuner that is more compact and doesn't take up a lot of room on your board. But it was bright enough and had enough clarity to be easily observed. It is correct straight out of the box. It is not difficult to use, yet it provides precise tuning for bass and guitars. It's not going to shock you or have any secret features, but it's not going to take up much space, and it's going to get the job done.
Cons:
It does what it is supposed to do, but the only thing we wish was different is that the brightness was higher. But in general, it tunes, it doesn't get in the way, and you can close your flight case with it still sitting there. The self-adhesive hook and loop it comes with cannot be attached to the rubber bottom of the item.
Because it was plugged in and pulled out so frequently, Jack's power became damaged in a period shorter than a year. The mere act of transporting the screen in a gig bag resulted in multiple scratches on its glass surface.
In addition to that, there is some background noise in the signal chain. Aside from those problems, you will be able to see it, your instrument will get in tune, and you will not have to engage in mental acrobatics to justify the expense.
10. JOYO JF-326 Irontune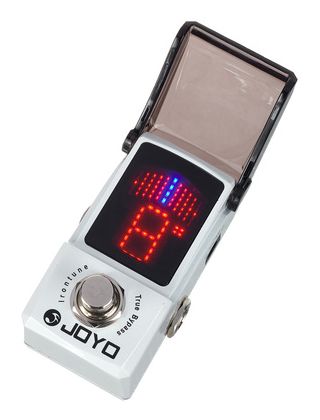 The Irontune guitar tuner's small footprint will leave you with more area for effects.
This little chromatic tuner is the most precise guitar pedal tuner on the market, and it works just as well with bass. Modern technology guarantees a cent-precise result and instantaneous feedback. The semi-transparent flip-top style of the display makes this pedal unique from its competitors.
Key Features:
Bright LED Display
The LED display's backlight makes it easy to see in any light. The pedal has incredible sensitivity and can be fine-tuned to perfection, all in a surprisingly small package. A True Bypass circuit and a transparent flip-top display make for less signal loss.
Because of the nature of the LED display, you can read it in any light. This little pedal features both high sensitivity and fine-tuning precision. The True Bypass circuit lessens the chance of signal loss, and the clear flip-top lid lets you keep an eye on the tuning process.
Tunning Options
This mini pedal board tuner is an elevated instrument tuner for guitar and bass that fits in the palm of your hand. The speed and precision of the state-of-the-art machinery are unmatched at +/-1 cent.
Display
The display is easily viewed through the mid-switch design, making this pedal unique among its peers. You can use the pedal to fine-tune a wide variety of instruments. You can rely on this tuner, as it will not disappoint you.
Pros:
The pedal has a body made of metal, which makes it incredibly substantial and strong, contrary to what its small size could lead one to believe; it is unlikely that it will break, but we shall find out how durable it is after extensive usage.
Good readability of the LED display from either the open or closed positions of the plastic screen. When the bypass mode is engaged, it does not appear to affect the signal. The tuning seems fine, and refrain from rating its level because it would be essential to have even more exact measuring devices. Yet, the ear is satisfied, the switch is not precisely silent, but people are satisfied.
Cons:
Occasionally having difficulty finding particular bass notes, this can, of course, be frustrating – especially if you play live. Nevertheless, it is unknown whether this is because of the tuner or whether there has been an issue with the signal that is being input. Yet, this is rarely a cause for concern.
11.

KLIQ TinyTune 
TinyTune stands apart from the crowd thanks to its streamlined design.
About half of the pedal is taken up by a bright color screen. Power is modulated using a footswitch on the front panel (on or off). Behind the screen, the pedal has two buttons labeled A4 and FLAT. One end of the pedal serves as an input jack, while the other serves as an output jack. Finally, with a 9V DC adapted, you can find a jack on the top of the device for connecting it to an external power supply.
Key Features:
Power
This one can hold its own against the market's more expensive tuners while reasonably priced. About half the size of a regular pedal, this one runs on a regular 9-volt DC adaptor supply. In contrast to most other so-called "mini-pedals," this one is too small to include a dedicated battery compartment.
Display
The screen is legible in any lighting condition, making it suitable for live and recorded settings. The pedal is completely silent and works as a mute for your instrument. Without the pedal engaged, the signal is sent straight to the pedal's output, unaffected by any electronic noise or coloration. The content will be legible whether you're using it in a darkened theater or on a living room wall.
True-Bypass
This is a true bypass pedal, so your tone will not be compromised. It has been proven to be silent both when on and off. The circuit is protected by an aluminum enclosure, making for a rather sturdy build. Furthermore, it makes use of premium internal components. In general, the pedal is a high-quality, long-lasting product.
Accuracy
Fast and precise note detection indicates excellent tune. The red bars represent a flat pitch, the yellow bars represent a sharp pitch, and the single blue bar represents a pitch in tune. Thanks to the high-contrast colors, this is a breeze to read and use. Both guitarists and bassists can benefit from the chromatic tuner's frequency detection abilities.
Pros:
The pedal allows the user to devote more time to an actual musical performance by eliminating the need for constant tuning. To play some tunes, plug in your device, fine-tune it, and press play. The price is justified because there is little to complain about.
It's great for novice and seasoned musicians who want a professional-quality tuner without breaking the bank. Very delighted with the product and the rarity of a firm that fully stands behind it and values its customers.
Cons:
It has slow tracking because you only need one if you're playing live; the tuner pedal is usually the first one you sell if you've gone between stints of performing. Markers on this pedal are too far apart in terms of cents to be of any service to the user.
The sonic variety within a single "bar" is readily audible. In the field of guitar effects, "True Bypass" refers to a pedal whose switch when depressed, physically reroutes the electric signal from the guitar around the pedal's circuitry, effectively eliminating the pedal's effect on the sound.
The pedal in question does not fit this description. The term "Buffered Bypass" describes this type of pedal. A constant electronic interaction between your signal and the pedal's internals is required for the pedal's fading effect to work. The signal would be quickly activated or deactivated with true bypass.
12. Electro-Harmonix 2020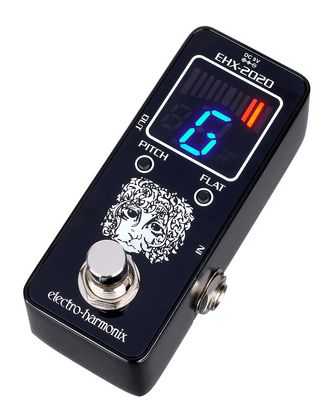 Because of its small footprint, the EHX-2020 will only necessitate a small amount of space on your pedalboard.
The pedal's adjustment range is from 436 to 445 Hz, and you can make each adjustment in increments of 1 Hz. The tuner pedal has a tolerance of one cent and may be adjusted to a minor third, half-step, or whole-step flat tuning. It also includes three different tuning options.
Because the signal from the guitar is muted whenever the foot pedal is depressed, it is easy to tune the instrument without drawing attention to itself while it is being played in concerts. Additionally, the true-bypass switching ensures that the guitar's sound is not altered anytime the effect pedal is disabled because it prevents any signal from being routed via the pedal.
Key Features:
Display
Even when the lighting is low, it is feasible to understand the information displayed on the pedal thanks to its huge LED displays that are easy to read. Also, the pedal has a very tiny footprint, which indicates that it will only take up a small amount of room on your pedalboard.
Connectivity
To turn the tuner, all that is necessary is a simple touch of the foot switch on the bottom of the unit. The jack on the tuner that corresponds to the input cable should have the cable that comes from your instrument hooked into it.
When a battery powers the tuner, the Input Jack is a switch to turn the device and a control to adjust the volume. When a cord is placed into the Input Jack of the device, the power supplied by the battery is activated. When the power cord is disconnected from the input jack on the device, the device goes into a mode that saves power immediately.
It is very necessary to pull out the plug after each time a musical selection is made to prevent the Input Jack from suffering any form of damage as a result. When a DC adapter powers a game, it is possible to play it at any time without considering how much battery life it has left.
Power
You will need a power plug with a center-negative polarity to use the DC 9V Jack. You can connect an amplifier or another effect device by using the output Jack. The signal from any instrument plugged into the Input Jack will be transmitted out the output Jack instead when the tuner is disabled.
This applies to both the guitar and the bass, turning on the tuner will result in nothing coming out of the output Jack, allowing you to tune without disturbing other people in the room.
Pitch Button
You can make adjustments to the pitch by simply tapping the "Pitch" button whenever you want to do so. On display with seven segments, the numbers 0–5 correspond to the frequency range, while the numbers 6–9 correspond to the frequency range. Pressing the button labeled "Flat" on your instrument will allow you to switch to flat tunings.
Great Tunning Range And True Bypass
Your output is muted whenever the tuner is working since the true bypass architecture ensures that all possible signal lines are protected from interference. Since it is adjustable in 1 Hz increments from a conventional reference, it is possible to tune to the pedal and perform with instruments that aren't always at 440 Hz.
This makes it possible to play with instruments that aren't constantly at 440 Hz. Between is covered within the scope of the standard reference. As a result of the broad tuning range and the three different flat tuning modes, you can tune down either a minor third, a full step, or a half step, depending on the desired effect.
Pros:
Electro Harmonix is indeed well-known for catering to a certain market need. This tuner also fits that description, thanks to its small size, versatility, and ease of use for artists who play in various tunings.
It's at the very end of the pedal board, where the input level is highest, and you prefer this placement over using it as an instrument output because there is no audible click when switching from true bypass to tuning mode. The click of some pedals could be due to the DC voltage left over from the other pedals and not the tuner itself.
Cons:
But, the following complaints still stand: the foot switch has a weak pressure point and a very audible cracking sound when the speech mode is activated. There is no place to store batteries, making the mains adapter or portable battery pack another bulky item.
This renders the minimalist aesthetic completely ridiculous once more. If you can look past the issues we've highlighted, you'll find a reasonably priced tuner that lives up to its billing. Sadly, you'll have to keep looking until you find something that works better for you.
Bonus:
Korg Pitchblack X Mini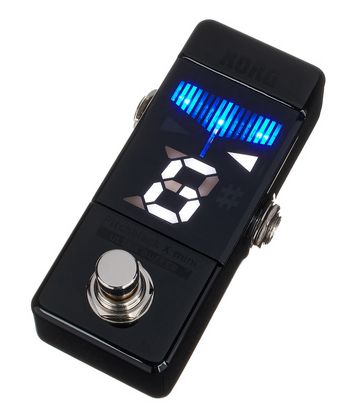 The Pitchblack X Mini is an updated version of its forerunner, boasting displays that are both larger and brighter than ever before.
The pedal's increased number of meter LEDs allows for clearer readings and a more precise depiction of tuning, all the way down to an accuracy of 0.1 cents. In addition, the Ultra Buffer is a new addition that guitarists at Sweetwater are excited to have on their pedalboards.
Engineered in this way, the signal is better able to survive and be transmitted over longer distances or in more complex configurations with more inputs and outputs. In addition to its dual brightness settings, the pedal features four tuning displays to meet the varying timing requirements of guitarists during various situations, such as when they are prepping for a recording session or need to tune up quickly while performing.
Key Features:
Increased Number Of LEDs
To begin with, the small features a wider range of adjustable LED colors. Mini has 7 when the original only had 5. This is just something to keep in mind about the pedal; it won't affect tuning too much. The number of possible modes also varies between the two variants of Pitchblack. The original offer you a whopping four viewing modes, but the mini only has three. Though not everyone values having a wide range of tuning options, it's undeniable that some appreciate having greater leeway.
Strobe Mode
To tune your instrument in this mode, wait until both tuning guide LEDs are illuminated, and the LED meters cease blinking. If your instrument is sharp, the LED meters will flow from left to right, and if it's flat, the opposite will happen.
Regular Mode
For this setting, the instrument should be tuned so that the green LED in the middle of the LED display comes on and the two LEDs that serve as tuning guides are illuminated. If your instrument is sharp, the tuning LEDs will be to the right of the center, and if it is flat, they will be to the left.
Half-Strobe Mode
At this setting, your instrument needs to be tuned so that the LED meters stop flashing, and the green LED in the center is the only one on, with the other two LEDs serving as tuning guides. If the instrument is in tune, the LED meters will flow to the right of the center, and if it's flat, they'll flow to the left. At just the right angle, the single middle lightbulb will glow.
Housing And Connectivity
The true-bypass capabilities of the original are replicated in the small. This ensures that the pedal does not affect the signal as it travels through. One of the most common characteristics of modern guitar pedals.
In addition to being able to power additional effects pedals from its AC adaptor, the DC OUT jack is a nice feature of this pedal. To connect up to two more effects pedals, you can provide up to 200 mA of power from this.
Pros:
The pedal has the same great features as the full-sized version but in a more portable package. The pedal is easy to use, compact, long-lasting and can fine-tune your guitar. As the pedal is nearly as cheap as the original but considerably more convenient in size, we recommend it. Even so, the tuner is fantastic in either of its two forms, and we suggest it to players of all skill levels.
Cons:
Because the LED display is not bright enough, it is difficult to read any of it when playing the game outside on a bright sunny day. You can't even tell if it is turned on or off because it is impossible to determine if it is on or off. If the vast majority of your performances are at outdoor fairs and festivals, you should not count on this strategy to be successful.
What's The Point Of A Tuner Pedal?
For the traveling guitarist, a pedal tuner is an indispensable tool. Pressing the footswitch activates the tuner, making it easy to tune in between songs. The bright displays on most pedal tuners make it easy to see the desired pitch, even in low light.
This is the most reliable tuner format because the signal comes straight from the pickups. The vast majority will also be "true bypass," which means the signal will not be amplified or manipulated in any way.
A pedal tuner also serves another useful purpose. To tune your guitar in silence, it mutes the signal. Learning to tune an instrument visually rather than relying on your hearing is a skill in and of itself. You'll soon become an expert with a little bit of practice. Also, you can stop struggling to get the B string to pitch and spare your listeners the agony.
Regarding whether or not tuner pedals impact tone, the jury is still out. Some guitarists claim that using these pedals can subtly alter their instrument's tone, while others claim that they have no effect. The ultimate decision as to whether or not a tuner pedal affects a player's tone rests with the player.
However, the newer ones will often be heavier or lighter than the original, which might affect the headstock's mass and, therefore, the guitar's feel and balance. Some musicians contend that the weight shift also affects sound quality.
Is It Worth Having A Tuner Pedal?
You should invest in a tuner pedal. One of the most irritating aspects of being a professional musician is the constant struggle to keep a guitar in tune. If you're a guitarist who plays gigs, you need one of these pedals since they're the easiest and most accurate way to tune your guitar on the fly.
It's possible to use a clip-on tuner or tune by ear, but pedals are far more convenient. Tuner pedals are superior to other tuning methods since they allow you to tune in silence while playing a song.
Here are some tips for choosing a tuner pedal:
LED
Indoor events typically have dim illumination. Thus a tuner pedal with backlighting is necessary for performing artists. Ensure the pedal lights are bright enough to be seen in daylight if you plan to play outdoor performances during the day. For instance, the Boss Chromatic Tuner's LEDs are nearly impossible to see in direct sunshine.
Accuracy
Furthermore, crucial is how quickly problems are resolved. While switching songs on stage, every second counts; therefore it's important to have a pedal that gives instant feedback on your tune. The response time of some low-end pedals may be longer than that of some high-end pedals.
Buffer
The pedal buffer is something else that many guitarists need to grasp fully. Simply expressed, the high-end frequencies can be weakened, and the sound may not be as rich when using many effect pedals and cords to link your instrument to your amp.
Using a buffer pedal at the outset of your pedal chain is a simple solution for keeping the sound frequencies stable. A buffer is not included in every effect pedal. However, Boss pedals are among those that do. Thus, it would help if you opted for a tuner pedal that doubles as a buffer pedal.
Related Readings: 
Top 12 Delay Pedals For Metal 2023 (Any Budget)
Top 12 Plate Reverb Guitar Pedals 2023
Top 12 Reverb Pedals For Metal 2023 (Any Budget)
Top 10 EQ Pedals For Metal 2023 (Any Budget)
Top 8 Boost Pedals For Metal 2023 (For All Subgenres)
Top 20 Guitar Preamp Pedals 2022 (Best Rated)
Conclusion
These were the Top 12 Small/Mini Guitar Tuner Pedals 2023. Everything presently for sale on the market is accounted for in this location. Some manufacturers have included conveniences that, at first glance, appear to be physically impossible to include in such a compact bicycle; however, thanks to advances in technology, these conveniences are now a reality.
We needed to bring up Poly Tune to have a meaningful discussion about tuning at some point. The TC Electronic Poly Tune 3 Noir is a smaller and more portable version of its more potent brother, the TC Electronic Poly Tune 3.
Because you can strum all the strings to hear them and see which parts are out of tune, the pedal is incredibly rapid and offers an accuracy beyond comprehension. The high-contrast LCD screen of this device is helpful in any environment, but it is especially useful at loud events like concerts. The absence of a delay in the circuit may be something that some users find to be inconvenient.
Since we are already in this location, we could discuss how they copied Poly Tune 3. There is no disputing that the Mooer Baby Tuner is a pedal with an appearance that is extremely similar to that of the Poly Tune 3, but it does not have the features of the Poly Tune 3 pedal. On the Infant Tuner, you can only select from a restricted range of tunings, such as chromatic tuning. It can be powered by a 9V AC adaptor and has uncomplicated adjustment options.
With the assistance of the D'Addario Chromatic pedal, playing in tune while giving presentations is a breeze. It has a display that is vivid in color, a body that is sleek and made of aluminum, and outstanding note accuracy. Among all of the choices that are currently accessible, this one is a top contender.
We understand that the pedal size is important to some players, and we trust that by providing you with this Top 12 Small/Mini Guitar Tuner Pedals 2023, we have made it simpler for you to complete your setup. Compared to a clip-on tuner, a tuner receiving the signal through a cable is the superior option.
Death metal enthusiast here. I am a Romanian musician and producer with over 13 years of experience in the music industry. I've experienced all types of Metal up until now, playing Melodic Death Metal, Brutal Death Metal, and Black Metal with different bands. Learning by doing is my base principle, which is why I've been drawn to sound design from an early age. Read more…