This article discusses the Best Hardware Samplers of 2023 for music producers, DJs, live musicians, and sound designers.
Hardware samplers can be used to record audio (instruments, synths, vocals, etc.) and process them creatively so that you can use these audios in unique ways for the same recordings or later projects. Any audio clip, including a one-shot, loop, or single note of an instrument or vocalist, can be called a sample.
In the early days, samplers like the MPC and Linn Drums changed the entire music industry and how modern music is created. Likewise, sampling plays a huge role in hip-hop, and the creative ways in which early hip-hop producers used samples have shaped the sonic scape of today's music.
Hardware samplers are back for good, as they offer a unique workflow, using which you can create music in a box in artistic and innovative ways. We have gathered a comprehensive list of 12 hardware samplers for all purposes and one additional DJ sampler to have everyone covered. So let's dive right into it.
Top 12 Best Hardware Samplers For Music Production & Live Performance 2023 (Any Budget)
1. Akai Professional MPC X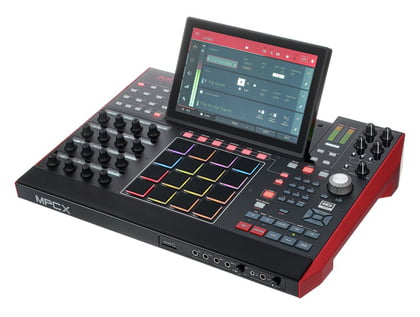 Professional MPC X is a standalone MPC engineered as a self-sufficient hardware device to arrange music and create beats.
You can program patterns with that classical MPC swing, edit and arrange samples using the 10.1-inch multi-touch screen, and record vocals and live instrumentation as audio tracks.
With 2 GB of RAM, and 16 GB of storage, it's more than a hardware synthesizer; it's an entire music creation computer, a DAW by itself, containing 10 GB of sound content that includes samples, drum kits, and instruments created by industry leaders like Loopmasters, Capsun pro audio, tool room, MVP loops, CR2 records, and more. There are multiple MPC expansions that MPC keeps releasing for deeper sonic exploration and collection.  
Key Features:
Workflow
X has plenty of buttons and controls that save a lot of steps and open its performance modes in a single click. That uncomplicates the workflow and makes it easier to navigate through the interface. For that reason, the interface is simpler than the other versions of the MPC. For example, you can browse to search the sample libraries and click on the "STEP SEQ" button to access the step sequencer and program it.

Pad Performance


The Pad Performance option allows you to assign a note, chords, chromatic chords, or chord progressions to the pads, for which you can change the scale and octaves. That allows efficient programming of music in the studio and optimized performance when it comes to living settings.
Q-Link Edit Mode
It's a program that lets the Q-Link knob control 16 parameters within the selected program or audio track and lets the Q-Link knob act like a MACRO control. It can control the mixer and program parameters and insert 1-4 parameters for its program insert effects.
Character & Sound:
The 10GB of factory samples, including 3 MPC instrument plugins, multi-sampled key group instruments, and drum expansion libraries, ensures a versatile and sufficient sonic universe. 
Pros:
You get the best of both worlds by using the MPC X as hardware or loading the MPC 2.0 software on your computer. In addition, it's a robust machine with few bugs, no crashes, and a great-sounding audio engine & interface.
Secondly, in terms of connectivity, you can record instruments & vocals by connecting an interface to the machine and connect synths, including modular synths, using the CV/Gate inputs. Lastly, the Abelton Live compatibility is also a big pro.  
Cons: 
A rechargeable battery here would have made the MPC X fully self-contained. Another huge con is that it is limited to 8 stereo audio tracks in standalone mode, which makes its arrangement & programming limited, especially in live performances; this drawback takes away the control from individual elements, as everything would have to be summed up in single tracks. 
Choose If:
You have a good budget to spend, and you want the ultimate and the most comprehensive sampler, as it packs every feature but costs more than two grand. On the other hand, if you want a simple interface without hanging up on complicated features in the middle of your creative process, this hardware ensures a smooth workflow. It also has great sounds and virtual instruments.  
2. Native Instruments Maschine MK3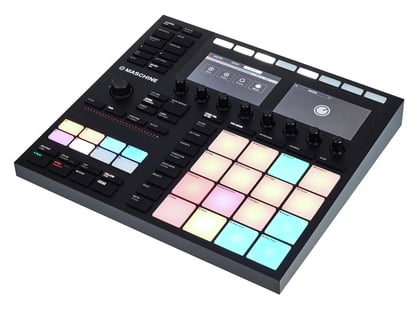 MK3 is a hardware sampler based on the classic Maschine software and can also be integrated and played with DAWs like Abelton Live, Logic Pro, and more. 
It's a groove production tool wherein you can assign loops/samples to the pads, choose different effects, control automation, layer sounds, and more. With 2 LED touch screens, a built-in 24-bit/96kHz audio interface, high-resolution full-colour displays, large pads, and touch-sensitive knobs, the hardware packs plenty of features in a single device. 
In addition, there's 8GB of comprehensive sample content, along with the Komplete Select software bundle that creates immense capabilities for production and sampling. Overall, it has an intuitive workflow and a simple interface for a hardware sample with so much capability, which lets you create and perform entire arrangements of songs on the device. 
Key Features:
Hardware-software hybrid
MK3 is an entire DAW within itself, with its simple sequencer, sampler, and high-quality effects with expansive hands-on control, 16 multicolour pads, 47 buttons, nine rotary encoders for playing, sequencing, and recording automation on individual tracks, and two high-resolution display for monitoring and navigating through visually the device. You can tweak all these features to produce, edit, slice, and mix sounds and MIDI data.
Easy connectivity
With its USB i/o, MIDI i/o, quarter-inch analogue i/o, headphones, and pedal inputs, you can find a place for the MK3 within your current setup and workflow. In addition, it's compatible with other hardware samplers like Akai MPC 500, 1000, 2000(XL), 2500, 3000, and 4000 program imports. On top of that, it can be controlled using a DAW, too, as it's available in AAX, VST, and AU formats, which makes it work with any mainstream DAW.
Komplete Select software bundle
Komplete Select is an instrument and effects pack, which is available for a free download with the hardware purchase, and it allows you to use Kontakt 6 player, Reaktor player, Massive, Monark, Drumlab, Prism, Scarbee Mark 1, Retro Machines, Vintage Organs, and many other premium virtual instruments, synthesizers, and effect plugins.
Character & Sound:
The in-built sounds are of great quality and let you create music of different genres and styles, with the output warm, thick, and punchy. In addition, the Komplete collection gives you access to a wavetable synthesizer like Massive, an analogue synthesizer like Monark, Vintage organs, and many more versatile virtual instruments that will expand your sonic horizon. 
Pros:
The MK3 is a great drum machine, simplified and easy to use, yet loaded with plenty of useful features that could upgrade your production workflow. The Komplet select bundle is a huge plus, along with its coloured multi-screen for easier workflow. The overall build is strong, and the pads are soft, velocity-sensitive, and easy to play and perform with. Lastly, the Abelton link integration makes up for a reliable synchronization, and you can install it on other DAWs too. 
Cons: 
The machine cannot be angled, as it does not have legs for it. It also doesn't have CV/Gate jacks and an SD card reader, limiting its connectivity capabilities. Furthermore, it's not the most beginner-friendly sampler or MIDI device, as the interface requires music theory knowledge and a bit of a learning curve. Lastly, it's so simplified that it doesn't have enough features, especially compared to a DAW. 
Choose If:
You have been creating beats for a while and have reached some level of proficiency with it to get around the workflow and design of the device. Also, if you want to try your hands on the MPC, and are looking for an affordable solution, then you should go for it. It allows you to create melodies, grooves, basslines, etc., at your fingertips, helps trigger patterns and arrangements, and adds automation through its controllers in a simplified workflow, making it great for performing musicians, DJs, and producers. 
3. Roland Verselab MV-1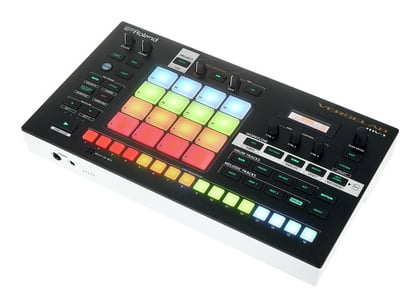 The Roland Verselab MV-1 is an all-purpose sampler with synth capabilities, a drum machine, and vocal recording/processing features. 
It has velocity-sensitive pads with a controllable curve, pattern generators, multiple ZEN-Core sounds, mastering effects, and more. It has over 3,000 sounds for modern genres by the creators of TR-808, a stereo ¼-inch I/O, dual headphones jacks, and MIDI I/O. You can operate it and power it via a mobile battery or USB. Overall, it's a versatile tool for creating beats, recording vocals, mixing tracks, and more.  
Key Features:
Step Sequencer
The step sequencer is similar to the drum programming interface in FL Studio, in which four bars are divided into sixteen grids, and on each grid, we can have sound(s) programmed. That accounts for an easy-to-program and modern step sequencer, which feels intuitive.
Chord Mode
The pads are set to chromatic, but you can assign a chord to a pad and program accordingly in the chord mode. Overall, you get good hands-on control over the pads. It has eight tracks, 128 voice polyphony, and over 90 sound design and synth processing effects.
For vocalists
You get a built-in mic, an XLR input, and phantom power, to record high-quality vocals and effects like Auto-Pitch, Harmonizer, and Doubler to process, edit, and mix the vocals.
Character & Sound:
Verselab MV-1 emphasizes synthesis and sounds warm, punchy, and upfront, with bright synthesizers, thick bass sounds, plucks, and more high-quality sounds. It has the Roland Zen core engine built into it, which has the underpinning of many Roland gears and is also available as a plugin. So you can use it for various sound design purposes and create clean & modern EDM, Trap, and other derivative genres with it. 
You can also use it for authentic vintage Roland sonic scape, as the synth engine is designed to be clean, versatile, and displays the signature sound of the Roland.  
Pros:
It covers all aspects of music production end-to-end, from making beats, and recording vocals or instruments, to mixing-mastering tracks. The built-in mic is great for recording clean and spontaneous vocals. Also, it is well-organized and has a friendly user interface. The pads are velocity-sensitive, responsive, and colour-coded & bright, which gives them a good visual appeal. 
Cons: 
The MV-1 has a plastic body, and something more rugged is demanded such as a device. In addition, the display is not big enough to monitor things visually at ease, and the mic transmits noise while recording. Overall, it has an unconventional workflow that may feel awkward initially, as you need to give it some time to understand and find a way around the device. 
Choose If:
You want a DAW in a box and something optimized for beatmakers, especially if you work in-depth with synths. Further, if you want something standalone with a powerful work engine, and want to create modern EDM, pop, or hip-hop with an emphasis on synthesis, and also happen to be a vocalist/instrumentalist, this is something that you could go for.
It's marketed as beginner-friendly hardware, but it has a steep learning curve, and it's good to have some experience with the DAW before jumping into using the device. 
4. Elektron Digitakt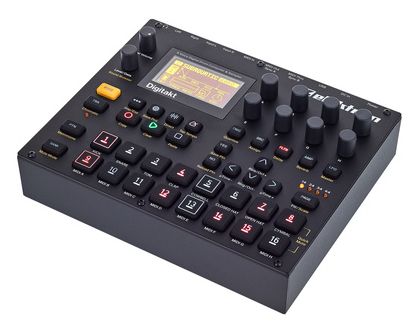 Digitakt is a self-contained music production stationed, a sampler at its core, and is marketed as a drum machine. 
It has a metal body, a strong build, and a dramatic overall look due to its black finish, contrasty touch screen, and clicky buttons instead of pads. The knobs communicate greatly with the screens and can be used to tweak various parameters and record automation. The screen is responsive, uncluttered, and makes space for the extra command you require over the hardware. 
Different samples and sounds can be played using the buttons and can be sonically shaped using effects like bitcrusher, pitch shifter, amp envelopes, filter envelopes, and more, which can be tweaked by the knobs/controllers. The hardware especially allows some interesting modulations and effects for creating cool movements and textures in the sound. 
Key Features:
Step Sequencer
You can record the steps live by playing one-shots in a drum pattern, or you can map the sounds chromatically on the buttons, such that they act as a keyboard. When you hit the play button, the timeline moves across sixteen different steps, wherein you can record the sounds in the steps and multiple pages to it. However, the monophonic sample tracks could be limiting.
Conditional triggers
You can edit on a step-by-step basis based on how likely the note will play by setting its probability. Apart from that, you can set conditions for the note to play. For example, you can set the note to play only the first time the sequence loops through, not the second.
Time stretching
Digitakt allows you to time stretch your loops and samples, so you can set, for example, a four-bar loop to an eight-bar loop or change the tempo of the loop to fit the tempo of the track or session. In addition, it allows you to change the length and scale of the loop/sample.
Sequence external gears
We cannot load samples on the second row of buttons in the sampler, as they accept polyphonic MIDI input only, so you can connect an external synth or instrument to it to record its data/sound into the sampler and sequence it using Digitakt.
Character & Sound:
The in-built drum samples are punchy, warm, and versatile and can be easily tweaked using the in-built effects, which can further enhance the sounds to be more hard-hitting and warm. As a drum machine, you can create great grooves and bass-line on it, and using it with an external device, you can sequence patterns, arpeggios, etc., and get creative with your beats. 
Pros:
The device is cut out for real-time performance and variations, as its sampling engine is great for artistic sound design and MIDI sequencing features. The next big pro is its compact packaging, which claims various features in a small portable box. The encoders, buttons, and all other controls give huge scope for sound shaping and manipulation. 
Cons: 
There's friction associated with making beats on the Digitakt, as it may take time to load a sample and create problems. Secondly, the sample tracks don't allow polyphonic sounds, which is a huge bummer. Lastly, using buttons instead of pads could create performance issues, as pads are more appropriate for recording expressive playing. Overall, the traditional groove-box sampler may not work for everyone in 2023. 
Choose If:
You don't mind the outdated monophonic sampling used in the sampler because otherwise, it's an intuitive, inspiring, and fun device. Especially the sonic shaping and sequencing features are great in it, as it also allows you to sequence other synths.
Hence, if you're a designer, especially for game sound, it's a good idea to consider the Elektron Digitakt. However, as it has only 64MB of sample memory and 1GB+ of Drive Sound Library, ensure that you have samples in a separate storage device.  
5. Akai Professional MPC One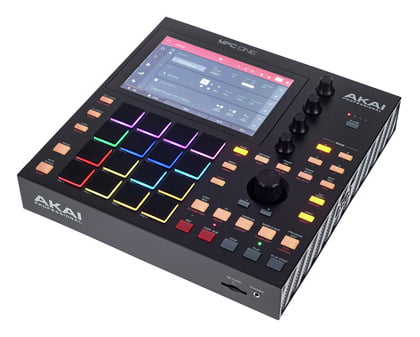 MPC One by Akai is a standalone hardware sampler and sequencer with software integration and a MIDI device.
It is a sampling workstation with a seven-inch multi-touch screen, 16 Velocity-/Pressure-sensitive Pads, Extensive Control I/O, 4GB Storage, and MPC 2.0 Internal Software. In addition, it has a Powerful Multicore System from the MPC Live II and MPC X, which makes it an optimized and powerful machine.
The machine has great pre-installed sounds, including many good-quality samples and loops. Additional sounds can be added using the USB or SD card connectivity, as it has 4 GB of internal storage. On top of that, instrument plugins like Electric, Tubesynth, Bassline, and multiple FX plugins for mixing-mastering by AIR are also preloaded in the sampler.
Key Features:
Standalone
The MPC doesn't require any computer and can be played as a standalone instrument, making it great for studio and live performances. On stage, you can use it to play loops, trigger samples, sequence your arrangements in a single device, and play any sampled instrument chromatically using soft and velocity-sensitive pads. However, Mac & PC Controller for MPC Software are available if you want to use it with the DAW in a computer.
Easy Connectivity
It can be connected to other synthesizers, sound generators, and drum machines and is flexible enough to fit into your existing workflow. It has line-level inputs and outputs, four CV/Gate jacks with Eurorack modular synthesizers, MIDI I/O, USB input, an SD card reader, and eight output slots.
Workflow
Each pad can be assigned any sample, with a tonne of parameters you can edit in the program. In addition, you can have up to four effects on each pad. Also, using the key group programs, you can play the pads in chromatic order. Also, on each pad, we can have up to four different sounds layered, so the same pad triggers multiple samples.
User interface
The device's learning curve is steep, primarily because the entire interface of a typical DAW is crammed into a single box, which gives you great flexibility and features but also creates complexity.
Character & Sound:
As it packs the capabilities of MPC Live and X, sonically, it sounds like that, with high-quality samples, especially for kick and bass. There's a huge difference in sound when you use the same sample with MPC and in the DAW. You can use the AIR effects like reverb, EQ, distortion, etc., to shape the sonic aspect of the instrument.
Pros:
The MPC One has many controllers, pads, buttons, and comprehensive standalone capability. Akai has done a great job packaging a DAW in this machine, but the control mode allows you to host it on a PC or Mac. The connectivity is great, pre-loaded samples are high quality and cover multiple genres, the build is of good grade, and it's a highly playable instrument. The factory effects and virtual instruments are great!
Cons: 
It has no internal battery and cannot play without an electric source. Furthermore, the hardware cannot take input from a guitar or mic, compromising its playability and recording capabilities. Lastly, the interface and the workflow require time to get used to, especially if you have never used a hardware sampler or a DAW.
Choose If:
You're looking for an affordable instrument that you could use for live finger drumming, or any performance, as you can sequence entire arrangements on it, and it can also be connected with different setups. For music production purposes in the studio, it may be a bit complicated, but the sampler is great, especially for hip-hop and electronic music, and it gives you sufficient capabilities and scope to express yourself and create music.
6. Polyend Tracker
Tracker is a standalone polysynth groove box based on the 80s grid-based sequencing and sampling workflow. 
It's a digital sampling workstation with a 12 x 8-pad grid, which sequences events from top to bottom, giving you more space to monitor the events in every step instead of left-to-right sequenced events on a piano roll or a row of steps.
So, for example, in the Polyend device, the first blue column contains information about the Note, the second row, which is yellow-coloured, gives information about the instrument, and then there are effects in the subsequent columns. 
You can choose instruments from a pool of 48 samples or the wavetable or granular synths so that every step can play different types of sounds. Also, effects in Trackers contain automation information and other data, not just effects. Hence, that is the unique workflow of the instrument.
Key Features:
Connectivity
Tracker is powered via USB-C but doesn't have an internal battery. You can use the USB to transfer MIDI data and audio files, but you cannot record any instruments. Further, there's a MIDI i/o connectivity and TRS-A input. Lastly, there's an FM radio built into it, and you can import samples into the hardware via an SD Card or a USB device.

Synthesis


You can load up any sample or a wavetable into the synth and then select a wavetable position, to which you can apply modulations like LFOs to create interesting sounds. Further, you can add more effects and processing to get better sounds. Similarly, you can also use an in-built granulizer in the machine.

Sampling modes


Sampling modes like 1-shot, forward loop, backward loop, ping-pong loop, and slice let you manipulate and play around with the samples and increase sound design possibilities. For example, the slice mode lets you add slices in a loop, assign them to pads, and play them.
Character & Sound:
The sampler sounds digital because of its overall design and workflow taken from the Amiga computers and is great for creating sound design & music for games, eight-bit sounds, and more. In addition, you can use the wavetable and granular features to add some analog texture & warmth to the sounds.  
Pros:
The build quality is great, with comprehensive tools for manipulating, editing, slicing, stretching, and adding effects to the samples. The interface is well-thought-out and designed to make its workflow less complicated. Overall, it gives a good ROI, based on the value it provides in terms of quality and design & interface looks stunning and gives a high-end feel.
Cons:
The Tracker could have had at least 16 tracks, a larger screen, an internal battery, a longer total-sample size, faster load times, a touch-screen, a built-in battery and speaker, and Bluetooth for audio output. Also, there are no time-stretching or pitch-shifting options for the loops/samples. Finally, the interface may take a while to understand for those unfamiliar with the Tracker or Amiga workflow.  
Choose If:
You're interested in the track-style spreadsheet interface because the workflow is quite offbeat and different from other samplers. However, it's intuitive and can be learned with time, as it does have some convenient features that aren't present in the regular samplers. For example, the ease of selecting & previewing sections, copy-pasting information from multiple tracks to anywhere else, and more such features are pretty useful and are not available anywhere else. 
7. Elektron Octatrack MKII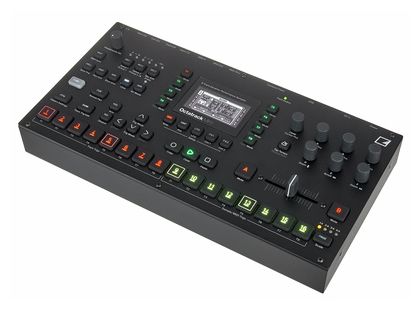 Octatrack MKII is a performance sequencer and sampler. 
It packs eight stereo audio tracks, eight dedicated MIDI tracks, real-time sample stretching and pitch shifting, and an extensive sequencer. In addition, performance-based hardware has good quality backlit buttons, accurate high-resolution encoders, crossfader buttons dedicated to various functions, high headroom, and an OLED screen.  
Key Features:
Comprehensive Modulations
There are three LFOs available for each track, along with an LFO designer, with an etch-a-sketch type workflow plus smoothing, customizable wave-shaping features that you can apply to external & internal audios, and MIDI.
Effects
You can apply two insert effects on each track and choose from various effects like reverb, filters, EQ, compression, and more. You can sonically shape your sounds and samples with lo-fi, flanger, phaser, delay, chorus, and more effects.

Other features


You can use conditional triggers to sequence interesting performances, and you have powerful features like micro-timing adjustments, retrigger capabilities, flexible scale, timing controls, and more at your disposal.
Character & Sound:
You get a bundle of 5 GB of free sounds, consisting of loops and one-shots by Origin Sound, Loopmasters, Sample Magic, and Samples from Mars, that can inspire some great work. The effects, modulations, sequencing, and sample manipulation options make up a versatile soundscape so that you can create various genres of music.
Overall, the drum samples are punchy, the melodic sounds are warm & atmospheric, and the percussions are innovative and inspiring. 
Pros:
Apart from being a sampler, it could be used as a compact mixing and effects rack, as you can input audio and MIDI signals into it using its stereo inputs. In addition, the sequencing on the device is butter-smooth and has extensive options to repeat, mute, loop, and apply various jump commands to the sounds. The buttons, screen, and rotaries complement the workflow. 
Cons: 
The sampling instrument lacks bridging compatibility or USB MIDI sync, the screen is too small, and there's a lack of connectivity with this piece of hardware. In addition, there are no pads available for finger drumming, so you'd have to use the buttons. Lastly, its workflow is old, and the only thing is stopping it from losing it to its competitor. 
Choose If:
You're looking for a device that is equally great in sequencing and sampling, and you have used a hardware sampler before, as it takes some time to get used to its workflow. Also, if you want a hardware device to sequence your synths, along with acting as a drum machine, Elektron Octatrack MKII is what you should go for.  
8. Akai Professional MPC Live II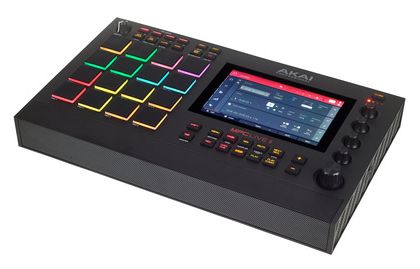 AKAI MPC II is a standalone hardware sampler full of capabilities, inspiration, and fun.
The live beat-making on the instrument is easy, and it takes no time to create interesting, expressive, and sonically high-quality beats. The quantized features, note repetitions, etc., make the workflow and the process easier and more user-friendly. With well-built buttons, a highly functional touch screen, in-built speakers, and loaded features on the controllers, it's a great standalone tool. 
Key Features:
In-built speakers for monitoring
MPC Live II has switchable inbuilt stereo monitors for auditioning everything from 808s to the top end of the hi-hats, with depth and stereo separation

. These internal speakers, combined with the six hours of battery life, make this an extremely portable device and make up for instant use at the time of inspiration.

Touch-screen


Its high-definition multi-touchscreen is of high utility, so you can seamlessly produce, create, and edit your productions, for example, by swiping across the scene, adding or editing MIDI notes by touching at the sequencers, pinching and zooming into the samples' waveforms to edit them, and more.
Key function buttons
The key function buttons can optimize your workflow using note modes, quantize, step sequencer, grid edit, automation, sampler, sample edit, and XY effects. The touch pads are velocity-sensitive, pressure-sensitive, and RGB and can be used to create beats and perform. Further, you can use the knob to control the parameters within the plugins or the hardware and record automation.
Connectivity
8 C/V gate outputs allow you to connect and sequence modular racks, completely standalone, inside MPC. Furthermore, the SD Card Reader and USB 3 connectivity make sit easier for you to access or import samples from an external source.
Further, the WiFi and Bluetooth increase its scope of connectivity, by which we could use Splice libraries inside the sampler, use protocols like Abelton link, or control Abelton LIVE via the MPC Live II by using the live control mode. Further, there are stereo instrument inputs, switchable phono inputs, 2 MIDI i/o, and six different outputs.
Character & Sound:
Within the MPC Live II sits synths like Tubesynths, Model D, High arp, Cv D, and many other high-quality virtual instruments of different types, from analogue-sounding instruments to digital-sounding eight-bit sound devices. The 16 GB sound library is comprehensive and self-sufficient in creating music of various electronic genres.
Pros:
A huge pro is the 16 GB of pre-loaded content produced by industry-leading music producers and sound designers, like Decap, Raw cuts, MSX Audio, F9 Audio, and more. In addition, the F9 instrument expansion features over a hundred sample-based instruments and the sonic boom expansion features over 200 brand-new drum kits.
Further, some pros are the connectivity, versatility, ease of use, speakers, touch screen, and loads of beat-creation features. 
Cons: 
There are only two audio inputs, so it'd be great if an external audio interface could be connected via the USB for expanded audio inputs, so you can record tracks using multiple instruments and effects. Further, AKAI could have included the concept of scenes in the machine to help with the arrangements. Apart from that, it's a good value for money. 
Choose If:
You want a device with a good and interactive touch screen to chop, manipulate, and edit samples easily. Like every other sampling device, it takes time to get used to but has a great workflow, as you use it as a standalone production and sound design tool.
It doesn't have the expansive sound engine and instrument libraries of Native Instruments, but it does have a great workflow, good price point, and portability; those are important parameters for you to consider. 
9. 1010music blackbox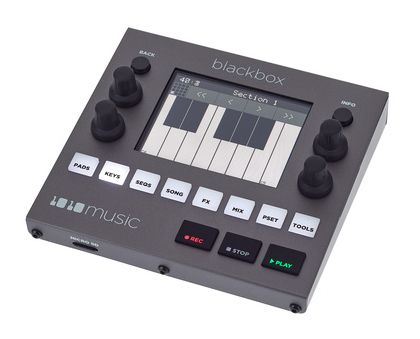 1010music BlackBox is a compact sampling device with interactive touch screen navigation and control. 
You can connect it with synths, drum machines, and other tabletop devices to record hours of audio and loops from them and arrange & slice sequences using its built-in synchronization. You can also use it to perform your arrangements live and trigger samples in real-time. You can use the eight navigation buttons to move between the main functional screens.
Key Features:
The info button
You can look into different sounds and samples by going to the "pads" and getting access to properties like their waveform, editing them, using the info button, and going back and forth between screens using the back and info buttons.
Easy communication
Despite its relatively compact size, it has plenty of scope for connectivity, with MIDI in and out, TRS, CLOCK in and out, eight mono/4 stereo outputs, and a USB MIDI host jack, which means you can connect and power MIDI devices directly without going through a separate USB hub or MIDI host device. Lastly, to save and load samples, there's an SD Card slot available in the machine.
Character & Sound:
There are flexible audio playback options that you can use to load any samples, loops, or sounds. It's not a great device to program synths or other melodic elements; however, you can connect it with external instruments or synthesizers to record and sequence a huge range of sounds.
It doesn't have any specific sonic characteristics, as it is primarily a sampler, but its good connectivity can open its horizon and scope. 
Pros:
You can use BlackBox for sampling, looping, slicing, time-stretching, sequencing, multi-timbre polyphony, etc., which makes it a highly functioning machine, but the pro is that it does all of that in a simplified workflow without creating many complications.
It's rare to find such features in such an accessible way. In addition, the Abelton Live style grid-based loop launching and sequencing are flexible and intuitive as a music creation device. Lastly, it's very easy to merge sounds from a couple of pads using re-sampling to another pad.
Cons: 
It sends and accepts audio at your rack level, so you need a mixer to attenuate the audio coming out. Touch screen pads may not be as responsive as velocity-sensitive physical pads.
Another huge con is that there are only two effects: delay and reverb; hence, you need another device to add more effects. Finally, there are only sixteen slots for sampling, and finger-drumming on a small screen can take time to get used to. 
Choose If:
You're into generative soundscape or polyrhythmic sequencing, as it's a great box for intuitively importing, manipulating, and sequencing/playing samples. The screen is relatively smaller if you have an external device like a keyboard or any MIDI device that you can connect with the BlackBox. Lastly, the sampling time is optimized and effective. 
10. Korg Volca Sample 2 Digital Sample Sequencer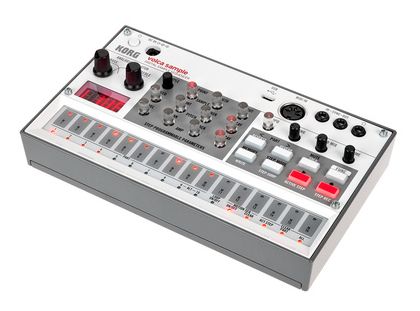 Korg Volca Sample 2 is an easy-to-use, portable, and versatile sampler & drum machine with capabilities beyond just sampling. 
You can add and manipulate different samples and sounds in it flexibly and intuitively. Compared to Volca beats, it is not as analogue, and beat-making/drum programming focused. Instead, you change the samples on each pad by rotating a knob and browsing through a bunch of cool sounds, from drum samples to melodic sounds. You have controls over speed, filter, attack, and decay for pitch and amplitude, pan, and more. You can also stretch samples by manipulating their decay or speeding them up.
Key Features:
Additional effects for sonic shaping and expression
The machine has a great-sounding reverb that you can assign to different elements in your beats and add a sense of room and ambience to your loops/beats/grooves.
Secondly, the swing control is great for adding more human touch, funkiness, and a twist to your rhythms. Further, you can play around with filters, envelopes, and other audio manipulation tools to sonically shape and re-imagine your samples.
Compactness
Korg Volca Sample 2 is just 8 inches wide and weighs less than a pound, which makes it highly portable, as it could literally be slipped into a backpack. Additionally, within the small setup, it carries decent functionality.
Character & Sound:
It sounds fairly digital and is primarily for electronic music production, especially drums and bass. You can add any samples from any genre to it via USB, but the sampling architecture allows for groovy and experimental electronic sounds.  
Pros:
Apart from its portability, its interface is simple and smooth to use, can also be used by a newbie, and is probably the only beginner-friendly hardware sampler on the list. The in-built samples are decent quality, and in terms of connectivity, you have MIDI IN, a USB, a SYNC i/o, a headphones jack, and more. The analogue isolator is an interesting feature that can apply analogue textures to your sounds.  
Cons: 
Being a pocket-sized sampler with decent memory, connectivity, and sample management, it is good for flexible music programming but is not versatile. In addition, it doesn't have the capabilities of a multi-purpose sampling device. Lastly, Korg does not include a USB lead in the package.  
Choose If:
You want to create innovative and interesting sounds, for example, French electro, LoFi, Japanese Pop, 80s Retro pop, and more genres can be created using Volca Sample 2, as it is a fun, easy, and inspiring tool to use, with ease of connectivity, the good quality sound engine, and creative modulation & sound design capabilities, especially for grooves and bass. 
11. Akai Professional Force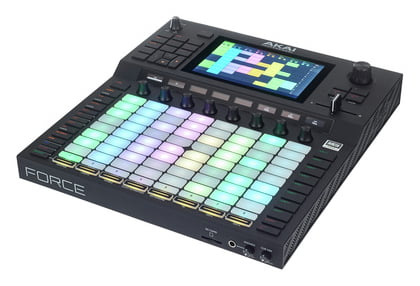 AKAI Professional Force is a standalone sampling tool for producing tracks, remixing and creating mashups, live looping, and more. 
With an 8 x 8 clip launch matrix with RGB lights and a 7-inch full-colour capacitive multitouch display, the workflow on the Force is easy to follow. There are buttons for navigating through the sounds, samples, in-built instruments, and effects including play, stop, rec, solo, mute, tap-tempo, clip stop, navigational arrows, eight knobs for browsing through, and more. 
It has four built-in synth engines, clip launching, step sequencing, and even DJ functionality, making it a good end-to-end standalone workstation, which could function well even without a computer but can also be linked to Abelton Live and increase the scope of its functionality. 
Key Features:
Recording capabilities
You can record guitars, vocals, or any instruments or samples, via the audio inputs, apart from importing samples from external storage devices.
In addition, with real-time time stretch algorithms and automatic tempo detection, you can easily sync recordings, samples, stems, and loops. So whether you're creating an entire song, mashup, a remix, or just a beat, you can do it all with the standalone capabilities of Force.
Multiple Synth Engines
AIR Music technology has contributed greatly with four unique synth engines, with great capability of producing plucks, bass, stabs, strings, pads, soundscapes, effects, and more, which can be performed in real-time using the expressive controllers (knobs and velocity & touch-sensitive pads).
Character & Sound:
You can add up to four effects on each pad, and the effect plugins include distortion, reverb, compressor, and more effects by AIR. The range of synthesizers is huge, and there are loads of thick, punchy, and warm samples of different genres in the factory sound library of the sampler. 
Pros:
It has 10 GB of sound, can import external samples from an SD Card/USB drive, and has 360-degree rotary encoders that feature OLED feedback. Another huge pro is its compatibility with Ableton Live, synthesizers, and other MIDI devices, due to its CV/Gate and MIDI I/O.
The best part is the comprehensive DAW capabilities it displays, especially the touchscreen and knobs that allow you to draw and edit automation and program notes, arrangements, and more. It also has an onboard arpeggiator, and you get access to intelligent chord, progression, and scale options using the Note mode.  
Cons: 
Force looks intimidating at first glance and has a steep learning curve; hence not a beginner-friendly tool. As it clams up many features in a single device, it could get messy and complicated. Knobs for some parameters (like the cutoff frequency) have an unusual response and are not linear. Lastly, there are some noticeable lags in the computer mode. 
Choose If:
You're looking for a device that helps you with beat-making and complements your DAW. It's also great for virtual concerts and performances, where you have to perform your sets and route your audio to zoom, Instagram Live, etc. Overall, it could enhance your creative process and help you get better at music production.
12. Roland SP-404MKII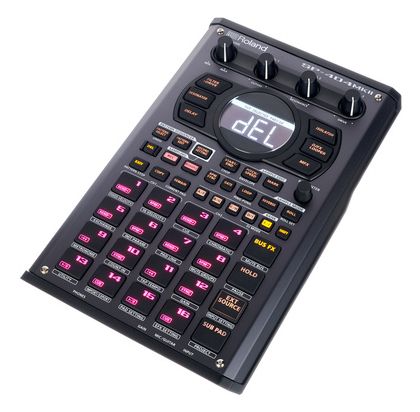 The Roland SP-404 MKII is a sampling beast for nerds & performers.  
It is a sampler with two quarter-inch inputs in the back, a mic and instrument input in the front, a switch to choose between the two, and a gain knob. You can sample audio and store samples on it, as it has 16 GB of storage for storing loops, one-shots, and even complete songs. For more memory and communication, you can use its SD card slot. 
There are ten sound banks, and you can have up to sixteen samples per bank, each of which can be played on the velocity-sensitivity pads numbered 1-16. In addition, the chromatic mode allows you to play notes/chords chromatically, and you can also have multi-samples per pad. Finally, the hardware can also be used as an effects machine, as you can apply 37 internal and 16 input effects to external audio. 
Key Features:
Sequencing & Pattern performance
The 16 pads can be used as a sample sequencer, on which you can store up to 16 patterns across ten banks. Hence, you can launch patterns by hitting one pad, and queue another pattern by another, so the next pattern plays only four bars after the first pattern is played. That way, you can play and trigger live arrangements and perform music on the go.
Sample playback
The samples can be pitched up and down by semi-tones or octaves or by using chromatic pads. Further, you can use the gate to use only a single shot of the sample, loop mode will loop the sample, and ping-pong will back and forth the loop by reversing it on the second repeat.
You can apply volume ADSR to the samples/loops to adjust their envelope. The pad link groups allow pads to be linked, which will trigger multiple pads on the press of a single pad. There are also mute groups, so if you play one sample on top of another, the first one gets choked or muted. Similarly, there are multiple ways to manipulate and trigger samples and make your performances & workflow smoother and easier.
Pitch and Speed changes
The samples can have adjustable speeds, so you can change their BPMs or fit them to the BPM of your session. The time-stretch or speed algorithm is smooth, free of artefacts, and can be used in Vinyl mode. You can also easily change the pitch of the samples and loops.
Character & Sound:
You can add new flavours to your sounds with plenty of effects. Chopping, manipulating, stretching, changing the ADSR, and other sampling tools are great for sonically shaping your samples to your taste and sensibilities.
In terms of sampling, it's flexible and highly functional, as you can make creative sounds and movements. In addition, sequencing modes, phasing loops, and chords & scales settings help musicians perform. 
Pros:
The machine has plenty of shortcuts to ease your workflow and make your process smoother. The DJ mode is a huge pro as it converts the SP-404 MKII into a simplified DJ machine, which lets you control your mixes.
Further, the 6 AA batteries last 2-3 hours, which makes it reliable for carrying around and using it for immediate inspiration; besides, you can power it over a USB-C. Also, the graphical display is great for real-time visual monitoring. It can also be used as an audio interface with two input channels, including input effects and four-channel outputs. 
Cons:
The original SP also had a built-in microphone. However, this one does not have that. The pads are velocity-sensitive but not pressure-sensitive, which is a limitation on recording or performing expressive playing. The interface does not always clear how to navigate certain pages or menus, and buttons and knob naming can mislead you. So it's not as straightforward as one would like it to be and can be more intuitive.  
Choose If:
You're a DJ/beatmaker and do live looping and performances. It's also a great tool if you're looking for a multi-purpose device but used primarily as a sampler.
Its sampling capabilities are unparalleled, but the workflow is questionable, as it has a steep learning curve. However, if you're willing to give it the time and attention, it has plenty of features you can utilize, take advantage of and add to your workflow.  
Bonus: Sampler for DJs
Pioneer DJ DJS-1000
The DJS-1000 by Pioneer is a standalone DJ Sampler for performing musicians/producers and DJs.
It has sixteen colourful velocity-sensitivity performance pads, which allow you to trigger samples and replicate real-drum performance at your fingertips. There's also a multi-coloured step sequencer to allow you to trigger patterns/sequences/samples loaded into each pad in real-time, and you can extend your sequences or patterns up to 4 bars. 
Key Features:
Slider Modes
The Slider modes include pitch which lets you pitch-bend your samples, repeat, which lets you add rolls at different rhythms to your drum sounds, and two customizable user modes from all creative options. That gives you more control over your sounds.
The seven-inch touch screen
It has a responsive touch screen with three modes: home, sequence, and mixer. The home screen lets you have an overview, the sequence screen lets you monitor and program the time sequences of the samples, and the mixer screen lets you balance the individual sounds or samples.

Connectivity


It has an RCA or quarter-inch jack output and headphones out for previewing the audio. The link allows you to connect via the pro DJ link to the Nexus range of equipment, so you can sync the sampler with a range of CDJ equipment and mixers from Pioneer to keep your performance intact. The quarter-inch input allows you to route synths, instruments, and more devices.
Character & Sound:
It comes packed with high-quality sample packs of varying genres from Loopmasters in its internal memory. So many loops and patterns are pre-loaded, which you can change or adjust to your needs or rebuild from scratch.
Sound editing and sample manipulation are convenient as any parameter like pitch, start, attack time, release time, trigger mode, and more can be adjusted easily. The performance effects, including the high pass filter, low pass filter, dub echo, pitch echo, lo-fi, and more, are also great!
Pros:
The biggest pro of the device is its ease of use and beginner-friendly interface, good-quality samples, controllers of decent build and response, connectivity, and colourful layout. As a DJ sampler, it fulfils the demands exactly how it's required to, nothing more and nothing less. Sync, sequencing, and sampling features are sufficiently designed and also well-displayed. 
Cons: 
There's no option to add a reverb effect to the tracks, a non-compromisable setting for sounds. Further, there's nothing new about the DJS-1000, as it's a generic DJ-based drum machine with decent sampling capabilities. Lastly, it's a bit over the place and not very streamlined and organized regarding the controllers.  
Choose If:
 Suppose you're a club or touring DJ/producer who wants to expand his/her/their set by adding live performance and looping elements. The hardware is intuitive and beginner friendly, even if you don't have much experience with music production. Further, the well-designed GUI keeps all important features and settings accessible. 
Conclusion
Many hardware samplers in the market vary based on their functionalities, features, interface, sounds, and target audience. We have covered sampling equipment for every need. However, there are only very few beginner-friendly hardware samplers that also serve great utility.
Apart from the Korg Volca 2 and DJS-1000, no hardware sampler is recommended for a complete beginner. Some experience in beat-making and music knowledge is a prerequisite. However, if you're looking for a sampler that can also fulfil some synths-based functions, go for the Roland Verselab MV-1, or you can also use the Octatrack MV-2 if you want a sequence or drum machine to use along with synthesizer(s).
The most comprehensive sampling machines are the Maschine MK3, MPC One, MPC Live-II, and the Roland SP-404MKII, as they offer a good value for their price. Hope this article is of help to you. Thank you for reading. 
Readings that you may like: 
Other Recommended Gear:
Top 12 NearField Studio Monitors On Any Budget
Top 10 Midfield Studio Monitors For Home Recording
Best Biggest Studio Monitors (FarField Monitors)
Top 10 Guitar Pickups for Low Tunings 
Top 10 Analog Compressors For Mixing & Mastering (On Any Budget)
Top 12 USB Audio Interfaces Under 150$, 200$, 300$ 400$ (Any Budget)
Top 12 Hardware Equalizers (Analog EQs For Mixing & Mastering)
Top 6 Analog Hardware Limiters 
Top 6 Solid State Bass Amps (On Any Budget)
Top 6 Ribbon Mics On Any Budget (For Vocals, Drums & Guitars)
Top 6 Cheap Dynamic Mics For Vocals Under 50$, 100$, 200$ & 300$
Top 6 Chorus Guitar Pedals (On Any Budget)
6 Best 61-Key MIDI Keyboards (On Any Budget)
9 Best 49-Key MIDI Keyboards Under 100$ & 200$
Top 5 Best 25 Key MIDI Keyboards (On Any Budget)
Top 12 Acoustic Drums (Best Kits/Sets On Any Budget)
Plugin Roundups:
Genre Focused:
Top 10 EDM Plugins  (And 10 Best FREE Plugins For EDM)
Top 10 Plugins For TRAP Beats (And 5 Best FREE Trap Plugins)
20 Best Plugins For Rock Musicians (+ 6 FREE Plugins)
Top 14 Trance Plugins (Uplifting, Tech, Progressive, Vocal, Dream, Hard)
Top 10 GOA & PsyTrance Plugins (Best Psychedelic Trance Tools)
Top 7 Plugins For Dubstep (With 10 Best FREE Effects & Synths)
Top 20 Synthwave Plugins (+ 11 Best FREE Plugins)
Top 15 Plugins For Techno, House, Electro, Tech House, UK Garage
Top 6 Plugins For Latin Music  (And 4 FREE Tools)
Top 12 Plugins For Hip-Hop (+ Best Kontakt Libraries)
Top 7 Plugins For Game & Film Scoring  (+ 6 Best Kontakt Libraries)
Top 10 R&B And Pop Music Plugins & KONTAKT Libraries 
30 Best Free Plugins For DnB, EDM, IDM & Experimental Music 
EQ Plugins
Top 12 Free EQ Plugins For Precise Mixing & Mastering
Top 9 Mid/Side EQ Plugins  For Mixing & Mastering (+ 2 Free Tools)
Top 7 Graphic EQ Plugins  (With 3 Best Free EQs)
Top 7 EQ Plugins For Mastering In | And Best FREE Mastering EQs
Top 6 Passive EQ Plugins (Klevgrand, SPL, UAD, Waves, IK Multimedia)
Top 11 Plugins For Making Metal (Best Guitars, Drums & Effects)
Metering:
Top 5 Audio Metering Plugins (LUFS, RMS, LRA, True Peak)
Top 6 Spectrum Analyzer Plugins  – Spectral Analysis Tools
Top 6 Oscilloscope Plugins To See The Waveforms
Top 5 Key Detection Plugins & Software  (+ Best FREE App)
Kontakt Libraries
20 Best Kontakt Libraries For All Categories (Synths, Drums, Vocals)
Top 7 Drum Libraries For KONTAKT (And 4 Freebies)
Top 7 Trap Music Kontakt Libraries (And Best Lo-Fi Kontakt Library)
Top 7 Metal & Rock Kontakt Libraries (Best Guitars & Drums)
Top 10 Guitar Libraries For Kontakt (Acoustic, Electric, Bass & Freebies)
Top 7 Trailer Scoring Plugins & Kontakt Libraries 
20 Best Free KONTAKT Libraries For Various Instruments
Top 9 Piano Kontakt Sample Libraries  (And 5 Best Free Pianos)
Top 10 Percussion KONTAKT Libraries  (And 3 Freebies)
Top 7 Kontakt Libraries For Horror & Thriller Scoring (No VSTs)
Audio Restoration, Calibration & Utility:
Top 6 Noise Reduction Plugins (And 3 Best Free Tools)
6 Best Audio Restoration Plugins & Software 
Top 7 Phase Alignment Plugins To Fix Your Bass & Drums
Top 10 Room Calibration & Headphones/Speakers Correction Plugins 
Instrument Plugins: 
Top 6 Vocoder Plugins (Effects & Synths + FREE Vocoder)
11 Best Rhodes VST Plugins (AND 5 Free Rhodes Plugins)
Top 12 Randomizer Plugins Including FREE Plugins
Top 6 Kick Drum Plugins (Best Kick Designer Tools)
Top 12 Woodwind Plugins (And KONTAKT Libraries)
Top 10 Double Bass Plugins (Best Upright Basses)
Top 5 Strings VST Plugins (AND 4 Best Free Instruments)
Top 6 Sampler Plugins (And 3 Best FREE Plugins)
Top 6 Classical Guitar Plugins & Kontakt Libraries (And FREE Guitars)
Top 12 Sub Plugins (Best 808 & Bass Tools For Massive Low End)
Top 10 Plugins On PluginBoutique (And 7 Best Free Plugins)
Top 11 Plugins On Plugin Alliance 
Top 7 Acoustic Guitar Plugins (And 4 Best Kontakt Libraries)
9 Best Bass Guitar Plugins (And 2 Best Freebies)
Top 6 Electric Guitar Plugins (Best PAID & FREE Picks)
Top 10 Arpeggiator VST Plugins (Best Synths, MIDI Effects & Tools)
Top 10 Modular Synth Plugins (And 3 Best FREE Plugins)
Top 6 Choir Plugins & Sample Libraries (And 3 Best Free Plugins)
11 Best Percussion & Drum VST Plugins (And FREE Plugins)
Top 8 Piano Plugins (Best Sounding Pianos & 5 FREE Piano Plugins)
Top 6 Organ Plugins Ever Made  (And 3 Best Free Organs)
Top 14 VST Plugins For Beginners (And 9 FREE Plugins)
Top 9 Drum Machine Plugins (And Groovebox Plugins)
4 Best Banjo Plugins (Best Banjo Instruments)
The 5 Best Ukulele Plugins & Kontakt Libraries 
Top 13 Synth Plugins (And 5 Best FREE Synths Plugins)
Top 13 Sequencer Plugins  (Synth, MIDI & Step Sequencers)
The 10 Best Multi-Effect Plugins (And 3 Best Free Plugins)
Top 12 Plugin Bundles For Musicians (Synths, Mixing & Mastering)
Processing & Sound Design:
8 Best Lo-Fi Plugins (PAID & FREE)
Top 11 Plugins For Mixing Vocals  (For Home Studio)
Top 12 Saturation Plugins (Best Mixing & Mastering Tools)
Top 6 Pitch Shifter Plugins (And 3 Best FREE Pitch Shifters)
Top 6 Chorus VST Plugins For Musicians (And 3 FREE Plugins)
Top 6 Limiter Plugins For Precise Mastering & Mixing
The 8 Best Filter Plugins For Precise Cuts & Boosts (+ 5 Free Filters)
6 Best Autotune Plugins To Improve & Enhance Your Vocals
Top 10 Transient Shaper Plugins (VST, AU, AAX)
Top 7 Enhancer Plugins (For Bass, Drums, Vocals & Harmonics)
Top 6 Flanger Plugins (And 5 Best FREE Flanger Emulators)
Top 7 Phaser Plugins (And 3 Best FREE Phasers)
Top 10 Plugins For Mixing Drums (And 3 Best Free Plugins)
Top 7 Bitcrusher Plugins (And 4 Best FREE Bitcrushers + 3 Bonuses)
Top 6 Plugins For Voice-Over & Dialogue Cleaning (Post Production)
Top 10 Stereo Imaging Plugins (Best Old & Modern Picks)
Top 5 Multiband Limiter Plugins 
Top 7 De-Esser Plugins For Better Vocals (And 4 FREE Plugins)
Top 7 Clipper Plugins (Best Limiter Alternatives)
Top 6 Chord Generator Plugins That Inspire Melodies (+ FREE Tools)
7 Best Exciter Plugins For Mixing & Mastering
Top 7 Channel Strip Plugins (And 2 Best Free Plugins)
Top 11 Distortion Plugins (And 4 Top Free Plugins)
Top 5 Comb Filter & Resonator Plugins | Melda, Kilohearts, Tritik
The 7 Best Vibrato VST Plugins | Audec, Audiority, Melda
The 7 Best Tremolo Plugins | Eventide, Melda, SoundToys, Kuassa…
The 7 Best Harmonizer Plugins | Eventide, Melda, Aegean Music
7 Best Sidechain Plugins (VST, AU, AAX) | Xfer, Cableguys..
Top 10 Noise Gate Plugins (And 6 FREE Free Gate Tools)
The 6 Best Ring Modulator VST Plugins | KiloHearts, Melda
7 Best Autopan VST Plugins | CableGuys, Melda, Waves, Soundtoys
The 6 Best Frequency Shifter VST Plugins
Top 11 Granulizer Plugins For Future Sound Design
29 Best Sound Design VST Plugins
Compressor Plugins
Top 11 Free Compressor Plugins (VCA, Vari-Mu, FET, Digital)
Top 7 Multiband Compressor Plugins (And 4 FREE Plugins)
Top 5 Diode-Bridge Compressor Plugins 
Top 6 Mastering Chain Plugins: Complete VST Solutions 
The 7 Best VCA Compressor Plugins (VST, AU, AAX)
Top 11 Mastering Compressor Plugins (And 2 FREE Plugins)
Top 10 Opto Compressor Plugins For Transparent Sound
The 7 Best Vari-Mu Compressor Plugins (And 2 Best FREE Tools)
Reverb & Delay Plugins:
Top 12 Reverb Plugins (And 5 FREE Reverb Plugins)
The 6 Best Spring Reverb VST Plugins | AudioThing, GSi, u-he, Eventide
Top 12 Delay Plugins For Music Production In (VST, AU, AAX)
Top 10 FREE Delay Plugins (VST, AU, AAX)
The 10 Best Convolution Reverb Plugins 
Amps & Preamps:
Top 10 Guitar Amp Plugins (And 5 Best FREE Simulators)
Top 10 Bass Amp Plugins (And 5 Best Free Simulators)
Top 9 Preamp Plugins (For Vocals, Guitars & More!) + Free Preamps
Guitar/Amp Focused:
Can I Put Nylon Strings on a Steel-string Guitar?
Do Electric Guitars Sound Good Unplugged?
Buying Your First Guitar: 2 Things To Know
Are Tube Amps Worth It? (Tube vs Solid-State Amps)
How Often Does A Guitar Need a Setup?
Can I Play Classical Guitar On A Steel-String Guitar?
How often guitar necks need reset?
Can You Play Two Guitars Through One Amp?
Can a 6 String Bass Be Tuned Like A Guitar?
Can I leave My Guitar Tuned Down a Step? Yes, But Is It Safe?
Should I Learn 4, 5 Or 6 String Bass Guitar & Why?
How To Know If your Guitar Amp Is Broken?
How To Fix Distorted Bass Guitar Sound?
Do Fender Guitars Appreciate In Value?
Should You Put Stickers On A Bass Guitar?
How Acoustic And Electric Guitars Are Made?
Is Electric Guitar Too Loud for an Apartment?
Does a Preamp Improve Sound Quality?
If I Learn Acoustic Guitar Can I Play Electric Guitar?
How Many Hours A Day Should You Practice Bass Guitar?
Do I need an AMP/DAC To Run Bookshelf Speakers?
How to Record Electric Guitar Into Logic Pro X?
Do headphones get worse with age?
DAW Related:
Best DAWs For Musicians Available (With FREE DAWs)
What's The Most CPU Efficient DAW? – 5 DAWs Compared
How To Make Music Without Using A DAW?
Pro Tools Guide: How To Use AutoTune & Pitch Correction?
Ableton Review: Is It Worth The Money? (Cons & Pros)
Logic Pro X Review: Is It Worth It? (Cons & Pros)
How To Use Auto-tune & Pitch Correction In Cubase?
How To Fix Ableton Crackling, Crashing & Freezing? Step By Step
Plugin Related:
What Are Audio Plugins? Different Types of Plugins Explained
What Are The Best Tools To Develop VST Plugins & How Are They Made?
Cost of Developing Audio VST Plugin: Several Factors (With Table)
VST, VST, AU and AAX – What's The Difference? Plugin Formats Explained
Complete Guide To Noise Gate – What It Is, What It Does & How To Use It?
How To Clip My Drums? Here Is How & Audio Teasers (Before/After)
Complete Guide To Limiter: How To Use It (+ Best Plugins & Analog Limiters)
Mixing With Reverb: How To Add Life To Your Mixes
Linear Phase vs Minimum Phase EQ – Full Guide
Difference Between LUFS, RMS & True Peak Loudness Meters
How And When To Use Algorithmic And Convolution Reverb In Your Mix?
Difference Between Active EQ, Passive EQ and Dynamic EQ
Headphones & Studio Monitors:
Do headphones get worse with age?
Monitors vs Studio Headphones For Mixing & Mastering
Top 10 Room Calibration & Headphones/Speakers Correction Plugins 
Are Noise-Canceling Headphones Good For Music Production?
Can Headphones Break in Cold Weather?
Why do headphones & cables get sticky?
Can Wearing Headphones Cause Hair Loss?
How Do I know If My Studio Monitor Is Blown?
Side Effects Of Sleeping With Your Headphones On
Do You Need Music Amplifier For Studio Monitors or Studio Headphones?
Do Headphones or Earphones Damage Your Brain?
Can Headphones or Earphones cause Deafness or Toothache?
FarField, MidField & NearField Monitors – Their Uses, Pros & Cons
MIDI & Synths:
Should I Buy A MIDI Keyboard Or Synth? (Are Synths Worth It Anymore?)
Why Is Audio Gear So Expensive? (Especially Synths)
Top 12 Synth Brands – Analog, Digital & Modular Synth Manufacturers
11 Tips How To Choose MIDI Keyboard 
Should I Buy MIDI Controller Or Keyboard? Cons, Pros & Tips
Shaurya Bhatia, is an Indian Music Producer, Composer, Rapper & Performer, who goes by the stage name MC SNUB, and is also 1/2 of the Indian pop music duo, called "babyface". A certified Audio Engineer & Music Producer, and a practicing musician & rapper for more than 6 years, Shaurya has worked on projects of various genres and has also been a teaching faculty at Spin Gurus DJ Academy.