Today's article covers 12 of the very best Audio Mixers for streaming in 2023.
The article is loaded with information and highlights some absolutely fantastic Audio Mixer options from several of the most recognized companies to ever attribute to the world of Audio mixers as well as music in general, including Yamaha, Allen & Heath, Behringer, Zoom, Mackie, Rode, TC-Helicon, Razer, SSL (Solid State Logic), Alesis, and T-Mix, a brand by Thomann.
Commonly known as Sound Mixers or Mixing Consoles, Audio Mixers are electronic devices that combine, balance, and mix sounds, as the name suggests. Mixers host several connectivity ports, including several Input ports for connecting instruments, microphones, and synthesizers.
The number of features varies from Audio Mixer to Audio Mixer. Some factors to be considered include Inputs and Channels, Direct Inputs and Outputs, EQs, Effects and Processors, Routing and Buses.
This article aims at providing assistance. We've narrowed down the options to ease the decision-making process. All you need to do now is go over the article, and by the end, you'll be able to choose the one option, out of only a handful of incredible Audio Mixers, that best suits your needs.
The 12 Best Audio Mixers For Streaming 2023
1. Yamaha MG12 XU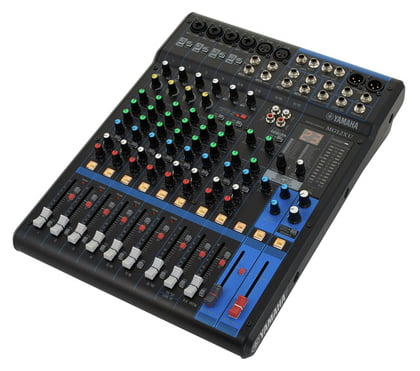 This offering by Yamaha packs quite a punch and has been made keeping convenience in mind.
Although Yamaha Corporation was founded in 1887, Yamaha International Corporation and Yamaha Corporation of America (YCA) were established in 1960. The YCA has been producing a wide variety of audio and musical equipment all over the USA.
Yamaha International Corporation has gained popularity by providing equipment globally. The company's product line includes Keyboards, Pianos, Strings, Bass Guitars, Electric Guitars, Percussions, Drums, Marching Instruments, Brass and Woodwind instruments.
Key Features:
Hardware
The unit features a solid build quality. The top panel features all the functionality. The exterior is black, and the color-coded knobs add color to the otherwise bland design. Every aspect of the device is sturdy and feels long-lasting. The connectivity ports have been neatly placed on the upper side of the top panel, whereas the Faders have been conveniently placed near the base of the panel for easy access. The device also features a small display panel which is a handy inclusion.

Channels: 1-4


The top of the device has been split into channels. The left side of the top features 4 vertical channels labeled '1,' '2,' '3,' and '4.' Each of the 4 channels has identical controls. From top to bottom, each channel starts with a 'Mic/ Line' Input followed by 2 buttons for 'PAD/ 26dB' and 'HPF/ 80Hz'. The channels then slope down, allowing a clear view of the channel numbers. We then see 8 dedicated control knobs.
Channels: 5/6, 7/8, 9/10 & 11/12
The 5/6 and 7/8 Channels start with independent Mono/Stereo Input jacks followed by quarter-inch 'Mic' jacks for channels 5 and 7 and 'Line' jacks (Unbalanced) for channels 6 and 8. You'll then find a 'Gain' control knob similarly placed as the 'Gain' control knob for the first 4 channels. Next, you'll see a single Phantom Power button with a dedicated LED light for both channels. Then you'll find 2 grey HPF 80Hz (Mic)' buttons for both channels.
Phasers
The device hosts 11 Phaser segments conveniently placed at the base of the top panel. 9 of the segments have a black background, whereas the last 2 have a blue background. The first 8 segments represent channels 1 to 12. The blue segment comprises a 'Stereo' segment and a 'Group 1-2' segment. The Stereo segment features a red slider, whereas the 'Group 1-2' segment also hosts a red 'ST' button.

Programs, Parameters, PFL, and Power


The device is equipped with 24 programs, which can be scrolled and selected using the program knob. The list of 24 programs is mentioned just above, followed by a display that shows the selected program. To the right of the Program knob is a 'Parameter' control knob.

Other Functionality


The device also has 2 AUX ports for 'Send,' labeled 'AUX1' and 'AUX2,' 2 quarter-inch jacks for 'Group Out, 2 quarter-inch jacks, and 2 larger jacks for 'Stereo Out,' 2 left and right jacks for 'Monitor,' a 'Foot Switch'/ 'FX On/Off' jack, and a 'Phones' jack. The unit also features 'Send Master' control knobs for 'AUX1' and 'AUX2', a 'Monitor Level' control knob, and a 'Phones' control knob.
Pros:
The device produces a crystal-clear sound. It features 12 Inputs and 2 different kinds of Outputs, including XLR and quarter-inch outputs. The phaser segment is placed so conveniently. The layout ensures the console is easy to understand and use.
Cons:
Users have pointed out that it would've been even more convenient if the volume control of the second input was also placed next to the other volume controls. For more connectivity options, people may instead go for Yamaha's MG16XU, MG20XU, or some other console.
2. Allen & Heath ZED-10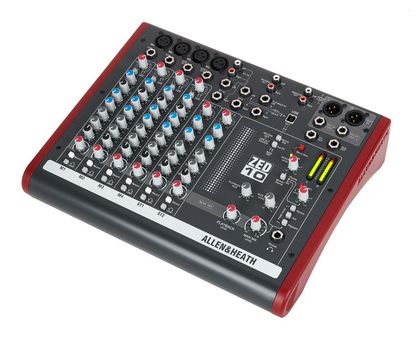 The ZED-10 unit from Allen & Heath has a wealth of options if you've got a small to medium-sized band setup.
The unit offers great portability, measuring around 3.7 inches by 13.2 inches by 10.8 inches. However, its smaller size is not something to judge it by, as the ZED-10 has all the necessary inputs, outputs, and controls you need at any given time.
This mixer has you covered with dedicated controls for four mono channels and a pair of stereo channels. Not only do you get ample inputs for mics, but you get line and guitar inputs as well. All this in a compact housing makes the ZED-10 surely worth checking out.
Key Features:
Mono Input Channels: Gain & HPF
The mono-input channels have the same layout with minor variations. Channels 1 & 2 come with an XLR input for a microphone and a quarter-inch line input. However, Channels 3 & 4 have XLR and Hi Z guitar inputs accompanying them. The column of controls is full of colorful knobs that perform various vital functions. The red "Gain" knob is common for both inputs and provides a range between +10dB and +60dB for the XLR jack and -10dB to +40dB for the line input.
Mono Input Channels: HF, Mid, LF
The "HF" or High-Frequency knob helps equalize the treble frequencies. The corner frequency is set to 12kHz, so by rotating the knob, the user can achieve a boost or cut of 15dB. The "LF" or Low-Frequency knob focuses on adjusting the bass frequencies by +/-15dB. The mid band has two available knobs; one chooses the frequency, and the other boosts or cuts by +/-15dB.
Mono Input Channels: FX, AUX, PAN
The "FX" knob controls the level of the "FX OUT" jack. Next to the FX output is the "AUX OUT" jack which can be adjusted using the Aux knob. If you need to change the panning of the audio signal, the "PAN" knob is just what you need. Keeping the knob centered will deliver equal parts from both the left and right channels.
Mono Input Channels: Level, Record, Listen
The bright red "Level" knob controls the signal level fed to the FX send control and Record bus. Below these are two soft buttons. The self-explanatory "Record" button records the signal present at the mono input and is directly affected by the Pan and Level controls. Finally, the "Listen" button helps toggle between the stereo monitors or headphones.
Stereo Input Channels
The two stereo inputs are also identical when it comes to the controls. The only difference is that while ST-2 has a pair of quarter-inch inputs, the ST-1 has an additional pair of RCA connectors that act as phono inputs for CD players and other audio devices. The rest of the controls are more or less the same as those found on the Mono channels. You get a Gain knob and Hi-Pass Filter here as well. The HF and LF filters are also present to cut or boost the highs and the lows, respectively.
Master Section
Apart from all the mono and stereo channel controls, there's a cluster of buttons and knobs in the master section. You'll find here a 48V phantom power button to supply power to the XLR mic inputs. Below this is the "Monitor Level" that controls the volume of the stereo monitors. The nearby "Monitor Source" button helps decide whether the monitoring is to be done through the headphones or the studio monitors. You'll also find knobs to control the Aux Mix and Main Mix Level.
Pros:
One of the biggest positives about the ZED-10 is its compact presence, making it extra portable. Also, with all the available channels, you can connect any combination of mics, guitars, and line instruments. The built-in phantom power feature is always handy, and the plethora of I/O options in such an affordable unit are hard to come by.
Cons:
The suitability of the ZED-10 depends purely on your current setup and future ambitions. Ideal for small bands or solo artists, the unit is not built for more demanding setups. If you're looking to step up your game and have more connectivity options at your disposal, perhaps this Allen & Heath mixer isn't the best option.
3. Allen & Heath Xone:92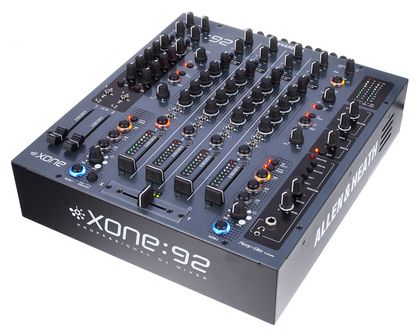 This analog mixing console from Allen & Heath produces very warm and rich vinyl tones.
Allen & Heath was founded in 1969 and is considered one of the first British. The company initially built each of its mixers by hand and quickly established itself on the swing music scene by providing mixers to bands such as The Who, Pink Floyd, and Genesis.
Allen & Heath equipment is used worldwide by bands and independent Artists such as Bryan Ferry, Warpaint, Fifth Harmony, Above & Beyond, Soulwax, Zara Larson, At The Drive-in, Blue Man Group, Jamie Lawson, and Bullet For My Valentine.
Key Features:
Design and Layout
The console is built like a tank. The material used is also of the highest quality. The knobs, buttons, and sliders all feel firm and highly durable. When powered on, several bright LEDs light up to denote the settings. You'll also find subtle lights around the control knobs. The console otherwise appears quite dull, but it looks colorful once the lights are on. The device measures 3.5″ x 12.6″ x 14″ and weighs 13 lbs.
Top Panel – Controls
The top panel primarily focuses on the 4 channels, with 4 vertical lines of controls. Each line of controls is identical and features 2 Aux control knobs and PRE switches, a 'Phono/ Line' button, a small control knob for 'Level,' 4 control knobs for 'Hi,' 'Mid 1,' 'Mid 2,' and 'Lo,' 2 2-way switches for 'Filter' and 'Xfade,' a 'Cue' button, and a Slider bar. ­The Mix/ Monitor Meter shows 2 vertical strips of LED lights denoting the headphones monitor source level.
Rear Panel – Connectivity
You'll find caution, warning information, and the device's serial number at the top left and bottom left corners of the device's rear panel. From left to right, you'll find a handy 'power button' along with the 'power socket' and a 'Fuse.' Just above, a 'Midi' Output jack neighbors the 4 channel inputs ('Phono L & R' and 'Line L & R'). Under the ports for the 4 channels, you'll find 5 sets of 'Left' and 'Right' Jacks for 'Booth,' 'Mix1,' 'Mix2,' 'Record,' 'Aux 1,' and 'Aux 2.'
Pros:
The console has a solid build, and every touch ensures durability. It produces a warm and rich sound. You get 4 channels on the device with 4 EQ control knobs (Low, Mid-Low, High-Mid, and High) instead of the usual 3 (Low, Mid, and High). It has separate levels for each Aux.
Cons:
This Allen & Heath console is on the higher side of the spectrum, although it packs excellent value. The device has great functionality but is heavy. You'll get 4 Channels on this device. You should look elsewhere if you want more or prefer a smaller unit with less functionality.
4. Behringer Flow 8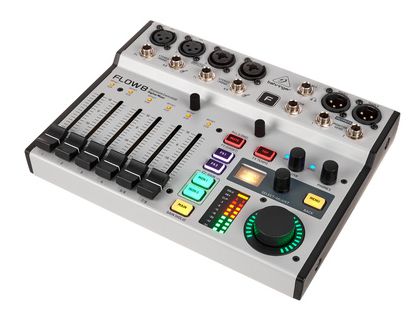 The Flow 8 offers a perfect blend between the traditional mixer and modern ingenuity.
Measuring just 9 inches in width, 6.8 inches in depth, and almost 2 inches in height, this tiny but robust unit is packed with exciting features. Carrying forward Behringer's legacy, the Flow 8 boasts innovative execution at a highly affordable price.
By the look of things, you'll notice at first glance that the user interface is relatively simple. But let me assure you, this is just the tip of the iceberg. There are a lot of exciting functions hidden inside this tiny device's exterior, like multiple effects, Bluetooth connectivity, and even a dedicated app for mobile devices.
Key Features:
Faders & Inputs
The most prominent feature of the user interface is the six faders. You can control the levels of each channel through these and also adjust the levels of the monitoring outputs. Above the faders are several input/output options. The top row has a pair of XLR mic inputs. 48V of phantom power can be applied to both these inputs. Next are 2 combo inputs that take in mic signals and allow connectivity through a quarter-inch cable. However, these inputs are not phantom powered and are designed to take in signals from dynamic mics.
Multifunctional Inputs
Below the XLR/Combo jacks are four quarter-inch jacks that provide a myriad of options. The inputs can be paired together for stereo connectivity. However, these inputs can also be used separately for mono operation. But that's not all. Inputs 5L and 7L will accept mono line level, but inputs 6R and 8R are HI-Z connectors making them ideal for guitars and bass.
Outputs
The output section offers a quarter-inch headphone output which can be controlled by rotating the "Phones" knob in the control section. The Flow 8 provides a couple of XLR output jacks on the top right section to output the stereo mix. Below these are the two quarter-inch "Monitor Send" outputs for connecting studio monitors.
Bluetooth Connectivity: Audio & Controls
A unique function of the Flow 8 is its ability to offer Bluetooth connectivity. This option can be used in a couple of ways. Firstly, you can directly route audio from your mobile device to the mixer and control its different aspects. Secondly, you can use Bluetooth to pair your mobile device to the unit for accessing and controlling some of its features remotely.
Menu Navigation & Effects
The "Menu" button gives you access to many layers of adjustable parameters. When in the menu mode, the nearby "Select/Adjust" encoder can be rotated for scrolling and pressed for selecting different effects and modes. The small backlit display is vivid and clearly shows the chosen effects. At any given time, two effects can be used simultaneously by pressing the FX1 and FX2 buttons. Furthermore, near the Flow 8's "F" logo is a footswitch input that allows you to connect an external switcher to toggle through effects.
Gain & Metering
The monitoring outputs (Mon1/Mon2) can be selected using the corresponding buttons. However, pressing both buttons simultaneously activates "EZ Gain." This allows the Flow 8 to automatically set the gain on the selected channel. The "Main" button below the EZ Gain section selects the main mix. Finally, the nearby metering LEDs show signal levels and indicate when the phantom power is on.
Pros:
The Flow 8 by Behringer has a lot going for it. Not only does it hardly cost anything for the functionality it offers, but the Bluetooth feature is extremely useful when for instance, a band is going through a sound check, and you're standing at a distance adjusting the levels remotely. In addition, the unit is very compact and offers several effects, phantom power, and even combo inputs.
Cons:
Behringer hardly puts a foot wrong with the Flow 8. The remote display feature via Bluetooth is excellent, but more old-school sound engineers may prefer the feel and response of a physical user interface rather than a digital one. Also, some fundamental features we've grown used to, like dedicated mute and solo buttons for channels, are missing.
5. Zoom LiveTrak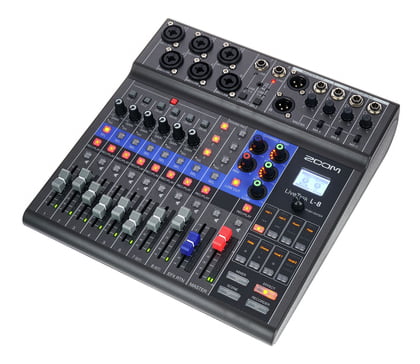 Zoom devices are known for packing a ton of functionality while being affordable.
Founded in 1983, Zoom Corporation's headquarter is based in Japan. Today, the company boasts a broad product line of music equipment that includes multi-effect processors, effect pedals, samplers, recording devices, and of course, digital mixing consoles.
The company's Handy Audio Recorders contribute the most to its sales, followed by Digital Mixing consoles and Multitrack Recorders. Zoom provides equipment to over 130 countries, and this global existence amounts to over 90% of sales.
Key Features:
Top Panel – Connectivity Section
The top panel is slit into unequal sections by a slanting slope. The Upper section hosts a total of 15 connectivity jacks, 4 control knobs, 3 switches, and 2 buttons. From left to right, the first 6 jacks are for 'Mic/ Line' 1, 2, 3, 4, 5, and 6. Near the center, you'll see 2 quarter-inch 'Line' 7 and 8 jacks, with a 3.5mm jack labeled 7/ 8 underneath. The 2 buttons under that are for 'Input Sel.' 
Top Panel – Controls Section
This section has vertical lines that lead the input jacks to their controls. The 6 Mic/ Line inputs have almost identical controls but share a single red button for '48V Phantom power'. The first 2 control sections for Mic/ Line 1 and 2 start with a 'Hi-Z' button. A similarly placed button serves as a '-26dB' for Mic/ Line 3, 4, 5., and 6. Following this button, each of the 6 control portions has a 'Gain control knob,' an orange LED 'Select' button, a red LED 'Record/ Play' button, a 'Mute' button, and a 'slider.'
Output Controls
The output control section holds a blue 'Channel Strip' with 5 control knobs for 'EFX,' 'High,' 'Pan,' 'Mid,' and 'Low,' and a 'Low Cut.' The section also has a 'display panel,' a 'Push enter,' a 'Forward' button, and buttons for 'Rewind,' 'Forward,' 'Tempo,' 'Setting,' 'Stop,' 'Play,' 'Record,' 'Overdue,' 'Mixer,' 'Effect,' 'Scene,' and 'Recorder.'
Front, Rear, Side, and Base Panels
The rear panel hosts an 'SD card slot' in the center, with a 'Power' switch to its left and a 'Kensington security' port to its right. The front and side panels are completely plain, and the Base panel has a battery compartment on its top left corner. The device can be powered by AA batteries, adding to portability.
Pros:
The device has Phantom power. The display panel is bright and allows easy readability with its white light and black text. The controls are all placed ideally. The device can be powered by batteries assisting portability, weighing just 3.4 lbs. The device packs great value for its price.
Cons:
The device feels durable but is primarily constructed of plastic. The device hosts 8 channels which may be fewer or more than required for some. The Phantom Power caters to 6 channels simultaneously. The knobs do wobble a little, but it isn't anything to worry about.
6. Mackie Mix5 (Budget)
One of the most compact units on the list, the Mackie Mix5 is undoubtedly worth considering.
The mixer measures just 1.7 inches by 5.5 inches by 7.7 inches and is ideal for situations where you're working with a small/cluttered workspace or a setup that doesn't demand too many connectivity options.
The Mix5 is the most modest of the three mixers that are part of the Mix series, which includes the much bigger Mix8 and the flagship Mix12FX unit. The idea behind all these mixers is to provide premium preamps, lots of headroom to work with, and low noise output.
Key Features:
Channel 1
The first channel corresponds to the quarter-inch line input and the XLR input that allows mic connectivity. The controls in this section include a few additional knobs compared to the rest of the channels. The "Gain" knob can adjust the gain for both inputs, but the available range may vary. For line instruments, the gain varies between -20dB and +30dB. For the XLR input, however, the knob can be set between unity gain and +50.
Channels 2/3, 4/5 & Tape
These are all stereo channels. The L/R channels can be used simultaneously for stereo operation or separately for mono applications. Both channels are mapped precisely the same way. Use the Pan knob to adjust your mix's left/right alignment. The Level control adjusts the volume of the channel. Another section marked "Tape" features two stereo pairs and can be used to connect an external audio source for playback. This is a useful feature if you wish to jam along with your mixes.
Main Section & Power
Lastly, the "Main" section corresponds to the "Main Out" stereo jacks and the neighboring headphone jack. You'll find here additional dedicated knobs to control the level of your headphones or studio monitors. Just above this is a column of LED lights that indicate the signal's gain level so you can track it to avoid clipping. The Mix5 is powered by an 18V power adapter that comes with the unit.
Pros:
The most unique aspect of the Mix5 is its size. This mixer is so small and light that it can even rest on your audio interface if your work desk is too crowded. Furthermore, costing well under a hundred bucks, the unit is very economically priced and does a decent job of taking in mic and line signals. Finally, the device is so easy to use that you can toss that manual straight away.
Cons:
With compactness comes limitation. If you're a solo artist or want a small but capable mixer for podcasting, the Mix5 is second to none. However, this little unit is just not that accommodating for anything else that requires more inputs/outputs. You could perhaps spend a little more and get a Mix8 for your setup in that case.
7. Yamaha MG06X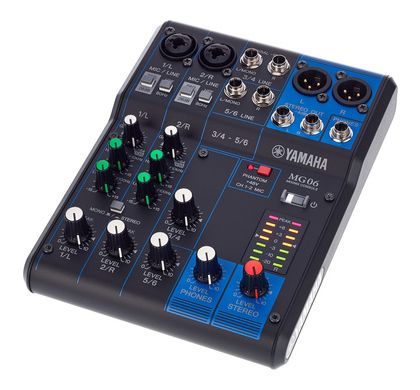 Note: Please mention the MG0GX, which is the version of the mixer with built-in effects. Some people might prefer it.
This offering by Yamaha is one of the smaller consoles from the brand's MG mixer lineup.
Yamaha was founded in 1887 by Torakusu Yamaha and was known as 'Nippon Gaggi Seizo Company, Limited' for a hundred years until 1987 when it was renamed Yamaha Corporation. The company is considered the largest manufacturer of musical instruments in the world.
Yamaha's music equipment is used by many world-famous artists such as James Blunt, Akira Jimbo, Anton Fig, Elton John, Abraham Laboriel, James Adler, Alberto Nose, Mirian Conti, Alberto Pizzo, Paul McCartney and so many more.
Key Features:
Layout
The device follows the same layout as other Yamaha offerings from their MG series. The controls and connectivity ports have all been placed on the device's top panel. A horizontal slant separates the two. The controls for 'Mic/ Line 1' and '2' have been arranged vertically and are identical. The device's power switch is placed near the right center of its main panel, just above the peak meter. The sides and the front panel are completely plain, and the rear panel houses a power socket.
Mic / Line 1/L & Mic / Line 2/R
A microphone can be connected to the device using the 'Mic / Line 1/L' jack, whereas an Electric or Acoustic guitar may be connected via the 'Mic / Line 2/R' jack. Just below the Mic / Line 1/L and Mic / Line 2/R jacks, you'll find 2 sets of buttons for 'Pad / 26 dB' and 'HPF / 80 Hz'. The slope reads 1/L and 2/R and is followed by identical controls for both channels.
Line 3/4, Line 5/6 & Other Controls
'Line 3/4' (L & R jacks) can be used to connect an Electric Keyboard, and the 'Line 5/6' (L/ Mono & R jacks) may be used to connect a portable audio player. Both Lines ¾ and 5/6 have dedicated Level control knobs. You'll find a single button for '48V Phantom Power' and a 'Reverb / Delay' button along with a '3-way switch' to select between 'Hall / Short,' 'Room / Long,' and 'Plate / Vo. Echo.'
Pros:
The device measures 5.9" x 2.4" x 7.9" and weighs just shy of 2 lbs. at 1.98 lbs. and is thereby very easy to carry. Unlike most mixing consoles, this MG device is very easy to understand and use. The unit more than justifies its value and would be great for beginners.
Cons:
Although this Yamaha console packs great value, it has only 6 channels and lacks the sheer number of connectivity options for those looking for a bigger, more complex console like the MG12 mentioned above, the MG16 or MG20 from the same brand and series.
8. Rode Rodecaster Pro II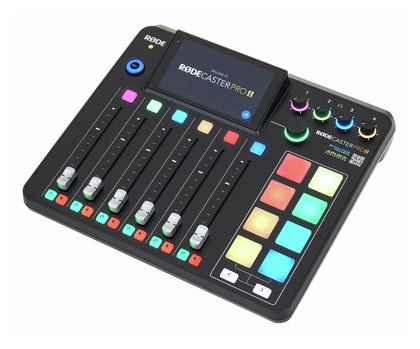 Furthering the legacy of its predecessor, the Rodecaster Pro, the Pro II version has even more to offer.
Another compact yet versatile mixer for the digital age brought to you by Rode, the Pro II looks amazing and feels great too. The Rodecaster is Rode's version of the ultimate podcasting mixer. Loaded with many fancy bells and whistles, this colorful, well let device can become quite the conversation piece on your work desk.
If you're easily put off by a complicated user interface that requires countless hours to gain familiarity, this could be the right fit for you. The workflow is straightforward, and everything about this offering from Rode makes you comfortable fast.
Key Features:
Display & Faders
This fantastic console has an angled 5.5-inch HD display with great clarity and crispness. What's even more convenient is the touch-sensitive screen, making navigating through various features and menus a cinch. The mixer has six faders, each representing a channel. Each channel can be easily activated or deactivated through dedicated buttons. Also found below every channel is the listen and mute button, so you can always control your mix.
Connectivity & Quality
With four Neutrik combo jacks on the back, it doesn't matter if you want to connect mics, guitars, or line instruments to this compact mixer, as the Pro II can manage them all. The Revolution preamps on board ensure that the device delivers professional-grade audio quality. To put things into perspective, these preamps have a noise rating of -131dBv and offer 76dB of gain, making them ideal for podcasting, gaming, and even music recording and mixing.
Aphex Processing
Hidden under the hood lurks the critically acclaimed Aphex Processing suite, which offers digital representations of several state-of-the-art hardware units. Some of the goodies you get because of this is the Aural Exciter for adding brightness, the Big Bottom for enhancing depth and warmth, and the Master Compellor that delivers features like a compressor and leveler. Furthermore, thanks to the Aphex processing, you get access to functions like an equalizer, a noise gate, a high pass filter, and de-essing capabilities.
Navigation, Effects & Smart Pads
Towards the right of the screen is a multifunctional encoder that can be rotated to scroll through menus and pressed to select different aspects of the Rodecaster's graphical user interface. There are a bunch of customizable effects that can be chosen at any given time for vocals and plugged instruments. These include reverb, delay, megaphone, pitch change, robot, and more. Once dialed in, the effects can be assigned to the available smart pads.
Headphones & More
On the back panel are four quarter-inch headphone jacks that can be controlled by individually labeled volume knobs on the top right of the user interface. This is an extremely handy feature when you have multiple users in your studio who want to listen to the mix simultaneously. Also on the back are a couple of USB ports for connecting two computers or mobile devices side by side.
Pros:
The Rodecaster Pro II is an immensely intuitive device that crams many highly technical features in an extremely compact unit and still keeps things super simple to use. You get 9 input channels, the option to connect four headphones simultaneously, 64 customizable commands that can be assigned to the smart pads, and a truckload of effects.
Cons:
If you're not a fan of going through multiple menus and submenus to get to where you need to be, the Rodecaster may be a hassle. However, if you love tinkering with gadgets and like to fine-tune everything to get that sound unique to you, be sure to set some money aside, as the mixer doesn't come cheap.
9. TC-Helicon Go XLR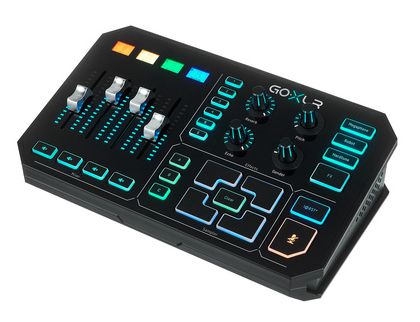 This TC-Helicon device looks terrific with its unique with its neon retro-inspired appearance.
IVL Technologies Ltd. teamed up with TC Group and founded TC-Helicon in the year 2000. IVL had been making products for amateur and professional musicians at the time. TC-Helicon has since risen the ranks with some extraordinary equipment.
Artists and Bands that prefer TC-Helicon equipment include Depeche Mode, Imogen Heap, Snow Patrol, Bootsy Collins, Kimbra, Skrillex, Pendulum, Daughter, Anthrax, Daughter, Emma Hewitt, Katalonia, Serj Tankian, Billy Morrison, and many more.
Key Features:
Design & Layout
This device is truly artistic, with its slanted top, the corner cuts that give it a somewhat octagonal appearance, and the unique neon lights assisting the sliders and emitting through the sides of the keys. The 'Clear' button with the L-shaped buttons placed around it and the futuristic control knobs with light slits all add to this fantastic-looking device. You'll find all the connectivity ports at the rear of the device. 
Control Panel
Most prominently, you'll find 4 Motorized Faders that are assignable and have mute buttons just below. The function assigned will have a symbol in the mini-screens above the Faders. The '6 buttons' to the right are for effect presets, 4 control knobs for 'Reverb,' 'Echo,' 'Pitch,' and 'Gender' are beside them.
Software, Compatibility & Effects
The device requires TC-Helicon's GO XLR Desktop App and hosts a wide array of effects, including 'Echo,' 'Gate,' 'Pitch Shift,' 'Reverb,' 'Gender,' 'Robot,' 'Compressor,' 'Megaphone,' 'Hardtune,' and more. The device is compatible with Windows PCs, X-Box, and PlayStation.
Back Panel – Connectivity
The upper left corner hosts the 'TC Helicon' logo, and there's a Large 'Go XLR' logo in the center with connectivity ports on either side. You'll find an XLR 'Microphone' jack to the left, followed by 4 3.5mm jacks. The first of these jacks is a 'Line in' jack for connectivity with compatible 'External Audio Devices.' The jack may be used for 'Stream alerts.'
Pros:
This audio console is dedicated to game streaming and supports 72 dB of gain, which is impressive for its compact form factor. The device has 3 storages, 6 preset buttons, and customizable options, and it is great at processing. The device looks absolutely fantastic.
Cons:
For its size and price, the device is on the expensive side, although it holds great value. Some users have complained that the sliders, knobs, and sockets wobble a little but have a durable overall feel. This device isn't for those who want more connectivity options.
10. Razer Audio Mixer
This mixer from Razer Audio is another example of how modern mixing devices can come in a smaller form factor.
Gone are the days when you'd have to put up with bulky mixing units that took up most of your workspace. This is partly because of the advent of more advanced technology and software/apps that complement mixing hardware so you can control most aspects digitally.
The Razer Audio also works on the same principle. At first glance, the device looks like a small module that you'd somehow connect to a larger unit to enhance its capabilities. But the mixer is, in fact, a stand-alone unit that provides you with all the features you need during your gaming and mixing escapades.
Key Features:
Interface
The user interface is as simple as a layout could be. Firstly, you'll notice four faders labeled Ch1, Ch2, Ch3, and Ch4. Below each channel is a channel mute button to instantly quiet down things where needed. Below is a handy "Bleep" button, so you don't have to add bleep sounds to cover the profanities that slip out, as the Razer unit can do it for you. The last button on the interface silences your microphone.
Front Input/Output Jacks
The mixer has two front-facing 3.5mm jacks where one takes in your mic signals, and the other outputs the audio signal for your headphones. If you have a headset with a built-in microphone, you can use a splitter cable to connect to both ports simultaneously.
Rear Panel
Apart from the user-facing microphone, you also get an input for your XLR mic on the rear panel. Next is the 48V phantom power button handy for driving with passive microphones. Next to this section are the line-in and line-out ports and an optical port for connecting to a gaming console if required. Finally, the type C USB port is what you can use to connect the Razer Audio mixer to a computer.
Functionality
Connecting the mixer to a computer opens doors to a whole new dimension of controls. When connected, you can configure different aspects of your computer through different channels. Razor Audio recommends that the channels may be separately used for "System," "Chat," "Game," and "Music."
Razor Synapse
The proprietary software has many features you cannot control directly from this tiny mixer. The first step is to configure what each channel will do. The software has drop-down menus to do this within seconds. You can also change the behavior of the mute buttons and even decide what should happen if the mic button is long pressed (for instance, having your voice change).
Other Goodies
The people at Razer Audio were kind enough to add a few extra goodies to the overall package. With the mixer, you get a nice string-tie pouch for the unit and a long USB-C cable. You'll also find two ground loop isolators and two smallish 3.5mm cables that come with them. You can plug your mic into the isolator and use the 3.5mm cable to connect it to the mixer. Having the device in the center of your mix signal eliminates any unwanted noise or hum.
Pros:
If you're looking for a compact unit for your podcasting or gaming needs, the Razer Audio mixer is a decent choice. The Synapse software offers many features to control your mic and line audio with equalizers, echo/reverb effects, several voice options, and much more.
Cons:
You might blame Razer Audio for their lack of creativity, as they've created a replica of the TC Helicon GoXLR. Even the placement and functionality of the buttons are the same. Also, the mixer lacks left/right monitor outputs and encourages monitoring through the headphones.
11. SSL SiX (High-End)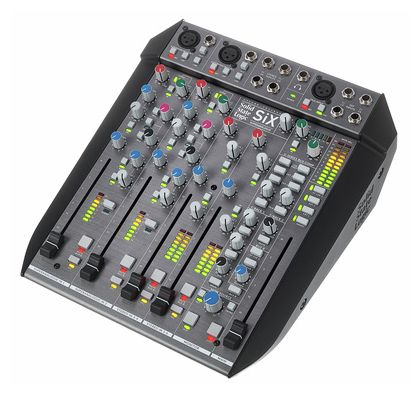 Built like a tank, with a no non-sense design and great functionality, this console packs fantastic value.
Founded in 1969 by Colin Sanders CBE, SSL (Solid State Logic), a British Company, initially released pipe organ switching systems, and that's where the founder coined the name of his company. Today, SSL owns a science park that covers 15 acres in Oxfordshire, England.
The company and its product line have grown over the years. SSL focuses on making signal processors, mixing consoles, and other audio equipment specialized for video production, post-production, sound reinforcement, broadcasting, and audio recording.
Key Features:
Control Panel
The top panel of the console is split into 2 main portions; the upper portion hosts connectivity ports and basic button controls, whereas the lower part houses the main controls. From top to bottom, Input channels 1 and 2 have identical controls, starting with a 'Gain' control knob, a 'T/Hold' control knob with 'Comp' LEDs, and an 'Input' button. Next, you'll find 7 control knobs for 'Pan,' 'ST Cue 2,' Channel 'Pan,' 'HF,' 'LF,' 'ST Cue 1,' and its 'Pan' control. Several buttons are located between the control knobs for 'Input,' 'Bell,' 'On,' 'Insert,' 'Mute Bus B,' and PFL. Both channels have dedicated 'Sliders' and LED' Meters.'
HF/LF & Pan
The controls for Input 3/4 and 5/6 are similar to Channels 1 and 2, with the exception of the 'HF,' 'LF,' and 'Pan' control knobs. Instead, these channels are equipped with 'Trim' control knobs. Other controls include 'G-series Bus Comp' controls, 'Cue and Foldback Master' controls, 'Headphone' controls, and more.
Functionality
The device has 2 different configurations. For a writing session, a guitar and a pedalboard can be connected using Channel 1 and Channel 2, and the EQ and SSL channel compressor will process the signals through. You may create an effects loop for the FX loop and instrument sources; you can connect the stereo Cue output 2 to the Input of the guitar Input switcher. Channel Insert 1 and 2 can connect the device to the DAW Input. This will allow you to establish a direct record path.
Connectivity – Top Panel
On the top-left corner are 2 sets of 'XLR' and 'TRS' jacks for Microphones or Preamps. Next are 2 sets of 2 Balanced Analog Stereo Inputs for Channels 3/4 and 5/6, with a Headphone Output jack beside it. To the right, there's a 'Talkback Mic Input' and a pair of Left and Right 'Balanced External Inputs' for channels 1 and 2.
Connectivity – Rear Panel
The device's rear panel houses a 'Power socket' at its left extreme with a 'Power button' just above. Next are a couple of 'Right and Left Channel and Balanced Main Inserts for Channels 1 and 2. Then there's a 'Channel and Main Balanced Insert Sends' Output / Send right beside a 'Channel and Main Balanced Insert Sends' Input / Return. Following are 3 pairs of Left and Right jacks for 'Bus B' Out, 'Main Monitor' Out, and Alternate Monitor' Out. The right side of the panel hosts Left and Right XLR jacks for 'Main Bus' Out.
Pros:
The console provides great value with 12 Inputs (Mixdown), routing options, and an excellent master section. The device is great for mixing as well as tracking, and the inclusion of the 'Listen Mic Compressor' is convenient. Overall, this SSL offering is very robust.
Cons:
The device doesn't have a mini-jack Input, and the Dynamics and EQ controls are very limited. Users have pointed out that the PSU (external) is a little irritating and that the power cable included is quite short. The power switch on the rear panel is difficult to access.
12. Mackie ProFX6v3
The Mackie ProFX6 is the slightly more advanced version compared to the Mix5 discussed earlier.
This single unit gives you all the features you'll need for a small mixing setup and a built-in audio interface. Another great thing about this unit is the inclusion of the Waveform OEM digital audio interface and a plug-in collection to dialing in different effects.
The mixer comes in a small form factor and measures just 2.9 inches by 8.4 inches by 7.5 inches, so it won't take up much space. Also, inside the solid exterior is the GIGFX effects engine that offers several effects that can be dialed in directly from the mixer.
Key Features:
Effects Engine
In the "GIGFX" section on the user interface, you'll see a list of 24 effects. These include several variations of echo, delay, and reverbs. You'll also find effects like distortion, flanger, auto-wah, and a doubler. Applying these effects is very simple. The "Preset" knob is rotated to select the effect and pressed to activate it. The handy display shows the effect number that is selected. The section also has an FX Mute button to deactivate the selected effect immediately.
Channels 1 & 2
The first two channels have the same control layout. The combo jacks here can take in mic signals from an XLR condenser mic and allow instrument connectivity. Just below it is a Hi-Z button that can be pressed to accommodate guitars and bass. Furthermore, the "Low Cut" button operates at 100Hz and eliminates low-frequency noise to keep things nice and quiet. Both channels feature a two-band equalizer with knobs for Hi & Low Eq-ing. The "Hi" knob offers a 15dB boost or cut above 12kHz. On the other hand, the "Low" knob is designed to offer a -15dB/+15dB below the 80Hz level.
Channel FX
Both channels also have an FX on/off button to activate the effect selected through the GIGFX section. Finally, the channels can be combined by pressing the "Stereo Pan" button and used as left and right channels when panning. The final knob in this section overs level adjustments.
Channels 3/4 & 5/6
Channels 3/4 offer line instrument connectivity. Here you'll find two quarter-inch inputs that can be used simultaneously for stereo operation or separately for mono. The channel has its own level knob. The 5/6 channel has a 3.5mm line input and a dedicated knob for level control. This input can connect an mp3 player or mobile device through an aux cable. There's also a "USB 3-4" button to give the audio inputs from the USB port preference over the line in jacks.
Output Section & Controls
Finally, on the top right, you'll find the "Main Out" section that has that is configured on a pair of XLR outputs as well as a left/right quarter-inch option. Next to this is the headphone input. All these outputs have separate knobs for adjusting the levels. Furthermore, the mixer also has an "FX to Main" knob to adjust the prominence of the effects on the main outputs.
Pros:
The ProFX6 is a significant upgrade from the smaller, less capable Mix5 unit discussed earlier. The mixer offers six channels, phantom power, pristine mic preamps, equalizing, stereo panning options, and more. The GIGFX section helps dial in effects effortlessly, and the mute buttons come in handy to keep things under control.
Cons:
Perhaps the mixer's 3/4 and 5/6 channels inputs could have the relevant controls adjacent to them for a better workflow. Also, some of the routing options on the ProFX6 are strange. For instance, you can't route the audio from your digital workstation to the headphones, which may prove frustrating.
Bonus
1. Alesis Multimix 4 USB
This offering by Alesis looks quite similar to Yamaha's MG06X and the SSL SiX (High-End).
Keith Barr, a circuit designer, founded Alesis in 1984. The company's headquarters is located in Cumberland, Rhode Island, USA. The brand was initially known for providing state-of-the-art quality at a fraction of its competitors. 1985's XT Reverb was one such product by Alesis.
A year later, the brand introduced its MIDIverb, the first-ever professional 16-bit effects processor priced under the $1,000 mark. In 1987, the company released the HR-16 Drum Machine, which quickly gained popularity, helping Alesis establish itself on the music scene.
Key Features:
Top Panel – Channel Controls
The top panel sees a horizontal slant forming 2 segments. The lower half of the panel hosts the console's controls. The controls for 'Channel 1,' 'Channel 2,' and 'Channel 3/4' are placed vertically and are completely identical. From top to bottom, each channel hosts 2 blue 'EQ' control knobs for 'Hi' and 'Lo,' followed by a red 'FX' control knob and a white 'Pan' control knob with a dedicated 'Peak LED indicator.'
Top Panel – Effects and Other Controls
A large and prominent blue 'Effects' control knob allows 9 different effects, including Flange, Room, Plate, Chorus / Room, Bypass, Rotary, Halls, Delay, and Chorus. Below is a red 'FX' control knob and an LED meter. This meter allows you to monitor the 'Main output Level.' You'll also find an 'EXT/USB to Main' rectangular grey button and 2 blue and white control knobs labeled 'Phones' and 'Main.'
Top Panel – Connectivity
The top left corner houses 2 'Mic Input' XLR jacks and 2 'Line Input' quarter-inch jacks for Channel 1 and 2. Below are 2 'Lo Cut' buttons, one for each of the first 2 channels, and a 'Guitar' button that selects between 'High impedance' and Mic/ Line-Level signals. Following are 2 Gain control knobs, and to the right, you'll find 2 quarter-inch 'Line Input' jacks for Channel 3 and Channel 4.
Rear Panel – Connectivity & Power
From left to right, the console's rear panel houses a 'Phantom Power' switch, a 'Power' switch, an 18V DC' Power Input' (Included), a heat vent, with the 'Alesis' logo just above, and a 'USB' port that allows you to connect the console to a computer system.
Software
The 'AiR Mini Grand, DB-33, Eleven Lite software is straightforward. It'll grant access to a piano (virtual) that allows 7 distinct Acoustic sounds. This adds to the versatility of this Alesi's package. The console is compatible with Windows and Mac Operating Systems. The device may also work with an I-pad using Apple's' Camera Connection Kit' (sold separately).
Pros:
The console has solid build quality. The unit is easy to carry with a compact form factor measuring 12″ x 7″ x 3.1″ and a weight of 3.45 lbs. The plug-and-play device is simple to use and would be a great option for beginners. It is compatible with Windows and Mac OS.
Cons:
The console packs excellent value and may be an ideal choice for a beginner, but with just 4 channels, some may choose a device with more connectivity options. Although reasonably priced, the RCA stereo inputs are not included in the box.
2. the t.mix xmix 1202 USB -50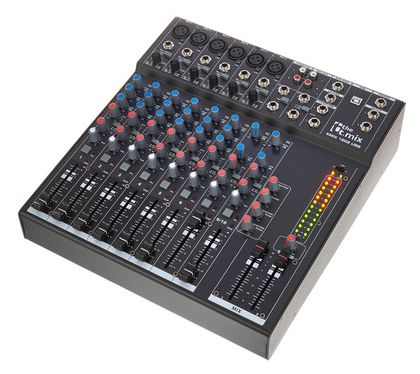 Coming into existence in 2000, T.mix is Thomann's very own brand.
Offering all sorts of goodies that cater to the requirements of the modern musician and sound engineer, t.mix specializes in products like analog mixers, DJ equipment, mixing desks, turntables, and even rack mixers. All these products are made of rugged materials to stand the test of time.
The t.mix xmix 1202 is a great example of the company's ingenuity and technical prowess. Not only does it come with a wealth of inputs and outputs for each channel, but the unit also offers immensely detailed knobs and button controls that are very responsive and help tweak every detail to offer complete control of your sound.
Key Features:
Mono Channel: Inputs
The six mono channels are all laid out in the same way. Each offers an XLR input for condenser microphones and a quarter-inch jack for line instruments like electronic drum modules or keyboards. Next is the "HPF" (high pass filter) button that operates at 80Hz and reduces low-frequency noise/hum. Below this is the "Gain" knob that offers gain enhancements for both inputs. For mics, this range varies from -16 to -60dB, while for line instruments, you can set the gain anywhere between +10 and -34dB.
Mono Channel: Equalizer
The control section includes a three-band equalizer with separate knobs for highs, mids, and lows. The corner frequency for the highs is set at 12kHz with a possible cutting or boosting by +/-10. The mids and lows are set at 1kHz and 80Hz, respectively.
Mono Channel: Other Controls
Under the equalizer section is the "Aux" knob that controls the signal level en route to the Aux Send output. Right at the bottom of each channel is its fader, which sets the level of the channel in the overall mix. The Pre/Post button beside the Aux knob decides if the channel fader will affect the Aux control. When the button is pressed, the fader will not change the level set by the Aux knob. The signal level to be sent to the "FX Send" port can be controlled by rotating the "FX" knob.
Stereo In/Rec Out
As the name implies, the Stereo In section has a pair of RCA inputs for connecting stereo devices. Below this is a pair of left/right quarter-inch line inputs. The "Pad" button is handy when dealing with transient sounds and instantly subdues these harsh frequencies. Conversely, the Rec Out section has the corresponding RCA and quarter-inch line-level outputs. Instead of the Pad button, this section has a toggle for switching between stereo line or USB input.
More Controls
The interface's top right is where you'll find the Aux Send, FX Send, and FX return stereo jacks. A relevant control panel for this section has dedicated knobs to control the input/output options. Next to this is the USB port for computer connectivity, a headphone jack, and stereo outputs for sending signals to the control room. The rear panel hosts the main outputs configured on a pair of XLR and quarter-inch output jacks.
Phantom Power & Metering
The final section here has the toggle switch for activating phantom power. Below it is a column of LED lights that offer metering for different audio signals in the mix. Last but not least, the section also has a master-level knob to control the headphones and control room outputs.
Pros:
With 6 Line in/XLR inputs, 2 stereo inputs, aux outputs, control room, and headphone outputs, the xmix 1202 has you covered regardless of the situation. The mixer can manage the load of small to medium setups with ease. You'll also get plenty of phantom power to drive those condenser mics and pristine sonic quality to mix your sound like a pro in no time.
Cons:
This is an all-analog mixer, so if you get a kick out of intuitive digital gadgets that can be customized smartly, perhaps you may look toward some of the other units on the list. Furthermore, due to its sheer size and bulky presence, lugging the unit along on your travels may cause discomfort, not to mention wear and tear.
Conclusion
With all the wonderful gadgets and gizmos we've discussed today, selecting the mixer that will suit you the most may seem daunting. Although all these units strive to fulfill the needs of the audiophile and sound engineer of the modern era, some may be better for you than others.
Starting with the smaller-sized units, the Alesis Multimix 4, Tc Electronics GoXLR, and the Razor Audio Mixer are all 4 channel mixers that work well for small studio setups. The Xone 92 mixer from Allen & Health also comes with four channels and a four-band equalizer but costs a small fortune. Taking things a step further, the Mackie Mix5 has five channels and hardly costs anything.
Our list also has a great selection of six-channel mixers, including the Yamaha MG06, the Mackie ProFX6, and the SSL Six. However, Solid State Logic's offering is the most expensive option in this category. The Zoom Live Trak L-8 and Behringer's Flow 8 offer fun-to-navigate menus that help dial in various exciting effects to each of the 8 available channels, among other things.
If innovation inspires you, you'll surely get a high from using the Rode Rodecaster Pro II, which offers lots of customization, physical and virtual channels, smart pads that learn various functions for instant recall, and a touchscreen display for ease of use. We now come to the big guns! The ZED-10 by Allen & Heath, Thomann's own t.mix xmix, and Yamaha's MG12XU are all beasts in their own right and bring the most input/output options to your studio/live setup.
Sultan Zafar is a guitar player from Islamabad, Pakistan. He has been playing music with various mainstream musicians for over 20 years. He is a song writer and music producer. These days he spends his time exploring different music genres and collaborating with fellow musicians on various projects. Read more..