Today we're going to talk about 11 Best Effect Pedals For Jazzmaster Guitar 2023.
The Fender Jazzmaster is a classic guitar that guitarists of all styles play. Numerous legendary albums have featured guitar playing, inspiring new generations of guitarists. However, it wasn't always so well-liked; for a while, Fender even stopped making them since they were being used by underground rockers rather than their original audience of jazz artists.
The Jazzmaster stands out from other Fender standard models visually. Compared to other guitars in 1963, this one was a huge step forward, and it still is. Jazz artists were Fender's major focus when creating this instrument. It has an offset body, making it visually distinct from the Strat or Tele.
They may have done the asymmetry on purpose to add visual interest. Jazz guitarists typically sit down while playing, and the guitar's offset body allows them to do so comfortably. A notable feature of the Jazzmaster is its rosewood fretboard.
In a nutshell, here are the 11 Best Effect Pedals For Jazzmaster Guitar 2023
1. Fender The Bends Compressor
2. Behringer VD400 Vintage Delay
4. Strymon Flint Tremolo & Reverb V2
5. Universal Audio UAFX Golden Reverberator
6. Electro-Harmonix String9 String Ensemble
7. Soldano Super Lead Overdrive
9. EarthQuaker Devices Hizumitas Fuzz Sustainer
10. Behringer CS400 Compressor/Sustainer
11. Boss OC-5 Polyphonic Guitar/Bass Octaver
So, it remains to be seen whether Jazzmaster sticks to the idea that it can make sounds suitable for jazz. When they launched this guitar, the company aimed for the 'Perfect Jazz Guitar,' but time has shown otherwise.
Numerous guitarists have used the guitar in extreme ways, from jazz to death metal. How did they do it? Simple. They either modded their guitar to their style or used effect pedals to get their tone right. That's why in this list of 11 Best Effect Pedals For Jazzmaster Guitar 2023, we're going to talk about ways you can alter your guitar in any way possible.
What to look for if you're buying a pedal for your Jazzmaster?
Consider the guitar's pickups and wood to get the best pedal for your Jazzmaster. Pick pedals that boost your sound without adding too much gain or masking the guitar's natural sound. While the guitar is most commonly associated with Jazz, it can provide a sound suited for many genres with enough tweaking.
The Jazzmaster is a great guitar to have in your arsenal if you want to play a variety of styles and if you want to do so in the most precise setting possible, regardless of the music you're playing. You can strum up to the twelfth fret if you like.
The single coil neck pickup will hear your every note. You can add as many or as few pedals to your effect chain as you desire. What matters is how you sound to others and how you hear others.
That being said, let's follow these 11 Best Effect Pedals For Jazzmaster Guitar 2023.
Related Readings: 
Top 12 Delay Pedals For Metal 2023 (Any Budget)
Top 12 Plate Reverb Guitar Pedals 2023
Top 12 Reverb Pedals For Metal 2023 (Any Budget)
Top 10 EQ Pedals For Metal 2023 (Any Budget)
Top 8 Boost Pedals For Metal 2023 (For All Subgenres)
Top 20 Guitar Preamp Pedals 2022 (Best Rated)
11 Best Effect Pedals For Jazzmaster Guitar 2023
1. Fender The Bends Compressor
Versatility and a broad range of capabilities make Fender's The Bends Compressor an excellent choice.
The pedal was carefully crafted to allow for total dynamic control of your tone without altering the guitar's natural feel or response. Tweak the controllers' quick response time until you find the sweet spot. You may adjust how much of the original signal is played again by turning the Blend knob. Fender's pedal compressor marks a solid comeback to the effects pedal industry.
Key Features:
Design
The chassis is made from lightweight and durable anodized aluminum, while the LED adds a classic look to your pedalboard. LED lighting makes it easy to see what you're doing with the knobs and buttons, even on a dim stage. We have made it easy to swap 9V batteries with our innovative, magnetically locked battery door.
Illumination
The operational bulb is white when the compressor operates but turns pink when compression occurs. Compression is either on or off; a sliding scale indicating compression levels would be desirable but is not feasible.
An individual LED can be activated on each dial in addition to the primary indicator. If you're using it as part of a home practice rig at night, the unit's blue LEDs will look like runway lights, which is wonderful when it's black outside.
Controls
This footswitch softens volume spikes while preserving your sound's overall tone. You may find the ideal balance between compression and sustain for your playing style by adjusting the knobs; the Blend knob allows you to preserve your pick assault while increasing sustain. The LED will change color from white to pink as you play, showing you when the compression circuit is engaged and for how long it will affect your signal.
Character & Sound:
They deliberate about which pedals and rack effects to get this compressed sound. Its crystalline tone, weighty vintage construction, and unlimited, lightning-fast dynamic command are all characteristics of studio outboard equipment, making it suitable for usage with either an orchestra or a jazz drummer.
Fender, ever the innovator, has also incorporated a wet/dry blend slider to add subtlety while maintaining your clean tone for purists. You can utilize the sustain pedal in two ways: to stabilize a shaky pick hand and to extend the sustain to previously unimaginable lengths.
Pros:
There is no "bad" compression level; simply different effects to play with. It's a crisp signal with minimal background noise. No audible pumping is present, even at maximum volume, and the sound remains musical.
The latest battery pack is the superior option. In addition to only taking three seconds, swapping out batteries on a board has no additional noticeable effects. Using batteries makes an external power source (such as a wall plug) superfluous.
Cons:
This pedal's adjustment range is extremely limited, much like other non-driving Fender pedals. The pedal will not depress until the "Drive" knob is closer to the 3 o'clock position. When the drive knob is set to the four o'clock position, the compressor introduces distortion into the incoming audio.
If you put the pedal at the very end of your signal chain, you might benefit from this. You won't hear much of a compression impact when playing notes in that range. You have to put in a lot of work, but it pays off in the end.
2. Behringer VD400 Vintage Delay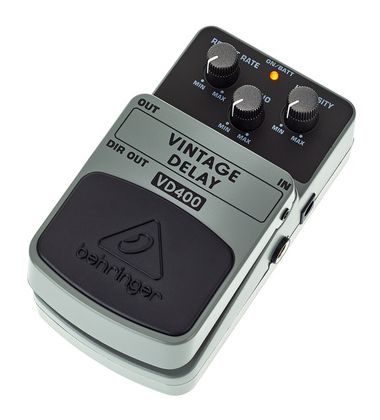 It has a dark and sinister tone, with a definite atmosphere and echoing echoes.
You can find this and more in the guitar pedal, which allows you to dial in tape-style slap-backs and extended trailing effects with the turn of a knob. A further cool feature of this pedal is that it has dual outputs, allowing you to send either the delayed or direct signal in either way.
Key Features:
Connectivity
There are three jacks on this pedal instead of the normal two, making it stand out from the crowd. Jacks for a line in and out are present. But just like the inspiration pedal, this one has a direct-out jack that sends the dry and wet signals out at once, allowing them to be sent to separate amplifiers for a wet/dry effect.
Controls
This pedal's structure comprises three knobs that control the effect's repetition rate, echo length, and volume. The number of times a note will be played back by the pedal before it stops is set by the repeat rate.
The "Echo" parameter specifies the fadeout amount, so the delay can sound like a slight echo or a precise reproduction of the original message. The number of times the pedal clicks will depend on how hard you set it.
Circuitry
Because of its analog design and advanced noise reduction features, this pedal can produce extremely long delays. As was previously said, this pedal will serve as a sufficient solution. The pricing is reasonable considering the high-quality sound, subtle delay, and fast controls.
Some seasoned players may need more delay than this game provides to get the right sound balance. Thus they may not enjoy it. However, nothing is missing from this pedal if you're looking to spice up your guitar attack with this effect.
Housing
Those familiar with their pedals will tell you that the pedals' plastic manufacturing is legendary. If you have never held one before, you will be pleasantly surprised. The plastic pedal is just as sturdy as any other kind.
You can use one of these pedals on stage if you're careful with it; it won't hold up as well to abuse as metal pedals would. This pedal, clearly influenced by classic instruments, sports a steely gray paint job.
Character & Sound:
The controls' layout was as simple to use as the Boss version. You can adjust the repetition rate by twisting the dial either clockwise or counterclockwise. Traditional use dictates that clockwise rotation should start at the bottom of the page and move counterclockwise up the page.
This pedal may not have the widest possible range, but it should be sufficient for most uses. If you put the pedal's controls halfway between their extremes, you'll have a good idea of the sound's overall character. It was comforting in its warm, analog sound.
Even if the tape delay effect lacked believability, the sound quality was excellent. By turning down the echo, the delay became so abrupt that it sounded like it had been abruptly cut off, which dampened the tone's overall warmth.
In addition, when you disable the echo, surrounding noises become more audible. When the echo is turned up, the sound is smoother and less sharp. An increase in volume had a significant effect. This knob allowed for incredible sustain when turned to the right and instant silence when turned to the left while still retaining a clean, punchy tone.
Pros:
If you're in the market for a low-priced, highly adaptable analog delay, go no further than the VD400. It's unrivaled at adding weight to leads in 80s hair metal songs, the ambiance in ambient soundscapes, or any other musical genre.
Cons:
The white noise of the pedal is tolerable while the delay is engaged. Still, the noise persists even after the bypass has been engaged. As of yet, the noise isn't adding to the effect; instead, it's part of the board's design. You can try different power sources and configurations with and without other pedals to see if you can get it to be completely silent. Still, in people's experience, the pedal noise always seems to remain on the board.
3. Boss RV-6 Digital Reverb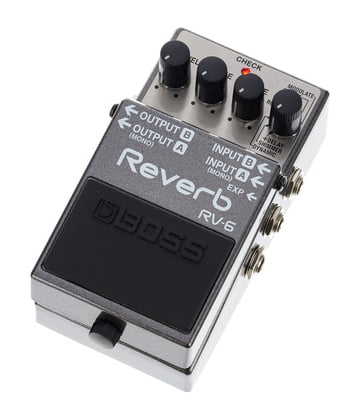 This pedal provides resonant, wide tones with a personal twist of trailing delays.
This pedal provides eight reverb options, ranging from classic algorithms to spring and plate reverb to, enveloping modern textures. To top it all off, the dynamic mode changes with your playing to create a lush ambiance that retains your Tone. It's easy to set up, there's an expression pedal input, and the pedal uses high-quality analog signal processing.
Key Features:
Modulation Effects
This kid's greatest strength is his ability to modulate. This mode fuses modulation's silky smoothness with echoing effects. This one's noises have a special way of enveloping you and not letting go. The shimmer effect hides the reverb. All the reverb varieties are full and genuine sounding, and the sound is improved by one octave.
Circuitry
A single battery or adaptor should do the trick if your pedal only requires 9 volts of electricity. The former is not advised as it is a heavy battery load. The housing of this pedal is built to last, no matter how severely you treat it. Even though the instrument has been processed digitally, its natural features have been kept intact using the dry analog approach.
It's stereo-ready thanks to its twin earphone jacks, so you can plug in two separate speakers and play them back at once. Your compositions will have greater nuance and complexity as a result. A reverb pedal that works with an expression pedal allows the user to control the effect's intensity. Because of its staggering array of eight different reverb effects, this pedal offers unparalleled versatility.
Knobs
You can use the initial part of the line to fine-tune the intensity of the effect and iron out any kinks in the chain. The next knob is Tone, which changes your sound's overall brightness or darkness by controlling how much emphasis is placed on the higher frequencies. There's also a parameter called "Time" for tweaking the echo's duration.
Character & Sound:
Amazingly, it's a pedal that can produce reverb at the same level as professional rack units. The reverberation is deep and immersive because of the careful adjustment of each reverb parameter. However, the pedal's shimmer and +Delay effect modes and the standard reverb provide it remarkable versatility.
Your soloing will have more impact with the help of +Delay's optimum combination of delay and reverb. An adjustable delay timer is given. Shimmer overlying low-pitched sounds produce a high-frequency overtone reverberating throughout the vast space. The dynamic mode is one of the most prominent because it may generate a lush reverb that surrounds chords and single notes with a dreamy void.
Pros:
This pedal can be powered by a battery if needed and features amazing stereo sound, a durable Boss design, a five-year warranty, and a battery indicator light. While there are a few reverb pedals in this price range, the majority are mono. Great squeaking sounds come from the spring and the plate.
Cons:
The massive footswitch on most of their pedals leaves little area for the knobs. Since the pedal has such a small display, the mode selection names are packed like sardines, making it difficult to discover what you need. It's also not easy to determine what's going on in modes when the stage is dark. You might give a hoot or not about this trivial issue.
4. Strymon Flint Tremolo & Reverb V2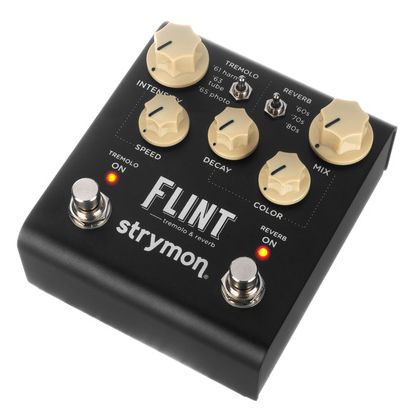 It's safe to say that the Strymon Flint is one of the most well-known reverb pedals available today.
The Flint is highly regarded by users of reverb and tremolo effects due to its user-friendly design, which has many reverb settings. This article will investigate the pedal's tones and why it has become a staple on the pedalboards of musicians of varying styles.
Many legendary amplifiers have combined tremolo and reverb because they work so well. Guitarists covet amps like the Fender Twin or Princeton for their reverb and tremolo effects.
A wide variety of musical styles, from surf to blues to indie rock to film soundtracks, made use of this effect combination. Strymon's SHARC DSP technology is used to program the pedal, allowing for highly sophisticated reverb and tremolo effects.
Key Features:
Spring
Among guitar effects, the spring reverb is among the most iconic since many highly regarded vintage amps include outstanding spring reverbs. The pedal delivers percussive splashes, a hallmark of the best spring tanks, which breathe new life into performances.
Even though you have a pair of Fender amps with authentic spring reverb, you may push the pedal's spring reverb to the point where you can hear a little spring "drip" without the effect being obnoxious. Depending on how much decay or mix you use, the wet reverb signal from the '60s spring will disclose all sorts of fascinating reflections, taking on a wide variety of tones from dark and brooding to bright and bouncy.
Circuitry
That leads us to the year 2023 and the updated V2 pedal version, redesigned with the previously reviewed MIDI pedals to take advantage of numerous technological breakthroughs in high-end DSP audio.
The pedal's improvements are incremental and minor compared to the others, which received different algorithmic and control upgrades on the V2. The most noteworthy improvements are the same as the other V2 line, including a brand-new superior analog JFET  circuit, state-of-the-art ARM-based processing, and complete MIDI integration with 300 storable presets and a plethora of new control options.
Plate
The Plate set is a tribute to the pioneering electronic plate reverbs from the 1980s. This technique employs many delay lines that are filtered and smeared to produce a thick yet musically attractive reverb output. The algorithm's combination of different delay lines results in silky smooth reflections, making the plate types trails ideal for any music.
Connectivity
The key modifications for the pedal will pique the curiosity of individuals who want to utilize it in stereo, with MIDI, and expression control, notwithstanding the little tweaks that have been made.
The tremolo can be synchronized with the MIDI clock and can be connected to an external switch to allow recall of favorite settings or tap tempo. With the new USB-C output, you can control the pedal's characteristics via the MIDI expression pedal or from your DAW.
Depending on your interest in MIDI, you can choose from many control, preset, and utility options that can be adjusted and controlled in real time.
Hall
The '80s Hall algorithm emulates the sound of vintage rack reverbs popular in that era. This setting has an effect that is instantly recognizable and reminiscent of classic rock and pop songs from the 1980s. The modulation of the '80s Hall mode adds warmth and motion to the powerful and slow-building Hall reverb, and the Mix knob allows you to adjust the setting from subtle to enormous.
Controls
More functions are available on the pedal than on the surface. The Flint's concealed controls are more of a standard variety than other pedals. Hold down both footswitches and spin the corresponding dial to adjust these undocumented features.
The Flint's tremolo section features an additional boost/cut function on the highest knob, great for preventing the dreaded tremolo perceived volume reduction, and a setting to select the tap tremolo tap subdivision settings.
Certain antique amplifiers place their tremolo circuit after the reverb circuit, and you may adjust this with the middle knob. The top-right knob also controls a boost/cut function for the reverb. The pedal's extra features make it easy for musicians to fine-tune their sound in terms of effect volume and signal path.
Character & Sound:
The pedal shines when used to create classic studio reverb tones, but it also has the potential for ambient greatness because of its flexible decay, mix, and color controls. Try using a heavier reverb from the pedal to add more weight and emphasis to your playing. Even when a lot of distortion is cranked into the pedal, it still sounds clear. This tune fits nicely in with all the genres.
Pros:
It's a great overall effects pedal that can produce a wide variety of high-quality tones. It's one of the best-selling pedals on the market because it fits on different pedalboards. The packaging is minimalistic and stylish, and it sounds fantastic.
There's no need to spend more than a few minutes experimenting with the pedal's settings to discover your ideal tones; all of them are excellent. If you're a player on the hunt for a compact pedal that packs a lot of classic techniques, go no further than this one.
Cons:
Despite increasing the price and updating to version 2, it's weird that they haven't added more than one TRS stereo input. If you're using these pedals in stereo, you're in for a treat. When you only have a single TRS, you'll need to use a cumbersome breakout Y cable for each connection, and then even more lines will need to be plugged into the Y cables. When placed on a desk, the pedals will topple due to the weight of the cords.
5. Universal Audio UAFX Golden Reverberator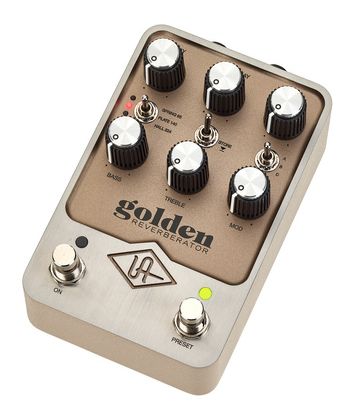 There are three distinct reverb effects on this pedal, all of which hearken back to the golden age of rock and roll.
The three-position switch allows you to swap between the available options. If you need more variety, switching between plates A, B, and C will give you access to three distinct iterations of each effect. The pedal's sturdy construction means it can handle any reverb duties.
The pedal's adaptability extends to the rear, where it features mono and stereo jacks, allowing for various musical and artistic possibilities. This reverberator will provide amazing effects in any situation, whether in a recording studio or a live concert.
Key Features:
Plate
While using the plate, you can hear a great deal of sparkle in the reverb tail. The plate has a warm body and a broad feel, perfect if you want to transport yourself to the late 50s. A newer plate sound has a longer tail and sensitive responsiveness throughout all frequency ranges, while the older plate sound has a more pronounced roll-off.
Chamber
Once you've registered your device, the Chamber effect will become available, allowing you to try out three new flavors. The initial density is quite strong, making the percussion plate setting a good choice for percussive riff work.
In the second kind, a thick plate sound takes over and remains constant over time. Last but not least, the chamber setting is most useful when the reverb time is limited. This result mimics the sound of a chamber producing a low density of sound.
EQ
You can fine-tune your reverb effects with the Golden Reverberator's 2-band EQ. The Bass knob boosts low frequencies when turned to the right from its default position at noon. Higher frequency reverb tail response can be adjusted using the "Treble" knob. Finally, the "Mod" controls can vary the modulation's strength according to the effect's settings.
Spring
This guitar amp's spring effect is a nod to the iconic tube-based spring reverbs of the '60s. The Spring effect generates a reverberation that, like vintage tube spring reverbs, is whistly and clangy. The Bright variant's touch sensitivity gives your playing a new dimension as the intensity of the reverb splash increases in proportion to the force you strike the pick.
If you want to channel your inner Plini, this is the perfect environment for your percussive riffs. The following iteration, the Smooth, features a more prominent mid-range and remarkable warmth. Last but not least, the Ambient setting features a more drawn-out decay and powerful resonance.
Hall
When you turn up the hall and turn down the bass and treble, you get ambient sounds reminiscent of alternative rock tunes from the 1980s. It's possible to fine-tune this hypnotic atmosphere with the pedal's built-in equalizer. Adjusting the tail's decay by turning the bass knob to the right creates the impression of a choir singing in the distance.
In the room mode, the saturation and brightness are both moderate. When played on a stereo system, this variant sounds extraordinarily expansive. The faint noise from the hall decays with a shrill, brilliant quality. The population density here is about average. A large concert hall is a way to go if you want a longer reverb duration.
Connectivity
The pedal's back features mono input/output jacks and a pair of stereo jacks. Mono-in is used to hook up a guitar to the device, while mono-out goes to an amplification system. The stereo out port allows you to connect to a second amplifier. The pedal's USB connector will enable it to be connected to a computer for firmware upgrades. The 9V pedal also features a rear power input.
Potentiometers
Adjusting how quickly or slowly the reverb's tail fades away is done with the pedal's first knob, called decay. Following that, you can change the time lag between the dry signal and when the reverb kicks in with the Predelay knob.
The final top-row control is the Mix knob, which determines how much dry movement is blended with the reverb effect. Turning this knob will cause the reverb to drown out the dry signal. Pressing the left foot switch twice will activate the Live mode while pressing it a third time will deactivate it.
When used in "live" mode, the pedal will respond in real-time to the parameters set via the interface. But when you go to Preset mode, the current settings don't matter, and the preset you previously saved takes effect. A downward flick of the switch can activate the "Store" mode.
Character & Sound:
There is a striking resemblance between the EMTs, the algorithms, and their UA ancestors. The plate is a huge investment in equipment, and UA did a fantastic job capturing the piece's richness and heft. The pedal brings to mind the legendary device, generally acknowledged as helping to define the sound of the 80s.
New spring settings have also been released by UA, whose prior spring plug-in was a clone of the AKG, a classic outboard spring unit that sounds somewhat like an old-style Fender tank and is featured in various amp-model plug-ins. This pedal does a great job of recreating the upbeat, percussion-like, slightly sloppy sound that is so signature of Fender instruments.
Pros:
Thanks to its extensive effect customization options, the pedal is more than just a reverb pedal. The Plate and Chamber reverb effects are free when registering your pedal on the UA website. You won't need to shop for another pedal again once you see how versatile this one is.
Cons:
Unfortunately, the pedal isn't midi-compatible. Firmware upgrades are a pain since file downloads don't work as smoothly as they should on somewhat older computers. A power cord would have been helpful to include in the packaging.
6. Electro-Harmonix String9 String Ensemble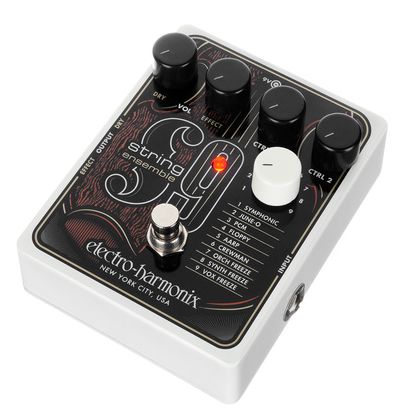 An entire orchestra and a lot of vintage synths are packed within String9.
The modern EHX is a two-headed beast, with the analog tone machines of yesteryear going strong on the one hand and the complicated digital noise producers of today launching attacks from the other. To that end, let's look at this pedal,  a multi-voiced string ensemble synth pedal.
Despite appearances, only one of this unit's nine settings is meant to evoke the sound of genuine strings; the rest draw inspiration from a wide range of keyboard-based symphonic synthesizers from the 1980s and earlier. The final three options all feature a "freeze" option that allows the backdrop textures to persist indefinitely.
Key Features:
Controls
Both signals can be mixed to varying degrees using the dry and effect controls. Effect and dry outputs are also available. The former is used in the case of a single amplifier or digital audio workstation.
When connected to a second amplifier or an additional input channel in a digital audio workstation, the dry output provides a buffered signal that completely avoids the effect, opening up a wide range of wet/dry mixing options.
It's fantastic that only with these two outputs you can make such massive, intricate, and consistent sounds. Depending on the voice you choose with the white patch knob, the control 1 and 3 knobs will have different behaviors. While some may regret the lack of granularity in the synth's controls, others will likely appreciate the minimalist aesthetic.
Separate Outputs
Physically, the pedal is identical to earlier models, with independent Effect and Dry outputs and the ability to simply use the Effect output jack to blend the guitar and the synth string sound.
A nine-way rotary switch selects between the available presets; additionally, there are two control knobs, one for the Effect level and one for the Dry level, each of which performs a different function. The time has come for release.
Presets
The first patch, for instance, simulates a full symphonic strings sound by allowing the tone to be adjusted by one and the release time to be modified by the two. The patch features a sub-octave created by the guitar's lower strings.
The second patch, JuneO, produces a string sound reminiscent of a synth, and its two knobs allow you to adjust the tone and choose between five octaves up/down doubles. The third, PCM, setting will enable you to modify the amount of vibrato, and the fourth, Floppy, allows you to alter both the tone and the release time.
There's no need to guess what the 5 represents; AARP lets you control the speed and delay of your phaser's release. Crewman, at number six, is a vintage string synthesizer sound with filter sweeping and releasing settings.
Character & Sound:
Although it is possible to achieve a pad-like effect by blending the string and guitar sounds, the string sound is crisper and more believable when delivered through a dedicated full-range amplifier. While the string sounds may not always have the same silky quality as those produced by a piano when heard dry and in isolation, in the context of the larger piece, your listeners will hardly notice.
To make the synthetic string sounds more engaging and dynamic, you can add a modulated delay. It's essential to remember that the pedal should come before any others in the signal chain, except for a compressor, because it won't function optimally when fed with already-processed sounds like those produced by distortion, modulation, or delay.
Pros:
You can't expect the pedal to do the job of a workstation used by a Hollywood soundtrack composer and play the part of a string section. It also needs to capture the unique sound of an Arp. However, most of the personal problems can be attributed to the constraints of the guitar-synth interface.
Because of this limitation, the pedal and its fundamental tones are outstanding. You need to keep an open mind about your technique and what you consider to be accurate when using any synth pedal. However, for musicians that don't limit themselves stylistically, the pedal can inspire daring, unexpected creative explorations.
Cons:
Despite numerous attempts (and with wet/dry operation separated), the application didn't yield the most excellent results sonically. It ended up being mucky and intimidating. Arpeggios and lead lines significantly impact its ability to generate precise orchestral motion. The pedal attempts to hone in on these notes, resulting in major and minor triads.
7. Soldano Super Lead Overdrive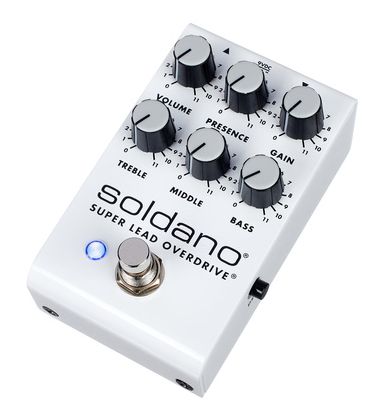 The iconic Soldano tube amp is captured in this pedal.
Based on a cascading gain stage architecture, the original SLO gave guitarists access to some of the most nuanced high-gain tones ever heard. By employing a similar topology, the SLO Pedal provides you with a nuanced character that's virtually indistinguishable from the sound of the original amplifier.
Top-panel controls on the stompbox are reminiscent of the amp that served as inspiration, with Gain, Volume, and Presence knobs and a 3-band EQ. Additionally, the original amp's Depth knob's low-end punch can be replicated using the Deep switch on the amp's side. The pedal will help you achieve the current high-gain Soldano sound you're after.
Key Features:
Controls
The perfect harmony of the original's gain, sustain, and touch response has been preserved in this pedal. Featuring the same spiraling gain levels as Soldano's flagship amp, the Soldano pedal makes it simple to get the company's unique sound wherever you go.
Presence, Volume, Gain, and a 3-band EQ are mirrored in the pedal. The Deep switch on the amp's side enables the bass boost. You can use these controls to achieve anything from a harmonically rich crunch to some of the highest gains in guitar history.
You can use a subwoofer in place of the amp to achieve the same effect. The designers took cues from the original's sound and features while creating this unit so that you can get the same classic sound at a lower price and in a more portable package.
Housing
This pedal has a white powder coat on its metal housing and weighs roughly 410 grams. It features an internal gain staging mechanism and a sloping top with six knobs in two rows. The pedal operates on a 9V DC power supply, and the meter reads an average of 32 mA.
The front panel often houses the power button, connectors for audio and video input and output, and the main cable connection. With the flip of a little switch on the right side, you can access the Deep mode, which enhances the bass.
The new amplifiers feature a step-less low-end control that was not available in the past. If you press down on a footswitch, an indicator light will indicate the pedal's status at the moment. A five-year warranty backs up the quality of all American pedal components.
Circuitry
Mike Soldano is widely credited with developing the groundbreaking 100-watt tube head in 1987. They employed many famous hard rock guitarists because of their highly articulate high-gain tones. A beautiful, bluesy crunch was achieved with the SLO, proving that it wasn't just useful for metal tones.
The cascading gain stages inside the pedal are the key to its enchanted sound. The pedal is a faithful recreation of the circuitry in the tube amp, producing the same well-rounded characteristics of gain, sustain, and touch response. If you've ever wished to bottle that distinctive sound, this amp-in-a-box pedal makes that possible.
Character & Sound:
This pedal helps enhance the gain and sustain of single-coil guitars. In particular, the humbucker generates a steady, drawn-out, and melodic tone when played at a certain volume.
You may use the guitar's volume knob to adjust the distortion produced by setting the gain to around 13 o'clock. It is possible to hear some distortion at maximum volume reduction. The technology reliably keeps the noise level below the acceptable threshold.
Pros:
The amp's sound is contained in a small, convenient guitar pedal. The overdrive's harmonics add grit to the already warm and full tone, making it appear like your guitar is sending out a signal but with more bite. All in all, essential for any fan of Soldano's music. If you have questions about the pedal, please comment below or visit the developer's customer service page.
Cons:
The only problem this pedal has is that the footswitch is very close to the pedal knobs, and sometimes you can alter the tones by mistake if you use it in a pedalboard, but with time, this problem goes away as you get used to it.
8. Fender Pugilist Distortion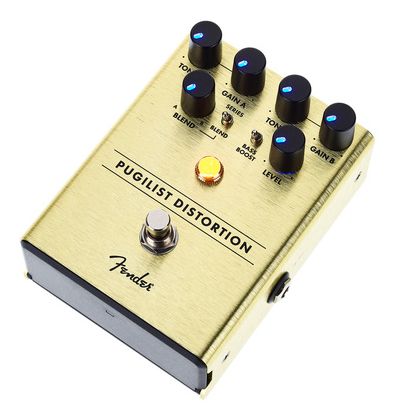 This overdrive pedal packs a hefty harmonic punch.
The pedal features two channels, a left hook and a right cross, and a wide range of tonal shaping and blending parameters, allowing for some filthy playing. Fender is making history with this treasure trove of tones because the business has previously needed help competing in the stompbox industry.
Key Features:
Controls
The volume and tone of each channel can be changed using the pedal. The amp's gain control regulates how much distortion is applied, while the tone control makes more subtle adjustments to the amp's overall volume. The music is broader and warmer at lower volumes, whereas, at higher volumes, it becomes distorted and harsh.
Pugilist's most original feature, though, is its blend control. You can quickly discover the best drive for any condition by turning this knob to the mixing position, which combines the two signals.
You may flip a switch and connect the two drives in parallel if you want an even more aggressive sound. This disables the mixing controls, but you can still adjust the volume and tone of each circuit separately. In addition to the bass boost button, this pedal features an overall level knob for controlling the importance of your signal.
Channels
It has two channels, so you can adjust the distortion amount independently. The volume, tone, and gain controls are independent of each distortion channel. The three positions on the mode switch allow for infinite permutations of the two sounds, which you can further refine with the blend and EQ knobs.
Mute
The mode switch is the beating heart of the pedal, allowing for three different configurations of how the pedals interact. When the volume is turned down, Distortion A takes over, while Distortion B serves as a mask. This option is the least fascinating of the various settings, but we found a few good ones by fiddling with it.
Bypass
The bypass mode offers a second excellent range of tonal tinkering options, including a blend knob for merging the two unique distortions. Mixing a heavily distorted tone with a clearer one, or vice versa is the best approach to achieve note clarity with pinpoint accuracy.
Since the dry output is engaged on the other channel, the guitar tones come through with refreshing clarity while doing the latter.
Distortion
Set the switch to series to replicate the effect of using many pedal board distortion units. When engaged, the guitar's tone can range from smooth overdrive to a high-gain, almost fuzz-like distortion. Distortion A should be used as the primary tone and Distortion B as an overdrive or dirt effect in this setting.
Character & Sound:
This pedal is great for guitarists who want a throaty, punchy drive since it emphasizes the pick and dynamics, especially when the gain isn't completely cranked down. The more challenging, aggressive sound that may be achieved using Channel B is ideal for heavy music.
Using the mix control in conjunction with the method and gain settings for each channel, you can create almost any effect. It shines when producing a solid medium gain tone but can also have a smooth low gain tone and scorching high distortion.
At high volumes, the pedal's articulation is still apparent; the sound wonderfully saturates, but the purity and precision of individual notes are preserved. This is fresh air compared to lesser distortions that squish your signal to nothing when turned up.
Pros:
The California company has been around for a while, but its pedal design is all new. The two-channel layout is novel, and the sound quality is surprisingly high, given the affordable pricing. The instrument's versatility, high build quality, and other performance advancements make it appealing to players of varying skill levels. If you're a guitarist looking for an adaptable and fun distortion, give the Pugilist a shot.
Cons:
Reducing the gain doesn't make up the difference. Low-gain distortion sounds similar to a clipped, clean tone, but badly. It doesn't matter how many combinations of series and blend settings you try as soon as you turn up the volume, that goes away, leaving you with a great sound.
9. EarthQuaker Devices Hizumitas Fuzz Sustainer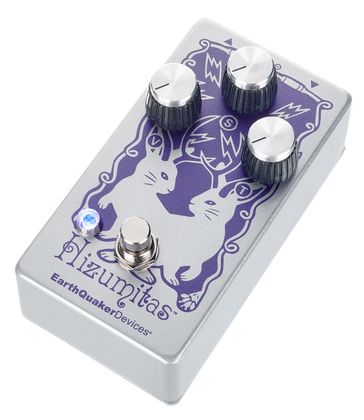 This pedal can handle strong distortion and long sustain while maintaining clarity, and it will work well with various pickups and playing styles.
Hizumitas, the newest Earthquaker Devices project, has contributions from Boris, one of the most recognizable names in music over the past two decades, and guitar stylist Wata, who is distinct from any other guitarist working today. 
Still, E.D. has created a perfect copy of her Elk, made enhancements, and provided stability to this peculiar circuit. Wata sent Earthquaker her favorite Elk, and after trying many versions, they noticed that her pedal was more saturated, had a rougher edge, and had a big bottom than the others.
Key Features:
Controls
V stands for volume, which is set to unity at about nine o'clock; thus, a movement in any direction beyond this point represents an increase in volume. This knowledge helps develop your lead volume and slam the input of a clean tube amp to achieve more excellent saturation.
Saturation (S) is a knob you can fine-tune to perfection, but be careful when doing so, as it is susceptible to changes in the circuit. Turning the T knob, which stands for Tone, in either direction will increase the volume of the corresponding frequency range—in this case, the bass or the treble.
Housing
Before we delve deeper into the audio, let's wrap up the remaining technical details. The relay-based true bypass in this pedal requires power to function, but it is true in every other respect.
It runs on a standard 9V D.C. power supply (no battery needed), and the manufacturer advises using only pedal-specific, transformer-isolated wall-wart materials or isolated-output supplies to prevent unwanted noise from being introduced.
Circuitry
EQ checked out some old Sustainars and Big Muffs to get inspiration for the pedal but ultimately decided that there was simply too much variety between the two to create a replica. They went directly to the source when Wata generously sent her personal Elk pedal from Japan to EQD's headquarters in California.
Character & Sound:
Tones can be found quickly with a three-knob pedal (output volume being one of those knobs), but the sustain and tone knobs' vast ranges and the interplay between those controls lead to pleasant discoveries. Despite its size, the bass never becomes too woofy or ominous.
Single notes were robust and full of sustain, while low power chords and catchy choruses on the bottom three strings sounded fantastic, thanks to the extra heaviness. Increasing the treble helps the pedal lock-in, but it might make for a strange experience.
Some musicians may find that the high treble tones are distracting and unpleasant. Others, though, will appreciate the severity of those controls. You can cut through the heavy when you plug your guitar straight into my interface with the pedal and some reverb.
One of the pedal's most endearing features is how the tone knob interacts with the sustain knob. Due to the pedal's excellent sustain, the tone knob may be used as a noise filter on notes being held, allowing drop-D riffs to burn or change their shape as they fade slowly.
Pros:
We can only attest to the faithfulness of the reproduction by first inspecting a vintage Elk Sustainer. However, Hizumitas is ideal for those who like to enter both loud and slow places. The tight bass-boost tones, well-seared leading patterns, washes of sustain, and knob-twisting fun provided by the pedal will have you glued to your seat.
Cons:
The most common complaint about fuzz effects is that they make it difficult to distinguish between individual notes in a chord. This is because the ideal fuzz tone has a bright mid-range without the awful high-pitched squeak that can result from picking too hard, as well as higher-than-midrange highs that are slightly lower than the mids but still allow you to hear individual notes in the chord.
Despite some success, they tried various approaches using the tools at their disposal, but ultimately, the sound could have been more powerful, more precise, and more sustained.
10. Behringer CS400 Compressor/Sustainer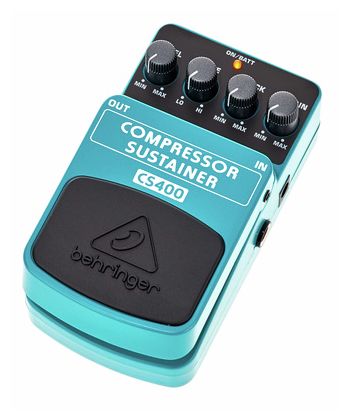 For more experienced guitarists, Behringer has created the CS400 Compressor Sustainer.
This pedal is aimed at musicians who already know the basics and seek to polish their sound, yet, it is affordable across the board. Those who play guitar in bands frequently make use of compression sustainer pedals. They amplify weakly and compress strong signals, so your volume levels stay consistent.
They also assist your signal to continue for longer by decreasing compression when it dies off. Overall, this can aid players in cutting through a mix without requiring them to modify their volume during a set constantly. Due to their intended purpose, pedals are optional for a musician who is simply learning the fundamentals on their own, but they would be a good buy if you begin jamming with friends.
Key Features:
Housing
The pedal's exterior is plastic, as it befits a Behringer product, and has a nice teal color. It may have a plastic case but should keep together well unless you stomp on it.
Power
You can run it on a 9v battery or a power supply, which are offered separately. We are pleased to report that the pedal has been tested with a battery and can be used for at least 8 hours without recharging. The difficulty in getting to the battery compartment was our main complaint about the pedal.
Controls
The pedal only has a single jack for input and output. The volume, tone, attack, and sustain may all be adjusted with the turn of a dial. You can adjust the pedal's output loudness with the level dial. You can adjust the equalizer's tone to emphasize the bass, midrange, or highs.
The compressor's sensitivity to the input signal can be adjusted using the attack knob. The final control is the sustain knob, which changes the compression added to the decaying signal to increase sustain or remove it entirely if desired.
Character & Sound:
The day's chosen term is sufficient and reliable overall. The current buzzword is "excellent," especially when the cost is considered. Generally speaking, the gadget will give you a balanced sound, giving you extra volume where it's needed and cutting back where there are excessive peaks in the sound.
Many guitarists don't know if they need a compression pedal, so trying one out isn't bad. It will show you exactly what this effect can achieve, and trust us when we say that once you try it out, you won't be able to imagine life without compression.
Pros:
This pedal deserves serious consideration for the honor of the "best cheap guitar compression pedal." When you dive deep enough, you can find incredible bargains in the low-priced part of the market, as demonstrated by this pedal.
The sound is good, the controls are simple, and the construction is sturdy. If a friend were interested in learning about compression and they had a limited budget, we'd recommend this Behringer guy.
Cons:
This Behringer pedal suffers from the same rapid wear and tear as their other low-priced effects pedals, which is frustrating. Even at low volumes, the pedal rattles as the compression cycles in and out. Not quite as awful without any other drive, but still practically useless otherwise. Bass guitar setups benefit more from this than guitar setups.
11. Boss OC-5 Polyphonic Guitar/Bass Octaver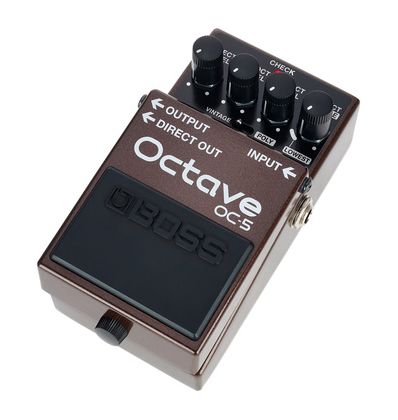 Boss's most acclaimed effects pedalboards inspired this pedal's brand-new tracking engine.
You won't find a more seamless octave effect than this one, which has practically no latency. The pedal has an octave dial in addition to the conventional octave adjustments, making it possible to imitate 12-string textures and scream classic lead lines.
A unique instrument switch lets you tailor an electric/acoustic guitar or bass track. A dry Direct Out parallel path preserves the input signal for connection to an external amplifier or public address system.
Key Features:
Housing
A single 9-volt battery powers the BOSS OC-5 for up to 6 hours due to its low 66-milliampere consumption. As a result, it's a terrific pick for individuals who favor a carbon-zinc or alkaline timbre. Modern pedalboards do not require special wiring or power configurations from the wall.
Detection and Monitoring
The pedal uses the latest Boss tracking technology to provide a fluid and intuitive playing experience. The pedal's layout has also been simplified. The pedal has a guitar/bass switch on the back that allows you to adjust the amp's tone to suit either instrument, unlike the original model, which required two separate inputs for guitar and bass.
Guitarists can use the mono output to hear both the unaltered signal and the octave effects, or they can use the direct result to process each movement separately. The pedal's innovative new tracking features are highly commendable. It was easy to play and quick to respond, having a natural sound and feel even when bending notes or using vibrato.
Knobs
The pedal looks like a Waza Craft pedal because of the little toggle Mode Selector that switches between Vintage and Poly modes.
To get that distinctive monophonic bass sound, switch to Vintage mode; adjust the loudness of the two lowest octaves with the range knob; and add an extra octave with the +1 control.
Poly Mode
In Poly mode, you may focus the octave effect on the lower strings by adjusting the frequency range from low to high with the range knob, making it sound more natural when playing standard chords. Drag the range slider to its minimum position to hear just the lowest note in a chord.
Character & Sound:
The new octave pedal from Boss is an improvement over the original, but it also exceeds the high standards set by its fans. The pedal is especially helpful when playing a series of notes in rapid succession, as it reduces the occurrence of transitory aberrations, such accidental leaps to a higher harmonic octave or other unintended pitches.
Guitarists can give their power chords and basslines an extra layer of subterranean bottom tone by toggling the pedal to Vintage mode. The upper octave adjustment allows you to add a warbly chime to the higher registers or a hint of a 12-string shimmer.
When playing in Poly mode, the low root notes of your chords will stand out more clearly thanks to the stacked octave low tones. In poly mode, you can blend all three voices across all three octaves to create complete organ textures and synth-like sensations. It could be helpful for guitarists who aren't familiar with the style to see an image of a sample set, but it's not required.
Pros:
The accuracy with which the pedal captures your performances deserves special mention. The pedal has no trouble keeping up with fast legato runs or deep, thick chord voicings. This is the pedal's main selling point and why the original Octave pedal is still widely used forty years after its introduction.
Cons:
No matter how open or high you play the chords, the poly mode with the lowest range setting makes it leap between the root and 5th. Once you switch it to a single output mode, it becomes utterly useless.
Bonus:
Fender Compugilist Compressor/Distortion
This pedal has all electronics and the meticulous attention to detail typical of Fender's innovations to compress and distort your audio stream.
The pedal's mix of improved sustain and superb grind from the compressor and distortion makes for some very inspired playing. You can use these two all-analog effects independently or together at the flick of a switch.
The Bass Boost switch is a great way to give your single-coil pickups more depth if they sound too thin. The pedal's comprehensive functionality and pleasant design make it a joy to use. You can get high-quality compression and distortions in a compact, pedalboard-friendly chassis, and the effects kick in as soon as you plug in the pedal.
Key Features:
Circuit
The pedal is a hybrid effect, combining the best aspects of both effects into a single, portable, lightweight, and durable anodized aluminum chassis. With two independent circuits, you can utilize the results independently or together.
This pedal frees up space on your board by separating the equalizer and distortion functions. The combo of compression and distortion is undoubtedly a classic, whether you're simply looking for a little more bite or playing something substantially heavier.
Fender has made this pedal more than just a simple combo, with a lot of attention put into its design. A high-current control channel allows for almost instantaneous attenuation of sudden volume shifts.
Controls
Only three knobs and another potential implementation is a foot pedal that acts as a booster. The volume knob and many features make this an excellent addition to your board. Sound fidelity can be fine-tuned visually by adjusting the threshold until the gain reduction indicator light turns on when the compression takes hold of the input.
Distortion
In addition to volume, gain, and tone, the bass boost flip switch enables further sound distortion. This function is crucial for bringing out the bass end and creating a more natural sound when utilizing a clean amplifier.
It incorporates distortion while using multiple pedals, and effect layers can easily cloud the sound. To be able to disable it when necessary is a great feature, and it's greatly appreciated. It's beneficial for looping, where incremental variations contribute energy. The tone control allows you to adjust the volume independently of the amp's other controls, such as the bright switch.
Character & Sound:
Warm, not overdriven or harsh, as one might expect from a Fender, thanks to the low to mid-gain distortion. This allows for a wide range of options for stacking effects, such as an overdrive or fuzz pedal, for truly insane results.
However, this pedal can produce significant distortion with the right instrument and pickups. If you want your guitar solo to reach new heights, try turning on both effects at once, cranking up the compress, boost, and outputs via the level knob, and then sitting back and taking in the show.
Pros:
A distortion pedal with a compression section and practical features like bass boost will remain popular for years, especially among musicians who care less about the big picture. It's far too desirable to be on the periphery.
Cons:
This pedal's three compression knobs are its only real drawback, but they don't compromise the quality of the sound it's capable of creating in any way.
Conclusion
They were 11 Best Effect Pedals For Jazzmaster Guitar 2023. These effects represent the full range by which you can alter the tone of this iconic guitar. Surely the time has shown us that the fact that its name contains Jazz is not a limitation in the genre, and nowadays, there is no question of a guitar not coping well with extreme situations.
The Jazzmaster is a guitar that will serve you in any situation and style if you know how to use it. It has a single coil pickup, so you'll hear the articulations no matter how much gain you use. At first, you might consider the effects that the Fender company offers.
In this top, we have included solutions from them, and the first one was their "The Bends" compressor. This pedal was designed to take care of the dynamics of your tone, specifically altering your tone without destroying the feel or response. It gives a crystal clear tone to your Jazzmaster guitar, and the dynamics are suitable for any genre.
The Universal Audio UAFX Golden Reverberator is a great fit for the Jazzmaster guitar because, in addition to its efficiency, it also offers analog tones, which is a bonus. After all, the Jazzmaster is a guitar made for classical tones.
And if you want to get the full package, add the Soldano Super Lead Overdrive to your pedalboard. This pedal captures a Soldano amp, and it fits perfectly with a Jazzmaster because it was designed to enhance the gain and sustain of single-coil guitars.
We hope these 11 Best Effect Pedals For Jazzmaster Guitar 2023 have helped you find the right tone for your Jazzmaster guitar, and why not, we understand how important it is not to limit yourself to one genre when it comes to a guitar, especially when talking about this particular model.
Related Readings:
The 12 Best Tuner Pedals For Bass & Guitar 2023
Top 7 Ring Modulator Pedals For Bass & Guitar 2023
The 13 Best Fuzz Pedals For Bass 2023 (All Budgets)
13 Best Overdrive Pedals For Bass 2023 (All Budgets)
The 11 Best Wah Pedals For Bass 2023
The 13 Chorus Pedals For Bass 2023 For All Budgets
11 Best Autotune & Pitch Correction Pedals 2023
The 13 Best Phaser Pedals for Bass 2023
13 Best Distortion Pedals For Metal 2023 (All Budgets)
Top 6 Overdrive Pedals For Worship Guitar 2023
Can I Use Guitar Pedals For Bass? Is it okay?
Top 12 Pedals For Metallica Tone 2023
Top 12 Mini/Small Guitar Volume Pedals 2023
Top 11 Reverb Pedals For Synths 2023 From Top Brands
Top 12 Harmonizer Pedals For Vocals 2023
Top 9 Best Glitch & Stutter Pedals 2023
Top 13 Vibrato Pedals For Bass 2023 (On All Budgets)
Top 7 Available Arpeggiator Guitar Pedals 2023
13 Best Compressor Pedals For Bass 2023
Top 12 Pedals for Princeton Reverb 2023
20 Best VST Pedal Plugins 2023 (Chorus, Distortion,Reverb,Delay)
12 Best Mini/Small Compressor Pedals 2023 (All Budgets)
Top 12 Guitar Pedals Great For Telecaster 2023
Top 12 Delay Pedals For Vocals 2023 From Top Brands
Top 12 Effect Pedals Great For Les Paul Guitar 2023
20 Best Pedals for Guitar Solos 2023 (Boost, Delay & More)
Top 12 Reverb Pedals For Vocals 2023 From Top Brands
8 Best Pedals For Rickenbacker Bass 2023
Top 12 Guitar Pedals Great For Stratocaster 2023
Top 12 Multi FX Pedals For Acoustic Guitar 2022
6 Best Noise Reduction Pedals Available in 2023
Top 12 Plate Reverb Guitar Pedals 2023
Top 14 Rotary Pedals & Leslie Sims 2023 (Best Rated)
Top 10 Pedals For Techno, House, DnB & EDM Music
Top 11 Pitch Shifter Pedals 2023 For All Budgets
How To Use Guitar Pedals In Logic? Answered
Top 7 BitCrusher Guitar Pedals Available 2023
Top 12 Delay Pedals For Metal 2023 (Any Budget)
Top 12 Reverb Pedals For Metal 2023 (Any Budget)
Cheap VS Expensive Guitar Pedals: Main Difference, Pros & Cons
The 11 Best Ambient Guitar Pedals 2023
Top 8 Boost Pedals For Metal 2023 (For All Subgenres)
Top 10 EQ Pedals For Metal 2023 (Any Budget)
12 Best Wah Pedals For Metal 2023 Update
Top 12 Spring Reverb Guitar Pedals Available in 2023
Top 20 Guitar Preamp Pedals 2022 (Best Rated)
Top 11 Hardware Vocoders 2023 (Best Synths & Pedals)
12 Best Fuzz Pedals For Metal (Doom, Sludge, Stoner & Death)
Best Lo-Fi Guitar Effect Pedals 2023 For Unique Tone
Can I Run Vocals Through The Guitar Pedals? Answered
4 Best Analog Saturation Pedals 2023 (Tone Shapers & Tape Saturators)
Top 4 Limiter Pedals 2023 You Can Get (Best Guitar Limiter Pedals)
Top 2 Best Guitar Sidechain Compression Effect Pedals 2023
Top 6 Modulation Plugins 2023 (Flanger, Phaser, Chorus…)
Top 6 Chorus VST Plugins 2023 For Musicians (And 3 FREE Plugins)
Top 7 Phaser Plugins 2023 (And 3 Best FREE Phasers)
Best Flanger Plugins: 6 Picks To Emulate Your Sound 2023
The 7 Best Tremolo VST Plugins 2023 | Eventide, SoundToys..
The 7 Best Vibrato VST Plugins
Top 9 Leslie & Rotary Speaker Plugins 2023
Death metal enthusiast here. I am a Romanian musician and producer with over 13 years of experience in the music industry. I've experienced all types of Metal up until now, playing Melodic Death Metal, Brutal Death Metal, and Black Metal with different bands. Learning by doing is my base principle, which is why I've been drawn to sound design from an early age. Read more…