If you're the type of guitar player who enjoys low tunings and heavy riffs, finding the right pickup for your guitar is crucial to getting your tone right. It's not every pickup that will capture the low frequencies the right way and deliver a good fat, bold guitar sound.
The pickup of a guitar is like its voice; it's how it speaks. And sometimes, a good pickup can make a not-so-good guitar sound great, especially when it comes to low tunings. In these heavier styles of music, the pickup is the essential part of the guitar; it has to sound right.
Therefore most of the pickups used in these situations are Active Pickups, not Passive Pickups. As the Active ones generally tend to be more consistent. 
But, what's the difference between active and passive pickups?
An

active pickup

requires its own battery to work, amplifying the guitar signal sent to the amp. So, it allows for the pickup to have weaker magnets than the Passive ones since the battery already amplifies the intensity of the signal. With those weaker magnets, the magnetism is obviously weaker on guitars with

Active pickups, which makes for a longer and better sustain because the magnets will interfere less on the strings' vibration and produce fewer "hum" noises, fewer harmonics, and less saturation. All of those aspects are great for playing low tunings.

As for the

passive pickups,

they, of course, don't require a battery to work. The magnets are much stronger and influential on the guitar's sound, making for much more

versatility, dynamics,

and

"hum" noises.

But still, some passive pickups are also great for playing heavy-low-tuned guitar riffs.
 Let's take a look at the top 10 guitar pickups for low tunings:
Top 10 Guitar Pickups for Low Tunings 2023
1. Bare Knuckle Ragnarok OB set (Bridge pickup)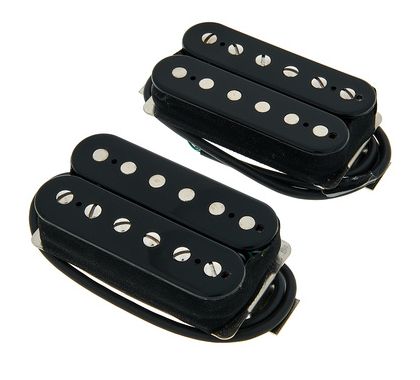 The best guitar pickup you can get for low-tuned guitars is the Bare Knuckle Ragnarok OB; the brand Bare Knuckle has appeared a lot lately on many players' guitars who use low-tunings.
The Ragnarok OB, in particular, combines ultra-modern electronics with the experienced tradition of ceramic magnets, making it a versatile and, at the same time, dependable pickup.
Initially conceived as an extreme/progressive metal humbucker, this piece of metal artillery delivers the saturated high gain tones you need for using a low tuning guitar. And there's no doubt it gets the job done in the rawest and most organic way a Ceramic magnet pickup can sound.  
2. Fishman Fluence Modern Humb. Set BK (Bridge Pickup)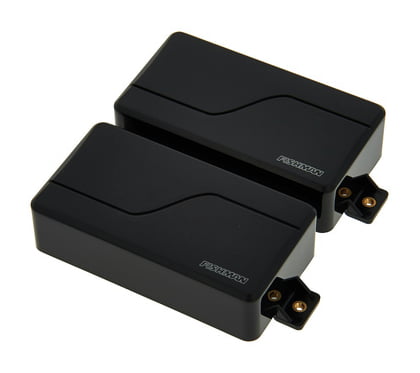 In the second place, we got the upgraded version of its predecessor, the Fluence classic set; the Modern set offers a perfect uncompromised, pure sound, free from the "hum" that most of the time accompanies a high-gain humbucker sound, especially through a low-tuned guitar.
Its sound is full, rounded, and with a surprising amount of articulation and dynamics. It is a top-of-the-line pickup great for really any kind of music genre. 
But, a special factor about this pickup is that it has two switching options, a Modern Alnico and a Modern Ceramic, which accounts for very different timbres possible with only one pickup. Let's talk about both possibilities:
Modern Alnico

on Voice 1 gives you a more organic, warm sound. Great for old-school Metal, Classic Rock, or even Punk. On Voice 2, it is like it is a bit more compressed.

Modern Ceramic

is probably what you would go for when playing with

low tunings; it

has focused lows, "in-your-face" mids, and snarling precise high frequencies. In Voice 1, in Voice 2, the grooviness starts to happen; it is the definitive

Chugging Heaven.
3. DiMarzio DP 259FBK Titan Bridge black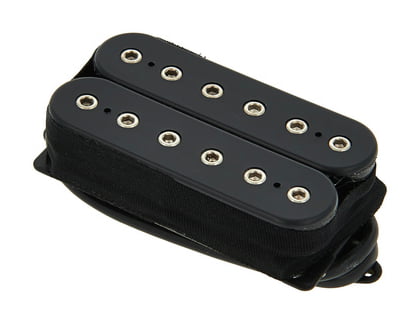 Chosen for the third position is the Dimarzio Titan. Another pickup on the cutting edge of modern low tuning metal, also responsible for the dark, crushing sounds of the Periphery riffs and solos.
This time used famously by the guitarist Jake Bowen, and the Titan has an average output in the bass, mids, and high frequencies that allows for a constant and balanced sound, no matter how low you are tuning your guitar. 
Confirming the stability factor of the pickup. If you are looking for a pickup that can easily cut through the mix, whether you're playing leads, riffs, or even clean chords, this is the pickup to show off your chops!
As you can see here in an interview at the Dimarzio youtube channel, Jake himself talking about the pickup, and in his own words: "This pickup enables me to retain the tone of my guitar as well as having all these effects without it being too messy."
4. Seymour Duncan SH-6 Set Distortion Mayhem (Bridge Pickup)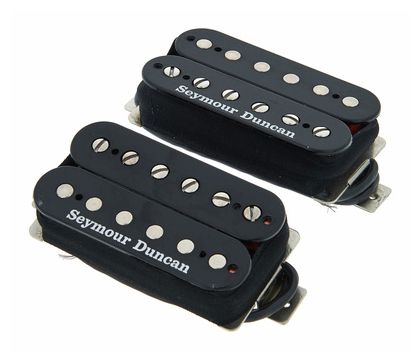 One of the best choices today for low-tuned metal. This passive Seymour Duncan delivers the classic mid-range sustain and excellent separation and clarity in the low frequencies.
Many players find this one of the best pickups to play intricate, fast prog-oriented riffs, chords, and melodies because of its precise separation between the notes. 
Also, considering that when you're playing low-tuned stuff, it's good to have some treble eq boost so that your guitar sound doesn't get lost in the mix, and this pickup has just that top-end necessary for that.
5. Seymour Duncan AHB-3S Blackout Set BLK (Bridge Pickup)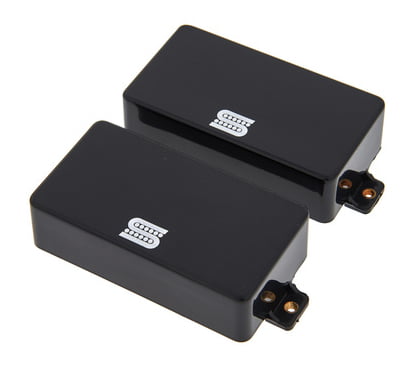 Another active pickup, this time the Seymour Duncan equivalent of the EMG 81 and 85. The result of a collaboration between Slipknot's Mick Thomson and Seymour Duncan. This is a pickup made exclusively for the crushing thickness of low-tuned guitars.
The chunkiness of doing palm-muted riffs with these pickups is very percussive, and at the same time, it is also designed to create crystal clear tones. In Mick's own words, as you can see in this article on Seymour Duncan's website, he explains: 
"They're extremely quiet, they're extremely clean, and they have a lot more tone than the typical active pickup. They sound more real. The harmonics are richer. It's a bigger sound across a wider range of frequencies." Much like the Het Set previously talked about, Mick also aimed for that hybrid vibe between the best of both worlds, making it not your typical active pickup.   
6. Seymour Duncan Mark Holcomb Omega Bridge 6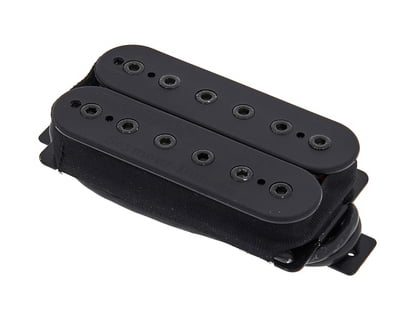 Now we're beginning to get more into the modern progressive metal world. Mark Holcomb, the guitarist of the band Periphery, got together with Seymour Duncan to create the "Alpha and Omega" pickups.
The bridge one, the Omega, is a precise riff machine, with its clarity and articulation on point, to capture complex rhythms and low-range frequencies, it is pretty balanced with a quick, punchy, and tight presentation, and it comes in both a six-string, a seven-string, and an eight-string version.
It truly is one of the best high-output passive humbuckers pickups available today. Here Mark talks about the pickups on Seymour Duncan's youtube channel. 
7. Dimarzio DP 245FBK Dominion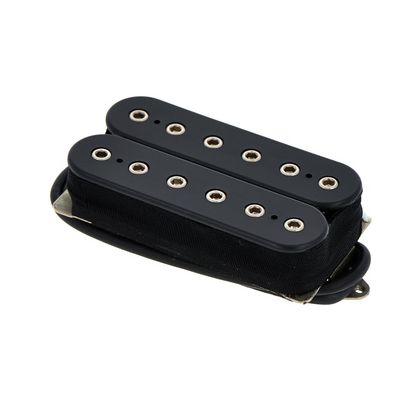 Suppose there's a band majorly known for using low guitar tunings extensively and having a great sound. In that case, that band is Lamb of God, and the band's guitarist Mark Morton also has his signature pedal, the Dimarzio Dominion. 
DiMarzio has achieved a great-sounding pickup by combining wound coils for a warm tone and a ceramic magnet for speed. The whole idea for the Dominion is a pickup that offers a balance between attack, thickness, and sustain. Its sound is very tight, aggressive, and sharp, perfect for tuning your guitar to tunings like Drop C, Drop C#, Drop B, and really going for precise fast-paced riffs.
8. EMG JH "HET" Set BC (Bridge pickup)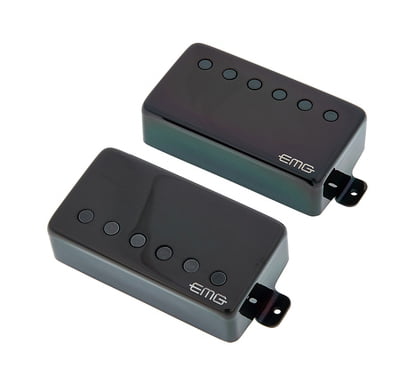 In 8th place, we got the James Hetfield signature model EMG; the first two pickups discussed here were respectively an active and a passive pickup. Now, this one is a hybrid between the two.
In 2009 James got together with EMG pickups founder, Rob Turner, to create a unique set of pickups, a set with the punch and clarity of a passive pickup together with the fat wall-of-sound of an active.
And so, the EMG JH Set was born, a fantastic pickup if you want your low-tuned guitar to sound the good old Metallica way. Here you can check out an interview James did for EMGtv, explaining the process behind creating the "Het" Set.
9.  Seymour Duncan SH-JB Hot Rodded Humbucker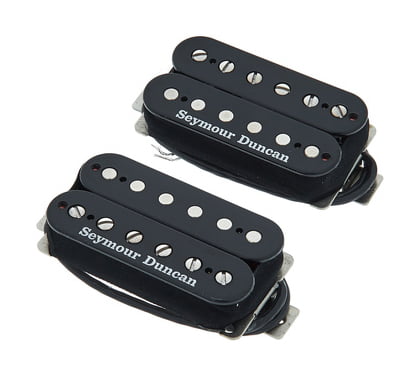 This pickup is one of those that turn an average or real bad guitar into an excellent instrument. One of the most popular Humbuckers ever, the SH-JB delivers a classic hot-rodded high gain guitar sound.
Like any other Seymour Duncan, it has an excellent output with just the right blend of sustain, distortion, and clarity, with no unpleasant high frequencies or too much bottom end. Its low frequencies are full and powerful, the high ones are crisp and detailed, and the mids feel like a wall of sound.
If you're going for a heavy, dark, full-sounding, and at the same time, warm pickup, this should be a perfect option for you.
10. EMG 81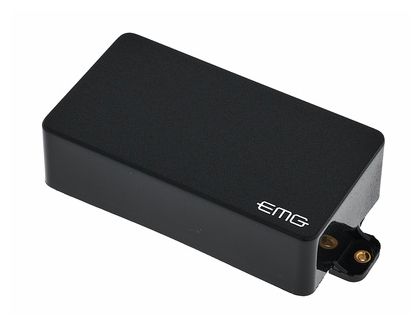 One of the most iconic EMG pickups of all time, first introduced in 1979, the EMG 81 set the tone for active pickups from day one. Since the day it came out, all-around metal and rock guitarists have started using it because of its reliability. You'll Always get the same 81-pattened tone, no matter which guitar you're using. 
Two of the most significant users of this pickup were the Metallica duo James Hetfield and Kirk Hammett, who, after experimenting with the pickup for the first time, only abandoned it after making their own EMG signature pickups. These pickups really pushed the boundaries regarding great tone while using low tunings and fierce high-gain sounds.
The EMG 81 shaped the definitive low tuning metal sound for years, accompanied by his brothers, the EMG 60 or the EMG 85 in the neck position. 
Bonus mention:
Bare Knuckle Aftermath
It's worth mentioning another Bare Knuckle pickup, The Aftermath. It is one of the brand's most famous and bought metal-oriented pickup ever, which is for one reason.
Designed for highly aggressive playing styles, the Aftermath has a fantastic response for exceptionally fast-tracking high-speed staccato riffing with an incredible mid-range and precise high-end articulation, perfect for the modern metal guitarist.
Despite being a passive pickup, it has a built-in noise gate that makes it acts like an active one, it has no "hum" noise, but at the same time, literally, this pickup will capture every nuance of your playing; this is not for sloppy players.
No matter how fast your picking action, this humbucker will keep the pace and sound great, made by one of the best boutique pickups manufacturers today.
Conclusion:
There are countless good options of low-tuning focused pickups on the market today, technology is only getting better, and you always see the best brands in the world coming up with new stuff constantly.
From the more budget-friendly and traditional ones like the EMG 81 and the Seymour Duncan SH-JB to the top-end-ultra-modern and expensive ones like the Bare Knuckle Ragnarok OB, it is guaranteed you will not be disappointed with any of those pickups mentioned on the list.
Integration is a music website focused on audio advice, how-to, tips & tricks and best plugins (free & paid). Read More…