Today's list showcases the Top 12 Audio Interfaces you can use with your guitar. We've compiled a list of great products, including Focusrite, Behringer, M-Audio, MOTU, Presonus, Native Instruments, Solid State Logic, Apogee, IK Multimedia, Universal Audio, Zoom, Audient, and Steinberg.
There are so many interfaces in the market right now, all different and unique in their own way, be it based on looks, features, size, price, and you name it. Choosing one can be the toughest of tasks, like finding a needle in a haystack, but this is where we come in.
This article will guide and help you make an informed decision about what best suits your personal preferences. The size of the interface, the number of inputs and outputs, plugins, preamps, and how the unit deals with latency all play a significant role in deciding what's best for you.
So many options await so many interfaces. Let's discover the perfect one for you. By the end of this article, you'll know exactly which product suits your needs.
What cables do I need with audio interface for guitar?
Each Audio Interface will indeed have a quarter-inch input for guitar connectivity. The standard guitar cable with quarter-inch jacks on both ends is all you need to connect your instrument to any audio interface. One thing to consider here is that the length of the cable also plays a role in signal quality. 
However, if you don't want to be bound by wires, you can always use wireless transmitters to achieve the same result. One of the transmitters can be plugged into your interface's instrument input while the other can connect to your guitar for wireless freedom. 
Top 12 Audio Interfaces To Use With Guitar 2023 
1. Focusrite Scarlett Solo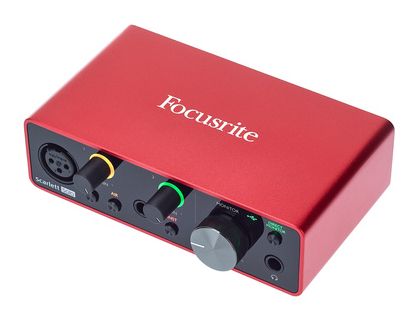 The Solo is a popular and affordable, easy-to-use plug-and-play audio interface.
The interface is a very budget-friendly option and is very cheaply priced. I had the pleasure of using this unit as the centerpiece of my recording studio for many guitar-related adventures over the years.
Enveloped in a durable aluminum and matte plastic exterior and measuring just 1.71″ x 5.65″ x 2.36″ (4.34 cm x 14.35 cm x 5.99 cm) with a weight of less than half a kg (0.32kg), the unit a very easy to carry, portable option.
Key Features:
Mic & Instrument Connections


The front of the device hosts an XLR microphone input with a corresponding knob right next to it. Under this knob, you'll findtwo small buttons to toggle the Phantom power and engage the air mode presets. 

Next to the buttons is a TRS input with a dedicated gain knob which can toggle the line-level input or be turned into an instrument input with the press of the tiny button beside it.

Headphones & Monitoring


You'll find a quarter-inch headphone jack on the right side of the subtle division line.

 A button on the top right allows you to toggle the direct monitor option and most notably, an enormous silver knob controls the level of monitoring and the headphone volume.

 The knobs are smooth and solid.

Back Panel


Like the front panel, the Focusrite Scarlett Solo features a smooth matte black plastic back panel comprising two TRS right and left line outputs

, a Kensington security port, and a Type-C USB connector for USB 2.0 connectivity. The Solo comes with a 2.0 USB cable. Everything on the back panel is solid and adds to the overall impressive build quality.

Connectivity


Use the Type-C to USB cable to connect the Scarlett Solo to your Laptop or PC system. A green light on the front of the interface will turn on to indicate it has been discovered by the system and is ready for use. 

Most systems don't require software installation, but if the green light stays off, you'll need to download the software from the official Focusrite website. The interface works best when connected with a Focusrite driver.

Suitability


The interface is compact,

 so it doesn't take up much space, but it is rugged and 

comes jampacked with features,

 in many ways unbeatable in the price bracket. The device is solid in build quality, features, and performance, promising great value for money. 

The unit has more than enough options for recording guitar work in your home studio.
Pros:
The free Scarlett plugin suite that accompanies the Solo audio interface is exceptional. The interface looks great and is very sturdy. It offers excellent value for money and can even challenge some interfaces from a much higher price point (up to almost four times as much).
Cons:
The interface has a single knob that controls the monitoring level and the headphones. Strangely you can't choose the output port from which you want to output the sound. The interface also gets slightly jittery with Windows 10 and 11.
2. Behringer U-Phoria UM2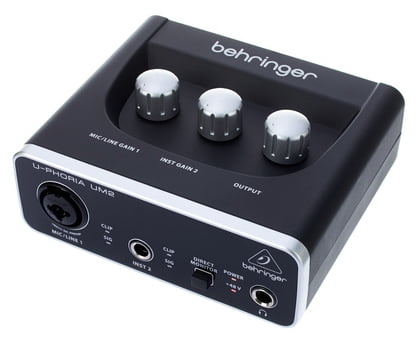 Designed and engineered in Germany, the Behringer U-Phoria UM2 is a compact, low-weight, affordable USB Audio Interface.
The Behringer U-Phoria UM2 is an easy-on-the-wallet audio interface device that measures only 6.3″ x 8.27″ x 3.54″ (16 cm x 21 cm x 9.0 cm) and weighs just 0.26kg. The device is almost pocket-sized, making it very easy to carry. Though compact in size, the UM2 packs quite a punch.
The interface can record and playback at up to 48 kHz, has a wide frequency response, stereo RCA outputs, allows selectable direct monitoring, and hosts XENYX mic preamp with 48V phantom power. The ease of use and the capabilities of the UM2 make it the perfect interface for beginners.
Key Features:
The Anatomy


The unit is a portable compact device comprising two input channels, a dual mic and line preamp, and an instrument channel. The device has two stereo RCA output connections.

 The UM2 is compatible with all Mac and Windows OS recording software and is great for podcasting.

Preamps & More


The interface also features a state-of-the-art XENYX mic preamp and a powerful headphone output for level control and direct monitor selection to avoid latency. 

Tiny green and red LEDs light up to show power, clip, and signal indications. The interface also has a 3-year warranty and includes recording, mixing, and podcasting software.

Setup & Use


The UM2 is a plug-and-play device. i.e., it doesn't require any drivers to connect to a PC system or Laptop. You need to change the system's audio media preferences on Windows or Mac OS and select the USB Audio Codec.

 If you wish to use DAW software on Windows, an additional ASIO driver, available on the Behringer official website, will need to be installed. Apple OS has no such requirement.

 On the DAW software, simply go to the audio preferences and select 'ASIO' for Windows and 'USB Audio Codec on Mac OS.

Guitar and Microphone Connectivity
T

he UM2 interface allows guitarists to listen to what their playing live directly with zero latency which is a considerable advantage over other competing interfaces.

 However, it doesn't allow adding any effects while playing live. The audio caught via microphone is clear and projects this interface as a terrific choice for recording guitars podcasting, audiobooks, or voice-overs. The Behringer U-Phoria UM2 

can even compete with high-end interfaces when it comes to recording audio via microphones.
Pros:
With a wide array of features in a small, lightweight form factor, the unit allows portability and a decent overall experience. The ease of use makes this device great for beginners. The UM2 is the most affordable interface to allow two audio inputs.
Cons:
The unit only records 16-bit, whereas competing interfaces at the budget bracket can record up to 24-bit. Users may experience random clicks and latency issues, but overall the unit provides a well-rounded experience.
3. M-Audio M-Track Solo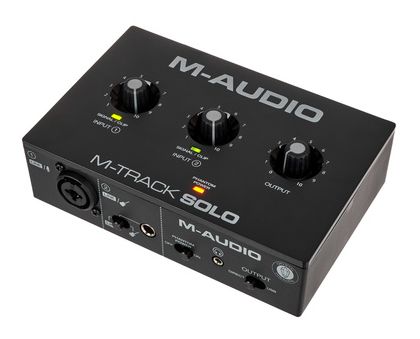 One of the more sought after interfaces in its price range, the M-Audio M-Track Solo provides exceptional value for money.
M-Audio has priced this product reasonably and ensured that it's easily worth every penny, with the features jampacked in their M-Track Solo. Geared towards musicians, songwriters, and producers, the M-Track has recently gained much popularity.
The interface has USB Type-A connectivity, 1 Mic/Line preamp, 1 Line/Hi-Z input, one headphone output, and two monitor outputs. It also supports 16-Bit / 48 kHz AD/DA converters, Phantom power, and direct monitoring.
Key Features:
Unboxing and First Impression


The box contains the interface, a USB-B to USB-A cable, a quick-start guide, and download cards (for the software). 

Measuring 2.1″ x 6.4″ x 4.5″ (5.3 cm x 16.3 cm x 11.4 cm) and weighing just over half a pound at 0.66 lbs, the M-Audio is an excellent portable interface.

Appearance & Controls


The exterior is made entirely of high-quality plastic. The knobs are also made of plastic, and the body of the interface also comprises a few red and yellow LED lights.

 The top of the unit hosts three knobs, the first of which serves as a gain knob for Input 1, followed by a gain knob for Input 2, and then an output volume control knob which controls the RCA output at the back and the headphones output at the front.

Front & Back Panels


The M-Track also allows for simultaneous monitoring through the RCA and headphone outputs. Just beneath the three knobs is a small LED signalling Phantom power.

 The front of the interface hosts an XLR combination jack for an XLR/quarter-inch input, a balanced quarter-inch line input (input 2), and a switch to toggle between line levels. Also seen on the panel is a 48V Phantom power on/off switch, a headphone output (zero latency), and an output switch. 

The back features two RCA outputs to connect with a studio monitor and a USB port for PC or laptop connectivity.

Technicalities


The interface has a capability of 16-bit integer up to 48kHz, a maximum gain of +54dB, preamp EIN up to -128 dba, a signal-to-noise ratio of 109 dB (A-weighted), and 48V of Phantom power.

 The M-Track is Bus Powered, i.e., it can be powered completely by USB. This feature makes it perfect for on-the-go users and the most portable interface at this price point.
Pros:
A fun home studio interface, the Solo is remarkable for its price, with much to offer. The exterior is very durable, and the device is simple to use and even easier to carry. A key buying point is that the unit allows you to have line input on input one and input 2.
Cons:
The device had unbalanced RCA outputs for the monitor. It experiences digital interference at higher levels of gain, which is typical for the budget. The interface overall has a sturdy build quality.
4. MOTU M-2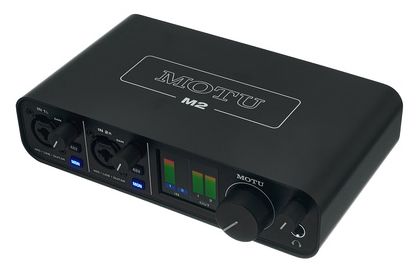 A two-channel interface, the MOTU M-2 is great for studio and live performances.
The controls are at the interface's front and rear, a design similar to the Focusrite Scarlett Solo. The front of the interface supports two combo XLR inputs, two dedicated gain knobs, and dedicated 48V phantom power.
You'll also find a zero latency button next to each input channel. Slightly leaning towards the heavier side, the M-2 weighs 1.4lb, just over half a kg at 0.6kg. There's also a display on the front which helps to monitor the input and output levels.
Key Features:
Unboxing & Display


In the box, you'll find a USB cable, a user manual, and the interface itself. The M-2 has a vibrant full-color LCD display for the inputs and outputs, especially useful for fine-tuning. 

This display is much more practical and several steps ahead of the commonly seen LEDs.

Headphones & Monitoring


To the right of the display is a big knob for the monitor output, and next to it, you'll find a 

smaller knob for controlling the volume on your headphones.

 Just below the knob is a headphone jack.

Rear Panel


The back panel houses an on/off switch, ports for MIDI in and out, a type-C USB port for Laptop or PC connectivity. In addition, the interface also has RCA and a quarter-inch output jack

. The unit has a solid build with plastic panels on the front and the rear with rubber knobs and controls, all encased in a strong metal frame.

Loopback


An appealing feature for guitar players, podcasters, gamers, and streamers, loopback allows you to simultaneously record your computer's output from microphones or an instrument. 

The sound is routed through the unit and can be used in other applications.

 To set this up, you just need to open the DAW, set up an input channel for loopback, and it'll start catching several audios at the same time.

Preamp and Latency


The preamps built into the M-2 are exceptional and superior to most, if not all, interfaces at this price point. The same can be said about the unit's latency performance.

 This feature is especially useful during live recordings.

Performance & Technicalities


Overall, the M-2 is an absolute beast in terms of performance, and it has gained huger popularity since its release. 

The M-2 is a very impressive interface, considered by many as the king of all entry-level audio interfaces. The unit offers a bit depth of up to 32-bit floating point and a sample rate of up to 192kHz.

 The preamps are clean, with an EIN of -129.5DBA and +60DB of gain. The M-2 houses an on/off button for Phantom power for each individual mic channel. In addition, the interface also has a power on/off switch. 

All in all, the preamps perform exceptionally well.
Pros:
The product offers the least atency out of all the interfaces under the $800 price point with individual zero latency monitoring on/off buttons for each channel. It also has loopback functionality. The LCD is clear, crisp, and much better than the commonly found LED lights.
Cons:
The unit doesn't have a mix dial which MOTU did add to their M-4 offering. The XLR ports are slightly wobbly, but they do their job. The USB cable in the box is relatively short, so users need to buy one with a longer length.
5. Presonus ioStation 24c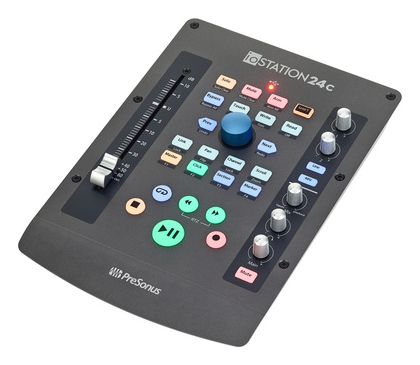 Though pricy at first glance, the ioStation 24c offers great value by combining features from Presonus's Faderport and the Studio 24c audio interface.
The device houses a motorized fader that moves automatically to cater to various channels, which can be switched at the press of two previous and next buttons. The fader is really useful, especially for automation.
In Ableton live or any other DAW, you can run the interface in MCU (Mackie Control Universal), which allows control over play, pause, stop, forward, rewind, loop, undo, re-do, pan, or mute. The interface is the perfect choice for home studios.
Key Features:
DAW Compatibility


The click button can be used to turn on punch-in, and the scroll button can be used to trigger scenes. In the arranger view, the main knob can zoom in, zoom out, or navigate using the timeline. 

The interface even carries dedicated buttons to switch views between the arrangement view, session, and 'show or hide' devices.

 The ioStation houses an XMAX preamp, typically included in Presongs' top-tier interfaces.

Software Control


The rear of the ioStation 24c comprises 2 XLR/Instrument combo inputs, a set of quarter-inch outputs, a headphone jack, a USB Type-C port, a pW button, a power socket, and a footswitch. 

A rarity in audio interfaces, the footswitch can be a handy feature, especially while holding a musical instrument, as it allows you to punch in or out or start or stop recording with the press of a foot pedal (sold separately).

Appearance


The 24c has full dock controls but incorporates standard audio interface features like direct monitoring and Phantom power. The interface 

measures 2.4″ x 6.8″ x 9.6″ (6.1 cm x 17.2 cm x 24.4 cm) and weighs 2.2lbs (1kg)

, which is on the larger and heavier side of the spectrum but it comes jampacked with features allowing for great value for money.

Presonus Software Packages


The interface comes with software including Studio One (artist version), Ableton live, and the Studio Magic Bundle, 

which features excellent plugins and effects. Prosonus' software packages

 are considered among the very best in the world.
Pros:
Unique in appearance and features, the ioStation is a powerful unit serving as an audio interface and a surface controller for your Digital Audio Workstation. The control layout provides a ton of buttons to control various aspects of your DAW with ease.
Cons:
With all the controls and inputs/output options ideal of guitar/vocal recording there's little to complain about with this one. An addition of ADAT or optical I/O connectivity could've been great and perhaps if the interface was bus powered, it could be a bit more portable.
6. Native Instruments Komplete Audio 2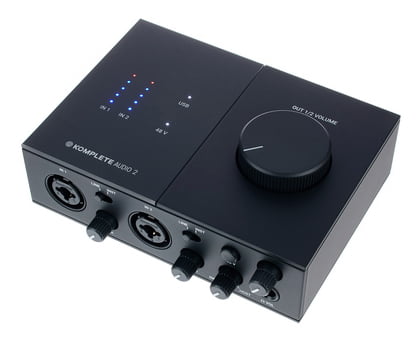 Here's an interface with great preamps, ample gain, more than enough headroom, and a great software bundle.
The unit feels boxy and is made entirely of high-quality plastic except for a thin acrylic slab that houses the LEDs. The knobs are super smooth and feel great during use. The Audio 2 is easily set up with free software download and quick installation.
This interface is a well-rounded, easy-to-use product with much to offer. The unit makes it easy to express creativity. The Audio 2 provides a fun and enjoyable experience with features beyond what most interfaces bring.
Key Features:
Appearance & Build


It has a very different design, staying true to Native's usually black-and-white theme. 

The Audio 2 measures 5.51″ x 4.41″ x 2.04″ (14.0 cm x 11.2 cm x 5.2 cm) and weighs 0.79lb (0.36kg).

 The top panel of the Audio 2 bares two equally divided matte black and gloss black acrylic portions. The acrylic portion hosts two multi-segment LEDs indicating the signal levels of Input 1 and Input 2, a single LED for 48V Phantom power, and a USB LED indicator. 

The Matte side hosts an extremely smooth master knob for output. The knobs on the front side are sturdy and strictly held in place with absolutely no wobble or wiggle room.

Inputs/Outputs


Two main combo inputs (accommodates XLR, quarter-inch TRS, or TS) exist. Both inputs also have line or instrument capabilities, which is rare in interfaces from this price range.

 You'll also find a tiny 48V Phantom power button on this side and nearby, a TRS headphone jack placed near the corner, to sum up, 

the front panel. The back panel has been kept relatively simple, with a USB 2.0 output, 2 TRS outputs,

 and a Kensington security port.

Suitability


The interface is well-rounded and packs a lot of power encased in a 

high-quality premium exterior, making the Native Instruments Komplete Audio 2 a great value for money.

 The unit is versatile and may be the perfect choice for recording guitars at home or in a studio setup.

Setup & Configuration


You'll first need to 

connect the interface to your PC or Laptop with the USB cable in the box.

 The drivers are available on the official Native Instruments website and can be downloaded for free. This entire process takes less than 3 minutes.
Pros:
The audio 2 interface has an outstanding latency performance, a great software package (otherwise very costly), and fantastic preamps making it ideal for recording your guitar work. Furthermore, the compact size hardly takes up any space on the workstation
Cons:
The issue with this one is that direct monitoring can be done through headphones only. Besides that, it's a decent unit that does what it's supposed to and much more.
7. Solid State Logic SSL 2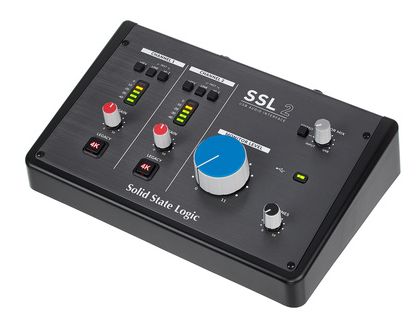 This professional-looking audio interface is among the first to offer 4K recording capability.
The front panel hosts controls for two channels. Both channels have dedicated phantom power switches, line input buttons, Hi-Z buttons, LED light indicators, Gain level knobs (zero to ten scale), and impressively, 4K Legacy buttons.
The other half of the face of the panel is dedicated to monitoring controls. It has a Monitor Mix knob next for Input and USB, a stereo button, a big blue monitor levelling knob, a USB connectivity LED, and a 10-scale volume knob for headphones.
Key Features:
Rear Panel


From left to right, the interface's rear panel hosts a 

USB Type-C connection port, a Kensington security slot, a quarter-inch headphone jack, and two balanced quarter-inch TRS outputs.

 To the right, you'll find two XLR to TRS combo inputs.

What you get


The interface comes with two USB cables, a Type-C to Type-C cable and a Type-C to Type-A cable. The SSL 2 has solid build quality. The housing is made up of brushed metal and high-quality plastic. All the knobs are pretty sturdy and turn very smoothly. 

The interface measures 9.2″ x 6.2″ x 2.7″ (23.4 cm x 15.8 cm x 6.9 cm) and weighs 2 lbs (0.9kg).

Performance


The interface has a maximum sample rate of 192kHz, allowing for a flat frequency response above the human hearing range. 

A measured response showed a minimal drop-off in lower frequencies and almost a linear response until 90kHz, which is ideal.

 The interface has an extended dynamic range thanks to its 24-bit analog-to-digital converter. The dynamic range of the microphone input is stated with 110.5 DBA, which is a great value.

Preamps & 4K


The SSL 2's preamp is very impressive and in terms of noise, the interface can compete with the best interfaces (measured EIN: -130.8 dBu A-weighted).

 The 4K mode produces a high-frequency boost and introduces an audible distortion. Solid State Logic claims this emulates the sound their 4000 series EQs are known for. The 4K mode also boosts the entire recording by about 2 decibels.

 The response in higher frequencies rises by a further 2 decibels making the recording sound rich.

 The SSL 2 has a maximum gain of 55 dBFS at 0dBu, which is about 5 decibels more than the average interface.

Suitability


The interface is solid and well-rounded, with exceptional audio recording capabilities. The inputs have a very flat frequency response. The device offers excellent dynamic range and preamps with very low noise. The SSL 2 is a great overall performer that fully justifies value for money. 

The 4K made will have your guitar solos sounding crisp and pristine.
Pros:
One of the best interfaces in terms of low noise capabilities (measured EIN: -130.8 dBu A-weighted) and design. The device possesses great dynamic range and produces clean and rich sound at a very affordable price. The SSL 2 is perfect for studio recording.
Cons:
The interface is equipped with 48V Phantom Power, but there is no LED to indicate if it's on or off, which can sometimes be inconvenient and cause damage to microphones that require lesser power to operate.
8. Apogee Jam+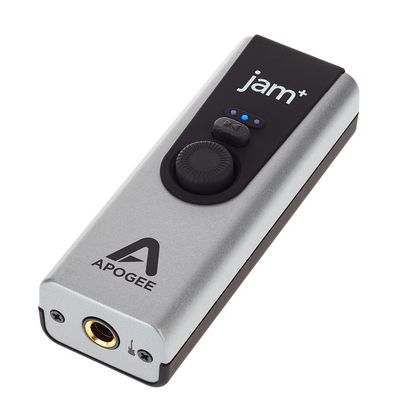 Hugely portable, this offering by Apogee brings a lot to the table despite its tiny form factor.
Mainly geared towards electric guitarists, the small interface also supports other instruments such as bass guitars, keyboards, and even acoustics or semi-acoustic instruments equipped with a pickup.
At the lower end of the price spectrum, the interface is a very useful piece of equipment compatible with Mac and Windows Operating systems and iPhone OS and Android OS.
Key Features:
What you get


In the box, you'll find a lighting cable, a USB Type-C cable, a USB Type-A cable, a user's guide, BIAS FX JAM software download instructions, and of course, 

the 'Professional, Portable, Simple' Apogee Jam+ audio interface.

First Impression


Designed and built in the USA, the interface 

measures 4.0″ x 1.5″ x 1.2″ (10.0 cm x 3.8 cm x 2.9 cm) and weighs just 0.3 lb (0.1 kg)

. This low-weight, easy-to-carry interface is the size of a candy bar but packs quite the punch with Apojee's legendary technology.

Big things in a small package


The interface 

offers recording at 24-bit 96 kHz, ensuring great audio quality. The device houses a prominent button which is for a low latency mode.

 You'll also see Led lights above to indicate input levels and settings. Most noticeably, there's a flat knob that can change the levels of input. 

The knob also presses down to enable a clean or overdrive signal, which is especially useful since it allows overdrive feedback to the plugin, making the audio sound more realistic.

Suitability


The device is great for guitar hobbyists and professional musicians alike. It is very convenient to carry and eases the plug-and-play or plug-and-record lifestyle. 

The Jam+ provides professional sound quality and outstanding features like blend mode for low latency recording in a very simple portable package.
Pros:
The device is compact, pocket-sized, and the best for on-the-go use. The unit also allows you to simply plug and play. It may be the best interface in this budget for beginners and intermediate musicians.
Cons:
The interface isn't the best for guitar recordings, but it does a good job while providing convenience, simplicity, and portability. It may not be the ideal product for professional recording in terms of quality, but it'll be a pretty decent option for just about everybody else.
9. IK Axe I/O Solo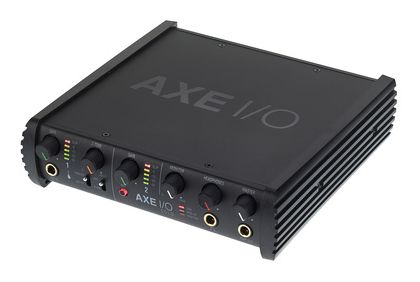 Especially great for recording guitar and bass, this interface accommodate other musical instruments too.
The device is an absolute allrounder in terms of specifications and built quality. It's quite possibly the most comprehensive audio interface in this entire list, combining some features of the Scarlett 2i2, ART Dual RDB, Amplitude 4 Deluxe, and a bucket load of expensive plugins.
The unit fully justifies its value for money with a relatively low price tag, offering the collective features from several devices and plugins, which would otherwise bear a combined price exceeding the $1000 mark.
Key Features:
Front Panel


Solid in terms of build, the interface housing is made of durable plastic and metal. The knobs, switches, and connections are sturdy and secure in place. 

The front panel is subtly divided into three portions and hosts the main controls. The first of the three portions includes Input 1, a quarter-inch jack, a gain control knob (green accent color) with 5 LEDs to indicate clip, and four levels, -3, -12, -30, and -50.

Active/Passive Setting & Preamps


An uncommon feature in most interfaces, the Front Panel of the Solo also comprises a passive/active switch to cater to active/passive pickups of bass or electric guitars. 

Another switch has been placed next to this switch to switch from pure to JFET (Junction Field Effect Transistor)

 preamps and vice versa. Leveled and to the right of the gain knob, you'll find a Z-tone knob with an orange accent.

Mic Input


Input 2 is located at the rear of the interface, but the controls are at the front of the panel. Input 2 is dedicated to microphones, so you'll also find a 48V phantom power switch located under a green accented gain control knob. 

The input two portion also houses 5 LEDs identical to those of Input 1 (clip and four levels, -3, -12, -30, and -50).

Headphones & Monitoring


The 3rd portion of the interface's front panel comprises three knobs for monitor control, headphone level control, and master control.

 Just below the monitor knob, you'll find 3 LEDs indicating USB connection, MIDI IN, and MIDI OUT. Next to the LEDs is a headphone jack and an amplifier output.

Rear Panel


This Panel hosts 2 MIDI IN and MIDI OUT connections, a USB 2.0 type-B power connector, two sockets for foot pedals, two quarter-inch balanced main monitor outputs, an input 2 (for an XLR combo, regular XLR or a quarter-inch jack) and a Kensington security slot. A

 rarity in interfaces, the Solo hosts two foot pedal sockets that accept expression pedals and single and double switches. They can be latched or momentary.

Software & Plugins


Some plugins comprise 

T-Racks's Compressor Limiter, White 2A, Fairchild 670, Black 76, White Channel, Mic Room, EQP1-A Classic pool textile EQ, and One. The CSR Room Reverb 

is also among this list of great plugins. You can easily use control software to change the settings, set signals or control the petals as well.
Pros:
The interface has a great set of audio features. It comes equipped with a dedicated guitar input and amp output. The audio device can easily connect with external switches (sold separately), which can be assigned controls.
Cons:
This offering by IK multimedia is comprehensive and leaves little to be desired. Perhaps a strange thing about the drivers is that connectivity to a 3.0 USB port isn't possible. So if you've got a computer that only has 3.0 ports, you're out of luck.
10. Universal Audio Apollo Solo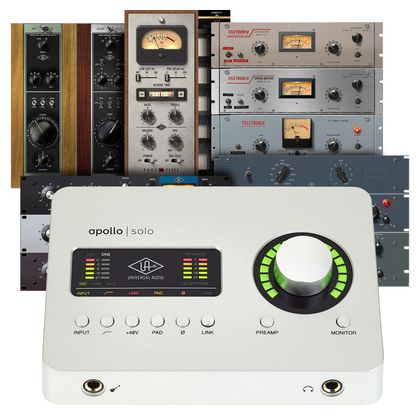 Among the smallest, most powerful audio interfaces in this list, the lunchbox-sized interface weighs just over half a kg.
Measuring 7.1″ x 4.6″ x 1.8″ (18.03 cm x 12.19 cm x 4.57 cm), the Solo weighs just 1.4 lb (0.6 kg), which makes it a great companion, especially for the singer/ songwriter, instrumentalist, keyboardist and guitarists who travel a lot.
The device is solid in features and build quality, with all the controls on the top panel. An affordable entry-level interface, the Apollo Solo comes with a value-added software bundled package of UAD Plugins worth a lot of money.
Key Features:
Software


The unit comes with a catalog that showcases various Apollo plugins. It also carries images and information about other Universal Audio products.

 The box also holds a 'Getting Started' card for the authorization and downloading of plugins. Right out of the box, you can tell the device is housed in a solid metal exterior. The unit is compatible with the Luna DAW, free for download after getting authorization with the card with the interface.

Style and Build Quality


Rugged in build quality, the device has controls primarily placed on the top-facing side, with the front side hosting an instrument and headphone jack and the rear side hosting inputs. 

The unit has two preamps for guitar and microphone connectivity, two outputs that connect to the main monitor, and a USB power port.

Compatibility


Two different variants are available, dedicated to Windows and Mac OS. You'll need to make sure you get what best suits your needs. 

Both variants are identical in price and features except for the connectivity ports, which are different for both operating systems.

Front Panel


The Front side hosts eight small buttons. The first serves as an Input selection button, followed by a low cut button, a 

48V Phantom power on/off button, a PAD button, a phase flip button, and a link button.

 The remaining two buttons are placed under the main control knob for select Preamp and Monitor options.

Plugins


The device comes with a free plugin bundle in the heritage package, which includes all three versions of the 1176 plugin, all three versions of the LA-2A plugin, a Pultec EQ plugin, three EQP-1A plugins,

 two different delay plugins, the raw distortion plugin, a bass amp simulation plugin, Ampeg SVT, the Real Verb Pro plugin and the Marshall Plexi plugin. You'll also get two 610 preamps and the Pure Plate Reverb.
Pros:
The interface is ideally designed for recording guitars and vocals, evident from the two aptly labeled quarter-inch inputs on the front-facing panel. The addition of the software bundle completes the package making everything ready to go right out of the box.
Cons:
The product carries a comparatively hefty price tag close to the $750 mark, but it more than justifies the value for money. The price can be seen as a bargain since the solo packs quite the punch, and the plugins, alone amount to more than $1,300.
11. Zoom U-22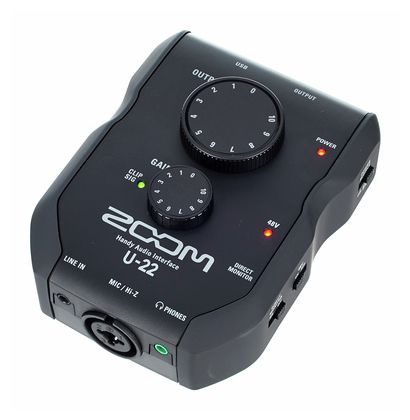 This interface is compact in size and lightweight, owing much to its high-quality plastic exterior.
The U-22 is a very 'handy audio interface' and versatile, too, as it can be used with a Windows PC, Mac system, iPad, or even iPhone. This contributes to the portability and the interface's ease of use.
The box includes a USB cable, an instructions manual, a warranty card, a dust cover for the interface, and of course, the Zoom U-22 audio interface itself. The unit can be powered via 2 AA batteries or an AD-17 adapter (sold separately).
Key Features:
Front Panel


The top of the panel hosts a main Output knob, below which you'll find a Gain knob with a Clip Level indicator. The panel also has an 

indicator for 48V Phantom power and a power indicator.

Rear & Side Panels


The rear side of the interface houses two Output jacks (right and left), a USB 2.0 PC connectivity port, and a DC 5V converter port.

 To the right side of the interface, you'll find a power source switch, a 48V Phantom power switch, and a Direct Monitor switch.

Front Panel


The front of the device holds a 

Line jack, a Microphone/ Hi-Z jack, and a headphone jack. The Microphone/ Hi-Z jack

 can plug in a bass or electric guitar with a mono instrument cable or a microphone (Dynamic or Condenser) with an XLR cable.

Power


The unit can operate on rechargeable NiMH batteries or plug in via a USB power adapter. A mobile USB battery can also power the device via the DC 5V connector.

 However, you have to manually shift the power source switch from Battery DC to USB and then confirm that the battery LED indicator is lit before use.
Pros:
This highly compact and cleverly designed interface is checking out. With a front-facing combo jack, ports for line-in, headphones, and stereo outputs, the unit has all you need to get going. The phantom power is managed nicely with a dedicated on/off switch and an indicator LED to avoid mishaps.
Cons:
Although a simple device to use, the input/output options are a bit limiting which is a price you have to pay for the added portability. This is why there's only a single combo jack on the unit. Furthermore, the plastic build doesn't have a premium feel.
12. Audient Sono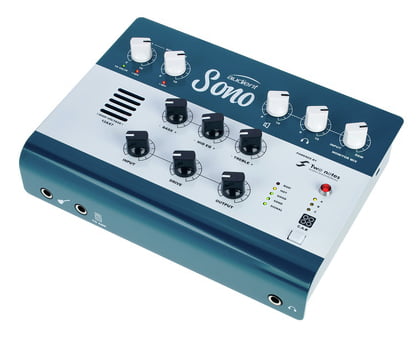 Geared primarily towards guitarists, this interface brings a truckload of features and looks good doing it.
The interface promises extremely easy-to-use features and the utmost convenience. You can easily save presets, which can come in very handy in any situation.
Two input channels, two output channels, and a built-in REAMP box are just some of the desirable features packed in this great piece of machinery in this price bracket. It's great for stage performances as well as for home recordings.
Key Features:
What's in the Box?


The box (size: 31.5 cm x 11.2 cm x 22.6 cm, weight: 2.0 kg) comes equipped with a 12V DC power supply with regional 

adapters, a USB Type-C cable, a USB Type-C to Type A cable, a quick start guide 

and of course, the interface, itself.

Dimensions, Weight & Feel


Designed and manufactured in England, the interface measures 9.0″ x 2.6″ x 6.5″ (22.9 cm x 6.7 cm x 16.5 cm) and weighs 1.24 kg (2.7).

 The unit looks and feels great and is very portable, slightly larger than a thick book or a lunchbox.

 The interface seems fun right out of the box, and why should it not, being a big part of expressing creativity?

The Look


It has a unique look to most other interfaces in any price bracket, which look bland and give a boring overall feel. The Sono feels like something a musician would carry and use.

 It exudes joy and playfulness and promises a beautiful experience no matter where you are.

The Hardware


The device's rear panel hosts a 12V DC power Input, a convenient power switch, and a USB Type-C input.

 You'll also find an optical input, speaker outputs (left and right), a 48V Phantom power stitch, a microphone/line input, and a microphone-to-valve switch on the back panel.

Front Panel


The front panel holds five white knobs on the upper blue turquoise-colored area for monitor mix control, a headphone output level, a speaker output level, and two microphone control knobs. 

Below the mic knobs, you'll find two microphone valve LED indicators and a 48V Phantom power indicator.

The white section under the upper row of controls hosts six black knobs. 

The first three are for the three band equalizer (Bass, Mid EQ, and Treble)

. The following three knobs represent guitar preamp input gain, power amp drive control, and Guitar preamp output volume control. To the right of the knobs, you'll find a 

Guitar preamp output meter, a status light, and a cab simulation selector. The Front Panel bares three slots for guitar input, re-amp output, and headphone output.
Pros:
The Sono specialized in all things guitar. The unit has a three band equalizer and a cab simulator section which you're not going to find on other interfaces more generic interfaces of today. What's more, vocal recording is not a problem either as there Sono is phantom power enabled.
Cons:
Although designed to keep the needs of modern guitarists in mind, the people at Audient missed the trick by not adding a loopback feature. Furthermore, an additional headphone jack would mean that your friend in the studio could listen to what you're hearing during mixing and mastering.
Bonus:
Steinberg UR-RT2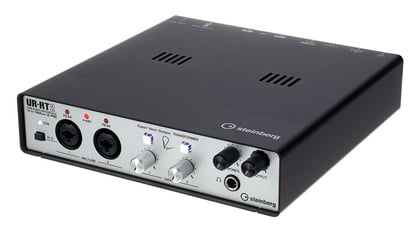 Here's a great piece of machinery forged out of a collaboration between Steinberg and Rupert Neve.
In the box, you'll find a USB cable, a power adapter, a quick start guide, a CD for software such as the Cubase DAW (streamlined and upgradable version), and the interface. The Neve transformers inside are a great addition, especially for musicians.
The interface's chassis is made entirely of metal. The knobs, dials, and XLR ports are all firm and sturdy. The external frame is black in color. In contrast, the front and rear panels of the device are white, hosting silver and black knobs.
Key Features:
Front Panel


The Front Panel of the audio unit has a USB indicator that lights up when the device is powered on. Just under the indicator is a switch for HI-Z, which switches the input impedance. 

Next to these, you'll find microphone/line 1 and 2 jacks for XLR or phone-type plugs (balanced/unbalanced).

LEDs


There are also three light indicators, 2 for peak, which light up when the signal is 3 decibels less than the clipping level, and the 3rd 

in the center signals that the 48V Phantom power is on.

Transformers & Outputs


Towards the right, you'll find 2 Transformer on/off switches. Just below are 

two gain knobs to adjust the input signal level of the microphone/line 1 and 2 jack.

 Then there is a phone knob that helps change the output signal. A headphones jack is present for connection with a stereo headphone set. 

Finally, on the rightmost side of the front panel, you'll find a knob to adjust the signal level of the main output jacks and the Steinberg logo in the bottom right corner.

Rear Panel


The first thing you'll notice to the left of the panel is a power/standby switch, with a 12V DC in port for an AC power adapter and a 2.0 USB port for connection with a Windows or iOS device.

 The next portion of the rear panel comprises a 48V Phantom power switch, allowing power to be supplied to mic/ line 1 and 2 jacks. You'll also find two neighboring jacks for MIDI IN and MIDI OUT. A

fter a subtle division line, you'll see two main output jacks for connection to the monitor speakers,

 

beyond which you'll find another separating line and then two jacks for line inputs 3 and 4.

Suitability


The audio interface is very robust in terms of build quality as well as the features it comes equipped with.

 The Neve transformers are an especially great inclusion, and if you're a fan, this device will best suit you, especially since no other interface at this price point offers Neve quality gear.
Pros:
The interface has the solid build quality and great features. The unit holds excellent value for guitarists since its primarily geared toward them. The RT-2 is one of the most affordable interfaces to incorporate the Neve transformers, which add a lot of color and richness to recordings.
Cons:
The interface may not justify its value to those not looking for Neve gear to be a part of their audio unit. The device doesn't have USB 3.0 or Thunderbolt 3. Trying to attach keyboards through 5-pin MIDI causes some problems. However, the interface is a perfect choice if you're a guitar enthusiast.
Conclusion
We've covered some very versatile audio interfaces today with great detail to give you an idea of what each brings to the table. If you want to record that spellbinding guitar solo saved in your memory for a long time, any of these interfaces can do the trick.
The immensely popular Scarlette Solo unit gives you a combo jack and guitar input so you can easily add some vocals to your guitar mix. If you've always heard about the Rupert Neve Design Transformers but haven't had the time to try them out, you should try and get a hold of the Steinberg UR-RT2 interface. The Apogee Jam and Zoom U-22 are the most portable units on today's list.
The Presonus ioStation will give you enough buttons and knobs to control several aspects of your DAW as no other interface can. Finally, if you want a full-fledged guitar-based unit that goes as far as offering a three-band equalizer and a separate cabinet section, the Audient Sono guitar recording interface is just what you need.
Other Audio Interface Topics
Why is My USB Audio Interface Buzzing & Crackling?
How To Fix Audio Interface Crackling, Popping & Buzzing?
Do I Really Need An Audio Interface For Music Production?
Top 10 Best Audio Interface For Film Scoring 
Is Audio Interface Same As Headphone Amp? 
Do I Need To Turn Off Audio Interface When Not in Use?
Top 12 Audio Interfaces For Guitar (On All Budgets)
11 Best Audio Interfaces With Preamp 
Top 11 Audio Interfaces With Loopback 
Top 11 Audio Interfaces With DSP 
Top 12 Audio Interfaces for 5.1 &  7.1 Surround
Top 7 Audio Interfaces For Neural DSP Software
Top 10 Audio Interfaces For Recording Vinyl 
Is it Worth Upgrading Audio Interface? Do You Need it & When?
Can You Use DAW Without Audio Interface? 
Top 6 Thunderbolt Audio Interfaces 2023 (For Pro Sound)
Best FireWire Audio Interfaces: 5 Picks For Pro Sound 2023
Amp vs Audio Interface: Which Is Best For Me?
Sultan Zafar is a guitar player from Islamabad, Pakistan. He has been playing music with various mainstream musicians for over 20 years. He is a song writer and music producer. These days he spends his time exploring different music genres and collaborating with fellow musicians on various projects. Read more..