Looking for a reverb pedal for your synth? Today we'll talk about the Top 11 Reverb Pedals For Synths 2023 From Top Brands.
Even for musicians with some expertise, picking up a synthesizer for the first time can be daunting. You're confronted with a bewildering array of options and controls you're unfamiliar with, and you need help figuring out where to begin. Electronic instruments known as synthesizers may mimic a wide variety of musical styles.
Bass, pad, lead, and percussion sounds span from realistic recreations of acoustic instruments to the outlandish and bizarre. Consider the workings of an acoustic piano. When you press a key, a hammer strikes a string, the string vibrates, and our ears pick up those vibrations and translate them into sound.
Similar arguments apply to acoustic guitar strings, etc. Such vibrations are not produced in a synthesizer in the traditional sense, with hammers or other physical means. A signal path carries an electrical signal to an amplifier. The signal is amplified before being sent to a speaker, which causes air vibrations that we perceive as sound. 
A reverb pedal can help you dial in unique sounds, make magnificent room, or accomplish all three at once if you're trying to shake things up in your songwriting. The next song or part may require the keyboardist to adjust the settings on the pedalboard, which is why you may have seen them bending over to it several times during the performance.
Because we know how sophisticated (in a good way) a synth can be, in this top 11 reverb pedals for synths 2023 from top brands, we have chosen to select the best reverb effect pedals because they have a lot of parameters you can control to find the best combination for your hardware synth.
These pedals are compatible with virtually any keyboard or synthesizer made in the last few decades. Effects pedals complement keyboard settings when a synthesizer's price tag precludes it from integrating a wide selection of effects.
Let's see which are the Top 11 Reverb Pedals For Synths 2023 From Top Brands.
Top 11 Reverb Pedals For Synths 2023
1. Behringer Digital Reverb DR600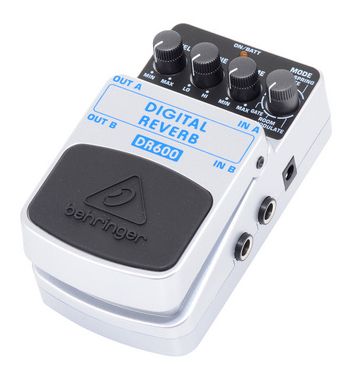 The DR600 effect pedal will let you use high-quality studio reverbs with your live voice setup.
Deep and rich reverbs may be generated with this 24-bit digital reverb pedal. To create a chorus effect, slightly detune the reverb tail with the Modulate option. The signal can be played back in mono or split between two amplifiers for booming stereo sound. If you pick up the DR600 effect pedal, give your music that extra something.
Key Features:
Housing
The product has a classic big on/off stomp button, two jacks for input and output, a status LED, and the typical Behringer plastic housing and design. Typical of the brand, this pedal skimps on the surface while packing several high-end components and circuitry inside.
Design
There's nothing visually wrong with it, but we can't imagine the plastic case holding up as well as the metal ones found on products by Boss or TC Electronics. However, you can launch a sonic attack on a target twice as close as those other businesses for half the price. If you take good care of this one and don't stomp on it or drop it, it will last you for years.
Controls
There are four conventional reverb controls on the board. The level knob sets the volume of the reverb effect incorporated into your audio output. Incredibly easy to understand and implement. The reverb's brightness can be changed using the tone slider.
The more you crank it up, the darker and more enormous your tone will become. The pedal's Time knob determines the duration of the reverb or echoes it creates. As more is included, the playing area expands to accommodate the new components. Changing the reverb's Mode allows you to choose from various reverb types, each with its signature sound. Plate, Spring, Gate, Hall, Modulate, and Room are possibilities.
Character & Sound:
It has been pointed out that this pedal's sound quality is comparable to that of products costing twice as much. The simplicity of this pedal is another reason for its widespread acclaim.
All control knobs are not simply self-explanatory but produce a crystal clear auditory representation of their exact influence on your sound output. First, it's suggested that you set all dials to noon and then choose the Mode that works best for you. Then, alter that Mode with the remaining three parameters to meet your needs.
Pros:
Compared to other cheap reverb pedals, this is easily in the running for "best." It offers outstanding value for money in just about every category, and perhaps most crucially – you can't match the audio quality within this price range. The view from here is unanimously positive.
Cons:
This pedal breaks down quickly; most users who reported this said that it did not work for more than three days, with many saying that after 5 minutes of use, it broke down. The problem relates to an inconsistent sound, which seems to stop during the performance.
2. Zoom MS-70CDR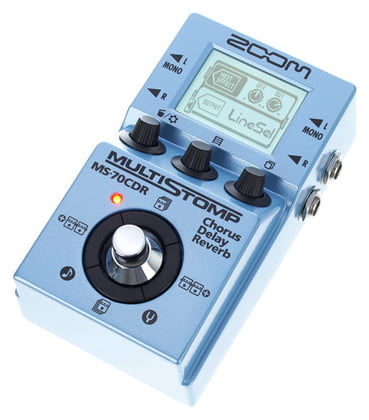 If you want a pedal that lets you fine-tune every aspect of your reverb and other effects, go no further than this one.
The pedal packs a virtual collection of effects processors and pedals into a compact stompbox form factor. You can choose among 86 hypothetical outcomes while designing an ideal signal chain. The large LCD is visible even in direct sunlight.
This effects processor has preloaded user presets for saving new sounds, and preloaded factory presets of classical sounds suitable for usage in a live setting. This pedal is versatile enough to be used in any genre, from rock to folk to rock. The removal of this pedal from your pedalboard will eliminate a redundant effect.
Key Features:
Knobs


In this case, the expression the whole bunch controls are apt. Since this device has over 80 effects, many customization options exist. You may adjust the many features of the LCD screen to your liking with the use of four keys and three knobs.
There, the bulk of the action occurs, so it's there that your tone should be most carefully crafted. You can get near the sound you were going for, but it'll take some work to get the hang of all the knobs and dials.

Sturdy Build And A Great Package


It's a stereo pedal with an input and output stereo sound housed in this little metal box that's a pale blue. Some examples of these built-in capabilities include a noise gate, tap tempo, trail settings, an in-built stereo EQ, user-upgradeable software via USB, and support for multiple power inputs.
The package contains a USB mini-connector, a battery, and a 9-volt battery. You can make most adjustments on the front LCD. Given the wide range of musical options, we're considering, a straightforward interface like this is crucial. 

Bright LCD


The large LCD on the pedal makes it easy to scan the current settings. This bright display makes it simple to see the individual values that make up the setting, which is likely a welcome feature. Not knowing how your knobs are set onstage is almost as bad as screwing up a performance.
Make any necessary changes to the three settings in a flash. In the footswitch itself, you'll find a series of arrows that you can use to navigate between the various menus and controls.
Character & Sound:
To begin, for the price, this guy delivers outstanding audio. You may create a completely original sound thanks to the wide range of controls at your disposal, which includes everything from a spacious and huge sound to a beautiful and nuanced tone.
However, you should note that this pedal is more difficult than the standard fare. This device is just as involved as any other guitar processor on the market, so make sure you've had plenty of time to get your sound just right before taking the stage. Put in the time; it will be worth it in the long run if you don't anticipate being able to make minor modifications on the fly with this equipment.
Pros:
When you consider all you get, you'll realize that the price is ridiculously low. If you like how that effect affects a guitar's sound but want those effects to be manageable, this pedal should do the trick. It's a low-priced option that gets the job done.
Cons:
The phaser could be more impressive, despite its variable power levels. The equalization is rather helpful, the tremolo is above average, and the settings are well-designed, all of which contribute to the sound's digital nature.
You may find the constantly-on display on your pedal board distracting, even with a small learning curve. Accidentally stepping on the footswitch and a knob simultaneously will cause you to stoop down and figure out which preset you were in before turning the effect off.
3. Strymon BigSky Multidimensional Reverb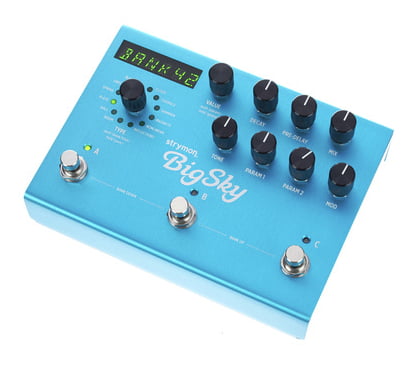 The Strymon Big Sky is a potent reverb generator that offers brave musicians endless options in the studio and onstage.
There are 300 inbuilt preset slots, but the effects can be fine-tuned and made accessible at the flip of a knob. A robust digital signal processor guarantees the greatest possible audio quality. With its immense power, the Strymon BigSky reverb may take the place of multiple reverb pedals at once.
Key Features:
12 Reverb Styles
The BigSky has various built-in reverb effects, from natural spring reverb to the shimmering, ethereal washes of the Strymon pedal. These simulations are based on the most popular reverbs of all time. The DSP engine ensures high-quality audio playback. Strymon also widened the scope of customization options for these noises, letting you create unique textures and tones as you see fit. Presets allow you to store up to 300 unique sound configurations to recall your favorite reverb effects instantly.
Editing
BigSky's aren't merely recreations of classic sounds, either. Even while the unit's sounds are based on several well-known verbs, Strymon included a variety of tone-shaping controls to give you complete freedom in achieving the precise effect you require.
The two knobs labeled "parameters" can be changed to adjust different characteristics for each setting. As for inputs and outputs, the BigSky has plenty on the rear for stereo operation, and MIDI control, and with an expression pedal, you get instantaneous manipulation of settings.
Strong I/O
Reverb's sound quality would be worth the price of admission. However, this effective atmosphere maker hides a plethora of additional features. Inputs and also outputs galore may be found around the back, allowing for seamless connection to any system.
Character & Sound:
You would be disappointed if the BigSky seemed normal, given the very academic tone of Strymon's research. However, the preparation paid off, as each of the 12 reverb devices may sound either realistic or spectacular. The adaptability of each machine is a contributing factor; for instance, the spring setting is quite realistic and lets you get very specific with the sound you want by adjusting the number of springs.
In addition, Strymon has generously supplied the BigSky with atmospheric settings that are popular with ambient and post-rock composers. The Shimmer setting's two chromatically-adjustable voices make it ideal for creating absurdly epic sonic landscapes, and how you pitch them is remarkable. The Chorale mode is similar to having a vocal chorus accompany your every note, thanks to the vowel filter applied to its verbs.
Pros:
Everything from commonplace reverb use to exploring alien textures with luxuriant verbs is included. It does it all in signature Strymon fashion, so this reverb pedal will more than satisfy your needs. With 300 different presets available, everyone can discover the perfect one.
The perfectionists have had a blast making and altering reverbs to get them just right, but there are plenty of great sounding presets available that can be used with almost any genre of music.
Cons:
If you want to replace your 30-year-old reverb unit with something simpler, search elsewhere; the Big Sky isn't it. Simply put, it's for musicians and studio technicians who value perfect ambiance in a live-ready instrument and get giddy at discovering new reverb landscapes that are idyllic or wondrously horrifying as the imagination allows.
Of course, it's pricey, setting you back $480. In reality, it's a steal when you think about how much power it packs and how easily it can be adapted to any live or recording setting.
4. Eventide H9 Max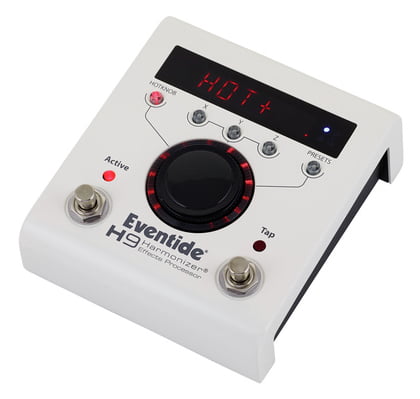 Since the early 1970s, Eventide has been synonymous with quality and professionalism in virtually every studio worldwide.
By their well-known naming traditions, they gave the little digital box the name "H9." In essence, this collection represents the culmination of the exquisite algorithms in various effect pedal series. The pedal's external look hasn't changed, but it has undergone minor internal upgrades. There are currently three variations of the pedal to choose from. The H9 Max comes factory-loaded with all of the available algorithms.
Key Features:
Housing
Adding a pedal to your arsenal des takes up almost a little area on your pedal board, maybe a third of the total. Its glossy white chassis looks like it would become dinged up quickly under everyday use, but the opposite is true. And this pedal is no featherweight, either; at over two pounds, it's quite hefty. The chassis is metal, while the knobs are high-grade plastic.
LED
The large LED readout is easily seen because of the clever contrast that makes the red alphanumeric characters stand out against the black background. As an added convenience, the rightmost corner of the display screen houses four tiny LED indicators.
The titles of many of the presets have been shortened to only letters and numbers, making it difficult to tell them apart at times. There is a row of five discrete push switches labeled Hotknob and Presets beneath the LED readout screen, and when you press them, they light up as flashily as Rudolf's nose.
Encoder Knob
A huge, black jog/shuttle wheel (sometimes known as an "Encoder Knob") is located just a little below the center. While it may look like this dial is flat with the above chassis, it protrudes outwards somewhat.
There are bright red LEDs surrounding the Encoder Knob; these lights only come on while you're adjusting parameters and show you how much of a change you're making to the algorithm. Finally, a pair of sturdy, old-school stomp-box-style switches for bypassing, engaging, and incrementing presets are there, which we guitarists will recognize immediately.
Power
In addition to using the included wall wart AC adapter, you may also power the pedal with a special 9v line from any high-quality power supply that can consistently supply 500 mA.
To rephrase, you can't use a regular power supply with a negative center to power it up because you forgot your polarity laws. After powering on, the device automatically restores the last saved setting stored in its digital blueprint. This is a great feature if you've made changes and should have saved them.
Control App
Adjusting the pedal presets locally is feasible, although doing so can be a tedious process. There's also a comprehensive user guide for you to peruse. Reading the manual, you can learn how to use the H9's preset adjustments and other settings.
The truth is that there are many procedures to learn (or consult) before attempting such activities. You must use the Control app to access all of the available settings and editing options on the device itself. Simple steps can get you started, but you'll need access to the internet to authorize the device and link it to your account.
No matter what system you use to install the program, you'll have the same experience using it from any supported device. That app is well crafted, and people appreciate how nicely it works with the hardware. The first four kinds of digital signal processing are taken straight from Eventide's lauded Factor line of digital stomp boxes.
Tuner
You can use the Control App or the pedal itself to access the pedal's chromatic tuner, which is convenient and incredibly sensitive. The tuner is fantastic, and we recommend it above more budget-friendly portable options. The LED display is large enough to make reading the note and its intonation value a snap.
The one drawback to this function is activating the tuner requires pressing and holding both footswitches for a few seconds rather than only touching one. This isn't a problem in a home or studio context, but it cannot be very pleasant in a live performance.
Character & Sound:
Pressing the 'Presets' button, which stays lit as you scroll through the pedal's presets, allows you to cycle through all the available settings swiftly. If you've found the perfect present after some trial and error, you can assign it by tapping the right footswitch.
The pedal's preset indicator will then turn off and function as usual. When you push the right footswitch, marked with the word "Tap," the number of presets increases by one. One tap on the huge black encoder knob will take you back through the presets.
Forward incrementing mode is the default, and it only takes a second tap on the Encoder to return to it. Don't be afraid to tap the Encoder with your toe during a live performance; despite its plastic construction, it doesn't seem in the least bit fragile. 
The only minor gripe with this fundamental feature is that it does not provide any visual cue to indicate which way the user is currently taking a step. The digital readout screen flashes with preset numbers as you move through them. Press the 'Active' footswitch on the left to trigger the flashing mode.
Also, the left footswitch is set up as a True Bypass button by default. Whenever the footswitch is engaged, a big, brilliant red LED light appears directly above it. A cluster of teeny, extremely bright Mini LED indicators sits off to the right of the main LED display.
While tiny, they provide quick visual feedback on whether the onboard Bluetooth receiver is operational, whether or not there is an input signal, and whether or not the input level is clipping. A simple push of the X, Y, and Z buttons simultaneously will turn off Bluetooth.
Pros:
The potential for development is a great feature of these pedals. To update your Eventide pedal with the latest algorithms as they become available, download them via the Control app. If you get an idea, you can put it to use immediately, thanks to the pedal's extraordinary adaptability and processing capacity.
It's incredible what this tiny device is capable of. The pedal is a fantastic method to receive Eventide's professional effects at an absurdly low price per effect if you're after the best of the best.
Cons:
It's more complex than we'd want to transfer preset lists and other user-defined settings between devices. For example, if you've made a set of presets or a list on your computer, you'll need to transfer them to the pedal and then back to your phone.
It would be really useful if users could access their cloud storage for lists and settings. In their current form, custom presets necessitate the maintenance of separate lists and subsequent transfer via the pedal between computer and phone.
5. Catalinbread Topanga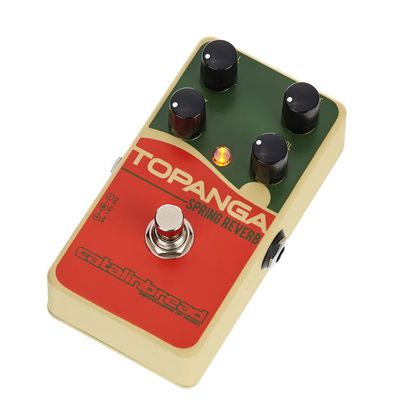 Catalinbread's Topanga Reverb Pedal is aimed squarely at replicating the tone of the Fender reverb unit, which retails for roughly $1k.
Catalinbread has created a pedal that looks great and sounds just like the revolutionary tolex-covered outboard tanks of the '60s but with vintage controls. The Volume knob adjusts a separate preamp, giving your sound an additional clean boost if needed. Any 9-18V center-negative DC power supply (not supplied) with at least 100mA will work to power the pedal. The all-metal chassis and the sturdy footswitch mean it's also road-ready.
Key Features:
Internal Switch
Users may toggle between a true bypass and a buffered mode, which maintains the integrated preamp and volume control even when the pedal is turned off. Putting the Topanga in a switchable loop, adjusting the volume to unity gain, and hearing how the preamp gradually improved the dry tone were all things that convinced me to give it a try.
Creative Chip
The pedal employs the same Spin FV-1 chip that powers the Subdecay and some other pedals that aim for more current sounds in their search for elusive spring tones. Like the Subdecay, the Topanga's team has found a unique way to put all that computing power to use, yet the two businesses' approaches to command couldn't be more different.
A Broad Of Controls
The attractive orange and green pedal take a rather easy approach to the spring'verb equation, with dwell, tone, and mix parameters that function as one would expect from controls on an outboard unit of the same names. The reverb's perceived depth is modified by the dwell parameter, which ranges from a completely dry signal at least to a sense of subtle extra body in your sound. The guitar's tone can go from a blazingly clear straight transmission to a seaworthy washiness as if you were listening to it through a wave that can freeze in mid-curl.
Turn up the volume and the mix to obtain some dope plate effects. The tone knob, at its least setting, softens any harshness that a treble-heavy rig may magnify, and at its maximum setting, the pedal sprays your reverberations as strongly as the cover tune might ask.
Volume, the fourth knob, adjusts a separate preamp that amplifies the audio to your liking. This great improvement provides a clean gain reminiscent of a tube amplifier, effectively recreating the classic sound of spring reverberation. Even at its loudest setting, which adds a bristling attitude without going into what you'd call real overdrive, some people enjoyed leaving it at noon for a little extra punch and girth.
Character & Sound:
You may adjust the pedal to produce anything from a light wash of dark reverb to heavy splashes of reverb, but the result is always a spring reverb. While in dwell, the effect is pushed to a spitty wash that is at its most surfy when the volume is turned up.
With single coils, it provides a classic surf sound, which may only appeal to reverb purists. Interaction between the dwell and volume knobs. "dwell" not only increases the volume and gritty quality of the decay by implying a longer decay time, but it also suggests a longer decay time.
Lowering the dwell setting, increasing the mix, and then increasing the volume will produce warmer and smoother reverberations. Companies recommend just using fuzzboxes before the Topanga. It seemed sensible to use a Fuzzrite clone, and when we turned up the dwell and mix to three o'clock, we were so shocked that we half expected a masked rider to materialize out of nowhere.
People have found that putting modulation pedals after the pedal creates a dreamlike mix when returning to clean tones. Its reverb tones cover many possibilities you may never use, which others rely heavily upon. In contrast to traditional studio reverb, these effects have a bouncy, artificial quality. If you're a spring reverb fan, but your amp doesn't have it built in, this pedal will fix that.
Pros:
It's not just the aesthetics of this reverb pedal that are appealing; the sound is also quite warm and authentic, thanks to the fact that it's tube-driven and uses a spring tank. It made the amp's reverb pedal go directly into the amp's input jack; don't put it in the effects loop.
This reverb pedal will supply clean, vintage sounds by driving your preamp; if you want a louder sound, turn the volume knob. If you dial up the level, you will fill more of the amp's space with the reverb sound.
Cons:
The one complaint is that a loud pop will come through the amp the first time it is turned on if the internal switch is set to true bypass. This occurs every time the amp is turned on, including before performances and practices. It works great after the first time you engage it, but if you then switch power sources or unplug it, it will pop.
You may detect a slight delay or a calming of the onslaught due to using the pedal. Some questioned whether or not the tempered attack was designed to hide any lag. They don't mind that at all and think the overall tone benefits from the subtle sweetness and dynamics that this pedal provides.
6. EarthQuaker Devices Afterneath Enhanced Otherworldly Reverberator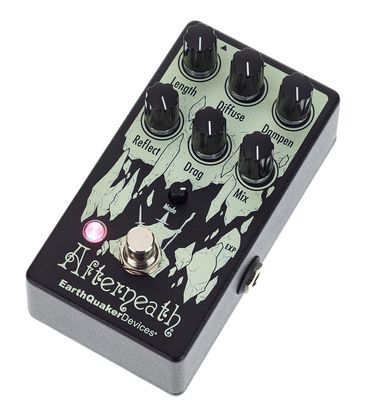 You now have more granular control over these ambient effects thanks to the Afterneath V3 effects pedal from EarthQuaker Devices.
The algorithm for the evocative reverb is the same; it employs clusters of brief delays to generate distinctive washes of sound texture.
Its third iteration improves upon its predecessor by including a voltage/expression input for external influence and expanding upon the previous nine options that determined how the Drag control interacted with the reverb effect. Connect an expression pedal, experiment with the various Drag modes, and open up a new realm of ambient effects.
Key Features:
Controls
It has been on the market for five years, during which time it has become firmly established as one of the modern era's finest psychedelic reverb pedals. However, the third generation isn't willing to merely focus on ambiance.
It has an input for an expression pedal and a rotary mode switch, allowing you to produce dramatic effects that snap your audience out of their trance like a steel-toed boot. Although strictly incorrect, this is still a reverb pedal.
They don't try to hide the fact that all of these futuristic noises are actually the result of multiple delays blended together; if you turn the Diffuse knob down, you can hear the individual repeats crashing into one another, just as in a multi-head tape echo.
The other knobs are more intuitive: the decay time (Length), treble filtering (Dampen), reflection (Density), delay (Drag), and mixing (Mix). And that's all there is to it if you want to make some heavenly, unearthly music (we warned you).
Modes
The newest version has three brand-new enhancements. The first is a sweep-drag expression input with an expression pedal or control-voltage controller. The second is an expression/CV input and a little knob in the middle of the interface called "modes."
Drag's operation and the accompanying reverb, and you can modulate delays' sound through expression or CV in one of nine modes. Three of these modes are Unquantized or stepless, and their response to an expression sweep is analogous to that of a delay pedal's rate control or a tape recorder's varispeed control.
Many scale modes are all available as quantized options, with the drag control tuning delays and reverb to the corresponding scale as you sweep it. Thirdly, we can now switch between the Tails and No Tails modes. It comes set up for tail switching; however, switching to or from No Tails is as simple as pressing a foot switch and plugging in the power cord.
Visible LED
When the mode is switched, the LED will blink three times to let you know. Though it excels at creating unusual sounds, its expressive range makes it suitable for alternative rock, country, surf guitar, and ambient music. Accordingly, the dampening knob is ideal for adjusting the effect's overall tone and personality.
Drag Control
Where the pedal shines is in its drag control. As it rotates clockwise, it brings the delay lines closer together, simulating the reverb. By rotating it anti-clockwise, the lines will begin to split and spin outward, dispersing the echoes into a haze of reverberations.
The mix knob is used to equalize the wet and dry inputs. These characteristics have been included in earlier versions of this pedal, and they all made it into the V2 revision, which added the FlexiSwitch gentle technology that lets you choose between momentary and latching switching.
Character & Sound:
Instead of offering multiple modes, the Afterneath provides a single, magnificent sound that can be adjusted in whatever way you like, from gentle shimmering ambiances to swells of the self-oscillating drone. It's possible to coerce it into producing "regular" reverbs; it would be comparable to signing Mo Salah and then putting him to work as a ballboy.
Thanks to the reverb's large pre-delay, there is plenty of time for stacking melodies on top before it sweeps in with lushness and clarity to create textured washes. Increasing the wet mix past the halfway point can cause noticeable hissing in the background, but you generally won't need it at that level.
When an expression pedal is used with relatively low settings, the result is an odd, fluctuating background noise that rises and falls in pitch in time with the player's ankle movement. This effect is downright disconcerting when the reverb is turned up.
It can sound like a bleepy synth program to help or like a dog eating a DigiTech Whammy, depending on the mode you choose from the nine available. Three of the modes enable a continuous note sweep. One way or another, it's not the norm.
Pros:
The pedal is a veritable sound design arsenal for those who favor atmospheric, dramatic tones. When you get the hang of improvising with the pedal, it'll transport you into another world that's engaging, delightful, musically fulfilling, and downright escapist. Regardless of the context, the pedal provides an overwhelming array of reverb colors to paint your performance.
Cons:
The only drawback is that it can generate potentially explosive regenerative feedback by turning the Length and Reflect controls to the right. But rather than a laboratory, it's your rig. So, you use the footswitch to turn off the pedal.
Once you've waited a while and stepped on the footswitch again, the noise is still audible inside. Bringing that wild oscillation back under control requires turning down the Length and Reflect dials.
There are many optimal configurations to be discovered once you've mastered the "don't feed after midnight" rule. It is also constructed like a tank, is not overly heavy, and accepts the standard 9v tip-power input without buzzing when plugged into a wall outlet.
7. Electro-Harmonix Holy Grail Neo Reverb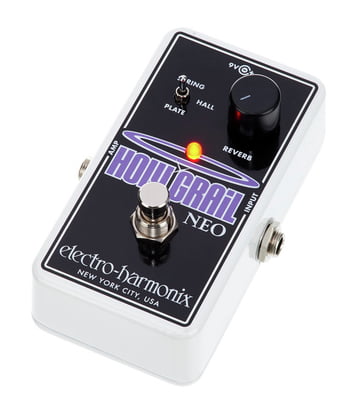 Holy Grail Max presents the amazing Spring and Hall reverbs of the Holy Grail.
The Holy Grail Max Electro-Harmonix lives up to its name. This pedal delivers four studio-quality reverbs—Spring, Hall, Plate, and Reverse—in a sturdy, pedalboard-friendly stompbox with intuitive controls that allow you to dial in the exact sound you're going for in a flash.
To avoid any volume shifts when adjusting the wet/dry ratio, the circuit is set up in a dry path/Blend control configuration. Using the Time knob, you can adjust the decay of your verb, and lengthier settings are dreamy, especially in Reverse mode. Us guitarists consider reverb and delay to be a staple food category. Holy Grail Max, an electro-Harmonix, will cure your hunger.
Key Features:
Plate
Plate simulates the metal plate reverbs that were standard in the 1960s and 1970s recording studios. As a result, the Plate reverb has a smooth, well-rounded sound that complements various instruments and vocals.
To lengthen the Plate reverb's decay, rotate the Time knob in a clockwise direction. For example, if you crank up the Plate reverb's Time parameter, you will sustain each note for more than 30 seconds.
Reverse
This effect is similar to the studio technique, where the reverberation of a note fades in before the note is played, but in reverse. Due to its real-time nature, you can't use the HG Max's Reverse reverb function before a note is played.
The Time knob sets the time between the beginning of a note's playback and the end of the reverse reverb's fade-in. A rightward shift of time causes the note to fade in (clockwise). You may generate a slap-back echo via the Reverse mode with short Time values.
Spring And Hall
This "Spring Reverb" effect mimics the spring reverb used in numerous vintage guitar amplifiers. The Time knob adjusts the spring tension and the decay time while in Spring mode. Turning the Time control clockwise increases the duration and intensity of the spring reverb.
Using Hall, you can imitate the echoes you'd hear in a large hall or cathedral. You can adjust the reverb's decay period in Hall mode with the Time knob. Turning time in a clockwise direction increases the reverb time, effectively expanding the reverberant room. With the Time knob, you may create reverb environments from a small studio to a huge concert hall.
Controls
The reverb settings are adjusted using the reverb switch knob. In that order, the modes are Spring, Hall, Plate, and Reverse. To modify the duration of the Spring, Hall, and Plate reverbs, turn the Time Knob. The Time control determines how quickly or slowly the reverb should kick in after a note is played while using the Reverse setting.
When the Time knob is turned to the right in Plate mode, the reverb tails off for more than 30 seconds, giving each new note a thick reverb wash. From dry (counter-clockwise) to wet (clockwise), the Blend Knob determines the ratio of wet to dry ingredients (clockwise position).
The total loudness of the output rarely changes while the Blend knob is turned. Your Dry signal will stay analog from input to output through the HG Max.
Housing and Connectivity
The Footswitch toggles between active and passive HG Max operation. A light-emitting diode (LED) is activated whenever the effect is active. This 1/4″ jack is the HG Max's audio input. The incoming signal is met with a 1M input impedance. Additionally, the HG Max may transmit sound through the Amp Jack.
This device has a 550 output impedance. Located at the very top of the Holy Grail Max's housing, the 9V Power Jack is where You can plug in the AC Adapter's output. The HG Max requires 9 volts DC at 80 milliamperes and has a center negative connector compatible with Boss® and Ibanez® style AC Adapters.
Character & Sound:
It works wonderfully for creating ambient sounds and for experimenting with such sounds. It's straightforward, just like it meant reverb and distortion to be from the start. It avoids the tinny quality of most reverb pedals in favor of an "analog," if such a term can be applied, sounding very much like the reverb of an old amplifier.
As a result of its ease of use, it is perfect for experimenting with new sounds while achieving the ambient tone and feels associated with artists like Sigur Ros, Radiohead, and Coldplay.
Pros:
Since this pedal hasn't much of a learning curve, you can start using all of its functions immediately. Also, unlike reissues of the tube screamer, which offer numerous settings even though the majority of users only ever employ a single setting, this one has only one.
Cons:
One drawback to this pedal is its relatively short life expectancy. After only two months of light use, it stopped functioning for many people, which is a severe drawback. While the dealer may cover this under warranty, changing the pedal every few months is still a pain.
8. Boss RV-500 Reverb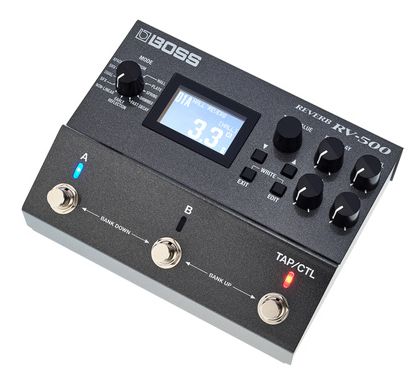 The RV-500 multi-effects pedal from BOSS brings the power and flexibility of the 500 Series to reverb.
The twelve different reverb types included ensuring that sonic explorers would never be at a loss for ideas. Editing these sounds might be a simple process or a vast rabbit hole of possibilities for the tone tweaker.
BOSS has a rich history of highly regarded reverb effects, such as the Modulate mode of the RV-5 and the COSM modeling of the distinctive tones of the Fender spring reverb. The RV-500 stompbox is like having access to an entire sound library at your feet.
Key Features:
Reverb Types
The RV-500 contains 21 high-quality reverb algorithms that you can use to create virtually any ambiance. Each one features an extensive set of tweakable settings, such as EQ, ducking, and other modulation and decay. In addition, they have developed brand-new algorithms for this pedal using BOSS's decades-long experience in cutting-edge reverb design.
Traditional reverbs like room and hall are available, as are more experimental ones like shimmer and non-linear reverbs, and special effects reverbs. There are also brand new implementations of two Roland classics—the Space Echo and the Digital Reverb.
DSP Engine
This pedal can produce various sounds thanks to its robust digital signal processor. To begin, the Dual mode of the pedal gives you access to two separate reverbs simultaneously, each of which may be fed with a full-range input or with divided frequency ranges on each input to create complex, multi-range sounds.
With A/B Simul mode on, you can combine any reverb patches, connecting them in a series or a parallel fashion, and outputting a single signal or two separate ones. Moreover, you may adjust the reverb and delay effects for series or parallel operation on a per-patch basis. Each patch features a digital delay with a full range of controls, including modulation and EQ.
Interface
The RV-500 features a sizable display screen that makes it easy to read the patch number, delay time, and other critical metrics. The extensive editing settings and controls of the unit are also easily accessible.
Adjustments such as pre-delay, high and low EQ, and effect level are all conveniently located on the panel for instant access. In addition, the free Editor may be installed on your PC and connected remotely for editing, patch backup, and more through a USB cable.
Real-Time Control
This pedal allows unprecedented freedom of expression and performance versatility because of its fully programmable switches and robust support for real-time control. The A, B, and TAP buttons allow quick and easy access to the bypass, patch/bank selection, tap tempo, and real-time alterations to the effect's settings in their default configuration.
In addition, three distinct reverb patches, an A/B Simul mode, and other options can be assigned to the switches. The many control options and sophisticated configurations made possible by MIDI expand the range of artistic expression.
Character & Sound:
The RV500 provides versatile studio-quality reverb that you may use in various settings, including recording and live performance. Also, since it's MIDI-compatible, it may be integrated into more extensive MIDI-controlled systems.
Whether you need one or not depends on the type of music you play; if you need a variety of reverb types for different songs and maybe the occasional tape delay effect, it will do the job great; if you need a hint of spring or plate every once in a while, it will do the job but could be considered overkill.
On the other hand, it provides a wealth of potential for producers of electronic dance music (EDM), ambient music, and ambient lounge music. To instantly access a wide variety of high-quality tones enhanced by stereo effects, you only need direct input from an electric or electro-acoustic guitar.
Pros:
The RV-500's 32-bit/96-kilohertz analog-to-digital (AD/DA) converters are superior to anything else in effects pedal form. The sound quality that rivals or exceeds that of the best professional studios is achieved using a sampling rate of 96 kHz and an internal processing architecture that supports 32-bit floating-point numbers.
You can bypass all digital effects and run your dry analog tone straight through the system. For more flexibility, you can choose between true-bypass and buffered-bypass operation.
Cons:
There isn't much to emulate about the spring; nothing natural about their sound. They sound metallic and weird; also, there is no power supply unit or charger.
9. Empress Effects Reverb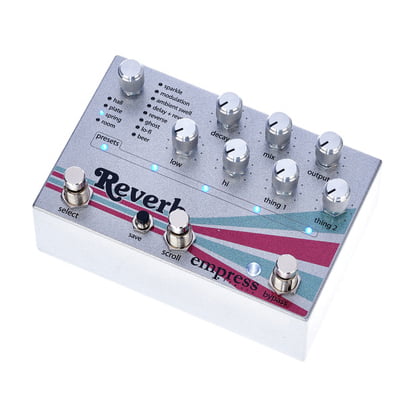 Regarding spatial effects pedals, none compare to the Empress Reverb.
This pedal's over 32 individual reverb algorithms properly mimic classic reverb sounds, even in stereo. Its main merits, however, lay in the wide variety of reverbs it provides, which range from ambient to experimental and include effects like dazzling octave reverb, lo-fi, ambient swell, and ghost mode, also the EQ controls and the two movable knobs allow for infinite fine-tuning of all parameters. 
Key Features:
Algorithm
Out of 32 reverbs, 12 are accessible via the interface, including classic and experimental styles. Various sub-options allow for interesting alterations to the default tones, such as hall mode for clean, modern reverb, sparkle reverb for octave-up, and positively otherworldly down reverb.
These choices are a ton of fun, and they feature widely used voicings for adjusting your sound in certain ways, such as bright spring and dark spring or traditional plate and studio plate. Each mode has an infinite option that may be activated by holding the footswitch in place for a continuous, alien ambient wash and tap tempo control.
Presets
You may save 35 different reverb settings in the Empress Reverb, all of which can be quickly accessed with the help of the streamlined interface. You can easily see where you stand in your bank by the LED lights, which change color as you progress through the five groups of presets that you can access by using the central scroll footswitch. To start, select a profile by pressing the left foot switch.
Payers like this system because it's so easy to use, but it doesn't rely on any screens, which can break and cause problems. But if you want to experiment with various preset arrangements, you can do so via the pedal's advanced options, which give you a great deal of control.
Connectivity
In addition to the internal quality of the Empress Reverb's controls, the pedal's abundance of external controls sets it out from the pack of pedal sharks. An expression pedal can be connected to MIDI, an external audio controller, or even the pedal's voltage to fast change the tone. In addition, the three-mode cabinet simulator helps track live performances and dry runs.
This pedal is powered by robust firmware regularly updated with new effects and algorithms. All you have to do to update the firmware on your Empress Reverb is locate the appropriate files on your computer and insert the SD card into the slot provided. 
Modulation
Multiple delay lines are usually routed ingeniously to create a reverb tail with a natural-sounding decay. When a pedal modulates the delay line, the repeats take on a faint chorus quality. Since all of the delay lines in a modulated reverb tail are also being modulated, the overall effect is similar to that of a chorus. Still, the individual pulses are lost in the din.
These settings are compatible with a wide range of musical genres and instrumentation. This is the place to go if you want to add bulk and warmth to an item. To use a metaphor, it's like a Canadian winter night, and the guitar sound is wrapped in a giant fluffy blanket.
Character & Sound:
The numerous modes available on each pedal could fill a dissertation, so we'll only cover three here: Spring, Plate, and Hall. Even though the Empress has three Spring modes, you can adjust fewer parameters than the Emperor and the Prince.
The Bright mode, which emulates a Fender Twin Reverb, is the most desirable of the three effects pedals. It also features Dark, which emulates a Fender Deluxe, and Overdrive, a novel concept that, when applied to our Fender Hot Rod Deluxe, results in a pretty nasal tone after 2 o'clock on the Mix knob. Dark mode on the Empress makes it sound wetter and less defined than the Hot Rod's integrated analog spring reverb. 
Pros:
Only those willing to spend time crafting nuanced textures can benefit from the Empress Reverb. Although fantastic tones may be quickly and readily achieved using the standard reverb simulations, the type of player who appreciates spending a weekend exploring every possibility will find that Empress rewards them.
There is a good chance that players with no desire to engage in this kind of discovery will only be able to afford to buy it. However, individuals who enjoy delving further into a topic likely find the flexibility and user-friendly interface well worth the cost.
Cons:
These pedals provide a fantastic sound, but if they stop working, you'll be glad you saved up some money. Some units are of low quality and malfunction frequently, making repair costs prohibitive (some dealers charge money to repair them even if the pedals are under warranty). Given the high price tag, they might easily ignore the power supply for this pedal.
10. Walrus Audio Descent Reverb/Octave Machine
To add a layer of ambiance to your guitar performance, plug it into the Walrus Audio Descent.
This effect pedal creates luscious, rich soundscapes, from grandiose halls to symphonic shimmers. You can feed the pedal's entrancing octave effects into the pedal with various sounds provided by the three modes.
This reverb allows for extensive customization via eight knobs at the top; you can even save your preferred settings as presets. Then, using a standard expression pedal, you may control any of the variables in real-time. The pedal should be on your pedalboard, whether for a quiet background sound or crashing waves of alien reverb.
Key Features:
Controls
It's not like Walrus is the first firm to dabble in reverb with altered pitch and Octave. As an effect, it dates back to the 1980s, and today, Eventide and Strymon are considered industry leaders in the field. Unlike Eventide's Space, which is overly complicated, or Strymon's Blue Sky, which only features a single shimmer-style preset.
This one strikes a happy medium, letting you dial in the exact amount of shimmer you want in your reverb with a few straightforward knobs. The octave controls are located underneath the reverb controls. Three different reverb types can be chosen using a little toggle. In other words, if you're looking for some surf-a-billy reverb, you'll have to search elsewhere because this pedal only simulates space travel.
Power And Connectivity
Whenever it gets to the links, things step up a notch. With its mono input and stereo outputs, this pedal allows you to connect it to two amplifiers simultaneously for more expansive reverb effects. A two-foot switch controller may be attached via the Remote input.
By going about things in this manner, you can potentially free up some room on your pedalboard. Regarding external control options, this pedal has you covered with a dedicated input for the expression pedal, allowing seamless transitions between settings. The pedal can only be used with an external power source, as its operation requires at least 130mA.
Inspiring Effects
This guy is a reverb pedal, and its three settings will take you on a tour of the many repercussions out there. The Octave effects are icing on the cake, but Hall, Reverse, and Shimmer all give your distinctive sound colors. It makes things even more exciting and immensely expands this bad boy's potential scope.
You can adjust the pitch up or down an octave and blend it with the reverb to produce a unique effect. This pedal also includes three memory presets, so you can pre-record your favorite tracks and easily access them whenever necessary. Remember that this is a digital pedal, and as such, it cannot replicate the sounds of an analog device.
Character & Sound:
You can go on to actual sounds once you've mastered the various functions that can be a hassle on stage. All three modes provide a clear, organic sound, and the reverb is distinct. Listen to the playback of your notes from a great distance, and use spatial and wide sounds with ease.
Shimmer mode benefits greatly from Octave Up's higher shine and brightness, while Octave Down adds weight to the bass end. These two effects working together make perfect sense, as the end product is truly extraordinary. You can acquire various effects, from gradual reverb to warbly, luscious sounds that are further refined by subtracting or adding an octave.
If you want to see every shade of the effect, you'll need to spend hours upon hours fiddling with the settings. There are better choices than this if you need something simple and fast.
Pros:
Overall, this octave and reverb pedal is top-notch. It's multifunctional, featuring features including an octave up/down effect and many reverb kinds. In other words, the only constraints you have are time and patience because you can access infinite sounds. Once you've explored everything and seen how the many settings and settings interact with each other, you'll have a better grasp of what sets this one apart from the rest.
Cons:
Mixing it with synths, this pedal could be better. Synthesizer effects and guitar effects are judged in very different ways. If you're going to run a synth that you spent hours patching, programming, and automating into a reverb, the reverb should be one you can manipulate to your liking.
While the pedal's independent dry/wet controls make it much simpler to fine-tune your sound, it is not meant to blend into the mix. This pedal is thirsty for water. So, it's excellent to create a vast soundscape out of pleasant melodic bleeps and bloops. An aggressive synth lead is a disadvantage, even if it isn't harmonic.
11. Catalinbread Talisman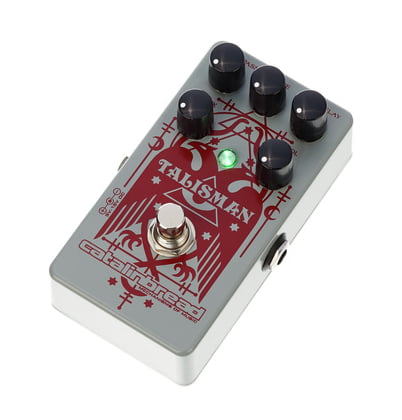 The Catalinbread Talisman Plate Reverb has a luscious, 1970s-style reverb.
Catalinbread pays close attention to every aspect of a pedal's design and development. To mimic the rich, natural sound of a plate reverb in a compact, portable pedal, the Talisman does an admirable job.
To do this, Catalinbread aped the original machines' usability and organic sound by recreating its side-chain effects. Controls are backed by a solid metal chassis and a reliable footswitch, and they can be driven by any decent 9V-18V DC power supply (not supplied).
Key Features:
Circuit
They created the Talisman in Portland's Jackpot Studios to be a faithful recreation of the original EMT-140 pedal in tone. The Talisman does a fantastic job of reducing muddiness and low-end looseness while being able to give both light and heavy very.
But Catalinbread has continued at a simple emulation; the pedal includes several functions typically used in conjunction with plate reverb in recording facilities. If you're playing in a dense mix, the high-pass filter can help you hear individual instruments more clearly by reducing noise in the upper frequencies.
In addition, there is an additional 100 milliseconds of delay due to the pre-delay before the reverb is activated after you make your selection. Combined with chordal playing at a slower tempo, this effect provides an ethereal, nocturnal ambiance. Last but not least, the Talisman is pre-set to incorporate the reverb tail into your signal even when it is turned off.
Controls
Time, level, and blend knobs are included on the Talisman reverb pedal, as they are on the vast majority of similar devices. In addition, the time knob adjusts the duration of the reverb tails, the volume knob modifies the overall level of the audio, and the mix knob varies the amount of reverb added to the dry signal. Also, the high-pass and pre-delay filters can be adjusted independently using separate knobs.
Plate Tones
This pedal is ideal for guitarists who want to experiment with a wide range of plate tones, thanks to its high-pass filter's gradual blend-in feature. As a result, you may acquire the exact sound you want with minimal effort, rather than the jarring shifts in tone quality that often result from toggling filters.
The Talisman's adjustable pre-delay periods also make it suitable for various musical genres and styles, from brief slapbacks to expansive, luscious reverbs. Those unfamiliar with delay on guitar will be fine getting started, but those seeking a more aggressive effect will also find what they're searching for.
Character & Sound:
Those familiar with multi-style reverb pedals will know that the plate reverb option rarely lives up to the hype, sounding either indistinguishable from the other settings or providing only a thin, tinny facsimile of true plate reverb at best. So, those players can be excused for failing to recognize the Talisman for the rarity it truly is.
This foot stomp box produces rich, full tones that are remarkably clear and vibrant. The Talisman is a fantastic always-on effect that may provide color and space to your signal at lower volumes. Cranked to its limits, this box produces magnificent, cavernous'verb with a delicate, gossamer feel.
Even at its most swampy underwater sounds, the Talisman maintains an exceptional level of integrity, never losing the center emphasis on your signal. This pedal's depth and breadth of the reverb and the purity of the dry signal are perhaps its most impressive features. Players should be fine with blending in with the rest of the field because of this unit.
Pros:
Catalinbread's Talisman is a plate reverb with studio quality at a fraction of the size and price. Its exceptional definition and musical range set it apart from most other general reverb, even outside the plate category. If you're a guitarist searching for a vintage reverb sound that stands out but blends well with other instruments.
Cons:
You'll need to switch to true bypass, as the reverb signal leaks into the output in soft mode even with the mix control at zero, and it has horrible feedback at extreme positions.
Bonus:
Strymon blueSky Reverberator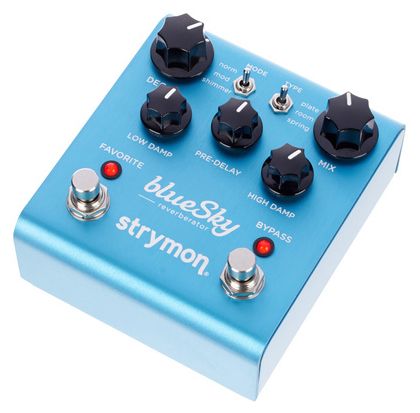 Each Strymon BlueSky unit is handcrafted, so you can be sure of getting a quality product when you buy it.
Under the solid chassis of the blueSky Reverberator lives a highly advanced circuit board with high-performing converters that keep noise to a minimum. The Reverberator has several types and modes, which combine to give outstanding results. The user interface is easy to use, and the multipurpose foot switch is solid in construction.
The think tanks at the Strymon company know what they're doing and have packed their Reverberator with innovative ideas. For instance, having a limited real estate on the control layout, the blueSky Reverberator uses button combinations to implement some hidden features.
Key Features:
Input/output
The Strymon blueSky is powered by a 9V power adapter, so the first thing you see on the back is a power port. The Reverberator Pedal has mono input/outputs and another pair of input/output ports for stereo processing. In the simplest setup, your guitar can connect directly to the mono input, and the guitar amp can connect to the mono output.
Basic Controls
The Strymon blueSky is similar to the Golder Reverberator in its control layout. The pedal has the same "Decay" control that can manipulate how long the reverberated signal takes to wear off. For smaller rooms, a lower decay can be set, while for larger setups, a higher decay will build a broad surround-type feel that won't fade away too quickly.
The "Pre-Delay" parameter is very important and sets the gap between the original signal and the associated reverb effect. Setting this parameter right is crucial to ensure your sound remains clear and pronounced.
Next, you get dedicated "Mix" controls to decide the original and wet signal ratio. Moving the mix knob to the extreme ends makes for some interesting results. Strymon recommends a lower mix setting for more natural-sounding tones when the pre-delay is set high.
Foot Switches
You'll find two metallic foot switches on the Strymon BlueSky labeled "Favorite" and "Bypass." The favorite foot switch, when long pressed, allows you to save the current control settings as a favorite. Then, a single button press at any time lights up the favorite LED, and your favorite tone can be instantly recalled. The bypass button on the right acts as a true bypass. Also, pressing the button while powering the unit on will switch it to analog bypass mode.
EQ Settings
The next two knobs on the interface, labeled "Low Damp" and "High Damp," act as a 2-band EQ. Both these knobs act like tone controls and target the reverb decay.
Moving to a lower setting will cause a dampening of relevant frequencies in the decay trail, while a higher setting will show more representation of these frequencies in the tail. Pressing both foot switches together and moving the mix knob gives the user options to cut or boost the highs and the lows by -/+3dB.
Types
The 3-way toggle switch can select options between "Plate," "Room," and "Spring" reverb. The circuitry of the Strymon BlueSky simulates plate and spring vibrations very accurately and shows off some vintage-style sounds.
The room setting allows the user to choose between smaller setups like a 3 bedroom feel or the widespread ambiance of an arena. Using the low and high damp settings with these reverb types can bring some unique sounds. For instance, you can manipulate the damp controls to recreate the sounds of spring tanks of different ages.
Modes
Just like the types section, a toggle switch can help choose between "Normal," "Mod," and "Shimmer" modes. The mode settings are used in combination with the reverb type. In normal mode, the selected type remains and isn't modified.
However, different modulation effects are applied when the mod is selected for the chosen type. Shimmer is the more advanced mode that works on the principle of regenerative octave shifting. When the room and spring type are selected, a fifth plus an octave is added to the sound.
Sample Settings
The documentation with the Strymon blueSky has some handy suggestions to get you going as soon as you unbox the unit. The samples include multiple effects, each showing helpful diagrams of the user interface so that the setting can be easily implemented.
The variety of furniture and decorative accents on display was the most eye-catching of this space. It was a breeze to create a plausible simulated environment, whether a carpeted basement or a concert hall, using the Low Damp and High Damp controls in tandem with the Decay and Pre-Delay knobs.
The plate variety has the most profound tone of the three, making it ideal for single-note riffs in the style of composers like Ennio Morricone. An eerier atmosphere is achieved by using the plate in mod Mode. Because you may adjust neither the rate nor the amount of modulation, only a single voicing is available.
On the other side, the Shimmer mode is flawless. When utilizing the spring setting, the upper octave snuck in subtly when playing chords or single notes. Finally, maximum Mix and High Damp settings provide a spectral soundscape ideal for guitarists in the Robert Fripp vein.
Pros:
The Strymon blueSky doesn't only look good but sounds great too. There's more to it than meets the eye, as button combinations reveal more features. The shimmer mode is great to experiment with and offers regenerative octave changes that help unleash creativity. The pedal is built like a tank, and the switch buttons make toggling different features a cinch.
Cons:
Some connoisseurs may find the Strymon blueSky Reverberator Pedal very dry-sounding and digital. You may also be tempted to spend 50-odd dollars more to purchase the Strymon Bigsky, the flagship pedal that leaves the blueSky way behind in all aspects, including reverb types, preset recall, input/output options, and much more.
How To Choose A Reverb Pedal For Your Synth?
The most important thing you should consider when choosing a reverb pedal for your synth is to understand that synths have complex timbres, and the polyphonic sound they can produce benefits greatly from a reverb pedal capable of transcribing these kinds of frequencies.
Stompbox pedals are typically associated with electric guitars, but synthesizers have long benefitted from the compatibility of guitar stompboxes. Therefore, the finest reverb pedals for guitars might also serve as the best reverb pedals for synths.
In reality, reverb stompboxes work better with synths than guitars because synths have more complex timbres in some circumstances. Given that the point of a synthesizer is to shape the sound, we decided to include as many different types of reverb as possible (within limits).
Inputs And Outputs
As a starting point, we can differentiate between inputs and outcomes. Mono in/mono out, mono in/stereo out, and stereo in/stereo out are the three possible configurations for pedals.
The most versatile effects pedals are stereo models since they can be switched from stereo to mono with a single output. In addition, when all effects are bypassed, your pedal chain will remain stereo, and your synth signal (assuming it is a stereo synth) will retain its original stereo quality.
Digital Or Analog Format
Pedals, like synthesizers, come in digital and analog varieties. The continuous nature of analog signals gives them that unadulterated quality, making them the superior choice. An analog pedal will utilize components like transistors and capacitors to produce the desired sound.
But a digital signal is represented solely by ones and zeroes; it is binary. Many modern effects pedals incorporate digital signal processing (DSP) chips to digitize your analog signal, apply processing to it, and then return it to its original format in analog. You can equally well like either one. To create a warmer and more natural sound, choose analog, whereas you can achieve a crisper and cleaner tone with digital pedals.
Power
Studio-grade effects take a lot of juice, so you will only find a few pedals that work with batteries and an AC converter. However, several high-quality effects are battery-operated, allowing you to play instruments and amplifiers that run on batteries in places where AC power is unavailable.
Extra Parameters
One popular development in effects pedals is the addition of a jack for an expression pedal, which you may use to continuously change one or more settings. At the same time, your hands are free to play and adjust the synth. Some high-end effects pedals even include a MIDI In jack, so you can use various controllers to tweak the settings. If an effect has a MIDI In jack, it can be synced to an external MIDI clock.
Quality
Many people will concur that Strymon and Eventide make the best effect pedal for synthesizers and keyboards. For instance, the Strymon Timeline is a great truthful delay pedal that works equally well with guitar levels as with higher studio levels, and it's all manageable via MIDI and expression pedal.
Equal variety, functionality, and in-the-moment adjustment are available with Big Sky pedals. Smaller Strymon pedals include the same high-quality audio but require a TRS input connection and an inner jumper switch to function as a stereo.
How To Connect A Reverb Pedal To Your Synth?
As a first step, remember that your synth will put out at least 20 dB more gain than a musical instrument; thus, turning down the volume will help you prevent overdrive and noises, especially when using fuzz pedals with a poor response at low impendency.
Second, you may connect your synth to the pedal's input or utilize the pedal as a "send," or effect channel or bus, in your digital audio workstation. Initially, you'll need two jacks if your pedal is mono and four if it's stereo.
Connect the synth's outputs to the pedal's inputs and the pedal's outputs to the line inputs on your audio interface. The synth's voice will sound radically altered when you launch your DAW and play the instrument. However, many pedals allow you to adjust the effect level by switching between a wet and dry knob.
You can set up your pedal as a "send" in your DAW, much like you would with an effect plugin, if it doesn't have a dry/wet knob or if you want more control over your effect. Here, the mono/stereo setup requires the same number of cords but a different wiring pattern.
The output of your audio interface must be connected to your pedal's input for it to pick up sound. The audio signal processed by the pedal will be fed back into the interface. Afterward, according to your setup, you'll need to create an aux channel in your DAW with the appropriate inputs and outputs. You may now adjust the strength of the effect on other tracks in your DAW, and you can also make other adjustments.
Conclusion
Those were the Top 11 Reverb Pedals For Synths 2023 From Top Brands. These pedals are mostly designed for guitar, but you have to understand that the synth is so versatile it can be capable of anything. However, only some pedals are compatible with an instrument as complex as the synth.
Well, we have included the most important company regarding effects, Strymon. We chose the Strymon BigSky Multidimensional Reverb because it is a complex pedal that can make just about any instrument or sound shape impressive.
They created this pedal to deliver "academic" tones bundled with 12 realistic-sounding reverb types. It is a versatile pedal, and each machine contributes; for example, the spring effect is realistic and gives you a specific sound. It comes bundled with 300 presets already created, so even if you want to take over the reins of your synth sound, you'll go through these at first; they are impressive.
The Eventide H9 Max is a pedal that guitarists widely use, but here's looking at its place in other pedalboards. This pedal can be used through an app control, as it doesn't have that many onboard settings, but the advantage of this feature is that the company develops new effects for them almost daily. The Eventide H9 Max is adaptable, as it has an impressive processing capacity.
In this Top 11 Reverb Pedals For Synths 2023 From Top Brands, we included pedals from Catalinbread. Catalinbread Talisman is a pedal that pays close attention to every aspect. It has a rich and natural sound but offers plenty of reverb variations.
It features an EMT-140 circuit that reduces muddiness in the low end while taking care of the installation. If you're familiar with pedals like this, you know how much hype there is around it; besides offering vibrant, crisp, and rich tones, it is also quite small in size, which is a good thing when it comes to pedalboard space.
Today we also talked about Catalinbread's sibling Topanga, a pedal that reproduces a tone of a rather expensive united reverb. The sound of these is warm and authentic, which helps with a guitar preamp or, why not, a synth. It features an internal switch with a true bypass and a buffered mode that maintains volume even when the pedal is off.
We hope this Top 11 Reverb Pedals For Synths 2023 From Top Brands has helped you understand the complexity that a hardware synth can offer you because, as you have seen, it goes combined with any form of shaping the sound it offers. These reverb pedals will certainly cope with it because they are also quite complex in their turn, which we all surely want.
Death metal enthusiast here. I am a Romanian musician and producer with over 13 years of experience in the music industry. I've experienced all types of Metal up until now, playing Melodic Death Metal, Brutal Death Metal, and Black Metal with different bands. Learning by doing is my base principle, which is why I've been drawn to sound design from an early age. Read more…