We've done the research for you and put together a list of 7 of the best multiband compressors available today:
1. Minimal Audio Fuse Compressor NEW*
3. PSP oldTimer Multiband Compressor
5. Devious Machines Multiband X6 NEW*
Before we get into the full list, let's understand a few things about it first. That way, you could think of situations where a multiband compressor could be helpful in your particular workflow. Once you have a specific goal in mind, it will help you decide which multiband compressor in our list fits your needs best.
What is a multiband compressor, and what does it do for me?
A multiband compressor is a set of regular compressors, each of which only applies over a specific range of frequencies assigned by the user. Each range of frequencies is called a band, and processing the dynamism of each band allows for a level of control otherwise unachievable.
It could be used for many things, some of which are:
Sculpting sound:
Multiband compressors are often helpful for reducing muddy frequencies on synth pads, guitars, and other backing instruments. They are preferable over EQs as multi-band compressors work dynamically, so they can be set not to change the tonality of the instruments too much.
Tightening up busses:
Whether we are talking about drum busses or instrument sub-mixes, multiband compressors can significantly help tighten up the sound. Compressing the low frequencies with ample attack time ensures your mix doesn't sound muddy at the low end.
Vocals:
Multiband compressors have often been used for vocals as a de-esser for decades. It can also help keep the low end tight and add airy character to the high frequencies.
Manipulating full mixes:
By separating the frequency spectrum based on individual instruments' frequency ranges, you could use the multiband compressor to compress and gain-stage full mixes. Mastering engineers have often used this technique to achieve great masters even without access to the actual mix project.
Now let's have a look at some of the best multiband compressors available in the market and the features each of them offers:
Top 7 Multiband Compressor Plugins 2023
1. Minimal Audio Fuse Compressor

NEW*
The "Minimal Audio Fuse Compressor" offers multiband compression, allowing you to target specific frequency ranges independently.
It's known for its transparent and natural sound. It effectively tames dynamics without introducing unwanted artifacts or coloration, making it suitable for various audio applications. The intuitive user interface makes navigating and dialing the desired settings easy. You can quickly adjust compression parameters, making it suitable for beginners and seasoned professionals.
The plugin provides visual feedback through its graphical user interface, aiding in real-time monitoring of compression and gain reduction across frequency bands.
Key Features:
Dual Compression
The plugin harnesses up to six bands of dual compression to craft diverse sonic effects. From subtle transparent cohesion to intricate enhancements, the possibilities are endless.
Streamlined Workflow (Flow)
The Fuse Compressor offers you the ability to streamline the complexities of multi-band compression. Its functions, such as spectral tilt, macro ratio adjustment, and adaptive timing, enable you to concentrate on your music without becoming entangled in technical details.
Pinpoint Precision
You can achieve surgical precision with mid-side processing, soft knee, channel linking, and individual band controls. Dial in your settings quickly and accurately.
Versatile Presets
You get to explore over 40 presets covering classic control to unique configurations, providing instant inspiration for your sound.
Dynamic Spectrum Display
Visualize your compression in real-time with the dynamic response curve, allowing you to monitor compression across the spectrum.
Spectral Tilt and adaptive time
The plugin allows you to easily adjust multi-band dynamics distribution across frequencies, tailoring compression to your specific needs. You can automatically fine-tune attack and release times for each frequency band, achieving cleaner or more pronounced compression characteristics.
Macros and Other Controls
Simplify multi-band compression with macro controls, adjusting thresholds and ratios for all bands simultaneously. You get to customize thresholds, ratios, makeup gain, bypass, and solo settings for each band individually, offering complete flexibility.
Compatibility:
The plugin is available in various formats, including 64-bit AU, VST, VST3, and AAX, ensuring compatibility with a wide range of digital audio workstations (DAWs). It functions seamlessly on macOS 10.9 or newer, as well as Windows 10 and later operating systems, offering accessibility to Mac and PC users for audio production needs.
Summary:
Minimal Audio has optimized the plugin for efficient CPU usage, ensuring it can be used in complex projects without straining system resources. In addition, you get access to a range of expertly crafted presets for various use cases, from transparent mixing to character-rich compression. Overall, its feature richness, transparent sound, and easy-to-navigate interface make it one of the best multi-band compressors.
2. Slate Digital MO-TT
More Info & Price (Trial Available)
Or Buy Here (Support Integraudio)
The renowned preset OTT on Ableton Live's multi-band compressor is synonymous with contemporary electronic music.
The effect adds clarity, punch, and body to just about any instrument using upward and extreme downward compression in order. You can find similar effects by various developers, including the beloved OTT freeware plugin by Xfer. However, they don't truly attempt to give comprehensive control over the effect. Slate Digitals MO-TT seeks to change that.
MO-TT accurately recreates the iconic sound of the original OTT preset in Ableton's multi-band processor. However, it also adds various features alongside a gorgeous user interface. The plugin features two modes: easy and advanced.
The easy mode is excellent for people who want to try the presets with the fundamental controls readily available. Conversely, the advanced mode (pictured below) offers a lot more control, like changing the band frequencies, boosting or cutting each band, etc.
Key Features:
Band Customization
There are three bands in MO-TT, each allowing you to change its crossover frequency. Furthermore, the lowest and highest bands will enable you to change the frequencies of their outer ranges. So, you're essentially getting a five-band dynamics processor, albeit the lowest and the highest bands don't allow adjustments.
Likewise, you can change each band's input level and threshold controls for both types of compression: upward and downward. Upward compression is an expander and works by boosting the volume of the signals that go below the threshold. Conversely, downward compression cuts the volume of the signals above the threshold.
You'll also find input gain, stereo link, mix amount, attack, and release controls per band.

Filter Slopes


MO-TT offers a global filter slope control that changes the steepness of all the bands' crossovers. The control provides three options: 12 dB/octave, 24 dB/octave, and 48 dB/octave. Choose a lower value if you want adjacent bands to affect each other more, creating a gluing effect. Contrariwise, a steeper slope keeps the processing surgical and is excellent for controlling a specific sound (like a hi-hat) while mastering.
Global Features
The plugin comes with several other global features and controls. The user interface provides a handy frequency spectrum analyzer that helps you customize the bands. Similarly, you'll find a global input gain and a stereo link fader. The latter fades the plugin between stereo and dual-mono modes.
MO-TT provides side-chaining features with both internal and external modes. Likewise, you can make the plugin listen to the full spectrum or only the range the bands are processing. A pair of attack and release sliders simultaneously control the settings on all the bands. And you can switch between three Timing Style behaviors: classic, smooth, and smack.

Preset Library


MO-TT includes three "quick set" presets: OTT, Hip Hop, and Vox. These are ideal for use in the easy mode, where you can adjust the mix amount per band and get instant results. However, if you want more changes, you can access the preset library by clicking on the folder icon at the top left. The library features many built-in presets categorized into groups: master, instruments, vocals, drums, and FX. Each category contains several handy presets that you can customize to match your taste.
Compatibility:
MO-TT is available for Windows 8 or higher and macOS 10.14 or higher, both 64-bit only. It comes in VST 2/3, AU, and AAX formats.
Summary:
MO-TT is essentially the OTT preset/plugin for people who like customizations. However, it's also equally appropriate if you prefer simplicity, thanks to its easy mode. Similarly, you'll receive an excellent collection of presets covering a variety of usage.
Overall, it's an awesome plugin for electronic music, pop, rock, RnB, etc. You could use it to add clarity to dull samples or recordings, iron out annoying peaks in the frequency spectrum, and more.
The only fault you could bring up is that it's quite steep-priced for what it does. Still, it's an unbeatable plugin if you find the OTT preset indispensable and prefer flexibility.
Related Reading:
Top 7 Slate Digital Plugins For Mixing & Mastering
3. PSP oldTimer Multiband Compressor
More Info & Price (Trial Available)
Or Buy Here (Support Integraudio)
A simplistic, vintage-styled multiband compressor from 2010, the PSP oldTimerMB is still one of the universal favorites.
What differs this plugin from the rest on our list is that it's designed to look and sound like a vintage analog multiband compressor. Users of the PSP oldTimerME compressor will instantly recognize the musically colored sound of this plugin. There are only three bands in this multiband compressor. However, don't let the single-page, minimalistic layout throw you off — this plugin packs several modern features up its sleeves.
Key Features:
Analog Sound
Being a vintage compressor, the character of the sound, of course, is the biggest feature of this plugin. The compressors themselves have a distinctive sound, but PSP has also added a Valve amp feature. It is essentially a slight tube saturation, which gives some thickness to the body and character to the high frequencies. You can turn the valve amp on and off, and you can also adjust how much drive you want. Adding to the analog sound is the automatic release function as well. There are two kinds of auto releases, one of which is designed to emulate an analog release.

Stereo Control


Each band has a Width knob, which lets you turn the band mono or wide using stereo enhancements. It is great for adding some stereo width to the mid and high frequencies 0f your mix bus while keeping the low frequencies mono. Similarly, this plugin also has a mid/side mode, which offers even more control over how you want your stereo field to sound.

Nostalgic GUI


The vintage look gives the plugin an air of class. PSP has also made the GUI resizable using the option found at the top left. Despite having several knobs, the plugin is quite self-explanatory and should pose no issue in quickly getting up to speed.

Multiple Slopes


The crossover slopes of the three bands can be adjusted as well. There are three options available: first, second, and fourth-order. The first is the most gentle and the fourth is the steepest. We would have loved to see each band having its own slope adjustment, but the one provided modifies all of the bands at the same time.
Presets
oldTimerMB offers 87 premade presets great for mixing as well as for mastering:
PSP Oldtimer TUBE MULTIBAND Compressor Plugin
Compatibility:

The PSP oldTimerMB is available for Windows 7 or higher at both 32-bit and 64-bit and for macOS 10.8 – 10.15 or later at both 32-bit and 64-bit. It comes in VST 2/3, AU, AAX, and RTAS formats.
Summary:
If you are a fan of the look and sound of vintage, analog products, then this plugin is one of the best available in the market. The stereo width control, mid/side, and crossover slope selection give the classic multiband compressor a modern touch.
Related Reading:
Top 9 PSP Audioware Plugins For Music Production 
4. FabFilter Pro-MB
More Info & Price (Trial Available)
FabFilter remains a leader in software plugin innovation and development with this ultra-flexible multiband compressor.
The most significant feature that sets this multiband compressor apart from the rest is its ability to create a free band anywhere you like. That means, if you want a band from mid to high-frequencies, there is no need to create three bands to set the middle one where you need. Instead, you just create one band exactly where you want, and the rest of the frequency spectrum remains untouched.
Key Features:
Six Bands
The FabFilter Pro-MB has a maximum of six bands. Each band could be created and moved freely, so there is no crossover between bands. Of course, if you prefer the traditional crossover system, the Pro-MB easily lets you snap the bands together as well. This innovative method of band manipulation does help save a lot of time.
Multiple Processing Modes:
This plugin has both compression and expansion modes. And FabFilter offers mid/side modes, stereo control per band, and gating to top it off.
Global Mix
The Pro-MB has a global dry and wet knob that could be useful for NY/parallel compression. Your DAW can automate the knob as well. Automation of the mix knob is instrumental if you have to engage the multiband compressor in the middle of a song without the effect sounding obvious.
Linear Phase mode
Speaking of using the compressor in the middle of a song, the Linear Phase mode offered by this plugin is remarkably smooth. With up to four times Linear Phase oversampling, moving the band around in the middle of playing audio will create no audible artifacts at all. This feature is also great for using the multiband in a mastering chain.
Crossover Slope
As with most multiband compressors, the Pro-MB also offers multiple options for the crossover slope steepness

. The steepness ranges from

6 dB per octave to 48 dB per octave

. It is great to see a relatively large range for the steepness. It makes the plugin

suitable for both subtle mastering uses to surgical sound sculpting

.

Great GUI
One of the best things about this plugin is that the graphical user interface is freely resizeable. And not only that, but the UI is also very intuitive to use. Almost every change you make in the parameters gets reflected in the beautiful, large graphical view. This includes various processing modes, gain reduction, etc. In the background of this view, you also get a customizable frequency spectrum. Overall, the aesthetics give this plugin a very modern and meticulous feel deserving high praise.
Fabfilter Pro-MB Tutorial - Everything You Need to Know
Compatibility:
The FabFilter Pro-MB is compatible with Windows (32-bit and 64-bit) and macOS 10.10 or higher (only 64-bit). The plugin comes in VST 2/ 3, AU, AAX Native, and RTAS for Pro Tools.
Summary:
This plugin's intuitive and innovative nature makes it a highly commendable candidate for any kind of multiband compression needs. Even if you are just starting, the plugin makes sense as soon as you get the hang of the interface. Along with that, the filters are exact and smooth. The only issue you could have with this plugin is the price. However, if you have a regular need for a multiband compressor, we think it's well worth the investment.
5. Devious Machines Multiband X6

NEW*
More Info & Price (Trial Available)
Devious Machines' Multiband X6 is an advanced multiband compressor with zero-latency performance; it is suitable for tasks such as radio-ready vocals, pumping drum bus, and punchy mastering.
The plugin offers three compression modes – Smooth, Crunch, and Punch – each with its unique musical characteristics. While it excels at emulating the iconic 1176 compressor sound, its sonic capabilities go beyond that. Additionally, there's an expansion mode that can enhance transients or reduce noise.
X6 brings a user-friendly experience with a simplified workflow. You can swiftly set compression levels using macro controls and fine-tune individual bands to your liking. Innovative features like automatic threshold adjustment speed up the process, while smart gain compensation and automatic level matching ensure balanced levels, allowing you to concentrate on shaping your audio effortlessly.
Key Features:
Smart Gain
Smart Gain compensation, available in two modes, ensures that your audio maintains a consistent level, preventing unwanted volume fluctuations. The auto-threshold function recommends suitable threshold levels for each band, simplifying the setup process.
Visual Feedback
A spectrum analyzer display provides visual insight into your audio, helping you make informed compression decisions. In/Out level matching ensures seamless integration of processed audio with your mix.
Deep Adjustments
You have the flexibility to choose between minimum or linear phase crossovers, with adjustable slope settings for each band, catering to your specific needs. Selectable lookahead and up to 4-times oversampling further enhance precision. The plugin supports mid-side processing, adding depth and dimension to your sound.
Sidechaining
The external sidechain input feature permits advanced signal routing possibilities. Meanwhile, the ability to toggle between multiband and wideband/filtered sidechain modes empowers you to shape the character of the sidechain signal according to your preferences.
Extensive metering options
Detailed metering options include RMS, peak, LUFS, and true-peak metering, empowering you to monitor various aspects of your audio's dynamics.
Compatibility:
Multiband X6 is supported on macOS 10.11 or later, as well as Windows 10 or later. The plugin comes in various formats for your convenience, including VST 2, VST 3, AU (Audio Units), and 64-bit AAX for Pro Tools. Notably, it also offers Native Apple Silicon support, ensuring seamless performance on Apple's latest architecture.
Summary:
Overall, Multiband X6 proves its versatility across a wide spectrum of audio applications. It shines when used on diverse elements such as radio-ready vocals, impactful drum tracks, sharp synthesizer stabs, polished master mixes, and more. Moreover, it's equally capable as a single-band compressor, delivering that timeless, classic compressed sound.
Whether your goal is to achieve prominent, upfront transients, maintain controlled dynamics without unexpected surprises, or create an enveloping sonic landscape, X6 facilitates these outcomes effortlessly. Its efficient, low-latency, and CPU-friendly engine may tempt you to apply it across every channel in your production.
6. Softube Drawmer 1973
More Info & Price (Trial Available)
Or Buy Here (Support Integraudio)
Softube is well known for its meticulous models of analog studio hardware, and this emulation of Drawmer Electronics' 1973, a hardware multiband mastering processor, is no different.
Like the original hardware, this plugin is a FET multiband compressor with three bands. Softube has recreated all of its nuances under license and collaboration with the creator Ivor Drawmer himself. On top of that, they have also added mid/side mode and sidechaining, which weren't available in the hardware. The resulting plugin is a truly versatile and great-sounding compressor with the unmistakable sonic flavor of the hardware. The crossover slope is fixed and matches the original hardware, resulting in a subtly distinct sound.
Key Features:
Great Sound
The most significant feature of this plugin is the sound. The Drawmer 1973 uses an emulated FET compressor, which has a peculiar drive to it. The plugin also has a "big" and "air" switch, which respectively adds character to the lows and wide, airy boost to the highs. The mid/side mode also lets you control the stereo field of the track even further by letting you adjust and compress the mid and side independently with a single instance of the plugin. The result is an undeniably clearer and better sound.
Faithful GUI
The UI of the plugin is very pleasing to look at and easy to use. While there isn't a modern spectral analyzer to help you visualize the changes you are making, we would argue that the features it provides for quick results render visual analysis unnecessary.
Global Mix
As this plugin is as much an enhancer as a multiband compressor, the need for a global mix knob becomes paramount. Not to mention this global mix knob could also be used for NY/parallel compression.
Side Chaining
This feature wasn't available in the original hardware, but being able to sidechain external audio gives you a whole new set of possibilities. For example, you could use it to tighten some of the low ends of a bass guitar whenever the bass drum hits while keeping the mid and high frequencies free and open.
Customize Your Dynamic Control With Drawmer 1973 – Softube
Compatibility:
The Drawmer 1973 is available for Windows 7 and higher at 64-bit and macOS 10.12 or higher at 64-bit. It comes in VST 2/3, AU, and AAX formats.
Summary:
In conclusion, if you are looking for a great multiband compressor for mastering and other general sound manipulation, we would highly recommend this plugin for its excellent sound. It definitely brings up clarity in vocals and guitar and tames the boomy low end of acoustic guitars or bass guitars. And you could certainly use it for surgically removing resonance as well, but it's in giving character and clarity where it absolutely shines.
Related Reading:
Top 12 Softube Plugins For Music Production 
7. Waves C6
More Info & Price (Trial Available)
Aptly named for its six bands, the Waves C6 is a trusted classic from a long-standing name.
This multiband compressor is excellent for both precision sound manipulation and broad shaping. Its low latency performance makes it great as a de-esser for live use as well. The uniqueness of this plugin is that it has four crossover bands and two dynamic EQ-like floating bands. These two floating bands could be used for pinpoint-accurate editing, making this plugin highly versatile in any use case.
Key Features:
Four Crossover Bands + Two Floating Bands
The four crossover bands function as a regular multiband compressor that we are all familiar with by now, whereas the two floating bands are essentially two Dynamic EQ bands. So, instead of covering a range of frequencies, those two are used to work on a single frequency with variable Q-factor/resonance. The bands have no variable crossover slope steepness. However, each band does have a solo button for easy listening.
Multiple Processing Modes
Each band can be set to function as a compressor or an expander.
External Sidechain
This plugin also supports sidechaining, which is handy for dynamically cleaning up your sound only when needed.
Master Parameter Controls
On the left side of the plugin, you will find a list of the parameters you can control per band. The enlisted labels for the parameters double as the master parameter controls. That means if you tweak a parameter using one of the labels here, it will modify the parameter for each band as well.
Intuitive GUI
Since the twelfth version of the Waves plugins release, you can now resize the GUI freely. The clean layout of the parameters, the handy spectral view, and the resizeable interface together make for a comfortable experience, indeed.
TUTORIAL: Multiband Compression - Waves C6 & C4
Compatibility:
The Waves C6 is available for Windows 10 64-bit and macOS 10.13.6 or later. It's available in VST 2/3, AU, AAX, and RTAS formats.
Summary:
This plugin is one of the most versatile plugins when it comes to multiband compression. While it is limited in some aspects, they are overcome by its innovative inclusion of floating bands. If you are looking for your first multiband compressor that offers a lot of value, we think it's worth considering while the plugin is on sale.
The 5 Best FREE Multiband Compressor Plugins 2023
1. Integraudio & Sixth Sample Cramit
Cramit by Integraudio is a free multiband compressor and distortion plugin. 
The plugin combines the classic OTT sound with distortion effects, creating an interesting sonic character that you can use to add a new flavor to your mixes/productions. With an easy and user-friendly GUI and parameters like Distortion, Drive, Type, Pre/Post buttons, Speed, Depth, etc., you can use the plugin for dynamic processing and interesting morphing and distortion effects.
Key Features:
Multi-band processing
Featuring a 3-band upwards/downwards compressor with expansion and solo/bypass options for each band, the plugin allows you to easily apply compression or expansion to specific frequency bands to achieve the desired sound effect. This feature can be particularly useful when balancing the mix or fixing issues with specific frequencies.
Harmonic processing
Cramit also includes a distortion section with seven different types and mixing controls. This feature adds a unique character to the sound and can help you achieve the desired tonal coloration. The distortion unit can be particularly useful for enhancing the warmth and grittiness of recordings, adding more depth and dimension to the sound.
Intuitional GUI
One of the standout features of Cramit is its user-friendly interface. The plugin features a simple and intuitive design that makes it easy to use, even for beginners. The interface provides insightful visuals that allow you to quickly and easily see the changes you make to the audio. This makes it easier to fine-tune your audio and achieve the desired sound quality.
Presets
There are ten factory presets that the plugin comes with that provide you with a starting point for your audio processing. These preset can be modified and customized to suit individual needs and preferences, making it easy to get the desired sound quickly.
CPU-efficient
The plugin balances functionality and usability while still being efficient in processing power. This is an important feature, as it ensures you can apply the necessary processing without encountering issues such as lag or system crashes.
Compatibility:
Regarding compatibility, Cramit is designed to work on 64-bit or 32-bit VST3 or 64-bit AAX support on Windows 8.1 or newer and on 64-bit AU, VST3, or AAX support on macOS 10.9 or newer.
Summary:
To summarize, the plugin's interface, additional parameters, and presets are what works for it and give it an edge. In addition, it's free, so it will cost nothing to keep it in your mixing arsenal. Overall, it's a great alternative for OTT, with additional features that make it a versatile multi-band compression plugin.
2. Analog Obsession KolinMB

NEW*
Analog Obsession's KolinMB is a vintage multiband limiter/compressor and amplifier plugin.
It features adjustable attack and release times, allowing you to fine-tune the dynamics of your sound. KolinMB also includes program-dependent attack and release settings, ensuring that the plugin responds to your audio signal in a natural and musical way. With an attack time range of 1ms to 50ms, this plugin offers flexibility for shaping the character of your audio.
Key Features:
Low and High X-overs
The KolinMB plugin by Analog Obsession presents low and high crossover control, allowing you to precisely define the frequency ranges where audio processing occurs. This feature provides detailed control over your audio, separating low and high frequencies for targeted manipulation.
Comprehensive controls
KolinMB offers Attack, Release, In/Out levels, Mix knobs, and gain reduction meters for each band. This extensive parameter set lets you sculpt the dynamics and timbre of individual frequency bands with precision.
Analog Warmth
One of KolinMB's standout qualities is its ability to deliver an analog sound. The plugin's design and processing algorithms aim to replicate vintage analog gear's warm and characterful qualities, providing a classic and sought-after sonic signature.
Compatibility:
The plugin is available for Windows and Mac systems in AAX, VST, and AU plugin formats.
Summary:
KolinMB is a vintage-inspired multi-band compressor that adds a burst of color and character to your audio. With a wide range of controls, including Attack and Release times, individual Mix knobs for each band, and versatile I/O options, KolinMB offers flexibility and precision in audio processing.
It provides low and high crossover settings to define frequency ranges and supports oversampling for enhanced audio quality. KolinMB also offers touchscreen support and a resizable interface, making it a user-friendly and adaptable tool for audio professionals.
3. Xfer Records OTT
Hailing from the creative minds of the makers of Serum synth, the OTT is an easy-to-use multiband enhancement plugin that needs no introduction.
You'd have to be living under a rock not to have heard about OTT at least once somewhere on the internet. This great freeware by Xfer is a preset multiband compressor that gives you a super-simplified interface and spectacular sound. People have used it on aggressive bass synth, leads, sound effects, drums, and sometimes even the master channel. If it sounds good, it belongs there, we say.
Key Features:
Quick Results
The preset OTT uses under the hood is great at delivering results. The lows get tightened, the mids are tamed, and the highs get clearer with the fewest knob tweaks. For people who aren't experienced, this plugin should be the easiest to get results from.
Lightweight
OTT is light enough on the CPU to be used multiple times in a single project. Trying it out on various instruments and vocals makes it one of the most fun plugins to use.
Multiple Processing Modes
It has an upward compression and a downward compression mode with individual dials for controlling the amount processed.
Compatibility:
OTT is available for Windows 64-bit and macOS X 64-bit. There are VST, AU, and AAX versions.
Summary:
The OTT certainly deserves a spot in your plugin collection. If you need some quick enhancements on your sound, adding this plugin could be the magical solution. Highly recommended for music producers of all levels.
4. J1000 MCS6
An out-of-the-box freshness in an ocean of ordinary.
If there were one word we would use to describe this plugin, it would be different. Instead of the traditional use of crossovers and bands to give you a multiband compressor, this one goes down a very different route of "serial stages." Simply speaking, there are six stages that work serially. This means that if you were to create two stages with bands that overlap the same range of frequencies, it would apply the compressor/saturator you use twice, serially. If the stages' bands never overlap, you will have a regular multiband compressor/saturator.
Key Features:
Six Serial Stages
There are six stages, each of which can have a filter or a band. The filter has full range, lowpass, high-pass, band-pass, and notch filter options. The band option works just like any other multiband with crossovers. Another interesting thing is that you can have multiple filters per stage as well.
Input Filters
The plugin also features a low cut and a high cut feature on the master input. This could be useful for removing unwanted frequencies from the beginning, so there is no confusion while using the complex stage system.
Compression and Saturation
Each stage can have a compressor and a saturator. The saturator adds asymmetric saturation based on the compressor's parameters. This could be great for adding character to the low frequencies or airy harmonics on the high end.
Stereo Control
Each stage also has a stereo width control ranging from zero percent to two hundred percent, where zero means mono and two hundred means twice the stereo width. If your mix is having trouble in the correlation reading, adding this plugin and lowering the stereo width at the low end could help greatly.
Detailed GUI
The GUI is notable for a free plugin. A large PeakScope shows a graphical representation of your input, output, and gain reduction over time. The parameters are all placed logically and should give no issue while operating.
Compatibility:
This plugin is only available for Windows 32-bit in VST 2 format.
Summary:
With so many features and a detailed GUI, it's amazing that this plugin is free. Our only complaint with it is that it's only available for 32-bit Windows. However, if your DAW supports bridging, this plugin is definitely worth checking out for the creative choices it offers.
5. DYNASAUR Analog Obsession
While not quite a multiband compressor, this is a terrific tool for taming peak frequencies in a mix.
The Dynasaur is a dynamic EQ. So, instead of having bands, it has shelves and peaks like an equalizer. However, each of them has a compressor. This makes it ideal for handling peak frequencies for which a multiband compressor would be overkill or not precise enough. The simplistic layout of the user interface is also a welcome element.
Key Features:
Five Bands
There are a total of five bands in this dynamic EQ. Three of them are peak filters, and the remaining two are shelf filters. The peak filters have a huge range of Q-factor, making them versatile for both broad sound shaping and precision editing. Similarly, the shelf filters also have their own Q-factor to control the slope steepness.
Multiple Modes
Each band in the plugin can be set to Peak mode or RMS mode. You could find that using RMS mode for low frequencies is helpful to tame them better, or perhaps for mastering too.
Gain Reduction Meter
Each band has its own gain reduction meter, stylized to look like classic needle meters.
Analog Obsession - Dynasaur | Free Dynamic Equalizer VST AU Plugin | Quick Demo
Compatibility:
The Dynasaur is available for Windows 64-bit and macOS 64-bit in VST and AU formats.
Summary:
There are plenty of possibilities to explore when you are talking about dynamic EQs. They are fantastic for controlling sharp peaks in the spectrum with ease. Moreover, with peak and RMS mode per band, this feature-packed freeware is a plugin no one should miss out on.
Related Reading:
Top 10 Dynamic EQ Plugins (And 3 Best FREE Equalizers)
6. Cockos ReaXComp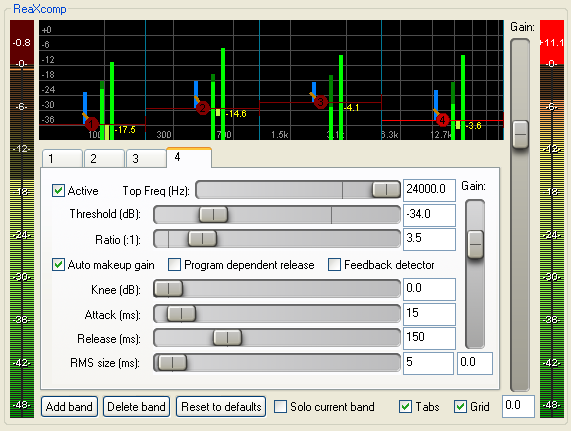 This incredible free plugin from the developers of REAPER has a surprise.
You could say that we saved the best for last in the free plugins list. The ReaXComp by Cockos is a pure multiband compressor with unlimited bands. While about as appealing to the eye as Windows 98, this plugin sure does pack a punch with its customizable spectral analyzer, controls in the graph, detailed meter readings per band, and extremely transparent-sounding filters and compression. Turning off Tabs at the bottom right lets you work entirely with the analyzer window without the faders. This is great for fine-tuning your crossover frequencies while getting a visual response.
Key Features:
Unlimited Bands
The ReaXComp has an unlimited number of bands. And there are straightforward Add Band and Delete Band buttons that let you adjust the number of your bands. Each band can be as narrow as you want and as wide as feasible.
Lightweight
If there's one thing Cockos can do, it's saving CPU. The ReaXComp, compared to many other multiband compressors, barely consumes any CPU resource at all. So, with a moderately powerful computer, you should be able to use as many instances as you need per project without worrying about taxing your CPU at all.
Adjustable RMS size
Each band has its own input RMS window size. Setting it zero milliseconds will make it act instantaneously (peak detection), while setting it to thirty will make it behave like a traditional RMS compressor. However, you get to set the window size to any number you like based on what you prefer. We like setting the low-frequency bands to a high RMS value to make them react smoother, especially while mastering.
Text Parameters
Each parameter has a text box next to it, so you can simply type in the desired frequency or other value with ease. The ReaXComp has yet another trick up its sleeve here — if the fader only takes the value up or down to a certain extent, you could use the text box to make it any value you want.
No-nonsense GUI
The look of this plugin can be a little hard to get used to. However, based on functionality, the user interface really does do several things right. The analyzer section has many options to be modified, such as the analyzer slope, band control button size, grid visibility, and so on. Similarly, the meter readings comprehensively show you the threshold, the input, the gain reduction, and the output. There is also an output gain if you need to adjust the overall level of the output.
Using a Multi-Band Compressor in REAPER (ReaXComp)
Compatibility:
The ReaXComp is available for Windows 32-bit and 64-bit in VST format.
Summary:
We have yet to see another free plugin offering unlimited bands and the level of detail this plugin gets into. Despite the crude GUI, once you get used to it, it feels easy to use and distraction-free. However, we would have loved to see this plugin available for macOS as well.
And to install ReaXComp, you have to download the entire ReaPlug pack, which contains eight more free plugins. While most of them are welcome, a couple could be more nuisance than useful. In conclusion, we highly recommend trying this plugin out and seeing the power it offers yourself.
7. Waves StudioRack

(Multiband / Frequency Splitter)
StudioRack, Waves' plugin chainer, benefits die-hard Waves enthusiasts because it can host plugins from other manufacturers.
StudioRack is a plugin utility originally launched in 2014 by Waves and recently upgraded to allow users to create chains of plugins. The goal is to view them as a unified whole rather than a collection of unrelated plugins.
A processing chain for the vocals or the percussion bus is required. Alternatively, you may build a multi-effects rack to simultaneously process delay, reverb, and pitch shifting. StudioRack is perfect for projects like these.
Key Features:
Interface
StudioRack can be used like any other effect plugin in your favorite audio editing software. A plugin, parallel processing split, or multiband split can occupy each of the eight available slots in each instance. Copying and pasting plugins and presets are as simple as dragging and dropping.
If you need to flip the phase of the incoming signal, you can use the phase inversion button and adjust the input gain to keep the gain at unity. It's convenient to access the volume control, peak reading, and gain attenuation meter immediately after the amplified signal.
Parallel Processing
Multiband channels can be separated using the plugin, supporting as many as five separate frequency bands per instance. It's now possible to make your multiband plugins with this method.
In addition, you can use the bands to apply different plugins, such as a distortion effect to the highs and a saturation effect to the midrange. You can fine-tune the crossover point by adjusting the frequency difference between the channels, though there is no graphical representation of this information. In the same way, you may adjust the volume and stereo balance independently for each.
Macros
Since StudioRack can store many plugins, it could become unmanageable if too many were to be kept in one area. So, in a pleasant twist, it comes with eight customizable macros that you can use to keep everything under control. The Apply button on the macros panel, the plugin controls, and the macros knob are the three ways to assign plugin features to macros.
Macros transform StudioRack from a simple utility plugin into a flexible multi-effects rack. The possibilities are exciting, ranging from offering quick access to, for example, the amount of compression in a vocal chain to delay, reverb or other effects in a chain applied to a breakdown.
More Processing Power
You can use as many plugins as you like while mixing intensive sessions without worrying about crashing your computer. StudioRack facilitates the migration of plugin processing from a local PC to a high-powered SoundGrid DSP server whenever you're ready to switch.
You can offload all of the plugins in a given StudioRack channel's chain with a single mouse click. StudioRack can be used with only your computer or with DSP offload via SoundGrid, depending on your needs and preferences. Find out how to use StudioRack in a SoundGrid environment.
Compatibility:
The OS requirements for this plugin are Windows 7 or higher for PC and macOS 10.9 or higher for Mac. It comes in VST/RTAS/AU/AAX formats and supports 32 and 64 bit systems.
Summary:
If you use many digital audio workstations, SudioRack is a good tool for coming up with chain mix ideas that you can easily transfer between them. The plugin's multi-band capabilities make it even more potent, and its stereo imaging functionality, which works even without loaded plugins, helps the system conserve resources. Thanks to Waves for providing StudioRack at no cost to the public.
Bonus Plugins:
1. Blue Cat's Audio Dynamix
More Info & Price (Trial Available)
Dynamix is a versatile and flexible multiband compressor plugin by Blue Cat's Audio. 
For each band, it allows in-depth dynamic processing, with Ratio control, Threshold, Knee, and Depth controls. Plus, you can also adjust its envelope/ADSR, switch its modes between Peak and RMS, add some make-up gain, and adjust the Dry/Wet Mix knob. Lastly, it also has a switchable limiter with adjustable settings.
Key Features:
Advanced Dynamic Processing
Blue Cat's Audio Dynamix has various dynamic processing tools that allow you to shape the dynamics of your audio signal in a particular frequency range or band. It has a compressor, a limiter, a gate, an expander, and a transient shaper that allows you to flexibly adjust its dynamic range.
Waveshaper
Waveshaper is a type of distortion effect that allows you to shape the audio signal's harmonic content by altering the signal's waveform. It can add character, warmth, or edge to the audio signal. Waveshaping can be used creatively to shape the sound, from subtle harmonic enhancement to full-on distortion, depending on the settings and the source audio. The plugin includes a post-brick wall limiter and waveshaper that allows you to shape the final output of the audio signal.
Interface
The plugin has a user-friendly and intuitive interface that makes it easy to use and navigate. The interface is designed to give you easy access to the plugin's features and controls. The interface is divided into three main sections: the processing chain, the control panel, and the preset manager.
Compressor Types
The plugin has a comprehensive set of audio processing tools, including various compressor types, such as optical, RMS, and peak compressors, that allow you to control the level of the audio signal and reduce unwanted peaks or increase perceived loudness. 

Other features
There are a variety of limiter types, such as brickwall and soft limiters, that allows you to set an upper threshold for the audio signal and prevent clipping. It also includes a variety of expander types, such as noise and downward expanders, that allow you to increase the audio signal's dynamic range and reduce background noise.
The plugin also includes a gate that allows you to reduce the level of the audio signal below a certain threshold and a transient shaper that allows you to control the level of the transient and sustain parts of the audio signal independently.
Compatibility:
Blue Cat's Audio Dynamix is compatible with a wide range of digital audio workstations (DAWs) and is available in various formats, including VST, AU, and AAX. The plugin also has a standalone version, which allows you to process audio files without needing a DAW.
Summary:
Dynamix is a powerful dynamic processing tool that offers a comprehensive set of audio processing tools, a flexible routing system, and a user-friendly interface. It is compatible with most major digital audio workstations and is available in various formats. The plugin also includes a wide range of presets, and the ability to save custom presets and import/export presets, making it a versatile and efficient tool for audio professionals.
2. Leapwing Audio Dynone 3
More Info & Price (Trial Available)
Or Buy Here (Support Integraudio)
DynOne 3 is a five-band parallel compression plugin that adds zero aliasing, phase problems, or distortion. It's highly transparent while offering no artifacts.
The modern algorithms of DynOne deliver quality and musicality in any track. The plugin has an exciting approach in dynamic control; instead of flattening the bigger transients, DynOne will make the lowest levels of the audio more protuberant.
Youcan select between the standard compression or the parallel compression modes for a different workflow, with both ways routing the signal to a separate dynamics processor.
Key Features:
Settings


You can use many controls to set the plugin's behavior. With Detection, you will operate the material's peak sensitivity, 0 (RMS) a smoother response, and 100 (Peak) an aggressive response. Channel Link will offer the option for one-sided compression and full stereo compression, and a Weighting setting will weigh all five frequency bands' compression to each frequency's compression sidechain input. Many more settings can be adjusted, like Global and Trim, Filter Slope, and more.

Five Bands


Each of the five bands contains slopes that minimize any issues between the crossover frequencies. The bands fill all the frequency spectra and can be linked, soloed, stored in two different settings in the A/B comparison function, and disabled. The signal will present fewer crossover points by disabling an individual band since the crossover frequency number also drops. The bands also offer a metering display for easy monitoring.

Center-Side Mode


You can switch between two processing modes, Stereo and Center-side. Some extra controls will be present when the you toggles the center-side mode, like separate commands for the threshold, ratio, attack, and release values for middle and lateral signals. These commands can be linked, which will result in a synchronized value for the controls in both the center and side signals.
Leapwing DynOne Dynamics: Detailed Demo and Giveaway - Warren Huart: Produce Like A Pro
Compatibility:
This plugin is available for Windows 8 or higher and macOS 10.10 or higher, both 64-bit only. It comes in VST 2/3, AU, and AAX formats.
Summary:
Leapwing Audio DynOne delivers an outstanding dynamical presence in any mix. While featuring five processing bands, all frequency points can behave steady and musically without losing any organic value. Get the mix stereo field filled with color and life with exclusive link controls for stereo processing and a modern Center-Side mode. Experiment with three quality values for the filters and get exciting results by switching between Ultra Quality, Master Quality, and Low Latency. The reliable multi-band compressor, DynOne, is a must for any producer's arsenal.
3. W.A. Production King 2
More Info & Price (Trial Available)
Built as an all-in-one mastering tool, W.A.'s The King 2 stands as a unique yet straightforward take on multiband compression.
If you are not a fan of having so much flexibility that the plugin looks like a science-fiction prop, then you're in for a treat. The King 2 is a great-sounding and great-looking plugin, covering all the basics of mastering with a fraction of the number of parameters you'd otherwise have. How exactly did they do it? Well, the plugin has an EQ, a multiband compressor, and a limiter built-in. Each of them has preset setups and a few select parameters for you to tweak. Together, they work to provide instantaneous results when you are mastering your mix.
Key Features:
EQ
The King 2 has a Magic EQ knob that dials in the mix of the EQ. It has three selectable presets, mainly aimed at cleaning up the sound. You can pick each, listen to how it colors your mix and decide on the best choice. Or, with the Magic EQ knob set to zero, the EQ can be completely disabled as well.
Multiband Compression
The majority of the parameters you will find on this plugin are for the multiband compressor. It has an upward (expander) compression and a downward compression knob, which are ratio parameters. There is a knob that lets you adjust the attack/release time. All three of the knobs affect all the bands. And finally, there is a mix knob for the multiband compression as well.
Five Bands
The King 2 has five bands for multiband compression. Each band has a threshold and a makeup gain. To maintain its goal of remaining simple, you cannot select the crossover frequency for the bands.
Limiter
The King 2 has a built-in limiter, which catches any peaks that go above 0 dB. The ceiling cannot be adjusted, and it's worth noting that the limiter isn't a True Peak limiter.
Convenient Interface
We have saved the best feature of this plugin for last: the user interface. While seemingly limited in terms of flexibility, W.A. built this plugin for convenience and ease of use. The fewer parameters don't distract you from your creative zone, and getting great-sounding results becomes as easy as pushing a knob, literally. For people who are just starting or who wish to listen to a mastered version of their mix without having to spend a long time, this plugin is well worth considering.
The King 2 - All In One Mastering Tool (VST / AU / AAX)
Compatibility:
The King 2 is available for Windows 7 or higher and macOS 10.7 or higher, both 32-bit and 64-bit. It comes in VST, AU, and AAX formats.
Summary:
We would recommend this plugin if you are a beginner or if you already have a multiband compressor and you are just looking for something to give you quicker results. It doesn't really shine when it comes to surgical manipulation of sound, but it does work great as a fast, general mastering tool.
4. Cut Through Recordings Convergence
More Info & Price (Paid & Free Versions Available)
Laser-focused on mastering, Convergence is a multiband compressor with many bands and an easy-to-use interface.
Often, you will want a plugin that is just there for a specific job. While not a plugin with impressive specifications, features like band alignment, ten bands, and linkable parameters help make this plugin easy and intuitive. Often, you will want a multiband compressor that acts very subtly over the frequency spectrum, and Convergence is built precisely for that.
Key Features:
Ten Bands
Convergence has a minimum of two bands and a maximum of ten bands. You can solo each band for easy listening. The bands can be added and removed with ease as well. However, Convergence only has a fixed -6 dB per octave crossover slope.
Alignment
The plugin also comes with four alignment buttons. They snap the crossover frequencies of the bands to preset locations. For example, the 'left align' button saturates the low end of the frequency spectrum with multiple bands while leaving the high end open. Similarly, the 'even align' button will spread out the crossovers with an even gap. They are great for quickly setting up the band positions before starting adjustments.
Intuitive Graphics
The plugin has a spectral analyzer that doubles as the band frequency selector. Each band has an envelope and a compression graph above a gain reduction graph. We also have an input and output peak meter. The graphs help visualize the compression style and how the audio transients are being affected by the compressor.
Parameter Linking
You can have multiple parameters across bands to be linked. The linking is activated by clicking on a small chain link icon next to each knob. You could use it for changing a certain parameter like gain across several bands at once.
Free Version
Cut Through Recordings offers a free version of Convergence as well. The catch is that the free version only has two to four bands, and the compression graph is disabled. If we were to be the devil's advocate, there are indeed better featured free multiband compressors available nowadays. However, if you wish to give Convergence a try before purchasing it, then the free version does let you explore it well.
Oversampling
The plugin has up to eight times oversampling as well. It helps prevent aliasing from occurring due to the filters. Something to note: the free version only has two times oversampling.
Convergence Multi-band Compressor Plug-in by Cut Through Recordings
Compatibility:
Convergence is available for Windows, macOS, and Linux — only 64-bit for all OS. Both the Windows and macOS versions come in VST 2/3 and AAX formats. And the Linux version comes in the VST format.
Summary:
Overall, we think Convergence is a pretty good multiband compression plugin geared towards mastering in particular. We would have loved to see more than just the -6 dB/oct crossover slope steepness, though. Without a steeper slope, the filters aren't really precise enough for other uses. However, the compression graphs and other displays on the GUI are a welcome addition to the plugin. If you are looking for a fairly-priced multiband compression for subtle sound shaping and with numerous bands, then this could be the right choice for you.
5. T-Racks Quad Comp
With a wonderfully designed interface, the Quad Comp is a highly note-worthy multiband compressor.
This plugin works with transparent, Opto compressors. The GUI of the plugin is very straightforward and possibly one of the easiest to get used to. The middle section of the plugin has a simple graph of the frequency spectrum, where you can set your band crossover frequencies. The slope steepness of the crossovers can be modified as well, albeit not per band where you can select from -6 dB per octave to -48 dB per octave. This extraordinary range of slope steepness makes this plugin brilliant for both subtle mastering usage and precision sound sculpting. The smooth-natured filters and compression make this an ideal choice for mastering and any kind of use.
Key Features:
Mid/Side Modes
Quad Comp comes with the option to use the plugin in stereo mode or mid/side mode. In the mid/side modes, each mode can have its own set of parameters independently. This can be very helpful in achieving wide-sounding tracks and taking care of correlation issues. You could boost the highs in the Side mode and tame the lows in the Mid mode to get a great final master.
Transparent Sound
The Opto compressor technology ensures that your audio does not become distorted or colored in any way. While you can get aggressive sounding results out of this compressor, it mostly stays very neutral and smooth.
Intuitive GUI
The GUI of this plugin is one of our favorites. Most importantly, it is fully resizable. Clicking on a band range in the graphics selects the band, and you can modify its parameters. On the right side, we have gain reduction meters and main output meters. While remaining simplistic, the interface is very functional. It should pose no difficulty in learning, even for the very beginner.
Band Linking
The Link Bands button on the bottom right links each parameter in all the bands. Linking bands do not make the parameters work in ratio. If you had a different ratio in each band, linked the bands and set the ratio to 3:1 in one of the bands. Now each of your bands will have a 3:1 ratio.
Compatibility:
Quad Comp is available for Windows 64-bit and macOS 10.9 or later 64-bit in VST 2/3, AAX, and AU formats.
Summary:
In conclusion, while Quad Comp may not be as feature-packed as a few other entries we have, it is still a great contender that does everything a multiband compressor should. It sounds fantastic, looks great, and is easy to use. For the price, it is well worth considering.
Related Reading:
Top 6 IK Multimedia Plugins For Various Categories 
6. W. A. Production VINAI XTT
More Info & Price (Trial Available)
Developed with DJ and music producers Vinai, XTT is a multi-band compressor that simplifies the process with a minimalistic set of controls.
As the name makes apparent, XTT takes noticeable inspiration from the famous OTT multi-band processor preset. It's a multi-band processor with both compression and expansion.
Generally, the common use of such processors is in electronic music production as it can make your sound crisper, thicker, and possibly harsher. However, of course, you could use it for general-purpose compression too.
Key Features:
Flexible Bands
The plugin features five bands, each with adjustable crossover frequencies. You can change the band frequencies by dragging the diamond-shaped icons in the intuitive frequency spectrum. Similarly, dragging on the handles in each band changes the compressor's threshold. You can find more controls for each band at the bottom of the user interface.
First, the knob on each of the bands represents the output gain. And the 'S' button soloes the band selected, which is helpful when you need to listen to what you're modifying. Likewise, click on the small arrow button to reveal more controls: RMS, Attack, Release, and Mid/Side Ratio.
RMS controls the "window size" of the compressor, changing its detecting speed. Similarly, once detected, the compressor acts on the audio at the rate specified by the attack parameter. And mid/side ratio controls whether the compressor operates on the mid part, the side part of the audio, or anything in-between.
Upward/Downward
As I've mentioned, XTT features both upward and downward compression. You may also refer to it as expansion and compression. So, upward compression makes the sounds below the threshold louder, whereas downward compression makes the signals above the threshold quieter. The former is ideal for bringing up soft sounds like hi-hats, reverb tails, breath noises, etc.

Global Edit


You'll find global parameters at the top of the user interface. These include the following: upward, downward, time, and mix. These control the named parameters of all the bands simultaneously. While you will generally want to edit the plugin per band, you can use these global controls to modify presets without spending much time.

Gain Link


Below the global parameters, you'll find the Link button, which links the input and output gain of the plugin inversely. So, if you increase the input gain, the plugin automatically decreases the output gain. This feature is helpful to listen to how the plugin is processing your audio without getting confused by the level changes. As you know, louder audio often sounds better. Hence, the linking feature effectively bypasses this misperception.

Built-In Limiter


XTT features a built-in limiter at the end of the processing stage. It also adds unique saturation to the audio, a trait many may find appealing. However, the dynamics process itself is fairly transparent and keeps your audio punchy. I find the limiter most appropriate for dance music.
Compatibility:
XTT is available for Windows 8 or higher 32-bit and 64-bit and macOS 10.15 or higher 64-bit only. It comes in VST 2/3, AU, and AAX formats.
Summary:
If you're a fan of OTT and switching DAWs, you should check out XTT. It provides similar features but adds even more. While it's not as detailed as a typical multi-band compressor, it gives just enough to allow you to customize sound uniquely. Furthermore, it features a collection of presets made by partner producers, Vinai. These include creative sound designing presets, mastering setups, and other general-purpose options. Overall, it's a powerful multi-band dynamics processor that comes at a very reasonable price.
7. UAD Precision Multiband
Universal Audio is known for its extensive collection of excellent plugins, some built-in collaboration with professional engineers like Bob Katz.
The UAD Precision Multiband requires a UAD DSP Accelerator Card or Apollo Interface to function. If you own one, you should consider this multiband compressor with five bands, an analog-looking interface, and Linear Phase mode. The interface of this plugin has a very traditional approach. You will feel right at home from the start if you have used hardware multiband compressors or any other traditional multiband compressor software before. The plugin also has a global mix knob for NY/parallel compression.
Key Features:
Multiple Processing Modes
Each band can have one of three processing modes: compress, expand, or gate. With a mix of these modes over the frequency spectrum, you could have interesting creative effects on your sound with a single instance of the plugin.
Traditional Interface
The UA Precision Multiband has a very analog-looking GUI, complete with screws at the sides as found in hardware. We have input and gain reduction meters as well, which are all easy to see. The drawback is that the interface isn't freely resizeable. If you are a fan of hardware plugins and aren't interested in modern-looking plugins, this could be an eye-pleaser for you.
Analog Sound
There are two filterbank modes in this plugin: linear phase and minimum phase (regular EQ/filters). Both the filters have been built to match a Linkwitz-Riley filter and provide perfect summation between bands. UAD boasts that the minimum phase mode has an analog sound built-in, resulting in mild coloration.
Hardware Processing
As with all UAD plugins, the Precision Multiband also runs on the DSP Accelerator Card or the Apollo interface, leaving your CPU free from the processing load. While this is certainly a great feature, we feel like that alone isn't reason enough to switch to the UA environment, especially with powerful CPUs being available at a minimal cost these days. However, if you already own a UA product, then this is an absolute win.
Mastering Processes: Multiband Processing
Compatibility:
The Precision Multiband is available for Windows and macOS in the VST, AU, AAX, and RTAS formats. Note that the plugin runs exclusively on UA DSP Accelerator Cards or Apollo interfaces only.
Summary:
While somewhat limited in access due to the hardware requirements, the Precision Multiband is a considerable contender as a traditional, easy-to-use multiband compressor. The Linear Phase mode also helps it excel at being used for professional mastering purposes. However, this plugin does seem extremely over-priced unless you manage to catch it while on sale.
Conclusion
When it comes to sound quality, features, and versatility, it is pretty difficult to top FabFilter Pro-MB. However, if you aren't looking for that level of flexibility or simply wish to spend less, there are plenty of other options to pick from.
If you are just getting started, a free option like the Dynasaur is a great starting point. And if you are looking for a lot of flexibility, you could also check out the ReaXComp. The Drawmer 1973, The King 2, and OTT are fantastic choices if you are looking for quick results.
So, in the end, what you pick depends on your intention, workflow, and budget. However, any of those listed is not going to be a choice you will regret.
Related Readings:
The 7 Best VCA Compressor Plugins 2023 (VST, AU, AAX)
Top 10 Opto Compressor Plugins 2023 For Transparent Sound
The 7 Best Vari-Mu Compressor Plugins 2023 (And 2 Best FREE Tools)
Top 9 Parallel Compressor Plugins Available In 2023
Top 11 Free Compressor Plugins 2023 (SSL, Vari-Mu, Opto..)
Top 11 LA-2A Compressor Plugin Emulations 2023
3 Best Distressor VST Plugins You Should Know About 2022
Top 5 Diode-Bridge Compressor Plugins 2023
Top 10 Pultec & FairChild Emulation Plugins (EQs & Compressors)
Top 10 FET Compressor Plugins 2023 (Best 1176 Plugins)
Top 11 Mastering Compressor Plugins 2023 (And 2 FREE Plugins)
7 Best 1176 Compressor Emulation Plugins 2023
Top 7 Compressor Plugins For Smooth Vocals 2023
Top 10 Analog Hardware Compressors For Mixing & Mastering
Top 14 UAD Plugins For Mixing, Mastering & Production
K. M. Joshi is a multi-award-winning composer and sound designer, specializing in film, game, and TV audio. He enjoys making cinematic music, rock, blues, and electronica. Read more..