For today's installment, we'll be looking at the top 12 microphones for recording acoustic guitar:
3. DPA 4099 Core Guitar Microphone
7. sE Electronics Voodoo VR2 Active
Recording an acoustic guitar can be tricky if you're pursuing a good, clean, authentic sound that sits well within a song. The right combination of player, guitar, microphone and mic placement can create magic and catalyze a great-sounding recording. But isn't that wherein part of the trickiness lies? Because how will I know which microphone is the right one for me?
If you have yet to be given recommendations or had the opportunity to test an assortment of different microphones on an acoustic guitar, then answering that question can be unintuitive. However, by asking yourself a few simple questions, you can point yourself in the right direction without raiding a mic locker and recording your guitar with a sea of microphones.
Different microphone types have individual characteristics; the same applies to acoustic guitars and their shape and size. The two foundational body groups for acoustic guitars are large and small body acoustics. Large body acoustics generally have thicker, bass-heavy tones, while small body acoustics have a brighter tone. Based on that, you can define what type of microphone can capture your guitar best.
Top 12 Mics For Recording Acoustic Guitar 2022
1. Shure SM57

The SM57 by Shure has been an industry standard for decades for a variety of recording situations, most notably electric guitars and snares. Their low sensitivity, ability to reject noise and ambiance and durability is why they're so widely utilized in both studio and live scenarios.
Debuting in 1965, the SM57 has a long and rich history in audio recording, and many laud it for its versatility. However, when it comes to the acoustic guitar, there are other choices when deciding on which microphone to use. But, they are most certainly an affordable and viable option. Will it deliver what you're looking for? Maybe. Like with any microphone, it depends on your tastes and expectations for a recording.
Key Features:
Pneumatic Shock Mount
One of the SM57's defining features is its unique, built-in shock mount. Using the moving coil's operating principles to its advantage, Shure designed a capsule that counteracts pressure changes to minimize unwanted rumble/mechanical noise.
Tailored Frequency Response
In short, they have a boosted presence of roughly +7dB at 6kHz, a rolled-off high-end from 10kHz, and a gradual bass roll-off from 200Hz. The rolled-off low-end plays in the SM57's favor since you have to set them up close to a sound source (roughly within an inch/2 to 3 cm) to capture a good sound. And the presence boost helps with keeping a clear tone despite the proximity effect's bass boost.
Polar Pattern Response
They do a great job of isolating the audio source, so if you're recording in a bedroom, you can achieve a cleaner-sounding recording than you would with a condenser. The cardioid polar pattern rejects low-mid frequencies very well. The rear does pick up high-mid range frequencies slightly, but since their sensitivity is so low, any noise would have to be extremely loud for it to be bothersome.
Pros:
They are highly durable and can endure the abuse of consistent use very well. Shure put their microphones through extensive testing and have taken footage to see just how durable the SM57 is.
Cons:
Their low sensitivity can work against them in some instances. Acoustic guitars—even when played viciously—don't produce the same intensity of sound as an electric guitar or snare, so if you own a relatively low-gain interface, you may struggle to have a well-rounded tone without help from a preamp.
2. Neumann U 87 Ai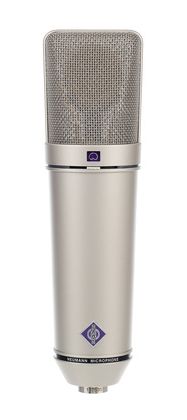 The original U87 by Neumann is a large diaphragm condenser microphone with a wealth of history. And so, Neumann's U87Ai brings that history of quality to a new generation.
The U87Ai features a few differences from its highly renowned predecessor. Whether these differences add to the quality and performance is entirely up to the one using the microphone. Overall, the Ai model saw a few electronic alterations, which increased their output, lowered distortion, and improved the signal-to-noise ratio–at the expense of available headroom.
Key Features:
Large Diaphragm
Large diaphragms naturally lend themselves to producing a deeper tone, which can be great for capturing the depth of a guitar's low end. The improved depth comes at the expense of clarity. However, the U87Ai makes up for this with a boosted high-frequency response
Three Available Polar Patterns
You'll have three pickup patterns to choose from when recording: omnidirectional, cardioid, and bi-directional. The cardioid and bi-directional patterns have little tonal coloration from sounds off-axis. However, in untreated rooms, they are susceptible to ambient/background noise no matter which polar pattern you are using.<span
Tone & Frequency Response
If I were to describe the tone of the U87Ai in one word, it would be: natural. If your acoustic's tone has any magnificent or dreadful qualities, the mic will capture them for all to hear. In a nutshell, they retain your guitar's tone without exaggerating any frequency areas
Pros:
In addition to having a neutral tone, Neumann's newer U87 model captures transients well! Each note is as clear as the last without being overly harsh or fatiguing to listen to.
Cons:
The only downside to the U87Ai is the price. They are costly, so I highly recommend you make sure they offer the sound you want from a microphone before buying.
3. DPA 4099 Core Guitar Microphone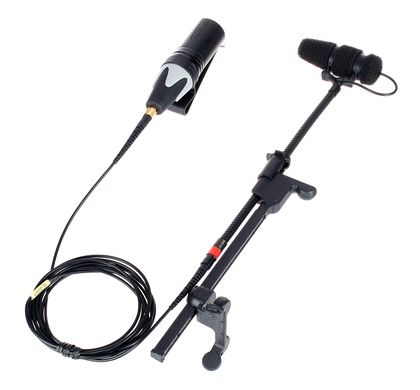 When it comes to small microphones that make a significant impact, the 4099 CORE microphones make it on the list. DPA's clip-on offerings cater to various instruments, so we'll look at the 4099 CORE Loud SPL model.
The 4099 CORE is an end-addressed, small diaphragm condenser. The budding microphone is attached to a 5.5″/14cm long gooseneck, which ends with a microdot connector. Thankfully, you do receive a microdot to XLR adapter with the mic. Moreover, when you have the adapter connected, you'll have access to a low-cut filter for adjusting the bass response when close-miking.
Key Features:
Large Diaphragm
The Loud SPL model has a natural, true-to-the-source tone—all you need to do is find the ideal placement for your guitar. They capture a frequency range of 20Hz-20kHz, and outside of a slight dip below 30Hz, and a ±3dB boost near 10kHz, they have a flat response throughout the spectrum. 
Polar Pattern
They pick up sound in a cardioid/super-cardioid pattern. Bass is rejected by -25dB between 120° and 150° and has less rejection from the rear: -14dB at 180°. It rejects the mid-range by -25dB from the back. And finally, the high-end is picked up slightly from the rear but is attenuated by -25dB between 120° and 150°.
Impedance
The 4099 CORE's impedance varies based on which connection you use. When using the default microdot connection, the mic has an impedance rating of 30 to 40Ω. However, once you attach the XLR adapter, you'll have an output impedance of 100Ω, which is incredibly low for a microphone.
Pros:
The biggest positives are their ability to handle high sound pressure levels and low distortion, portability, and maneuverability when set up. These baby corn-sized microphones can handle up to 142dBSPL—well over the maximum SPL of an acoustic guitar. And the guitar edition comes with a clamp that attaches the microphone to your acoustic's body.
Cons:
The price tag is high. It's the second most expensive microphone on today's list, coming in at about $1240 or €1143, so it caters to those with a high budget or the professional audio engineer.
4. Beyerdynamic M 160

If you're looking for a ribbon microphone's smooth, husky sound to capture acoustic guitars, then Beyerdynamic's iconic M160 may be the mic for you. They have been the conduit for many recordings in their 65 years in the sound industry, making them one of the longest-running microphone models in production today.
To this day, the M160 remains an interestingly designed ribbon microphone. They are deceptively small—roughly the same size as an SM57—and use a dual ribbon transducer within a small bulbous, end-addressed metal mesh grille. Although the double ribbon is not unique to them, Beyerdynamic did make modifications to the grooves of the two ribbons to improve the sensitivity of the dual ribbon setup.
Key Features:
Dual Ribbon


Their small size makes producing a usable output voltage almost unobtainable, so Beyerdynamic opted to use a dual ribbon design with extended verticle pleats to increase their sensitivity. However, the vertical corrugations in the perpendicular ribbons introduce higher susceptibility to distortion, but the mic's low sensitivity remedies this.

Hypercardioid Pattern


One of their defining features is the hypercardioid pickup pattern. Traditionally, ribbon microphones use a bi-directional shape to capture audio, so the unidirectional pattern that helps them achieve a direct sound does set them apart from their competition.
Frequency Response
You can expect to capture that classic ribbon microphone sound: smooth high-end with a warm low-end. However, there is more to it here. They have slightly more bite to their presence range, and the mid-range is tamer, so you get more balance throughout the spectrum. And the proximity effect can give your guitar a weighted thickness to the sound without becoming muddy.
Pros:
A significant positive when working with the M160 is how little ambiance and noise they capture; even when set up in an untreated room, you can expect to record a direct sound with only the slightest amount of reflections. So if you need a mic that can capture an acoustic in a live studio recording, they are a great option.
Cons:
Despite the modifications to the ribbons, one of the few downsides to the M160, one they share with many ribbon microphones—unless you're working with an active ribbon mic—is their incredibly low sensitivity: -60db. Using one without a preamp is going to be difficult. If you don't have the space for a dedicated mic preamp, you can look at inline preamps, like a Cloudlifter.
5. AKG C451 B

AKG's C451B is a small diaphragm condenser that uses a similar internal design to the original C451EB and CK1 capsules. A fixed cardioid capsule replaced the modular capsule from the predecessor, and AKG built a few extra features into the microphone to ease your recording experience.
Small diaphragm condensers can be a match made in heaven for acoustic guitars. The small diaphragm design naturally lends itself to capturing the guitar's fast transients and twangy goodness. Both large and small body acoustics can benefit from a C451B, especially if coupled with a warm and smooth-sounding preamp.
Key Features:
Frequency Response
AKG's small pencil mic has a flat, even response until a broad peak of +4dB at 10kHz. The 10kHz rise does give the C451B a brighter tone that can help define the sound of an acoustic. However, naturally, bright acoustic guitars may sound harsher or fatiguing.
Two Pad Switches
Of the two three-way switches on the mic's body, one offers two options for lowering the mic's output by -10dB or -20dB. You likely won't need to use the -20dB pad when recording an acoustic guitar since they have a low maximum SPL.
High-Pass Filter
The second switch offers two high-pass filter settings for removing bass frequencies below 75Hz or 150Hz at -12dB per octave. The filter does a great job of lowering the intensity of bass frequencies without leaving you with a thin tone.
Pros:
If you can't afford the Neumann KM184, the C451B is a great alternative studio staple for recording acoustic guitars. In addition, they do include accessories alongside the microphone: a stand adapter, windscreen, and a carry case. You will get two of each accessory and a stereo mic adapter if you purchase the stereo set.
Cons:
The tone can become an issue when recording bright-sounding instruments. Since the mic's tone accentuates the high-end of anything placed in front of them, they can make already top-heavy sounds sharper. You can work around this issue if you have a preamp that can darken the tone.
6. Shure KSM141

The KSM141 forms one-half of Shure's small diaphragm condenser duo in their KSM microphone range. The specs and performance of the two mics are identical, bar a dual polar pattern for the 141. And regarding today's review, if the C451B didn't strike your fancy, maybe the KSM141 will.
Of the four end-addressed pencil microphones here today, the KSM141 falls between the high-end Neumann KM184 and AKG C451 in terms of performance, yet costs less than both—and they provide similar features. They have a moderate sensitivity of -37dB and a comfortable impedance level of 150Ω, so you won't require a preamp to use them for recording.
Key Features:
Extra Features


They offer a three-way pad switch and two high-pass filter settings. For the pad switch, you can choose an output attenuation level of -15dB or -25dB. And for the high-pass filters, you can set the mic to filter frequencies below 80Hz at -18dB per octave or below 115Hz at -6dB per octave. 
Polar Pattern
The 141 can either have a cardioid response or an omnidirectional response. You can select your desired pickup pattern by twisting a ring below the microphone's capsule. Regarding response, both patterns are uniform, with little to no tonal difference. However, the omnidirectional response has a narrower pickup of high frequencies from the rear—an expected behavior of omnidirectional microphones.
Frequency Response
Outside of a slight boost at 9Khz, the microphone's tone remains flat and consistent until it reaches 200Hz. From 200Hz and below, bass frequencies slope to +5dB or -5dB, depending on the distance from the source. Despite all this, the microphone's tone has no areas that stand out more than others, making it a very neutral mic.
Pros:
They are cheaper than their competition and perform very well for their price. In addition, they offer the standard set of accessories alongside the microphone, so if you're looking for a small condenser mic with an unbiased sound and good value for money but can't afford the Neumann, I recommend the KSM141.
Cons:
The tone's lack of excitement or warmth may only be for some, so if you're looking for a mic that can add to your guitar's tone, the 141 is not for you.
7. sE Electronics Voodoo VR2 Active

Adding to the uniquely engineered ribbon microphones we have today, sE Electronic's Voodoo VR2 is a ribbon mic that, strangely enough, lives on the brighter side of life. If you're looking for that ribbon mic tone but find the M160 too pricey, then the Voodoo VR2 could be for you!
sE Electronic's CEO returned to the drawing board and designed a unique take on the ribbon microphone design. The Voodoo series microphones have an extended frequency range, can handle higher SPLs, and—because of their active circuitry—the VR2 requires phantom power. Overall, Siwei Zou designed them to deliver a fuller frequency range like a condenser with the smoothness of a ribbon mic.
Key Features:
Frequency Response


Unlike traditional ribbon microphones, they have a frequency range of 20Hz to 18kHz. The built-in active circuitry is responsible for the improved frequency range. Though the high-end extends further, you don't get the harshness you would from a condenser, but you get more clarity, especially when placing one in front of an acoustic guitar.

Polar Pattern


They have a uniform pickup of bass to low-mids, both on and off-axis. The high-mids to high-end have a narrower pickup range. There is little coloration from the mic's dead zones, even in untreated rooms. The tone does become more mid-range focused in an untreated space, but you'll retain a direct sound.
Pros:
The VR2's active circuitry also improves the ribbon mic's signal output; they have a higher signal output than traditional ribbon microphones. Sitting between the sensitivity of a condenser and a dynamic mic, the Voodoo VR2 has a rating of -31dB, so you won't need a dedicated preamp to get a usable sound.
Cons:
They don't have much in the way of cons. They provide great value for money and can be a slightly more affordable option when compared to the M160. However, for acoustic guitars, they can produce an undefined low-mid range, though you can easily fix this with the tweak of an EQ.
8. Rode NT1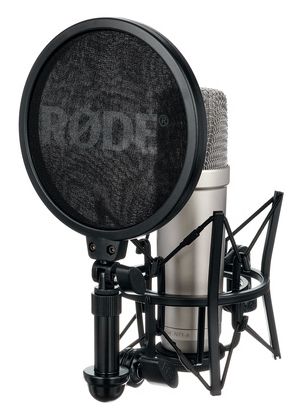 The NT1 is one of the newer additions to the line of NT RØDE microphones, following on from the NT1-A. The revised and improved model is similar to the original flagship NT1 from 1997 but separates itself with a color change and a handful of enhanced specifications that leave little to question why it became a hit for vocal recordings. The question is: how does it stack up against an acoustic?
With a large diaphragm transducer, RØDE designed the NT1 to capture a full, rich sound. Yet, despite the large diaphragm, they follow transients well, so you'll capture that snappy strumming in all its glory. In addition, their high sensitivity and low output impedance make them an excellent option for home studio owners that may not have the fancy gear and a soundproofed and acoustically treated recording space.
Key Features:
Polar Pattern Response


Despite being marketed as a cardioid microphone, the NT1 has a small pickup lobe from the capsule's rear. However, this lobe does little to color the audio signal. They capture what is directly in front of the microphone loud and proud while rejecting ambient noise well.

Frequency Response


From a specs perspective, they have a neutral frequency response from 20 Hz to 20kHz, with a slight +2dB boost between 6kHz and 9kHz. When put to use, the presence boost is evident in their sound. You can expect a full, unbiased sound with just enough bite to help the acoustic stand out in a mix.
Impedance
RODE has made a highly accessible microphone with the NT1. You can use them without a preamp since they have a low output impedance of 100Ω. Ideally, your mixer/interface should have a source impedance five to ten times higher than the mic's output impedance to maintain the output signal's consistency.
Pros:
You can record easily, knowing the mic won't introduce any unwanted hiss or hum; they have an incredibly low self-noise of 4dBa. Moreover, the low noise will allow you to increase the gain on your interface or mixer when recording quieter sections.
Cons:
The NT1 doesn't have much going against it. If we were to nitpick, it would be worth mentioning they don't offer any built-in high-pass filters, so you will need to play with the mic's distance from the guitar to balance the bass introduced by the proximity effect with the rest of the signal's spectrum.
9. Neumann KM 184
The KM184 by Neumann is a fiendishly charismatic end-addressed, small diaphragm condenser microphone. They form a third of Neumann's range of KM180 microphones. Each mic separates itself by the pickup pattern they use. And so today, we'll look at the cardioid model.
As you would expect from a Neumann microphone, the KM184 is deceptively plain yet captures a tone that imparts nothing to the signal—what you put in front of the mic is what you get out of the mic. No extra features, like a high-pass filter or pad, have been added, but it would have been superfluous anyway.
Key Features:
Frequency Response


If you look at the mic's frequency response, you would see little variation in frequency balance other than the standard bass roll-off from 200Hz and the presence boost around 9kHz that you would typically see from a condenser microphone. And yet, none of this is apparent when you place the mic in front of a sound source. They are accurately natural.

Polar Pattern


They do a great job of rejecting background noise and ambiance. They focus solely on the audio source in front of them. Even in an untreated room, you can expect little room coloration. Even the off-axis response remains honest to the source, albeit with less depth.
Dynamic Range
Classical guitarists can benefit greatly from having a KM184, especially when combined with stereo recording. They offer an expressive dynamic range of 125dB. So, you'll have a comfortable amount of room to play as loud or soft as you need before distortion occurs or noise creeps in.
Pros:
Neumann's KM184 has an extremely low output impedance of 50Ω, so even your standard, entry-level interface can provide a high enough load impedance to drive a clean, well-rounded signal.
Cons:
Despite all of their good qualities, the KM184 has one weakness: wind and gusts of air. They are about as sensitive to unruly air as Superman is to kryptonite. So you will need to use the included windscreen if there is a breeze in your recording space.
10. Audio Technica AT2020
If you've ever looked up affordable microphones for home studios, Audio Technica's AT2020 is bound to have come up. These no-frills microphones were built and marketed as the entry-level microphone for prospective home studio owners. What it lacks in features commonly found in condenser microphones, they make up for in durability, ease of use, and affordability.
That isn't to say they perform poorly. These large diaphragm condensers offer a full sound for microphones within their price range. Comparing their performance to that of a Neumann would be like comparing a station wagon to a formula one car; they are the same in concept but differ in performance and target market.
Key Features:
Tone & Frequency Response


Despite their low price, the AT2020 can capture a reasonably neutral acoustic guitar tone once you've found the sweet spot for your guitar. Like the SM57—which sells for the same price—they have a lowered bass response, which helps with close miking and achieving a distinguishable low-mid range. In addition, the slight boost around 8kHz helps capture the acoustic's attack.

Impedance


With home studio owners in mind, Audio Technica has kept the AT2020's output impedance to a low 100Ω, so you won't need a preamp to drive one comfortably. However, having a higher load impedance can offer you more dynamic range for your recordings, improving their musicality.

Cardioid Polar Pattern


The AT2020 has a set cardioid polar pattern that rejects ambiance from the rear. Don't expect to record with a fan, AC, or vacuum blaring, but if you have a pc running in the same room, you can achieve a clean recording—as long as you position the mic away from the noise source.
Pros:
As far as positives go, they offer a surprisingly sturdy all-metal build. Also, the capsule's grille has no give to it. Their strong design makes them perfect for anyone that does not have a dedicated space to store their precious microphones away safely.
Cons:
The only glaring negative is the AT2020's high self-noise. They produce a self-noise of 20dBa, so if you're recording quiet guitar parts, you may struggle to achieve a clean take.
11. Rode M3
RØDE is a company known for making good quality audio equipment at a reasonably affordable price. And their M3 adds to that legacy by ticking all the boxes with its good sound, price, versatility, and durability.
Finding a reliable yet inexpensive microphone can be tricky, and you tend to have to compromise in some aspects, especially when it comes to condensers. Thankfully, those occasional gems offer the best of both worlds and give us home studio owners a fighting chance.
Key Features:
Frequency Response


For acoustic guitars, they perform very well and capture a full-bodied yet clear tone. Additionally, they follow transients brilliantly, so your recordings can have an almost percussive quality whether you're strumming, picking, or plucking.

Polar Pattern


They offer a direct pickup that captures little off-axis ambiance and coloration. Therefore, if you're recording in a fairly noisy home studio or a live-studio session, the M3 can help distinguish your main source from the noise and bleed to give you a clean recording.

Extra Features


In addition to a good tone, they offer a few helpful extra features: a -10dB and -20dB pad switch, a high-pass filter to attenuate frequencies below 80Hz at -12dB/octave, and a 9v battery compartment. The 9v battery is installed by unscrewing a section of the mic's body and placing it in the allocated bag, so if you don't have access to phantom power, all is not lost.
Pros:
You can use them in various areas outside of guitar recording and studio. A jack-of-all-trades, you can use the M3 on vocals, drums, for live sound, and in audio-visual work, so if you would like a microphone that can offer more than one use, they are a good option.
Cons:
The only negative would be the three-way switch for the pad. It is difficult to adjust, and the switch is located in an out-of-the-way spot within the microphone's body. If you wish to turn the pad on and select either of the two settings, you must unscrew the body, grab a pen or pen-like object, and flick the switch in a small nook above the battery terminal.
12. Aston Microphones Origin
Aston Microphones established themselves with their debut microphones: the Origin and Spirit condensers. These two products set the company's high standard for quality audio hardware at a reasonably affordable price. And today, we'll look at the one that started it all.
The Origin is a side-addressed, large diaphragm condenser with a curious design. Despite the sleek flair, the mic's head is for more than aesthetics. The wavy grille and wire mesh, individually, serve a purpose. The wave-like spring head encircles the capsule, deforms on impact, and mitigates any damage to the transducer, while the steel wire mesh acts as a built-in pop filter.
Key Features:
Polar Pattern


The cardioid pattern doesn't offer much rejection of sounds off-axis, but it does capture a well-balanced tone both on and off-axis. So you can expect little coloration when recording in an untreated room. However, noise may still be a problem.

Frequency Response


The Origin is a contender if you're looking for a mic that offers a detailed response. They have a slightly rolled-off bass response below 100 Hz and a +4dB presence boost at 10kHz. On paper, the response is similar to many condenser microphones. But in practice, you get a high-end focused tone that captures an acoustic's snap well.

Extra Features


You'll have access to a -10dB pad and a high-pass filter that removes frequencies below 80Hz. The switches for both features are easily accessible and sit just below the grille on the front of the mic.
Pros:
The base of the microphone has threading for connecting directly to a mic stand, so you won't need a clip, or a shock mount, to set one up. In addition, the capsule is shock mounted internally. An external shock mount almost guarantees less mechanical noise should someone bump the stand while recording, but it isn't necessary.
Cons:
The only significant shortcoming with the Origin lies in its high-pass filter. The filter does its job too well and removes most of the body from the tone, leaving you with a thin, clinical guitar sound, so I recommend you use a low-cut filter within your DAW instead, should you need to.
Bonus:
LR Baggs Lyric Guitar Microphone System
Using a guitar pickup is viable if you're looking for a reliable setup that offers less adjustment for recording your acoustic guitar. The Lyric guitar system by LR Baggs is a guitar pickup that offers studio microphone-quality sound in the form of a small button-sized piezo pickup.
Besides the microphone, held by a plate affixed underneath your acoustic guitar's bridge, you also get a dedicated preamp with volume, presence control, and jack input. Since the Lyric is an active pickup, you will need to power the pickup using a 9v battery.
Key Features:
Noise Canceling


A common issue with internally mounted pickups is the undesirable bass response they capture from the reflections within the acoustic's body. Thankfully, the Lyric mic rejects those unwanted reflections to retain a natural, thick tone.
Presence Control
Beside the preamp's built-in volume dial, you'll have a pea-sized presence control to adjust the microphone's upper-midrange response. And should you use the Lyric alongside a miked-up acoustic guitar amp, it can help reduce the chances of feedback occurring.

Tone


The Lyric captures a detailed sound with a hefty amount of body to it. However, like any acoustic guitar pickup, the tone will vary based on the guitar's natural tone, so if you have a naturally tinny sound, the pickup will capture that and amplify it. But they are still a good alternative if you don't have the silence you need to record your acoustic with a microphone.
Pros:
Though best left to a professional, LR Baggs has made the installation as simple as possible. The pickup's plate and the preamp have an adhesive applied to their base, so all you need to do is remove the base's covering and stick each component where they need to go within the guitar's body.
Cons:
The 9v battery is stored in a battery bag with velcro straps to attach it to the body. It's worth noting because the problem lies in replacing the battery. You will need to reach into your guitar's sound hole and scratch around for the battery compartment to replace it.
Conclusion
With so many different types of microphones here, the options are vast. From the expensive to the affordable. Condenser to dynamic. Each with its characteristics and tendencies. You're bound to find one that fits your needs and setup.
If you have the budget, the Neumann microphones are ideal for capturing an unbiased and honest recording. And if that's what you're after, but you need something in a lower price range, the Shure KSM141 is the one to look at.
The two ribbon microphones by Beyerdynamic and sE Electronics are great options for a smoother sound with more character. Especially sE Electronics Voodoo VR2 if you don't have the preamp to drive the M160.
As for the assortment of cheaper large-diaphragm microphones, I recommend the RODE NT1 since they have a fuller, richer, and more consistent tone compared to the cheaper AT2020 and pricier Origin.
Related Readings:
Top 10 Mics For Recording Choirs 2023 (Best Rated)
Top 6 Cheap Dynamic Mics For Vocals
6 Best Ribbon Mics 2023 On Any Budget (For Vocals, Drums & Guitars)
7 Best Drum Mic Kits For Recording Live 2023
Are Expensive Mics Worth it? Cheap vs Expensive
Dynamic vs. Condenser vs. Ribbon – Differences & Purposes
11 Best Dynamic Microphones For Podcasting 2023
Top 12 Microphone Brands 2023 (Condenser, Dynamic & Ribbon)
Why Does My Microphone Pick Up A Loud Buzzing Sound?
The 12 Best Microphones For Field Recording 2023
12 Best Cheap Condenser Microphones 2023
A part-time sound engineering lecturer and musician based in Pretoria, South Africa. He has had a passion for all things music since he was big enough to sit on his cousin's bed and strum away on an old guitar. All while his uncle, in a room below him, stood with a broom in hand and drummed along on the ceiling. When he isn't teaching others the basics of sound theory, how to record, and how to mix, you can find him sitting with a guitar fiddling away, completely lost to the world.