This article will talk about some of the best MIDI Controllers/Keyboards Available in 2023. Each option will be discussed in detail along with its pros and cons so that by the end of the article, you can decide which midi controller is the right choice for you.

It's easy to mistake a midi keyboard for a regular keyboard, but some substantial features set them apart. The main difference is that a keyboard acts as a stand-alone instrument and is fully capable of playing different sounds from its tone banks and has several effects on board to give you more flexibility in enhancing your sound to what you want it to be.
A midi controller, on the other hand, is not an instrument in itself but can be made to sound like any other instrument by assigning virtual instrumentation to it via a computer.
For instance, if you want to add virtual drums to a track and have a drum plugin installed on your computer, you can simply assign those drum sounds to your midi keyboard controller's keys and use them to map out the drum pattern with ease.
Midi controllers come in different sizes and capabilities and can be seen in most studios of today. They save you the trouble of individually placing virtual instrument sounds on your mix track with a mouse which can be very tedious and time-consuming.
Best 73-Key MIDI Controllers/Keyboards Available 2023
Studiologic

SL73 Studio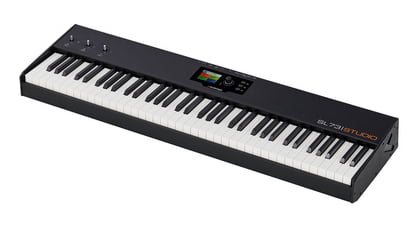 Studiologic SL73 Studio is a more compact version of the SL88 Studio.
It attempts to provide the perfect combination of portability and playability. The body is robust but lightweight. The SL73 is packed with some impressive features. The input/output options on the back panel provide plenty of options if you wish to connect pedals or connect to other midi devices.
The TFT display is self-explanatory and user-friendly. There are several programming options that can be explored here with the help of the easy-to-use navigation buttons. The controller's CPU is very versatile and gives you several options like layering or splitting your sounds.
Key Features:
Weight & Construction
The SL73 comes in a strong metallic body and has a large 41-inch by 12-inch frame. You would expect it to be quite heavy, needing a couple of guys to move it around. However, the keyboard controller weighs only 11.5 kgs and is much more portable than the bulky SL88.
Keys
As one would guess, StudioLogic's SL73 comes with 73 weighted keys. The key bed is manufactured by Fatar, Studio Logic's parent company. Fatar is also known to manufacture key beds for many other high ends keyboard brands in the market. The "hammer action" keys, made of good quality plastic, are known to provide the same response and feel that you would experience on a grand piano. The keys are velocity sensitive and also have an after-touch feature.
X/Y Sticks
On the interface, you find three X/Y sticks that can be programmed according to the user's preference. By default, you get a pitch bend option on the first stick which automatically returns to its original position when moved, just as pitch bend sticks usually work. The 2nd and 3rd sticks have nothing assigned to them by default and function in such a way that when moved, they stay where they are.
Main Controls
On the center of the SL73, above the keys, you find the main controls that include a 6-way encoder that helps you navigate different functions and three function buttons that can be used to jump between menus. You also get a TFT color screen which displays different settings that can be manipulated to change the sound of the keyboard controller. The controls give you access to about 250 programs that are categorized into 12 groups. You can use 4 of them at a time. You also get features like layering sounds or splitting the keys to getting different sounds out of the different areas of the key bed to make them sound different.
Input/Output Options
On the back panel, you have one MIDI input, two MIDI outputs, and a USB port to connect the StudioLogic SL73 to your computer. You also get pedal inputs on the back, so you can add 4 different pedals simultaneously to the SL 73 and get creative with your sound.
Pros:
The size is ideal for playability and portability. The all-metal build gives a premium feel. The velocity-sensitive hammer touch keys have an after-touch feature and give a feel of an acoustic piano. The display is intuitive and user-friendly. You get plenty of input/output options, and the ability to connect 4 pedals simultaneously is a big plus.
Cons:

The SL73 is more suitable for beginner-level users as there are certain imperfections that may annoy the experienced player. The keys have a feel of cheap plastic, and the velocity detection is a bit inaccurate.
You may feel the keys cannot keep up with fast key work. Key sensitivity issues may also arise at times.
Other MIDI Topics:
11 Best Ableton-Friendly MIDI Controllers
Top 11 MIDI Keyboards/Controllers For FL Studio
Best MIDI Keyboard/Controller For NI Kontakt
12 Best Websites For Samples, Presets, Loops & MIDI
4 Best MIDI Controllers With Weighted Keys
Best Mini/Small MIDI Keyboards: 12 Picks To Save Space
Top 12 MIDI Controllers With Semi-Weighted Keys (All Sizes)
Top 12 Best 88-Key MIDI Keyboards (On Any Budget)
How To Connect MIDI keyboard To Ableton Live – Step By Step
5 Best 37-Key MIDI Keyboard Controllers (On Any Budget)
9 Best Cheap 49-Key MIDI Keyboards (Under 200$)
The 6 Best 61-Key MIDI Keyboards (On Any Budget)
Top 5 Best 25 Key MIDI Keyboards (On Any Budget)
Should I Buy A MIDI Keyboard Or Synth? (Are Synths Worth It Anymore?)
Should I Buy MIDI Controller Or Keyboard? Cons, Pros & Tips
11 Tips How To Choose MIDI Keyboard
Sultan Zafar is a guitar player from Islamabad, Pakistan. He has been playing music with various mainstream musicians for over 20 years. He is a song writer and music producer. These days he spends his time exploring different music genres and collaborating with fellow musicians on various projects. Read more..