Worship music is a very popular genre all over the world, whose main characteristic is a joyful and peaceful sound in its songs. The piano and the guitar play a significant role in constructing its musical structure.
Within this genre, the instruments must be clear, harmonious, and somewhat bright to generate that vibe that characterizes it, for which the guitar's tone is a key piece. This article will review some of the best pickups for worship guitars you can find on the market.
It is essential to clarify that although single-coil pickups are the most used in this genre due to their clarity and sharpness. Certain models of humbuckers have very similar tonal characteristics to single coils; thanks to this, they can do the job perfectly.
Top 9 Pickups For Worship Guitar 2023
1. Fender Fat 50s Custom Shop
This set includes three single coils manufactured by Fender and specially designed for Stratocaster guitars; it perfectly reproduces the classic Stratocaster sound from the beginning of this brand. Constructed with Alnico V magnets for that glassy attack and warm lows, the Fat 50s are an excellent choice for Worship guitars.
Its sound is very balanced, and its tone has the body necessary to stand out without being too bright. They have a low hum level, so you can add effects to give them color without making them too loud. This set is around $250 dollars.
Key Features:
Alnico V Magnets
The alnico V is a type of magnet that boosts all frequencies, giving the pickup a high level of gain and a sweet sound that stands out, especially in its high frequencies.
Reverse-Wound Middle Pickup
The middle position pickup has its polarity reversed to achieve hum cancellation when combined with the other two. So when using the switch in positions 2 and 4, you don't experience the gain noise typical of single coils.
Versatility
These types of pickups work efficiently whether you use them completely clean or combine them with different pre-amps or effects. They are also indicated for styles where guitars with a higher level of distortion are needed. They can take your Stratocaster a step forward in terms of sound quality.
Pros:
Outstanding performance, improvements in terms of noise cancellation, aesthetically sober and elegant like all Fender products. It is among the best models of classic style pickups of this brand.
Cons:
Despite the sound quality it offers, its cost is high compared to other brands with similar characteristics.
2. Gibson 500T (double black/zebra)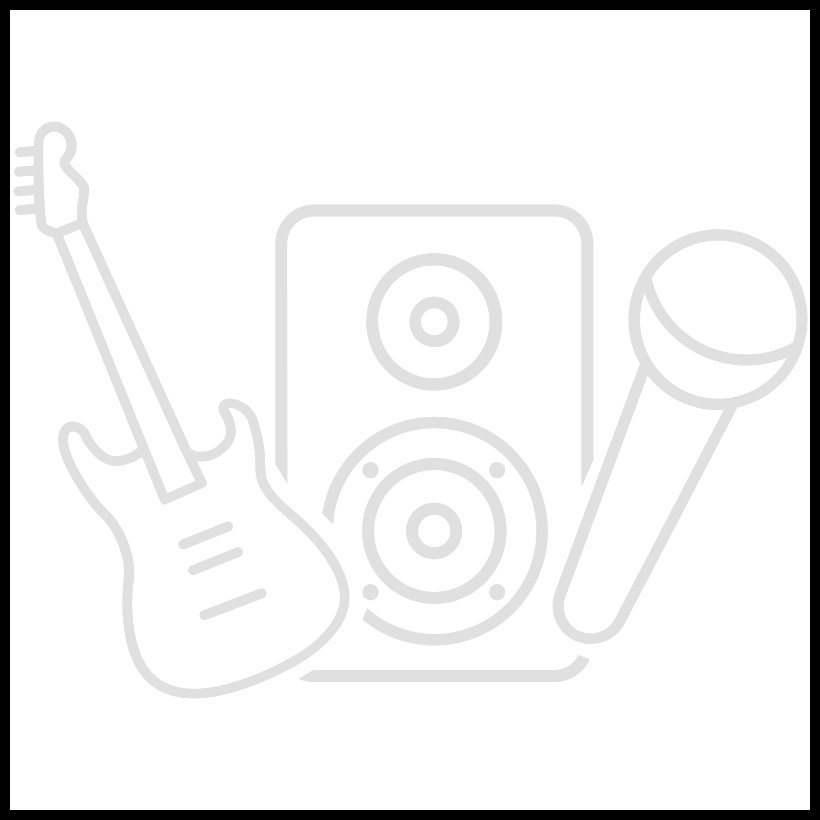 These pickups made by Gibson are a clear example of how a set of humbuckers can also have enough clarity and brightness to approximate the sound of a single coil. Humbuckers were initially devised to suppress noise and increase signal gain and have historically been ranked behind single coils in terms of tone.
This model, however, while maintaining the warm and medium sound of the classic humbuckers, also offers a bright and warm tone. Because of this, it can be another great choice when choosing pickups for worship music. These pills are around $100 dollars.
Key Features:
Multi-Ceramic Magnet
These types of magnets with which the 500T are made, blend different kinds of ceramics that offer a wide range of frequencies, especially highlighting low and high frequencies. Although they are pickups oriented towards heavy rock, they can be excellently adapted to worship music using a clean configuration, especially in the neck position.

Four Wire Conductors


It allows you to install the pickups in parallel and series, expanding the range of configurations and combining it with other pickups in your guitar setup if you want to.

Uncovered Pickups


Unlike other Gibson models, the 500T does not include a metal cover, which is chosen by many guitarists who claim that this way the magnets interact more efficiently with the strings. The Zebra finish that combines two colors is a nice aesthetic detail.
Pros:
You can get the most out of these pickups either by using them clean or by using them with a bit of distortion or overdrive. Despite increasing their gain as a result of adding an effect to the signal, they can maintain their clean and clear character.
Cons:
Its low frequencies can be too present and will not be as necessary for a genre like worship music, so sometimes it will be convenient to touch up some frequencies using an equalizer.
3. Seymour Duncan Hot Rodded Humbuckers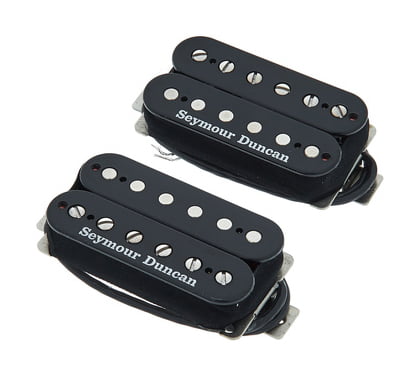 Seymour Duncan created this set of humbucking pickups in the 70s, and they have kept their essence intact throughout the years until they have become a classic. The Hot Rodded is a set made up of two pickups, one for the bridge and one for the neck, offering a balanced sound in all its frequencies and without any gain noise.
Regarding tone, it has a clean and articulate sound, which suits the genre very well, especially in the neck position, since the bridge position can sound a bit aggressive. This set of humbuckers is around 200 dollars.
Key Features:
Alnico V Magnets
Both in bridge and neck, the Hot Rodded have magnets made of alnico V that provide an ideal tone for genres such as worship. They are pickups with enough gain to play the strings without too much effort to achieve a good sound volume.
Matched Set of JB and Jazz Humbuckers
This set is made up of a JB pickup in the bridge position, endowed with an upper midrange attack, a full-bodied bass, and bright highs. In the neck position, the Jazz pickup offers a warm glassy high with good sustain and a tight low end. Between the two pickups, this set provides enough versatility to cover different genres.
Four Wire Conductors
Its four wax-encapsulated conductor cables allow the pickups to be connected to the guitar using different wiring configurations.
Good Price/Quality Ratio
These pickups offer a very versatile pro-level option for a reasonable price. Hot Rodded have been used over the years by many established artists and have the quality guarantee that Seymour Duncan pickups offer.
Pros:
This is a classic and familiar set, associated for many years with rock but versatile enough to encompass many other genres. As for worship music, they can do the job very well, especially in the bridge position.
Cons:
Despite a warm and pleasant tone, they do not quite match that of a single coil if it is the sound you are looking for when getting a new set of pickups.
4. Dimarzio Liquifire DP227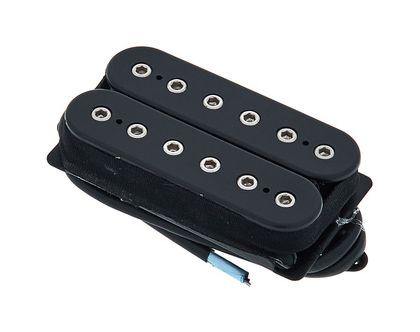 Another of the leading manufacturers in the world of guitar pickups is DiMarzio. This specific model has been created in collaboration with Dram Theather guitarist John Petrucci in search of a pickup with a fluid lead tone while still offering a clear chord sound in a setup without effects or distortion.
Thanks to its tone, much lighter than the other Dimarzio models generally oriented towards heavy rock, this model offers facilities to play a sound suitable to worship music. Around $100 dollars.
Key Features:
Ceramic Magnets
Ceramic pickups that offer a high-frequency range and fast low-end response. Although designed to be used in the neck position, this particular model can also be used as a bridge to obtain different nuances. In this model, especially the medium frequencies are the ones that stand out the most.
4 Conductor Wires
Thanks to this, you can choose between parallel or serial wiring combinations. While in series, the sound usually has more gain, in parallel, the high frequencies stand out more, and at the same time, you obtain a more defined sound but at a lower volume.
Color Selection
This, along with other Dimarzio pickup models, allows you to choose from a color catalog that includes black, white, green, blue, and purple, even combined. An excellent option to highlight the aesthetic facet of your instrument.
Pros:
They have a clear and balanced clean sound with very present mids. It can adapt well to a style like worship music.
Cons:
They are pickups created and designed to play metal, so the low frequencies will be more present than you need them to be.
5. Gretsch/Mojo Tone Filtertron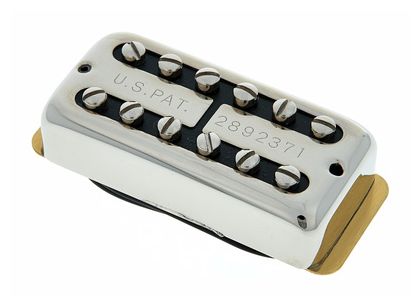 This set of pickups tries to improve a vintage version created by Gretsch in the 60s. For this, use the same original materials, improving the distance between them in the position of the bridge.
Esthetically attractive thanks to its nickel finish, the Mojo Tone Filtertron offers a sharp and balanced sound while focusing on the mid and high tones. This set is around 220 dollars.
Key Features:
Alnico V Magnets


This set has the bright, sharp tone typical of alnico V magnets. It comes very close to the brilliance of single coil pickups, with plenty of audio output but none of the hums they produce, another excellent option for worship music.
Easy Installation
They are designed to be easily mounted to the guitar's body as well as to a pickguard in case you have a strat-type guitar or to a pickup ring. This pickup model also includes four wire drivers for multiple settings.
Vintage Look
Its appearance maintains the vintage style of the Gretsch pickups of the 50s and 60s. It is covered with a nickel-plated plate and chrome finish, which makes the Filtertron very attractive
Pros:
They are pickups with a vintage appearance and sound, with high breaks that easily reach very bright tones, making them stand out.
Cons:
Although they have a clear and bright tone, their sound is closer to blues and rock than to worship music due to their sound that generates a natural saturation.
6. Fender Pure Vintage 59
This set made by Fender offers one of the best options for worship music at a reasonable price. Three high-quality pickups with body, sustain, and unbeatable tone. Using the same materials and treatments used in its early days, the '59 Pure Vintage recreates the sound that built Fender's reputation.
Made with alnico V, its sound is clear and has a lot of presence in the mid and high frequencies, and it has some better noise suppression compared to those originally made in those years. Its price is around 200 dollars.
Key Features:
Alnico V Magnets
This material allows the pickups to enhance all their frequencies in a balanced way, gives a lot of output gain, and provides a sweet and bright tone. Ideal for rhythmic guitars or solos within worship music and other genres close to rock. The three pickups are fully matched in terms of sound and tone.

Formvar-Coated Magnet Wire


Thanks to this coating you can obtain greater brightness than usual, which is very characteristic of the fencer sound. They are also wax coated to reduce humming and feedback problems. Includes screws for quick installation.

Excellent Price/Quality Ratio


For the same price that you can get one or two pickups from another brand, Fender offers a set of three pickups with outstanding performance and a sound that is difficult to match. One of the best options to get professional quality microphones, with the quality that fender products offer and at a reasonable price.
Pros:
Excellent sound and frequency balance and a reasonable price. A great investment to upgrade your instrument. A versatile tone that can be adapted to many different styles.
Cons:
This model does not include a reverse-wound middle pickup, which helps cancel out the hum when using two pickups simultaneously.
7. Gibson 57 Classic Plus Humbuckers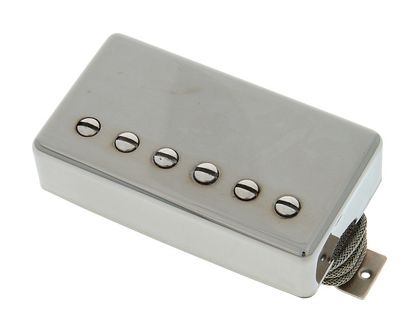 This pickup recreates the Gibsons of the early years, built to the same specs to match that signature sound. A tone with a lot of presence in the middle frequencies, without signal noise thanks to its humbucker construction and with a typical elegant Gibson appearance.
The way this pickup is manufactured means that it has a lot of output gain, which is why it is designed to occupy the position of the bridge. It has a natural saturation that is very present without losing the clear character that a rhythm guitar needs. This pickup is around 200 dollars.
Key Features:
Alnico II Magnets
This type of magnet makes a particular focus on low and, mainly, medium frequencies, making these pickups ideal for rhythmic accompaniment without extremely bright low frequencies. Tone wise, it has a bluesy sound but can be appropriately adapted to worship music using a clean setup.
Classic Construction
To achieve that specific sound of Gibson pickups from the late 50s, its internal parts are nickel-plated, its spacers made of maple, and its cables enamel-coated in the same way as in those years. What results in a very successful product with that particular vintage tone
Vintage Look
Its presentation of a nickel-plated metal case protects the components of the pickup and, at the same time, gives it that aesthetic appearance that stands out among Gibson products.
Pros:
Vintage sound excellently recreated by this Gibson model. This is an excellent option if you are looking for that medium tone. Its character works very well for rhythm guitar.
Cons:
Its high cost is a point against it. It is easy to break up and generate natural saturation, which can sometimes be inappropriate if we look for a clean and clear sound that adapts naturally to worship music.
8. Dimarzio DP103 PAF
The DP 103 PAF, created by Dimarzio, is another well-achieved example of pickups recreating a vintage sound, combining Modern potting techniques to achieve the best result.
Unlike other humbucker pickup reissues, this model has a brightness and clarity similar to that of a single coil but with more low-frequency accentuation, which offers a very interesting combination. This pickup is around 150 dollars.
Key Features:
Alnico V Magnets
Brilliant and outstanding tone, without being too sharp thanks to the alnico V in its construction. In this case, thanks to its type of winding, it offers a clear and balanced sound, where low and medium frequencies are also present. This makes it one of the best humbucker options for worship music.

Suitable For Bridge or Neck Position


You can place this pickup both in the bridge position to achieve a more strident and sharp sound and in the neck position to achieve a warmer sound. This is a handy option to try different approaches and find the sound that best suits your tastes.
Weaker Magnetic Field
Its magnetic field allows the strings to vibrate for longer, giving rise to greater sustain and a sound similar to a single coil. Its 42-gauge custom-coated wire gives this pickup the tone it needs to sound clear and balanced.
Vintage Look
Its nickel-plated metal case presentation protects the pickup components from any hit and, at the same time, adds that vintage touch that stands out visually. This pickup has four conductor wires for multiple settings.
Pros:
Balanced sound, warm tone, and according styles such as worship music. It also gives good performance with saturation effects. That it is functional in both positions is a point in favor.
Cons:
It is somewhat more expensive than other pickups with similar characteristics. Beyond this, its quality justifies the investment of money.
9. Seymour Duncan Pearly Gates
The SH-PG Pearly Gates, made by Seymour Duncan, is inspired by the old Les Paul pickups from the late '50s when the humbucking sound established its definitive character.
This set of pickups made with magneto alnico II bars stands out for brightness and definition without being too sharp. You can appreciate the lows and mids in their proper measure, which gives a lot of balance to these pickups that are around $290 dollars.
Key Features:
Alnico II Magnets
These magnets provide a warm and medium tone, with less output than the alnico V, but at the same time with more headroom that allows obtaining a clean and clear tone ideal for rhythm guitar and worship music.
4 Conductor Wires
Ideal for varying wiring configurations both in parallel and in series to obtain different pickup performances. This model also works well with hollow and semi-hollow body guitars as well as solid body guitars.
Vintage Look
They include a nickel-plated metal case for greater protection of their internal components and an attractive vintage appearance. Depending on the customer's choice, this pickup model is also available without a skid plate.
Pros:
Balanced tone and sound, with a good amount of brightness and moderate gain, make them ideal for worship music.
Cons:
Despite being a set of pickups that do their job perfectly, they are one of the most expensive in this range of humbuckers.
Conclusion
Considering the almost unlimited number of possibilities you find on the market, there is a suitable set of pickups for each person or musical style. While worship music generally has a clear and clean sound, your choice will also be influenced by your musical tastes.
In this sense, looking for products with a certain versatility is always convenient. Sooner or later, you can choose to play other styles or different places you did not expect to investigate within music. Whatever the reason, your instrument must be up to the task, as this will make it easier for you to develop your skills, which is why the pickups you use play a crucial role.
If you take the time to analyze the products concerning your budget, musical tastes, and performance of each pickup, you will be much closer to making the right choice that perfectly meets your needs as a musician. I hope this list of Pickups for Worship music is helpful to you. Thanks for your time!
I am a composer, session musician and producer based in Argentina, with more than 20 years of experience in music. I play guitar, bass, keyboards and sax, I was part of different projects and I am familiar with musical genres like rock, pop, soul, reggae, funk, r&b, cumbia and others. Read more..