This article will discuss the best hardware FM synthesizers available these days!
FM (Frequency Modulation) synthesis involves one oscillator modulating the frequency of another oscillator, hence creating harmonic and inharmonic sounds. When the modulating signal is in a harmonic relationship with the modulated signal, the result is harmonic and otherwise inharmonic.
Many FM-based synthesizers are available in the market, from wavetable synths to virtual analog to pure analog to dedicated FM synthesizers. Out of all these overwhelming options, we have handpicked a list of few with interesting and unique sounds.
Top 7 Hardware FM Synths 2023 For Unique Sound
Arturia MiniFreak

NEW*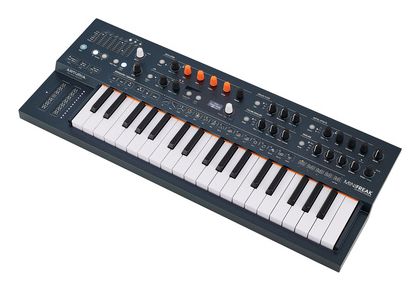 Arturia MiniFreak is a compact and feature-heavy hybrid synthesizer. 
It's a 37-key instrument with two oscillators, an LFO, an analog filter, a cycling envelope, a single-cycle envelope, and a Digital Effects section. It's essentially based on the design theory of the successful MicroFreak, but more digital sound design options are added to it.
You can cross-modulate the two oscillators to create Frequency and Ring modulation effects, such that you can adjust the Timbre, Shape, and Wave settings to create interesting digital textures and modulations.
Character & Sound: 
Being a hybrid synth, you get the best of the analog and digital worlds with the synth. However, the sound is mostly digital and hard-hitting, as opposed to warm and soft. In addition, a harmonic oscillator acts like an additive synth engine. The 6-voice polyphony allows you to use virtual analog, FM, Additive, and synth engines.
Not to forget, the analog filters and VCAs expand it beyond the FM-based harsh sounds and add a layer of depth to the sound design process.
Key Features: 
7 x 13 Modulation Matrix
The destinations include Pitch, Wave, timbre, Cutoff frequency, and three freely assignable slots. The sources include a Cycling envelope, envelope, LFO 1 & 2, Wheel keyboard, and velocity. That lets you create strong modulation effects and do innovative sound design.
Expressive playing
With a 37-note Slimkey velocity-sensitive keybed, aftertouch response, randomization and generative capabilities, and sequencing and arpeggiation capabilities, you can freely express yourself with all these tools. You can use the 64-step sequencer, divided into four 16-step pages, or the comprehensive arpeggiator to create interesting melodies and basslines.
Effects and movements
You can use the multi-segment LFO, generative tools, Ring/Frequency Modulation, and the modulation matrix to add the required chaos to your sounds. In addition, it includes effect types like chorus, flanger, phaser, reverb, delay, distortion, bit crusher, etc.
Pros: 
The 256 factory presets and other 256 user slots provide a diverse range of options, giving you a sonically rich palette. Secondly, the connectivity is quite versatile, with MIDI In/Out/Thru, stereo audio output, clock I/O, and USB-B slots. Plus, the MiniFreak V VST gives a great virtual replica of the synth, making it easy for you to manage presets digitally.
Cons:

For a polyphonic synthesizer, three oscillators may be limiting. In addition, the synth isn't multitimbral, so you are deprived of any layering possibilities. Lastly, the mod and pitch bend wheels are not physically present and are replaced by touchpads. Plus, there aren't any physical buttons on the synth for play/pause/Mods, as these controllers are touch-based!
Korg Opsix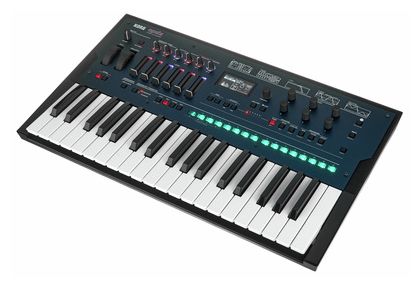 Opsix is a six-operator digital synthesizer based on FM and other synth engines. 
You can set the oscillator to anything from a sine wave to a sawtooth to a square, additive square, additive triangle, white noise, and more. In addition, it also has a built-in spectrum analyzer for monitoring the waveforms. Plus, the data entry and workflow of the synth is intuitive and easy.
Lastly, the FM engine lets you create interesting bells, wobble leads, punchy basslines, and DX-7 sounds. Hence, it allows you to modulate the frequency and phase of any oscillator and waveform.
Character & Sound: 
The synth has 250+ presets ranging from detuned and warm lofi sounds to chill and ambient pads to underground and dark sequenced sounds and arpeggios to digital-sounding lead arps to Mike Dean-type atmospheric and deep sounds. It's great for 80s synth-pop and dream pop. Hip-hop, digital soundtracks/scoring like that of Stranger Things, Trom: Legacy, Social Network, etc.
What's great about it are its electric pianos, organs, bass sounds, guitar emulations, arpeggios, etc. Some of the best presets include Glide Sine, Steam Church, Digital Plucker, Wah Talk, Mod Church, soft FM brass, etc.
Key Features: 
High-quality effects
The synth includes many DSP and circuit modeling effects, including Reverb, Delay, Chorus, Distortion, Compression, Phaser, Tremolo, etc. For example, the Distortion category includes effects like Amp Simulators, Comp Distortion, Jazz Combo, US Combo, Small Stereo, British Combo, and more.
Five modes
The synth works in modes like FM, RM, Filter, Filter FM, and Wave Folder and has a polyphony of 32 voices. You can have up to 500 storable sounds, with 250 factory presets and 64 "favorite" memory slots.
Workflow
The synth operates in a simple interface, with volume sliders and waveform knobs for each operator. The entire modulation and waveform distortion can be easily monitored using the in-built display screen on the synth.
There's a sequencer with sixteen steps and four banks. Lastly, you can add effects and edit waveforms using the data encoders and knobs, which gives you great hands-on control over your sound.
Pros: 
Opsix allows you bi-timbral splits, tri-timbral sequencing, velocity modulations, arpeggiator and sequencer movements, a great set of effects, and a versatile set of sound starters from basic waveforms to noise oscillators. Lastly, it has multiple algorithms by which all operators interact and modulate each other to create interesting sound design scope.
Cons: 
The sequencer could have had more than sixteen steps. Secondly, it'd have been great if the synth officially was multi-timbre. Lastly, given it is polyphonic, it would have been great to have more than three octaves to play. 37 keys may be upsetting for piano players and live musicians.
ASM Hydrasynth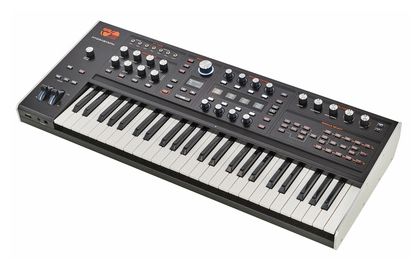 Hydrasynth is a fully digital eight-voice synth with virtual analog FM and wavetable synth engines. 
It comes in two versions: keyboard and desktop. The keyboard version has velocity-sensitive keys with aftertouch enabled, whereas the desktop version has velocity-sensitive pads with polyphonic aftertouch. Hydrasynth has a rugged and solid build made of steel with solid and responsive knobs, but it is also heavy to carry.
You can combine anything from a wavetable synth engine, linear FM, WavePWM, subtractive, and more to create interesting sounds.
Character & Sound:
The synth allows you to select from over 200 different waveforms, such that you can select waveforms from basic waveshapes and wavetables. The oscillator sounds warm, beefy, and of high quality.
Key Features: 
Workflow
Hydrasynth has three main oscillators with two mutant modules for the first two oscillators and a ring noise module. There's a module select section where you can edit the synthesizer's signal flow. You can select eight out of 200 waveforms in the wave scan, put them in the wave list, and morph between them.
Mutators
You can choose from seven types of mutator waveshapes: FM-Lin, WaveStack, PW-Orig, PW-Squeeze, PW-ASM, Harmonic Sweep, and Hard Sync. There are, in total, four mutant modules that mutate anything that comes before them.
Modulation scope
The synth gives you access to a 32-slot modulation matrix, envelope generators (five per voice), and five LFOs with eleven shapes, including an eight-step LFO, which allow you to create custom shapes. In addition, you can make each stage of the envelope sweep through exponential and logarithmic curves, which further increases your modulation potential.
Other features
Hydrasynth allows expressive playing with its polyphonic aftertouch and ribbon controller. In addition, there are eight MACROs by which you can control multiple parameters simultaneously, hence easing and simplifying your workflow.
Pros: 
The synth has great sound design potential and an intuitive interface. In addition, the eight insert effects, including Chorus, Flanger, Rotary, Phaser, Lo-Fi, Tremolo, EQ, Compressor, Delay (5 types), and Reverb (4 types), help you greatly with your sound shaping. Plus, you can take advantage of its modular/semi-modular capabilities by using the CV/GATE connections.
Cons: 
Hydrasynth doesn't have a dedicated sequencer, which is a huge deal-breaker. Secondly, the synth is too logically arranged, which may not inspire creativity, as everything is too straightforward, which hinders the scope of randomness in the sound design process. Lastly, the jacks are a bit recessed.
Yamaha ReFace DX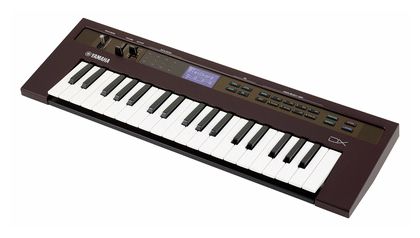 Yamaha ReFace DX is a 49-key and four-operator FM synthesizer. 
It has twelve different FM algorithms you can manipulate using its data entry operators, which lets you create soothing bell sounds, plucky sounds, marimba, and similar sounds. In addition, the hardware is solid and well-built, and it has an eight-voice polyphony. Plus, you get to edit FM parameters like feedback, level, and frequency to get good control over your sonics.
Character & Sound: 
Yamaha recreated the classic DX-7 sound with the Reface DX's multi-touch control, easy patch management, and versatile set of sounds, whether you want to play electric piano, bells, mallets, dubstep, EDM sounds, and more. Plus, there are multiple onboard effects like VCM Touch Wah, VCM Flanger, VCM Phaser, Chorus, Delay, Reverb, Distortion, etc.
Overall, it's great for genres like Dubstep, 80s synth pop, techno, dream pop, etc.
Key Features: 
In-depth FM editing
You can do some great FM sound design wonders with the synth, as it lets you edit how the oscillators are fed into each other. Plus, you can adjust the tones by selecting the waveforms, controlling the feedback, etc., using the touch sliders.
Patch management
It has 32 memory locations and three banks to store and recall your patches/presets. In addition, you can add and manipulate effects like distortion, delay, chorus, reverb, etc., to further shape your sounds.
Pros: 
The synth costs less than $500 and has a decent workflow, functionality, and interface for that price. It's a great synth if you're looking for a vintage synth dedicatedly based on FM synthesis. It's also well-built and portable, has good quality, and has some great sounds.
Cons: 
The preset slots are very few. Yamaha could have had at least a hundred slots for the patches. Secondly, the keys aren't very responsive and are programmed with a disproportionate velocity response. You need to press the keys hard to achieve high velocity. Lastly, apart from FM sound design, the synth's capabilities are limited.
Clavia Nord Wave 2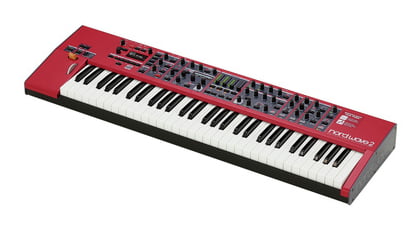 Nord Wave 2 is a virtual analog, samples, wavetable, and FM-based synthesizer. 
It has 61 aftertouch-enabled keys with 48 voices of polyphony, an intuitive workflow, hands-on control, and a great ability to layer and split sounds. It includes an arpeggiator section, oscillator modulation envelope, LFO section, vibrato, amplitude envelope, filter envelope, effects section, and more.
The FM synthesis in the instrument is perfect for harsh, biting, and shimmery sounds. It's also great for melodic percussions like bells, xylophones, etc. Plus, it offers 2-, 3-, and 4-operator configurations with harmonic and inharmonic variations and is a great addition to the versatile sound palette of the synth.
Character & Sound: 
The samples included in the synth are that of brass, strings, guitars, choirs, etc., which, when combined with wavetable, virtual analog, and FM synth engines, make up for a huge sonic range! For example, the virtual analog part gives great analog-modeled waveforms and adds depth, simplicity, and warmth. On the other hand, wavetable and FM add a more digital nature.
The warm filters and filter envelopes could control the synthetic and harsh nature of the FM. Lastly, it has a great effects section, which includes expansive effects like Tremolo, Ring Mod, Chorus, Ensemble, Vibe, Drive, Reverb, and Advanced Delay with Feedback.
Key Features: 
Sound Sources
The oscillators include analog waveforms like Sine, Triangle, Sawtooth, Square, and Pulse. In addition, the wavetable engine lets you add thousands of new waveforms and increases the synth's overall sonic scope.
Nord Sample Editor
You get virtual sample editing software that you can use to create, manipulate, edit, and save samples and loops. The software is available for Mac and Windows and has great performance.
In-depth sonic shaping
The synthesizer has a filter section with six filter types, a dedicated LFO with multiple waveforms, morphing and impulse morphing capabilities, and high-quality onboard stereo effects. These options open the gates for detailed and directional sound design and sculpting.
Pros: 
From having four independent synths in one to layering abilities to the sample editor, the Nord Wave 2 by Clavia is a sound design beast. It also has an advanced polyphonic arpeggiator, a gate, and a streamlined and straightforward design and workflow. Lastly, it enables expressive playing with its velocity-sensitive 61 keys, FM synth engine, and arpeggiator and sequencing options.
Cons: 
The synth architecture may seem slightly limiting to advanced sound designers/programmers. The wavetables are stored as presets, and there's no option to interpolate any two waveforms. Lastly, the sample management is not that great and could be worked upon.
Yamaha MODX6
MODX6 is an eight-operator synthesizer based on an FM-X engine. 
It combines AWM2 (Advanced Wave Memory 2) polyphony of up to 128 notes and FM-X (Frequency Modulation) of 64 notes. It has about 1 GB of onboard memory, volume sliders for all eight operators, and onboard effects like EQ, reverb, distortion, etc.
However, the highlight of the synth is the powerful FM-X synth engine that lets you produce sounds ranging from the classic 80s to the latest EDM genres, with great dynamic ranges, resolution, and strength. On the other hand, the AWM2 engine features eight synthesizers that are 100% programmable, along with eighteen types of filters, amplitude, pitch/filter envelope generators, 9 LFOs, and more.
Character & Sound: 
Thousands of recorded samples of real-world instruments are built into the synth, whether wind instruments like Concert Flute, Piccolo 2, Pan Flute, Whistle, etc. or harmonica, piano, organs, cellos, string instruments, guitars, saxophone, etc.
Key Features: 
In-depth sampling
The synth allows you to do detailed editing of the samples assigned to different keys. For example, by applying the note limitations, you can assign which samples trigger at what velocity range and MIDI range. Samples can be programmed to play at the different note and velocity ranges. In addition, you can change the ADSR, velocity curves, etc., of the samples.
High-level control and flexibility
The synth gives you access to a touch-screen which lets you control everything from the signal flow of the oscillators, modulators, filters, and effects to the nitty-gritty of parameters of these different controllers. You can control everything from sends, Mono/Poly playing, velocity responses, key assignments, and more.
High-quality effects
The amount and detailing of effects are overwhelming and more in-depth than any other plugin. Everything from Reverb (five types), Delay (nine types), Chorus, Flanger, Phaser, Tremolo, Distortion, Compressor, etc., is included in the synth, for which you can do and edit and manipulate each different parameter to enhance your sound design further.
FM-X engine
The eight oscillators can be fed into each other, and you can flexibly control the signal flow of what manipulates with a simple oscillator diagram. In addition, there are multiple FM algorithms that you can use to create interesting FM effects.
Pros: 
Its biggest pro is its affordable price, given its features, functionalities, and sounds. Secondly, it's extremely detailed, and it's evident that Yamaha has put everything into the sound engine and engine design. Plus, the motion sequencing with the lanes workflow, the modulation matrix, multiple LFOs, etc., gives you great scope for modulations.
Cons: 
There's less that you cannot do with the synth, as it's extremely versatile, but it also has a learning curve and takes time to get used to. The data encoders and touchscreen workflow may put some people off as we're used to fast and responsive systems. It's a complex synth, to conclude.
The physical controls are fewer, and the touch screen is not as high quality as compared to smartphones and tablets in today's day and age. You would wish it to be more snappy and responsive. Lastly, it doesn't have a piano roll-style sequencer or a MIDI file input option.
Roland System-8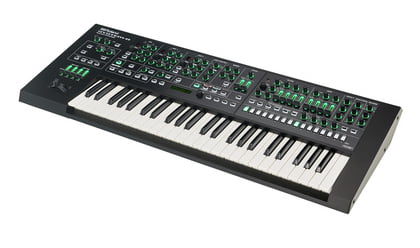 System-8 is based on the ABC (Analog Circuit Behaviour) synth engine.
It has two main oscillators, a third sub-oscillator, an LFO, an arpeggiator, a portamento, a pitch envelope, a filter section, amplitude ADSR, a polyphonic step sequencer with sixteen pads, a dedicated effects, and multi-fx section, and 49 keys of a piano. Plus, it has a great interface, the TR-REC, which is intuitive and simple.
Character & Sound: 
With JUNO, JUPITER, and JX sound engines combined with the FM, noise oscillator, and various waveforms, the synth can produce a versatile range of sounds. Its FM synth engine lets you create interesting bell, xylophone, mallet, saxophone, etc. sounds. It also lets you create modern sound designs for genres like Dubstep, Drill and Drum & Bass.
The harshness of FM and RM is combined with the warm and vintage textures of the polyphonic oscillators, coupled with high-quality and detailed effects like delay, reverb, chorus, flanger, etc.
Key Features: 
Plug-out
The synth has a plug-out engine and expandability to connect with classic synths like JUNO-6, JUPITER-8, and JX-3P, with down-to-circuit recreations and precise emulations of these classic synthesizers.
Great arpeggiator
System-8 has an arpeggiator with six modes and six steps of customization, such that you can set its time to triplets, eighth notes, sixteenth notes, thirty-second notes, and more. Using an arpeggiator, you get moving chords every time you press a chord and a hold switch/button on the synth.
Great connectivity
Apart from the three slots plug-out features, the synth has MIDI/USB and CV/Gate connectivity, 2 1/4″ I/O slots, 1/4″ headphones slot, etc., that lets you fit the SYSTEM-8 in your current rig, and also lets you monitor using different devices.
Pros: 
System-8 is a versatile synthesizer that does a great job of emulating classic synthesizers and producing high-quality sounds. You can up your sound design game by using it. It's a one-stop shop for most sound design needs. In addition, the connectivity, the 64-step polyphonic sequencer, and the vocoder are also some huge pros.
In addition, System-8 comes in form of plugin as well. You can find the plugin here and try it via Roland Cloud.
Cons: 
To utilize the vocoder, you cannot connect an XLR mic with the SYSTEM-8. Secondly, there aren't many patches in the synth, and the build is not of great quality, as most of it is made of plastic. In addition, a swing mode in the arpeggiator would have been great!
Commemorate (Get On eBay)
Yamaha DX-200
The DX200 stands out as a powerful machine in the Yamaha DX series, as most are keyboard-based synths.
It is a vintage hardware FM synth that combines the old-fashioned FM synthesis with editable parameters and tweakable knobs, hence increasing the scope & possibilities of FM.
Key Features:
Modulation Options
It contains LFO with six different waveforms (triangle, up/down sawtooth, square, sine, sample & hold), which we could assign to modulate the pitch, amplitude, and filter, combined with 2 ADSR envelopes to determine the graph of these parameters over time. In addition, the analog filter is available with the following slopes and bands: 24, 18, and 12dB low‑pass, band‑pass, and high‑pass. Apart from that, there's also a portamenti knob.
Advanced Sequencer
We can load up to four tracks with up to 16 steps on each track, on the step sequencer, with each capable of generating 3-4 events applicable to pitch, gate, and velocity. In addition, there are about 121 percussion, drums, and bass sound samples that can be applied to a step. You can also set the level and pan for each pattern you create.
Character & Sound:
FM synths are among the most heard sounds in 80s music across all genres, from pop, rock, RnB, etc. The DX200 is known for its distinctive FM-based sonics of clangy bells, upfront bass, punchy sounds, metallic texture, and unrealistic horns & strings sounds, marking the unique aural signature of frequency modulation. 
YAMAHA DX-200 // Factory Presets // Part 1 // 1-48 // DX200
Pros:
DX200 makes FM simpler by using editing knobs and also creates a unique stand-out sonic character that is different from other overheard synth sounds. The synth is fun to use as a hands-on sequencing workstation and can inspire creativity. Further, you can also load up, manipulate, and play around with DX7 patches. 
Cons: 
One can apply only a few limited effects to the sound, and even the equalizer is not directly accessible on the hardware. With the changing trends in the music industry, DX200 is not a timeless and versatile machine, but it's a decent tool to keep in your sound design arsenal. 
Conclusion
After discussing the above synthesizers and their best qualities/features, I hope it is clear to you exactly what FM synth you should go for. Although every synth has its strengths and weaknesses, the Clavia Nord Wave 2 is the most versatile synthesizer, as it has four complementary yet unique synth engines clubbed into it.
Nord Wave 2 is also great for piano players as it has 61 keys with aftertouch enabled and an expressive playing experience. Secondly, Hydrasynth is a great digital FM-based synthesizer because of its comprehensive wavetable sound engine and intuitive workflow.
Thirdly, MODX6 by Yamaha is great for samples-based sounds, and its high-quality FM synth engine. It's another versatile and feature-rich synthesizer. Lastly, System-8 is a great virtual analog simulation and has great connectivity & expandability. I hope the article was of help. Thank you for reading.
Shaurya Bhatia, is an Indian Music Producer, Composer, Rapper & Performer, who goes by the stage name MC SNUB, and is also 1/2 of the Indian pop music duo, called "babyface". A certified Audio Engineer & Music Producer, and a practicing musician & rapper for more than 6 years, Shaurya has worked on projects of various genres and has also been a teaching faculty at Spin Gurus DJ Academy.