This article looks at the top 7 bit destroying guitar pedals available on the market today:
2. Electro Harmonix Mainframe Bit Crusher
6. Alexander Pedals Syntax Error S&H/Samp. Crusher
Not usually used in most of a song's production, except for rare cases, a bitcrusher can add incredible expression to your sound by allowing you to control the sample rate and bit quality of any given sound. This ability allows you to recreate various nostalgic sounds ranging from vinyl scratch and gramophones to 16-bit and 8-bit video game systems.
A basic bitcrusher has two main ways that it manipulates sound. First, the crush knob controls the rate at which the sound is sampled per second. Usually, you will find that audio is sampled at 44.1kHz to give you clarity and allow you to hear the full richness of a recorded sound. You can use the crush knob to lower this rate and get a lo-fi feel from any sound you throw through it.
The bit depth knob controls the resolved quality of the produced sound. With it, you are lowering the sound wave's resolution, creating a very pixelated and often harsh reproduction of the original sound. These features allow you to crush the sound and seemingly travel back to an era when audio information needed to fit onto an 8-inch floppy disk.
Top 7 Bit Crusher Guitar Pedals 2023 for Lo-Fi Retro Vibe
1. Meris Ottobit Jr. Pedal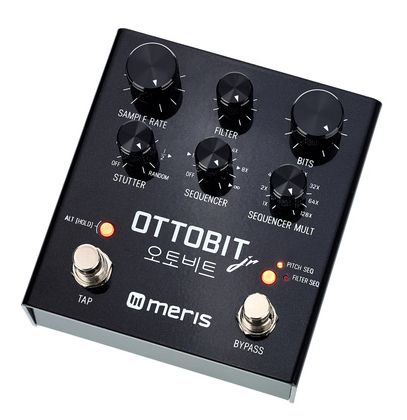 The Meris Ottobit merges a crusher, a sequencer, a filter and a stutter pedal into one great-sounding package.
This full-featured package includes a six-step sequencer that you can use to add to the sound you are hearing to create unique phrases that you can't get with any other bitcrushing box. In addition, that feature can be combined with a midi controller to save presets that you can recall on the fly.
Another great feature of this pedal is that you can use an expression pedal to control any of the knobs by themselves or in combination. This feature allows you to control the parameters hands-free and is very helpful in a live setting. 
Key Features:
Filter
A full low pass filter allows you to dial in the frequencies you would like to hear accurately. A feature like this is sought after and allows you to 

finely pair the sound with the instrument you use

 the pedal with.

Full Stereo In/Out


Experience a big, rich sound

 

with

 full TRS ins and outs.

 

Retaining the audio quality and stereo width

 in a signal chain allows for more flexibility in sound design, especially when using it with a synthesizer.

Stutter


Stutter effects create a 

chopped replication of the sound you just played

, repeated as often as you tell it. It can 

stutter the signal as it sounds naturally, up an octave or down an octave

. The rate is set by tapping the convenient tempo switch.

Sequencer


The sequencer has 

two knobs, one to control how many times it repeats a phrase and another to control the playback rate of the sequence. In addition, the tap tempo switch also easily controls the rate of the sequence.
Sample Rate / Bit Depth Reduction


With a 

crush of 24 bit – 1 bit

 and a 

sample rate control from 48 kHz – just 48 Hz,

 this pedal is no slouch regarding its ability to crush the bits. You can go

 from subtle and dreamy warble to complete destruction

 with the turn of a couple of knobs.
Meris Ottobit Jr Bitcrusher and Sequencer Demo
Pros:
This pedal is a full creativity-driven experience and has a far larger audio palette to work with than many other pedals in this genre. Built-in sequencer and stutter pedals offer a complete package that you can use to dial in that perfect crushed sound. 
Adding a full filter gives you many more options when matching the overall sound to the instrument you are trying to crush the sound of. Therefore giving you greater versatility than a basic selector switch.
Cons: 
The Ottobit pedal is not the least expensive option for bitcrushing out there. If you are not serious about sound quality and want a pedal to mess around with straight out of the box, this may not be the best option.
It may take more than 5 minutes of "playing with knobs" to fully realize how much you can get out of this pedal. With this much packed in, you can expect to sink some time in before you grasp its true power.
2. Electro Harmonix Mainframe Bit Crusher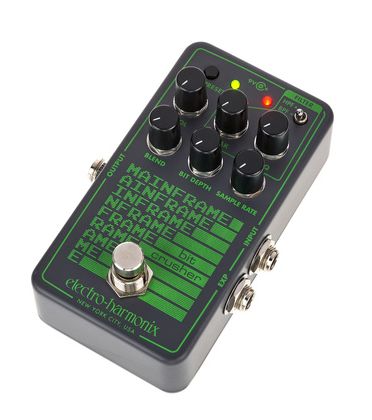 This EHX offering begs for added distortion.
Also offering a unique take on bitcrushing, the Electro Harmonix Mainframe has an ultra-dry sound that is controlled in a unique way. Input gain and filter strength can be individually controlled on top of the reduction and rate, giving you a sharp distorted sound that is all it's own.
It features a standard high, band and low pass switch that allows you to pre-set the filter according to the instrument you use. Add that to the full-featured filter knob, and you have a recipe for a level of compatibility above most other offerings.
Key Features:
Adjustable Filter


This option is always welcome on a bitcrusher as it allows you to 

fine-tune its compatibility with different instruments. 

A feature like this allows for

 more freedom with the artifacts the pedal is creating, 

giving you more options regarding the sound produced.

Plays Well With Others


Because of its powerful distorted qualities,

 this is a great pedal to add to your overdriven chain.  

The unique 

distortive qualities of the pedal sound musical

 and only add to an already distorted signal.

Blend Knob


Use this parameter like a 

dry/wet knob to dial in exactly how much of the effect you want to hear. 

This feature can produce some unique effects 

paired with an expression pedal.

Sample Rate Tuning Mode


Allows the user to 

set a sample rate that matches the song's key

 or 

continuously changes to match a particular part in a song. 

As a result, you will 

never be left guessing

 whether your effect sounds good in a particular part of a piece adding to this pedal's already 

broad musical qualities.

Programmable Preset


This feature helps you 

return to a sound you have manually saved

 so you can save it for later use. Having this during a live set is a game changer, allowing you to 

surprise the listener

 with a different sound at different points of your performance.

Sample Rate / Bit Depth Reduction


This pedal boasts a 

huge 24-bit – 1-bit crush and a rate reduction from 48 kHz – 100 Hz.

  It leaves no bit uncrushed and is useful when you want to squeeze the most distortion you can get out of this pedal.
Electro-Harmonix Mainframe Bit Crusher Pedal
Pros:
I feel like this pedal tops the list as the pedal with the guitarist in mind. The pedal shines when combined with other pedals in your chain, especially overdrive and fuzz.
The Mainframe's ability to save presets and use any combination of knobs with an expression pedal lends versatility as a live performance tool. You are getting a lot of pedal for the price here as it also has a high-quality buffered bypass and silent switching, adding to its use as a live performance pedal.
Cons: 
The pedal's heavy "distorted when crushed" sound isn't everyone's cup of tea, especially if you purchase the pedal to pair with a synth.  It's not the best pedal to try and dial in nostalgic digital recreations.  
The noise value can easily get out of hand and may be best paired with another pedal to get full use out of it.  It may come off as a one-trick pony in most instances that you would use it in, but it does perform that one trick very well.
3. Sonicake Wave Crush
Sonicake's smooth digital downsampler will crush your wave.
Wave Crush features a three-mode bit and sample rate reducer, allowing you to give your end product a distinct radio or gramophone sound.  These effects give you simulations of realistic lo-fi sounds adding to the amazing amount of work this tiny pedal can do.
Its simple interface and easy-to-understand layout lend themselves to plugging in and jamming immediately. This simple approach will please many people who don't have the time to dig through deep manuals to create the desired sound.
Key Features:
Three Mode Toggle Switch


Switch between Radio, Normal and Gramophone

 to enhance your sound in those regards. Normal is just a simple downsampled crush. These sound great at the default 44.1 kHz and full 16-bit depth, giving

 your clean tone a unique sound.

Mix Knob


This feature allows you to 

accurately dial in how much of the crush

 you want in your sound, allowing you to subtly sneak in some soft lo-fi for some unique flavor in your chain.

Small Size


This pedal is easy to 

fit into the chain on any board

 that you may have and will not add any weight to that stack of luggage you are dragging from the van to the stage.

True Bypass


Allows you to get a 

perfect clean tone while the pedal is off.  

Since 

this pedal starts at a 16-bit crush right from the get-go,

 this is a great added feature and allows you to play a clean and clear signal when turned off.

Simple Layout


You could 

skip the manual and get straight to shredding

 with this one. It won't take a sound engineer to crank this one up and get the 

full potential of the pedal within minutes

 of having it out of the box.

Sample Rate / Bit Depth Reduction


This pedal's initial 

16-bit starting point

 is a little different but gives you a unique sound from the moment you hit the foot toggle. After that, you can 

crush down to a respectable 5 bits, and it features a rate downsample from 44.1 kHz – 750 Hz.
SONICAKE Wave Crush Compact Bitcrusher / Sample Rate Reducer
Pros:
The Wave Crush is one of the easiest to listen to bitcrushers on this list. It produces a sweeter sound that allows you to use it in a larger part of a production without getting annoying.
The pedal is easy to set up and jam straight out of the box and the ability to do so will appeal to many impatient toy owners who want to get straight to the good stuff. I enjoyed the old-timey sound of the radio and gramophone effects and felt like this angle differentiates this pedal from the others.
Cons: 
It lacks many of the features of the previous two pedals we have reviewed, yet you will find that this is pretty standard on smaller pedals in general. The lack of a dedicated filter knob limits the creative palette and precise compatibility with this pedal.
Although this pedal comes with the ability to simulate radio and gramophone sounds, you may find it hard to dial in nostalgic digital recreations. The lack of this feature is only a problem if that is why you are looking for a bitcrusher pedal in the first place.
4. MOOER Lofi Machine 25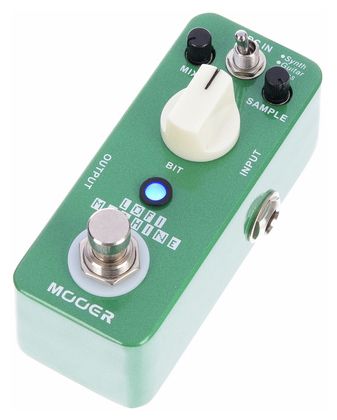 MOOER hit the nail on the head by recreating a soft, comfortable Lo-Fi sound.
This simple and easy-to-use box will warm your soul with its soft and subtle crush, lending itself to great versatility in your mix by never sounding obtuse or erratic if you don't want it to. There is something to be said about relaxing lo-fi jams that are hard to find in any other genre, and this pedal absolutely nails it. 
Its easy-to-understand filter switch lets you toggle effortlessly between the instruments you will use this pedal with the most. It features a low pass for bass, band pass for guitar and a high pass for synth lead.
Key Features:
Easy to Understand Three Mode Toggle Switch


Switching the filter between named Bass, Guitar and Synth

 

modes

 to enhance the compatibility with those instruments is a 

very intuitive plug-and-play mechanic 

that will never have you second-guessing where the filter needs to sit for the selected instrument.

Mix Knob


The ability to add 

just the right amount of effect

 is sought after in a pedal like this. With its ability to produce pleasant and easy-to-listen-to lo-fi, this feature gives you the chance to

 achieve the perfect layer of effect

 you are looking for.

Tiny Stature


This pedal is

 big on sound but not on weight.

 As a result, you will hardly notice the pedal is there when the time comes to transport seemingly every piece of equipment you own all at once.

Simple, Easy to Use Layout


This one also 

screams "play me" right out of the box.

 Its simplicity is a 

very guitar player-centric feature

 that many performers will appreciate. It may leave the synth player wanting a bit more, though.

Sample Rate / Bit Depth Reduction


The pedal starts crushing the moment you turn it on. With a bit depth of

16-bit from the get-go,

 you have the ability to 

squash that to 5-bit

 

and reduce the rate from 31.25 kHz down to 60 Hz.
Mooer - Lofi Machine - No Talking Demo
Pros:
The Lo-Fi Machine has an incredibly beautiful soft side that you can easily turn up to full scream without losing the output's harmonic strengths.  It is also the perfect pedal if you are into writing low bpm, easy to listen to lo-fi.  
Its intuitive design and easy-to-use layout will be a boon to those who just want to get to jamming.  You won't feel like you need to add any other effects, but a soft reverb or even adding a filter pedal for a full lowpass may be really good additions to this pedal's sound.
Cons: 
Although simple in design, if you have used similar pedals in the past, this one may throw you for a loop with the crush and bit knobs swapping places. The lack of a battery compartment may hinder its portability and is a feature I always look for in these ultra-portable pedals.
Although the filter selector does an ok job, adding a full-featured filter knob would have given the pedal a little more versatility when pairing with different instruments.  
5. CNZAudio SCB-10 Crush Bit
Simplicity is the name of the game with the Crush Bit from CNZ.
The Crush Bit is the only one of the simple designs to have the bit and crush knobs combined into one knob.  This does allow for the inclusion of a full low pass filter knob but at the sacrifice of some of the core sound manipulation.
The rest of the setup contains easy-to-understand controls.  For example, it includes a mix knob for adjusting the amount of effect and a standard low pass, band pass and high pass filter switch at the top.
Key Features:
Unique Knob Design


It feels strangely intuitive to have a 

blended bit and crush button that works from right to left, 

but it may take some getting used to. You can think of it like you are 

dialling back

 the quality of the sound.

Dedicated Dry/Wet Knob


The inclusion of a mix knob is always a welcome addition, as it 

gives you more versatility in the final output.  

This aids you in finding that perfect sprinkling of effect that helps you get 

closer to the sound you are looking for.

Presets


Switching back to your previous setting on the fly gives you more flexibility when playing live. Not every passage in a song will ask for the same effect, which also helps 

keep the sound from becoming boring

 to the listener during a performance.

Filter


Creating a broad range of tones is easy when you have the 

option to control the size of the filter yourself.  

I feel like the addition of this one feature is what 

sets this pedal apart from others

 in the micro category.

Micro Design


Don't let the diminutive size fool you. At 

only .5 lbs,

 this pedal can put out a really large effect, fit into your busy pedal board chain and never weigh you down when it comes time to haul your gear.
Pros:
While giving up some of the creativity of having dedicated bit and crush knobs, the Crush Bit offers a full filter giving the user a different option regarding micro bit crushing pedals. The ability to save a preset was also lacking in other models in this genre.
These combined features make the pedal seem like it is solving the same problem from a different angle while simultaneously being a more versatile tool for live performances. Its simplicity will be a boon for many guitarists that want to jam immediately after unboxing.
Cons: 
Blending the bit and crush knobs can be both a blessing and a curse, removing some of the audio creativity you will find in other options on the list. This pedal may feel like it lacks a little too much in the palette for a true audio designer looking for a specific sound for a piece of music.
At times it felt like you only had two options when it came to crushing the bits, clean and distortion. This lack limits the use of the pedal and thus will not appeal to die-hard sound designers.
6. Alexander Pedals Syntax Error S&H/Samp. Crusher
Discontinued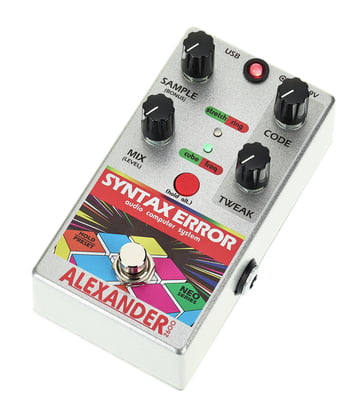 If you are looking for creative expression in a pedal, look no further than the Syntax Error from Alexander.
This feature-laden device can spit out some real eye-openers. With the inclusion of a ring modulator, LFO and sampler, the Syntax Error will lead you down a digital rabbit hole of creativity. 
Adding to the sound manipulation powers is a full 16 preset bank. These presets can be controlled via an expression pedal or a midi controller, giving you the option of having the presets blended between or switched between depending on what the song calls for. 
Key Features:
4 Modes


The 

Stretch, Cube, Freq and Ring effects all sound completely different.

 Having 

more than one way of designing sound

 at your disposal gives this pedal a broader palette for finding that perfect effect for a piece. It's like having four pedals in one!

Expression Pedal Compatible
The expanded expression pedal compatibility in this pedal allows you to blend between presets, giving you more than just the basic tweaking of knobs but a whole new way of moving from one effect to another.
Full Midi Capabilities


When you pair a midi controller with this pedal, you unlock the ability to have a 

full 16 presets

 and swap between them at will. You can also use midi to control any of the knobs on the device, which is a 

great addition for sound designers and synth players.

Ring Modulator, LFO and Sampler


Dipping its toes into synthesizer territory, 

having advanced abilities like this

 will open the gates to a complete sound design experience. This pedal will allow you to venture closer to creating just about any digital sound your heart desires. 
Alexander Pedals Syntax Error (demo)
Pros:
This great-sounding pedal will leave you lost for hours on a creative journey. Including four modes with custom tweaking parameters expands what is possible with a bitcrusher pedal. The Syntax Error will also fit right in with your other electronic instruments, such as synths and drum machines.
Of course, with massive creative abilities and a killer sound, you would expect a hefty price tag.  This pedal doesn't disappoint though, taking the top spot on this list for the amount of pedal for dollar spent.
Cons: 
It may turn off players who aren't looking to dive deep on their journey into sound creation. This pedal will require a bit of manual reading and tinkering with the options to get fully familiar with it. 
You will also want to take a little time to learn all of this device's expression pedal and midi capabilities, but they are there for those who want to expand upon the already amazing effects of this pedal. Complex modes and parameter tweaking will not appeal to some guitarist that want an easy to use jam box.
7. Red Panda Bitmap V2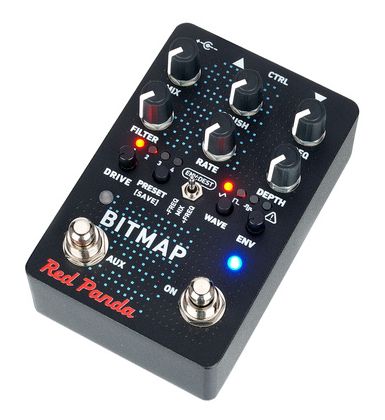 The Red Panda Bitmap V2 may be the most fully featured bitcrusher on the market today.
The sheer amount of ways you can manipulate the sound with this device will blow you away. You have a modulator with a three-waveform selector, full low pass filter, adjustable wavefolding and waveshaping, and envelope control along with your standard bit and sample rate reduction.
You also get four presets built in with the option of up to 127 presets when you pair it with a midi controller. So if you are into expression pedals, foot switches or midi control, this pedal will not disappoint, as each can be customized to control different pedal features.
Key Features:
Modulation 


With an LFO on board, you can 

choose between 3 waveforms

 to warble and warp your sounds. These include a 

triangle, square and random waveform,

 rounding up some of electronic music's most popularly used waveforms.

Full Low Pass Filter


The filter knob adjusts the cutoff on the 

four-pole lowpass filter.

 You can 

further edit the resonance using a midi controller or the web editor

 that allows you to fine-tune the midi control parameters for micro-management of your custom sounds.

LFO Control


The 

rate and depth knobs control the parameters of the LFO

, while the wave button allows you to switch between the previously mentioned waveforms. The LFO cannot only 

modulate the sampling rate

 but can also be used to 

modulate the filter or the overall mix.

Wave Shaping & Folding


Now we are getting into synth territory! In waveshaper mode, the depth knob controls the various shaping tools that include a 

wavefolder for threshold,

 

a wave window for positioning the waveform

 and a 

waveshaper for controlling the curve

 of the signal. The wave mode you are in is easily 

communicated through the LEDs

 on the panel above the drive knob. 

Drive


The input drive is 

easily controlled through the drive knob

 and allows you to 

boost the signal into distortion

, giving you even more options when creating the perfect 8-bit crushing sound from years past.

Bit Depth / Sample Rate Reduction
With the ability to smash the bits from 24 down to just 1 with the crush knob and drop the rate from 48 kHz to 100 Hz with the frequency knob, this pedal has the power to take you from controlled and grungy down to crushed insanity.
Red Panda Bitmap 2 Bitcrusher
Pros:
As far as sound manipulation goes, this one is really hard to top. The audio clarity and ability to manipulate sound are something you must hear in person to truly appreciate.
This pedal is stacked with features to the point that it is difficult to summarize for a short review like this, and I know there are a lot of sound designers out there that are looking for the kind of power a pedal such as this can afford you. This pedal also features a solid build that will stand the test of many live gigs.
Cons: 
Of course, with all of the features and flex comes the highest price out of any crushers on this list, but I think that is to be expected once you give it a listen. Its almost confusing amount of buttons, switches and multi-purpose knobs all come with their own learning curves.
It will be a user manual adventure with this one, but getting to know this pedal inside and out will net you grand rewards when finding that unique sound for your project. I also feel like this is one of those pedals that wasn't created solely with a guitarist in mind but one made for a true sound designer, which could be a pro or a con, depending on what you are ultimately after. 
Conclusion
Bitcrushers come in many forms, from the quick and easy-to-use to audio scape designers that will take hours to master. Of course, they aren't all for everyone, but I can say that there is one for anyone wanting to delve into this quirky and often humbling sound genre. 
There is nothing like the ability to harness pure nostalgia by bringing the listener back to a simpler time when we struggled to cram as much information into the smallest package possible as we were growing alongside the abilities of our computer software. From designing a new and unheard sound to adding a subtle layer to your distortion or delay, once you get a pedal off this list, you will surely be back for more!
Integration is a music website focused on audio advice, how-to, tips & tricks and best plugins (free & paid). Read More…