The fact that theses synths are small doesn't change the fact that they come with the big analog sound. And since they are small, they not only save you the space but also some money!
We listed products from brands like Moog, Roland, Novation, Behringer, Korg to Arturia, and other great brand as well, hope you will find this post helpful so that you could decide if it's something for you.
Let's dive in!
The 20 Small Hardware Synths To Save Space 2023
1. Moog Minitaur
The Miniataur is a compact analog bass machine that can also integrate with your DAW.
It's the latest addition to the Taurus family of analog bass by Moog and is great for performing live and using it in a studio by integrating it with a computer. Unfortunately, it doesn't have a dedicated keyboard, so it needs an external MIDI keyboard player to use as a LIVE instrument. However, it's a great tool for creating huge, upfront, and analog bass sounds.
Key Features:
Sound engine
Miniature starts with two VCOs which can be mixed in different proportions to create the sound, which you can switch between square wave and saw waveforms. Then, there's a filter section, an ADSR envelope section, and an LFO modulation section to shape the sound further. Finally, its polyphony is another feature that needs to be highlighted.
Software control
The free software accessible with the Miniataur allows you to access various hidden parameters and store & recall 128 presets. Further, the DAW integration allows you to access a new possibility of sonic shaping & control. You can control every onboard control via MIDI.
Huge sound in a small package
The bass device can fit into your backpack, it's so small, yet it sounds massive. You can easily integrate it into a keyboard stack, DJ rig, or studio room. It's also extremely light, which makes it highly portable and easy to use.

Connectivity


The backside of the device includes a headphone Jack, a quarter-inch plug, an audio Jack out, external audio input, and 4 CV inputs. In addition, there are USB type B and MIDI connectivity available.
Pros:
Some features are not available on the main panel and can only be accessed using the editor or shift functions. Apart from that, the instrument is quite versatile, as it can produce a wide range of bass sounds and can also be used to create fat and upfront lead sounds. In addition, the DAW and VST/AU compatibility expands its horizons and makes it an even more attractive instrument.
Cons:
It lacks a keyboard and hence can't be used as a performance instrument, and it could have expanded to more than being just a bass instrument, as it has great functionality. Without the MIDI CCs and editor, you can't use the device to its fullest.
2. Erica Synths DB-01 Bassline

(Analog Synth)
Erica Synths DB-01 is an analog monophonic synth with the prime objective of being the ultimate bass synth. 
It's a powerful mono synth with a transistor-based gritty sub-oscillator, along with overdrive, detune, and analog delay knobs/effects that can further make your sounds punchier and huge. The sound is massive, and you get FM and a noise oscillator to spice things up. It has snappy, highly responsive, easy-to-use envelopes and LFOs for plucky sounds and instant modulations. 
Key Features:
Detune knob
The detune knob is not what you think it is; it is two analog bucket brigade delays, each with their independent LFOs that move the delay speed and creates an interesting pitch-shifting effect, wobbly textures, and thickness in the bass sound. That also adds some interesting harmonic structure to the sound, making the sounds bigger and more upfront, and it works great in subtleness.
Sequencing workflow
The sequencer allows you to lock parameters to the lanes of the sequencer. So, for example, you can add a different cutoff frequency at each step of the sequencer. That can create some lanes of automation and result in some unique & interesting movements.
Analog feel
The voltage-controlled oscillator, adjustable between saw, square, and triangle waves, and the transistor-based sub oscillator result in some great-sounding analog warmth to get started with. In addition, the synth sounds fairly analog because of its Polivoks-inspired filter, analog drive, and BBD detune effect.
Other features
The 64-step sequencer with an arpeggiation option, mod slides, and per-step pitch envelope is a great feature too. Further, the LFO has varying wave types and can be synced to the tempo. Lastly, you can use a multidirectional analog clock, and triggering with MIDI and CV/Gate is also possible.
Pros:
Overall, Erica Synth DB-01 is a powerful bass machine and sound design tool, with commendable analog circuitry that lets you create gritty and punchy bass lines, and one can also sequence or program funky bass movements. MIDI and CV/Gate connections are huge pros and allow us to use it as a monosynth too. 
Other huge pros are the FM and overdrive controls that let you make aggressive bass sounds and even upfront & punchy lead sounds.
Cons:
Except for the master volume control, which is hidden in the settings menu, the synth has a few more gaps. One of which is its envelope which is too basic, and another is that you can't save presets on it. A screen giving some visual feedback could have been a good addition to the synth. 
3. Roland Aira Compact J-6 Chord Synthesizer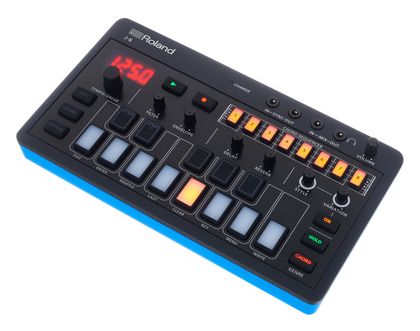 The Roland AIRA Compact J-6 is a synth sequencer designed to help you effortlessly create loop-able chord progressions to simplify your songwriting process. In addition, they offer a range of features to help you get the creative juices flowing and get the most out of your creativity.
Roland's AIRA Compact J-6 is built for playing chord sequences. You will have access to sound banks, a fantastic chord library, playful and fun styling options to create dynamic progressions, and various patterns to get you started.
Key Features:
Preset Soundbanks


You will have access to eight different sound banks, each filled with eight different sounds, making up sixty-four preset sounds to start your J-6 journey. In addition, each sound is 

based on the iconic JUNO-60's voicings

.

Preset Chord Library
Y

ou will have a hundred sets of chords at your fingertips with up to twelve chords per set. 

Each set is comprised of chords for a specific genre

. The genres range from jazz, RnB, and blues to house, trance, and synth-wave. Roland has even included chords for cinematic songs. Overall, there are roughly seventeen different genres and various genres to choose from. 

Chord Style
A

longside easily playing chords based on genre, you can adjust the style used to play the chord. By adjusting the style, you can add flair to the chords played. There are

up to nine different styling options and twelve variations for the first five styles

. The style options include arpeggio variations, rhythmical timing options, and simple and rhythmic chord strumming.

Filter & Effects


The Juno-6 is rather barebones for filtering and effects offered. The lack of complete control over the sound shows 

they have been built more for musicians and less for sound designers

.

You will have access to a simple low-pass filter to control the brightness of the chords, a resonance control for accenting the filter's cutoff point, and an envelope control to adjust attack and decay/release time. 
Pros:
The chord library and styling options are great for simplifying and sprucing up the chord progression creation process or just stepping out of the box you may usually place yourself in when creating music.
Cons: 
Some may find the sound design and sound bank options limiting, in which case it would be better to look for something that offers more of a DIY approach to sculpting sounds.
4. Modal Craft Synth 2.0 Portable
Modal Electronics is a company that creates fairly powerful synthesizers, and their CRAFT synth is no exception!
Modal's CRAFT Synth 2.0 is a compact monophonic wavetable synthesizer that offers eight adjustable oscillators split into two WAVE groups, a variety of effects modulation, envelope generators, filters, and an arpeggiator.
Key Features:
8 Adjustable Wavetables
When deciding the tone, you will have up to eight banks of five wavetables for the first wave dial. You will have up to nine banks for the second dial. Each bank contains a handful of unique waveforms, from standard audio waveforms to mathematically-generated, waveforms from the Modal 002 synth and waveforms from an assortment of formants and vocal sounds.
2-Pole Resonant Filter
The chosen wavetables' tone can be adjusted further using the resonant filter. You can choose to filter the tone using a low-pass, band-pass, or high-pass filter. By default, the filter uses a low-pass, and as it is turned clockwise, the filter changes to a band-pass filter at the midway point and, finally, a high-pass at the maximum setting. 
Four-Stage Envelope Generator
You can use the envelope generator to adjust the attack, decay, sustain, and release of the filter, amplifier, or modulator. Each EG can be adjusted independently or simultaneously, depending on the settings used while adjusting an EG.
Sequence Arpeggiator
You can use the arpeggiator to create a variety of arpeggiated sequences. You can either use the sequencer to input the pattern you want the arpeggiator to use or play the sequence yourself, and the arpeggiator will learn and apply that sequence.
Pros:
The CRAFT synth offers astonishing functionality and potential for such modest size. You will have almost complete control over the sound, particularly if you use the companion app for tonal tweaking.
Also, multiple CRAFT synth units can be chained together to turn this monophonic synth into a true polyphonic synth.
Cons: 
Powering via the micro USB connection can introduce noise to the signal. To get around this, it is recommended to use the battery power route by inserting three AA batteries into the allocated compartment within the device's base.
The biggest drawback would be the unreliable build. The interface has a penchant for being unreliable, with certain dials and features not working. To get around this, you can rely on the companion, app-which does offer a more intuitive interface to configure the synthesizer. Lastly, the eight-key keyboard is limiting, so connecting the device to a controller is recommended to get the most out of them.
5. Behringer TD-3-MO

(Desktop Synth with Analog Circuitry)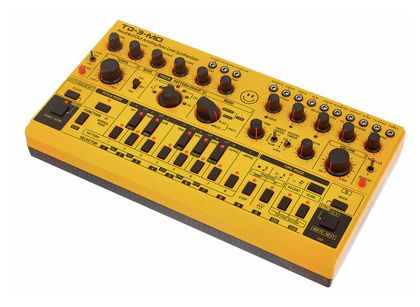 The TD-3-MO is a monophonic, analog bassline synthesizer.
It offers a heft of new features over the TD-3 that allows more envelope control through additional attack and decay dials, musical expression with the sequencer through their slide and accent controls, a thicker tone through a sub-oscillator, and a variety of CV, gate, and filter inputs and outputs.
Key Features:
Single VCO
The VCO has a three-way switch for switching between two waveforms and an off position. You can use either a biting sawtooth or a hollow square wave to form the basis of your bass lines. Also, you can add a sub-oscillator with a 3-pole switch for the level that plays one octave below a sequence.

4-Pole Low Pass Filter with Keyboard Tracking


The low pass filter attenuates frequencies above the cutoff point by 24 dB per octave and has a comprehensive range, extending as low as closing the sound off completely to roughly 5 kHz for squealing runs. Moreover, the filter does track the keyboard, so the filter's cutoff shifts depending on the note, which gives bass lines a slightly more natural characteristic.
16-Step Sequencer
The sequencer has an adjustable step range that reaches a maximum of 16 steps in a sequence. You can set the timing for each step to either a sixteenth note, to tie sixteenth notes, or for a sixteenth note rest. In addition, you will be able to add accents and slides to the individual notes in your loops.
Track & Pattern Modes
Similar to the TD-3, the MO has four selectable pattern banks with individual A and B banks; overall, you can store up to 16 patterns on the device. Once you have your selection of patterns, you can create a sequence of patterns changed together in track mode. Seven tracks are available, each corresponding to a particular pattern bank. 
Pros:
They feature great control for creating musical passages. Steps in a sequence can be accented for a more dynamic sounding pattern. Moreover, the decay for accented and normal steps have separate dials, so that you can create a fluid distinction between the two.
Unlike the TD-3, you will have access to a filter FM input with dedicated control for adjusting the amount of frequency modulation for the filter.
Cons: 
The manual provided lacks in-depth explanations for the controls. It gets the job done if you just want to know what the various controls are. But, if you want to know what the controls do, you may find the explanations underwhelming.
6. Korg Volca Bass

(Analog Synth) 
Volca Bass is a compact and analog bassline groove box for all your bass needs.
Featuring an Electribe-inspired sequencer and a synth engine capable of creating anything from fat hip-hop sounds to funky & danceable basslines, the Volca Bass is a highly versatile synthesizer. In addition, the overall interface and workflow are intuitive for even beginner music producers, composers, and performing musicians. 
Key Features:
Analog Sound Engine
It features three oscillators routed into analog filters with crisp and bright resonance, analog warmth and fast plucky response, voltage-controlled filters, oscillators, amplifiers, envelope generators, and LFOs.

Sequencing engine


The Electribe series inspires the loop sequencer. In addition, you can edit the step functions for making creative and groovy bass lines with unique rhythmic compositions. Further, the slide control is great for creating acid house and other similar genres.
Ease of use
The self-tuning control creates convenience for tuning the natural pitch drift of an analog synthesizer. Then there are sync options available, battery-powered functionality, and a built-in speaker, allowing you to use the instrument anywhere you want.
Pros
It's one of the best bass-focused pocket-size sound design tools, which is feature-rich and simple. Its absolute analog texture and versatility make it a great instrument for creating bass, lead, pluck, and various other sounds. 
Cons:
There's no way to create automation for filter cutoff and resonance. It's limited when it comes to sonic range, and is not a versatile or one-in-all bass instrument.  The unconventional keyboard may take some time to get used to as it's too sensitive to touch.
7. Arturia Microfreak
The Arturia Microfreak blends wavetables and digital oscillators with digitally-controlled analog filters and a lot more sound design capabilities in a very compact and unique packaging. For example, it has a one-of-a-kind poly aftertouch flat keyboard with only two octaves, 16 different oscillator modes, five switchable sound engines, and Noise engineering-based oscillator modes.
Arturia offers companion software for preset management and more control on the device. One can also connect a larger LED/LCD screen to visually monitor the sound design process.  
Key Features:
Futuristic design
Microfreak features a useful and visually pleasing OLED screen that provides good visual feedback for the selected parameter, preset names, waveshape changes, etc. In addition, it has a matrix knob that lets you assign the target and source for modulations (like Envelope, LFO, CycEnv, Press, Key/Arp, etc.).
12 Oscillator Engines
Arturia has packed twelve sound design engines, including wavetable, virtual analog, FM, Waveshaper, Formant, Additive, Modal, Chords, Speech, Karplus, Formant Engine, and Modal resonator. Furthermore, for each of these, the timbre, shape, and other characteristics of sounds can be edited.
The All New Touch Surface
The design team behind Microfreak deserves full points for innovation as they have created this sensitive touch keyboard, which you could play faster than a regular keyboard. However, it could take some time to get used to it if you have the habit of playing on a regular keyboard.
Pros:
Microfreak is priced at about $300, which is a great price point, given the value one can derive from this device. Next, the chords oscillator is an interesting feature that you can use, which gives a four-voice chord as its output, for which we can select the chord we want to output using the wave knob, and the Timbre knob could select the inversions. 
With so many different sound engines, the synth serves multiple synth purposes. We can easily switch between these different sound design algorithms, which is great for the creative aspect of it to inspire new ideas, especially during creative blocks. Further, the rear of the machine offers a wide range of connectivity, including MIDI, USB, CV out, Gate out, Pressure out, and Clock in/out. 
Cons: 
There's no external audio input, which is a shame because the analog filter is really good and could have been used on different samples and recordings. Moreover, the build quality is not great due to its plastic packaging and fragile keybed. Finally, it sounds too "digital" sonically, given it is primarily a digital synthesizer. 
8. Behringer Crave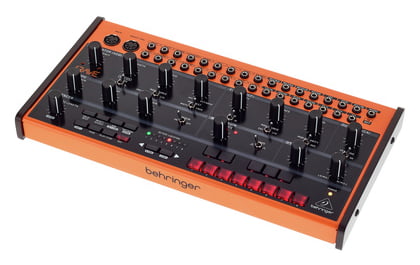 The Behringer CRAVE has been designed to emulate the sounds of synths from an era of iconic synthesizers. They use a ladder filter based on Moog's 24dB ladder filter. And they sonically pay homage to Sequential's influential Prophet-5.
Behringer's CRAVE is a semi-modular monophonic synth. Despite being monophonic, they can be chained to additional Crave units for up to 16-Voice polyphony.
In terms of features, you will have a single VCO, a VCF, an LFO, and an EG at your fingertips. To top it all off, you will have plenty of patching options since they have up to 18 inputs and 14 outputs.
Key Features:
Voltage Controlled Oscillator (VCO)


A single oscillator is available for creating tones. The Voltage Controlled Oscillator can be set to either a pulse wave or a reverse-sawtooth wave. You can adjust the pulse width to create a square wave when the pulse wave is selected. In addition, the tone can be adjusted up or down one octave.
Voltage Controlled Filter (VCF)
You can use the Voltage Controlled Filter to create your desired tone by using a high-pass or low-pass filter that attenuates frequencies by 24db/octave. The low-pass filter removes frequencies above the cutoff frequency, creating a darker/lower tone. The high-pass filter removes frequencies below the set cutoff frequency, creating a thinner/higher tone.
Modulation
A controllable Low-Frequency Oscillator allows you to modulate the main tone of the synth and the filter used to shape the wave. The LFO section only allows control over the LFO's oscillation rate and the waveform shape used. The two waveforms offered are a Square wave and a Triangle wave.
Envelope Generator
The envelope is used to control three of the four waveform sections. You will be able to adjust the attack, which is the initial start of the tone up to its loudest point, and the decay, which is the time the tone takes to lower from its loudest point to a consistent volume and sustain, which is the consistent volume until fading to silence. 
Pros:
Behringer's CRAVE offers exceptional versatility in a single package, especially if you can make the most of its available features. The oscillator can create a various deep to piercing tones with its flexible filtering options.
Cons: 
As for downsides, the manual included can be difficult to decipher. If you struggle, you can leaf through the Mother-32 manual since the two synths operate similarly.
Like a few synths on this list, they do not offer a ¼" Jack output connection, so you will need an adapter for when you want to send the output to any outboard gear.
9.

IK Multimedia UNO Synth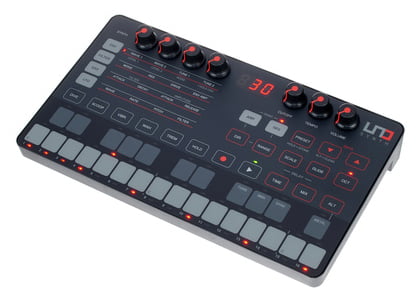 IK Multimedia has created a David-sized synth with Goliath-sized potential with the UNO Synth. The bite-sized device offers plenty of functionality for a synth within its price point and is highly recommended for any synth lover.
The UNO Synth is a true analog monophonic synthesizer that features two Voltage Controlled Oscillators to adjust the waveforms created, a noise generator, a filter, a VCA to control output, two envelope generators, and a low-frequency oscillator for modulating the waveform.
Key Features:
Two Wave Voltage Controlled Oscillator (VCO)


The two oscillators can sweep between a triangle, sawtooth, square, pulse waveform, or a combination.

You can adjust the square wave's width from fifty percent at the standard square wave setting to ninety percent at the pulse setting

. Alongside altering the waveform of each oscillator, you will be able to adjust the tuning of each wave independently and mix in a noise generator. 
Low-Frequency Oscillator
The low-frequency oscillator has seven shapes for modulating the output's tone and a rate modifier to adjust the oscillating speed. You can set the LFO to produce sine, triangle, square, rising sawtooth, falling sawtooth wave, random waveforms, or sample and hold. 
Arpeggiator
You can use an arpeggiator to play an arrangement of notes that make up a chord or to arpeggiate a note using multiple octaves. In addition, the arpeggiator can be set to play using specified variations: upward, downward, up-and-down, up-and-down-repeat, down-and-up, down-and-up-repeat, random, as-played, two-times-up, and two-times-down. 
Range of Selectable Scales
The UNO Synth can be set to play each note on the keyboard in a preset scale without knowing the notes that make up a particular scale to maximize your musical ideas. The scale control offers 13 selectable scales ranging from the standard chromatic, major, and minor scales to the exotic, Hungarian Gypsy, and Japanese.
UNO Synth Editor
IK Multimedia offers a standalone application and DAW plug-in for their compact synth that allows you to effortlessly adjust parameters using either an iOS device, Mac, or PC. Outside of the standard controls offered on the synth, the app adds extra controls to fine-tune the tone further and easily save presets. 
Pros:
The device is small, lightweight, and portable. They can be powered by a USB or four AA batteries inserted into the device's base. They offer a hundred presets to sift through to whet your synth palate, and you can use eighty of those presets to store your musical creations.
In addition, you will have a sixteen-step sequencer available to record loopable passages and phrases. You can use the sequencer to record in real-time or in steps. Once a pattern has been created, you can use alt recording to alter parameters for each step while the sequences play back.
Cons: 
The companion application can save patches to your mobile or desktop device. However, only one patch can be saved and loaded at a time, making transferring whole batches of patches a tiring affair.
Especially when looking into downloading third-party patches since if the batch covers all eighty tweakable patches, you would need to load each one individually up to eighty times. In addition, the USB connection for powering the UNO Synth can create a noisy output.
Therefore, IK recommends using a USB isolator when connecting the synth to a device. Lastly, the companion app is only available on apple based mobile devices.
If you use an iOS device, you can get the most out of the UNO when using it on the go.
10. Korg Monotron Duo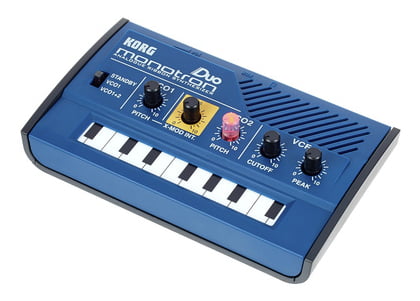 KORG released their first pint-sized analog synth in 2010 and have, a few years later, added to that collection with the Monotron Duo. They offer features similar to the original Monotron and a few welcome changes that make them a great addition to any studio.
The KORG Monotron Duo is a monophonic analog synthesizer that offers two VCOs, pitch control, cross-modulation, a VCF, and scale quantization.
Also, the unit is powered using two double-A batteries and has a 3.5mm aux input, a 3.5mm headphone jack, and a built-in speaker.
Key Features:
Ribbon Controller Keyboard
Much like the original KORG Monotron, the Duo features a ribbon keyboard. The keyboard covers just over an octave of notes and has an added feature of quantizing the notes to three standard scales and a continuous scale using a small button on the rear of the chassis. You will be able to quantize the keyboard's notes to a chromatic, major, and minor scale. 
2 Voltage Controlled Oscillators
You can use a single or a duo of oscillators to produce sound. Similar to the original Monotron, the housing features a three-way switch. The switch allows you to either bypass the device, use a single oscillator, or use both oscillators together. The oscillators produce a square wave with a touch of sawtooth to give the tone some grit. 
Cross-Modulation
The two voltage-controlled oscillators also allow a controllable cross-modulation effect initially found in their Mono/Poly synthesizers. The X-Mod control adjusts the intensity of the cross-modulation. You can add a biting distortion to the tone at low levels, and at high levels, you can expect an FM synth-style tone.
Voltage Controlled Filter
The filter available is the same filter used in KORG's MS-10 and MS-20 semi-modular synthesizers. In terms of controls, they are more spartan than other synths in today's article, but the filter is fantastic nonetheless. You will be able to control the filter's cutoff frequency and the cutoff frequency's peak emphasis. 
Pros:
The scale quantization makes playing on the small, recessed ribbon keyboard much easier, especially if you wish to play lead lines. In addition, a 3.5mm aux input allows you to use the Duo's filter for any outboard audio and send it back to a console using the 3.5mm headphone jack.
And lastly, since two AA batteries power them, they are incredibly portable, making them great for tinkering on the go.
Cons: 
The built-in speaker cannot reproduce the sound effects effectively, so it is highly recommended you connect it to an external speaker system or use headphones. Otherwise, you can expect a tinny output. Also, an LFO is not offered, limiting the modulation possibilities.
11. Moog Subharmonicon
Moog has stepped into the arcane world of complex rhythms with the Subharmonicon. These rhythm-focused synthesizers reward exploration and provide plenty of inspiration along the way. Read on if you are looking for a unique chord or percussion-focused synth.
Moog's Subharmonicon delivers spellbinding polyrhythmic and subharmonic tones all within a compact, Moog vertical tiered rack and Eurorack compatible casing. In addition, it offers a healthy amount of modular patch points and a tremendous amount of character that is great for accompanying a variety of synthesis setups.
Key Features:
Six Oscillators




Up to six oscillators build the tones generated. 

Two oscillators form the basis of the tones, while up to four sub-oscillators add depth and harmony.

 The main oscillators have a four-octave range—from middle C to C at the 8th octave—and are accompanied by two sub-oscillators each. Lastly, you will be able to set each oscillator to output one of three waveforms: a square wave, a sawtooth wave, and a pulse wave accompanied by sawtooth waves.

Interval Quantization




The oscillators share a quantization control. You can use the quantization parameter to automatically set the frequency of the oscillators to the intervals of a scale. The four quantization settings are 

Chromatic Equal Temperament

, 

Diatonic Equal Temperament

, 

Chromatic Just Intonation

, and 

Diatonic Just Intonation.

 

Chromatic quantization limits the interval to eight steps, and chromatic limits the interval to twelve steps.

Two 4-Step Sequencers




Each core oscillator is hardwired to its own four-step sequencer

, i.e., oscillator one is connected to sequencer one and vice versa, and provides the basis for which you can create your rhythms. The dial for each step controls the pitch of the step. 

Four Polyrhythm Controls


The polyrhythm features take the set tempo and divide it by a specified value between 1 and 16. Then, the rhythm generator layers the divided rhythm over the chosen sequencer to create a complex polyrhythm. You will be able to lay four separate rhythms over either sequences 1, 2, or both.
Pros:
Since they use an analog audio engine, the sequences sway and drift organically with each cycle. As a result, no two playthroughs will sound the same, which gives the Subharmonicon an authentic characteristic.
In addition, the clock generator can receive and output a clock signal to sync external hardware.
Cons: 
They do come with a steep learning curve, so you will need to take the time to view tutorials and flip through the manual a few times before you can summon the mystifying rhythms contained within.
Unfortunately, you won't be able to save presets, so if you come across any fantastic tones while exploring, you will either need to use Moog's Patch Sheets or take a photo of the interface for future reference.
12. Roland TB-03

(Bassline synth)
Roland TB-03 is a recreation of the classic TB-303 Bass Line Synthesizer. 
Roland has recreated the single octave TB303 without changing its layout control and keeping the sound intact with its futuristic ACB (Analog Circuit Behaviour) technology, which authentically mimics the original synth, and has added some new features to it to make it fitter for the modern use. For example, it has a 4-units LED display for better visual feedback and more efficient programming.
Key Features:
Effects
It has onboard digital effects like overdrive and delay that lets you add a new dimension and depth to the sound, so they can be more upfront and easily fit the space. The overdrive is a single-knob effect that lets you control the intensity of the effect using the knob, and delay uses time and feedback knobs to set the effect right.
Studio expansion
The synth is not just for live performance but can also be used as a great instrument for studio purposes; with its MIDI and USB ports make it act like a sound card and can also be used to transfer signals to the computer or the interface.
Ease of use & portability
It's the perfect bass instrument for touring as it can operate on 4 AA batteries and be powered via USB. In addition, it also has a mini speaker on it, for instant inspiration and feedback. Further, the hands-on control over parameters like cutoff, resonance, envelope, etc., gives you great command and expression with the sounds.
Programming capabilities
You get a built-in sequencer that can switch between write and play modes. Writing modes are also available for time, pitch, and step expressions. Further, the pattern creation features, tempo control, overdrive and delay effects, and the LED display contribute to its efficient programming.
Pros:
Its connectivity is also open to external analog gears via its CV/Gate output, by which it can command, program, and sequence other instruments. Lastly, it has a high-quality sound, compact packaging, flexibility, portability, and a decent overall build & workflow.
Cons:
It lacks a real-time recording mode and a power supply. Apart from that, it's pricy and unnecessarily small.  Lastly, you cannot control it with an external device.
13. Arturia – DrumBrute Impact (Drum Synth / Drum Machine)
DrumBrute Impact is Arturia's second analog drum machine after the bigger sibling DrumBrute, although "sibling" is a pretty generalized term to use.
It has fewer voices and separate outputs, a smaller size, and a lower price, but the sound palette is also quite different with a fiery vibe. So, you could call DrumBrute Impact the younger, carefree sibling who enjoys wild parties.
DrumBrute Impact is a ten-voice analog drum synth with eight analog track strips and one FM strip. Furthermore, it features a pattern memory of four banks, where each bank contains sixteen 64-step sequences. So, you're fairly equipped well for most studio production and live performance use.
Key Features:
Synth Engine
As I mentioned, DrumBrute Impact features eight control strips for the analog voices, where the high and low toms share controls alongside the cymbal and cowbell, a new addition over the original DrumBrute. However, the shared controls don't affect the polyphony, meaning you can play the two voices separately and simultaneously without issue.

Effects


The drum machine features a master distortion knob that adds an analog-style distortion to the entire drum mix. However, the most exciting feature in DrumBrute Impact is "Color." The Color mode generates a variant of the original sound, which is generally either a drive boost or a different filter, decay, and pitch setting(s), depending on which sound you're changing. Furthermore, you can modulate the Color button per step, resulting in an intricate sequence when used right.

Sequencing


As you'd expect, you can step-record and record playing live, which quantizes based on the current grid. Furthermore, the hardware allows you to play at two levels using a velocity threshold: accented and non-accented. Similarly, you can add ratcheting rhythms using "step repeats" that repeat a step up to four times. This feature is excellent for sequencing hi-hats and snare or tom fills.
Connectivity
Although they share a single volume control, the drum machine features a headphone output and a mix output. Similarly, you'll find 3.5mm MIDI clock in and out ports that allow you to sync multiple instruments. And 5-pin MIDI in and out ports allow you to control the drum using a keyboard or program another instrument using DrumBrute Impact's sequencer.
Pros:
DrumBrute Impact is a straightforward drum machine with a distinctly analog sound, from the sound generators to the distortion stage . So, if you like the sound of the classic Roland and Korg machines, you might like this portable drum machine too. Furthermore, the Color mode allows you to add intricacy that wasn't possible in vintage gear.
Cons:
While the drum machine is quite good for what it does, versatility isn't DrumBrute Impact's strongest suit. So, you might find the sound gets old pretty quick, despite rigorous programming and patching. Furthermore, it doesn't allow parameter modulation or automation, particularly on the FM synth engine.
14. Moog Mother-32
The well-known Mother-32 started Moog's line of semi-modular synthesizers. The pint-sized synth is not only an awesome standalone analog synth but offers versatile modulation options and Eurorack support, making them a small-yet-mighty addition to anyone's arsenal.
Moog's Mother-32 is a monophonic desktop semi-modular synthesizer. It offers one VCO, a bipolar filter, two modulation sources, an AD envelope with sustain switch, and a 32-patch point patch bay.
Key Features:
A Voltage Controlled Oscillator




The oscillator has a 

one-octave frequency range

 that can emit a sawtooth or a pulse wave. The pulse wave does have a dedicated pulse width dial. In addition to the internal oscillator tone, you can mix a white noise generator or external audio source with the VCO's tone.

Hi-Pass & Low-Pass Filter


The Mother-32 has a standard Moog high-pass and low-pass ladder filter that 

attenuates frequencies by 24dB per octave

. The filter includes resonance control that self oscillates at high settings creating a sine wave. In addition, filter parameters can be modulated using the LFO to create a trippy wobble effect. Otherwise, the EG can modulate the filter to create a one-shot warping effect.

AD Envelope Generator




The envelope generator controls the attack and decay of the amplitude by default but, as mentioned, can be patched to modulate the filter. 

A sustain switch accompanies the attack and delay dials.

 The switch controls whether the envelope will pass through each stage as soon as the attack segment has passed or if the note will sustain while a key or keys are pressed.  

32-Step Sequencer




A 1 octave/13-note keyboard is used to create sequences. Despite only being 1 octave,

 you can transpose the octave within a range of 8 octaves

. In addition to transposing octaves, you can transpose sequences to a different root note while retaining the interval relationship. And lastly, you can make your sequences more musical using a swing parameter and input accents.
Pros:
They offer an exceptional tone and many features for semi-modular synths at this price point. Despite only having one oscillator, the range and depth of tones you can create make up for it. In addition, since they are semi-modular, if you want another oscillator, you can purchase an external module and connect it to the M-32 using the patch bay.
Cons: 
The small interface is cluttered with dials, making it fiddly when adjusting parameters. Adding to the interface woes, there is a slight learning curve with navigating it, so you should flip through the manual and familiarize yourself with all the controls and sections.
15. Yamaha Reface DX FM Synthesizer

(Ultra Narrow)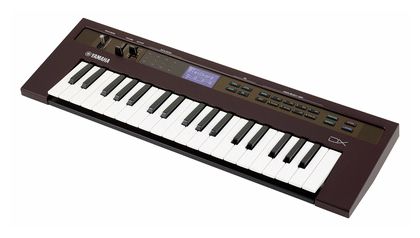 The Reface DX is part of Yamaha's series of portable mini-keyboards, each uniquely different from the next. It offers FM synth nostalgia with a hint of modern tone in a rather compact and slim case.
Yamaha's Reface DX is a polyphonic, analog FM synthesizer with a user-friendly interface for operator tweaking. Like the rest of the Reface series, it has built-in speakers, can run off six AA batteries, supports USB and MIDI connectivity, and uses a 37-note mini keyboard.
Key Features:
Four Adjustable Oscillators


Since the DX uses FM synthesis to create its range of sounds, you will have access to four oscillators that can each be set to act as either a carrier or a modulator. You will have access to up to twelve combinations for sculpting your FM tones.
Four Adjustable Envelope Generators
Each operator has a dedicated ADSR envelope generator. For each EG,

you can adjust each envelope stage's level and length

.
Feedback
By default, the operators output a sine wave, but you can use feedback control to morph an operator's waveform to form either a sawtooth, a square wave, or a combination of the standard sine wave and either of the two additional waves to create your interesting waveforms.
Built-In Effects
The Reface DC has seven built-in effects for you to use. You will have access to distortion, touch wah, chorus, flanger, phaser, delay, and reverb. In addition, each effect has two parameters for adjusting the qualities of the effect.
Phrase Looper
You will be able to record and playback passages with the phrase looper. It can record up to 2000 notes or 10 minutes at a BPM of 120. In addition, you can overdub phrases to create multi-layered loops, transpose loops, and edit patches seamlessly.
Pros:
The interface for modifying sounds is very user-friendly and easy to use, which makes sculpting your sounds easier than with other FM synthesizers.
In addition, with built-in speakers, a headphone jack, and the ability to operate off battery power for up to five hours, you can use them on the go comfortably.
Cons: 
Unfortunately, any loops created are lost once the synthesizer is turned off, and there are no ways to save them, so if you come up with chart-topping loops, you will need to record them. Adding to the woes, some may find the mini-keys uncomfortable.
However, the keys are slightly longer than the standard. And lastly, since the polyphony only supports up to 8 notes, some may find the voicings limited.
16. Novation MiniNova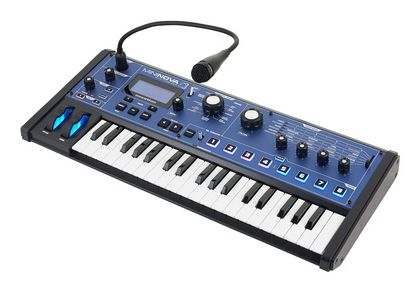 Mininova is a three-octave mini synthesizer with a powerful sound engine of the UltraNova. 
It has 37 velocity-sensitive keys, a pitch and modulation wheel, a filter knob, four performance knobs, and a switch for adding effects. 
Key Features:
Animate effects
You have eight pads that you can use to arpeggiate and animate your sounds. Using this, you can add cool articulations and effects to your sounds, using custom animations and activating multiple animations simultaneously. You can also save the patches you like by using the Favorite button.
Arpeggiator
There's a tempo knob you get under the Arp section in which you can sync the arpeggiator's timings to the tempo. A latch button lets you keep hearing the sound without having to hold on to the keys. Finally, you get a switch by which you can flip the pads from being animated to being arpeggiated.

Sound Engine


You get 14 types of highly-responsive and smooth filters, including high pass, low pass, and band pass, with different variations of slopes and resonances. There are six envelopes, out of which four can be applied to any parameter. These envelopes are snappy and responsive, so you can sculpt your sound however you want.

Attractive Price Point


At a $399 price point, the features you get on the portable and highly-functional MiniNova are insane at the time of writing this article. It has the sound engine of the UltraNova so you can load its patches into the instrument.
Pros:
It's well-built and one of the most affordable yet feature-heavy sound design tools. Its portability makes it great for touring and instant music production during inspiration. In addition, it has a great aesthetic, simple workflow, and dials & knobs that let you scroll through the options quite easily. 
Cons: 
The biggest con of the synth is that it's mono-timbral. Apart from that, the Vocoder is a bit disappointing in terms of clarity, and the reverb and other effects could have been better. There's no battery power, and the keys are also very small for live-performing keyboard/synth players. 
17. DFAM (Drummer From Another Mother)
The Drummer From Another Mother follows on from the Mother-32 and compliments its predecessor wondrously! And adds to their list of eccentric product names.
The DFAM is a monophonic, semi-modular synthesizer specializing in percussive and rhythmic tones. It integrates seamlessly with other synthesizers and support installation into a Eurorack system.
Key Features:
Two VCOs, A Noise Generator, & An External Audio Input




You will have access to 

four different sound sources for creating your percussive soundscapes

: two voltage-controlled oscillators, a white noise generator, and an external audio source. Each voltage-controlled oscillator can output either a harmonically rich square wave or a biting triangle wave, and you can adjust the octave for each oscillator within a ten-octave range.

Two-Way VCF




The VCF can filter the sound by 24dB per octave using either a high-pass or a low-pass filter that attenuates the sound. Also, the resonance control will allow you to emphasize the filter's cutoff point to 

create punchy bass tones to sharp percussive tones that cut like a hot knife through butter.

 

8-Step Sequencer




The percussive and rhythmic sounds can be arranged using a basic 8-step sequencer. The sequencer offers six controls, two of which are step specific: Tempo, run/stop, trigger, advance, pitch, and velocity. The overall tempo can be adjusted using the tempo dial; otherwise, 

if the pitch/velocity output is patched to the tempo input, you can adjust the timing of each step individually.

Modular Patch Bay: 15 Inputs & 9 Outputs




You can 

expand on the sounds and features using the 24 patch points available.

All parameters of the DFAM can be routed for external modulation or to modulate various parameters within the synth. And it does support integration into a Eurorack setup.
Pros:
The interface is painless to navigate since the controls are clearly marked and flow intuitively across the face of the synth. The patch bay may not offer a wide variety of options, but it does expand upon the already great tone exponentially. 
Cons: 
Unfortunately, the Drummer From Another Mother does not allow you to save sequences or presets for recall later, but Moog does have printable patch sheets that you can download from their website should you want to make a record of any sounds you discover.
18. Teenage Engineering PO-20 arcade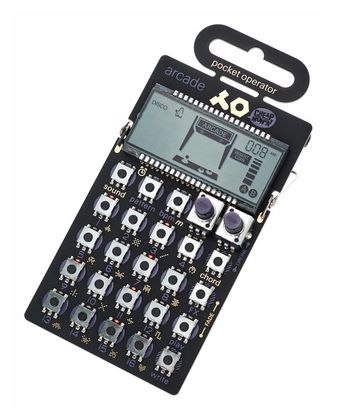 The Teenage Engineering PO-20 arcade is an analog modular synthesizer and sequencer built to create that iconic chiptune, 8-bit video game-style sound on the go, at home, or in the studio.
Having one of Teenage Engineering's Pocket Operators is like having a tiny arcade band in your pocket that you can whip out at any time to create scores of songs. These powerful devices offer a host of sounds you can use to create music.
For example, the PO-20 arcade offers eight drum samples, eight melodic samples, 16 chords, and 16 effects to add to your sequences.
Key Features:
16-Step Sequencer
Up to 128 patterns and 128 chords can be chained together using the 16-step sequencer. Also, you will be able to record steps in real-time, or you can input each step and then play the sequence once you are done. You can use drum sounds and melodic tones within your sequences. The melodic tones even include an arpeggiator. In addition, you can supplement these beats and melodies with various different chord sequences to create complete songs
Built-In Effects


You can sequence various effects t

o add to the music you have created

. These effects include soloing specific sounds, e.g., drums or chords or drums and lead or drums and bass, low-pass or high-pass filter, glitches, and fill-in for machine gun kick drum fills. You can even fill your sequences with a short cascading arpeggio.
Sound Parameters


Each sound can be adjusted using an A and B rotatable pod. For melodic and chord sounds, you will be able to adjust the note of the sound and automate note changes to program creative melodic and chord sequences. 
Pros:
The PO-20 can be chained to other Pocket Operators using a line connection to create an arrangement of mesmerizing, entertaining, and sometimes complex songs, which can then be connected to a mixer for recording. Otherwise, you can sync a master device to control the tempo.
Cons: 
The sounds fit a niche area that may not apply to various genres. And the device can be complicated to get the hang of, so fiddling with the various functions and watching a tutorial or two is highly recommended so that you can start making music as quickly as possible.
19. KORG microKORG XL+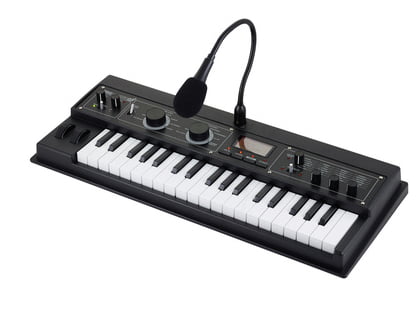 Microkorg XL+ is 37 keys, eight-voice synthesizer with a sixteen-band vocoder. 
It resembles a typical digital piano with an LCD screen, USB connection, and varying effects algorithms. It features the classic Radius sound engine, giving it its analog warmth and texture. It also makes it versatile, as it can create fat bass sounds to punchy leads to thick pads. 
Key Features:
Sound selection knobs
The knobs let you browse the sounds by genre and instrument categories, so you can easily find the sound you're looking for. In addition, you can layer sounds, split them, and layer them with an external source to expand your sonic horizon.

Flexibility of use


Its battery-charged option enables you to play it in a car, park, or studio, anywhere you like. It can also be used as a USB/MIDI controller and can work with phones. It doesn't necessarily require a laptop/computer. On top of that, it's compact and easy to use.

In-build Vocoder


You can use its detachable gooseneck microphone to perform vocals with vocoding effects in real time. The Vocoder has 16 bands, and you can use the external source(s) of sounds.
Pros:
It has a small size and an optional battery power mode. The oscillators are voltage-controlled, and the filters are multi-mode, contributing to its great sonic abilities and feature-rich sound engine. The effects: Delay, Chorus, Flanger, Phaser, Vocoder with 16-band Filter, and 2-band EQ are also huge pros.
Cons: 
The build quality is not high-end, so it may not be rugged enough to carry around for touring musicians. 
20. Novation Bass Station 2

 
Bass Station 2 by Novation is an analog mono synth that you can control digitally. 
It's a hundred percent analog synthesizer with digital controls, such that it has two switchable oscillators with four adjustable waveforms, either of which can be easily edited. In addition, you can set the course and fine pitch of the oscillator, along with a modulation envelope, LFO, and a pulse-width knob.
Key Features:
Connections
You get a headphone, line output, external input, sustain pedal switch, MIDI i/o, USB connection to use with a computer, and a DC power supply. Hence, you can connect external equipment, including a computer, to the system.
Sturdy-built and hands-on-control
The knobs, sliders, switches, pitch bend/modulation wheels, and other controllers are high-quality and tweakable, along with an LED display and a 2-octave keyboard with an after-touch.
Synth engine
There are two main oscillators, one sub-oscillator, and a noise oscillator, to start with. Then there's a filter with cutoff, resonance, overdrive, and LFO 2 & envelope knobs. Finally, you also get an arpeggiator, 2 LFOs, an ADSR envelope, and a distortion effect knob.
Pros:
The extended filter options increase the scope of your sonic horizon, with a heavy-duty arpeggiator and step sequencers, and good hands-on onboard control. The sound is fairly analog, and the ring modulation & square and saw waves enable you to create dirty bass sounds, which are harmonically rich. 
Cons:
Its aftertouch is not as sensitive and requires a lot of pressure. Also, it's very similar to the Arturia MicroBrute and doesn't have a control voltage input or output. You cannot trigger the arpeggiator/sequencer from an external source, and the size of the instrument is limited.
Commemorate:
Yamaha DX-200 (FM Synth)
The DX200 stands out as a powerful machine in the Yamaha DX series, as most of them are keyboard-based synths. It is a vintage hardware FM synth that combines the old-fashioned FM synthesis with editable parameters and tweakable knobs, hence increasing the scope & possibilities of FM.
Key Features:
Modulation Options
It contains LFO with six different waveforms (triangle, up/down sawtooth, square, sine, sample & hold), which we could assign to modulate the pitch, amplitude, and filter, combined with 2 ADSR envelopes to determine the graph of these parameters over time.
Advanced Sequencer
We can load up to four tracks with up to 16 steps on each track, on the step sequencer, with each capable of generating 3-4 events applicable to pitch, gate, and velocity. In addition, there are about 121 percussion, drums, and bass sound samples can be applied to a step.
Pros:
DX200 makes FM simpler by using editing knobs and also creates a unique stand-out sonic character that is different from other overheard synth sounds. The synth is fun to use as a hands-on sequencing workstation and can inspire creativity. Further, you can also load up, manipulate, and play around with DX7 patches. 
Cons: 
One can apply only a few limited effects to the sound, and even the equalizer is not directly accessible on the hardware. With the changing trends in the music industry, DX200 is not a timeless and versatile machine, but it's a decent tool to keep in your sound design arsenal. 
Shaurya Bhatia, is an Indian Music Producer, Composer, Rapper & Performer, who goes by the stage name MC SNUB, and is also 1/2 of the Indian pop music duo, called "babyface". A certified Audio Engineer & Music Producer, and a practicing musician & rapper for more than 6 years, Shaurya has worked on projects of various genres and has also been a teaching faculty at Spin Gurus DJ Academy.