Let's talk about the best polyphonic synths from various brands! There is a lot to talk about..
Polyphonic Synths: 20 Best Desktop & Keyboard Synths 2023
1. Korg Modwave (32-Voice Polyphony)
The Korg Modwave synthesizer combines digital wavetables with analog filters in a futuristic synth design.
The instrument is a great sound designing tool featuring multiple morphable waveforms and wavetables, motion sequencing for creative and expressive playing, the Kaoss pad, and expansive built-in effects like ring modulation, tremolo, waveshaper, etc., for intensive sound-shaping.
Key Features: 
Millions of wavetable variations
It has 200+ wavetables, with 64+ waveforms, that you can further manipulate with Modwave's morphing features and modifiers. In addition, you can also import wavetables from Serum by Xfer Records. In addition, it includes a PCM library which you can use to add a more realistic and organic quality to your sounds.

High-quality filters


The filters in the synthesizer are taken from the classic MS-20 and Polysix synthesizers. In addition, these filters include 2- and 4-pole lowpass, highpass, bandpass, and band-reject filters.
Kaoss Pad
Kaoss Pad is a dynamic effects/sampler instrument and has been used by experimental sound designers/producers/artists like Brian Eno, Radiohead, Muse, etc. The synth also includes Kaoss Physics, modeling the behavior of a bouncing ball for any parameter automation.
Pros: 
Motion Sequencing has a "Lanes" workflow that provides a unique way to manipulate pitch, time, step sequencer values, and other properties of sound. In addition, there are thirteen morph-type filters for stretching, squeezing, and altering wavetables in real time. The synth is overall compatible and feature-rich.
Cons: 
The plastic body makes it light and portable but also takes away from the ruggedness and physical sustainability of the instrument. The internal jacks are of low quality, making the overall construction and build disappointing. Also, the complex workflow requires you to do some menu diving.
2. Novation Summit (16-Note Polyphony)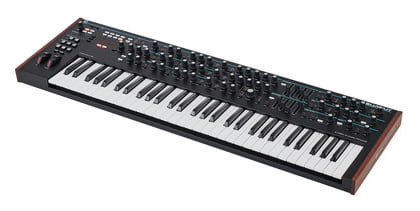 Summit by Novation is a 16-part digital-analog hybrid wavetable synthesizer.
It has 61 keys and 16 voices of polyphony, such that each voice has three oscillators. The workflow of the synth lets you layer and split two different patches/sounds together to produce innovative and thicker sound textures. In addition, the intuitive interface has the major controllers and functions, like FM routing, LFOs, arpeggiator functions, etc., displayed on the front.
Key Features:
Expansive wavetable synthesis
The wavetable sound engine allows you to explore unlimited waveforms, morphing capabilities, and sound design possibilities that go beyond the typical wavetable workflow. The wavetable editor is expansive and flexible. In addition, it has exclusive content from top EDM producers Noisia and space-themed audio, direct from the NASA sound library.
Customizations
You can do live editing and draw and edit the waveforms using the drawing tools and Live Edit Mode in the wavetable editor. The wavetable architecture allows you to rapidly drop in audio waveforms and create customized oscillator shapes and waves from them.
Updated software
The new firmware takes the wavetable synthesis sound design workflow a notch up and lets you expand your creative scope and horizon to give you greater flexibility and freedom. There are new tools for stereo shaping, a MOD matrix, flexible modulation capabilities, and effects like chorus, flanger, phaser, etc.
Sound design engine
The instrument consists of 3 NCOs (New Oxford Oscillators), with the option to do subtractive, FM, or wavetable synthesis. In addition, it has dual analog filters, VCAs, an arpeggiator, and a three-stage effects processor.
Pros: 
The best part about Summit is its hybrid workflow between digital and analog. In addition, it comes with a three-year warranty, Ableton Live Lite DAW software, and Novation sound collective access. The multitimbral engine and sound stacking enable you to create warm, thick, experimental, and uniquely textured sounds. Lastly, the workflow is easy, intuitive, and
Cons: 
One con of Summit is that you cannot copy any parameters. Another is a bug that gets you stuck in the FM settings. In addition, there aren't any CV/audio outputs on top of the USB/sequencer, the LFO delays have a lesser range than you'd expect and there aren't any pan controllers.
3. Clavia Nord Wave 2 (48-Voice Polyphony)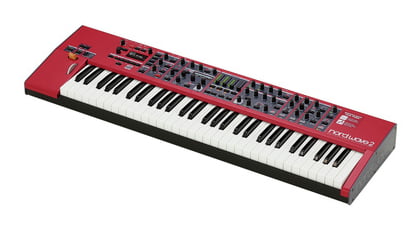 Nord Wave 2 by Clavia is a virtual analog, wavetable, and samples-based synthesizer.
It has 61 keys, a polyphony of 48 voices, and tweakable hands-on controls and performance. It has a simple and streamlined layout and workflow, which consists of sections like Morph, Vibrato, Voice Mode, Arpeggiator/Gate, LFO, Osc Mod Env, Oscillators, layer control, amplitude envelope, filter, effects, EQ, Delay, and Reverb.
Key Features: 
Sound sources
The Oscillator section has four modes: Analog, Wavetable, FM, and Samples. Multiple voices of unison and controls like shape, sync, and detune allow you good hands-on control over the sound shaping.  In addition, there are 2-, 3-, and 4-operator configurations in the FM mode, with harmonic and inharmonic variations.
Sound sculpting
The instrument consists of six filter types, one of which is a "Mini" transistor ladder filter emulation. Plus, there's an arpeggiator section with a tempo knob, rate knob, pattern selection button, and more. Lastly, there's an LFO section on which you can select multiple waveforms, adjust the amount, and select the destination. There's also an amplitude ADSR and a filter ADSR.
Morphing capabilities
You can use Velocity, Aftertouch, Wheel, and Control Pedal to morph different parameters like LFO Amount, Oscillator Control, Filter, and Effects. It's easy to assign many parameters together to the morphing sources.
Rhythmic capabilities
The Wave has a Gate section with adjustable depth parameters that lets you create interesting rhythmic patterns. Then there's an arpeggiator that can be used in a polyphonic mode.
Sample Editor
You can use the Nord Sample Editor 3 on Mac or Windows operating systems, in which you can drop in your samples, chop them, manipulate them, save them, etc., and play them on the synth.
Expansive Effects
The effects section consists of Stereo Delay, Ensemble, Chorus, Reverb, etc., such that you can go in-depth into these effects and tweak them to your sensibilities.
Pros: 
Everything from the sample editor to the arpeggiator, different synthesis modes, and the expansive effects section makes the Nord Wave 2 a great purchase. It's one of the most versatile and flexible synthesizers available in the market that lets you layer different sounds, create your own samples, and overall give you a great sound design canvas to work with.
Cons: 
There are some limitations to Wave 2. For example, the LFO having only three destination options is a huge bummer. Secondly, you can assign only one destination at a time to it. Secondly, the presets are a bit underwhelming. Lastly, the sliders, knobs, and other controllers are sensitive and may break easily.
4. Waldorf Iridium (16-Voice Polyphony)
The Waldorf Iridium is a sixteen-voice polyphonic bi-timbral stereo digital hardware synth; and is the desktop version of Waldorf Quantum and includes Quantum's analog filters for a lower price tag, more voices, smaller footprint, and a few more features. In addition, it includes five synth engines: wavetable, waveform, sampler/granular, resonator, and kernels.
Key Features:
Sharp & interactive touch screen
It has a seven-inch color touch screen that is sharp, viewable from any angle, and has a good response rate to touches, whether light or hard. You could use this to access and save presets, select effects, oscillators, and modulators, analyze waveforms using its oscilloscope, decide the signal flow, etc. In addition, the touch screen allows you to cycle through different waveforms in the wavetable.
Solid built
The synth is heavy and well-built, the encoders and knobs are solid and responsive, and the pads are good quality. It doesn't have a built-in keyboard, but you can use its pads, arranged chromatically, to play or record any chords or notes. Chords can be customized to single pads as well in chord mode.
Limitless sound design capabilities
Packed with powerful modulators, the Iridium has a 40-slot modulation matrix, dual filter, six envelope generators, 4×4 pad matrix, six LFOs, and a KOMPLEX modulator which offers highly accurate and precise sound shaping options. As a sound designer, you can utilize comb filtering, bit crushing, Ring Modulation, and many other modulation & effect tools.
Pros:
It's an all-in-one machine that blends lots of features well together, creating a seamless user interface, given the number of knobs, buttons, and touch screens we can use to control thousands of parameters. Further, we can conveniently do many things with the touch screen, like sequencing, arpeggiating, and scrolling around through different waveforms and presets.
Lastly, the screen animations are useful and interactive for visualizing the wavetables, LFOs, modulations, etc. Physically, it looks stunning and compactly packs all features & capabilities of the Waldorf Quantum. 
Cons: 
Only 600 MB of memory is available for loading up samples or wavetables, which could be expanded to 2.5 GB if you clear the factory presets. Further, the pads are really small and have no pressure after-touch sensitivity. Further, it does not have an SD card or USB stick slot to use or expert external data. Lastly, there are no macro controls, which, if included, could enhance this machine's performance. 
5. Roland Jupiter-X (256-Note Polyphony)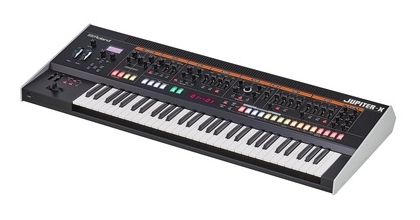 Jupiter-X by Roland is a 4-oscillator synthesizer with an I-arpeggio and 61 keys.
The I-arpeggio is an artificial intelligence-based arpeggiator that allows you to rapidly play rhythmic, melodic, and polyphonic patterns by clicking a few buttons or keys. It's great for instant inspiration and musical ideas and adds better movements to your chords. In addition, it allows you to change the algorithms, rhythms, tempo, duration, shuffle, and more properties of the arpeggiator.
Key Features:
The workflow
The synth consists of four oscillators which allow you to select the type, modulation, pitch, and detune. In addition, there's a mixer section, a filter, an amp, two envelopes, and an effects section that includes effects like reverb, delay, drive, chorus, etc.
Great vintage sound
The instrument is designed to emulate the sounds of analog beasts like Jupiter-8, Juno-106, XV-5080, RD-pianos, SH-101, and more. In addition, Jupiter-X is a one-stop shop for all vintage sounds and textures.
Hands-on control
The synth allows you to creatively express yourself with its 61-key piano with aftertouch control, pitch bend and mod wheels, and 256-note polyphony. In addition, the metal chassis makes it a robust machine that you can carry around for tours.
Pros:
It has a great sound and high-utility arpeggiator with performance capabilities exceeding expectations. The aftertouch-enabled keyboard is a joy to play, and the build is tough and rugged. The effects include some great sonics, from the classic Juno chorus to the precise delay sound.
Also, the layering capabilities are insane, and the digital-analog interplay is on point! Lastly, the cherry on top is its great-looking metal body and design.
Cons: 
The sounds are loosely organized and may need clarification if you go through the manual first. Plus, the PC editor needs to be better. The PC connectivity and virtual settings are loose, tedious, and time-consuming. The sounds can come across as "not modern" as it's a vintage-based instrument. 
6. Roland Juno-X (256-Note Polyphony)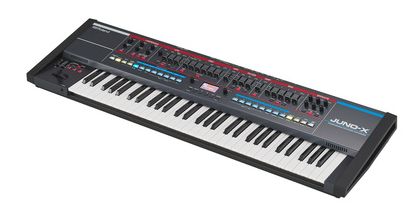 Roland Juno-X combined the classic JUNO106 sound engine with its modern ZEN-core synth engine. 
Zencore features samples-based and virtual analog characteristics, developed by Roland, to emulate its classic synthesizers. It has great presets, bundles of synth models, and the intelligent Roland I-Arpeggio. It consists of an Oscillator window, a High Pass Filter window, a Filter section, an envelope section, an effects section, and more.
Key Features:
Sound sources
The synth features the classic Digitally Controlled Oscillators combined with a sub-oscillator and a noise oscillator. You can turn on the super saw mode and pulse width modulation for the fat vintage Juno texture. In addition, you can use the input mic to tap into the full potential of the Vocoder.
Presets
The instrument has more than 4000 presets from classic Roland products, including the Juno-106, Juno-60, XV-5080, and RD series. It includes everything from vocoder sounds to strings to leads and more. In addition, the preset management and arrangement are great!
Extensive Effects
Roland has included 90 different and more effects you can download from the Roland cloud. On the synthesizer, the effects included are Drive, Reverb, Delay, and Chorus, which give the classic Juno sonic effects.
Pros:
Everything from the multi-effects to the seme-weighted keys with the aftertouch feature to the robust arpeggiator and the classic 80s sound makes the Juno-X a powerful machine. In addition, the vocoder sounds clear and wide and has a great tone!
Cons: 
Juno-X has a steep learning cover if you want to get into detailed sound design. The screen on the synth could have been bigger to get more flexibility and insight into the sound design process. Also, the vocoder mic is dynamic and has no phantom power option enabled.
7. Waldorf M (8-Voice Polyphony)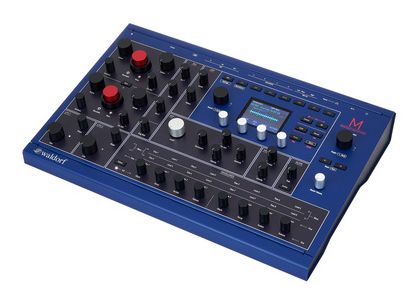 Waldorf M is an analog-based desktop wavetable synthesizer.
It consists of two oscillators that can be synced together, with knobs for adjusting the Octave, Semitone, Detune, and Envelope amount. In addition, there are sections for Mix, Voltage-controlled amplifiers, voltage-controlled filters, glide, LFO 1 and LFO 2, envelopes, a display screen, and more.
Key Features:
Endless modulations
The two LFOs with adjustable rates and shapes, four envelope generators, and loopable 8-point time/level EG allow you to create interesting movements, giving your sound design process a greater push.
Multiple outputs
The synth has six outputs for pliable routing functions, including two for the main stereo and four aux outputs. In addition, you can use it with your DAW to record up to six audio tracks together, which gives you more sonic options when mixing.
Other features
The synth includes 2000+ sound programs with 128 multi-programs. In addition, there's an onboard arpeggiator with a chode mode. The connectivity of the synth is good with its USB and MIDI in/out/thru.
Pros: 
The screen is great and bright, the build quality is high, and the filter algorithms are sonically superior and detailed. Overall, the sound quality is at par and gives other wavetable synths in the market a run for their money. Lastly, it's also compatible with Microwave (SysEx band and sound transfer).
Cons: 
Waldorf-M has weak patch management and then it's held back by its limited range of wavetables. Also, it doesn't have any effects (analog or digital) built into it.
8. Mayer EMI MD900 (16-Voice Polyphony)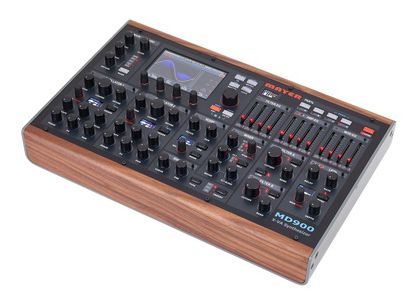 MD900 is a 16-voice and 4-part desktop synthesizer.
It has two oscillator sections, one NOISE section, a mixer, two FILTER sections, three LFOs, a MOD MATRIX, a filter envelope generator, two amplitude EGs, and one modulation EG/ADSR. In addition, it has effects like delay, chorus, flanger, tube-amp, LP filter, dynamic processor/limiter, vibrato, etc.
Key Features: 
One-stop shop
The synth, apart from the sound engine, includes a sequencer and a clip launcher

. In addition, you can

create MIDI clips in seven columns, including 2 CVs, 4 synths, and drums

. The drum columns have a fourteen-channel drum sample player, consisting of channels for snare, hats, kicks, etc.

Ease of use
MD900 is intuitive and has a straightforward operation, with everything being labeled clearly, and the controls being accurate and hands-on. In addition, the touchscreen and display are bright and lit up, making up for an easy operation, especially on-stage.
Detailed editing
You can go in-depth with your sound design using the MD900

. For example, you can

adjust the fine pitch, coarse pitch, detune, amount, waveform, shape, spread, pan, pulse width, and more in the oscillator section

. Also, you can shape the noise, and adjust your filters, LFOs, etc.
Pros: 
The intuitiveness, hands-on approach, the 5″ LED touch display, the strong aluminum build, and its expanded connectivity are some of the pros of the MD-900. It's one of the most flexible and detailed synthesizers available in the market. Its rugged case and portability make it great for touring and live shows.
Cons: 
Being a desktop synth, it doesn't have a built-in keyboard. The touch screen allows for deep signal flow adjustments but that could also get confusing. With so much going on, it may require menu diving and time to get used to.
9. Modal Argon 8 (8-Voice Polyphony)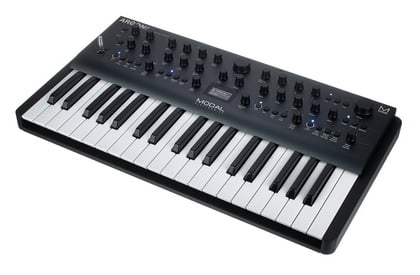 Modal Argon 8 is an 8-voice and 37-key polyphonic wavetable hardware synthesizer.
It's an expansive synthesizer with 100+ effects presets, including Chorus, Flanger, Lo-fi, Tremolo, Rotary, Delay, and Reverb. It has many knobs, buttons/switches, and a display screen to support the process. In addition, there are 500 memory slots (with 300 factory presets) that you can utilize to store, process, and manipulate sounds.
Key Features: 
Rich in effects
It's a feature-rich machine with multiple effects processors, like de-rez, waveshaping distortion, a great-quality effects engine, filters with insane movements, and envelope generators. You can get great distortion, morphing, and ambient effects with the Argon 8.

Momentum


You get access to an expansive arpeggiator and a 512-step sequencer which lets you create rhythmic melodies and patterns that could add great momentum to your productions and arrangements.
Durability
The synth has a steel and aluminum chassis which gives it a great protective physical layer, especially in the studio and live shows, where the equipment is exposed to heat and other adverse conditions. With its rough and tough packaging, the synth is perfect for live touring!
Connectivity
The synth has a 1/8″ TRS aux input and two 1/4″ main outputs alongside USB MIDI I/O. The USB connectivity is of type-B, and its software version, "MODAL App Software Editor," is compatible with a Mac OS X 10.10 or later and Windows 7 SP1 and higher operating systems, and iOS 10 (or later), and Android 6 (or later) mobile software.
Pros: 
Its biggest pros are the high-quality build of the synth, thick textures, a built-in arpeggiator, and the modulation capabilities of the Argon 8. In addition, the four-axis joystick, which has a great response rate and high-resolution controllers, gives you hands-on control over your instrument.
Cons: 
The synth is quiet, and you may have to ramp up your amp or audio output to get it into full effect. Its sound design capabilities are great, but it has comparatively lesser controllers than other similar synths in the market. Also, the workflow isn't intuitive and may require massive menu diving and practice before you can exploit its full potential.
10. Arturia MiniFreak (6-Voice Polyphony)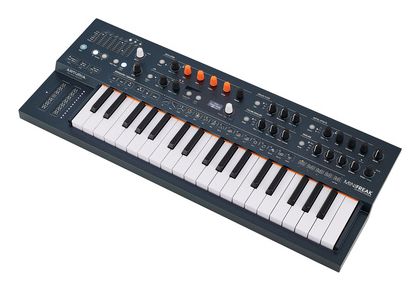 MiniFreak by Arturia is a dual oscillator wavetable synthesizer with 37 keys.
It has an oscillator section, an analog filter section, 2 LFOs, a cycling envelope, digital effects section that lets you add up to three effects, and finally an ADSR section. In addition, there's a built-in arpeggiator, a sequencer, a chord mode, a Glid knob, a modulation matrix, two Macros, a pitch bend modulation wheel, an octave shifter, and more.
Key Features: 
Sound Sources
The instrument allows you to select the type, wave, timbre, shape, and volume of the oscillators. You can also fine-tune its pitch and go to the sound editor/panel to edit, save, and select presets.
Easy workflow
Whether it's the velocity-sensitive keyboard, 20 playing modes across a 6-voice polyphony, or all the sound design controllers, the instrument proves to be a great tool. In addition, you also get a MiniFreak V plugin that you can use to expand your horizon of sound design.
Sonic shaping
Everything from the powerful effects suite consisting of ten effects to the customizable multi-segment LFO, FM/Ring mod, and multi-purpose randomization tools are great for uniquely sculpting your sonics. In addition, there's a 7 x 13 modulation matrix, 256 factory presets, and 256 open preset slots.
Pros: 
The VST is a high-quality counterpart and digital doppelganger of the MiniFreak, which is a huge pro! In addition, the instrument is compact, sounds great, is intuitive, and easy to use. Plus, it's also versatile as the sounds can range between anything from soft and mellow to hard-hitting, underground, and industrial.
Cons: 
It's not suitable for a piano player or a live performer who needs a keyboard with more keys. Secondly, the workflow may seem a bit weird to people who are exposed to and used to traditional synthesizers.  It has 22 algorithms and many synth engines but lacks the depth that some of its competitors have.
11. Moog One (8 or 16-Voice Polyphony)
Moog launched its first polyphonic Moog synthesizer in thirty years, called Moog One, a tri-timbral analog synth with great capabilities in terms of the richness & punch of the sound, and state-of-the-art design that took years to develop. Physically, it's a large machine that requires a lot of space.
The front panel features single-function knobs like oscillators, filters, envelopes, and LFOs together by module. We can also add digital effects to our sounds, but for the purists and the fans of analog sounds, we also have the option to bypass the digital effects, if we want it to be 100% analog.
Packed with up to 48 voices, digital synth effects, a 20-slot modulation matrix, various input/output and control options, an arpeggiator, and a 64-step polyphonic sequencer, this is a highly ambitious piece of equipment. However, the central control section with a large screen to search and browse presets and its laid out knobs & buttons make the workflow easier.
The analog circuits of Moog are known for their richness of sound, harmonic nature, and natural quality, due to which Moog has been one of the primary instruments of acts like George Harrison, Beastie Boys, The Doors, etc. This synthesizer carries that nature of sound, along with its elaborate programming capabilities, and polyphonic & multitimbral character, which gives you a good combination of classic analog sound and modern tech to manipulate and shape the sound.  
Key Features:
Cutting-edge Sound Design capabilities
Moog one comes in 8- and 16-voice versions and three Voltage Controlled Oscillators (VCOs), that is, up to 48 voices at once, and also packs two independent analog filters- Variable State filter and Moog Ladder filter, four LFOs, and three DAHDSR Envelope Generators that can be applied in series or parallel to each voice.
Rich Waveforms & Premium Modulation Options
The 3 oscillators could output a user-defined blend of triangle/saw and square/pulse oscillators, giving it a harmonically rich texture. To that, digital modulations like Ring Modulation, Frequency Modulation, Hard Sync, etc., can be applied. There's an option to add a dual-source noise (pink, white, red, purple, etc.) generator with its own envelope shaper, which can give you a sound with full-spectrum and transient capabilities. Also, you could apply two different types of envelopes- DAHDSR and ADSR, to your sounds.  
Ease of Creation
With more than 73 knobs and 144 buttons, and 61 keys, the Moog synthesizer is designed to spark creativity. It's a great technology due to its innovative design and ease of use. You can save tens of thousands of presets and can also recall a time-stamped snapshot of a preset using an LCD center panel, in which you can browse and control different presets and settings.
Analog-Digital features
You can also use digital effects on your synths and master output, for example, the eventide reverb (Room, Shimmer, Hall, Blackhole, and Plate) and other high-quality effects like delay, phaser, flanger, etc., are available to expand your sonic horizon.
Easy connectivity
There are 2 x 1/4″ stereo headphone outputs, 1 x ¼" external audio input (line-level), 4 x ¼" hardware inserts (TRS), 1 XLR + ¼" TRS combo external audio input, 9 assignable CV/GATE I/O (5-in/4-out), a LAN port, and USB drive support for saving and backing up system settings and presets.
Pros:
The tone generators, filters, and modulators in this machine are high quality and the best you would find. On top of that, it's tri-timbral, which essentially makes it a three-in-one synthesizer, along with which its interface is intuitive and well-thought-out, with very few hidden features.
It has a great sound design workflow and the ease of applying modulations, filters, and effects make it stand out. The Moog one is a reliable gadget with a rich & vast sonic universe, owing to its classic Moog circuitry, which gives this machine a sweet, warm, and unique analog tonality. Lastly, you have vast freedom to do experiments with features like three Envelopes and four LFOs per voice.
Film & Music studios, sound designers, and engineers who are looking for a machine with uncompromising abilities, who do not have any constraints on the budget, and who have a good know-how of how analog synthesis works are the ideal customers for the Moog One. We can create innovative vintage sounds, fat & gritty basslines, lush ambient sounds, and a versatile & rich palette of sounds using this instrument.
Cons: 
Priced at $8,999, many bedroom music producers cannot afford to buy such an expensive machine. However, it's only designed for premium music and film studios. Apart from being pricy, this is a heavy machine and weighs about 45 lbs, making it quite challenging to carry around.
The Moog One is also huge in size, with an area of 7 x 42 square inches. Lastly, it's complex and not easy to use and it could take a while to get used to its workflow, especially for beginner sound designers & music producers. Unfortunately, it's ahead of its time and may not be the best product-market-fit.
12. Behringer TD-3-MO (16-Voice Polyphony)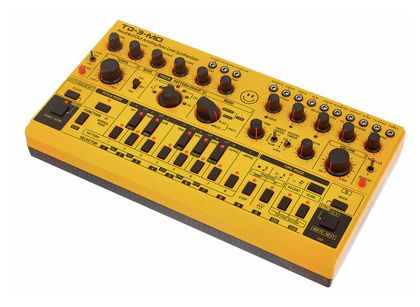 The TD-3-MO is a monophonic, analog bassline synthesizer.
It offers a heft of new features over the TD-3 that allows more envelope control through additional attack and decay dials, musical expression with the sequencer through their slide and accent controls, a thicker tone through a sub-oscillator, and a variety of CV, gate, and filter inputs and outputs.
Key Features:
Single VCO
The VCO has a three-way switch for switching between two waveforms and an off position. You can use either a biting sawtooth or a hollow square wave to form the basis of your bass lines. Also, you can add a sub-oscillator with a 3-pole switch for the level that plays one octave below a sequence.

4-Pole Low Pass Filter with Keyboard Tracking


The low pass filter attenuates frequencies above the cutoff point by 24 dB per octave and has a comprehensive range, extending as low as closing the sound off completely to roughly 5 kHz for squealing runs. Moreover, the filter does track the keyboard, so the filter's cutoff shifts depending on the note, which gives bass lines a slightly more natural characteristic.
16-Step Sequencer
The sequencer has an adjustable step range that reaches a maximum of 16 steps in a sequence. You can set the timing for each step to either a sixteenth note, to tie sixteenth notes, or for a sixteenth note rest. In addition, you will be able to add accents and slides to the individual notes in your loops.
Track & Pattern Modes
Similar to the TD-3, the MO has four selectable pattern banks with individual A and B banks; overall, you can store up to 16 patterns on the device. Once you have your selection of patterns, you can create a sequence of patterns changed together in track mode.

Seven tracks are available, each corresponding to a particular pattern bank. 
Pros:
They feature great control for creating musical passages. Steps in a sequence can be accented for a more dynamic sounding pattern. Moreover, the decay for accented and normal steps have separate dials, so that you can create a fluid distinction between the two.
Unlike the TD-3, you will have access to a filter FM input with dedicated control for adjusting the amount of frequency modulation for the filter.
Cons: 
The manual provided lacks in-depth explanations for the controls. It gets the job done if you just want to know what the various controls are. But, if you want to know what the controls do, you may find the explanations underwhelming.
13. Roland SYSTEM-8 (Plug-Out Synth With Polyphonic Sequencer)
Roland SYSTEM-8 is an ABC-based polyphonic digital synthesizer that combines the best of worlds: classic and modern, together to produce a sonically diverse universe of vintage and futuristic sounds, owing to Roland's tried and tested analog circuit behavior is at the core of its engine. which has proven itself over decades.
Historically, this derives from the digital synths revolution of the 1980s, which evolved from the multi-oscillator modulator synthesizers revolution in the 1970s, a golden period for analog music machines. After forty years of technological development at Roland, they have released the Roland System-8.
They have tried to capture the essence of the famous JUNO-6, JUPITER-8, and JX-3P, with their down-to-circuit recreations. This extension of the Roland S-1 uses an 8-voice polyphony, split & layered synths, an integrated vocoder, and three PLUG-OUT slots.
Key Features:
PLUG-OUT Expansion
You get three expansion slots for connecting and controlling plug-out synths, by which you can load up a different sound engine, by which the Roland S-8 can be transformed into a different instrument. We can connect with many synthesizers and create interesting fused sounds using layered voices and custom splits.
Easy Connectivity
In terms of connectivity, we can connect our rig using MIDI/USB and CV/Gate, can input and output audios using 2 1/4″ I/O slots, and can monitor the audio using the 1/4″ headphones slot. This makes it a great instrument for both LIVE and Music Studios.
Advanced Sound Engine & Digital FX
Based on the architecture of S-1, this digital instrument is packed with the ABC Sound Engine by Roland, 3-variable oscillators with eight notes of polyphony, 25 & 49 keys, an arpeggiator to enhance your musical performance, a step-sequencer, an SD Card Slot, and effects like Delay, Chorus, Phaser, Overdrive, Flanger, Reverb, etc., by which you could extensively morph your sonic palette.
Great sound-shaping capabilities
Apart from that, dozens of knobs, buttons, and sliders are available, giving us good intuitive real-time control over the sound design process. There are lots of modulation & filter options also available to shape the sound as per your taste. You can change between 6 unique waveforms (saw, square, triangle, super saw, super square, super triangle) using the WAVE knob and blend these waveforms using the modulations.
Pros:
Regarding connectivity, we can connect our rig using MIDI/USB and CV/Gate. That makes it easy to work with, carrying it around while traveling, and the plug-out option helps you expand your instrument further. That is a great plus for both touring and studio musicians. Using the MIDI connectivity, you can work with it on a computer or laptop too, and program & record music on your DAWs.
Small size, with only 13 lbs of weight, makes the Roland S-8 a portable tool. Moreover, it does a remarkable job sonically emulating classic synths: the Juno-6, Jupiter-8 & JX-3P. Hence, you need not spend a tonne of money on buying analog synths when you can buy a digital synthesizer with such capabilities and functionalities.
Cons: 
The biggest drawback of the S-8 is that it has very few patches, which are uneditable during the performance, and that it does not have much performance memory. Along with that, the performance mode does not save edits. In addition, its documentation is below average, and the hardware is made of plastic and has an external power supply.
There's no option to connect an XLR mic input, and it is not great for keyboard players as it has few octaves. Lastly, the arpeggiator doesn't have a gate or swing mode, only one global LFO, and the sequencer doesn't have a metronome track.
14. Novation Peak (8-Voice Polyphony)
The Novation Peak is an 8-voice polyphonic virtual analog synthesizer with analog waveform– and digital wavetable oscillators, built to work with computers, bridging the worlds of analog and digital. This synth is perfect for sound design in the modern electronic music era.
Therefore, it could be well utilized by bedroom producers, performing DJs, and even high-end studios. Furthermore, you can easily utilize it for more complicated modulations and routings, as, for example, the modulation matrix can have up to 17 sources and 40 destinations. But first, let's look deeper into the main features of this machine.
Key Features:
Oxford Oscillators
Oxford Oscillators are based on FPGA (Field Programmable Gate Array), which creates less aliasing, hence adding more analog characteristics to the sounds. In addition, there are three oscillators with multiple analog waveshapes like sine, sawtooth, triangle, and pulse width, and 60 digital wavetables from which we could choose multiple waveforms.
Limitless Modulation
There are 16 direct modulation assignments and a 16-slot modulation matrix that you can assign to introduce more movement to your sounds. Moreover, using the FX Modulation matrix, you can apply modulations to any effects. You can modulate almost anything on the Novation Peak with these many options.
Wavetable Editor
The wavetable oscillator in this instrument comes with an editor which allows you to edit and even draw waveforms and oscillator shapes. You can even create waveforms from external audio samples with the Audio Import function.
Pros:
As a digital-analog hybrid synth, Peak offers features you will not find in a traditional analog synth, including various wavetables. Further, it's a versatile and all-in-one synthesizer and offers a good ROI for its price. Lastly, it has high-quality oscillators, a friendly laid-out structure to sound design, and analog multi-mode filters and effects.
Cons: 
The biggest con of the Novation Peak is that you cannot use and load your wavetables in it. Instead, you get a wavetable editor, which makes the matter more complex and time-consuming, given that the in-built wavetables are slightly underwhelming. Further, it does not have a keyboard and is not rackmountable.
15. Behringer Deepmind 12 (12-Voice Polyphony)
The Deepmind 12 by Behringer is an analog synth with digital effects section that comes in keyboard and desktop versions, with either six or twelve voices, an extensive modulation matrix, arpeggiators, sequencers, VCOs, and a variety of effects.
Audiophiles compare it with the Juno-106. However, it's like an upgraded version, as it has way more new features and a polyphony of up to 12 unison voices. It has a strong build and is packed as a wooden box with a metallic covering. Built on Behringer's classic analog synth engine, it has a characteristic sound that hugely impacted the music of a wide range of genres in the 70s and 80s.
It contains two analog oscillators, which are digitally controlled, an effective 8-bus modulation matrix, four digital FX engines, a 32-steps step sequencer, and many more features that we will look into further in this article.
Key Features:
Absolute Control
The Deepmind 12 has built-in Wi-fi by which you can command it remotely using an iPad or a computer. Apart from that, it has a USB slot and can also connect as a MIDI device. In addition, it has an interactive LCD screen on which you can navigate all buttons and sliders, giving you full control over the sound design process.
Lexicon FX and EMT Plate
Onboard effects like vintage reverb are based on the EMT250 plate, and other reverb algorithms like Hall, Chamber, Ambient, etc., are modeled by the famous Lexicon 480L, a high-quality industry-standard digital reverb unit. Apart from that, there are TC Electronic Reverbs also present.
Extensive sound design features
With two oscillators per voice and a noise generator, more than a thousand patch memory locations arranged in 8 banks, three analog envelopes, an independent LFO for every voice, detune future on unison voices, and an arpeggiator with gate time control, there's an immense scope to create and innovate new sounds.
Pros: 
There are a lot of under-the-hood features and possibilities that the Deepmind 12 offers, which may not be apparent. It has a comfortably playable velocity-sensitive keyboard, an internal power supply, and an in-built WiFi, which accounts for a well-thought design. Lastly, it looks attractive, is priced under $1000, and is more affordable than other machines on this list.
Cons: 
There is a problem with the design of this instrument, as there isn't much space for a lot of knobs, sliders, and other physical controls, so many basic features are available only via the screen. In addition, it has a 49 keys keyboard and hence is not the best option for pianists & keyboardists for live performances.
16. ASM Hydrasynth Keyboard (8-Voice Polyphony)
The Hydrasynth is a digital instrument with 8-voice polyphony that comes in two different versions. One comes with a velocity-sensitive 49-keys keyboard with polyphonic aftertouch, and another comes in a desktop version. Both are fully digital synths with virtual analog FM and wavetable oscillators, five envelopes and five LFOs per voice, and an extensive effects section.
The Hydrasynth is the debut synthesizer of Ashun Sound Machines, a Chinese company. They priced it at about $1299, which is pretty affordable, given its advanced features and innovative design. 
Key Features:
Next Level Virtual Analog sound design capabilities
The ASM Hydrasynth packs a 32-slot modulation matrix, three Wavescan oscillators with 219 waveforms, and four waveshaping mutators. Each of the five envelopes can sweep through exponential and logarithmic curves, which creates scope for long evolving modulations. Further, the LFOs have 11 different assignable waveforms.
High-performance Parameters
For live sound designing and performances, the ribbon controller gives you accessibility to control pitch bend or modulation amount. PolyTouch gives you more command over the aftertouch curves, offsets, and release times, shaping your sounds in more controlled and creative ways. Lastly, it also gives you macro controls, that is, ways by which you could control multiple parameters by just a single knob.
Hands-on control of the interface
The intuitive interface makes your sound design process simpler and easier, with plenty of knobs and buttons to tweak what you're looking for. In addition, we can easily access each section and functionality of this synth with just a press of a button.
Pros:
Hydrasynth combines several sound design methods, like wavetable synthesis, subtractive synthesis, linear FM, Pulse Width Modulation, and more which gives it limitless functionality. Further, eight macro control presents make the sound design workflow easier, combined with a solid build and a high-quality effects section. Lastly, the Polyphonic aftertouch and Ribbon Controller are its topmost USP after its attractive price point. 
Cons: 
The keyboard is 49 keys long, and some sound designers may have a preference for longer keyboards to be able to record their performances easily. Secondly, it has an external power supply, and the complex & overwhelming sound design workflow may take time to get used to.
Hence, Hydrasynth is not the most beginner-friendly sound design instrument. Lastly, lacking sequencers could be a huge dealbreaker for many sound designers, making its versatility questionable.
17. Yamaha MODX6 (192-Note polyphony: 128-note stereo AWM2 + 64-note FM-X)
Yamaha MODX6 is a 61 keys keyboard workstation that combines the capabilities of a keyboard (with the traditional sound of pianos, organs, etc.) and a synthesizer (oscillators, sequencers, modulators, etc.). It has semi-weighted keys and is based on Yamaha's flagship montage range of keyboards.
It has an AWM engine that is fully programmable and features accurate controls over the pitch, amplitude, envelopes, etc. Additionally, there are Yamaha's Motion Sequences features that you could utilize to create interesting rhythmic patterns in your synth parameters in real-time. An envelope follower is also present that could control parameters based on the envelope shape to receive from another audio, along with a unique vocoder effect.
Key Features:
Versatile Sounds & Patches
The patches in the keyboard, both acoustic and digital, are realistic and of high quality, with various options to choose from like drums, bass, piano, guitars, and various orchestral instruments. You could also create sounds from scratch using its AWM2 and FM-X sound engines, along with immense modulation and effects options.
Sound Engine
The FM-X is an 8-operator FM synthesizer known for its dynamics and sonic capabilities. The AWM2 has a great data compression algorithm that doesn't compromise sound quality, delivering high-quality sounds without any lags or delays. MODX6 has in total 192-note polyphony: 128-note stereo AWM2 + 64-note FM-X. For modulations, there are 9 LFOs, a three-band equalization, and 18 types of filters to choose from.
Interactive Interface
The menus are intuitive and easy to navigate, thanks to its large colored touch screen and interactive and robustly-built multi-function knobs and sliders. 
Pros:
The MODX is a synthesizer for the masses, with its price, versatility, multi-purpose functionality, and ease of use. It has 5.67 GBs of samples as presets and 1 GB of user memory. It's an attractive hybrid of the sample-based subtractive and FM synthesis. It has much potential to layer sounds and creates and utilize sounds from varying genres. Its 61 keys make it a great instrument for keyboard players and performing musicians & sound designers.
Cons: 
A huge problem with MODX is that it's not sound design focused, and hence programming from scratch could be a lot of hard work, as direct knobs are missing, and the onboard sequencer doesn't have as many features making the process even more tedious.
18. Access Virus Ti2 Keyboard (20-90 Note Polyphony – Patch Dependent)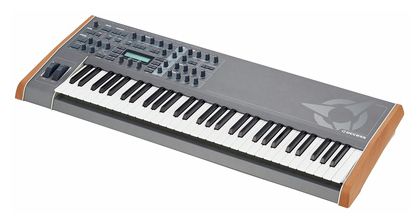 The Virus Ti2 is a wavetable synth with a distinctive characteristic sound and great capabilities. 
Access improved the Virus Ti's calculating power by 25%, countering its criticism for latency and real-time performance issues, and launched the Virus Ti2 with better power & performance, lighter weight, robust design, and more effects to enhance the character of its sound.
The Ti2 also has a software version, which we can use within a digital sequencer on a computer. It's a 61 keys velocity-sensitive keyboard with good-quality knobs, buttons, and solid construction. Next, let's dive into the other aspects of this synthesizer.
Key Features:
Powerful effects section
In addition to a bunch of time-based effects like phaser, chorus, flanger, and frequency-based effects like Ring Modulation, ring shifter, and EQ, the Ti2 lets you add studio-quality effects like Tap Delay, frequency shifter, and distortion effects for harmonic enhancement. In addition, there are new "character" effects, which lets you adjust the timbral characteristics of sounds using Analog Boost, Bass enhancer, Lead enhancer, Vintage 1/2/3, and Stereo widening. In total, there are 129 parallel effects that you could choose from.
Virus control plug-in for more control
You can enhance the control over Virus Ti2 using its plug-in version in your preferred DAW, in which you can also access a wider range of presets that you could also sort, edit and search. You can also use the dedicated remote mode to turn this keyboard into a universal remote control for VST/AU plug-ins.
Efficient sound design capabilities
The Ti2 contains three LFOs (with 64 different waveshapes) and two ADSTR envelopes. It also has two fully independent filters (High pass, low pass, and bandpass) and a MoniMoog cascade filter-inspired Analog Filter. Further, there are three main oscillators and one sub-oscillator available per voice, in which you can access Wavetable oscillators and HyperSaw oscillators, capable of using up to 9 sawtooths. In addition to that, it also contains a 2-dimensional mod matrix.
Pros:
The Ti2 is a very reliable and heavy-duty piece of gear, made for the rigors of touring due to its high build quality which is usable even in temperature changes and dust and is rock-solid. Built on the virus synth engine, it has a unique flavor, which is hard to emulate by any other synthesizer.
It uses the best of both software and hardware worlds and also comes as a plug-in that we can use inside our DAW. It can also be used as a soundcard, hence the name TI, which stands for total integration. We can control the plug-in synth via the hardware synth, and can Ti2 can also act like a MIDI device and record musical information from it.
Cons: 
It doesn't sound as analogous as other synths in the list, as it is a digital synthesizer. It is not the best device for creating heavy and hard-hitting percussive sounds, which makes this a not-so-versatile instrument because of its one-of-a-kind sonic scape. Also, many of its customers and users have complained about bugs and software issues.
19. Waldorf Quantum (8-Voice Polyphony)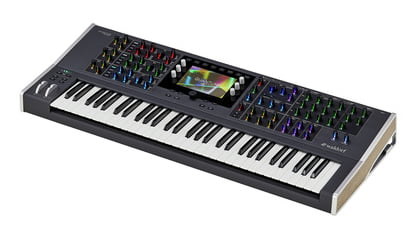 The quantum by Waldorf is a bi-timbral polyphonic (8 voices) synthesizer.
It has high-quality stereo oscillators that can route through two sets of filters, multiple LFOs, and envelopes. We can do layering and splitting of the sounds with a flexible allotment of voices in oscillators.
It's a futuristic hybrid synthesizer of both digital and analog characteristics, which is based on four synthesis programming; on top of that, you can do complex modulations and apply effects. This instrument has been elegantly, uniquely, and efficiently designed by Axel Hartmann, with great simplification and ease of use.
Key Features:
Signal Flow
Apart from the three oscillators per voice, dual analog and single digital filters are available per voice. Therefore, modulation can be easily performed and applied using six envelopes and six LFOs (each with Sine / Triangle / Square / Sawtooth Down /Sawtooth Up / Sample & Hold). Lastly, the signal flow is flexible and could route anywhere between the oscillator, filter, digital, former, amplifier, etc. You can connect up to five different effects units and use its extensive modulation matrix and compressor.
Multi-synthesis algorithm
Four algorithms are available for synthesis: wavetable synthesis, waveform synthesis, granular synthesis, and sampling/resonator. Wavetable synthesis gives you a lot of flexibility in changing the core waveform of the sound. You can experiment with the timbre of a sound using the granular synthesis algorithm, its time scaling options, and playing around with the sample's phase, speed, and volume. Resonator synthesis is based on manipulating your samples using cross-coupled filters.
High-functioning performance tools
Many tools like a pitch-modulation wheel, modulation pad, sequencer, arpeggiator, etc., are available for real-time performance and modulation of sounds. In addition, there are functions like glide, hold, chord, mono, and unison available for better shaping your sounds, along with 61 velocity-sensitive piano keys, microtonal pitch configuration, and an oscilloscope.
Pros:
The Quantum is a versatile digital synthesizer that store up to 10,000 patches, which could quickly recall using the Favourites list. Furthermore, Wavetables, samples, and presets can be exported and loaded using an SD Card. Hence, the sound design aspect of this synth is flexible because of the availability of different synthesis methods.
Visually it's a stunning instrument with a touchscreen display for controlling it. The knobs are high quality, the touch screen is smooth, and the overall design is intuitive and simple.
Cons: 
The overall sound is not as analog as one would like. Hence, it's not a one-in-all synthesizer, and you may need more tools in your arsenal to cover the analog spectrum of sounds. Another huge con is that the filters are monophonic while the oscillator is stereo, which means that once the waveform passes through the filter, a mono filter is applied. One cannot connect a USB to it to load up patches, wavetables, and other data.
20. Yamaha Reface DX FM Synthesizer (8-Voice Polyphony)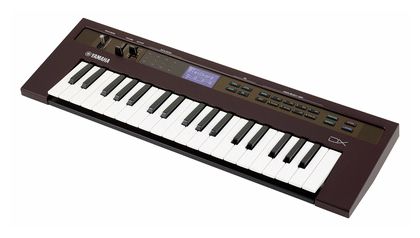 The Reface DX is part of Yamaha's series of portable mini-keyboards, each uniquely different from the next. It offers FM synth nostalgia with a hint of modern tone in a rather compact and slim case.
Yamaha's Reface DX is a polyphonic, analog FM synthesizer with a user-friendly interface for operator tweaking. Like the rest of the Reface series, it has built-in speakers, can run off six AA batteries, supports USB and MIDI connectivity, and uses a 37-note mini keyboard.
Key Features:
Four Adjustable Oscillators


Since the DX uses FM synthesis to create its range of sounds, you will have access to four oscillators that can each be set to act as either a carrier or a modulator. You will have access to up to twelve combinations for sculpting your FM tones.
Four Adjustable Envelope Generators
Each operator has a dedicated ADSR envelope generator. For each EG,

you can adjust each envelope stage's level and length

.
Feedback
By default, the operators output a sine wave, but you can use feedback control to morph an operator's waveform to form either a sawtooth, a square wave, or a combination of the standard sine wave and either of the two additional waves to create your interesting waveforms.
Built-In Effects
The Reface DC has seven built-in effects for you to use. You will have access to distortion, touch wah, chorus, flanger, phaser, delay, and reverb. In addition, each effect has two parameters for adjusting the qualities of the effect.
Phrase Looper
You will be able to record and playback passages with the phrase looper. It can record up to 2000 notes or 10 minutes at a BPM of 120. In addition, you can overdub phrases to create multi-layered loops, transpose loops, and edit patches seamlessly.
Pros:
The interface for modifying sounds is very user-friendly and easy to use, which makes sculpting your sounds easier than with other FM synthesizers.
In addition, with built-in speakers, a headphone jack, and the ability to operate off battery power for up to five hours, you can use them on the go comfortably.
Cons: 
Unfortunately, any loops created are lost once the synthesizer is turned off, and there are no ways to save them, so if you come up with chart-topping loops, you will need to record them. Adding to the woes, some may find the mini-keys uncomfortable.
However, the keys are slightly longer than the standard. And lastly, since the polyphony only supports up to 8 notes, some may find the voicings limited.
Summary:
Yamaha's Reface DX is a powerful, portable synth that makes FM synthesis more enjoyable and less painful. They are a welcome addition to anyone's rig, especially if you are new to FM synthesis.
Bonus:
Behringer Crave (Up-To 16-Voices)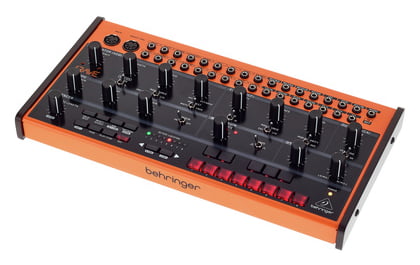 The Behringer CRAVE has been designed to emulate the sounds of synths from an era of iconic synthesizers. They use a ladder filter based on Moog's 24dB ladder filter. And they sonically pay homage to Sequential's influential Prophet-5.
Behringer's CRAVE is a semi-modular monophonic synth. Despite being monophonic, they can be chained to additional Crave units for up to 16-Voice polyphony.
In terms of features, you will have a single VCO, a VCF, an LFO, and an EG at your fingertips. To top it all off, you will have plenty of patching options since they have up to 18 inputs and 14 outputs.
Key Features:
Voltage Controlled Oscillator (VCO)


A single oscillator is available for creating tones. The Voltage Controlled Oscillator can be set to either a pulse wave or a reverse-sawtooth wave. You can adjust the pulse width to create a square wave when the pulse wave is selected. In addition, the tone can be adjusted up or down one octave.
Voltage Controlled Filter (VCF)
You can use the Voltage Controlled Filter to create your desired tone by using a high-pass or low-pass filter that attenuates frequencies by 24db/octave. The low-pass filter removes frequencies above the cutoff frequency, creating a darker/lower tone. The high-pass filter removes frequencies below the set cutoff frequency, creating a thinner/higher tone.
Modulation
A controllable Low-Frequency Oscillator allows you to modulate the main tone of the synth and the filter used to shape the wave. The LFO section only allows control over the LFO's oscillation rate and the waveform shape used. The two waveforms offered are a Square wave and a Triangle wave.
Envelope Generator
The envelope is used to control three of the four waveform sections. You will be able to adjust the attack, which is the initial start of the tone up to its loudest point, and the decay, which is the time the tone takes to lower from its loudest point to a consistent volume and sustain, which is the consistent volume until fading to silence. The decay control also adjusts the release of the tone.
Pros:
Behringer's CRAVE offers exceptional versatility in a single package, especially if you can make the most of its available features. The oscillator can create a various deep to piercing tones with its flexible filtering options.
Cons: 
As for downsides, the manual included can be difficult to decipher. If you struggle, you can leaf through the Mother-32 manual since the two synths operate similarly.
Like a few synths on this list, they do not offer a ¼" Jack output connection, so you will need an adapter for when you want to send the output to any outboard gear.
Suummary:
The CRAVE is a great choice if you are looking for a cheaper alternative to Moog's Mother-32! Otherwise, if you're looking for an analog synth that offers a lot of tones and sculpting for a low price, then this one is for you.
Shaurya Bhatia, is an Indian Music Producer, Composer, Rapper & Performer, who goes by the stage name MC SNUB, and is also 1/2 of the Indian pop music duo, called "babyface". A certified Audio Engineer & Music Producer, and a practicing musician & rapper for more than 6 years, Shaurya has worked on projects of various genres and has also been a teaching faculty at Spin Gurus DJ Academy.