Looking to complete your pedalboard with the right pedal for your Telecaster? Today we're talking about the Top 12 Guitar Pedals Great For Telecaster 2023.
The Fender Telecaster, or "Tele" for short, is a brand of the electric guitar made by Fender. The Squire, its sibling model, was the first solid-body electric guitar to achieve widespread commercial success. Its groundbreaking tone and innovative look revolutionized electric guitar production and popular music.
The two single coil pickups are switched between using a three-position selector switch, and the volume and tone knobs are individually adjustable. First made of Bakelite, then celluloid, and finally various plastics, the pickguard attached to the body through five (later eight) screws.
The strings are doubled up on each of the three movable saddles on the bridge. In its original form, glue is used to fasten the nut, and solder is used to link the electronic parts, but nowadays, we know better. They needed more glue in construction after the truss rod, and the rosewood fingerboard was eventually introduced.
Because we know how important it is to know the pickups of this guitar, these top 12 guitar pedals great for telecaster 2023 include solutions for a complete pedalboard. Here you'll find pedals that don't alter the guitar's tone too much and let that beautiful "twang" sound feel at home.
There are two ways to consider when you want to make your Telecaster guitar sound better. Either you modify your guitar to make it sound different from how it was created, or you upgrade some aspects because this guitar comes with some small problems, which you can fix.
Below, we'll show you a few ways you can make your guitar sound better:
Saddles
Fender has been experimenting with different metals for Tele saddles practically since the beginning, and the results are noticeable in the sound. Steel has a brighter, snappier attack and more growl than the brass's smoother, fuller tone.
Some claim that aluminum can replicate the dazzling 'acoustic' characteristic of steel without compromising the weight and body of brass. There is no definitive answer; rather, it depends on the sound qualities of your instrument and amplifier.
Tuners
Changing out the diecast tuners on a light-bodied Tele for a set of vintage-style lookalikes might improve the instrument's aesthetics and feel. Alternately, if you're a frequent user of string-bending stunts performed under the nut, you might wish to update to some diecast staggered-post tuners. They'll eliminate the need for string trees, saving time and effort while bending.
Intonation
The Stratocaster features six separate saddles, suggesting that the designers were aware of the shortcomings of the traditional three-saddle setup regarding intonation. While six-saddles are more widespread, the sound of older brass and steel-barrel saddles is still beloved by some; therefore, compensating units are a must for maintaining appropriate intonation.
Controls
According to some players, the typical Telecaster switch isn't the best for quick pickup changes. With an older switch tip design, the volume knob is in the way of the switch, and the position is awkward for the right arm.
This probably explains why Fender opted for an angled switch on the Stratocaster. It's possible that an angled switch slot on a control plate could help alleviate your irritation with the switch. Slot-free control plates with holes for toggle switches are another option to consider.
Pickups
Some guitarists, it's true, prefer the concept of a Telecaster to the instrument itself. That's not an issue, though, because the Tele's simple design and wide selection of replacement pickups make it possible to get any sound imaginable.
True Telecaster fans occasionally confess that the guitar's standard neck pickup isn't the best feature. The mid-1950s saw the first player-initiated swaps, and some of the most famous and influential players in history were among those who made the switch.
Nashville Mod
Fender enthusiasts have the most difficulty deciding between the Strat and the Tele. Naturally, there are situations when players require a hybrid approach. Some players swapped out the Tele bridge pickup for a Strat one, but the most popular modification is to place a Strat pickup in the Tele's center position and a five-way pickup selector.
Adding a Strat pickup to the neck position is common for certain players. Naturally, this will necessitate considerably more routing with vintage-spec bodies, but since you're going to be routing for a middle pickup anyhow, this is of little consequence.
What To Look For If You're Buying A Pedal For Your Tele?
When you buy a pedal for your Telecaster guitar, you should consider that it has some pickups that offer a sound called, in terms used by most guitarists "twang". Well, pedals that aren't subtle in their settings might ruin the beauty of that specific tone.
There is beauty in the Telecaster's uncomplicated design. Its sturdy construction ensures it will last through anything life throws at it. In 1950, Leo Fender developed it. His blueprint hasn't changed much since its inception. Telecasters are easily recognized by their distinctive "twang" or tone.
The guitar's distinctive tone originates from its Maple neck, single coil pickups, and metal bridge plate. Only one volume and one tone knob are present. The 25-inch scale provides exceptionally steady tuning. The guitar takes on a more jazzy tone when the tone is lowered, and the neck pickup is chosen.
Putting the bridge pickup's tone control to 10 produces a sharp sound that can cut through any densely layered recording. The guitar has made it to the pinnacle of musical greats because of its adaptability and the ease with which a player can do much. A Telecaster can be identified by its distinctive single-note sound, especially from the instrument's bridge pickup.
Let's see what the Top 12 Guitar Pedals Great For Telecaster 2023 include.
Top 12 Guitar Pedals Great For Telecaster 2023
1. Fender The Pelt Fuzz
A delicious mouthful of fuzz Anyone who plays guitar and enjoys glitchy fuzz will feel at home with this pedal.
It has always been an essential part of the sound of rock music. This pedal is a gold standard for adding this indispensable tone to your setup. Among the many features of this silicon fuzz pedal is a Bloom knob that allows you to shape your sound.
More so, a Mid switch will enable you to increase or decrease your midrange for a wider variety of tonal textures, and a Thick button adds thickness and body to your sound. Guitarists looking for a new, unique sound should stomp on one.
Key Features:
Housing
The pedal is a silicon transistor fuzz box with more tonal and textural options than the standard vintage fuzz box, and it uses a square wave to achieve its effects. It has a similar spring-loaded battery door and LED switch for lighting the control knobs, but its housing is about an inch narrower.
The pedal is operated by a single footswitch and features controls as well as small toggles for mid and thick. It is possible to power either pedal using a 9-volt battery, a center-negative DC adapter, or a power source of the same voltage.
Circuitry
As a result of its additional voicing settings, this silicon transistor-based fuzz can generate an impressively broad palette of tones. The thickness switch provides optional low-end fatness, and the midrange contour lever gives players much control over the middle EQ. The gamer who wants to stand out from the crowd can use their imagination with the help of the bloom and fuzz settings.
Controls
There are independent footswitches for bypass and boost in addition to EQ knobs boost, level, and gain. In effect or bypass mode, a large blue LED lights up, and in boost mode, a smaller blue LED lights up. You can use the LED switch on the back to illuminate the control knobs.
Character & Sound:
The fuzz produced by the pedal is deliciously scratchy and buzzy, with a ton of fat body and surprisingly clear and defined highs and lows. The bloom knob, which adjusts the attack from soft to hard, and the thick and mid switches, which let the user adjust the overall frequencies for more fatness or sharper precision, are where the real magic happens.
If you want to play more complicated chords with greater clarity, you can dial back the fuzz to sound best with single notes or fifths. The harmonic content of the Pelt is as plentiful as a dividend from Warren Buffett.
Pros:
It is built like a tank with a gorgeous purple anodized aluminum shell and eye-catching amethyst amp jewel light; this is typical of Fender's latest pedals. All battery purists will appreciate their particular magnetic door, which makes replacing batteries faster and easier.
The pedal is designed for guitarists who want a fuzz effect unlike any other, and it features more tone-shaping capabilities than the typical fuzz pedal. If you're into fuzz, you should check out this pedal because it can go from creamy, rich warmth to spitting distortion.
Cons:
This pedal has some modern tones, which might not necessarily appeal to people looking for a tone with more of a vintage feel to it in terms of its sound.
2. Ibanez TS808 Original Tube Screamer Overdrive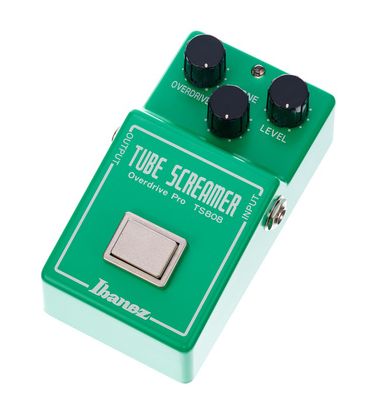 When you plug your guitar into a Tube Screamer pedal, you get a thick, overdriven sound reminiscent of tube amplifiers.
A classic, this green monster is also an essential component of any current pedalboard. The original became widely known as SRV famously exploited it to create his sound. Collectors might expect to pay big bucks for an original now, but this reissue offers the same highly sought-after tones at a far more reasonable price.
Key Features:
Circuit
This pedal distorts any other, making it ideal for guitarists whose sound relies on a tube amplifier. There was no reduction in sound quality because it uses the same chip and analog circuitry as the original. In the genre of blues metal, Ibanez has produced a masterpiece.
Guitarists who like to experiment with their effects can even use this beauty in conjunction with an amp's distortion setting to create a distinctive valve sound. The Tube Screamer is the perfect pedal if your tone lacks apparent warmth or if you want to elevate your sound to the next level.
Controls
The pedal is a straightforward stompbox that retains the original's square footswitch. It would help if you had a tube amplifier to enhance those screams, and setting one up is a breeze. The ability to fine-tune the tone with only three buttons is a huge bonus for those serious about getting the best sound possible.
Just flip the knobs to change the overdrive, tone, and volume. You may monitor the battery life, and the pedal's efficiency can be seen as an LED indication. The pedal's simplicity is a major contributor to its continued dominance in its field.
Design
The pedal's construction is so solid and long-lasting that players may push it to the limit without worrying about breaking it. The pedal is extremely lightweight and small, making it one of the most portable. Therefore, it is convenient for performers to transport and set up anywhere.
The sturdy rubber cap provides extra assurance of long-lasting use. Don't worry about the world below you while you play your heart out. In terms of construction quality, Japanese manufacturers have spared no effort. The die-cast zinc construction of the zine reduces the effects of wear and tear over time.
The volume and tone controls are situated where they should be: front and center, towards the top of the box. Its metal housing is superbly constructed, making it difficult for even the heaviest metal players to break it. Because of its stompbox form factor, you can store it conveniently on any pedalboard.
Character & Sound:
This reissue of a legendary overdrive pedal has all the great features of the original and more. Because it is often referred to as the "holy grail" of overdrive pedals, it belongs in every guitarist's collection. This pedal lives up to its reputation for quality and heritage by producing truly great sounds.
Connecting it to an amplifier's distortion setting is the ultimate way to maximize the effectiveness of this fantastic stomp box, allowing you to create that smooth valve tune. This tube screamer monster has allowed artists like SRV to create their unique sound, which has been received enthusiastically by fans of his music.
Pros:
This little miracle box will become an indispensable part of your setup, regardless of the musical style you perform. This iconic pedal has been given a retro makeover, and it comes in a tidy package with an excellent array of effects, excellent responsiveness, and a low price.
Cons:
The only two things people didn't like were the LED indication, which was difficult to tell if it was on unless you were standing right over the pedal, and the foot switch, which was fairly stiff and obstinate, but that may improve with usage. These were the only two things that people didn't like. In conclusion, a highly helpful accessory to have added to the pedal board.
3. Boss CP-1X Compressor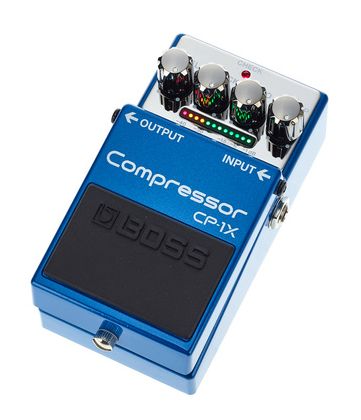 The BOSS CP1X Compressor is widely regarded as the product that will define the next generation of stompbox-style compressors.
The Compressor offers musically-sounding dynamic control via in-depth frequency analysis. Pedal's built-in 18-volt circuitry ensures it can manage the volume of a wide range of guitars and tunings. You can fine-tune compression with the help of a gain reduction indication. The Boss Compressor Pedal is arguably the best compressor unit on the market.
Key Features:
Processing
The pedal's digital Processing separates it from other Boss compressors. This ingenious design quickly analyzes your guitar's signal chain. It selects the effect of each component, allowing you to hone the guitar's sound to your playing style for maximum musicality. As a result, the pedal never gives away its presence.
Design
Compression pedals by Boss have found their way into countless pedalboards around the globe. The classic compression stomp box series is renowned for its high-quality sound, intuitive design, and sturdy construction.
This new model is the most advanced iteration of these legendary pedals. This Compressor has the same classic four-knob control layout, transparent performance, and strong build as its more well-known siblings, despite its remarkable power.
Meter
This LED meter, in the form of a bar graph, shows the current compression level by reading off the signal's decibel (dB) attenuation. It's helpful to have this indication because it gives you a quick look at how your gesture reacts to the settings you've chosen. It is much easier to fine-tune the effect and track the time it takes for the compressed signal to revert to its original form.
Circuit
Boss included a voltage pump in the pedal since headroom is so essential in a high-quality compression circuit. You can use a standard 9-volt power converter or battery to run the gadget, and it will still have enough muscle to handle instruments that other compressors could struggle with. The pedal's 18-volt internal electronics work with any guitar, even electro-acoustic models with active pickups.
Character & Sound:
The level of compression that you may apply with this pedal before the sound becomes fake is particularly noteworthy. With the effect turned up, the sound becomes remarkably similar to that of a pedal steel guitar. At its mildest setting, though, it does nothing but improves the instrument's inherent tone, making it well-suited for jazz and punk.
You can achieve rockabilly tones by placing the effect in front of a distortion amp or pedal. The pedal works well with amplified acoustic guitars, giving them more depth and character without changing their basic tone.
Pros:
To sum up, if you've never used one before, it's a lovely size, and the connections are well-described. The knobs for the controls can be found tucked away in a concealed area of the control panel. Due to its internal spring construction, you can use the Footswitch with minimal effort and maximum comfort, regardless of whether or not shoes are present. Also, you can quickly access the battery compartment.
Cons:
It does not do a good job of reducing the harshness of the guitar. This pedal adds a harsh high-frequency edge to a Telecaster's signal when played with a Fender amp. When pressure is taken off the gas, the issue vanishes. There is no point in futilely adjusting the amp's tone controls.
4. MXR M135 Smart Gate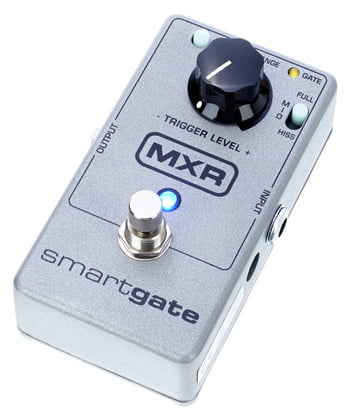 The sophisticated gate speed of this instrument allows you to convey all of the subtleties of your performance.
Since it responds slowly, chord sustains are never abruptly severed. As soon as you start playing with a quick palm mute, it activates and adds crystal-clear precision to your playing. Moreover, there are three distinct modes of operation to help you select the perfect tone for your set-up.
Plus, if things get really out of hand and the noise level gets excessive, you can simply flip the one-of-a-kind switch. You may eliminate any shaky spots and make your performance shine in this way.
Remember that the particulars of adjusting this pedal will change according to the instrument you're playing. Before beginning any project, remember the distinctions between single-coil and humbucker pickups.
Key Features:
Controls
Here, three distinct forms of regulation interact with one another. This machine can function in various ways, and each one depends on the others to work well. Trigger Level is the primary variable here. It helps determine how sensitive the noise threshold needs to be to filter out all undesired tones.
A toggle switch can adjust the volume from low to high, medium, or full. One is ideal for high-input instruments and sources that produce hiss, another for low-input sources with some hum or noise in the low frequencies, and a third for instruments and sources that generate hiss in the midrange.
Smart Gate may be turned on and off using a regular footswitch. LED lights are installed within the pedal's knobs that display your current settings.
Power
You can always utilize the unit's bypass if your chain has certain peculiarities that this couldn't manage. This life-saving pedal has sturdy housing, which befits a product with a serious purpose. The grey body perfectly suits the effect, creating a feeling of safety.
This one typically runs on a single 9V battery with an adaptor to make battery and power swaps easier. Despite its apparent simplicity, this pedal gives you more control than its rivals.
Switch
Plus, if things get really out of hand and the noise level gets excessive, you can simply flip the one-of-a-kind switch. You may eliminate any shaky spots and make your performance shine in this way.
Remember that the particulars of adjusting this pedal will change according to the instrument you're playing. Before beginning any project, remember the distinctions between single-coil and humbucker pickups.
Character & Sound:
There are no audible results from using the pedal. Nonetheless, you can emphasize its potential relevance with moderate ease. His exceptional tracking allows you to eliminate unwanted noise while preserving the full harmonic complexity of your sounds, whether unaltered or modified.
With these supplementary properties, this noise can serve as a useful gate in various contexts. However, it is vital to keep in mind that hiss removal may alter the overall tone of the recording, so it is recommended to experiment with all three settings to find what you like most.
In any case, this pedal is the ultimate answer to your enormous difficulties. It is essential to study its responses to your instrument, playing style, and the rest of the chain. And when you do, you'll have a fantastic tool.
Pros:
When it comes to noise gates, this one is one of the unique designs. This noise gate pedal is surprisingly effective, even in signal chains that aren't tailor-made for such devices. MXR's pricing strategy is standard for products of this nature and fair, considering the features they offer. So, if you're willing to experiment with other pedals, you should give this one a shot.
Cons:
You'll be doing damage to your sound by using what is a suppressor and not a gate pedal. There's also no way to utilize it to successfully cut down on or eliminate noise without substantially affecting your tone. The high frequencies of the instrument's sound are muted even when the gate is "open," and it performs poorly at blocking out ambient noise.
5. Friedman Buxom Boost
The Friedman Buxom Boost may be the most effective tonal solution you've ever added to your pedalboard.
This pedal's sparkling clarity highlights the subtleties of your playing and the unique character of your instrument, making it a top-tier boost effect. In addition to a high-quality EQ for fine-tuning the sound to your specific configuration, there is also an EQ Bypass switch for completely disabling the tone stack. If the bass doesn't have enough oomph, turn the Tight knob.
Key Features:
Settings
You may easily tailor the signal it creates to your playing style by adjusting the Mid, Treble, and Bass controls onboard. You can flick a switch to turn off the EQ function of the pedal if you prefer the unprocessed sound it provides. The addition of an equality section is appreciated. The equalization controls integrated into the pedal make fine-tuning your pedal setup, which can frequently vary, easier.
Circuit
This boos pedal was built to give you the most tonal control possible while yet providing a solid foundation for the rest of your pedalboard. The pedal's five rotating settings allow you to tailor its power to any circumstance. It uses high-quality internal circuitry to deliver a clean boost without any noise or signal dilution.
Character & Sound:
If you're looking for a significant improvement in tone, this pedal is a must-have. Like the amplifier head it was named for, this pedal pushes a pure signal for maximum volume.
The boost knob is your man when you want to push the front end of your amplifier into thick harmonic overdrive. The pedal has everything you could need, from active controls that allow you to dial in a specific tone to an EQ switch that allows you to attain perfect transparency.
Pros:
With this pedal, you may alter your sound in various ways. This pedal can be both a volume booster and an EQ in your signal chain thanks to its integrated 3-band equalization.
Cons:
Some devices fail frequently, yet these issues are isolated and covered by the manufacturer's warranty. There is nothing else to say about this area because the pedal is great.
6. Keeley Compressor Plus LTD 4-Knob Compressor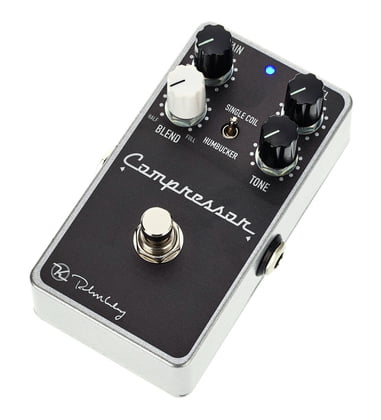 Keeley's latest squeezebox revision, the Compressor Plus, improves upon its predecessors in several significant ways.
They have gained worldwide recognition for their compressor pedals, and this new model improves upon the already high standards set by the company by listening to feedback from professional musicians.
It has a battery compartment and requires regular 9V power. Even the Attack toggle has been simplified for speedy volume control. You can tame the highs on a snarling Tele and give any guitar's tone more body by using this pedal.
Key Features:
Blend
The ability to adjust the blend is beneficial. Compression users should expect more consistent note strikes and longer endurance when playing, although the effect does come with certain drawbacks. You may lose dynamic nuance and the force of note and chord attacks.
However, a wet/dry mixture allows for a powerful attack and longer note sustain. This new tone knob helps with yet another widespread problem with compressors. When the assault of a note is lowered, the resulting tone is often more subdued. A slight high-frequency shimmer can help bring back that lost sense of presence.
Switch
Its single coil switch makes this pedal more versatile and easier to use than ever. The switch replaces the traditional Release knob, allowing you to adjust the amount of time before a note's compression fades to achieve the best possible sound with single-coil and humbucking pickups.
In comparison to single-coil pickups, humbuckers typically produce a louder sound. The release time is reduced when the switch is in the humbucker position, and it increases when it is in the single coil position. The skilled compressor user may benefit from having independent settings for as many parameters as possible. Still, this can be a fast and easy way to achieve a beautiful sound for the casual user.
Bypass
It is a pedal with complete bypass switching. This means that the signal is completely unaltered by the circuit anytime the pedal is depressed, allowing for maximum transparency. A true bypass pedal's advantage over a buffered bypass pedal is that you will still hear sound from your amplifier if the power suddenly goes off.
Character & Sound:
People who are familiar with the sound of compressor stompboxes from the '70s and '80s will dig his fundamental sound and appreciate the newfound versatility it affords them. However, before jumping on the compressor bandwagon, it's essential to weigh the benefits and drawbacks and the alternatives that weren't available 40 years ago.
It's your choice whether or not to squeeze. Because of the negative impacts on dynamic range and amp response variance, many musicians avoid using compression effects in front of their rigs. Compressor stompboxes are often used in the current country because of the consistency and smoothness they bring to otherwise bare parts.
Pros:
Since distortion, reverb, and delay are more common effects pedals, many who have never used a compressor before may be intimidated by its complexity. If you have experience using compressor plugins within a digital audio workstation (DAW) in a recording setting, you have likely worked with compressors that include various controls.
It's a great pedal that everyone, regardless of musical background or experience with compressors, agrees should be used. The pedal's controls are intuitive and straightforward, producing an exceptionally compressed sound without requiring hours of tweaking.
Cons:
While this isn't likely a dealbreaker for most players, it may be for someone with extensive compressor design and operation knowledge. These have different names than the ones we've just discussed. Still, they ultimately allow you to adjust the same parameters and are generally more approachable for guitarists who aren't already familiar with compressors.
7. Fender Hammertone Reverb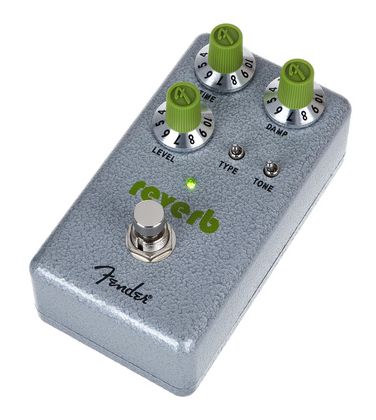 No spring simulation is included with the Hammertone reverb pedal, yet it still does well in the competition.
This pedal assists you in getting the ideal reverb sound and will have designated settings and various tones to choose from. When you turn these knobs together, you may achieve a satisfying reverb effect. Vocalists find that this pedal is a fantastic complement to their existing pedal board setups due to its small footprint. The true-bypass design is perfect for usage in the recording studio, the rehearsal hall, or even onstage.
Key Features:
Design
The effects it produces are meant to be used frequently, and its name refers to the hammered metal chassis that houses them. The three controls for time, humidity, and volume are a lovely homage to the original, renowned logo knobs. Thanks to the pedal's simple two-switch layout for adjusting reverb type and tone, you may achieve incredibly professional effects in seconds.
Connectivity
The pedal has its power supply and audio in/out jacks, allowing the player to place many pedals side by side on a pedalboard without taking up too much space. Thanks to the pedal's bypass switching, your voice will sound exactly as you recorded it.
Modes
This effect pedal features a three-way toggle switch for selecting room, hall, and plate settings. Given the renowned status of their vintage spring reverbs, the company's decision not to include a spring reverb effect seems puzzling.
The reverb is more than just a one-trick pony, thanks to the three other reverb kinds. With these three reverb kinds and the powerful, versatile damp and temporal parameter controls, you may create reverb effects ranging from gentle ambient to ethereal enchantment.
Hall Effect
Toggle the "switch" knob to the "up" position to engage the hall effect and hear a superb reverb that gracefully sustains and decays the subtler midrange portions. With this effect, the highs are clean and sparkling without becoming shrill, while the lows and mids are luscious and sweeping.
The hall's acoustics lend a pleasing harmonic balance to various musical genres. While a shorter reverb time produces wonderful richness for blues and cleans, a more extended reverb period paired with a fuzz or distortion pedal makes it easy to get those legendary dirty tones.
Room
Modifying the reverb from hall to room effect results in perceptible shifts in frequency response, but the reverb's beautiful character remains unchanged. The room produces a scooped tone, with a higher than a specific emphasis on high and low frequencies.
The soft thud in the bass end works well with the clear note clarity and plucking accents. When playing arpeggios, people found that the instrument's varied string tones added depth and complexity to the music, making it more fun.
Character & Sound:
This pedal comes into its own as more of a focal effect in experimental musical genres. The versatile damp dial, tone switch, and several reverb settings give the signers much control over the final sound. It's nice because activating the effect doesn't result in any noticeable volume shift; this makes it simple to work into current musical compositions.
Pros:
The pedal's sturdy build, three effect kinds, and options for fine-tuning its sonic characteristics are just some of the reasons why Fender products are so well-liked by guitarists, amplifiers, and effect users. Add some natural reverb to your voice chain, or find the versatile ambiance you've been looking for on your guitar with this wonderful option.
Cons:
To add insult to injury, the pedal lacks delay times, which is a dealbreaker if you want to make significant sonic changes. It's also frustrating that the pedal has some issues in the low-damping region.
8. Tc Electronic Hall of Fame 2 Reverb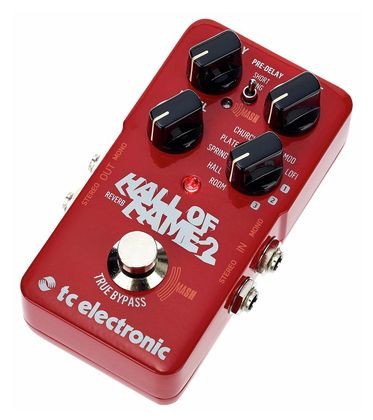 TC Electronic's Hall of Fame 2 amplifies the already impressive capabilities of the original Hall of Fame.
Thanks to its innovative shimmer reverb algorithms and one-of-a-kind Mash footswitch, it's an excellent instrument for expressing oneself musically. The Mash footswitch may be used as an expression pedal, allowing you to adjust the reverb's level and turn it on and off.
Think about the fact that you like using the presets menu for effects. To your delight, the reverb pedal has three storage locations where you can save your unique reverb settings.
Key Features:
Connectivity
This analog foot pedal has a standard size and powers through 9V, much like the original HOF. There's an LED status light, a pair of input/output jacks, and a USB port, among other features.
It's a standard reverb pedal with some exciting additions. The pedals' crowning features, the footswitch, and the updated reverb algorithm take them to the next level.
DIP
There are two knobs hidden in the pedal's back that allow for this customization. There is no need to worry about generating an annoying click while activating the HOF if you want to utilize it during a quieter part of your set. While some individuals may like to hear the click when the pedal is pressed, you can readily remedy this problem by installing a flashing red LED.
Presets
Tone Print allows you to access a user-defined profile instantly. The manufacturer offers the ten presets mentioned above and software enabling you to adjust the reverb's settings to your satisfaction. The company provides standard presets and artist-created ones from musicians like Slash.
Design
You can adjust each pedal's four knobs to select a unique reverb effect. People are always impressed by how much you can control with the press of a footswitch. The footswitch controls the Plate reverb's volume, and the Church reverb's on/off time. The footswitch may require some getting used to, but you will only want to return once you do. This has a very high potential for becoming addictive.
Character & Sound:
Any of these reverb varieties would be fantastic on its own. That you may find these capabilities in a single pedal without sacrificing portability is a significant benefit. The cathedral settings make your ambiance sound like you summoned it inside the largest cathedral possible. At the same time, the spring function perfectly captures the antique face tone, making it suitable for the rocker, jazz, and retro styles of playing.
You can achieve the polished, recording studio sound by selecting mod from the main menu and then selecting one of the more experimental tones available in the mod submenu. This reverb encompasses many tonal possibilities, from soft and sweet to strongly damaged environments.
Pros:
This pedal offers a vast range of tones for its size and price. This pack contains every reverb effect ever utilized in a professional production. While the HOF's presets feature allows for some in-depth customization, players looking for a reverb pedal to send them into an inventive or dreamy region may want to explore elsewhere.
Cons:
Using a nine-volt battery to power the pedal for 10 minutes can drain the battery and significantly reduce its effectiveness. In addition, the footswitch frequently fails, and the damage is usually not covered by the manufacturer's guarantee. The primary issue, though, is that it is not a true bypass; thus, the pedal makes a lot of noise to the signal whether it is active.
9. MXR M101 Phase 90 Phaser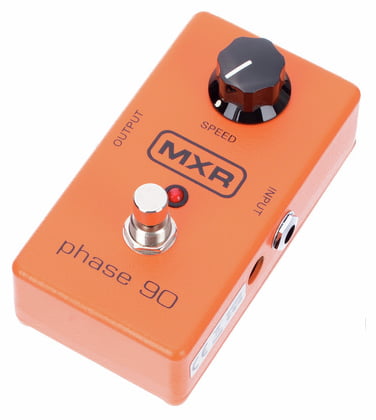 If you want to try out the phase effect on your guitar, the MXR Phase 90 M101 is the best option.
The MXR Phase 90 is a famous phase pedal used by many guitarists, from EVH to numerous others who want to add a little sparkle to their solos. The pedal also added a fluid quality to chords and muted strumming. Aside from guitar, it also works nicely with bass, synthesizers, or vocals.
Key Features:
Housing
It's sturdy, easy to use, and gives you a superb sound almost instantly, so you won't have to waste time fiddling with the settings. The typical phaser sound it creates has been heard on countless songs, making it easy to get a handle on right away.
A fundamental and uncomplicated method is required. It has a bright orange finish that stands out, a single knob that can be covered to adjust your foot during play, and an LED that indicates whether the pedal is active. In addition, MXR offers variants with various extra parameters, including an intensity knob and a toggle for selecting between two- and four-stage phasing.
Bypass
Although early models were buffer bypass pedals, these sold in music stores now are genuine bypass, meaning that your guitar's tone will not change when the pedal is disengaged. To counteract the high-frequency loss from extremely long cables, some musicians still prefer buffered bypass pedals at the beginning and end of their signal chain.
Character & Sound:
You can use this pedal to achieve a wide range of effects, from a slow, subtle whooshing to a fast, noticeable swirl that might inspire you to alter your style of play. This one is more likely to remain unseen. There is no way to definitively state whether one phaser tone is better than the other; rather, the decision is entirely subjective.
You can modify these pedals to mimic the sound of their alternate version. However, the pedal does not allow for much in the way of sound customization because, to its widespread use on innumerable songs, it takes only a few seconds to dial in a recognizable and musical sound.
Most listeners prefer slower tempos, but you should experiment as much as possible or utilize this pedal with a low speed and a clean sound. It adds a touch of delicate atmosphere that works well with a wide variety of musical styles.
Pros:
One of the best features of this pedal is how simple it is to achieve a high-quality phaser sound. If you have an idea for a sound and know that all the parameters are set to the same value and you only have control over the rate, then it shouldn't be too difficult to realize.
This pedal's simplicity in circuitry, knobs, and switches reduces the wear and tear that could occur over time compared to more sophisticated pedals. It's also solidly constructed, so it should last a lifetime of use without letting you down. Make sure to use a high-quality power source with adequate isolation to power the device.
Cons:
This pedal lets you change the LFO speed, so if you want to experiment with the phasing effect to its fullest extent, you should look elsewhere. You can find alternatives that allow you greater control over the effect, and these may better suit your requirements.
10. Dunlop GCB95 Cry Baby Standard Wah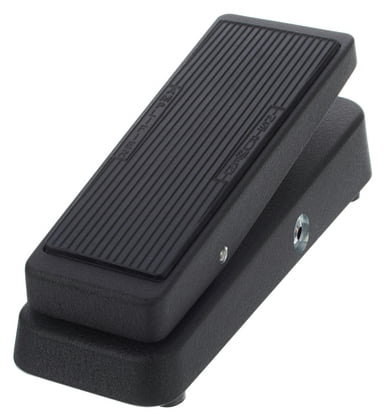 That classic design inspired the Dunlop GCB-95 Original Cry Baby Standard Wah, which features a few essential improvements over previous models.
This wah is a modern variation on the famous Dunlop Cry Baby; it retains the original's sugary, lively flavor while amplifying the wah effect and providing crisper highs. The improved components allow for a quieter operation and a longer lifespan.
A wah pedal can't work without an inductor, a coil of insulated wire that mimics the action of a guitar pickup. Because of its central role in the wah's variable filter circuit, its tonal quality significantly impacts the instrument's overall sound.
Key Features:
Power
This pedal's bypass switch is a significant improvement over its forerunners. It can be powered by a standard AC power adapter or a 9-volt battery. The pedal's steel housing is as robust as a battleship, and the setup process is simple and secure.
Only two jacks are a quarter of an inch in size for input and output. The bypass function is activated and deactivated by fully depressing the pedal; no other controls are present.
Mechanics
The filter frequency of the original is adjusted by rotating a unique potentiometer using a sturdy rack and gear mechanism. As a result of the mechanical arrangement, there will be no slack and rapid response.
Many of them have a linear taper, where the resistance value remains constant regardless of how far you turn it, or a logarithmic taper, where the value varies substantially at one end. Instead of a linear potentiometer, the original uses an S-curve one. Adjusting the value more toward the middle and less toward the extremes gives the foot pedal a more natural feel.
Dimension
The pedal's dimensions fall smack in the center, giving it a great option for guitarists looking for a flexible, medium-sized pedal that won't take up too much space on their pedal board. The size of the original wah pedal reveals how ubiquitous it has grown. The pedal is flawless in every respect, and its design ensures compatibility with a wide variety of modern pedal boards.
Character & Sound:
Each wah pedal has its unique character and sound that might be hard to describe. This wah pedal makes music that sounds like it came from an old record player. You'll hear this common wah tone used in a variety of contexts.
This tone works wonderfully with virtually any type of song. If you want something that lets you adjust things like pitch and volume, there are plenty of alternatives. Dunlop manufactures an extensive catalog of wah pedals under this label, allowing you to recreate the sound of your preferred guitarist.
Pros:
This pedal is great for a number of reasons. The renowned tone that so many great guitarists have employed will be the first thing you notice about this instrument. On top of that, it can be used by any knowledgeable person. No tone control is not a deal breaker because the factory sound is good.
It's also sturdy, so you won't have to worry about breaking it or damaging it. Finally, the price is laid bare. Though it bears a well-known brand, this wah pedal comes at a very low price. Even if you do not like it, you won't be out a ton of money because its value will continue to rise.
Cons:
Unfortunately, there is no DC power adapter included. Unfortunately, not all wall warts will work because the port is located so far back in the harness. You'll need to ensure you have the right adaptor to use this right out of the box. Further, you'll need to put serious weight on the pedal to move the car.
11. Behringer SF300 Super Fuzz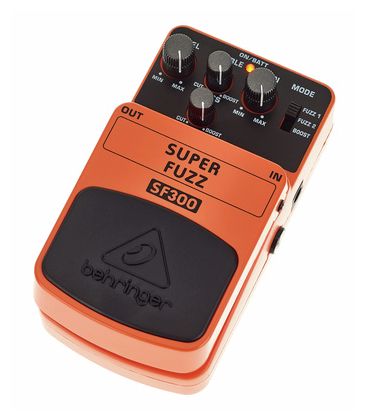 It's one of the few distortion pedals under $25 that sounds good, so we recommend it whenever someone asks us about the best cheap distortion pedal.
Someone with experience playing who plays live frequently and appreciates that quality and value are more important than brand name should get this pedal. This pedal's popularity is not surprising given that it includes all the features of more expensive models at a far lower price.
Key Features:
Settings
You can control the amount of distortion in your sound with the Level knob. The guitar's tone becomes distorted and less clean at higher volumes. You can enhance your sound's distortion, fuzz, and weight by turning up the gain.
To adjust the high and low frequencies' volume, use the treble and bass controls. This is your typical equalization slider, where a higher number on the Treble means more emphasis on high frequencies, and a higher number on the Bass means more focus on low ones.
EQ
Among the three fuzz settings on this pedal, mode one provides a typical fuzz sound. We got a feel for the overall sound by starting the study at midday with the Bass and treble active EQ settings. If you're searching for a modern, grungy fuzz, look no further than the mode used for everything from blues to a full-on doom metal tone.
The pedal is made to accentuate low and high frequencies rather than the midrange. This loudness is ideal for rhythm players because it doesn't overpower the lead instrument. The pedal's level control allowed us to achieve a pleasant breakup at lower volumes, making it ideal for use in the bedroom while still delivering a powerful crunch when turned up to eleven.
Housing and Connectivity
Like the rest of their pedal lineup, this fuzz pedal is housed in a plastic enclosure. This model stands out thanks to its bright orange paint job, and customers were pleasantly delighted to learn it was well-made. Even if you had to replace it after it broke, you could still buy five or six of them for the same amount.
The pedal can be powered by a 9V battery or the DC power source (the latter is optional). They rigorously tested the battery, and it performed admirably throughout. Although battery life is not advertised, users reported no issues after 7 hours of use. Thanks to the built-in battery life indicator LED, you can avoid discovering you need new batteries in the middle of your performance.
Character & Sound:
While many guitarists begin with one of these super fuzz pedals, some progress to even more cutting-edge effects; for example, maybe you aren't ready to commit to a music career but still want to dabble with sound design. The pedal may be your constant buddy across all skill levels and setups in that situation.
This pedal has three different "super fuzz" settings, making it extremely flexible and simple. The ability of this boost mode to simulate an overdrive effect is a terrific bonus.
Pros:
This pedal provides a clean, unprocessed signal to help novice and intermediate guitarists polish their talents. If you're unfamiliar with distortion pedals, it will pique your curiosity like any decent tool should.
Cons:
Housing made of plastic has been criticized for being less durable than metal, but it does bring the price down significantly. It's ridiculous to complain about something strong enough to be used as a walking stick on a tour bus; our instruments should be treated equally.
The pedal is practical, as is typical of pedals, despite its plastic case. Finally, sure, guitarists might not appreciate this classic sound. If you prefer more contemporary music, you should look elsewhere.
12. Boss CH-1 Stereo Super Chorus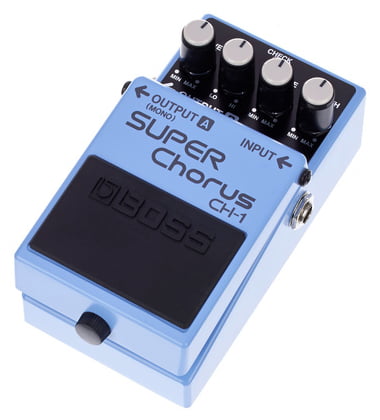 Every guitarist or pianist would be satisfied to have this pedal as an addition to their setup.
The chorus pedal has four controls that allow you to dial in the perfect effect. You can use the pedal at full speed for a stunning development or slow it down for a luscious, wide wave by adjusting the rate and depth.
The boss pedal set has four pedals, each housed in a metal cage with a rubberized stomp area and base for improved grip. The company's tried-and-true pedals can be relied on by anyone, from absolute beginners to seasoned guitarists creating their ideal pedalboard.
Key Features:
Housing
Given how little has changed in the pedal's design since its inception, it's not surprising that it sounds more traditional and retro than its digital contemporaries. This pedal, like others, has a durable metal chassis with dependable controls and mechanics. Their pedals are built to withstand heavy use on the road and won't wear out very soon.
Connectivity
The combination of a mono input and stereo outputs, powered by strong moving parts, results in a mysterious Stereo sound. The guitar has two jacks so that players can adjust the sound to their stereo setup. This is why you can hear such a natural tone when a guitarist or pianist plays live.
The guitar's output components amplify the sound before it reaches the amplifier, giving the instrument a bright sound. The pedal can be powered via a Jack adaptor and DC 9 V. The guitar player can use the pedal without being tethered to an electrical outlet because batteries are supplied.
Controls
Some say it's the best and most reliable guitar effects pedal ever. This Boss foot pedal has four knobs for fine-tuning the sound, and it is constructed to last like other pedals. High and low-frequency contrast in your signal can be altered using the EQ, and the volume of the chorus effect may be modified using the effect level.
Modulation can be controlled from a whisper to a swirling chorus by simply changing the pace. Finally, you can adjust the chorus volume with the depth slider. The pedal's mono and stereo outputs provide flexibility when connecting it to an amplifier and speakers.
Since it has two stereo outputs, you can run two amplifiers simultaneously. Using a chorus in stereo creates the idea of multiple guitars playing together by altering the signals uniquely entering each amplifier. In other words, it's a great tool for broadcasting your guitar sound with more depth and intensity to the world.
Character & Sound:
The pedal is unique among Boss's pedals since it is one of the few from the company's original generation that is still being produced after three decades. Even though it has been supplanted by newer, better types of chorus effects, this pedal's warm tone has maintained its popularity.
This pedal's warm, vintage sound is a result of its analog electronics and construction, making it seem dated compared to newer chorus pedals. The sound of antique pedals is warmer and slightly gritty, while current pedals lack these qualities. When used infrequently, it takes on a beautiful tone. Using the effect and depth controls, you can get that classic guitar sound with lots of space and depth.
The EQ control is sensitive enough to allow for the addition of highs to muddy tone rigs or the addition of warmth to extremely bright tones. When used judiciously, it has a lovely, subtle impact that breathes new life into otherwise lifeless styles.
Pros:
That this pedal is still popular 30 years after its release is a testament to the high quality of sound and design. When using this pedal, the musician doesn't need to fiddle with any effect controls to go from playing quick guitar chords to playing slower compositions.
The pedal's outstanding sound quality makes its price tag of $80 to $110 seem like a steal. Even while modern pedals have more features, not all can match the depth of tone produced by vintage pedals.
Cons:
There are no issues with the pedal itself; however, many users find the chorus underwhelming and understated. There are probably better options out there, and it wouldn't take more than 10 minutes to discover another, but if you like it, go for it.
Bonus:
Fender Tre-Verb Digital Reverb/Tremolo
Vintage Fender guitar amplifiers are revered for their famous sound, which is equaled only by their tremolo and reverb effects.
This tremolo and reverb pedal can help you achieve that vintage sound from your guitar amp. The pedal uses high-quality Fender spring reverb units to imitate vintage guitar sounds.
This pedal is great for multi-amp setups, and it will also appeal to keyboardists looking to spice up the sound of their electric piano thanks to its dual inputs and outputs. This metal-encased pedal could be the final piece in the jigsaw of perfecting your guitar tone.
Key Features:
Toggles
On the back, you'll find a few neat switches. A toggle that lets you choose the order is one of the first things to appear. Whether you're the typical guy who places tremolo before Reverb or the oddball who puts Reverb first, getting the right sequence in your chain is a breeze. A switch on this side of the pedal allows you to turn the pedal's LED lights on and off.
Power
As was said before, this pedal is a true stereo unit with dual jacks for audio in and out. Those who favor setups with numerous amps would love this considerably. The pedal needs to be powered by a 9V DC adaptor, which you may purchase separately. The housing is made of anodized aluminum, making it small and lightweight without sacrificing durability.
Settings
This effect pedal has the same design and quality as any other Fender product. There's no mistaking that this is a multi-function pedal. It's possible to separate the pedal's top panel in two. On the left-hand side, you'll find the Tremolo controls, and on the right, you'll find the Reverb controls.
Both sides have the same set of knobs, there are three knobs, a toggle switch, and a footswitch at both ends. LED backlighting on all buttons makes them visible even in dim circumstances on stage. The Tremolo side is the same as always. You may get a wide range of tones by adjusting the Rate and Depth controls for the three different tremolo effects.
Character & Sound:
The fact that it sounds great and is about as near as you can come to a stompbox has no bearing on the argument. The tremolo has several cool features. To begin, you can use it in various situations thanks to the wide variety of tremolo effects at your disposal.
The tremolo will produce a pulsating tone typical of photoelectric tremolos when activated. Vibrato was formerly known as "bias tremolo" by Fender. In contrast to other LFO waveforms, the volume of this one remains constant regardless of how far you turn the Depth control, making it ideal for use with vintage Fender amplifiers.
Pros:
With this pedal, you can expect a wide range of professional-grade sounds. You could buy separate Reverb and tremolo pedals for extra versatility, but you might also locate another model that combines these well-known effects.
You won't find a more authentic reverb or tremolo pedal for the electric guitar than this one. The fact that it works with any amp and has effects only found on vintage Fender models is a huge plus. Given the asking price, it is prohibitively expensive to add any new functionality.
Cons:
The depth control needs about twice as much range as it now has so that you may use the tremolo effect effectively. This is an attempt at emulation, but it needs to improve the performance of the vintage circuits they were meant to emulate. After attempting to debug, customers discovered that the hum persisted even when the pedal was disconnected from the effect chain but still connected to the power source.
Conclusion
They were the Top 12 Guitar Pedals Great For Telecaster 2023. We have included solutions for the most extreme to the most subtle preferences because we know how adaptable this instrument can be while also understanding how crucial it is to maintain its fundamental qualities in terms of the distinctive sound it produces.
It would be remiss of us not to discuss the pedals made by Fender while discussing their world-famous guitars. The Fender Pelt Fuzz is your best bet when shopping for a Telecaster effect pedal. Offering tones suitable for rock music, this pedal is built with a circuit that incorporates silicon fuzz and comes housed in a case that is rather difficult to crack.
The pedal works with either a 9V battery or an adaptor. Scratchy and buzzy tones, which are commonly employed in the modern world, are what this fuzz pedal generates. However, this pedal may not be to everyone's taste because the modern tone doesn't truly fit with a vintage, analog tone.
The Ibanez TS808 is another solid choice; it's a classic effects pedal that every guitarist should have. This revival of the iconic overdrive pedal, known as the green monster, provides tones ranging from subtle to insane.
You may use the Boss CP-1X Compressor with the TS808 to get an even more robust sound. Commonly utilized, this compressor is a cut above the rest thanks to its cutting-edge guitar-signal-chain analysis technology. It has a fantastic sound and can produce rockabilly tones, which are essential for a Tele.
This article aims to help you pick the best pedal for your Telecaster, and we hope that by introducing this Top 12 Guitar Pedals Great For Telecaster 2023, you now have a better understanding of the Telecaster's specific qualities and how you can modify it to make it more suitable for modern times.
Death metal enthusiast here. I am a Romanian musician and producer with over 13 years of experience in the music industry. I've experienced all types of Metal up until now, playing Melodic Death Metal, Brutal Death Metal, and Black Metal with different bands. Learning by doing is my base principle, which is why I've been drawn to sound design from an early age. Read more…