Looking for a compressor for your signal chain but don't want it to take up a lot of space in your pedalboard? Today we will talk about the 12 Best Mini/Small Compressor Pedals 2023 (All Budgets).
Compressor selection for a pedal board is not an easy task. Despite the abundance of high-quality compressor pedals available today, making a final decision might take time and effort. Compressor pedals are popular among guitarists and bassists because they allow for a fuller sound, a thicker tone, and longer sustain.
You may want only a touch of compression to color your tone or something more restrictive. Now more than ever, it is a fantastic period to pursue a career in music. There is an unbelievable quantity of high-quality equipment, and that translates directly into the field of compression. These selections will help guitarists and bassists locate the best mini-compression pedals for their instruments. 
12 Best Mini/Small Compressor Pedals 2023
1. Donner Ultimate Comp 2

If you're a guitarist on a tight budget, you should check out the Donner Ultimate Comp.
Even though there are more powerful and expensive compressor pedals, this one does a great job considering the price. The company is new to the market; thus, its musical instruments and accessories are cutting-edge in price and design. The company is well-known for its compact pedals and effects processors. They also sell a variety of high-quality, affordable musical instruments and accessories.
Key Features:
Normal Mode
The Normal Mode, as one might guess from the name, offers a more conventional form of compression. It's an optical compressor that maintains a warm neutral tone. If you're a musician who finds that using compressor pedals drastically alters your instrument's tone, this setting is for you. It has a fairly natural sound and modifies only the dynamics, not the tonality.
Treble Mode
In the Treble setting, the optical compressor's sound is brighter and has more bite, emphasizing the signal's treble frequencies. The high frequencies are emphasized further. Those who want their compressor pedals to color their guitar tone can benefit greatly from this mode.
The sound quality will naturally vary depending on the instrument and the amplifier. The pedal does a decent job, though, regardless of the configuration. When the tone knob is turned up, and the treble switch is engaged, the resulting sound is extremely bright and funky, whereas when the knob is turned down, and the normal switch is involved, the resulting sound is darker and heavier.
Level
You can use the Level control to adjust the loudness. You may hear a significant volume rise as the dial turns clockwise on this construction. If you put the Comp dial at midday or lower, you'll have to turn up the Level dial to compensate.
You will need to turn the Level dial down when the Comp dial is at midday or above. Also, you can use the Donner as a boost pedal because a sufficient amount of gain is available.
EQ
You can use the Tone knob to add or remove frequencies, similar to a tilt EQ. The EQ function is most neutral at noon, while some people have reported hearing a little boost in brightness if they didn't start with EQ slightly behind noon. But if you turn the dial counterclockwise, you'll get more bass and fewer highs. If you turn the knob counterclockwise, it will have a reverse effect.
There is much power in minimalism. Increasing the bass by turning the dial counterclockwise creates too much complexity in the mids and a muddy sound. Damage occurs when rotating clockwise. However, there are occasions when an instrument needs a little extra bite, such as with a bass guitar already too bright.
Character & Sound:
It's cheaper than the well-known compression pedals, but it sounds just as good. Surprisingly, it does a decent job and leaves customers happy, although it lacks the bells and whistles of more expensive comp pedals, such as attack and release knobs.
This pedal has a fantastic compression effect, and it sounds completely organic. It maintains a healthy dynamic range by appropriately raising or softening notes as needed rather than completely flattening your performance. In addition, its flexible knobs allow the user to fine-tune any parameter to their liking.
Users get more than they pay for functionality, usability, and audio quality. The 2-way toggle switch is crucial for optimal sound quality. They're two different things, each with its traits and potential outcomes. You may have heard that some people are debating whether the compressor pedal should affect the guitar's tone. Here, Donner offered the 2-way switch as the answer.
Pros:
The pedal is a clear favorite among guitarists looking for cheap compression without sacrificing quality. The funds you save using this pedal can be applied to purchasing additional components. In addition to being very affordable, its compression effect is good for evening out the dynamic range of live performances.
To play with other people, you will need a compression pedal; if you are a performer, you will need it more often. A guitarist can select either a neutral tone unaffected by the pedal's coloration or a loud tone that subtly alters the instrument's tone with the flip of a switch. The Donner provides a great compressor pedal for guitarists on all sides of the argument.
Cons:
On the downside, you can distort the device sometime after noon. It could be an issue for you; however, it depends on how your instrument reports the data. Passive instruments probably wouldn't have a problem with that, but an active bass with some hot pickups and a strong player would. However, by noon, it becomes visible.
At that moment, you're venturing deeper into extremes, and the system is actively trying to rein in all that intense stimulation. Once the clock strikes 1:00, there are no problems. Compressor distortion is a normal phenomenon in these situations, so be cautious.
2. Amazon Basics Compressor – Fully Analog Circuit
This compressor can improve the guitar's tone in a recording studio or on stage.
This pedal functions similarly to an audio signal processor, giving a compressed range for a more even and powerful sound by decreasing the intensity of loud sounds and increasing the volume of soft ones. This guitar pedal has an all-analog circuit and more controllable parameters than similar offerings.
Key Features:
Housing
The pedal's true bypass feature allows for greater flexibility and control by routing the signal directly to the output, bypassing the effect circuitry. An external AC adaptor powers the pedal, and its status may be quickly and easily checked via an LED indication.
Rubber Pads
The guitar pedal's compressor is made of sturdy aluminum alloy and finished in silver for a modern look and feel. Backside rubber anti-skid pads improve pedal stability and cut down on friction.
Circuit
This programmable low and high pass filter is built on a twin op-amp IC. In addition, at the output of one of the amplifiers, there is a series of symmetric hard-clipping diodes. This clip is when the gain is turned up quite high. A transistor also buffers the output; the whole thing is quite well-designed.
Character & Sound:
It serves two purposes at once, amplifying and compressing the sound. It may not be the most compressed, but it boosts your amp. It gives the impression of increased sustain as if you had turned up the gain without increasing the volume.
You should engage this pedal if you ever need to play your guitar at full volume. However, dynamic playing is extremely difficult, if not impossible, while this is active. We assume this is the case with all compression pedals, but we can confidently say that this is the case here. With this on, the volume knob is completely irrelevant.
Pros:
This is a great option for someone just getting started with electric guitar, or at least electric guitar pedals. Price-wise, it's hard to beat, and the breadth of effects you can add to your sound is astounding; on top of that, it will complement any effects pedals you add to the chain after it. Make sure to place an order for a power supply in addition to the main item.
Cons:
The tone knob is the only real complaint about this. It's the kind where you can fiddle with the knob for a while and see little to no effect before suddenly experiencing a radical shift. In the end, the turntable angle is only about three degrees.
What's more upsetting is that a booster pedal shouldn't have any gain at all at the lowest volume setting. The gain on this one is impressively high, even when turned down to zero. We wish to increase the volume slightly, but we fear the sudden increase will be too much.
3. Wampler Mini Ego Compressor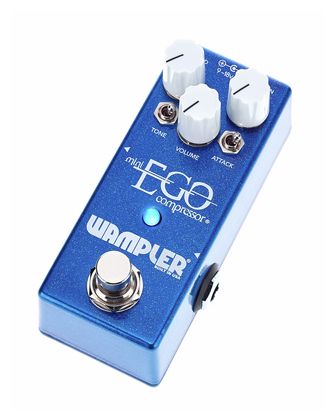 The Wampler Mini Ego Compressor delivers the same high-quality sound as its full-size counterpart.
It's a nice addition to the range and fits neatly on a pedalboard. It has a well-known blend knob for adjusting the dry signal level relative to the compressed one, and its straightforward control structure makes it easy to dial in. You'll notice an immediate improvement in the quality of your playing thanks to the pedal's superior construction and components.
Key Features:
Compression
All across the world, pedalboards have the original pedal. This space-saving pedal is like the original but smaller, so it can go wherever you have it on your board. This circuit is a common choice for a constantly-on pedal because it allows for a wide range of compression, from the broody squished of pickin' bluegrass to the barely-there sounds often associated with fingerstyle playing.
Controls
The pedal's 5-knob design makes dialing in just the right amount of dynamic range quick and easy. The blend knob lets you add your dry signal back in while the sustain and volume controls determine how much compression and output the pedal provides. You can make easy voicing adjustments with the pedal's mini-toggle attack and tone switches.
Housing
The compressor's small size is the first thing you'll notice about it. Compression is necessary for all pedalboards; therefore, this is helpful. The pedal's true-bypass switching preserves the unaltered dry signal. In this way, you may calculate how much headroom is necessary.
The pedal is a fantastic illustration of Brian Wampler's commitment to quality, as evidenced by his reputation for employing only the highest-grade materials in all his electric guitar effects pedals.
Blend Control
The Blend control lets you adjust the ratio of the compressed signal to the uncompressed one. If you want something completely uncompressed, you should go clockwise; the opposite is true if you want it completely clean. The amount of compression you hear depends heavily on the blend knob and the quantity of clean signal you include.
In some compressors, adjusting the blend has a hardly noticeable impact on the outcome. Turning the blend all the way clockwise will provide some impressive results. More dry signals blended in help restore dynamics, transients, and overall "punch."
Character & Sound:
The pedal is a fantastic choice if you need an easy compressor to operate and not significantly alter the low end. The bottom end is retained, and the midrange and upper registers feel pleasant. There needs to be a sense of a booming economy.
Instead, succinct and jarring, large but not muddy bass is present, and the euphoria of a high is enjoyable. There may be a little treble roll-off, but it's extremely minimal, and the overall sound is very balanced. The level of squishiness may be adjusted to taste, making it useful as both a subtle tone enhancer and a compressor.
Pros:
While not completely silent, the Wampler Ego is reserved. There wouldn't be any complaints if artificial noise were to be made. When electricity is applied, the LED glows a cool blue. This footswitch is of the clickless, true bypass style, and it's completely silent.
Connectors for audio input and output are situated at the top. The pedal is compatible with 9v and 18v power sources, albeit running most smoothly on 9v. The power cord enters from the top. In sum, it is aesthetically pleasing, functionally superior, sonically engaging, and well-equipped with all necessary controls.
It covers the entire spectrum, from understated and soft to powerful and complex. Unlike some other tone boosters, its absence is immediately noticeable.
Cons:
Although some users experienced distortion when using the pedal with an active bass, those using it in passive mode reported no such problems. Some 18-volt preamps in basses can provide too much signal, driving the pedal and generating distortion. That distortion, however, was not grating on the ears at all. It works well if that's what you're after.
4. Xotic SP Compressor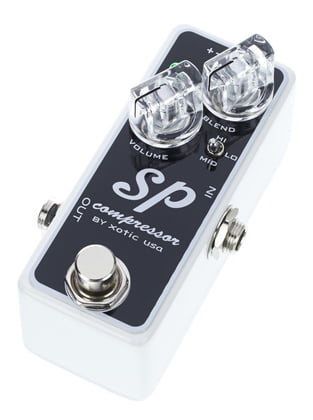 Many guitarists' standard equipment includes a Xotic SP Compressor pedal.
The pedal, based on the legendary Ross compressed circuit and highly regarded for its transparency, does an excellent job of smoothing out your dynamics and adding harmonic sparkle. The internal dip switches, the variable blend control, and the three compression settings all work together to tailor the sound to your liking.
Key Features:
Knobs
The volume and the mix are adjusted using the two primary knobs. You can achieve a +15dB boost by turning up the volume. With the blend control, you can adjust the level of compression applied to the signal. The blend knob is crucial since it allows you to adjust the overall compression level and choose whether it is utilized heavily or discreetly.
Switch
This is typically adjusted through a knob on other pedals, but a simple three-position toggle switch will do the trick here. Most people will try out a few different options until they discover one they like, at which point they never adjust the knob again.
For this purpose, a switch, rather than a knob, makes setting up the pedal simpler and faster. Increased management of compression is possible via four built-in dipswitches. The switches toggle the pad, attack, high-cut filter, and release.
Circuit
The pedal's Ross circuit design guarantees a fantastic experience. The pedal can help even out your audio output's peaks and accentuate its intricacies with ridiculous simplicity. The analog compressor's straightforward design makes it a breeze to operate. You can adjust the volume and blend with the two knobs on the front of the analog compressor.
Power
You can use a standard 9V battery and an additional power source to activate the pedal. Note that a 9V battery is not included; nevertheless, finding one is simple enough that it is not worth mentioning. We haven't talked about the fact that it's a true-bypass pedal yet.
Your guitar's tone will remain unaltered when the signal passes through the pedal. These days, true-bypass functionality is standard on most pedals, so it's great that this one does too. This also implies that the guitar pedal won't mess with your signal when it's not in use. You can leave it in your pedal chain without worrying about a negative effect on your sound.
Character & Sound:
Transparency is a term that has been bandied about a lot recently. Transparent boosters, overdrives, and compressors are always getting a lot of praise. It also features True Bypass, so turning it off won't alter your tone.
Compressors sound best when employed discreetly, so if you find the final product overly compressed, turn the blend down or slide the toggle to the low position. They often achieved the best outcome by combining a lower compression with a higher blend.
You've tried it as a booster to add clarity to your clean tone and with other effects to see if it may enhance the effect. The pedal almost always improved the overall sound without drastically altering the tone.
Pros:
In general, the pedal is as good as its reputation suggests. Store this fantastic compressor easily due to its compact size. A great pedal based on the original Ross Compressor; noise increases with gain, which is to be expected.
Cons:
Everywhere you go, there is some new strange but very tiny issue. Interference and hum easily disrupt this device. Even after fiddling with the blend knob and the dip switch settings, the compressed signal would always be audible, bulging up under the dry signal, and the banging sound would never go away.
5. TC Electronic SpectraComp Bass Compressor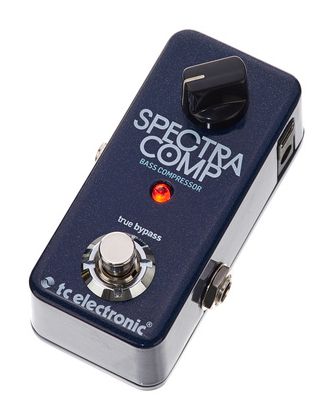 The SpectraComp from TC Electronic is a portable multi-band compressor with a tone tailored to the bass guitar.
The pedal is based on the well-known MD3 engine, and it provides translucent and melodic compression to control midrange roughness and low-end woofer without destroying dynamics. Focus on the music at hand with one-knob compression and unleash your creativity with a bevy of distinctive TonePrint algorithms.
The pedal's construction makes it suitable for live settings, and its studio-quality tones and True Bypass output mean that your input signal will remain unaltered.
Key Features:
Controls
This one needs to be improved in raw power compared to other bass compressors. This brand has cut everything down to a small size and left off every other part of the product save for the knob. An encoder in the pedal's upper section controls the amount of compression applied to your sound.
The effect is stronger the further you turn it in a clockwise direction. The absence of Volume adjustment is the major drawback of this design. Compressors, as is common knowledge, alter the volume of your recording. The most typical occurrence is a drop, which is usually compensated for by an encoder in neighboring pedals.
But that isn't a problem here, and although the output could be more consistent, it's still better than anything else. However, once inside the editor's interface, you'll notice how many customizable features it offers.
Being a multi-band compressor allows you to fine-tune the compression settings for each band separately, allowing you to achieve a consistent and accurate sound. Getting the hang of TonePrint takes some practice, but it's possible to master the program with enough experimentation.
Circuitry
Additionally, it can compress across multiple frequency bands. This technological advancement suggests that the influence is imparted uniformly over the high, low, and medium spectra, resulting in a well-rounded sound.
This pedal can play like a pro in the recording studio. With its true hardwire bypass, you can rest assured that it will preserve the full weight of your bass as it travels through the device. Ensuring that the bass remains intact throughout the process is of paramount importance, as no one wants their bottom end to vanish.
Housing
The pedal has a tiny yet sturdy chassis made from die-cast aluminum that will shield its sensitive internal components. Power options are limited to the power source in this case, most likely because of the compact footprint. Finally, when weighed against other available choices, this infant is surprisingly inexpensive.
Toneprint
You keep thinking the pedal gives you too little control as you use it. A solitary knob whose functions you cannot even guess at is all you can see. However, the company chose to reduce the number of knobs on the pedal and maintain them in the accompanying mobile app to conserve space.
Once more, there may be better cases for some, but we are confident that most of you will find this arrangement quite attractive. The functions of the app and program extend beyond those of the surface-level controls. You can play around with pre-recorded pieces or make your compression effects, and they open up a world of possibilities. In any case, this guy gives you a lot of leeways.
Character & Sound:
They labored over the pedal's voicing settings to find the optimal combination of all the fundamental parameters. They were mostly successful but couldn't get the volume right. The volume increases as you turn the knob clockwise until you reach the maximum possible.
After that, it begins to decline gradually. You might quickly fix that error with a dedicated knob; however, we only have that choice with specific bands in the editor. TonePrint is the main selling feature of this product. The available components have a superior sonic quality and provide more flexibility than similar products on the market.
It also features sophisticated tone adjustments; however, these are software-based. If some of the attributes of the low, mid, and high frequencies are lost due to the compression process, you will have the option to adjust them.
Pros:
Overall, this bass compressor pedal is a little different from the norm. TonePrint Editor and App have quirks, but once you see how many customization options the firm provides, you won't question their choices. The program can fix the pedal's issues. At this price, you will be satisfied if you do your homework and go into it with realistic expectations.
Cons:
To operate, you'll need to plug it into a 9VDC power source (not included). Without any printed instructions, the included paper refers the buyer to the TC Electronics website, which also lacks relevant information. Additionally, there is no method to keep the volume the same as compression is increased.
6. JHS Whitey Tighty Compressor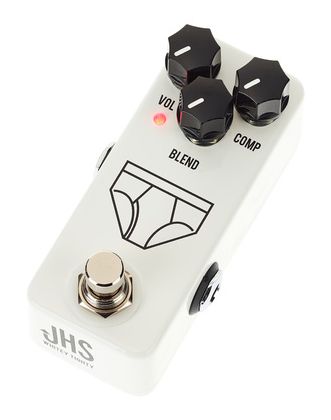 This studio standard is now available in compact, user-friendly guitar effects pedal thanks to the JHS Whitey Tighty.
The pedal's three knobs make it easy to find the perfect squash. The pedal's Blend control stands out the most. You can use it to zero in on the optimal compromise between your original signal and the compressed version. The pedal provides studio-quality compression to enhance your sound to the next level, whether you want a subtle smoothing or an all-out slam fest.
Key Features:
Controls
The pedal's three-knob interface makes fine-tuning a breeze. You can adjust the volume up or down using the Volume knob. The Compression knob determines how much compression is applied, allowing you to get subtle velveting or a severe squash that works well in many musical contexts.
Furthermore, a Blend knob helps you strike the right balance between your uncompressed signal and your compressed signal, allowing you to keep the unaltered sense of your tone even when using heavy compression.
Housing
Unsurprisingly, the pedal is dressed in white; it is housed in a little metal enclosure; it tips the scales at a feathery 156 grams. An image of the iconic underwear was also etched onto the pedal's top. Three knobs with blackheads and white line markings fit snugly into the top. The power cord plugs into the front of the device, while the audio jacks sit somewhat off-center on the right and left sides.
Power
In addition to the footswitch, there is a red status LED. The pedal contains a true bypass circuit and needs just the mains voltage for operation; to do so, it draws 21 mA (18 mA bypass) from a 9 V (center negative) power supply.
Character & Sound:
The moment you turn it off, you'll be unable to continue playing. While it may appear to be on and making some noise, it may leave you wondering if it's doing anything.
No matter how low you set the compression on other pedals, they always appear to steal too much attack, but with this pedal, you'll be able to obtain an instant attack no matter how low you set the compression. Use it to level the playing field instead of trying to crush everything. It's mini, silent, and wears underpants, so there's that.
Pros:
This pedal is perfect for the guitarist who is just starting to learn about compressors and wants something basic that won't require them to spend hours dialing in the settings.
The blend knob is helpful for any setup and playing style and for anyone looking for a compressor that doesn't dull the sound too much when strumming or picking. There are other compressors with a blend knob, but for many, the simplicity of this pedal was the deciding factor.
Cons:
When trying to integrate a certain device into your existing signal chain, it comes with an unexpected caveat. They make cracking noises, which can be annoying, and high-pitched hums. These are specific issues that should be covered by the guarantee and will be addressed as soon as possible.
7. Mooer Yellow Comp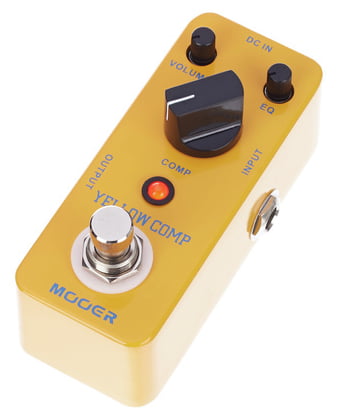 Mooer Audio is known for making high-quality effects pedals that carry a punch despite their diminutive size and low price.
The pedal, the company's second compressor in its Micro Pedal series, compresses sound optically using a straightforward analog circuit. The brands are aware of this mentality on the part of their customers and work hard to satisfy it by including all the features consumers want without adding unnecessary complexity.
Customers always notice when brands care about the little things and always come back for more. In a similar vein, they developed a fantastic and straightforward compressor.
Key Features:
Housing
The circuitry of the pedal fits inside a small housing. The size of your fist is too big to hide it. The only problems with the compact size are the need for a built-in battery and the top-heavy, narrow shape that makes Velcro almost essential. Only 9-volt Boss-style batteries will work to power it.
The pedal has a tiny LED that gets brighter the harder you press it and tiny photosensitive resistors that react to that light. Compared to similar IC and FET-based circuits, some believe that optical compressors offer more dynamic and transparent compression.
There are only three knobs to manipulate the volume, compression, and illumination. These basic settings are sufficient for most circumstances but may not provide adequate fine-tuning for more experienced musicians.
Controls
You may find all the options and adjustments we could ever want in only three knobs. That is to say; we do have what we need to survive. However, upon hearing the sound of this one, some might be disappointed that there is no Attack and Release.
The volume knob adjusts the output volume, but in case you were wondering, you can adjust the volume to match the rest of the chain. Equalization, which modifies timbre, is also available.
You can emphasize the highs and lows with a simple dial tone. Comp, which adjusts the effect's strength, is the show-stopper. All the variations in compression sound can be made with these three knobs. We naturally employ a True Bypass footswitch to engage the circuitry and pedal.
EQ
To a Strat and Reverb setup with the pedal's Comp and Level knobs at noon, the result is a very mild compression that is more accurately described as a tonal enhancer than an "effect." Thanks to its clarity and lack of coloring, it works well with already good-tone recipes, like those found in the Strat and Twin.
It's not just that the notes sound fuller; we can sense the decay of each one, making the whole thing sound more organic. The pedal's excellent EQ knob is a close second to the quality of its tone.
It acts similarly to other single-band tone controls by allowing you to alter the balance between the bass and treble frequencies gradually. There is no compromise in the midrange's integrity or naturalness, regardless of where the knob is placed.
Character & Sound:
You'll be amazed by this compressor's sound quality and wonder why you didn't get it sooner. No unnatural or eerie tones will result from its use. It will instead soothe the rough edges and provide results that you'll be happier with.
It will make your voice broader and more pronounced without altering your dynamics or character. The equalizer is nothing special, but it does its job well: with a simple turn of the dial, you can boost the highs or dial them down to achieve a custom compression.
Although there isn't a physical Attack or Release control, the circuitry is designed so that neither of those parameters is important. This effect pedal has earned the highest praise from the audio community.
Pros:
To sum up, this top-tier compression pedal is competitively priced. Amazingly, it's competitive enough with high-end ones. It produces great sound and offers a wide variety of customization possibilities. Indeed, there are a few drawbacks, but they're hardly worth worrying about. After all, we can pretend the absence of batteries doesn't exist. Here's your chance to form an opinion: get a copy and give it a spin.
Cons:
The lack of a battery-operated option for the pedal is a minor drawback. A power adaptor is required, but we always use those. However, options would be preferable. That's to be expected, though, given the confines of the little enclosure. It's so compact that you can carry it around in your pocket.
8. MXR Dyna Comp Mini M291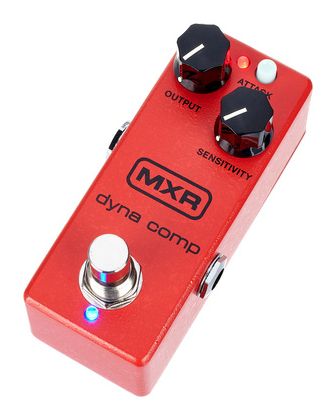 The MXR Dyna Comp Mini is the most portable version of the original Dyna Comp, a legendary comp pedal.
You can now receive the same renowned tone with a pedal that takes up roughly half as much room on your pedalboard as the original squash. The Dyna Comp Mini uses the same type of chip found in classic compressors, resulting in a clean, low-noise sound. An attack option also lets you choose between a more tranquil and aggressive experience.
Key Features:
Switch
One thing Dyna Comp users have asked for over the years is more of an assault on the pedal's overall sound. That's exactly what happens when you push the Attack button on a compressor effects pedal.
These red pedals' signature squish and sustain are activated by leaving the button depressed. If you press it in, you'll get an attack that reveals your selection's nuances—using the IC's more organic approach to attack and its diminutive size.
Circuitry
In no time at all after their initial release, the original pedals were featured on thousands of songs and even more stages all around the globe. They enabled you to improve your guitar's tone organically without resorting to overdrive.
The transparent squash of the highly sought-after 1970s script-logo pedals may now be yours with the help of a meticulously crafted compressor effects pedal. The scarcity of such chips is a major factor. The pedal's quiet operation is another perk.
Housing
For today's guitarists, a pedal compressor is an essential piece of equipment. They are essential because of their added sustain and clarity to your tone. The compressor foot pedal, fortunately, is significantly smaller than a regular pedal. That means you can squeeze this tone-improving device onto a pedalboard of any size. There has yet to be a more practical pedal introduced.
Power
If the switch is turned on or off, the red LED to the left of the switch will light up. The pedal also features a footswitch, which is front and center. As could be expected, turning the power on requires pressing the footswitch.
Once the pedal is activated or deactivated, a blue LED light will light up. Discovering the compressor's features will take a little bit of time. Plug in your instrument, and within minutes, you'll have figured out how to tune in a nice, smooth compression. The pedal is powered by a 9V adaptor that is included, which is unusual for effects pedals. That's a perk you won't find on most pedals.
Character & Sound:
The ability to fine-tune your pedal settings is a skill in and of itself. It will take some time until you find what you're looking for. Setting the sensitivity to noon is a good place to start. As a result, you can begin experimenting with the sensitivity to find the optimal compression level for your needs.
The parameters you adjust will vary with the style you wish to achieve and the tools at your disposal. We have discovered that angling the two knobs toward each other produces the best results. Try setting the sensitivity to nine and the output to three and see what happens.
Pros:
In short, this pedal improves upon the original classic in every imaginable way. Tonally, it is faithful to the source material thanks to the IC they built. A great compression pedal doesn't need to be bulky or complicated to be effective. It's a fantastic compression pedal at a very affordable price, making it a must-have for every musician.
Cons:
It has been reported that the pedal has a few minor manufactured defects, all of which are easily remedied by the manufacturer throughout the warranty period. However, the drawback is that they break down after four to five months of use, which is inconvenient.
9. Keeley Electronics Compressor Mini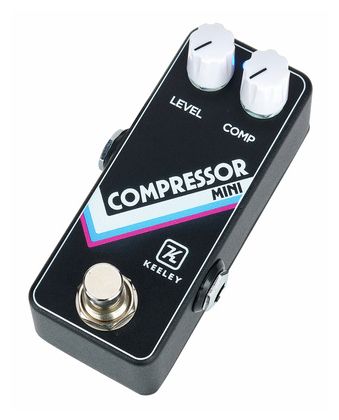 Though it looks like a toy, Keeley's Mini Compressor Pedal produces a sound that is everything but minuscule.
This compact device has everything you need to give your tone that traditional compression, and it only takes two knobs to set it to your liking.
The Compressor Mini improves your sound's transparency and articulation by combining your dry and compressed signals. Moreover, it's guaranteed to bring out the best in both humbucker and single-coil pickups thanks to an expanded sustain range and an enhanced transient release time.
Key Features:
Circuitry
It is hardly shocking that the pedal accomplishes so much with so little effort. The foundation of Robert Keeley's mini-empire, the compressor, was solid adjustments to Ross's iconic circuitry.
Controls
The Compressor Plus is a four-knob stompbox that improves upon the original comp's two-knob design by including a tone control, a wet/dry blend knob, and a release time switch to account for differences in output between single coil and humbucking pickups.
However, the pedal only controls volume and compression threshold, so he must manually adjust the ratio, attack, and release. To his credit, he has an uncanny talent for finding the optimal values for those controls. They also made the course quite active for a competition with as few controls as this one.
Parallel Compression
The pedal employs parallel compression, which lets the dry signal through before summing it at the output, enhancing the clarity and presence of quieter passages while squishing louder transients more harshly. A tone-recovery component is also included, which restores the high end typically lost in highly compressed signals. Having this pedal in place has helped to bring more life and harmony to the sound.
Character & Sound:
Compressors, especially antique pedal comps, are known to be somewhat noisy if you have real expertise. The pedal barely increases the hiss, even at maximum preamp gain and threshold settings. Since there is little background noise to contend with, turning up the volume is a breeze, and even at the absolute lowest stages, the pedal provides a fantastic almost-clean boost.
At about 30–40% of the level knob's travel, unity gain is reached. There are also many nearly clear boost colors available, which you can use to add substance to jangly tones without muddying the chime. The additional volume boost is welcome news for anyone who plays the guitar with a humbucker pickup.
The preamp gains extra sweetness, muscle, and growl when the gain is turned up higher than midday. Simply experiencing the compression effect is enjoyable. Although the tone-recovery circuit and parallel compression approach add some more high-end, the effect is still audibly muffled.
Pros:
The size and seeming simplicity of the pedal belie the complexity of its inner workings. The preamp on its alone creates fantastically sonic boost tones. The compression is surprisingly sophisticated for a stompbox comp that lacks wet/dry blend and tone settings.
For more classic uses of pedal compression, such as country picking, it's hard to beat. Because of its low noise floor, it works particularly well with noisy gain stages, making it a great addition to high-gain pedals that need to be tamed. Of course, even at $129, this is a steal. The Compressor Mini is excellent if portability and the ability to "set it and forget it" are top priorities.
Cons:
Regrettably, if you don't need the wet/dry mix or post-compression tone options found on its more advanced sibling, the Compressor plus, this pedal is as excellent as it gets.
10. Joyo JF-312 Pipe Bomb Compressor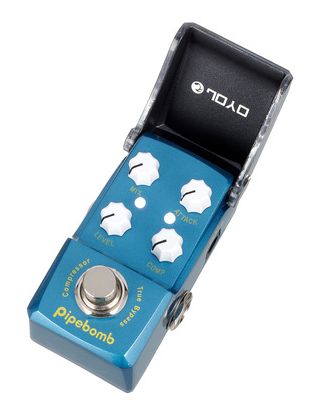 This little pedal won't break the bank or your pedalboard.
This pedal is a bouncing compressor and a nice little thing. The JF-312 features a fourth knob—the Mix—that allows the user to modify the amount of compression applied to the signal subtly. This compressor is transparent and quiet, doing what a good compressor should and keeping the guitar signal clean. Typically, the price of a compressor of this kind is at least twice as high.
Key Features:
Controls
This pedal is equipped with a lid to protect the small knobs from being damaged by the weight of your feet, which is just one of its many neat little extras. Whether it's to stop you from accidentally changing the settings while stomping on it or to keep the knobs from breaking off, it forces you into a "set it and forget it" mentality.
Despite their diminutive size, the knobs are quite serviceable because of their well-designed form and attractive hue. It has four parameters, including sensitivity, volume, attack response time, and dry/wet Mix, which should be more than enough for a pedal of its size.
LED
Indicated by two bright, visible LEDs, you'll never miss a moment when it's turned on. This is also another consideration for keeping the cover on. One great feature is that the company logo is illuminated when the lid is closed. When comparing the amount of thought put into the top and the power input, the latter deserves more praise.
Housing
This compact compressor pedal is a product of their third generation of pedals, which is the culmination of eight years of research and development. This pedal may be mounted on any board with its small footprint and flexible aluminum enclosure. Protect your tones by flipping the cover closed; the LEDs will remain visible. The compressor adds greater bite and clarity to your tone without altering the sound.
Character & Sound:
There isn't much of a "wow" factor, but this neat pedal is a steal for the price. Because a compressor is so cheap, this pedal will likely remain popular among Joyo's offerings. It is neither understated nor overpowering but rather a standard set-and-forget footswitch. Those on the fence about buying one because of the "later on" effect it may have should give this one a shot.
Pros:
Both strumming and fingerpicking sound great on an acoustic guitar, so that's the one You usually play for audiences. It gave off a vibe halfway between the Sultans of Swing and a clean start. People weren't deceived by the pedal's low price and attractive appearance; they noticed it was well-made and had a sturdy switch design. It is unlikely to crack because you won't leave the lid open constantly.
Cons:
The issue is that the signal has some slight but noticeable background distortion that you can't seem to get rid of. Distortion disappeared when the same thing with another compressor was set to the same gain. You can lessen the impact of the problem by turning down the guitar volume and the compressor, but you shouldn't have to.
11.

Dunlop Dyna Comp Bass Compressor M282
When compared to the standard version of a compressor, the bass version trims a few inches off the waist but adds extra fine-tuning controls.
All the assistance the industry can give us in fine-tuning this effect's sound is much appreciated. The Dyna Comp Bass Compressor from MXR is ideal for this purpose. It's modeled by the original device made in the 1970s, which is still widely used today. The pedal is a bass-oriented take on the well-known pedal, housed in the convenient "small" format.
Key Features:
Circuit
Many guitarists have considered the pedal an essential tool since its introduction. We could fit the same circuit into a tiny pedal chassis and add extra tone controls. It's a compact compression pedal with a few extra bells and whistles, designed with low-enders in mind.
Housing
Upon opening the packaging, the power adapter box may appear far bigger than the pedal. This mini-format compressor is as compact as pedals get; it's perfect for a travel setup or the performer who doesn't need much more than a tuner.
Controls
Standard volume and sensitivity knobs from the original pedal are present. This compact unit features a clean knob that allows users to adjust the unprocessed tone to their liking while preserving the bass. A tone knob is also included for fine-tuning your sound, allowing you to reduce or increase the midrange by 6 dB at 1 kHz. The toggle switch on top controls the assault's rate of fire.
Character & Sound:
When adjusted to around 3 o'clock, your bass will have room to breathe and sound expressive, allowing your tone's character to come through clearly. If you want a bass tone reminiscent of indie rock, turn the clean knob almost down and adjust the sensitivity to your liking.
A tone knob is an effective tool for shaping the midrange, while turning it down may result in an overly powerful sound or even signal breakdown if you're not careful. That can be an outcome that some people want. On the other hand, the attack switch allows you to select between an old-school and a more current compression sound.
If a quick adjustment is required, it's excellent to have this option available. However, a more modern, aggressive player is only one click away from a speedier, more aggressive approach to assist in clamping down on the transients.
Pros:
This pedal is convenient in size and cost, and it's bound to be a hit. Whether you're just getting started with compression or are a seasoned pro, this compact pedal packs a lot of fantastic features for its primary function—evening out your signal—into a small footprint.
There's a limited amount of room, so the knobs and dials aren't exactly spacious, but once you find your ideal listening experience, you'll likely never touch them again.
Cons:
The pedal is great and worth the price, but misleading marketing is a major drawback. There is no 9-volt AC adaptor despite the product description's claim that one is "included." Now we know it's common for pedals not to include a power supply, but seeing the product description clearly states that it comes with one included.
12. TC Electronic HyperGravity Mini
HyperGravity is built on the same algorithms in the company's flagship product.
In addition to the standard one-band compression, it may provide compression over multiple bands. TonePrint support means you can load one custom setup or make your own with the included TonePrint editing software, a feature shared with other digital TC pedals in the same series.
You can also use the app on your phone to wirelessly broadcast fresh compression presets to the pedal's slot by simply holding your phone over your guitar's pickups.
Key Features:
Multi-band Compression
Before delving into the pedal's inner workings, it's essential to learn about the advantages of multi-band compression. Since the highs, mids, and lows are all compressed independently in this setup, the highs are not dragged down whenever the low note triggers the compressor.
The result is less obtrusive compression that maintains a somewhat unaltered tonal balance even in extreme settings. On the other hand, if you're in the mood for a real gut punch, you can get that, too.
Housing
The tiny pedal includes a die-cast housing with true bypass, and an LED indicates compressor status like the rest of the series. Due to the low current requirement (about 100mA), you can use a battery or a 9V DC supply to power the device. TonePrint can be edited on a personal computer by plugging into the small USB port and using the provided cord.
Controls
There are four knobs for adjusting various settings and a small three-position toggle for choosing between multi-band, TonePrint, and Vintage character sets. The default setting for the TonePrint slot is a multi-band and classic tones hybrid.
Still, with the editor program, you may alter the controls' behavior, apply auto-gain makeup, tweak the ratios, and limit the mix control's effect to certain frequency ranges. You can adjust all three bands' thresholds, compression curves, and crossover frequencies.
In addition to the standard Sustain, Attack, and output Level, you can use a blend control to set up parallel compression. When using the TonePrint mode, the knobs may behave differently, as previously described. While conventional compression has a noticeable effect on the signal peaks, parallel compression preserves the peak's dynamic energy while emphasizing the sustain.
Character & Sound:
You can unlock an abundance of compressed characters with just a few buttons. With a longer attack time, more of the original peak is passed through before gain reduction is made, creating traditional country music,' which is controlled by the Attack knob.
The multi-band option works wonderfully when you need more sustain and a fuller sound without too noticeable compression. This is the kind of compression that will keep you looking your best all day long. You can hear compression as an effect in the Vintage mode with greater Sustain settings, so even if you don't experiment with the other TonePrint choices, you'll find that you have a good grasp on everything.
Pros:
The pedal's analog-like sound and feel go a long way toward disproving the myth that digital compressors can't handle serious recording work. Considering the pedal's low price compared to other boutique compressors that only do one thing, we think you should give it a shot.
Cons:
Due to the high degree of customization available, you'll inevitably waste time trying out various combinations of options before finding one that works for you. You can adjust neither the sustain nor the volume controls past midday without introducing an unpleasant hum. Keep it at about 10 o'clock if you want to utilize it with the band.
Bonus:
13.

Pigtronix Philosopher's Tone Optical Compressor/Sustainer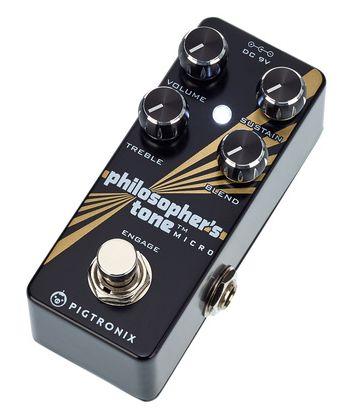 With the help of the Pigtronix Philosopher's pedal, your guitar will spring to life.
The tone has a treble EQ knob, a mix control, and a control to give your leads more weight, tighten up your rhythm guitar work, and enrich the tone with harmonics. This impressive functionality is now available in a compact, 9-volt pedalboard design. Using the tone, you can significantly lengthen the sustain of your guitar without adding much-unwanted noise to your setup.
Key Features:
Housing
Compared to other compression pedals, the original could be more compact; also, the in and out ports are awkwardly placed on the same side of the pedal. This makes it a challenge to place upright on most pedal boards sans taking up too much area.
The Micro model shrinks the pedal's overall dimensions by about an inch, relocating the jack plugs to the conventional left and right sides and adding a center-negative 9v DC input on the unit's cap.
The pedal keeps the same knobs as the original, but the Grit section of the circuit has been removed; therefore, the fifth knob has been eliminated to free up space and make the finer settings more manageable. As an improvement over the original's in-line layout, Pigtronix has opted for gripping dials to make fine-tuning a breeze even on steamy stages.
Circuitry
The pedal's low noise floor—even at higher compression ratios—and gorgeous, gritty musical circuitry for applying dirt to the compressed sound has made it a hit with musicians.
Pigtronix's decision to release compact versions of their best-selling pedals is in line with the industry's general trend toward miniaturization. The result is the pedal, which shares many characteristics with its larger relative but operates on a more modest 9-volt battery.
Controls
Thanks to the user-friendly interface, tweaking the audio is a breeze. With the Volume knob, you can add a respectable amount of clean, noise-free boost or bring highly compressed sounds back to unity gain. The Sustain knob allows you to adjust the compression level from mild to outrageous without introducing any noise into the sound.
The Blend knob enables parallel compression methods in which the uncompressed signal is blended again with the reduced one. This paves the way for higher compression ratios that facilitate smoother playing and provide longer sustain while retaining the dry signal's nuanced and natural assault.
Last, the pedal's upper-frequency response may be fine-tuned using the Treble control. The 9v DC input has been converted to 18v of internal headroom, bringing the pedal's tone in line with the original Philosopher's.
Character & Sound:
The Philosopher's Tone Micro is a surprisingly effective compression pedal, given its diminutive size. Compared to other micro form factor designs, which sometimes skimp on quality to reduce size and cost, they have succeeded in creating a boutique-level micro compressor that does justice to the original.
Even at its highest sustain settings, the pedal is remarkably quiet, like its more powerful sibling. In contrast to many compressor pedals, which raise the noise floor as compression levels are increased, this one provides beautiful, speedy optical compression without diminishing your original tone.
The compression makes playing easier and more enjoyable without feeling too squished, especially at higher sustain levels, and it adds a beautiful musicality to the sound. While you can find the Blend knob on many modern compression pedals, it's a welcome addition that makes for more organic tones that are simpler to play out without sacrificing your pick assault.
The low noise floor makes the pedal particularly effective when used in front of a drive pedal when other compressors might generate too much noise close to the gain circuit to be usable.
Pros:
They have done an incredible job in shrinking the size of their circuitry. A mix knob and boutique-quality compression in a compact pedal that won't take up much room on your board are yours for a fair price.
Cons:
The blend is great, but there is a lot of noise about the noon position. Additionally, the option they made of a bright white LED indicator light can become rather irritating.
Where Does Compressor Pedal Go in Chain?
A compressor should be the first pedal in your chain, but, in any case, it's best if you decide where to put your compressor yourself, as everyone has different requirements. This is the standard practice, with most guitarists putting the compressor at the beginning of their pedal chain.
The clean guitar sound can be compressed by putting the compressor before the modulation and overdrive pedals before being sent up the chain. You may find that the flavor of your effects pedals, especially your delays, and overdrives, is altered when you place the compressor after them. It can affect your output as a whole and even have some unexpected side effects.
What Is a Compressor Pedal Good For?
You can use a compressor to make your guitar's clean tone stand out more in a mix. When other instruments, like drums or bass, obscure your guitar's tone, a compressor can let you hear it again. Furthermore, the compressor can increase the output to make the music played softly more audible.
On the other hand, if you hit a string too hard, the compressor will muffle the sound, making the performance sound more refined. Compressors are increasingly popular for use with this style because of their usefulness in transporting the genre's characteristically bright tones and funky lines.
Those playing country or western music will benefit from the enhanced high-end sound. Compressors are increasingly popular for use with this style because of their usefulness in transporting the genre's characteristically bright tones and funky lines.
Do I Need a Compressor Pedal for Bass?
A bass pedal compressor can be an effective tool in creating a unique bass tone. Using compression on the bass is like seasoning a meal with salt. Most people who never used it assume their tone is good without it, but if you learn how to add the perfect touch, you won't be able to imagine living without it.
A touch of compression might bring out nuances in your bass and tone that weren't there before. A bit of flavor may do wonders for your dull bass. However, like salt, an excess of it can have an unpleasant effect, rendering the sound undesirable.
Do I Need a Compressor Pedal for Guitar?
You need a compressor pedal for the guitar. having an onboard compressor before the amplifier will equalize the volume of rhythm chords and single-note lines, and you need a fast but not lightning-quick compressor and it will distort the attack of the notes if it's too rapid.
Even though the compressor will aid in the longevity of your solos, it won't be sufficient on its own. If you can keep the volume at modest levels and mic the amp through the PA system, everything should be fine, even though the amp is not optimally configured for this purpose.
The amp's sweet spot is where it begins to provide audible sustain and harmonics while not entering extreme distortion when the solo boost is engaged.
Can You Use a Compressor Pedal as a Boost?
You can use a compressor pedal as a clean boost using it to smooth out your sound or provide sustain. A compressor pedal can be used as a signal booster by increasing the volume while leaving it at its default setting. You should experiment with some compressors instead when you want to buy a boost pedal.
Besides the standard signal amplification, you'll also enjoy the advantages of a compressor with them. It can also add sustain. Moreover, they may do it without resorting to overdrive or distortion, two standard methods of achieving sustain. When the volume of your chord or notes begins to drop off, a compressor can boost the signal so that it continues to play loudly and clearly for the duration of the chord or notes.
Let's see which are the 12 Best Mini/Small Compressor Pedals 2023 (All Budgets)
Conclusion
These were the 12 Best Mini/Small Compressor Pedals 2023 (All Budgets).  These pedals are supposed to function similarly to their larger counterparts, albeit in a more compact form that does not significantly alter the tone. In particular, the proliferation of innovative pedal designs has surprised us. These are crucial for traveling or even rehearsals, as it can be annoying to lug around a toolbox for two or three hours at a time.
If you're just getting started with pedals, it's a good idea to start with smaller ones that will stay in the bank for at-home practice. The Amazon Basics Compressor – Fully Analog Circuit is a pleasant surprise on this list since it serves its function well and is more than sufficient for a beginning. The gain quantity is handled competently by an analog circuit miming an operational amplifier (op-amp) and a series of symmetric hard-clipping diodes.
But the Wampler Mini Ego Compressor is your best bet if you want a tiny, effective pedal with all the controls you'd need for a compressor. This pedal is a replica of its larger counterpart, down to the last detail. It features the same blend knob as the larger version, and its straightforward layout makes it a breeze. The reeds will stay plump and won't drastically alter the low end. The circuit is very low-noise, and while it can run on 18v, 9v is optimal.
We hope that this collection of the 12 Best Mini/Small Compressor Pedals 2023 (All Budgets) will help you round off your small pedalboard in a practical and satisfying way.
Death metal enthusiast here. I am a Romanian musician and producer with over 13 years of experience in the music industry. I've experienced all types of Metal up until now, playing Melodic Death Metal, Brutal Death Metal, and Black Metal with different bands. Learning by doing is my base principle, which is why I've been drawn to sound design from an early age. Read more…