In this article, we will be rounding up the top 12 DAW controllers to give you complete control over your DAW in 2023.
With high-spec computers and tablets now readily available at relatively low cost, anyone can make quality professional-sounding recordings from the comfort of their bedrooms. However, if you have been using DAWs for a long time, you may have noticed that, at times, clicking, dragging, and swiping with a mouse can be a little cumbersome.
Getting in the way of quickly fulfilling your vision and negatively affects your workflow. A DAW controller could be your solution. Put simply, it is a control surface that allows you to operate various aspects of your DAW with physical buttons, knobs, or faders rather than a mouse.
It does this by communicating numbered MIDI messages to your computer.  For example, if you move a fader on your controller, this will send a MIDI message to your DAW telling it to move a fader the same way. Most controllers share the same features, such as channel, transport, navigation, and automation controls.
Best DAW Controllers: 12 Picks For Complete Control 2023
1. SSL UC1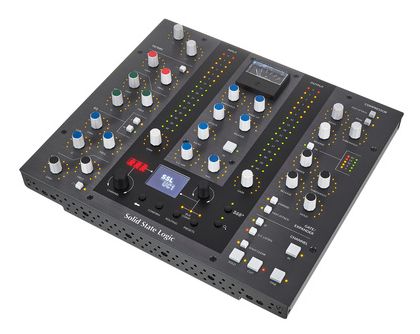 Solid State Logic's name is as ubiquitous in the world of pro audio as that of Fender or Gibson in the guitar sphere. Having built a reputation for award-winning studio gear since the 1960s, the British company is the world's leading manufacturer of groundbreaking creative tools for music, live sound, and broadcast.
The UC1 is designed to compliment the SSL UF8 Advanced DAW controller. When used together, they aim to create a full mixing console experience for your DAW, with the UC2 controlling certain plugins and the UF8 handling the main bulk of the mixing work; however, you can use both independently of each other, depending on your budget and needs.
Key Features:
Classic SSL console ergonomics and workflow
Every feature of this controller has been designed for ease of use, including a logical control layout and LEDs and meters to give you real-time feedback on how the plugins affect your mix. Integrating with the bundled SSL plugin mixer gives you plenty of options to customize your workflow.
Control Over SSL Plugins 
The UC1 only controls the perimeters of these plugins, making it less of a DAW controller and more of a plugin controller. Native Channel Strip 2 and Bus Compressor 2 licenses are bundled with the controller, giving you access to the classic warm, analog SSL signature sounds.
Knob-per-function control
Each knob on the UC1 controls the corresponding function in the plugins. No complicated MIDI command mapping is required. If you need a few more DBs in the 22KHZ range or want to increase the release time of your compressor, turn the corresponding control, and the UC1 makes it happen. 
High-quality metal enclosure 
No cheap, nasty plastic, with wobbly knobs to be found here, the SSL UC1 looks and feels like a seriously pro piece of equipment. Great emphasis has been placed on making the UC1 an enjoyable tactile experience. With its full metal enclosure and brushed anodized top plate, it is built to last and looks great.
Plugin Controller 👉 SSL UC1 Review 👌
Pros:
The UC1 is ideal if you heavily use the Native Channel Strip 2 and Bus Compressor 2 plugins in your mixes and want some tactile control over their parameters. The layout is simple and easy to use, and the visual feedback via the LEDs and meters is a nice touch. SSL are renowned for their audio quality, and the UC1 offers high-quality processing and low CPU usage. It is compatible with most major DAWs through the SSL 360 controller or as a standalone VST controller and can even be used to switch between multiple DAWs.
Cons:
It will only control the Native Channel Strip 2 and Bus Compressor 2 plugins and no other aspects of your DAW.  Considering the price, this makes it rather limited and specific. This controller is not for you if you want greater functionality. It also requires external power, potentially taking up more sockets in your studio.
2. Behringer X-Touch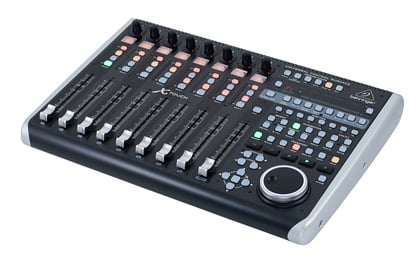 Originally released in 2014, the Behringer X-touch aims to be a competitively priced, comprehensive controller for your DAW. In addition, it can integrate seamlessly with Behringer's X-Air live systems, making it an extremely versatile piece of equipment.
Physically it has quite a small footprint; however, it is still quite chunky. Its layout is similar to the much more expensive Mackie Control Universal, but with added ethernet connectivity and X-Air control, it gives you the experience of a highly advanced controller without the hefty price tag.
Key Features:
Comprehensive control surface


The X-touch features eight rotary encoders, nine faders, a jog wheel with 92 functions, and a host of other buttons, giving you a vast amount of control over your DAW. Channel and transport controls are catered for as well as additional function controls.
Works perfectly with Logic and Cubase
Logic Pro X and Cubase are fully supported, with each button on the X-Touch doing exactly what it says it does. Other DAWs are also supported; however, how each DAW implements Mackie Universal Control will affect the controller's functionality.

Variety of connectivity options


The X-Touch has both USB in/out and MIDI connectivity, ethernet, and three TRS ports for foot controllers and expression pedals. This amount of connectivity means that it should be able to fit into any studio setup with no real hardware issues.
LCD Displays for channel identification
Important information about your tracks is displayed on the LCDs above each fader. These can be assigned to show channel identification or display other parameters. This feature is especially useful when using the X-Touch in a live context, where lighting may be poor.
Using Behringer X-Touch Universal Control Surface with REAPER - stock/built-in setup
Pros:
The X-Touch offers much control over your DAW at a competitive price. Its motorized faders and comprehensive connectivity make it perfect for any home studio setup. In addition, it is a perfect, cheap solution for anyone using Logic Pro X, or Cubase, giving you instant control over your DAW.
Cons: 
The build quality is less than ideal. The main part of the controller is made of plastic, and the buttons are rubber, making it feel cheap. The faders and knobs sit quite high on the controller, potentially making it uncomfortable to use for extended periods. Also, to use the X-Touch with Reaper, Pro Tools, or Ableton, quite a lot of additional scripting is needed to get the controls to behave how they should. External power is also needed.
3. Avid Pro Tools S3
Discontinued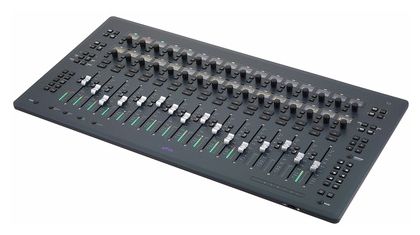 The Avid Pro Tools S3 was originally released as part of a package of equipment designed for live use; however, it has since been made available to purchase as a standalone DAW controller. It is essentially a streamlined version of the much larger and more expensive s6, offering a similar amount of functionality and features in a more affordable, portable package.
It is one of the most comprehensive controllers on this list, with many connectivity and control options, including a USB hub on the rear pannel. It is fully EUCON enabled, allowing compatibility with any DAW with EUCON support; however, its main focus is obviously on working as a controller for Avid Pro-Tools.
Key Features:
Complete control over Pro Tools
Almost all functions of Pro Tools can be operated from the S3 using a variety of faders, encoders, and modifier keys. It even has arrow keys for navigating menus and deep functions within your DAW, which is useful if you are particularly determined never to use a mouse.
Doubles up as an audio interface
XLR and line level inputs and outputs on the rear panel mean that you can connect equipment such as microphones and instruments directly to the control surface, bypassing the need for an external interface, or expanding your existing setup.
Programmable fader presents
The 16 motorized faders are fully programable, and these configurations can be saved as pre-sets to be recalled at the touch of a button. An especially useful feature for complicated mixes with lots of tracks or quickly switching between configurations in life use.
Connects via Ethernet
The Avid S3 connects via ethernet rather than USB, saving you a USB slot on your computer. This feature also opens the possibility of it being added to a network with other equipment, expanding the possibilities of its use even further.
Avid Pro Tools S3 Control Surface Review - Sweetwater's SoundCheck Vol. 1
Pros:
If you are experienced in using Pro Tools, then the S3 controller is perfect. It can control almost every function directly from one surface. You can adjust even deep settings within plugins by using the modifier buttons above the faders. There are almost no functions of the DAW that the Avid S3 cannot access and no parameters that it cannot adjust.
Cons: 
If you are unfamiliar with Pro Tools, or controllers in general, it will be a steep learning curve getting used to the S3. There are so many controls and options that it can be intimidating for beginners. In addition, some of the access to the functions is a little difficult, in some cases having to press several buttons to do what could be done with a single mouse click.
4. Zoom R24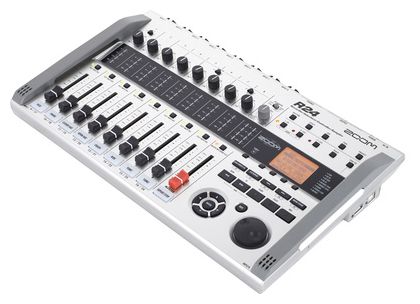 Zoom is well known for creating products packed with numerous useful features while keeping prices affordable, and the R24 is no exception. It is a comprehensive, music-making machine that any musician in any situation would be able to find a use for.
The main aim of the R24 is to bridge the gap between personal recording multitrack devices and computer-based recording. It achieves this by acting as a personal multi-tracker, DAW controller, and many other things besides.
Key Features:
More than just a DAW controller


The Zoom R24 can be used as a control surface, but it is also a 24-track recorder, a pad sampler, a drum machine, and an interface all rolled into one package.  It also has built-in effects, and a stereo condenser mic in addition to its eight mic/line inputs, and a chromatic tuner.
Compatible with most popular DAWs
Mackie Control emulation enables the R24 to be used as a control surface for Logic, Cubase, Ableton, Sonar, and more. Cubase LE is included in the package. It can also provide an audio editing platform for video editing software like Final Cut Pro, streamlining the audio mixing experience with real faders and transport controls.
Various connectivity options
Ideal for most situations, USB connectivity, means simply plugging straight into a PC and getting on with it. The R24 also allows connectivity to a second R24, giving you 16 tracks of simultaneous recording and 48 tracks of playback.
Intuitive design
With certain DAWs, you plug in the R24 and immediately have control over your faders and transport functions without too much setup. The layout is simple and intuitive, with arrowed bank buttons navigating to more faders and controls if your mix exceeds eight tracks.
ZOOM R24: How to use the drum and sample sequencer
Pros:
The main pro of the Zoom R24 is its sheer value for money. The crazy amount of features on offer makes it an excellent choice for a musician on a budget or someone new to recording and mixing. If you have never used an interface, drum machine, sampler, or control surface before, then the R24 is a brilliant gateway device for learning the basics of recording before moving on to bigger and better things.
Cons: 
As an actual control surface, it is pretty limited, probably due to this not being its main feature. The only real control it offers is fader volume and transport controls. If you are more experienced using DAWs and want advanced features, then the R24 is not what you are looking for.
5. SSL UF8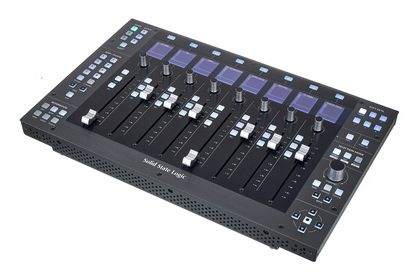 Designed to compliment the SSL UC1 mentioned earlier on this list, the UF8 is the mix-oriented side of SSLs control surface series. It aims to streamline your workflow, connect you directly to the creative process, and accelerate your audio production and content creation speed.
Its layout is simple and clear to understand. SSL has packed eight traditional faders and encoder knobs, as well as a wealth of other controls, packed onto a mid-sized controller without making it feel cramped or cluttered.
Key Features:
8 Hi-Res Colour Displays
The displays above each fader show channel information or other parameters in truncated form. This feature is fully customisable, so you can quickly see what each fader controls at a glance. The backlighting is particularly useful for mixing in low light situations.
Easy integration with any DAW
Any device that can run SSL's 360 control software can communicate with the UF8. Using SSL 360 is vital as it opens the UF8s options further. For instance, it allows the control surface to switch between three separate DAWs, provided your PC has enough power.
Easy plugin control and connectivity
The UF8 features a dedicated plugin button that switches the faders and encoders from controlling the mixer to operating various aspects of your plugins. Particularly useful when operating time-based plugins while mixing. You can also link via USB to a second UF8, giving you the option of having one control the mixer while one controls the plugins.
Outstanding build quality
This controller is built like a tank, with a full aluminum enclosure with a brushed anodized top plate. It also comes with useful adjustable legs, allowing you to tilt the controller towards you or set it on an uneven surface without worrying about it falling.
SSL UF8- Could be perfect BUT... #ssluf8 #cubase #controller
Pros:
The UF8 is a high-quality DAW controller that looks and feels professional. It strikes the right balance between features and functionality, giving the user an easy and enjoyable tactile experience that should speed up your workflow and make mixing more enjoyable. The build quality and ease of use are supurb, as well as the room for expansion. Excellent for hobbyists and professionals alike.
Cons: 
It is on the more expensive side of the spectrum, especially considering what else is available at lower prices. Also, the truncated info on the display screens can be a little confusing, and it does not seem to have a power switch for some reason.
6. AKAI Professional MIDImix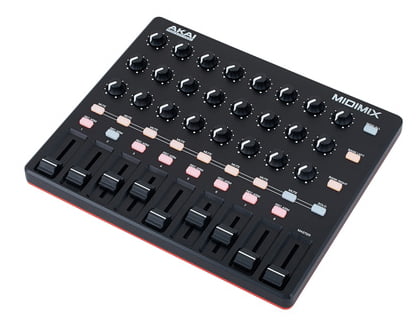 The Akai MIDImix is a very affordable DAW MIDI controller, offering a simple, no-nonsense tactile mixing experience for studio recording and live performances. Almost any working musician, regardless of their level, would probably be able to find a use for it in their arsenal.
Its design is simple and familiar, offering the standard DAW controller options of faders, encoder knobs, and buttons for other functions on a flat square, plastic surface. Its design may be generic, but you will be hard-pressed to find anything offering better functionality at this price.
Key Features:
Small and portable


The Akai Professional MIDImix is only 24cm wide, so it won't take up excessive room in your studio. It is also small enough to be carried in a laptop bag for use in situations away from home. In addition to its small size, it is powered completely by USB, so an additional external power supply is not necessary.
Simple, functional design
MIDImix offers eight channel faders and one master fader. There are three fully assignable knobs to each fader and a mute, solo, and record button per channel. It is also possible to send pre-set levels to your DAW with the "Send All" button.
Default mapping to Ableton
When using Ableton Live, the MIDImix is a fully integrated control surface, giving you control over all the basic functions of your DAW. Compatibility with other DAWs will defiantly require different mapping.
Kensington Security Lock Slot
No one wants to have their preciouses gear stolen at a gig or studio session, and given its small sizer, the MIDI mix could be a tempting target for theft. Akai's solution is to provide a slot for a standard Kensington Lock, allowing you to fix the MIDImix to a desk securely.
Reggae dub mix on Akai Midimix
Pros:
The Akai MIDImix is perfect for someone who wants a very simple, cheap DAW controller and does not want to get bogged down by complicated features that are unnecessary for their situation. It is small, light, and cheap, giving you plenty of options to map various functions of your DAW, making it a good choice for live use.
Cons: 
Its compact size can make it awkward to use, and more experienced users will probably find its features too limited. Also, if you want to use it with any DAW other than Ableton, you will have to go through a time-consuming process of MIDI mapping.
7. Presonus Faderport 16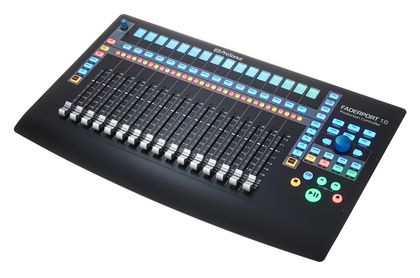 The Persons Faderport 16 is a large format DAW controller, which builds on the smaller Faderport 8 to give a more extensive experience, adding twice as many faders and channel controls, but keeping the basic functionality the same.
Despite its large size, its ergonomic design won't dominate your desktop. Ideally, it could be situated on the left, putting the transport controls just left of center, with your mouse and keyboard on the right, allowing you to use both hands at once to work quicker.
Key Features:
One button access to key functions
On the right-hand side of the Faderport is a session navigator section that essentially acts as a bank of controls giving you access to various key functions of your DAW, such as scrolling through tracks with the encoder or zooming in and out of a timeline. These buttons are fully programmable, giving endless options for customization.
Universal compatibility
Faderport 16 is fully compatible with Ableton Live and comes with a free copy of Ableton Live Lite. In addition, thanks to its support of HUI and Mackie Control protocols, it is compatible with most other DAWs. It is also natively compatible with Apple's latest M1 silicone-based computers, iPadOS, and iOS devices.
Augments your mixing style
The 16 faders and various assignable buttons are designed to support the way you already work. The Faderport 16 does not completely replace a keyboard and mouse but instead handles tasks that make more sense to be done with physical faders and buttons, speeding up your existing workflow.
Multiple fader functions
By default, the faders control the volume. However, this can be changed on the fly with four buttons to the right of the scribble strip. In addition, faders can be switched between parameters to control volume, edit plugins, sends, and pan functions.
New FaderPort 8 and FaderPort 16 Features including Channel Gain, Cue Mix, and Plugin Controls!
Pros:
There is no need to change your mixing style; the Faderport 16 is designed to make it faster. The 16 faders allow plenty of room for projects with a large number of tracks, and being able to re-assign their functions by pressing one button is a great idea.
Cons: 
There is no dedicated pan control, and operating this with a fader may take some getting used to. It is also rather large due to its high number of faders and controls, so it may not fit easily in small studios and may be too impractical for live use.
8. Ableton Push 2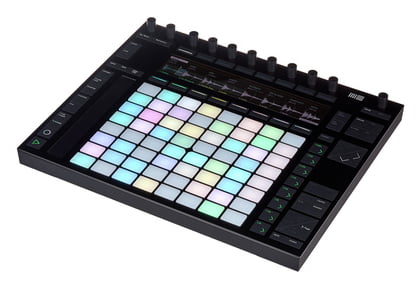 The Ableton Push 2 is designed to put everything you need to make music at your fingertips, cutting out technology that may get in the way, allowing you to capture ideas quickly and stay in the zone. In addition, it offers some highly advanced features, perfect for musicians who enjoy working with samples and manipulating sounds in weird and wonderful ways.
It is unlike the other controllers on this list so far in that it acts more like an instrument than a mixing desk. Instead of faders, the main control surface features 64 rubber pads that can be mapped to control a virtual instrument within Ableton Live.
Key Features:
Backlit Rubber Pads
The Push 2 is ideal for live performances, with all of its 64 pads being backlit with multiple color LEDs, ensuring you don't get confused while playing or sampling.
Edit your

samples

on the go
The detailed color display allows samples to be edited on the control surface. Three modes are available, Slicing Mode, for chopping up large samples and distributing the slices across the pads, Classic Mode, for turning melodic samples into pitched instruments; and One Shot Mode, for playing entire samples without cutting.
16 Step Sequencer
The Push 2 can switch to a 16-step sequencer at the touch of a button, allowing something simple to be programmed quickly. There are also timing and velocity controls for tweaking beats to perfection.
Eight encoders for additional control
The encoders can control the mixer or be mapped to control parameters on virtual instruments and plugins or even live browser navigation, giving you multiple layers of control. 
Push 2 Still Worth it in 2022? Long Term User Review
Pros:
The Ableton Push 2 is truly fantastic as a live performance tool. It opens up Ableton to be much more than something to record with, turning it into a powerful instrument. If you are an Ableton user and make electronic music of any kind, then Push 2 will speed up your workflow and open up possibilities that you hadn't even thought of.
Cons: 
It is definitely not a DAW controller aimed at someone looking to replicate the tactile experience of recording with a mixing desk. Although it does offer some mixing controls via the encoders, they are very limited. In addition, it is only fully integrated with Ableton Live, meaning that using any other DAW will require extensive mapping and configuration.
9. AKAI Professional Fire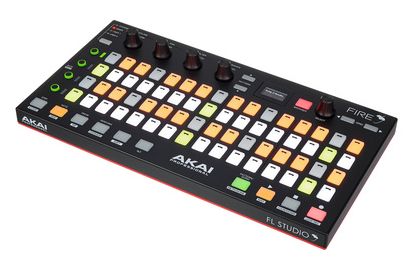 FL Studio is among the most popular DAWs for Beat-makers and laptop musicians. Unlike Pro-Tools or Ableton Live, however, until very recently, there were no dedicated hardware controllers on the market for it. The Akai Profession Fire exists to remedy that situation. By default, it is the best dedicated hardware solution for working in FL Studio.
Its design bares a similarity with the Akai's APC controllers for Ableton. It is designed with affordability in mind; however, that is not to say it feels cheap. It is lightweight but should be robust enough to handle life on the road.
Key Features:
Control key areas of FL Studio


Due to its layout with multiple views and plugin tools, it is difficult to pair FL Studio with a single control surface. Therefore The Akai Pro fire focuses mostly on four key areas: Step, Note, Drum, and Perform, all easily selectable from four bottoms on the bottom.

Velocity-sensitive touch pads


The main focus of the Pro Fire is operating the performance aspects of FL Studio. Therefore, it is built with 64 touch pads designed to be used for finger drumming, playing virtual instruments, and triggering samples.

Step Sequencer


In step mode, the Pro Fire has total control over FL studio's sequencer. The control surface can program drum patterns or control and edit pre-existing patterns. Selecting and extending a pattern is achieved with the left and right buttons on the top right.

Basic mix and transport controls


In the bottom right corner are buttons that control the Play, Stop, and Record functions and a useful metronome button. The top left has four rotary encoders for volume, pan, EQ, and resonance. There are also useful mute and solo buttons on the bottom left.
AKAI FIRE Complete Overview Tutorial
Pros:
This controller's build quality and pricing make it a perfect choice for anyone who uses FL Studio to make music. In addition, the hands-on sequencing positively affects workflow, taking the hassle out of programming a beat on screen and allowing greater concentration on creativity.
Cons: 
The number of pads squeezed onto a compact surface makes finger drumming somewhat difficult. Certain aspects of the controller are quite limited, such as only having two velocity levels. Although it offers mix controls, they are rudimentary. Not an ideal choice if you are looking for a more traditional mixing desk experience.
10. Novation Launch Control XL MK2
Novation's original Launch Control for Ableton Live was a compact, somewhat limited controller with only eight pads and sixteen knobs. Its big brother, the Launch Control XL, as the name implies, is a larger format take on the same idea, increasing the number of knobs and buttons, as well as adding faders for easier mixing and faster workflow.
It is designed to act as a companion device to the Novation Launchpad S. Both controllers are the same size, so they could easily sit side by side on a desk with the Launch Control operating the mixing side of Ableton, while the Launchpad S handles the sampling and virtual instruments.
Key Features:
Seamless installation and integration
Ableton Live instantly recognizes Novation Launch Control XL without requiring additional setup or mapping. Furthermore, as it is class compliant, there is no need to download any drivers. Just plug and play.
Comprehensive mix control in a small package
Sixteen buttons, twenty-four knobs, and eight faders are packed onto the Launch Control's nine-inch face. These are automatically mapped to the corresponding controls in Ableton, along with additional controls such as Track Focus to select individual channel strips and Track Control for Mute, Record Arm, and Solo.
Control plugins easily
The Device modifier button alters the mapping of the pan knobs, changing them to plugin controls, allowing for control over eight parameters of whichever plugin is currently selected. Holding the Device button also turns the Track Control buttons into bank selection switches, allowing presents to be quickly accessed.
Create your own control layouts
Ableton allows custom layouts and mapping to be created inside the DAW and then easily ported onto the control surface. It is also possible to switch between several custom mappings, allowing you to create the perfect layout for any situation.
Novation // Launch Control XL Performance explained
Pros:

The layout is simple and easy for anyone with basic knowledge to understand. A huge amount of functionality and flexibility is packed into a small, well-constructed, affordable package. Ideal for home studios or live use in a situation where more expensive equipment may get damaged.
Cons: 
Will need extensive mapping to be used with other DAWs. It is impossible to change the function of the send knobs, and in User mode, none of the knobs can be changed, which is a real disadvantage.
11. Icon QCon Pro G2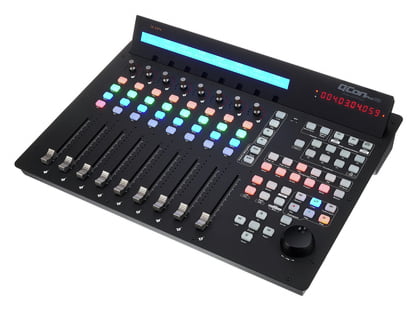 You can make an argument that mixing a project with physical faders and knobs is as much of a musical performance as the song itself. This is why control surfaces such as the Icon QCon Pro G2 and several others on this list exist. To bring that performative aspect of mixing back the world of DAWs.
The QCon Pro G2 is a mid-range, traditional-style controller aimed squarely at the mixing side of DAWs. It is solidly built and competitively priced, coming in at a similar price point, with similar features to the Behringer X-Touch.
Key Features:
Multi DAW Compatibility
Utilizing Mackie Control and HUI protocell emulation, the QCon Pro G2 is compatible with most major DAWs. It also comes packaged with a free copy of Bitwig Studio 8-Track, and a wealth of plugins from Dotec, Killohearts, Tracktion, and Harrison.
Eight Faders and knobs
The faders are motorized, and the knobs feature a dual action allowing them to rotate or be pressed as a button for additional control over the channel strips. Each channel strip also features buttons for Mute, Solo, and Record Enable. Up to 7 units can also be linked up, allowing control over 64 channels.
Large backlit display
Information such as channel name, control values, and plugin parameters are displayed on the two-line LCD along the top, allowing for quick visual reference when mixing. In addition, all of the buttons are backlit, and the encoders have LED segments for pinpoint accuracy.
Extensive additional control with buttons
There are six dedicated transport buttons for functions such as Play, Rec, Stop, Rewind, Fast Forward, and Loop. Altogether there are 78 fully assignable buttons and a jog wheel that can all be mapped to control almost any aspect of the DAW.
QCon Pro G2 DAW Controller Review
Pros:
DAW compatibility is not an issue, as it has pre-mapped overlays for 14 popular DAWs and slots for user-defined mapping. It is also class compliant, so it should not present any installation issues with most computers. The layout is easy to understand, and the build quality and features offered at this price make it an excellent choice for musicians working at any level.
Cons: 
The LCD screen can easily become crowded with lots of information, which is truncated to the point of being meaningless unless tracks are labeled with this in mind, creating an additional step to your workflow that could slow things down.
12. Behringer X-Touch Mini (Best Minimal & Cheap)
Size isn't always everything, and there are times when a small footprint and portability are king. With many musicians recording in small bedrooms or playing gigs in tiny venues with limited space on stage for excessive amounts of gear, then something smaller can be ideal.
The baby of Behringer's X-Touch family, the mini, is an extremely attractive portable DAW controller that you can take anywhere. Offering control over instruments, effects, lighting, and other basic functions of your DAW at a very low price.
Key Features:
Compact

size
The X-touch mini is designed for portability at only 12' long and 4' wide. As a result, it will not take up valuable space in a home studio and is small enough to fit into a laptop bag for live performance use.
Universal control
Mackie Control emulation is built in, allowing the X-touch mini to work with almost any DAW with no setup required. Simply take the controller out of the box, plug it into your computer, and start making music.
Dual Layer Mode
Quick changing between DAW control and virtual instrument control is enabled thanks to the Dual Layer Mode. For example, one layer could control launching samples from a DAW, and the second could control a synth for playing along.
Plenty of encoders and buttons
The X-Touch Mini features eight endless encoder knobs, sixteen buttons, and a 60mm fader. Some buttons are pre-mapped as transport controls; however, all buttons are fully programmable to control any parameters of a DAW.
TUTORIAL: Behringer X-Touch Mini & Ableton Live
Pros:
A great amount of control is offered in a small portable package. It does not require external power, instead being powered by USB. Anyone who only needs to control the basic functions of their DAW and has limited space on their desk will find the X-Touch Mini a good option.
Cons: 
Its simplicity is also its downfall, only offering two layers of functionality. Its small size also makes it awkward to use for long periods, and its plastic construction feels flimsy and cheap, especially the long fader.
Bonus
Avid iPad Dock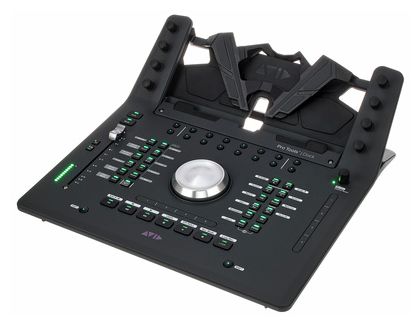 The Avid Dock is possibly the most unusual controller on this list. With this product, Avid aim to solve the problem of enabling a huge amount of control while keeping the footprint small enough that you don't need to redecorate your house to accommodate a new piece of gear.
The result is a beautiful meeting of hardware and software, utilizing the possibilities offered by touch screen tablets and combining it with good old-fashioned knobs, buttons, and faders. A best of both worlds solution that should suit musicians and engineers at any level.
Key Features:
Compact and lightweight


At only 14' x 13.9' and weighing only 1.9kg, the Avid Dock is a lightweight controller with a small footprint, making it suitable to be used in both live contexts and studio sessions without being impractical or taking up too much room.

Touch screen display


A tablet can be integrated into the dock with the Pro Tools control app, giving you more control options and a separate overview of each channel. The on-screen faders are also connected to the motorized hardware fader, which moves automatically when you move the fader on screen.

Compatible with multiple DAWs


The Avid Dock is automatically compatible with Pro Tools; however, it can be mapped to work with any DAW if your system supports the EUCOM communications protocol. It also has cross-platform compatibility, being able to run on Windows or Mac OS, and the Pro Tools Control app can download the app for both iOS and Android devices.
The app works independently of the dock
Say you have to record an instrument in a different room, for example, drums. You can remove the tablet from the dock and still have access to many of the functions of Pro Tools, with the tablet acting as a remote control. Then, once the recording has concluded, put the tablet back in the dock and begin mixing.
Avid Pro Tools Dock Review by Sweetwater
Pros:
The Avid Dock is an excellent and versatile solution to home recording, where space is limited, and you don't have a second person to operate the computer. The tablet integration is excellent, and the Pro-Tools Control app means that the dock can have much control over the DAW while maintaining a small footprint.
Cons: 
To get the most of this product, you need to use Pro Tools. While it is compatible with other DAWs, you miss out on so much functionality by not having the Pro Tools Control app that there isn't much point in investing in it, especially considering the cost.
Conclusion
DAW controllers of all shapes and sizes are represented on this list. Of course, some are more suited to particular applications than others, but everyone from the seasoned pro to the home recording hobbyist should be able to find their ideal match.
If you are new to the world of DAW recording and want something inexpensive that covers the basic mix functions of your DAW, then the Behringer X-Touch Mini or the Zoom R24 would be a good choice. However, you may quickly outgrow it as your skills develop. At the other end of the spectrum, the Avid Pro Tools S3 offers the most extensive control and connectivity options in one box, ideal for professional use in large studio settings or live venues. However, Avid has officially retired this controller as of 31st December 2021 and will only support it until December 2026, but that's not to say the S3 cannot be used beyond that date.
The best overall is the SSL UF8, offering the greatest balance of control, durability, and functionality that will suit most users. Professionals will love its sensible layout and room for expansion. While it may be a large initial investment for a home studio user, the payoff in the long term will be worth it. You are unlikely to outgrow its feature set, and its durable construction means it should indeed last a very long time.
Readings that you may like: 
Other Recommended Gear:
Top 12 NearField Studio Monitors On Any Budget
Top 10 Midfield Studio Monitors For Home Recording
Best Biggest Studio Monitors (FarField Monitors)
Top 10 Guitar Pickups for Low Tunings 
Top 10 Analog Compressors For Mixing & Mastering (On Any Budget)
Top 12 USB Audio Interfaces Under 150$, 200$, 300$ 400$ (Any Budget)
Top 12 Hardware Equalizers (Analog EQs For Mixing & Mastering)
Top 6 Analog Hardware Limiters 
Top 6 Solid State Bass Amps (On Any Budget)
Top 6 Ribbon Mics On Any Budget (For Vocals, Drums & Guitars)
Top 6 Cheap Dynamic Mics For Vocals Under 50$, 100$, 200$ & 300$
Top 6 Chorus Guitar Pedals (On Any Budget)
6 Best 61-Key MIDI Keyboards (On Any Budget)
9 Best 49-Key MIDI Keyboards Under 100$ & 200$
Top 5 Best 25 Key MIDI Keyboards (On Any Budget)
Top 12 Acoustic Drums (Best Kits/Sets On Any Budget)
Plugin Roundups:
Genre Focused:
Top 10 EDM Plugins  (And 10 Best FREE Plugins For EDM)
Top 10 Plugins For TRAP Beats (And 5 Best FREE Trap Plugins)
20 Best Plugins For Rock Musicians (+ 6 FREE Plugins)
Top 14 Trance Plugins (Uplifting, Tech, Progressive, Vocal, Dream, Hard)
Top 10 GOA & PsyTrance Plugins (Best Psychedelic Trance Tools)
Top 7 Plugins For Dubstep (With 10 Best FREE Effects & Synths)
Top 20 Synthwave Plugins (+ 11 Best FREE Plugins)
Top 15 Plugins For Techno, House, Electro, Tech House, UK Garage
Top 6 Plugins For Latin Music  (And 4 FREE Tools)
Top 12 Plugins For Hip-Hop (+ Best Kontakt Libraries)
Top 7 Plugins For Game & Film Scoring  (+ 6 Best Kontakt Libraries)
Top 10 R&B And Pop Music Plugins & KONTAKT Libraries 
30 Best Free Plugins For DnB, EDM, IDM & Experimental Music 
EQ Plugins
Top 12 Free EQ Plugins For Precise Mixing & Mastering
Top 9 Mid/Side EQ Plugins  For Mixing & Mastering (+ 2 Free Tools)
Top 7 Graphic EQ Plugins  (With 3 Best Free EQs)
Top 7 EQ Plugins For Mastering In | And Best FREE Mastering EQs
Top 6 Passive EQ Plugins (Klevgrand, SPL, UAD, Waves, IK Multimedia)
Top 11 Plugins For Making Metal (Best Guitars, Drums & Effects)
Metering:
Top 5 Audio Metering Plugins (LUFS, RMS, LRA, True Peak)
Top 6 Spectrum Analyzer Plugins  – Spectral Analysis Tools
Top 6 Oscilloscope Plugins To See The Waveforms
Top 5 Key Detection Plugins & Software  (+ Best FREE App)
Kontakt Libraries
20 Best Kontakt Libraries For All Categories (Synths, Drums, Vocals)
Top 7 Drum Libraries For KONTAKT (And 4 Freebies)
Top 7 Trap Music Kontakt Libraries (And Best Lo-Fi Kontakt Library)
Top 7 Metal & Rock Kontakt Libraries (Best Guitars & Drums)
Top 10 Guitar Libraries For Kontakt (Acoustic, Electric, Bass & Freebies)
Top 7 Trailer Scoring Plugins & Kontakt Libraries 
20 Best Free KONTAKT Libraries For Various Instruments
Top 9 Piano Kontakt Sample Libraries  (And 5 Best Free Pianos)
Top 10 Percussion KONTAKT Libraries  (And 3 Freebies)
Top 7 Kontakt Libraries For Horror & Thriller Scoring (No VSTs)
Audio Restoration, Calibration & Utility:
Top 6 Noise Reduction Plugins (And 3 Best Free Tools)
6 Best Audio Restoration Plugins & Software 
Top 7 Phase Alignment Plugins To Fix Your Bass & Drums
Top 10 Room Calibration & Headphones/Speakers Correction Plugins 
Instrument Plugins: 
Top 6 Vocoder Plugins (Effects & Synths + FREE Vocoder)
11 Best Rhodes VST Plugins (AND 5 Free Rhodes Plugins)
Top 12 Randomizer Plugins Including FREE Plugins
Top 6 Kick Drum Plugins (Best Kick Designer Tools)
Top 12 Woodwind Plugins (And KONTAKT Libraries)
Top 10 Double Bass Plugins (Best Upright Basses)
Top 5 Strings VST Plugins (AND 4 Best Free Instruments)
Top 6 Sampler Plugins (And 3 Best FREE Plugins)
Top 6 Classical Guitar Plugins & Kontakt Libraries (And FREE Guitars)
Top 12 Sub Plugins (Best 808 & Bass Tools For Massive Low End)
Top 10 Plugins On PluginBoutique (And 7 Best Free Plugins)
Top 11 Plugins On Plugin Alliance 
Top 7 Acoustic Guitar Plugins (And 4 Best Kontakt Libraries)
9 Best Bass Guitar Plugins (And 2 Best Freebies)
Top 6 Electric Guitar Plugins (Best PAID & FREE Picks)
Top 10 Arpeggiator VST Plugins (Best Synths, MIDI Effects & Tools)
Top 10 Modular Synth Plugins (And 3 Best FREE Plugins)
Top 6 Choir Plugins & Sample Libraries (And 3 Best Free Plugins)
11 Best Percussion & Drum VST Plugins (And FREE Plugins)
Top 8 Piano Plugins (Best Sounding Pianos & 5 FREE Piano Plugins)
Top 6 Organ Plugins Ever Made  (And 3 Best Free Organs)
Top 14 VST Plugins For Beginners (And 9 FREE Plugins)
Top 9 Drum Machine Plugins (And Groovebox Plugins)
4 Best Banjo Plugins (Best Banjo Instruments)
The 5 Best Ukulele Plugins & Kontakt Libraries 
Top 13 Synth Plugins (And 5 Best FREE Synths Plugins)
Top 13 Sequencer Plugins  (Synth, MIDI & Step Sequencers)
The 10 Best Multi-Effect Plugins (And 3 Best Free Plugins)
Top 12 Plugin Bundles For Musicians (Synths, Mixing & Mastering)
Processing & Sound Design:
8 Best Lo-Fi Plugins (PAID & FREE)
Top 11 Plugins For Mixing Vocals  (For Home Studio)
Top 12 Saturation Plugins (Best Mixing & Mastering Tools)
Top 6 Pitch Shifter Plugins (And 3 Best FREE Pitch Shifters)
Top 6 Chorus VST Plugins For Musicians (And 3 FREE Plugins)
Top 6 Limiter Plugins For Precise Mastering & Mixing
The 8 Best Filter Plugins For Precise Cuts & Boosts (+ 5 Free Filters)
6 Best Autotune Plugins To Improve & Enhance Your Vocals
Top 10 Transient Shaper Plugins (VST, AU, AAX)
Top 7 Enhancer Plugins (For Bass, Drums, Vocals & Harmonics)
Top 6 Flanger Plugins (And 5 Best FREE Flanger Emulators)
Top 7 Phaser Plugins (And 3 Best FREE Phasers)
Top 10 Plugins For Mixing Drums (And 3 Best Free Plugins)
Top 7 Bitcrusher Plugins (And 4 Best FREE Bitcrushers + 3 Bonuses)
Top 6 Plugins For Voice-Over & Dialogue Cleaning (Post Production)
Top 10 Stereo Imaging Plugins (Best Old & Modern Picks)
Top 5 Multiband Limiter Plugins 
Top 7 De-Esser Plugins For Better Vocals (And 4 FREE Plugins)
Top 7 Clipper Plugins (Best Limiter Alternatives)
Top 6 Chord Generator Plugins That Inspire Melodies (+ FREE Tools)
7 Best Exciter Plugins For Mixing & Mastering
Top 7 Channel Strip Plugins (And 2 Best Free Plugins)
Top 11 Distortion Plugins (And 4 Top Free Plugins)
Top 5 Comb Filter & Resonator Plugins | Melda, Kilohearts, Tritik
The 7 Best Vibrato VST Plugins | Audec, Audiority, Melda
The 7 Best Tremolo Plugins | Eventide, Melda, SoundToys, Kuassa…
The 7 Best Harmonizer Plugins | Eventide, Melda, Aegean Music
7 Best Sidechain Plugins (VST, AU, AAX) | Xfer, Cableguys..
Top 10 Noise Gate Plugins (And 6 FREE Free Gate Tools)
The 6 Best Ring Modulator VST Plugins | KiloHearts, Melda
7 Best Autopan VST Plugins | CableGuys, Melda, Waves, Soundtoys
The 6 Best Frequency Shifter VST Plugins
Top 11 Granulizer Plugins For Future Sound Design
29 Best Sound Design VST Plugins
Compressor Plugins
Top 11 Free Compressor Plugins (VCA, Vari-Mu, FET, Digital)
Top 7 Multiband Compressor Plugins (And 4 FREE Plugins)
Top 5 Diode-Bridge Compressor Plugins 
Top 6 Mastering Chain Plugins: Complete VST Solutions 
The 7 Best VCA Compressor Plugins (VST, AU, AAX)
Top 11 Mastering Compressor Plugins (And 2 FREE Plugins)
Top 10 Opto Compressor Plugins For Transparent Sound
The 7 Best Vari-Mu Compressor Plugins (And 2 Best FREE Tools)
Reverb & Delay Plugins:
Top 12 Reverb Plugins (And 5 FREE Reverb Plugins)
The 6 Best Spring Reverb VST Plugins | AudioThing, GSi, u-he, Eventide
Top 12 Delay Plugins For Music Production In (VST, AU, AAX)
Top 10 FREE Delay Plugins (VST, AU, AAX)
The 10 Best Convolution Reverb Plugins 
Amps & Preamps:
Top 10 Guitar Amp Plugins (And 5 Best FREE Simulators)
Top 10 Bass Amp Plugins (And 5 Best Free Simulators)
Top 9 Preamp Plugins (For Vocals, Guitars & More!) + Free Preamps
Guitar/Amp Focused:
Can I Put Nylon Strings on a Steel-string Guitar?
Do Electric Guitars Sound Good Unplugged?
Buying Your First Guitar: 2 Things To Know
Are Tube Amps Worth It? (Tube vs Solid-State Amps)
How Often Does A Guitar Need a Setup?
Can I Play Classical Guitar On A Steel-String Guitar?
How often guitar necks need reset?
Can You Play Two Guitars Through One Amp?
Can a 6 String Bass Be Tuned Like A Guitar?
Can I leave My Guitar Tuned Down a Step? Yes, But Is It Safe?
Should I Learn 4, 5 Or 6 String Bass Guitar & Why?
How To Know If your Guitar Amp Is Broken?
How To Fix Distorted Bass Guitar Sound?
Do Fender Guitars Appreciate In Value?
Should You Put Stickers On A Bass Guitar?
How Acoustic And Electric Guitars Are Made?
Is Electric Guitar Too Loud for an Apartment?
Does a Preamp Improve Sound Quality?
If I Learn Acoustic Guitar Can I Play Electric Guitar?
How Many Hours A Day Should You Practice Bass Guitar?
Do I need an AMP/DAC To Run Bookshelf Speakers?
How to Record Electric Guitar Into Logic Pro X?
Do headphones get worse with age?
DAW Related:
Best DAWs For Musicians Available (With FREE DAWs)
What's The Most CPU Efficient DAW? – 5 DAWs Compared
How To Make Music Without Using A DAW?
Pro Tools Guide: How To Use AutoTune & Pitch Correction?
Ableton Review: Is It Worth The Money? (Cons & Pros)
Logic Pro X Review: Is It Worth It? (Cons & Pros)
How To Use Auto-tune & Pitch Correction In Cubase?
How To Fix Ableton Crackling, Crashing & Freezing? Step By Step
Plugin Related:
What Are Audio Plugins? Different Types of Plugins Explained
What Are The Best Tools To Develop VST Plugins & How Are They Made?
Cost of Developing Audio VST Plugin: Several Factors (With Table)
VST, VST, AU and AAX – What's The Difference? Plugin Formats Explained
Complete Guide To Noise Gate – What It Is, What It Does & How To Use It?
How To Clip My Drums? Here Is How & Audio Teasers (Before/After)
Complete Guide To Limiter: How To Use It (+ Best Plugins & Analog Limiters)
Mixing With Reverb: How To Add Life To Your Mixes
Linear Phase vs Minimum Phase EQ – Full Guide
Difference Between LUFS, RMS & True Peak Loudness Meters
How And When To Use Algorithmic And Convolution Reverb In Your Mix?
Difference Between Active EQ, Passive EQ and Dynamic EQ
Headphones & Studio Monitors:
Do headphones get worse with age?
Monitors vs Studio Headphones For Mixing & Mastering
Top 10 Room Calibration & Headphones/Speakers Correction Plugins 
Are Noise-Canceling Headphones Good For Music Production?
Can Headphones Break in Cold Weather?
Why do headphones & cables get sticky?
Can Wearing Headphones Cause Hair Loss?
How Do I know If My Studio Monitor Is Blown?
Side Effects Of Sleeping With Your Headphones On
Do You Need Music Amplifier For Studio Monitors or Studio Headphones?
Do Headphones or Earphones Damage Your Brain?
Can Headphones or Earphones cause Deafness or Toothache?
FarField, MidField & NearField Monitors – Their Uses, Pros & Cons
MIDI & Synths:
Should I Buy A MIDI Keyboard Or Synth? (Are Synths Worth It Anymore?)
Why Is Audio Gear So Expensive? (Especially Synths)
Top 12 Synth Brands – Analog, Digital & Modular Synth Manufacturers
11 Tips How To Choose MIDI Keyboard 
Should I Buy MIDI Controller Or Keyboard? Cons, Pros & Tips
Ben Bradley is a DIY musician and producer based in the UK. He has over 10 years of experience playing in and recording Indie Rock bands and Ambient music. He strongly believes that anyone can express themselves through music, and could not imagine his life without it.