But What would it be of Metal without their most precious asset?  High-gain amplifiers have given voice to riffs and licks worldwide, helping shape the music into a new style that would change things forever, so Metal was born. Branching from early rock classics like Cream, The Who, and Creedence, they took a path of no return.
That said, here are the 12 best combo amps for Metal music:
4. EVH 5150 Iconic 40W 1×12 Combo IV
Proto-metal bands started tampering with their amp's gain levels and exploring higher saturation levels to achieve a tone expression that matched their anger. And so bands like Black Sabbath, Deep Purple, Grand Funk, and Judas Priest paved the way using heavy riffing machines from brands such as Laney, Marshall, and Orange.
In this list, you'll see a selection of the best twelve combo amps for metal sound of 2023. Amps with that "IT" factor, that brutal, edge-of-breakup chug that, with every muted string pluck, seems to rattle the walls and sink the venue a foot into the floor.
The 12 Best Combo Amps For Metal 2023
1. Boss Katana 50 MKII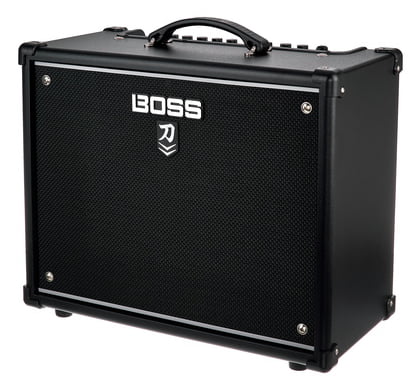 A powerful asset, from tone to effects, this amp is the best solid-state out there.
It is common knowledge that Boss is a tone craftmaster. Still, they exceeded themselves in building an amp versatile as that, covering from clean cosmic ambiance guitars for the doom enthusiasts to high-gain brutal distortions that those trash and death metalheads are mad about.
Since '76, when they launched their first effect units, Boss has been part of the manufacturers that helped create and shape the tones that would define many styles throughout the years. From pedals to amps, the company has always found a way to deliver a new tone perspective while optimizing our set and playability.
The full extent of the true metal sound experience can be achieved with only this amp and its features. Within many voicing options and various built-in effects, you'll surely find your expression through the myriad of tone possibilities that can be designed.
Key Features: 
TubeLogic


What makes valve amps so desired is the 

valve circuits' warm, highly responsive behavior

. That's what TubeLogic came to deliver on solid-state amps. With it, 

you have that dynamic feeling of blasting high-gain valve amps

. Emulating valve responsiveness

 creates a more natural touch to your tone

by adding crispy saturations that show up while playing

.

Five voicings plus a variation for each


The Boss Katana 50 MKII has five voicing options: 

Acoustic, Clean, Crunch, Lead, and Brown

. Going from a warm, soft clean to an edge-of-breakup distortion, the amp gives you

 different settings with increased gain levels

 so you can pick the one that better suits your desired tone

.

Five effects, three variations each


In the Effects section, you will find three knobs,

 two dual-concentric knobs (Booster/Mod and FX/Delay), and a Reverb knob

. On each, you have three variations to select from, all color-coded (Green, Red, Orange). For Booster, you'll have

 Blues Drive, Overdrive, and Distortion

. 

Chorus, Phaser 90E, and Flanger 117E

are the options for Mod. The available effects on FX are 

Tremolo, T.Wah, and Heavy Octave

. Finally, in the Delay section, you'll be able to choose one of the most classical Delay types,

Digital Delay, Analog Delay, and Tape Echo

. 

Power Control


The Power Control knob ables you 

to attenuate the amp's power output 

through four levels (50W, 25W, 0.5W, and Standby) 

without compromising your distortion's presence

.

Boss Tone Studio


The Boss Interface, 

where you can edit, create, and control

 Livesets while using your amp. The Tone Central window allows you to 

exchange custom Livesets with the community

. From custom tones designed by other users to a handful of tones based on famous sounds and songs, within the Boss Tone Studio, you'll have plenty of inspiration on

building a great tone and how to do so

.

Power Amp In


It also features a Power Amp In input which, by 

bypassing the amp's preamp and effects and jumping the signal straight to the power amp

, allows you to plug any other preamp, modeler, or multi-effects you might have.

Cabinet Emulation


The USB connection also features a Cabinet Emulation through its channel, enabling you to 

record from the amp straight to a track

 in your preferred DAW.
Character & Sound:
The BOSS Katana 50 MkII can do it all. Of the solid-state amps, it may be the one that delivers the most punch without sacrificing tone definition and richness. With different effects to choose from when sculpting your sound, this amp can cover various ambiances.
Pros:
One of the most versatile and tone-quality excellence pieces ever built. Its clean display has a direct easy-to-use approach focused on what matters the most, tone design at finger's reach. 
You may take it to crystalline clean sideral reverb tones or push it to deep, heavily distorted growls and everything in between. This amp will follow on the quest for your perfect tone.
Cons: 
Through the TubeLogic, you can emulate tone responsivity. Still, you can't reproduce its power output, and since it doesn't feature a balanced emulated output (just a phones/rec out unbalanced p10 output), it comes short when playing in big stages.
2. Marshall DSL40CR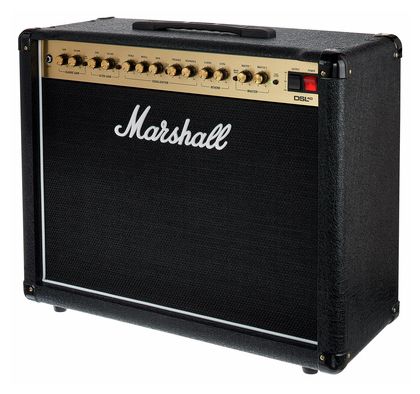 When it comes to crunchy, aggressive mids and high-gained guitar riffs, Marshalls got it covered.
Being the top pick for so many guitarists worldwide for decades grants you a place in the guitar amp's hall of fame, and Marshall has been rocking the scene since '62 contributing for more than half a century to the Music Industry. 
With guitarists such as Gary Holt and Kerry King of Slayer, Joe Satriani, Alexi Laiho of Children of Bodom, and Opeth's Mikael Akerfeldt and Fredrik Akesson as their endorsees, you can see how broad is Marshall's contribution with such diverse metal style tonal expressions.
Marshall DLS40CR translates that heritage into this 1×12″ Celestion speaker combo, pushing your guitar licks through four ECC83s and two EL34s for an impressive tone modeling capability and an excellent volume output.
Its two gain channels (Classic and Ultra) come with a switch tone variation for each (clean/crunch and OD1/OD2), enabling a smooth run through the amount of gain inputted to the signal alongside a tone shift switch added to the equalization. So once getting used to the parameters, you can design the tone to your need delivering the punch of any Marshall classic. 
Key Features:
All tube amp


Marshall's not playing around with four ECC83 on the preamp and two EL34 on the power amp. The ECC83 grants a

great tone-shaping response, 

and the two EL34 will push the amp

 loud enough to rock small venues

.

Two Master Volumes


A simple feature with 

so many possibilities

, one way in which two Master Volumes come in hand is that this

ables you to boost your signal mid-song

 by setting one channel louder than the other. You bring your guitar above all other instruments for that shredding solo part

.

Midi Compatibility


This amp features a Midi input, 

opening its controls for any midi equipment you might use

, making it easier for technical players to 

synchronize their whole set 

by connecting it to their Midi Controllers

.

12″ Celestion V-Type Speaker


The V-Types result from

decades of experience run through modern processes

, granting 

clarity and definition

 to the clean tones and 

mid-band warmth

to sizzling drives. In addition, this speaker has a frequency range of 70Hz to 5kHz, so 

those deep bass tones are covered

.

Emulated Output


This Marshall amp features a p10 Softube Speaker Emulated output that 

simulates the classic Marshall 1960 speaker cabinets

, allowing you to connect the amp to a recording interface.

Output Reduction
Output Controls reduce

 the amount of power input fed to the power valve

. By cutting the power output by half, you'll achieve

the same valve saturation with considerably less volume

.
Character & Sound:
Marshall DSL40CR holds to its heritage producing high-gain mid-scooped '80s and '90s guitar tones. If you're into heavy or trash metal, this might be the right tool for you.
Pros:
A classic metal guitar tone with a great range of tonal possibilities and gain responsivity through different preset settings. It also features an Output Control, allowing you to try a different wattage output and, therefore, more tone options for you to test.
Cons: 
Although it features an output reduction control, a 20W valve amp might still be too loud for some ambients, and turning the volume down to acceptable levels might sacrifice the gain and overall tone.
Having only one EQ section shared amongst all channels is a downside. Limiting you to using the same tone settings of clean for your distortion forces you to compromise at some point, since more than once, you'll find yourself making concessions to set a balance between the two channels' tones to make them sound both good.
3. Laney IRT30-112 Ironheart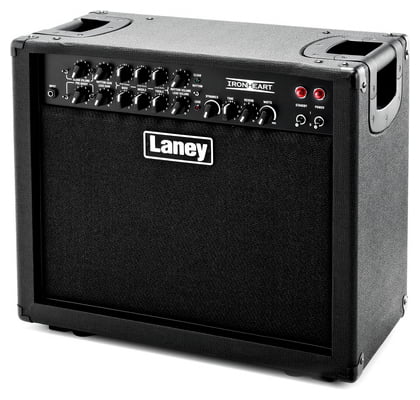 From Tony Iommi's doomy riffs to Mattias IA Eklundh's microtonal odd-time metal grooves, Laney knows how to metal.
Its first model development came from the need for an amp for Lyndon Laney's band (a project with names like Bonham and Plant), which puts the brand on researching and designing stage heavy rock and metal amps since its first days.
Bringing continuity to such tradition with this versatile 1×12″ high gain combo, the IRT30-112 is a remarkable addition to the Ironheart family. Packed with features such as three-channel preamps (clean, rhythm, and lead), two tone controls for the rhythm and lead channels, and a pre-boost knob, this amp is fit to satisfy the pickiest tone crafters. 
One feature that shows its commitment to delivering the whole metal experience is the Vari-Watts control, which allows you to go as farther as the gain knob goes at low volume. 
Key Features:
Three-Channel Preamp


Featuring a three-channel preamp (

Clean, Rhythm, and Lead channels

) provides enough

 tone sculpting dynamic 

where you can create different settings for more expression range through the song

.

Two-Channel EQ Controls


The IRT30-112 has two separate EQ channels, each with its own Bass, Middle, and Treble controls. In addition, the

 upper 2EQ controls the Lead Channel, and the lower EQ shares its control with the Clean and Rhythm channels

.

EQ Pull Switches


Another interesting feature is the three EQ Pull Switches that, when activated by pulling each one of the EQ Control Knobs, shift its response. For Bass, it extends the response to the low-end frequency, resulting in a heavier, full-bodied sound. On Mids, you have a narrowing of the mid-control frequency range, which produces a tighter sound. Lastly, on the Treble, the shift broadens the frequency response, giving a rounder, more detailed sound on the higher notes.

Hand-selected ECC83 and 6L6 valves


Laney is very proud of their 

quality control

, as they should, making your 

mission to test each valve

 and, by this guaranteeing that 

only the best is being used

, pays off, as this amps tone shows. The 6L6 valve provides more saturation to the amp, while the ECC83 brings tonal dynamics

.

Vari-watts, dynamic Output Control


One of the biggest issues with valve amps is 

that they're just too loud

. With Vari-watts dynamic control, you can

 gradually turn down your amps output volume

and set it to the situation's most proper configuration

.

Pre-boost


A 

foot-switchable pre-boost

 allows you to 

crank it up

mid-song to get to that solo or break-down section, feeding the power amp

more juice

.

Built-in Foot-switchable Pre-boost


The Pre-Boost works by increasing the input signal to the preamp valves, 

which results in more distortion on the signal

. Activate it mid-song with its footswitch, and you raise your guitar's gain and projection.
Character & Sound:
This amp is a true metal machine by conception. The three ECC83 valves will grant you enough tone range possibilities, and the two 6L6 that crispy near-breaking distortion when pushed.
Pros:
Laney's one of the best regarding heavy distortions and deep growling lows, and their IRT30-112 is all about that. With a really powerful set of valves and 
The amp comes with the FS4-IRT footswitch included, allowing you to choose between Clean and Clean channels and active the Reverb and Boost.
Cons: 
Only featuring reverb effect, it doesn't come with many options on ambiance effects. So if you're into those doomy clean spectral vibes, for example, you'll need more equipment.
Not having a back cover, if unattended, might lead to a headache in the future. Open-back amplifiers have their circuits and speakers exposed to the environment. Missing some maintenance may lead to some damage to the components.
4. EVH 5150 Iconic 40W 1×12 Combo IV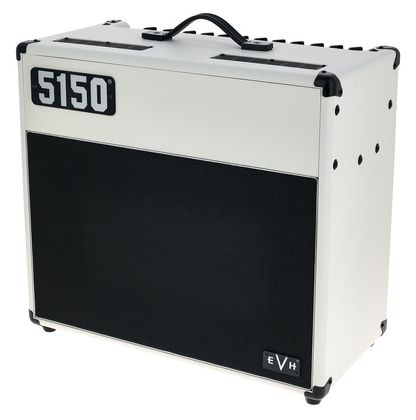 A two-year back-and-forth between Eddie Van Halen and lead engineer James Brown's prototype design culminated in this state-of-art amp. 
Anything that comes from the mind of the iconic guitarist, mod enthusiast, EVH will at least most certainly astonish us. Always concerned with the development of music, the intent behind his creations was always to expand the equipment functionalities and, as a consequence, the sounds it projects.
The EVH 5150 was conceived to produce an affordable signature amp with the same tone quality we find on the records. The 40w 1×12″ EVH Celestion Custom with two JJ ECC83S on the preamp and two JJ 6L6 on the power amp surely live up to this vision. With a two-channel preamp and a built-in noise gate added to Channel Two, you'll be able to push the gain to its limits controlling the hiss without compromising your sound. 
There are two switches (one for each) added to the channels section, one for the Overdrive and another labeled Burn, which, when activated, adds extra crunch to tone, ideal for soloing or bringing extra sauce to the licks. 
Key Features:
Valve Power


Consisting of 

two ECC83 and two 6L6

, the amp blasts

 fiery overdrives, highly expressive saturation, and a dynamic tone modulation

 for the heavy shredders

.

EVH 12″ Celestion Custom Speaker


With a range of 75Hz to 5kHz, this speaker was customized for this preamp circuit, so in that way, it can project the 

preamp's tonal potential to its maximum

.

Two-Channel Preamp


EVH 5150 40W consists of two channels, each with its 

independent gain voicing: Channel One is an Overdrive dial-in, and

Channel two is a

Burn voicing

 for raising it to aggressive distortion levels

.

Two Master Volumes


Independent Master volumes add to the dynamics possibilities you can achieve within the amp's tone capabilities. This way, you can match the clean tone to the loudness of your high-gain tone.

Foot-switchable Boost


After setting your gain and volume settings, set the amount of Boost you'd like to add to your solo. This will raise the channel's volume when activated. (It can only be activated via its footswitch).

Speaker-Emulated XLR Output


This amp also features a

speaker-emulated DI XLR Line Out.

With

 power amp mute, you'll be able to

 run it through your audio interface directly into your DAW track

without needing cabinet plugins or just send the signal

 straight to the venue's PA system

.
Character & Sound:
Designed to reproduce Eddie Van Halen's tone and expression to its full, you can expect blistering leads, tight and clear high-gain, as well as warm, pristine cleans. The 6L6 adds that extra dirty dynamics to the tone's saturation.
Pros:
This amp was developed for tone excellence at an affordable price, and that's just what it delivers. From the amp valve selection to the Celestion Custom speakers, top-quality components are an integral part of the amp's tone-shaping capabilities and sound delivery. The EVH tone EQ features were carefully thought out and designed so you could take the most out of the valve's power. In addition, the amp comes with a two-channel footswitch where you control the channel selection and the Boost activation.
Cons: 
It is an epic machine, yet depending on what you're looking for as tone definition, the 6L6 saturation delivery might be too much when pushing the amp to its limits.
5. Fender Mustang LT25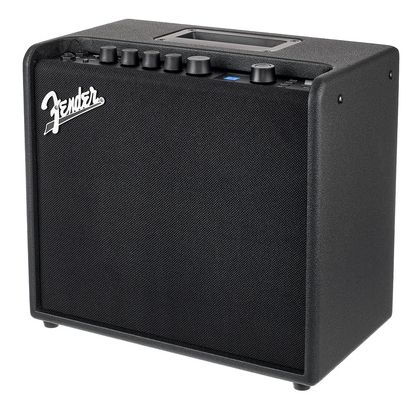 Twenty amp types, twenty-five effects, thirty pre-loaded presets, everything you need to get started.
Fender's been a reference since its beginning in '46, focusing on improving the instrument's sound quality. With their solid body guitar and, later, the iconic Fender Bassman, they laid the ground for the future of modern music. 
The Mustang LT25 comes to put all those decades of development and groundbreaking innovation at hand in a clean user interface with fifty customizable presets, 30 of which come loaded with presets with references to famous tones and as examples of how to build your own. 
Another reason this is a great amp is its twenty amp options to go through and all effects you'll need when exploring the myriad of ambiances and textures to compose your metal riffs.  
Key Features:
Up to fifty presets


Being able to design, save, edit, and organize your presets gives you

total control over your tones and overall musical possibilities

, opening your mind to a

 more diverse tonal expression

.

Fender Tone Desktop App


Regarding sound designing, Fender Tone Desktop App is an intuitive platform where you can 

explore different sonic combinations

 with its 

virtual pedalboard

.

Twenty amp types, twenty-five effects


Having that many amp choices is just

as fun as it sounds

. Fender Mustang LT25 is about trying

different amps and effects in a single piece of equipment

.

1.8″ Color Display


The amp features a color display where you can 

visualize the parameter you're working

with and switch between the amps and effects available

.

Lightweight


This amp is a light piece, weighing only 15 pounds. As a result, it

 is an easy amp to move around with little to no effort

.

Stereo Aux


Think about providing all you need to jam within only one machine. This amp comes with a p2 Stereo Aux input for you to plug in your phone and start playing along to your favorite songs.
Character & Sound:
This amp will reproduce a variety of classical amps, from 80S ROCK amp that reproduces Marshall's JCM800 '80s metal tone to ALT METAL amp based on Mesa Dual Rectifier distortion. So you'll have plenty of exploring to do.
Pros:
Putting this many tone possibilities in one single amp unit comes at hand. With this amp, you have all you need to get into the vast tone universe, trying out different amps and effects before venturing into valve amps and expending money on pedals or pedalboards.
Cons: 
This 25W state-solid amp only comes short when delivering volume and punch. While it is perfect for home practicing, or even some home recordings using its USB connectivity for tracking into your DAW, it doesn't have enough power and volume projection to be played amongst other players on stage or studio.
Some have claimed that the amp sounds a little muffled, lacking presence and resonance.
6. Marshall Code 50
URL=https://www.thomann.de/gb/marshall_code_50.htm]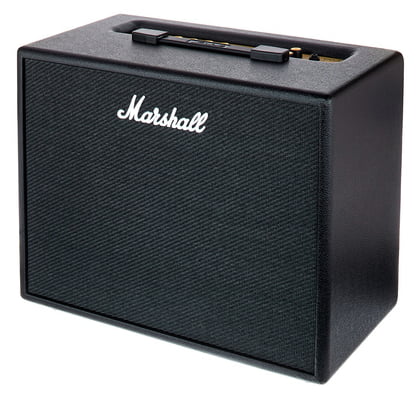 [/URL]
An in-depth take on the sound design made it intuitive. Go through pre and power amps, effects, and cabinets on your path to develop your sound.
Here's another pick for those taking their first steps or searching for a great amp packed with possibilities. Marshall CODE50 allows you to try between different heads, such as the famous Plexi and JCM8002203, spice it up with power amps like EL34 or 6L6 MST, and give just the right resonance with one of the many cabinets as 1960V, 1960AX, or 1936. 
Add that to a whole batch of effects like compressors, distortions, delays, pit shifters, and reverbs, and you'll manage to shape your sound with ease. In addition, the presets make it possible for you to change between saved tones quickly during the song parts with a few tweaks of a knob. 
Its Bluetooth connectivity and the Gateway App open the controls for your amp settings at the palm of your hand, making it easier and even more intuitive as you shuffle through your saved presets and effects. In addition, labeling the presets you create is possible so you don't get lost in the 100 presets within. 
Key Features:
A Hundred User editable presets


In recreating several components that made 

Marshall a true rock and metal classic

, this amp allows you to dive into their tone's characteristics and play with them 

by trying different combinations and saving on a hundred editable presets

.

Fourteen Preamp models


The Preamp section o the Marshall CODE50 consists of the following models; 

Clean

: JTM45, CL DSL, CL American, and Acoustic Simulator; 

Crunch

: Bluesbreaker, Plexi, CR American, JCM800, and '50s British; and 

Overdrive

: OD JVM, OD DSL, OD American, and OD Silver Jubilee. There's an extra feature labeled Natural, which is the amp's sound without the tonal color of the MST modelled preamp

.

Four Power Amp options


To emulate the tone response of some of the classic Marshall amps, it features four Power Amp types; 

Classic Marshall 100w

: Class A/B 100w 

with EL34valves

; 

Vintage Marshall 30w

: Class A/B 30w 

with 5881 valves

; 

British Class A

: Class A 30w 

with EL84 valves

; and 

American Class A/B

: Class A/B 100w 

with 6L6 valves

.

Eight Cabinets to choose from


Wrapping the preamp modeling features, this amp comes with 

eight options of iconic Marshall cabinets

; Four 4×12″ cabinets:

 1960, 1960V, 1960A, and 1960HW

; Two 2×12″ cabinets: 

1936 and 1936V

; And two 1×12″ cabinets:

 1912 and 1974CX

.

Twenty plus Effects


After setting your base tone and gain, it's time to add some texturing. On Marshall CODE50, you get 

more than twenty effects to play with

, from phaser, flanger, and chorus ambiances to auto-wahs and pitch shifters signal modulations. You'll

 have the basis for a great tone

.

Pedal sequencer up to five at once


You not only can add effects to your tone, but you are also able to 

connect them by building a chain of up to five pedals

 configured to your need.

Bluetooth Connectivity


And thinking of 

enabling a quick jump from one setting to another

 on such a feature-packed amp, the amp comes with Bluetooth connectivity, enabling you to 

edit in real-time on the Marshall Gateway App.
Character & Sound:
This is a really versatile practice amp. Its "12 speaker can deliver deeper, fatter tones with richer, more detailed distortions than most usual study-sized amps. Yet it being a modeling amp as it is, although capable of loud hellish distortions, it'll lack that fat chug punch usually only valve amps have.
Pros:
Marshall CODE50 focuses on translating Marshall's tonal heritage onto a single-unit practice amp. With many resources for tone sculpting and an intuitive app for in-depth real-time control.
Its small frame, 17.91 "x10.71″ x17.01", lets you fit it in almost any room. It also features a headphone lineout, allowing you to practice quietly.
Cons: 
By not having the "chug factor" as the amps it emulates, Marshall CODE50 delivers the punch but not the blow. You feel that despite its tone quality might amaze you. It lacks the "it" factor metal tone is all about, producing a flatter, less dynamic sound.
7. Orange Crush CR60C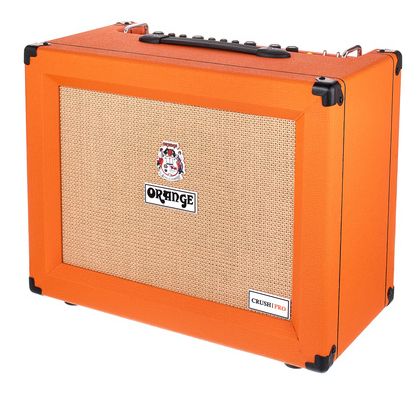 Born to rock, these high-gain amps love to be pushed. Decades of heavily saturated riffing are embedded in this portable 60 Watt club amp.
Orange is a big name in the stoner doom scene and the owner of one of the most distinguishable tones. The '60s and '70s demand for a "fuzzy" drive led to the creation of what would become true growling machines.
All of that can be found within the Orange Crush CR60R, a solid-state amp that can deliver one hell of a punch. Its two-channel circuit was based on the classic Rockverb and has a few settings. For example, on the Clean channel, you can choose from clean to light crunch tone, and on Dirty, you'll go from overdrive to brutal with a twist of a knob.
Key Features:
All analog signal path


Orange's a little nostalgic when it comes to what they consider to be good equipment that produces good sound. For them, analog circuits over modern, more technological circuits ensure a

more dynamic, natural sound

.

Voice of the World Speaker


This amp features a 1 X 12″ 60w VOICE OF THE WORLD speaker.

Buffered Effects Looper


With a fully buffered loop, this low-impedance circuit allows you to plug any number of pedals and cables between the Effects Loop's input and output without compromising your tone.

Digital Reverb (analog "dry through" circuit)


Sporting 3 types of Reverb (

Spring, Plate, and Hall

), this amp features a digital module that 

adds more depth to your sound

. In addition, the "Dry Through" analog circuit allows your sound to 

maintain its integrity while blending with the reverb

.

Two-channel


Designed after Rockverb, the two-channel circuit allows you to take more advantage of each channel. For example, the Clean channel has

 two stages that'll crunch the more you crank it

, and on the Dirty channel, you have 

four stages to deliver some classic Orange drive tones

.

Sturdy casing


The Crush CR60R is a combo 

made for the road

. Being one of the brand's pillars, equipment sturdiness is essential as a capability to 

endure a lifetime of venue-to-venue routine

.
Character & Sound:
As traditional to British amps sound, this amp has heavy basses and can achieve a surprising amount of gain for a state-solid amp. It is a reliable piece of equipment for the road and will accompany you from your bedroom to the stage, carrying your tone and expression with it.
Pros:
If it's metal that you're into, this amp delivers it. Alongside BOSS Katana 50MKII, the Crush CR60R is part of the heavy gain state-solid amps that can throw a punch.
A straightforward interface makes this amp easy to use and set. With minutes of playing with the knobs, you can set a base sound for a fun play or some ground for further tampering with its parameters.
Cons: 
Although sold separately, the amp does not come with the footswitch, so until you put your hands on one, you'll need to manually change between channels and reverb types, compromising the play flow.
Orange amps are well-crafted, sturdy equipment, and that comes with a price. They are heavy amps, weighing 48.4 pounds. Place it somewhere strategic to your usage.
8. Yamaha THR5 V2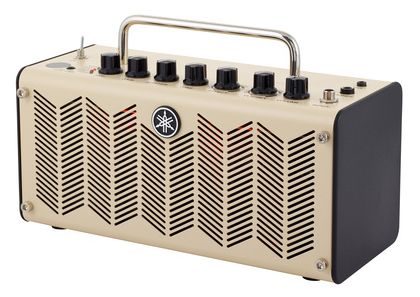 Made for you to rock anywhere and any time, this portable amp is an all-in-one equipment for those who pack light but still want their tone at hand.
Yamaha is a true giant. Founded in 1887, it is now the world's largest musical instruments manufacturer, from acoustic pianos, drums, and guitars, to electric guitars, keyboards, and digital drums. But, of course, the brand's also known for its audio equipment and software products, so tone quality is a concept Yamahas pretty familiar with.
The Yamaha THR5 comes with five voicings comprising clean, crunch, and different levels of distortions. In addition, you have all the settings for your tone's ambiance optimized at three knobs, along with its four modulations and four delay and reverb types.
Its USB port makes it possible for you to connect the amp to an audio interface and record the tone setting of the amp straight into the track. In addition, the two 2×3.15″ speakers will live up to the task of delivering that motor saw distortion you might want to reproduce through the Modern voicing. 
Key Features:
Five voicings


This amp has five emulation voicings to choose from;

 Clean

:

 

6L6 power section for a clean, rich tone;

 Crunch

: Class A low-powered output with dynamic, bright power amp responsiveness;

 Lead

: a combination of low-gain preamp and EL34s power amp, midrange definition with tight, controllable distortion; 

Brit Hi

: here they kept EL34s but set the preamp gain to a higher level, it can achieve heavier distortions, and

 lastly Modern

: a combination of 6L6 with high gain preamp for powerful distortion and excellent compression

.

Dimensions and weight


This is an extremely portable amp, 

measuring 4,72″ x 6,58″ x 10,67″ and weighing only 4,4 Pounds

.

Power Supply


Besides the standard power adaptor, the Yamaha THR5 

can also be battery-powered

, one feature that allows you to take your sound anywhere

. 

Effects options


There are 

two four-phase knobs dedicated to the effects

of THR5. The first is labeled 

Effect, where you choose Chorus, Flanger, Phaser, and Tremolo

. The second knob consists of 

Delay, Delay/Reverb, Spring, and Hall

.

Tap Tempo/Tuner Switch


For a complete portable experience, the amp features a Tap/Tuner button, which allows you to 

set the Delay effect's tempo, and a built-in tuner

. To activate it, hold the button for a second, and the lights will blink to indicate the tuner's engagement.

D.I. recording via USB


Through its USB port, you can connect it to your interface and record it onto your DAW with its

impressive low latency.
Character & Sound:
Yamaha THR5 V2 is a small amp but has a great sound. In addition, its effects have an excellent tone quality and add depth to the tone.
It won't be a loud play, but you can blast your practice or an idea that popped out of nowhere with great tone and feel.
Pros:
This portable amp has amazing features, like high-quality voicing options and some built-in effects. Also, it can operate with batteries—portability at its finest.
The built-in tuner adds to the experience, allowing you to drop those blazing riffs anywhere with just your guitar and this amp.
Cons: 
All this size reduction takes its toll, and something will be sacrificed. In this amp's case, the dual 3.15″ speakers, despite delivering stereo quality sound, lack range to cover those chug feels of metal riffs.
Despite its low latency, some users have reported that the Yamaha THR5 has a very low output signal for the D.I., which makes it hard to record when using an unprocessed signal like D.I.s.
9. Bugera V22 Infinium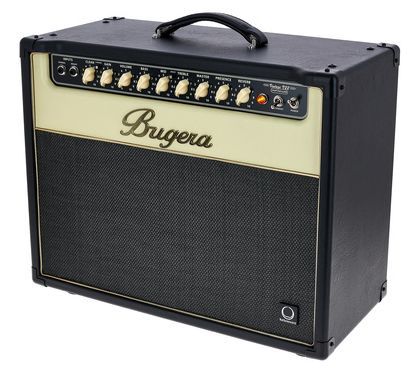 A meticulous production from parts assorting to rigorous testing through each step of the process, Bugera is a perfectionist's dream.
Having quality control as the soul of their amp pays a lot. We're talking about hand-selecting every valve, for example. That usually has only one outcome, a guarantee of that warm crispy distortion perfect for lower tunings.
Tone, tone, tone. Bugera is all about it, so every aspect of their amps is developed with that in mind. Turbosounds pick as the speaker represents that commitment to delivering the full extent of the amp's tone potential.
For its tone sculpting possibilities, the Bugera V22 Infinium comes with a two-channel (Clean and Lead) preamp, a three-band EQ section with Presence control, and Normal/ Bright inputs. It also features a Mode switch (Triode and Pentode operation), where choosing Pentode produces more dynamic, scooped highs and tighter bases.
Key Features:
All tube design


The soul of this amp is the

hand-selected three 12AX7 preamp valves and the two EL84 power amps

 for optimal tone sculpting and 

brutal distortion

.

Normal and Bright Inputs


This amp features two different inputs, Normal and Bright, setting right from the first step of your interaction with the amp a 

tone modeling experience.

Infinium Tube Life Multiplier Technology


It was made to

 extend the lifespan of your valves by up to 20 times

 by monitoring each output tube and evenly distributing load through the system accordingly. It also indicates 

when and which valve reaches its end of usable lifespan

 and needs replacement

.

Mode Switch


Changing between Triode and Pentode 

changes the tube's efficiency and power output

. As a result, it 

also operates as a power control

.

Turbosound Speaker


If valves are the soul of the amp, speakers are

 the mouth that gives it voice

. Turbosound is a world-class sound engineering company manufacturer of professional loudspeaker systems. With their speaker added to the combo, nothing but 

the highest fidelity sound is to be expected

.

High-Definition Reverb


This amp features a high-definition Reverb, enabling you to add the finishing touch to your tone with a great

 big arena reverberation feel.
Character & Sound:
Bugera V22 Infinium is an exquisite amp developed through one of the most strict manufacturing processes to provide the best tools for shaping your tone. Its valve selection and EQ tone-shaping options enable you to reach that so-desired chugging tone.
Pros:
Bugera's commitment to sound quality grants you the perfect base setting to start building upon. The two EL84 valves set to the power amp will grant you enough power for different levels of drive, and the three 12AX7 enable great tone range and responsiveness.
Cons: 
This a 20W valve amp, so it gets deafening, and without an effective power control reduction (although Mode Switch operates by reducing tube effectiveness), it may be hard to practice at home without disturbing the neighbors.
10. Line 6 Spider V 30 MkII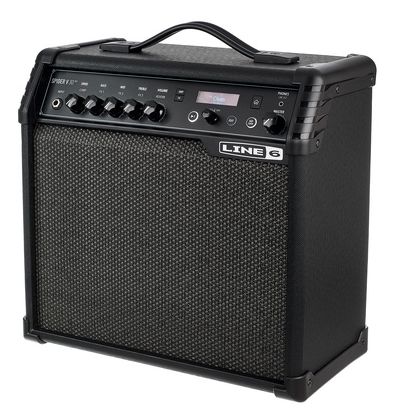 Practice made easy. Whether you're a beginner or a pro, this amp will provide the tools for your tone with high fidelity full-range speaker system.
Being a part of the Yamaha Corporation since '14 only enabled Line6 to explore its potential further. A pioneer in building bridges between guitarists and technology, Line6 brought to life many products that revolutionized the Market, such as POD multi-effect with an easy, excellent tone guitar recording way, the analog-to-digital transition for guitar wireless with their Relay products and the Helix, a revolutionary guitar processor.
Line6 Spider V30 MKII is the result of years of technology research. As a result, it is a versatile machine made for tone design. With its 128 presets, 200 plus amps, cabinets and effects, and two speaker modes, you'll find all you need and more within its configuration potential.
Its analog-to-digital connection goes even further with the Spider V Remote app, unlocking even more sounds and possibilities. Within the CustomTone community, you'll find shared presets you can use to play or as a reference when designing your tone. 
Key Features:
Two hundred+ presets


Within this amp, you find

 over two hundred presets on color-coded control sets for an intuitive operation

.

One Channel Looper


You can 

record and overdub on a loop by using the Quick Looper

. By pressing the Quick Loop Button, you start your recording. Then, by pressing it once again, you set the end of the recording and start the playback. To stop the playback, double-press the button. It is also possible to overdub it. While the loop is in playback,

press Quick Looper Button once to set the overdub starting point and once more to end the overdub and start the playback.

Two-way speaker modes


By activating the Classic Speaker mode, you shut off the HF driver and the cab/mic modeling out of the amps system, 

allowing it to run exclusively with the amp's physical resources

, granting a more natural sound

.

Full Range Speaker System


The Line6 Spider V 30 MkII is equipped with a high-frequency twitter allowing this amp to sound great with electrics, acoustics, and music so

that the playback track you're going to jam to will sound great as your guitar will.

Up to eight effects chain


For an authentic pedalboard customization feel, with the Spider V 30, you may add up to eight effects in order to create your original tone.

App connectivity


With its USB interface, you may connect your amp with the Spider V Remote app, take a detailed look at your amps settings, and exchange presets with the Spider V community on customtone.com

.
Character & Sound:
Spider V30MKII is an excellent option regarding presets and app connectivity. Being able to configure more than 200 presets gives you huge tonal possibilities, and the Classical Speaker mode lets you experiment with the amp's own inner sound.
Pros:
This highly customizable solid-state amp, with its vast preset capability, Quick Looper, play-along drum loops, and Spider V community, makes this amp a fascinating machine.
Adding up to 8 effects adds to the experience. The Artist Presets is a fantastic feature that brings cutting-edge artists' designed tones directly onto your hands for playing or some reverse technology research.
Cons: 
Although it has USB connectivity to record what you're playing on your DAW software, it does not have a Direct Out XLR output, so it limits the amp to home/recording usage.
11. Blackstar HT-5R MkII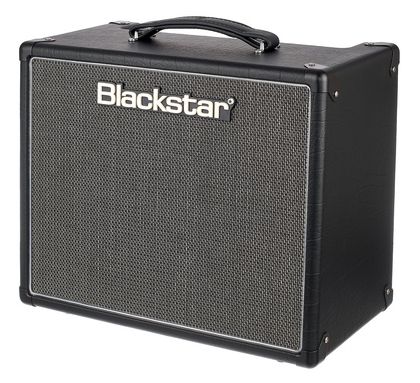 Small frame with a big sound. Now you can metal at low wattage. The Blackstar HT-5R MKII brings valve power and a rich tone to the practice amp.
One issue with keeping a reasonable volume level when practicing at home is that the gain is compromised, and it just doesn't feel as good as when you're shredding to fully opened volume knob. A five watts amp is the right tool for that since taking advantage of not restricting the practice volumes to low levels allows it to run all of its gain through an opened channel.
With the Infinite Shape Feature, you have all the tonal potential at hand. With just one knob, you can go from that fuzzy near-breakup British drive to a tight mid-scooped punchy American distortion.
On the HT-5R MKII, you'll find a revoiced reverb, a deeper, richer, more detailed reverb that adds powerful texture to your tone. In addition, the Effects Loop entry allows integration with your set and lets you configure your pedalboard or pedal set connections as you would on bigger stage amps. 
Key Features:
Micro all-tube amp


This tiny amp features two valves, 

one

 

ECC83 preamp valve, and one 12BH7 power amp valve

.

Two-Channel with two voicings switches


Its preamp features Two Channels, Clean and Overdrive, each with its voicing switch for more tone-sculpting capability.

Independent Controls


Each channel comes with a volume and a control knob

. For the Clean channel, there's a

 Tone Control knob that enables you to adjust the Bass and Treble simultaneously

. As for the Overdrive Channel, you have a 

Gain knob, which controls the amount of gain added to the channel.

Infinite Shape Feature (ISF)


The patented ISF technology 

works by shifting your tone towards either American (left) or British (right) tones

, in other words going from a mid-scooped, tight bass tone to a more dynamic heavy bottom-end tone with only one knob

.

Power Control


Blackstar HT-5R features a power reduction control that

 reduces the wattage to 0.5W

, making it a bedroom-friendly amp perfect for quiet practices

.

Emulated Outputs and Headphones


It also features a D.I. XLR Emulated Outputs with 1×12″ or 4×12″ for you to

 run it straight into any PA system

 or use the p10 output to 

record or play with your headphones plugged in

.
Character & Sound:
Blackstar shows that it is possible to have a small amp with that much potential. This 5W amp will surprise you with its tone quality and the range of equalization it controls with the ISF technology.
Pros:
This small amp is pretty straightforward. First, plug your guitar into it and start playing instantly. Then, within just a few settings, you can push it to produce surprisingly aggressive tones for an amp this size.
The balanced Emulated Outputs let you take this amp's unique sound to bigger gigs and recording sessions.
Cons: 
This small amp is pretty straightforward. First, plug your guitar into it and start playing instantly. Then, within just a few settings, you can push it to produce surprisingly aggressive tones for an amp this size.
Despite its size, it is not a light amp, weighing 28.88 pounds, it is portable, but longer walks may take a few stops until reaching destiny.
12. Engl E600 Ironball Combo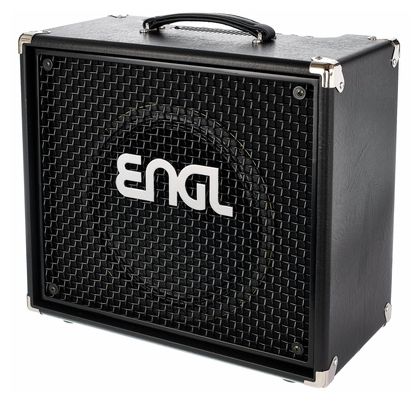 This 20w amp comes packed with features, find your tone and play it as heavy as it goes while keeping the volume output fit every situation.
ENGL is well known for its cutting-edge mindset and pioneering vision of where musicians might want to take their sounds and what features will make it possible. Inventors of features such as Lead Boost, Mid Shift, integrated Noise Gate, and tube protection circuits, ENGL is all about giving you the tools to express yourself through your sound.
Although a small amp, ENGL E600 Ironball Combo gives you four voicings options in an all-tube practice amp. The Master Volume Boost feature feeds even more power to your tone, add that to a 3-Band EQ and Presence control, and you have a mean machine the size of a lunchbox.
With the Power Soak feature, you can drop the volume without losing that growly high-gain distortion. For example, it is even possible to turn the speaker off for headphone practice at night.
Key Features:
Four-channel voicing


This is a four-channel amp with two dial-in knob controls,

 Clean and Lead

, and two switchable voicings

, Lead Clean

, granting a crunchy tone to the Clean channel, and 

Gain Boost

, adding power to the Lead channel

.

Lots of power


This 20w amp features

four ENGL ECC83 on the preamp and two ENGL EL84 on the power amp

. That's a 

lot of tone-shaping potential on a crushing distortions amp

.

1×12″ Celestion Vintage 30 Speaker


With a 

frequency range of 70Hz to 5kHz

, this speaker is well-suited for many tonal possibilities. Getting close to the speaker's integrity low-frequency limit of 60Hz, this speaker delivers those 

deep, full-bodied tones with outstanding quality and at a safe range.

Tube Buffered Effects Looper


The ENGL E600 Ironball Combo features a B

uffered Effects Loop input and output

. It enables you to 

add any of your desired effects without the risk of compromising your tone.

Power Soak


Power Soak grants you 

wattage control

 to adapt the amp's output to every situation. It has four stages:

 Full, 5 Watts, 1 Watt, and Speaker Off

.

Power Amp Output


You may also 

use it as a head connecting it to more powerful cabinets

. There are three options to choose from 

1×8Ω, 1×16Ω, and 2×8Ω parallel

.
Character & Sound:
With the combined power of four ECC83 and two EL84, this amp is a brutal tool for metalheads everywhere. With it, you'll quickly get those edge-of-breakup drives and fat chug that makes the metal world go round. In addition, its Four Channel Voicings allow you to control the amp's tone potential easily and change sets mid-song to add the utmost tone dynamics to your sound.
Pros:
This amp not only can metal but excels at it. It can either cut down its power or amplify it if you run it in bigger cabinets or PA systems, taking your sound to any situation that might appear. The E600 Ironball is a small amp with big ambitions.
The two foot-switchable features (Clean Gain/Lead Boost and Master Volume Boost/Reverb) make your playing more organic and add dynamic to your tone mid-song.
Cons: 
The ENGL E600 Ironball might only come in short in one scenario. Due to its over-the-top power valve output, the clean tones saturate quickly into a light crunch tone. So if you need to get more gain out of a crystal clear tone, you might need to use pedals to push the lows after the amp.
Another downside is that it shares the same EQ controls with all channels, forcing you to struggle to find a sweet spot that serves all or keep it more straightforward with fewer voicing changes in the songs.
Conclusion
Metal amps come in many forms. You may be looking for feature-packed all-in-one equipment or instead prefer sticking to a straightforward analog circuit. One thing is right, despite being often labeled as noise, Metal is a rich, tone-quality demanding style, and Metal amps are all about heavy distortions and great tone.
From all tube circuit beasts like ENGL E600 Ironball, Marshall DSL40CR, Laney IRT30-112, EVH 5150 40W, Bugera V22 Infinium, and the micro yet powerful Blackstar HT-5R MKII to high-end state-solid growling machines as Boss Katana 50W MKII, Fender Mustang LT25, Marshall Code50, Orange Crush CR60R, Yamaha THR5 V2, and Line6 Spider V30 MKII, this list got you covered.
If these are your first steps to discovering your metal sound, more versatile amps such as Boss Katana 50W MKII, Marshall CODE50, and the Line6 Spider V30 MKII might be a better pick to start from.
Now, if you're already blasting some metal riffs and want to take one step further into tone sculpting, one o these valve amps awaits you.
Metal Related Topics:
Top 20 Metal Drums VST Plugins 2023 (VST, Kontakt, AU, AAX)
Top 7 Metal & Rock Kontakt Libraries 2023 (Best Guitars & Drums)
Can You Play Metal on Stratocaster? Answered
Is Ableton Live Good for Rock and Metal Bands? Answered
Is FL Studio Good For Making Rock & Metal?
Top 11 Plugins For Making Metal 2023 (Guitars, Drums & Effects)
Mixing Metal & Rock Drums: Tips For Room, Kick, Snare & More
Is Metallica considered Thrash, Death or Heavy Metal?
Top 17 Metal Electric Guitars 2023 (Black, Death, Stoner & Thrash)
Top 7 Bass Guitars For Stoner, Doom & Sludge Metal 2023
Top 12 Pedals For Metallica Tone 2023
Top 10 EQ Pedals For Metal 2023 (Any Budget)
12 Best Wah Pedals For Metal 2023 Update
13 Best Distortion Pedals For Metal 2023 (All Budgets)
Top 12 Delay Pedals For Metal 2023 (Any Budget)
12 Best Fuzz Pedals For Metal (Doom, Sludge, Stoner & Death)
Top 12 Reverb Pedals For Metal 2023 (Any Budget)
Top 6 Guitar Amplifiers For Prog Metal 2023
Top 8 Boost Pedals For Metal 2023 (For All Subgenres)
Top 8 Bass Guitar Strings For Metal 2023
I currently acts as a session musician, producer, and content creator, with a passion for sharing my knowledge and experience with others in the music community by either directly lending my playing skills to a variety of projects and artists, bringing the unique style to each project or helping other musicians shape their sound and bring their creative visions to life as well as sharing my knowledge and insights by combining skills as a musician and producer to create helpful, engaging content. Read more…