This article will review some of the best hardware metronomes of 2023, focusing on their main features, facilities, and price-quality ratio.
In a nutshell, here is our list of the best metronomes:
2. Korg KDM-3 Digital Metronome
6. Ueteto Mechanical Metronome (Best Seller)
10. Tama RW30 Rhythm Watch Mini
The metronome was created in Europe more than 200 years ago, and although it has changed and evolved over time, its purpose remains the same: to mark the beat of a piece of music and help the musician be in harmony with it the tempo.
Although there are still analog metronomes, digital ones are the most used since they are more versatile, easy to obtain, and better adapted to the requirements of modern music. As a result, it is an essential piece within the set of any drummer, music student, or recording studio.
Depending on the purpose we have, there are different options available in the market that will allow us to meet these requirements. Things like the volume of the metronome, the duration of its battery, or the setting options are some things we will have to consider when making the best possible choice for our hardware.
The 11 Best Metronomes For Musicians 2023
1. Boss DB-90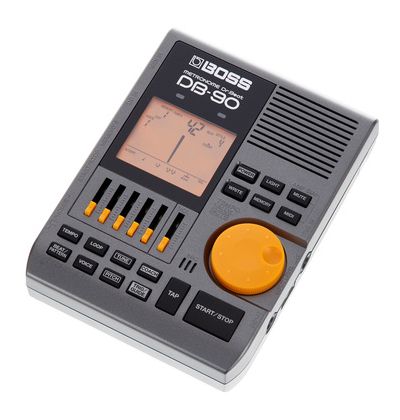 Boss is one of the leading manufacturers of musical effects and accessories thanks to the quality of its products, and the DB-90 is a clear example of this. This model includes different drum patterns, ideal for practicing with different instruments, and many settings available. Therefore, when we purchase this product, we must consider that it is not just a metronome but has many functions, making it very versatile.
It offers the possibility of connecting a guitar, a bass, or a microphone to play directly from the metronome, and it has a MIDI input to connect a sequencer if we wish. Comfortable, compact, and with a generous screen, the Boss DB-90 is one of the best and most complete options in metronomes.
Key Features:
Note Mixing Function
Allows you to adjust parameters and edit patterns to create different drum bases and beats. It has a rotary dial to easily change the BPM, comfortable rubber buttons, a memory bank with a capacity for 50 patterns, and headphone output.
MIDI Connection
This allows us to connect a sequencer or a computer to edit the beats manually if needed. They also include a function to tune instruments.
Instrument Connection
It includes a connection for guitar or bass, an amp simulator to practice using the drum bases that the DB-90 has, and a connection for V-Pad. It also includes a Tap button and an input to connect a pedal that allows us to pause or play without using our hands. Two 6.3 jack and 3.5 mini-jack audio outputs.
External 9V Power
Very useful when there is the possibility of connecting to the electrical network and thus saving battery. It also includes a dust cover to transport it and keep it protected.
Pros:
It is not just a metronome, but this model offers many functions that other metronomes do not have, which makes it very versatile. In addition, it has a good amount of gain, and the quality of its bank sounds is very good.
Cons: 
Although it is a professional quality product, it is very expensive compared to other metronomes, and some of its components are not included and must be purchased separately.
2. Korg KDM-3 Digital Metronome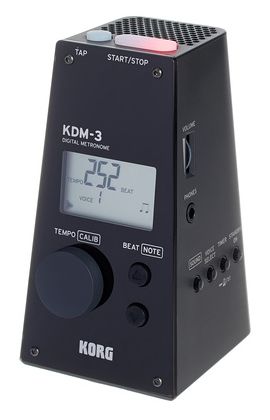 This model made by Korg tries to aesthetically imitate a mechanical metronome, standing up instead of lying on the surface. It is designed so that the user can operate it using only one hand because it has buttons for each function and not a diving menu.
It has different sounds and settings, is lightweight, and works with four AAA batteries, giving it a range of between 15 and 20 hours of optimal performance. Its screen is in high contrast, and its speaker has enough volume to practice without problems. Its tempo range is from 30 to 252 BPM. This metronome is around 65 dollars.
Key Features:
19 Beat Pattern
It combines different patterns and rhythms and the possibility of modifying them to emulate various musical styles. It includes eight metronome sounds we can choose from and a reference note mode for tuning instruments. Its calibration range is from 410hz to 480hz, and it has a 3.5mm stereo headphone output.
Led Markers
This allows us to practice at low volumes or muted, guided only by the lights if necessary. In addition, it has a Tap button, memory backup, and an automatic shutdown mode that activates when it is not used for a certain time.
Timer Mode
Thanks to this, we can configure the duration of each session and thus have greater control over the practice time. A good option for when we want to divide the practice into different intervals.
Pros:
The quality of its sounds is good, it has many options available, and it is comfortable when handling it. The LEDs are a strong point. It is well-built, and its shape gives it a lot of stability.
Cons: 
It does not have an external power supply, and its size makes it somewhat uncomfortable to move. Its speaker is powerful enough for individual rehearsals, but for group rehearsals, it lags.
3. Thomann CTM-700
This pocket metronome/tuner designed by Thomann is a compact, simple and economical option that covers all the requirements that a product of this type needs. Despite its size, its screen is large enough to be appreciated without difficulty, and its construction is robust.
It has a precise performance as a tuner, and its microphone has a high sound perception. It works with two AAA batteries, which gives it a range of around ten months, which is outstanding. This product is around 15 dollars.
Key Features:
Input/Output Jacks
Allows you to connect a microphone or instrument at the input and players or amplifiers at the output to better appreciate the sound. It also includes a mini jack output for headphones and volume control.
Adjustable Range 30 – 260 BPM
It has a simple metronome function that covers the entire range of beats per minute. In addition, it includes a subdivision of time, dividing the rhythm with eighth notes, sixteenth notes, or triplets if we wish.
Tuner Clip.
In addition to the integrated microphone, this product also includes a clip-on pickup with plug output to tune instruments directly from the vibration it perceives, which is very useful for acoustic instruments.
Pros:
This is an excellent option for a transportable metronome; its price is unbeatable, and it offers complete tuning options.
The settings, the screen, and the possibilities it offers are very good for a pocket product. The tuner clip expands the possibilities
Cons: 
Its tuner is much more developed than its metronome. In the same way, the price is justified.
4. Seiko SQ-60 Metronome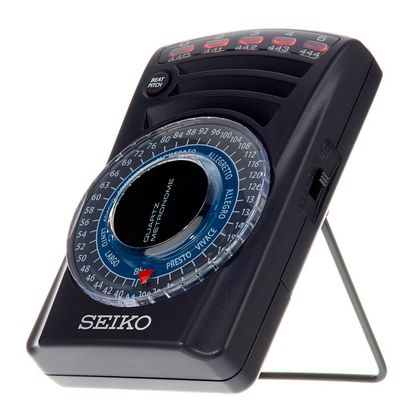 The Seiko SQ-60 is another comfortable pocket metronome option with all the necessary functions to work anytime, anywhere and is reasonably priced.
It has a dynamic speaker with good power located in its front position, support to keep it oriented in the direction we want, and it works with two AAA batteries that give it autonomy for a long time.
Key Features:
Traditional BPM Selector
It is firm and comfortable to select the tempo intervals and has led lights that accompany the different bars. Includes headphone output and volume control.
Two Tones Of A Metronome
A tone with a mechanical character and another with a more digital character to choose from, with a tempo range from 40 to 208 BPM. It also includes five numbers of time to mark.
Affordable Price
It is a pocket metronome, comfortable and easy to use anywhere we take it, thanks to its integrated speaker. Its price is very good for its facilities, and its construction is solid.
Pros:
An excellent option to take anywhere with us and have a metronome available. Unbeatable price. It is also a good second option if our main metronome is unavailable.
Cons: 
It is a metronome of basic qualities. If we are looking for complex settings or a wide variety of sounds, we should probably turn to a more expensive option. It does not have tuner functions. Its maximum BPM range reaches 208, so it may not be enough for some music genres.
5. Tama RW200 Rhythm Watch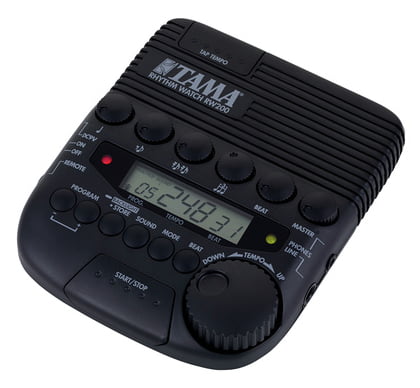 The Tama RW200 Rhythm Watch is a professional-quality metronome, packed with all the features you need for studying, practicing, or playing live, and just the right size for easy portability.
It has a wide range of BPM (35-250), an LCD screen with a backlight, memory to store drum patterns, and a footswitch to control some of its functions without using your hands. With a black plastic finish and good construction, this metronome is around 100 dollars.
Key Features:
Customize Beat Divisions
It has many patterns, sounds, led lights, and nine different rhythm configurations. It also allows you to customize the beats by adding quarter and eighth notes to each measure.
Memory Bank
We can store up to 30 tempos or beats to resume our practice directly from where we left off. It includes a Tap button for an intuitive tempo setting and a convenient rotary dial for quick adjustments.
Footswitch Function
We can add a footswitch to control the on/off and some programming functions. This metronome has a stereo output for headphones, an integrated speaker, and a master output to connect to another device. It works with a 9V battery and also offers the option of connecting an external adapter.
Clamping Support
It includes a universal M8 mount at the top to hold a drum set clamp and thus integrate it comfortably into your rehearsal or live sessions. The Tama RW200 also comes with a dust cover.
Pros:
It is a versatile product with many setting options, quality sounds,  comfortable and accurate. The footswitch is a strong point since it provides greater ease of reproduction. Its size is ideal, neither too big nor too small.
Cons: 
It is of high value, considering that the footswitch, the external source, and the drum set clamp are not included and must be purchased separately. It does not have tuner functions. Its screen is a bit small.
6. Ueteto Mechanical Metronome (Best Seller)
The Ueteto Mechanical Metronome is one of the best options in analog operating products. It is a robust metronome, precise, black plastic finish, and is aesthetically attractive. It weighs around 650g, giving it the necessary stability to stay firmly in place.
It is a product mainly oriented to the practice of piano, violin, guitar, or low-volume instruments because it does not offer the possibility of amplifying it as we can with digital metronomes. Although on the other hand, it does not need batteries or external power. This product is around 25 dollars.
Key Features:
Click & Bell Ring
Its metal mechanism can produce the traditional characteristic click and bell sound, and it has a switch to choose the different beat configurations. It has a BPM range from 40-208.
Wind Up System
It activates the mechanism system and allows the metronome to work independently for at least 20 minutes. Each wind-up grants an estimated 2000 clicks. This system means that we do not depend on batteries or external power.
Visual Appearance
Its metallic pendulum is visually notorious and is a useful reference when playing instruments, complementing itself very well with the sound. It includes a plastic cover that protects it when it is not being used and a brake at the bottom that keeps the system paused, which must be removed each time it is used.
Pros:
It has a bright, clear metallic sound that beats any digital metronome. It does not require battery changes, and it is very reasonably priced. Good construction
Cons: 
The fact of not being able to amplify it through another device or headphones can be a limitation. In addition, its mechanical system can be affected over time if dust or moisture enters its interior, so its care must be more intensive.
7. Boss DB-30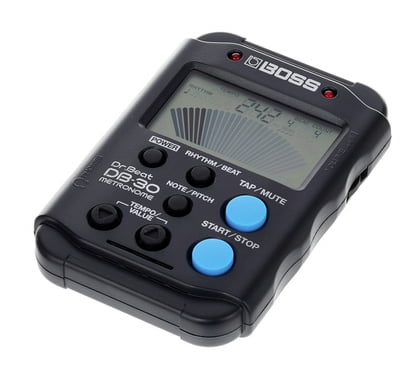 This pocket metronome designed by Boss is another good and comfortable option available anywhere we take it. Includes tuner function and stereo headphone output.
It works with a 3V lithium battery that must be replaced on average every six months if we regularly use the metronome. It includes all the classic and most used configurations in digital models. This product is around 50 dollars.
Key Features:
Nine Rhythms 24 Variations
We can configure different drum patterns and modify the beats easily and intuitively. Includes Tap tempo button, mini plug output for headphones, and volume control. Its tempo range is 30 – 250 bpm.
LCD And Led Indicators
This model has a flat construction, with a screen large enough to be able to appreciate the digital indications on it. The LEDs flash at the end of each bar and are also a good reference.
Tuner Function
You can play up to twelve tones that serve as a reference for tuning instruments. It also includes a clip for holding sheet music and a coin slot that makes the metronome tilt for better viewing.
Auto Power Off
This function allows the metronome to turn itself off when it is not used for a certain period to save battery life.
Pros:
Thanks to its lithium battery, it is extra flat and comfortable to carry out any session. It can work for a long time before needing a battery change.
Cons:
Despite having a built-in speaker, its volume level is low, so in noisy environments, it will be necessary to use headphones. However, we can find other more complete metronome options for the same price range.
8. Wittner QM2 Metronome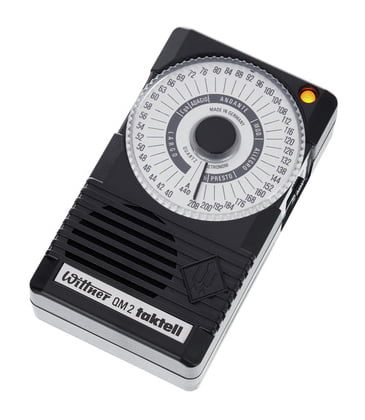 The Wittner QM2 is a digital pocket metronome without too many added functions or complex settings, but it perfectly meets the user's needs.
This model has a rugged construction, comes with a speaker and an integrated LED, and the sound of its click tries to imitate an analog metronome, making its sound not as bright and sharp as other digital metronomes. The Wittner QM2 is around 60 dollars.
Key Features:
Rotary Dial
Allows you to select the tempo manually in a comfortable and fast way and keep it even if the metronome is turned off. Its tempo selection range is 40 – 208 BPM.
Light/Beat Modes
It has a switch that can be used in two different positions. The Beat Mode plays sound and light, while the Light Mode only activates the led but does not play sound. Includes a mono output for headphones.
Maximum Durability
This metronome works with a 9V battery that, thanks to its few functions, can last many hours until it needs to be replaced. However, some users have claimed to use the same battery for years.
Pros:
Its sound, ease of learning, manual bpm selector, and size and durability are strong points. In addition, it has all the basic options without major pretensions.
Cons: 
It does not have a volume selector. Its tempo selector changes by jumping numbers, so we can't choose some specific BPM. However, we can buy other metronomes with more functions and settings for the same price range.
9. Seiko SQ-50V Metronome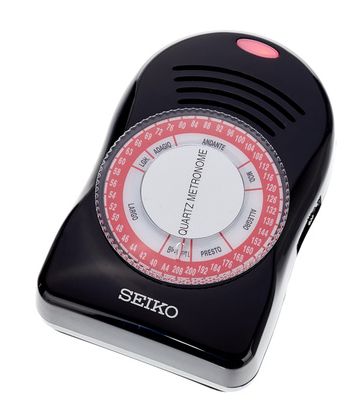 Here we find another compact, functional version at a very good price in digital metronomes. The Seiko SQ-50V stands out for its simplicity and effectiveness. Includes integrated speaker, led light, and wire stand and offers long durability.
Seiko is a brand with a long history in manufacturing watches and musical accessories, and this is one of its most popular models. Aesthetically it is not a product that stands out, but in terms of hardness and functionality, it fulfills its mission. Around 30 dollars.
Key Features:
Two Sounds Option
Depending on the moment, we can choose between a high sound and a low sound click. Its integrated speaker has a loud and clear sound, and on its top is an LED that lights up synchronously with the beats.
Rotary Dial
Comfortable and fast manual selector modifies the tempo in intervals of 4 and 6 steps. Includes headphone output and volume control. Its tempo selection range is 40 – 208 BPM.
Fold Out Wire-Stand
This complement is very useful for orienting the metronome in the position we want and, thus, better directing the sound. In addition, the plastic casing of this product is strong and compact, it works with a 9V battery, and it has a very low consumption that makes it last a long time before needing a change of batteries.
Pros:
It has the fair and necessary functions to fulfill its mission without too many luxuries. It has remarkable durability and autonomy. Thanks to its low cost, it is among the best options for price-quality.
Cons: 
Like most metronomes of this type, its tempo has a maximum of 208 BPM, which can be limiting when practicing faster styles. Does not include tuner functions.
10. Tama RW30 Rhythm Watch Mini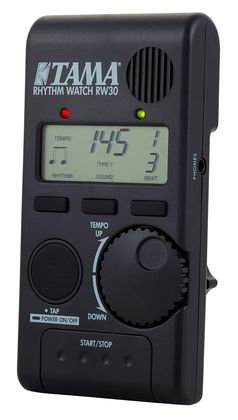 The Tama RW30 is a portable version of RW200, very similar in terms of its functions, but smaller and with some differences. Its backlit display, wide variety of settings, and stereo headphone output make it another great option for metronomes in the $45 range.
This model, designed by Tama, is geared toward drummers and stands out for its versatility in a device no more than 4.7 inches long. It runs on two AAA batteries and includes a useful belt clip.
Key Features:
Start/Stop & Tap Buttons
Ideal for pausing and making the necessary configurations. The start/stop button is quite wide, which makes it easy to use. The tap tempo allows you to select the BPM intuitively and is very useful when you want to follow a rhythm in your head.
Six Rhythm Patterns
This model allows you to choose between six different rhythms, giving the possibility of imitating different musical styles. We can also choose between two click sounds. Integrated speaker, markers, led volume control, and stereo output for headphones.
Rotary Dial
This type of selector allows you to scroll through the different values using just one finger, thanks to its ergonomic shape. We can choose between a range of 30 bpm – 250 bpm. Its backlit display is very useful for situations with little light.
Pros:
The Rotary Dial works well, and it is not common to find it in metronomes of this range. The click of this model is loud enough so it can be heard even in group rehearsals. One of the most complete options in this price range.
Cons: 
It doesn't include tuner functions; its sound is quite bright and can get a bit annoying after a while.
11. Korg TM-60 Black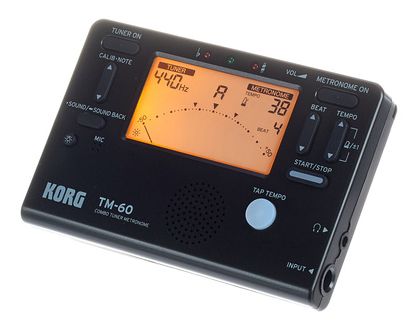 The Korg TM-60 is a combo that offers many options in the palm of your hand, both as a metronome and tuner. It has enough settings to rehearse or practice emulating different rhythms. In addition, it has a chromatic tuner and an input to connect microphones or instruments.
This model includes a built-in speaker and microphone and is among the best metronome/tuner options due to the number of facilities it offers and its low cost of around 30 dollars. In addition, both modes can be used simultaneously.
Key Features:
Wide Backlit Display
This display is large enough to appreciate the settings and has a backlight that can be adjusted to two intensity levels, which is ideal for adding clarity.
15 Onboard Rhythm
It includes many rhythm variations that we can edit. It has up to 9 and 5 additional triplets and quadruplet options. Two metronome sounds to choose from, an led marker, headphone output, volume control, and tap tempo button. Its tempo range is 30~252 BPM.
Auto Power-Off Function
This function allows the metronome to turn off itself after not being used for 20 minutes to save energy. It works with two AAA batteries and has a backup memory to resume the same BPM used last time you turned on the metronome.
Contact Microphone
In addition, it includes a contact tuner that can be plugged into the metronome through its input to tune acoustic instruments. Its integrated microphone's ability to perceive tones from C1 to C8.
Pros:
Very few models on the market offer as many options for a metronome and a tuner in a single portable device, like this model from Tama. Its price is unbeatable.
Cons: 
The sound quality of the click is not the best and can be somewhat annoying after listening to it for long periods. However, in this type of model, it is very common.
Conclusion
Each metronome has accentuated certain functions that, depending on our needs, we will analyze to find out the best option. Some have their strong point, their sound quality, others their functionality, and others their comfort. The best option will be the one that best suits us, and at the same time, means a good investment of our money.
Digital metronomes are the most versatile and, simultaneously, the most required by musicians today. The more we get used to using these devices, the easier it will be for us to choose the next one.
I hope this list of Hardware Metronomes is useful for you and can give you greater clarity when choosing the best option. Thanks for your time. See you later!
I am a composer, session musician and producer based in Argentina, with more than 20 years of experience in music. I play guitar, bass, keyboards and sax, I was part of different projects and I am familiar with musical genres like rock, pop, soul, reggae, funk, r&b, cumbia and others. Read more..