Today's article sheds light on the 10 best guitars for low tuning. Sadly, since there's no universally best guitar for low tuning, individuals must decide based on what suits their needs best.
The world of guitars has experienced a tremendous amount of ingenuity over the years, and then there are those guitars from the past that have withstood the test of time, so there are thousands of options to choose from in today's market.
Bands and Independent artists from a large variety of genres low-tune their guitars to get a more aggressive and heavier sound. Low tuning has been used by world-renowned bands such as Metallica, Korn, Slipknot, Black Sabbath, Periphery, Whitechapel, and Cannibal Corpse.
The sheer volume of available options makes selecting one guitar a daunting task, especially for those new to the guitar world. In this list, we've brought you some top guitars from brands like Fender, Ibanez, Gibson, Schecter, PRS, ESP, Gretsch, Epiphone, and Jackson.
Let's find the perfect option for you. Our quest starts now!
Which genre of music requires low tuned guitars?
Low-tuned guitars are commonly used in music genres that require heavy distortion. This is because the object is to sound darker and heavier. Most heavy metal and rock-based guitar players will use this technique to get that thicker tone such genres are known for.
Djent and Nu Metal bands also prefer playing in tunings such as drop A#, drop B, drop C#, drop E, and drop F#. A few bands that fall under these categories include Periphery, Tesseract, Slipknot, Korn, Papa Roach, Limp Bizkit, and Linkin Park.
What makes a guitar suitable for low tuning?
A few key points can make an instrument more suited towards lower alternate tunings than others. For instance, Baritone guitars have a longer scale length and handle lower tunings well. The thickness of the strings, or string gauge, is another important variable.
Thicker strings are ideal for lower tunings as they help produce a thicker tone and remain tight enough to avoid string slack when tuned down significantly. Guitars with Floyd Rose tremolo systems provide more tuning stability for alternate tunings.
Furthermore, guitars with truss rods can cope well with alternate tunings due to varying string tension. Finally, in terms of mechanics, high-output pickups do well to beef up your low-tuned notes, which is why metal players often use EMGs.
The 10 Best Guitars For Low Tuning in 2023
1. Fender Player Telecaster HH

You can't have a top 10 list of guitars without mentioning the Fender name.
One of the most iconic guitars in the Fender lineup, the Telecaster was made famous by guitar legends such as Keith Richards of the Rolling Stones, George Harrison of The Beatles, Bruce Springsteen, and the blues maestro Albert Collins.
The guitar was first released in the 1950s and initially branded as the "Fender Broadcaster." It was later renamed to the "Telecaster," and the rest, as they say, is history. Commonly seen in the hands of country musicians, the guitar is extremely versatile and performs equally well when playing other genres.
Key Features:
Pickups


While the traditional Telecaster commonly uses single coil pickups to give it its bright and twangy tone, the Fender Player Telecaster HH goes a step further. The "HH" means that you now have an instrument that combines tradition with modern ingenuity by bringing into play two high-output Alnico II humbucking pickups promising a much more powerful and thick tone. This makes the HH Telecaster the preferred weapon of choice for the metal heads of today.

Push/Pull Tone Pot


If you're down with heavy distortion, pick scrapes, and squealy pinch harmonics, you can't go wrong with the HH Tele. But what if you're working on a ballad that requires gentle fillers in the bridge section? Well, this multifunctional guitar is also equipped with a push/pull mechanism that instantly shifts the pickups to single coil mode, drastically altering the tonal characteristics of the axe.

Pick Up Selection


Furthermore, have no fear if the single-coil wizardry isn't enough to conjure up the tone you're looking for. The guitar also possesses a three-way selector switch comfortably placed well within reach for a quick change. In the blink of an eye, you can choose the bridge pickup alone, the neck pickup alone, or even combine both pickups when the selector switch is centered.

Body Construction & Finish


This Tele is a solid body guitar made from alder wood. The body has a gloss polyester finish that looks great, and the guitar comes in many different colors, including Tidepool, Polar White, Capri Orange, Black, Silver, Butterscotch Blonde, and even a 3-color Sunburst variation, depending on where you're shopping from.

Neck


It has a bolt-on neck with a modern "C" profile maple neck and a 9.5-inch radius that offers enhanced playability. The neck has a 25.5-inch scale length and hosts 22 medium jumbo frets. The black dot inlays stand out on the maple background, and the single cutaway design ensures maximum reach until the last fret. The neck has a synthetic bone nut with a width of 1.65 inches.

Hardware


Speaking of hardware, the guitar uses 6 in line die-cast tuners on a classic Telecaster headstock that features the Fender spaghetti logo. You'll also find a circular opening near the nut where the truss rod can be adjusted to fix neck issues. The guitar comes with Fender NPS strings threaded through the back of the body and positioned onto the 6-saddle steel bridge.
Character & Sound:
The dual Alnico II humbuckers offer a lot of power and beef up those palm-muted chords well. As most metal players like to tune down their guitars, the humbuckers come into their own with lower tunings like flat or dropped D. The guitar sounds equally expressive when played with clean tones bringing for the twangy goodness Telecasters are known for.
Pros:
The "C" profile neck is great to maneuver, and the slippery back lets your hand slide over easily so you can shred away. As with most Fender instruments, special attention is given to quality, so get your money's worth in an instrument built to last.
Cons:
If you're a country or folk player looking for a classic Tele without the bells and whistles, perhaps this iteration of the Telecaster is not for you. Also, while the alder body contributes well towards the overall sound, it adds significant weight to the instrument.
2. Ibanez RGIB6

This guitar comes equipped with just about every feature that really matters when it comes to rock music.
Ibanez was founded in the year 1908 by Hoshino Gaggi. The company was initially known only for its sheet music distribution in the city of Nagoya, Japan. Today, however, Ibanez has become a globally recognized and leading manufacturer of a wide variety of Musical Instruments.
Ibanez equipment is used by music artists all around the world, including the likes of Steve Vai, Paul Gilbert, Joe Satriani, Paul Stanley, Tom Quayle, Lari Basilio, Yvette Young, Martin Miller, Paul Waggoner, Scott LePage, Tim Henson, Jake Bowen and many more.
Key Features:
Hardware


The body of the guitar is primarily made of basswood due to the wood's richness. Just like most guitars from the brand, Ibanez has kept the neck of the guitar sleek for fast playing. The bridge is fixed, which of course, adds to the accuracy of tuning while also providing overall stability. This guitar comes with active pickups, which allow high output and high levels of distortion while maintaining clarity and crispness. It measures 28″ in length and weighs approximately 11 lbs.

Design Language


This guitar features a double cut-away RG style design and a 6-string configuration. With its sharp cuts, this body shape is cherished for its aggressive appearance. The design also means that the guitar is sleeker than most. A noticeable curve allows for the arm to rest comfortably. The guitar is available in various colors but is most popular in black.

DiMarzio Fusion Edge Pickups


This Ibanez offering features high-quality humbuckers with ceramic magnets for precision and clarity. The guitar caters to a wide array of music genres and styles of playing. You'll be able to get anything from harmonically rich leads to tight, aggressive rhythms. DiMarzio Fusion Edge Pickups are ideal for progressive and modern guitarists.

Nitro Wizard Neck


The Nitro Wizard Neck is made of premium tonewood and the fretboard made of rosewood. It has a sleek profile, wider nut width, and ergonomic contours. The sleekness and the slight curve at the edges make the neck comfortable to hold and slide your hand and fingers, so you'll be able to enjoy playing this guitar for a more extended period. It'll also allow you to play faster, assisting with lightning-speed riffs and intricate solos.

Gibraltar Standard II Bridge


If you prefer a fixed bridge over a floating tremolo bridge, the Gibraltar Standard II Bridge will be an absolute treat for you. This bridge enhances sustain and ensures stability in tuning. It incorporates a design where the strings are inserted through the guitar's back and secured at the bridge. This ensures greater string vibration gets transferred to allow a richer resonance and greater sustain.
Character & Sound:
This Ibanez offering is an absolute beast in terms of character and sound. The guitar's character aligns perfectly with the intensity and aggression of modern metal as well as old-school rock. This extended range, along with the DiMarzio pickups, allows for a grand tonal palette. You'll be able to perform bone-crushing djent riffs as well as searing solos that add significantly to the mix. This guitar holds true to the essence of metal's might. The guitar's Nitro Wizard neck adds to the player's personality, enabling fluid legato passages and lightning-fast runs. The guitar is also, however, fantastic with low tuning.
Pros:
The guitar offers an immensely versatile tonal range, owing much to the DiMarzio Fusion Edge pickups and the extended-range design. The Nitro Wizard neck profile brings precision and the comfort of effortless playing. The guitar has a sturdy build to ensure durability.
Cons:
Although the guitar brings excellent versatility, the design may appeal to something other than those looking for a traditional guitar. The guitar's robust construction translates to the guitar being heavier, so it might not be the best option for those accustomed to much lighter options.
3. Gibson Les Paul Studio

The infamous Gibson Les Paul helped shape the landscape of rock n roll music worldwide.
Played by guitar virtuosos such as Slash from Guns n' Roses, Led Zeppelin's Jimmy Page, Eric Clapton, Randy Rhoads, and many others, the guitar has certainly played its part in contributing to multiple hits thanks to its warm sound and capabilities.
The guitar was released in the early 50s and has since gone through subtle changes to tickle the fancy of the modern guitar player. The Gibson Les Paul Studio comes with various modern embellishments that improve upon its classic predecessor from the golden era of music.
Key Features:
Body Construction


The Les Paul Studio is a perfect choice if you're looking for a guitar with great sustain, warmth, and a deep tone. The body is made of mahogany which is the preferred choice of tonewood for many guitarists. Although the model is slightly simpler in its looks compared to more expensive versions of the Les Paul guitar, the maple top makes the instrument look good and combines well with mahogany tonally.

Finish, Colors & More


The Studio model comes in a Gloss Nitrocellulose Lacquer finish and many color options, including Smokehouse Burst, Ebony, Tangerine Burst, and Wine Red. The trademark of most Gibson guitars is their heavy weight and full-bodied tone. The Studio, however, has an ultra-weight-relieved body without compromising the tone, so you can play long gigs without tiring yourself.

The Neck


Connected to the body is a set neck made of mahogany with a rosewood fingerboard. The slim taper makes the neck easy to navigate, even if you're a super shredding machine. Sitting on the fingerboard are 22 medium jumbo frets adorned with beautiful acrylic trapezoid inlays. The neck has a 12-inch radius and a graph tech nut with a width of almost 1.7 inches. The scale length of the Les Paul Studio comes to 24.75 inches.

The Headstock


The guitar features a classic "open book" headstock with Grover Rotomatic tuners for tuning stability. Also on the headstock is the traditional bell-shaped cover sporting the "Studio" logo. You can unscrew the cover to gain access to the truss rod. Much like the rest of the body, the fretboard doesn't have any binding around it.

Pickups


Embedded in the mahogany body are two glittering humbucker pickups. The Les Paul Studio has a 490R in the neck position and a 498T near the bridge. This means you get great articulation and enough aggression when the guitar is combined with some dirt.

Electronics


If you're a proud owner of a Les Paul Studio, you can vouch for how expressive this guitar can be without any effects units hooked to it. The three-way selector switch allows you to combine both humbuckers or focus on each one separately. And if that's not enough, the two-volume pots have coil-tapping abilities. This means you can experience the beefy goodness of humbuckers or switch to P90s mode instantly.

Other Goodies


The guitar comes fitted with Gibson's 10 gauge strings, which behave exceptionally well with lower tunings. Complementing the Grover tuners are the Tune-O-Matic bridge and stopbar tailpiece, which ensure enhanced sustain and immaculate tuning stability. Finally, if you're a gigging musician, the softshell case will serve you well on your travels.
Character & Sound:
Doesn't matter if you're a blues fan or like to play rock; the Les Paul Studio is designed to easily handle various genres. The dual humbuckers have a mesmerizing mid-range focus and plenty of warmth, which is the defining characteristic of the Gibson Les Paul. Tune the guitar down if you wish, as the 10 gauge strings and mahogany body will offer a perfect blend of thick tones and profound articulation.
Pros:
The weight-relieved body takes a lot of stress off your shoulders, allowing you to play with more comfort. The Studio model is very affordable  and the coil split feature gives way for tonal experimentation. The guitar also comes with a softshell case.
Cons:
Although the Studio sounds almost as good as some higher-end models, a few aesthetical components, such as the binding around the body and neck, are missing. Also, while the thick body adds character and sustain, reaching the upper frets becomes challenging.
4. Schecter Hellraiser C-1 FR-s

This offering by Schecter is a force to be reckoned with. The 'FR-s' in the name stands for Floyd Rose Special, and it is just that, truly special.
The guitar packs the Floyd Rose tremolo that, while maintaining the stability of tuning, allows you to perform extreme dive bombs and pitch bends. The guitar is an integral part of the brand's Hellraiser series and is designed with a focus on heavy and modern playing styles.
A versatile all-rounder, this Schecter offering is ideal for those seeking versatility in tones, attractive aesthetics, and comfort in playability. The guitar comes in a shiny gloss finisht  and is available in black, charcoal grey, blood red, and even in some iridescent colors.
Key Features:
Design and Dimensions
The guitar features a futuristic design. The body curves towards the edges, giving it a much sleeker feel and making it comfortable to hold. The knobs and knobs are coated with a slightly dark, subtle chrome color that matches the outline of the face of the guitar. The pickups are kept black, and the neck is also of a dark brown shade that looks phenomenal with all colors the guitar is available in.
Body and Build Quality
The guitar body is primarily constructed of rosewood, which is a tonewood famous for its resonance and warm characteristics. The material mainly enhances the midrange frequencies, adding a full-bodied tone and a unique kind of richness you won't find with other materials. The bridge, knobs, and tuners are finished in black or a matching dark color to add to the overall look of the guitar. The darker hardware looks better, complementing the guitar's aggressive modern aesthetic.
Floyd Rose Special Tremolo System
The Floyd Rose Special Tremolo System is especially sought after for those seeking an alternative to the fixed bridge system. Normally the use of tremolo affects the guitar's tuning, but this problem is controlled on this guitar with the double-locking mechanism. This mechanism holds or 'locks' each string from both ends, ensuring tuning stays intact.
Active Pickups
The Hellraiser series guitar comes equipped with active pickups, similar to the Seymour Duncan Blackouts. You'll get much higher output levels from active than passive pickups. This allows you to deliver an aggressive and powerful sound ideal for heavy genres of music such as hard rock and metal. Active circuitry offers greatly improved dynamic response and signal clarity, even while using high-gain settings.
Gothic Cross Fretboard Inlays, Neck, and Fretboard
The guitar's fretboard features distinctive gothic cross-shaped inlays. These inlays are white in color, and that makes them stand out on the darker shade of the neck. The crosses really go with its edgy and dark aesthetic. The guitar has a 'bolt-on neck' construction. The mahogany neck offers great sustain and stability. The thin neck is "C" shaped and offers comfort even during fast playability as the hand can move quickly along the goth fretboard. The fretboard has a smooth surface that assists in bending and playing.
Character & Sound:
The Floyd Rose tremolo combined with active pickups and the mahogany body makes this Hellraiser series guitar well-suited to a wide array of playing styles and genres, including hard rock, metal, and progressive styles. The Schecter offering delivers strong tones with crystal clear sound, ample sustain, and works great with low tuning as well. The combination of unique characters this guitar packs makes it very popular among players looking for a versatile, modern, and visually appealing instrument.
Pros:
The guitar produces tones suitable for hard rock, metal, and many other genres. The tremolo system offers expressive pitch manipulation. The active pickups produce well-defined and powerful sound even at high gain levels. The gothic look is unique, and the thin neck profile brings longevity to playing.
Cons:
Tremolo systems often need more maintenance compared to regular fixed bridges. Players that hold a preference for vintage tones may choose to look elsewhere. For those unfamiliar with the Floyd Rose tremolo, it'll take some time to get used to.
5. PRS Custom 24

One of the higher-end guitars on the list, the PRS Custom 24 is a treat to play.
When a brand is endorsed by the likes of Carlos Santana, Mark Tremonti from Alter Bridge, Dave Navarro, and John Mayer, you know that it will surely deliver the goods, and the PRS Custom 24 is a fine example of that.
Loaded with features and aesthetically pleasing to the eye, this masterpiece from Mr. Paul Reed Smith's workshop has a lot going for it. And with a wide array of colors, finishes, and hardware options available, you'll surely find a Custom 24 ideally suited to you.
Key Features:
Tonewood & Finishes


The Custom 24 is a solid body guitar with a beautiful Gloss Nitrocellulose Lacquer finish. The body is made from mahogany and capped with a stunning flame maple top. In addition, the guitar comes in a myriad of color options, among which the most notable ones are Faded Whale Blue, Charcoal Cherry Burst, and Fire Smoke Burst. The flame maple cap, while offering premium aesthetics, also boosts the brightness of the tone.

The Neck


If you've enjoyed playing the Custom 24, you'll notice how uniquely shaped the neck is. The wide thin profile works wonders as it gives the player plenty of room to maneuver on the fretboard while keeping things less chunky at the back. The set neck has a 10-inch radius with a scale length of 25 inches. Furthermore, the maple neck combines with an ebony fingerboard that supports as many as 24 frets, hence the name…Custom 24. The most eye-catching feature of the guitar, however, is the gorgeous bird fret markings.

Pickups


Designed while keeping the modern heavy metal enthusiast in mind, the pickups are exceptionally powerful and handle heavy distortion like nobody's business. And the lower the tuning, the better, as the high-output humbuckers provide all the thick, rich tones you'll need to rock the whole town with your palm-muted rhythms and face-melting solos.

Tuning Stability


Another great aspect of the PRS Custom 24 is the Floyd Rose Original locking tremolo system, complete with the rock-solid locking nut. Just pop in the included tremolo arm and dive bomb until your heart's content, as you'll return to perfect tuning every time. This locking mechanism allows the Custom 24 to be played in lower tunings easily. The locking nut has a width of almost 1.7 inches.

Headstock & Controls


Installed with the classic PRS headstock, the Custom 24 model has six premium phase III locking tuning machines arranged 3 x 3. In terms of controls, the instrument is equipped with a master volume and a master tone control. You also get a 5-way selector switch to try all the different pickup combinations.
Character & Sound:
The tonal aggression emanating from the -m/ Metal humbucking pickups makes the PRS Custom 24 a great choice for genres associated with heavy metal and rock. You can try all sorts of alternate tunings on this bad boy as you'll experience bright highs, great emphasis in the mids, and extreme tightness in the bass thanks to the highly powerful electronics and the use of mahogany as the tonewood.
Pros:
The flagship Custom 24 from PRS looks amazing and will turn heads when you get on stage. The high-performance features, such as the specially designed -m/ metal humbuckers and the use of the original Floyd Rose locking tremolo system, make this guitar a delight to play.
Cons:
Featuring top-of-the-line components from head to toe, this guitar will surely put a significant dent in your savings because of the hefty price tag. Also, the blend between mahogany and maple will surely add some weight to the instrument.
6. Ibanez RG652AHMFX


Known for its absolutely gorgeous look, this offering by Ibanez is premium to its core.
Ibanez produces bass guitars, electric guitars, acoustic guitars, effect pedals, amplifiers, tuners, and other guitar accessories. This electric guitar belongs to the Prestige series, known the world over for its premium craftsmanship, high-quality features, and exceptional playing experience.
This Ibanez offering is geared towards advanced and professional players searching for top-tier performance. The guitar is built to cater to the demands of a variety of different music genres, offering precision, speed, and a host of tonal capabilities.
Key Features:
Hardware
Every aspect of this Ibanez offering has been thoughtfully put together, keeping cohesion and synergy in mind. Every element is the best and most suited in its way in order to ensure tonal integrity, reliability, and stability. The overall appearance of the guitar leaves a lasting impression as well, with 2 shades of vibrant sea green (or subtle purple) forming a sunburst effect on the face of the guitar. The sides and back of the body are painted a rich caramel color. The combo looks absolutely spectacular, especially when paired with a contrasting light brown neck and charcoal knobs.
Ash Body
The guitar's body is carefully crafted from ash, a tonewood valued for its tone-related properties. Ash produces a distinctive audio signature characterized by rather pronounced highs, firm lows, and a midrange to create a delicate balance between audio clarity and warmth. This versatility allows the guitar to impress when it comes to a number of music genres.
African Mahogany Finish
Using the guitar's African Mahogany finish improves the visual appeal of the ash body. Also, it provides a safeguard as it protects the wood from humidity and other environmental factors. The finish greatly adds to the guitar's aesthetics. The guitar is, without a doubt, a feast for both the eyes and the ears.
Wizard Neck Profile
The flat and sleek Wizard neck profile makes it the crown jewel of the guitar's overall design. This neck ensures an unparalleled playing experience as you'll be able to navigate the lightning-fast fretboard effortlessly. Whether you wish to execute rapid arpeggios, complex chord progressions, or intricate scales, the Wizard Neck will immensely help your cause.
Maple Neck Construction
The maple in the construction of the neck guarantees tonal excellence and stability of the highest order. Maple is primarily responsible for the neck's stability, providing resistance against twisting or warping with the passage of time. The walnut wood enhances sustain and brightness to the tone. As a result, the sound produced is very rich.
Rosewood Fretboard
The Rosewood Fretboard provides unparalleled comfort and warmth. The fretboard is a visual delight that also offers a tactile experience and enhances playability. The smooth surface allows comfort while fretting, and the warm tone adds depth as well as character to the sound.
DiMarzio Pickups
The Tone Zone pickup in the bridge position produces a high output with a powerful midrange punch. This pickup really shines regarding aggressive riffing and searing leads, making it an impressive tool for high-energy genres. The Air Norton pickup, in the neck position, provides a stark contrast with its smooth, soulful, and warm tonal delivery. This pickup really excels in melodic solos, capturing the emotional nuances in your playing.
Character & Sound:
The character and sound of this Ibanez offering are a testament to the cohesion of its carefully curated components and design aesthetic. The guitar hosts a character that embodies the essence of modern performance. Its tonal versatility lets you seamlessly transition from heavy metal riffs to even eloquent jazz. The guitar delivers a colorful audio palette, extremely powerful output, exceptional clarity, warm sustain, and a focused midrange punch. It produces wonderful lows as well. You can use this dynamic range of tones to express your creativity and enjoy playing music from a multitude of different genres.
Pros:
With this guitar, you'll get a high-quality premium experience. The Ibanez offering brings excellence in a jaw-dropping, mesmerizing look. The guitar is immensely versatile, so you won't have any problems playing music from various music genres.
Cons:
The guitar's neck is perfect for some but may not best suit players who are accustomed to a thick neck. More maintenance is required for floating tremolo systems compared to fixed bridges. Active pickups may not be the way to go for those looking for passive pickups or simply vintage tones.
7. ESP LTD EC-1000 FR

Another great axe for the modern rocker, the EC-1000 hardly takes a foot wrong.
Built to perfection, the guitar varies slightly from the familiar Les Paul shape with its single cutaway design to provide access up to the last fret. The lovely contoured body provides weight relief and increases comfort while playing.
As a member of the "eclipse" series, the EC-1000 was released in 2000. After gaining immense popularity, the model continued to make waves thanks to subtle tinkering and improvements along the way.
Key Features:
The Bridge


The EC-1000 comes fitted with a Floyd Rose 1000 SE with enough room to pull the bar up or down depending on the need of the hour. Change the pitch of your notes or perform whammy tricks without worrying about your instrument going out of tune. You can tune high or as low as you wish, with stability guaranteed.

The Neck


You'll find that the EC-1000's neck has a "Thin U" shaped profile with a 15.7-inch radius, meaning that the back has a slightly deeper bulge than most "C" profiles. With a neck-through design, the instrument's body seamlessly merges with the neck, which means you'll experience more stability and plenty of sustain. Made from 3-piece mahogany, the neck has a fingerboard made of Macassar ebony. You get 24 extra-jumbo frets for fluent playing with stylish flag-shaped pearloid fret marks. The overall scale length comes to almost 25 inches.

The Body


The body is carved out of mahogany with a glossy flame maple top. The good news is that you won't have any trouble finding the right guitar for your personality as the EC-1000 comes in a plethora of colors, such as Black Natural Burst, See Thru Purple, Amber Sunburst, See Thru Black Cherry, and more.

Tuners & Hardware


The headstock hosts three Grover tuners in a 3 by 3-formation. Grovers are great as they're known to provide secure tuning, and the addition of a 1.65-inch locking nut makes things even more stable and on point. Concealed in the neck is a truss rod in case your instrument's neck needs adjustments.

Pickups


Two active EMG pickups sit quietly in the body cavity providing great definition when playing clean tones. But add a little dirt or go full-on distortion to see how they instantly come to life. The EC-1000 uses an EMG 66TW humbucker for the neck and an EMG 55F for the bridge. The 66TW offers balance and warmth and is great for clean playing or crunchy rhythms. It sounds exception for lead playing as well. The 55F is the more aggressive of the two and is highly responsive.

Controls


To control the response of the active EMGs, the guitar provides the player with a dedicated volume control for each pickup and a single-tone knob that doubles as a push/pull knob to convert the humbuckers to single coils when needed. The three-way selector switch throws even more tonal combinations into the mix.
Character & Sound:
At any given instant, you have two extremely high gain but, at the same time, immensely quiet EMG pickups at your disposal. The distorted tones sound warm and thick, while the separation between notes is prominent and clear. Pushing the tone pot gives you the sonic capabilities of single-coil pickups. Experimenting with the three-way selector switch provides even more useful combinations.
Pros:
Loaded with features yet staying within the realm of affordability, the EC-1000 is fantastic. Having a Floyd Rose bridge, two active EMGs, and coil-splitting capabilities mean that you have all the essentials needed to jam out loud into the wee hours of the night.
Cons:
The Floyd Rose Bridge is a great tool for providing unwavering stability. However, for those of you who play in alternate tunings often, making adjustments can be a nightmare. Also, if you're a purist, you may prefer more vintage-sounding passive pickups over the EMGs.
8. Fender American Professional II Jazzmaster

Fender has forged a legacy covering decades and built a reputation synonymous with innovation.
Fender continues to play an integral role in shaping the music industry, and this guitar by the brand is a testament to its commitment to excellence. The guitar brings forth a combination of contemporary features, an iconic design, and tonal brilliance.
The American Professional II Series comprises guitars that offer a wide array of carefully selected components and premium hardware that contribute to its playability, performance, and audio prowess. These guitars feel great, look great and perform exceptionally well too.
Key Features:
Hardware


This Fender offering hosts a 'Floating Tremolo System' that grants players the ability to enhance their playing with pitch manipulation and an expressive vibrato. This also introduces a bunch of unique sound textures, from bold dives to subtle shimmers. The modern "Deep C" neck ensures a balance between contemporary comfort and vintage familiarity. This ergonomic design enhances the fluidity of movement across the fretboard, assisting in intricate solos as well as chord progressions.

V-Mod II Single-Coil Jazzmaster Pickups


The V-Mod II pickups are great for capturing the essence of vintage tones. These pickups bring a well-balanced tone and ensure that each note is expressive and distinct. The level of precision in this guitar translates to a balanced response from all strings when it comes to executing intricate solos or simply strumming open chords. The V-Mod II pickups respond quickly, and this responsiveness allows for articulate note definition.
Push/Pull Tone Knob for Coil Splitting
The push/pull tone knob serves as an innovative element in the guitar's arsenal. You can instantly shift between sparkling single-coil brilliance and full-humbucker power by simply splitting the bridge pickup's coils. The coil-splitting capability lets you add unique textural contrast in a single performance. You'll be able to switch seamlessly between bright sounds and rich, full-bodied tones, adding a dynamic edge to your playing.

Floating Tremolo System


The floating tremolo system brings with it an expressive vibrato effect that can better be used to express character and emotion. Using the tremolo arm, you can add dramatic pitch or subtle variations to introduce feeling and depth in melodies. The tremolo system allows effortless upward and downward pitch shifts.

Modern "Deep C" Neck Profile


The "Deep C" neck profile truly adds a contemporary touch to the guitar's classic design. It provides a natural grip that reduces fatigue during extended playing sessions. You'll also be able to effortlessly navigate the fretboard thanks to the fluidity of the ergonomic design of the neck.

Classic Jazzmaster Design Aesthetics


This Fender offering boasts a timeless design that is recognized as an absolute classic in today's world. The distinct control layout and offset body shape form a blend of both traditional and modern times. The premium finish boosts its visual appeal while also providing protection from the elements. The attention to detail in every component of the guitar really contributes to the guitar's overall aesthetics. The ergonomic design of the guitar features contours that make the guitar very easy to hold while standing up or seated. The guitar's shape also assists the use of the floating tremolo.
Character & Sound:
The Fender offering is an excellent vessel for expressing yourself through sound. The guitar's royal character allows a ton of versatility. It'll also produce the searing bite of overdriven leads as well as the lush resonance of clean arpeggios. The guitar's excellence is a testament to its capability and adaptability across many genres. The unit hosts a rich tonal palette, and the V-Mod II pickups are at the core of the instrument's character. With this guitar, you'll get velvety lows, crystalline highs, and everything in between.
Pros:
Fender's legendary craftsmanship ensures excellence in terms of reliability and durability. The guitar is a blend of traditional and modern designs and is visually appealing. The features complement a myriad of playing styles and allow the guitar to cater to a wide array of genres.
Cons:
The floating tremolo system and coil splitting are an absolute joy to use and offer endless possibilities, but they require a learning curve and, with it, time to get used to. No guitar is everyone's cup of tea; players used to more traditional guitar shapes may choose to look elsewhere.
9. Gretsch G5260 Electromagnetic Jet Baritone

The G5260 targets a wide audience, including beginners and seasoned players.
Gretsch's history is a fascinating one. Starting as a banjo and drums manufacturer, the company was created by Friedrich Gretsch way back in 1883. Only two generations later did Fred Gretsch Jr.'s vision encourage the company to venture into guitar territory.
Since the 1930s, when Gretsch produced their first guitar, they have managed to carve out a solid fan following worldwide. Some high-end models like the Chet Atkins signature guitar, the Country Gentleman, and the White Falcon helped propel the brand to soaring heights.
Key Features:
Baritone


One main feature that sets this guitar apart from the other instruments discussed so far is its baritone scale length. This means that the scale length on the G5260 is almost 30 inches long, which is one of the main reasons why we included it in our list today. The longer scale offers enhanced resonance and depth especially suited for lower tunings.

Body Characteristics


As seen on many others, the G5360's body is made from mahogany to give it that warmth in the lower register. The gloss finish looks great, and the instrument can be commonly seen in colors like London Grey, Dark Cherry, Jade Grey, and even Imperial Stain.

Neck


The neck on the Electromagnetic Jet is made of maple and has a "Thin U" profile. The U profile facilitates fast playing and quick chord changes. You'll also find it exceptionally helpful if you've got smaller hands. The neck has a 12-inch radius and is bolted onto the guitar's body. The fingerboard is made of laurel and accommodates 22 medium jumbo frets made of nickel. The frets are marked with what Gretsch calls Pearloid Neo-Classic Thumbnails.

Headstock


A synthetic bone nut with a width of 1.685 inches is fitted near the headstock. On the headstock, you'll find 6 die-cast tuners arranged 3 x 3 on each side. Finally, as is a common feature with electric guitars, running through the neck is a truss rod that can be accessed by unscrewing the cover on the headstock.

Electronics & Controls


The guitar has two sleek-looking mini humbuckers for the neck and the bridge. To control the pickups, that instrument possesses a master volume and master tone knob. Multiple pickup combinations can be made use of through the three-way selector switch.

Bridge


The bridge components might remind you of what you may have seen on most Gibson and Epiphone guitars. The "Anchored Adjusto-Matic Bridge" has six individual saddles for setting the intonation individually and a V-shaped "Stoptail" piece through which the 14 gauge strings are threaded.
Character & Sound:
The mini pickups express themselves clearly when clean tones are played through. Although not as bright as single coils, the minis are quite twangy. There's also a slight compression at play which keeps things nice and leveled. The high gauge strings and baritone scale length make way for a prominent mid-range and plenty of warmth.
Pros:
If you want to shift from standard scale lengths, the G5260 baritone guitar can be a great option. The guitar is very comfortable to play, and the build quality is exceptional for the price point. The mini humbuckers are capable of doing justice to any musical genre.
Cons:
The unique-looking body shape may not be for guitar players more accustomed to more common Les Paul and Strat-like shapes. If this will be your first baritone guitar, keep in mind that you'll need a little time to make the transition. Finally, baritone guitars have special string gauge requirements.
10. Epiphone Extura Prophecy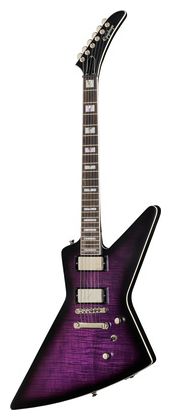 When it comes to modern electric guitars, this guitar is a real testament to craftsmanship, innovation, and limitless sound exploration.
Epiphone was founded in 1873 and initially produced stringed instruments. In 1957, the brand was acquired by Gibson. Epiphone produces guitars for beginner, intermediate, and professional musicians as well. The brand's most sought-after guitars include Les Paul, Casio, and SG.
Part of Epiphone's revered Prophecy series, this guitar, in particular, stands at the forefront with its bold design. It brings versatile features, cutting-edge hardware, and an unmatched unique character, which is why musicians from many genres hold a preference for it.
Key Features:
Hardware
Although this Epiphone guitar looks gorgeous, it's meticulously crafted with a primary focus on performance. The Floyd Rose 1500 Series double-locking tremolo system allows seamless pitch manipulations, ethereal flutters, and dive bombs. It safeguards tuning, even during the most aggressive playing. The Graph Tech NuBone nut stabilizes the guitar's tuning and sustain. Upon use, you'll notice it reduces friction as well, which makes bending strings easier and provides accurate intonation. The guitar is 24.7″ in length and is crafted with high-quality materials that ensure durability over time. It is available in black, yellow, and purple.
Fishman Fluence Modern Humbuckers
The Fishman Fluence Modern Humbuckers allow players to switch between two distinct voicings per pickup, modern or classic tones. This Dual voicing option provides a host of possibilities. The humbuckers are also known for zero noise operation and ensure a clean signal even at very high gain. This feature is especially beneficial in live and studio settings. These pickups' active nature assists in responsiveness and clarity.
Active Electronics with Voicing Switches
The guitar's voicing switches offer tonal flexibility you just don't get from passive electronics. These switches allow voicing adjustments and coil-splitting. The ability to convert the humbuckers into single-coil pickups greatly enhances the guitar's versatility. The voicing switches also allow you to further select the character of the pickups, from punchy to vintage. The guitar's impressive tonal options, active electronics, and voicing switches make it an excellent tool for just about any musician's arsenal. It lets you venture from fusion to heavy metal to blues and beyond.
SpeedTaper Neck Profile and Custom C-shaped Heel
The SpeedTaper neck profile forms the perfect balance between playability and comfort. It makes it very easy to navigate through the fretboard to hit those intricate chords, making it ideal for various styles. The seamless transition between hand and finger positions assists in playing arpeggios and complex runs with utmost ease. The custom C-shaped heel encourages access to the upper fret so players can effortlessly reach even the highest notes. This feature would especially appeal to guitarists since they fancy venturing into the guitar's upper register.
Character & Sound:
The character of this Epiphone offering can be denoted by its extraordinary versatility, which makes it great for all musical genres. You'll be able to perform clean passages and metal riffs. The Fishman Fluence Humbuckers serve as the crown jewel of the guitar's character as they offer a very impressive tonal palette. This palette includes everything from crystal-clear cleans to crushing distortion. The guitar performs wonderfully well with highs, mids, and lows as well. The voicing switches let you sculpt sound accurately, introducing layers of complexity and depth to your melodies.
Pros:
The active Humbuckers and voicing switches provide an unequaled level of versatility and allow ample room for experimentation. The guitar's Floyd Rose 1500 Series double-locking tremolo system guarantees stability in tuning even through extreme tremolo use. The guitar is surprisingly comfortable to hold and carry.
Cons:
The Floyd Rose tremolo system takes some getting used to. Changing strings or adjusting them may prove to be a tedious process. The guitar's active electronics need a power source to operate, so players need to stay alert. Some players like simplicity and may thereby find the vast variety of options available to be overwhelming.
Bonus
1. ESP LTD Stephen Carpenter SC-607 Baritone

Here's the first 7 string baritone guitar on today's list.
This lovely satin purple beast of a guitar is the ESP/LTD Stephen Carpenter signature model. The same Stephen Carpenter who has earned his chops by dishing out countless musical hits as a member of the infamous metal band Deftones.
The guitar was crafted with the artist's preferred settings and playing style in mind, which is why we're discussing it today. Now you can enjoy heavily distorted riffs on a down-tuned baritone guitar, and that too at a very affordable price point.
Key Features:
The Neck


The SC-607 has a three-piece maple neck with a "U" shaped profile enabling super-fast shredding and chord switches. The guitar also features a neck-through design, so there's no chunky neck joint at the back to get in your way when trying to reach the end of the fretboard. The neck has a 13.7-inch radius and a Macassar ebony fretboard with 24 extra-jumbo frets. The guitar doesn't have any fret marks, but you can navigate with the markings on the side binding of the neck.

The Scale


Being a baritone guitar, the SC-607 has a scale length of 27 inches. Playing this instrument under lower tunings is especially fun because the lengthy scale puts greater emphasis and adds depth to bass notes. While you'll find 10 gauge strings on this one, you can experiment with heavier gauges to add more girth to the tone.

Color Options


The instrument has several eye-catching color options, including Purple Satin, Black Satin, and See Thru Green. Under the satin paint job is a solid mahogany body that compliments the baritone nature of the guitar very well tonally.

Tuners & Bridge


As this is a 7-string guitar, there's added tension on the neck, which is why a truss rod becomes essential and is good to have on this instrument. For the same reason, ESP Ltd has made it a point to equip the SC-607 with 7 of their finest locking tuners to keep things locked and ready to go even after the most aggressive string bends. The 10 gauge strings are threaded through the back of the guitar's body onto ESP's version of the Tune-O-Matic bridge. The individual string saddles make intonation a cinch.

Pickups & Mechanics


The guitar comes loaded with two Fishman Fluence humbuckers. But not just any Fishman Fluence humbuckers; the "SRC" version was designed in collaboration with Stephen Carpenter. These pickups are exceptionally quiet, so you won't hear any unwanted noise or hum when using them. Regarding the controls, you get a single master volume and master tone combination where the master volume is push/pull enabled for coil splitting. In addition, the three-way selector blade offers more tonal variations.
Character & Sound:
The guitar has tremendous sustain because of the neck through design and the Tune-O-Matic bridge. The baritone scale length thickens the tone when lower tunings are set. In addition, the Fishman Fluence pickups have active and passive variations that can be tapped depending on the requirement. The active mode is full-bodied and well-rounded. The passive setting is more crisp and articulate. This guitar handles genres such as heavy metal like no other.
Pros:
The Fishman pickups have several different voicings to experiment with. Each of the available color options looks great on stage, while the black hardware really stands out in contrast. Finally, the instrument has plenty of sustain and comes with a hard shell case.
Cons:
When transitioning from a regular scale instrument to a baritone guitar, you might need a bit of time to adjust, which is not a con but something to consider when considering the SC-607. Furthermore, this is a bit of a genre-specific guitar, so you'll need to assess if it's the right choice for you.
2. Jackson Pro Series Jeff Loomis Soloist SL7

This 7-string offering by Jackson is truly a masterpiece in terms of innovation and virtuosity.
Jackson was founded back in 1980 in Glendora, California, USA. The brand began operating when the famous guitarist Randy Rhodes approached them for a customized guitar. Rhodes worked with Quiet Riot and Ozzy Osbourne on 2 albums' Diary of a Madman' and 'Blizzard of Ozz.'
The world-renowned guitarist Jeff Loomis and Jackson collaborated to come up with this stroke of genius. The guitar brings a unique blend of precision engineering in a cutting-edge design with a ton of tonal versatility, owing much to its 7-string double-locking mechanism.
Key Features:
Hardware
This guitar by Jackson is known for its tonal integrity, exceptional playability, and durability. The Double-Locking Tremolo brings players to enjoy using the whammy bar truly. The guitar's ability to maintain its tuning even through rigorous provides dynamic freedom to the player. The guitar's sound prowess owes much to the boost provided by the direct mount Seymour Duncan Jeff Loomis's signature humbuckers. These humbuckers bring with them clarity and a blend of high output, ideal for covering the most intricate of riffs.
Unique Aesthetics & Ergonomic Design
This offering by Jackson features a striking design with beveled edges, body contours, and a bold finish. The look of the guitar is aligned with the intensity of metal music. The sleek speed neck design and ergonomic body type grant easy access to the upper frets. You'll therefore be able to play for longer periods. The design also makes it easier to move during stage performances.
Seven-String Configuration
The inclusion of a seventh string (low B) provides an extended range of possibilities and creative options. Players can use lower tuning to allow much heavier riffing. The configuration of seven strings is especially useful for modern music genres where you can create intricate harmonies and complex rhythm patterns like progressive metal and djent. The additional string lets you transition in a smoother manner.
Neck-Through Construction
The neck-through construction provides the greater resonance and sustains that you just can't get from a guitar with a traditional bolted-on neck. This design enhances the resonance and depth of sound. The neck-through construction makes accessing the higher frets easier. The neck's sleek and slim construction brings comfort, making it surprisingly easy to play over longer playing sessions.
Floyd Rose 1500 Series Double-Locking Tremolo
The tremolo system holds strings in a way that the guitar tuning stays intact, even through rigorous playing sessions, so that the player can manipulate pitch with peace of mind. This locking system is ideal for consistency in pitch and accuracy of intonation, making it an excellent option for live performances as well as studio recordings.
Direct Mount Seymour Duncan Jeff Loomis Signature Pickups
The signature Seymour Duncan Jeff Loomis direct mount pickups produces a high-output power along with articulation and incomparable clarity, essential for note definition. The pickups are perfect for modern genres, particularly metal, as they allow you to hit searing solos.
Character & Sound:
Jackson brings a character and sounds ideal for the modern realm of metal music. The guitar possesses explosive aggression, and the Seymour Duncan Jeff Loomis signature pickups provide a high-octane tone palette. It allows you to capture the power of solos and intricate riffs. The guitar ensures that every note, subtle or complex, carries a high degree of clarity. This encourages players to perform intricate arpeggios with precision. The addition of a 7th string and the double-locking system make it an excellent choice for low tuning.
Pros:
The guitar produces crushing tones and excels in high-gain level environments. The inclusion of the seventh string brings several creative possibilities. The Floyd Rose 1500 Series tremolo system offers stability in tuning and seamless manipulation of the pitch.
Cons:
Maintenance, changing strings, or simply adjusting them can prove an unnecessary bother for some. The guitar focuses on extended range and high-output tonality modern metal, which may limit its versatility.
Conclusion
We've discussed many worthy candidates in today's post who can accept the "tune down" challenge well and thrive in such situations. However, each instrument possesses its own unique attributes, and at the end of the day, it comes down to the user's preference.
If you're looking for a change and wish to explore alternate scale instruments, the Gretsch G5260 and the ESP/LTD SC-607 can be great options. The G5260 is quite economical, and with the SC-607, you get the added range of a 7-string instrument.
Speaking of 7 strings, the Jackson Pro-Series Jeff Loomis signature model is another powerful instrument equipped to deal with tuning changes. Part of this is because of the Floyd Rose bridge, which other guitars on the list, such as the ESC/LTD EC-1000FR, PRS Custom 24 Floyd, and Schecter Hellraiser, also possess.
Both Fender instruments have plenty of tonal versatility and decent pickups to easily handle clean tones, crunch, and heavy distortion, thanks to the controls on board. The Gibson Les Paul Studio is an affordable guitar from the Gibson range that'll give you great sonic results.
Finally, if high-gain pickups are what you're after or you want to try out an instrument with pickups that offer different voicings, the Ibanez RG652AHMFX and Iron Label models can be decent choices. Finally, the Epiphone Extura comes with the multifunctional Fishman Fluence humbuckers with an elaborate sound signature.
Sultan Zafar is a guitar player from Islamabad, Pakistan. He has been playing music with various mainstream musicians for over 20 years. He is a song writer and music producer. These days he spends his time exploring different music genres and collaborating with fellow musicians on various projects. Read more..