Today we look at "10 Best AKG Headphones For Studio Mixing, Mastering & Music Production in 2023."

While headphones come in different shapes, sizes and variations, today's list cover the overhead design, which comes with closed-back and open-back variants. While it all depends on the situation and your personal preference, both have their positives and negatives.
Open backs offer a much wider sound stage giving you a clearer image of the separate tracks in your mix. You'll also notice that these headphones offer an uncolored neutral response without accentuating any frequency tier.
Closed backs, on the other hand, give you good sound isolation. This means that because their drivers are confined in a closed space, relatively little of the outside world can be heard, and there is hardly any sound leakage.
So if you're in a studio trying to record vocals, the closed-back nature of the earcups will prevent the mic from picking the sound of your mix through the headphones.
Now let's dive into the 10 best AKG headphones list so you can get an in-depth overview of each one and decide which one suits you the most.
10 Best AKG Headphones For Studio Mixing, Mastering & Music Production 2023

1. AKG K-712 Pro
Over the years, AKG has carved out a name for itself by delivering some high-end headphones.
Whether you're looking for a decent pair of headphones to fulfill your mixing needs or a gamer who wants an intense gaming experience with accurate reproduction of directional sound, AKG has you covered.
The AKG K-712 Pros are designed to provide a neutral response along all frequency levels so that the sound is uncolored. This way, when you sit down for the final mastering and mixing, you get an accurate representation of the sound.
Key Features: 
Build
The AKG K-712 Pros are made entirely of plastic to keep the overall weight in check. Weighing 235g, the headphones showcase an adjustable headband design which you're likely to see on almost all the open-back headphones in the AKG line. The frame lacks notches to resize the K-712s, as the phones will automatically adjust to the head of the wearer.
Earcups
The earcups are made of velour and have sufficient padding under the surface, which adds to the comfort. The padding used in the earcup construction acts like memory foam and returns to its original shape. The size of the cups is quite large, which makes them completely cover the user's ears. Since the K-712 are open-back headphones, the cups' exterior is mesh covered. In addition, you'll find a small XLR-type port on one of the earcups to connect the 3-meter-long detachable cable.
Technicalities
AKG's K-712 Pros offer a frequency response range of 10Hz to 39,800Hz, which is decent enough to encapsulate the frequencies that can be heard by the human ear (20Hz – 20,000Hz) and beyond. Regarding impedance, the headphones are designed to have a resistance level of 62Ω. While this means they'll sound good enough on their own, you may want to hook them up with a solid-state or tube amplifier to get the best performance out of them.
Frequency Response
The K-712 Pro headphones seem to lack bass response, although the roll-off is smooth. The higher end seems quite bright, but not to the point where it may sound uncomfortable. Cranking the volume up will cause a slight loss in clarity. However, keeping the volume at a moderate level is where the headphones really shine.
Sound Stage
The defining characteristic of most open-back headphones is their ability to deliver a wide sound stage. In most other open-back headphones, you'll get an impression of the sound being almost next to the ear that eventually extends to give that wider stage feel. The K-712 is also a good example of this, but strangely the audio image is such that the sound appears to start at a distance from the ear and then moves away to provide width. However, there is no loss in detail or sound quality because of this approach that the K-712 pros adopt.
Headphone Amps
As expected, the K-712 pro headphones offer a slightly different response on solid-state and tube headphone amplifiers. On the solid-state variety, the high ends become more pronounced, almost on the verge of being shrill but not quite. The middle range seems to be detailed and clear. Although minimal on the K-712s by default, the bass response gets a slight boost in a solid-state setting. However, when used with a tube amp, the high-end shrillness gets subdued to reveal rich tones in the treble region, although the mids lose their definition ever so slightly.
The Most Comfortable Headphones For Mixing? AKG K712 PRO Review!
Pros: 
The headphones offer a wonderfully wide sound stage, giving you an immersive experience regardless of the genre of music you're interested in. The frequency response in the treble and mid ranges is such that it'll impress the audiophile in you.
Cons: 
The AKG K-712 Pro lacks a snug fit for people with smaller heads. In addition, the automatic adjusting mechanism may falter to make the earcups press down on the top of the ears. If you want to listen to some bass-heavy music, the K-712 Pro falls a bit short.
2. AKG K-812
The K-812 reference headphones, are designed for sound engineers, music producers and musicians.
The headphones strives to deliver great detail in all frequency ranges. In addition, the K-812s also can be a good option for mixing and mastering your sound as they offer a comprehensive sound presentation with good separation.
The headphones boast the largest sound driver made by AKG, offering better dynamic range and a lot of headroom. In addition, because of the material used in its construction, the K-812s are extremely durable and withstand the test of time.
Key Features: 
Build Quality
Being a flagship device, AKG has used a combination of metal and good-quality hard plastic for the K-812's construction. While adding metal to the mix adds durability and strength, the K-812s weigh around 390g, making them heavier than some of all plastic variants. In addition, the headband is made of a mesh-like material which won't create any hot spots on the top of your head.
Adjusting Mechanism
The headband design looks similar to the automatically adjustable mechanism we've become used to seeing on most AKGs, but it works differently. The K-812s can be resized by pressing the round symbol buttons on both sides and adjusting the frame according to the user's head size. Unfortunately, the adjustment buttons seem a bit stubborn, and you'll have to take the phones off your head to resize the headphones. However, once adjusted, the phones stay put.
Cable
The K-812 comes with the same cable you get with lower-end models like the K-240. With a length of 3 meters, the cable has a 3.5mm jack at one end with a quarter-inch jack that can be screwed onto it. The end that connects to the headphones has AKG's own proprietary connector.
Earcups
The earcups completely cover the ears and have an asymmetrical design with a slightly flatter section that goes behind the ear to seal the sound within the cups and the user's ear. The pads make use of memory foam insides that are covered with pleather. The overall feel is extremely soft and comfortable. The pads are also easily detachable and can be replaced if they get worn out from extensive use. The cups conceal a rather large 53mm headphone driver inside.
Character & Sound
The bass has an extremely smooth roll off, and the overall response on the K-812 is better than other open-back headphones. However, some harmonic distortion makes the bass sound a bit muddy at times. The mids seem warm but tend to be aggressive and may require equalizing. The K-812 is a bright-sounding pair of headphones with a treble response that peaks around the 6kHz mark. Transients can get harsh and unpleasant, resulting in a sloppy hazy sound. The sound stage is quite wide, and there is great detail with a decent separation between the different layers.
AKG K812 Headphone Review
Pros: 
The asymmetrical design of the earcups and the material used in their construction makes the K-812 one of the most comfortable headphones on the market. In addition, these open-back headphones provide a decent bass response and bright mids/highs.
Cons: 
The K-812s are extremely expensive, so you expect every aspect of the headphones to good. However, the adjustment mechanism feels cheap and inconvenient. Also, you get the same cable that you find on the lower-end K-240 or K-701 headphones.
3. AKG K-271 MKII
AKG's K-271 headphones are like the K-240s in many ways and you might be unable to tell them apart at a glimpse

However, the main difference is that while the K-240s are semi-open from the back, the earcups on the K-271 have a completely closed back, which offers much better sound isolation.
This sound insulation makes the K-271s ideal for drummers who want to hear the mix while they play. These closed-back headphones can also be a useful tool for live sound guys who want to get considerable isolation so that they can concentrate on sound adjustments.
Key Features: 
Design
The K-271 also features the automatically adjustable mechanism made famous by AKG. The headband is nicely padded, and the frame doesn't clamp too hard on the wearer's head. A unique feature of the self-adjusting headband is that when you take the headphones off, whatever music is being listened to gets muted automatically.
Cable Options
The K-271 headphones come with dual cable options. First, you get a 3-meter-long straight cable with a 3.5mm jack on one end and a mini XLR connector at the end that attaches to the headphones. Secondly, also included in the box is a coiled cable that doesn't get in the way and can extend itself if required. Finally, you'll also find a high-quality quarter-inch screw adapter that can be paired with both cables.
Earcups
AKG offers two different pairs of earpads for the K-271. The headphones come attached with a couple of pleather earpads but also included in the box are 2 velour earpads that can be swapped if required. The internal construction is the same as both variations employ memory foam for added comfort.
Character & Sound
Regarding the sound, the AKG K-271 is one of the most natural-sounding budget headphones. The overall sound is neutral, and there's no emphasis on frequency ranges. The sound separation is good, and because of its tonal characteristics, the K-271 delivers sound the way it was meant to be heard. The bass sounds well-rounded, the mids are warm, and the highs are articulate and shine through nicely.
Impedance & Frequency Response
The AKG K-271s come with an impedance of 55Ω. While they will sound adequate when hooked up to your mobile device for casual listening, you may want to use a headphone amp to drive them to their full potential during mixing and music production. Regarding frequency response, the K-271s deliver a range between 16Hz and 28,000Hz.
Pros: 
The K-271 headphones don't leak any sound and offer good isolation from external sounds.  This makes them a popular choice for vocal recording in a studio setting so that the sound of your mix doesn't bleed into your mic.
Cons: 
If you're looking for a pair of headphones with enhanced bass response, you need to look elsewhere because of the K-271's flat response along the whole frequency spectrum. In addition, the frame could use swiveling joints near the earcups for added comfort.
4. AKG K-361
The AKG K-361s feature 50mm drivers that can deliver a neutral response along all frequency ranges.
The materials used in the headphones' construction keep the weight down to just 219g. The design provides a snug fit thanks to a head clamping effect which is just right for extended use. In addition, the K-361s are one of the more economical headphones in the AKG range.
The earcups are oval-shaped and completely surround your ears, adequately curtailing any sound intrusion if you're in a noisy environment. While the headphones have decent sound isolation, they also don't leak out sound due to their closed-backs.

Key Features: 
Build
The K-361 is made of soft-touch plastic, but the overall construction is quite sturdy. The headband is made of silicon and has some padding on the bottom so that it doesn't dig into the user's head. The adjustment mechanism is fairly simple. Both sides have a round AKG symbol joint that can be compressed or expanded per user preference. The K-361s also come with a string-drawn carry pouch that helps to protect it from scratches and dust.
Cables
The K-361 comes with two cables of varying lengths (1.2m and 3m). Both cables have a 3.5mm jack on one end and a jack that twists and locks in place on the headphone end. The box also includes a good-quality quarter-inch jack that can be screwed onto either of the two cables.
Earcups
The ear cups are not very deep but, at the same time, are soft and comfortable. Since the K-361s are closed-back headphones, you may get some hot spots on your ears if you work in a warm environment. As with most AKGs, the pads can be replaced if they get worn out. Another interesting feature is the K-361's foldable design. Both cups can be rotated upwards to fold into the headband and become nice and compact.
Impedance & Frequency Response
The K-361 isn't too power-hungry and has a resistance of only 32Ω, so you don't need to invest in a headphone amp. Even with your mobile device, you can get a good level out of these closed-back headphones at a 75% volume level or less. In addition, the headphones offer a frequency range of 15Hz – 28,000Hz.
Character & Sound
The treble response may not be the best, and some purists may pick out missing frequencies in the higher echelon. While there is decent detail, you may also feel that the treble sounds unnatural. However, the K-361 can deliver clear vocals with exceptional isolation from the rest of the mix. The headphones offer an exceptional bass response which is clear and warm; however, it isn't pronounced enough to the point where it might cause ear fatigue. The sound stage has a good range as it extends farther to the left and the right with a lesser sound projection towards the front and back.
AKG K361 GOOD CHEAP HEADPHONES? - Detailed Review
Pros: 
The kind of sound characteristics that the K-361 has, combined with its build quality and comfort, makes these headphones one of the best budget options. The K-361s also offer excellent noise isolation and don't allow any sounds to creep out.
Cons: 
Some of the true audiophiles out there will be able to pick a significant scoop in the higher frequencies, causing treble sounds to be unnatural and thin. Also, the K-361s lack a throbbing bass response which some of you may be looking for.
5. AKG K-702

(Great For Mixing & Mastering)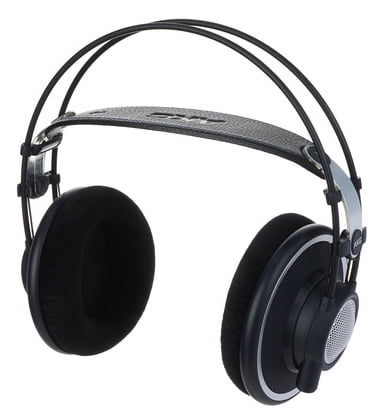 AKG's 700 series has some of the more popular headphones from AKG.
Contrary to how some headphones may focus more on enhancing certain frequencies, with the K-702, you hear the same audio signal as intended by the sound source with little or no variation. No wonder they're labeled "reference headphones".
The design is simple but durable. Also, the materials used in manufacturing the AKG K-702 make it very light and easy on the head. This is especially good when you wear them for hours while you mix and master your sound.
Key Features:
Appearance


The AKG K-702 has huge cups that sit nicely on the ears, covering them completely. These cups are padded with foam on the inside. The foam used here is like memory foam which slowly regains its original shape when pressed. Because of the foam, your ears won't get sweaty like they might with headphones that offer leather insides. Instead of notches to adjust the headphones' size, the adjustment mechanism includes an intelligent, genuine leather strap that adjusts automatically according to the wearer's head. With the K-702, you also get a detachable cable that is 3 meters long. The headphones come in a combination of black and white, and a limited edition black and red coloring are also available in some stores.


Weight


The K-702 is light and weighs around 8.3 ounces without the detachable cable. The overall material used is plastic which makes the headphones durable and light. The weight is so negligible that you may forget that you're wearing them at all.


Impedance


Contrary to some of the more high-powered mixing and mastering headphones in the market, the K-702 has an impedance of 62Ω. This means you don't need a headphone amplifier to get a good sound out of them. However, if you have a headphone amp on hand, you can get even better sound volume through the K-702. 

Frequency Range


The AKG K-702 comes with a broad frequency range of 10 Hz – 39800 Hz, which is way beyond the audible range of the human ear. However, a similar range is found on most headphones of this category to ensure that all the necessary frequencies are there.

Character & Sound
The AKG K-702 has a balanced and flat sound. The low-end frequencies are not muddy, the mid-level frequencies can also be heard, and the higher frequencies are not too sharp or piercing. Another interesting feature is that the sound stage is very wide. This means that the overall sound in both cups seems to come from wide sources. As a result, you may feel that you hear different instruments from different parts of the room. Also, there is a distinguishable separation of all the sounds you hear in both ears.
Should You Buy the AKG K702 Headphones? | Gear Review
Pros:
These "reference headphones," give you an accurate representation of the sound of your mics and line instruments during mixing. The wide sound stage provides sufficient separation of soundtracks to help you get the levels right.
Cons:
Since the K-702 are open-back headphones, there is a significant amount of sound leak. This problem makes them less suitable for recording because some of the mics in your recording space might pick up the sound leakage.
Good For:
If you're looking for a pair of headphones to listen to your favorite songs, then AKG's K-702 is probably not a good choice. Because the 702s are reference headphones, they are much more suitable for mixing and mastering.
In addition, the audio stage is exceptionally wide, which gives each track perspective in terms of the overall mix and helps you adjust your levels effectively. 
6. AKG K-612 Pro

(Great for Starters)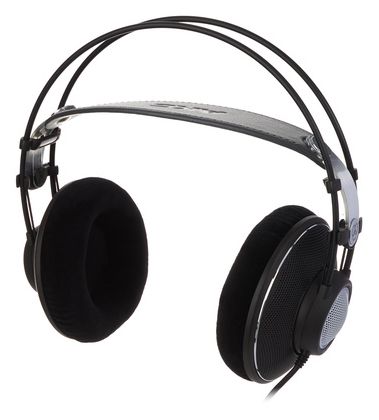 The AKG K-612 Pro is a close relative of the K-702 in terms of features and looks.
K-612 Pros are also labeled "reference headphones" and promise to provide uncolored sound without boosting audible frequencies, much like the K-702 headphones. Its ear cups have neodymium magnets that provide balanced sound.
The 612 also steals several design elements from its cousin, the AKG K-702, as they both look almost identical with minor differences. The same durability is there, and the materials used are also the same contributing to their light weight.
Key Features:
Appearance


The AKG K-612 comes in black and silver. Appearance-wise, the main difference you may observe when comparing the K-612 to the K-702 is that the aforementioned K-612 has a 3-meter-long non-detachable cable with a quarter-inch jack at the end of it. You will find a 3.5mm connector underneath when you unscrew the 6.35mm jack attached to the headphones out of the box. The cups are the same, and so is the material used for padding. The automatically adjustable head strap with the AKG branding returns as well.


Weight


The K-612 weighs 238 grams or 8.4 ounces. The headphones have a plastic body with airbrushed plastic on the sides made to look like metal. The construction makes the headband flexible and difficult to break. It also ensures that the headphones are very light.


Impedance


Contrary to the lower impedance of just 62Ω on the K-702, the AKG K-612 has a much higher resistance at 120Ω. The higher impedance takes the K-612 into headphone amp territory. If you wish to provide enough juice for your beloved 612s to shine, you will need a good amp with enough gain by your side.


Frequency Range


The AKG K-612 offers a frequency range of 12 Hz – 39500 Hz, almost identical to what the K-702 offers. Such a wide frequency response ensures that no frequencies in the audible range and beyond get ignored. All AKGs offer a similar range.


Character & Sound


The overall sound seems to be flat. The bass frequencies seem tight and lack a bit of warmth. There seems to be a slight treble boost around the 2,000 Hz frequency range, so if you play around with the EQ and adjust the frequency around that level, you can overcome the boost. The sound may also seem a bit dry, which enhances the sounds of some stringed instruments in your mix. Like on all AKG headphones, the width of the sound cannot be understated. You get a feel of being in the center of a room with audio tracks playing around you. 
AKG K612 pro vs AKG K702 - sound demo
Pros:
The AKG K-612 is at the lower end of the price scale. In terms of comfort, the 612 outshines most of the competition. The sound is realistic, and the slight treble boost combined with dryness makes your stringed instruments stand out.
Cons:
The K-612s come with a captive cable meaning that any fault in the cable will result in a high cost of repair. Being open-back headphones, the K-612s leak sound. Furthermore, you'll need an amp to power them significantly due to high impedance.
Good For:
The AKG K-612s are suitable for beginner-level sound engineers as they are not too heavy on the wallet and cover all the basics well. The sound separation is good, and the lows, mids, and highs seem more or less balanced.
The slight treble boosts enhance vocal audio so you could use these to mix and master vocals.
7. AKG K245

(Budget Option 2)
Considering the features that are on offer, the K-245 is very cost-effective and gives good value for money.
Most AKG models on this list look similar in design and appearance, and the K-245 is no different. The headphones have a flexible but solid construction with several positive and negative aspects that set them apart from others on the list.
AKG's K-245s have a more rugged feel due to a combination of metal and plastic used for its construction. However, the usage of metal has added slightly more weight to the K-245 as compared to the higher-end K-612 and K-702.
Key Features:
Appearance


Most of the AKG K series headphones look quite similar in design. You get the same adjustable strap and an open headband with ear cups on either side. The cups come with 50mm drivers and have a padded memory foam finish. In addition, the headphones have joints that allow you to rotate the earcups fully. In terms of weight, these are the heaviest of the AKG headphones discussed here and weigh in at 294 g or 10.4 ounces. The AKG K-245 comes in all black with white branding on the headband and cups.


Foldable Design


The K-245 is a member of AKG's foldable headphones series, including the K-175 and K-371. This is a somewhat unique feature and adds to the portability of the AKG K-245 headphones. Like most foldable headphones, you get a string pouch to carry them.


Impedance


Don't have a headphone amp? Not a problem. The AKG K-245 comes with an impedance lower than any of the headphones on this list. The resistance level on these headphones is just 32Ω. So connecting them to your mobile device and getting a good sound response is guaranteed.


Character & Sound


Much like the K-612, the sound coming from the K-245 is flat and uncolored. Surprisingly the sound stage is quite narrow on these headphones compared to its elder brothers, the K-702 and K-612. The mids and higher frequencies are managed quite well. The headphones succeed in bringing out the vocals in a mix. The detail is there, and the K-245 manages sibilance quite well too. However, the bass frequencies lack warmth and clarity and might need some EQ adjustments. The frequency response on these headphones is 15 Hz to 25,000 Hz.


Replaceable Parts


The AKG K-245 comes with a detachable coiled cable that is exceptionally long and can be extended up to 5 meters. You get a 3.5mm connector on the end of the cable and a 6.35mm adapter. If anything happens to the cable, you have the option to replace it. The earcups are also replaceable, and if you find yours have worn out or become sweaty, you can pop them off easily and get new ones.
Pros:
The low impedance ensures that an amp is not required. The headphone's response to mid and higher frequencies is impressive.  The AKG K-245s are collapsible and become very compact when folded.

Cons:
In terms of frequency response, the K-245 lacks in the bass department. Although the K-245 belongs to the AKG family of wide-sounding headphones, the soundstage on this unit is narrow and sound separation is lacking because of it. 
Good For:
The AKG K-245s come with a lower price tag and is suitable for beginners who don't have a reference point and want to buy their first headphones. The 245s are ideal for vocal mixing and podcasts related work.
However, you may avoid using them for genres that require a good bass response.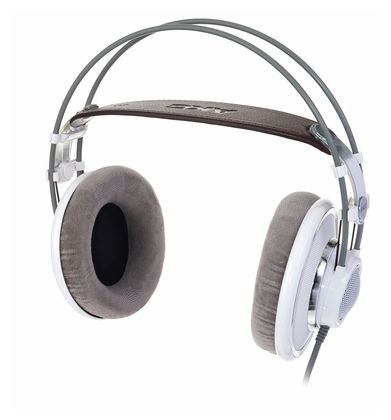 The AKG K-701 is the twin brother of the K-702 as they look almost identical.
The K-701 is also labeled as "Reference Headphones," which means that they intend to produce uncolored and unaltered sound so that any flaws or deficiencies can be identified and fixed during the mixing process.
When buying a pair of AKGs, you can be certain of getting very light, open-designed headphones that provide great comfort. Being budget-friendly headphones, the K-701's overall look, presentation, and color combination give a premium feel.
Key Features:
The Presentation


The overall presentation of the boxed K-701 is quite impressive. The box has a large viewing window through which the headphones can be seen standing vertically on a plastic stand with the AKG branding. This is the only pair of headphones on this list with which you get a stand.


Appearance


Apart from that, all popular design features of the AKG series return with the AKG K-701. The automatically adjustable head strap with the AKG branding is there. At just 8.3 ounces, the headphones are ideal for extended use. The cable on these is a non-detachable straight cable that is 3 meters long and has a quarter-inch jack at the end of it. You also get a 6.35 mm to 3.5 mm adapter in the box. The AKG K-701 comes in a combination of maroon, white, and grey, which gives the headphones an impressive look.


Earcups


The large "3D form" earcups cover your ears completely, and the foam is designed, so drivers don't touch the ear. The foam used is a bit firm and holds its shape, unlike other models of the AKG family that use memory foam on the cups. Each earcup has a 50mm driver inside like the K-245.


Impedance


The AKG K-701s have an impedance of 62Ω. Therefore, your mobile device and iPod can get decent results from your K-701. In addition, the low resistance level saves you from the hassle and expense of purchasing a headphone amp. 


Character & Sound


The sound is not as colorless as you might expect with a pair of reference headphones. The bass on the K-701 is a bit on the leaner side. The texture is smooth, but you'll hear it slightly in the back of the mix. These AKGs favor the mid-range frequencies, and you can hear a boost. This brings out the vocals and guitars more in the mix. Some distorted sounds, however, tend to be a bit sharp and annoying if the guitar tracks are positioned slightly above the overall mix. The treble is detailed and gentle. There is no sharpness to it which may send you running to EQ the sound. The soundstage, like most AKG headphones, is massive. You'll get adequate clarity of each track in the mix, and the left/right panning is quite evident.  
These Headphones ARE AMAZING AKG K 701 Review!
Pros:
You won't need to power the AKG K-701s with an amp. The sound stage is wide and immersive and the different tracks in the mix can be visualized with good clarity. The mids and highs show great character and tonal qualities. 
Cons:
Like the K-245, the K-701 also lacks in terms of bass response. The phones are bulky, and the open design makes them a bad choice for outdoor or public use. Also, the 3-meter-long cable is straight, not coiled, and may get in the way.
Good For:
The AKG K-701s are more suitable for intermediate-level users. The mids and highs are very articulate, so if you're mixing vocal tracks or voiceovers, the K-701 becomes a good choice.
Of course, your guitars (clean or distorted) and other stringed instruments will get a good response too.
9. AKG K-240 MKII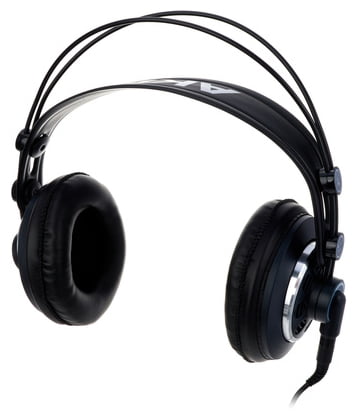 Like their predecessor, the K240 Studio, the MKII offers the quality you would expect from AKG. There are a handful of slight differences between the two models, but none affect the heart of what makes them sound great.
The AKG K240 MKII are over-ear, dynamic, semi-open back headphones. They use identical 30mm XXL transducers and patented Varimotion diaphragm found in the K240 Studio but sport a black and blue design, offer an extra pair of velour pads, and a 5m coiled cable.
Key Features:
Frequency Response
The response is smooth and neutral in the mid-range and crisp and clear in the high-end. Unfortunately, you will need to forgive the bass response because it does roll off despite ranging from 15 Hz to 25 kHz. However, the frequency response does respond well to EQ, so if you feel the bass needs a helping hand, you can comfortably boost it.
Impedance
The impedance is rated at 55 Ohms. Since this falls into the high impedance category, they will perform best when used alongside a headphone amplifier.  
Ear-cups
The ear-cups use the same faux-leather padding as their predecessor. However, a pair of velour pads are included with the headphones should you prefer a softer touch. Moreover, the velour pads allow your ears to breathe better than the faux-leather pads, which is a must for long studio sessions.
Connection
AKG includes more cables with the MKII. Previously, you were only given a straight mini female XLR to 3.5mm cable, but now you are given the straight cable and a coiled alternative.
Looking for Great Sounding Headphones? - AKG K240 mkii Detailed Headphone Review
Character & Sound:
You can expect a neutral and detailed tone with AKG's K240 MKII. They favor the clear reproduction of highs and smooth mids over deep bass. In addition, the wide, immersive sound stage and depth improve their smooth, natural tone, making them a fantastic pair of headphones for mixing, mastering, and recording.
Pros:
You can expect to own a comfortable pair of headphones that offer exceptional sound. The tonal quality holds up even at low volumes, so you can still expect quality sound if you prefer not to mix too loud.
Cons: 
The cups are shallow, so you may find your ears touching the driver while wearing them. You may be able to stuff the pads to thicken them, but this will affect the tone. Unfortunately, they are no longer made in Austria, so the price has increased slightly.
10. AKG K-240 Studio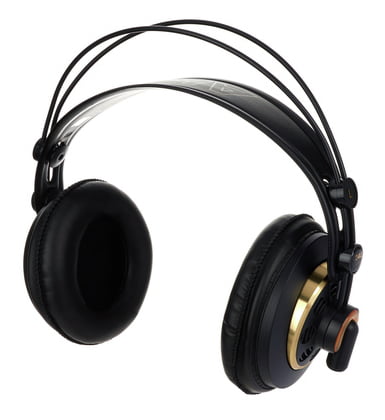 The K240s have been a staple in studios worldwide for decades. The K240 Studio model adds to that legacy with a budget-friendly yet high-quality modern remake.
AKGs K240 Studio is over-ear and semi-open back headphones designed for mixing, recording, and mastering. They use a dynamic driver to produce sound and have a mostly-plastic housing and faux leather pads.
Key Features:
Frequency Response
You can expect a smooth frequency response encompassing most of the frequency spectrum. The range covers from 15 Hz – 25 kHz. Audibly, the bass region doesn't extend too low as it rolls off steadily from 100 Hz, so if you prefer more bass in your headphones, these are not the pair for you. However, they do respond well to EQ, so you can boost the bass region to get more thump, but it won't rival bass-boosted headphones. Overall, the response focuses on the mid-range and clear, gentle reproduction of treble frequencies.
Impedance
You will need a headphone amplifier to get the best tone since the impedance is rated at 55 Ohms. You can use them without an amp, but the tone and volume will suffer. They won't require a powerful amplifier since the maximum input power is 200 mW.
Ear-Cups
As mentioned, the ear-cups use faux leather pads. They provide a good seal and add to the overall comfort of the headphones, so you will barely notice they are there. However, if you prefer velour cups, you can opt for the K240 MKII, which comes in stock with velour pads and have all the same components and characteristics as the K240 Studio.
Connection
The left ear-cup has a built-in mini-XLR connector, and you are given a straight mini female XLR to 3.5mm cable with the headphones. Alongside the cable, you will receive a ¼" adapter. Unfortunately, the cable provided isn't too durable.
AKG K240 Studio | Headphones Audio Test
Character & Sound:
The K240 Studio offers a colorless, smooth, and open tone overall which is ideal for mixing and mastering since it allows you to pinpoint any problem areas easier.. As stated above, the bass response isn't too high, but that can be alleviated using an EQ. The focal point of tone is the mid-range.
You can expect a smooth response that details instruments and vocals well. The high-end is clear and gentle. And lastly, the sound stage is broader than you would find in closed-back headphones.
Pros:
The lightweight design makes them comfortable to wear, a substantial positive for long studio or mixing sessions. Also, their light weight makes them a comfortable option if you wear glasses. Also, for headphones this inexpensive, you get exceptional sound.
Cons: 
Because of their mostly plastic and lightweight design, they are not very durable, so handling them with care is essential. In addition, the cable provided is flimsy and won't last for years, so you will need to purchase a higher-quality cable.
Conclusion
Picking the right pair of headphones is crucial for mixing and mastering setups. We've presented 10 headphones from the AKG line today, all of which have something good to offer. Some of them are more budget-friendly and will appeal more to enthusiasts just delving into the world of music production.
Some of the connoisseurs would surely gravitate towards the more high-end headphones on the expensive side. You could also employ a combination of different headphones to suit different needs. The open-backs could give you more headroom and a wider sound stage to get your mixing levels right.
On the other hand, the closed-backs could isolate external sounds to help drummers and vocalists concentrate on the mix while they work their magic.
Readings that you may like: 
Other Recommended Gear:
Top 12 NearField Studio Monitors On Any Budget
Top 10 Midfield Studio Monitors For Home Recording
Best Biggest Studio Monitors (FarField Monitors)
Top 10 Guitar Pickups for Low Tunings 
Top 10 Analog Compressors For Mixing & Mastering (On Any Budget)
Top 12 USB Audio Interfaces Under 150$, 200$, 300$ 400$ (Any Budget)
Top 12 Hardware Equalizers (Analog EQs For Mixing & Mastering)
Top 6 Analog Hardware Limiters 
Top 6 Solid State Bass Amps (On Any Budget)
Top 6 Ribbon Mics On Any Budget (For Vocals, Drums & Guitars)
Top 6 Cheap Dynamic Mics For Vocals Under 50$, 100$, 200$ & 300$
Top 6 Chorus Guitar Pedals (On Any Budget)
6 Best 61-Key MIDI Keyboards (On Any Budget)
9 Best 49-Key MIDI Keyboards Under 100$ & 200$
Top 5 Best 25 Key MIDI Keyboards (On Any Budget)
Top 12 Acoustic Drums (Best Kits/Sets On Any Budget)
Plugin Roundups:
Genre Focused:
Top 10 EDM Plugins  (And 10 Best FREE Plugins For EDM)
Top 10 Plugins For TRAP Beats (And 5 Best FREE Trap Plugins)
20 Best Plugins For Rock Musicians (+ 6 FREE Plugins)
Top 14 Trance Plugins (Uplifting, Tech, Progressive, Vocal, Dream, Hard)
Top 10 GOA & PsyTrance Plugins (Best Psychedelic Trance Tools)
Top 7 Plugins For Dubstep (With 10 Best FREE Effects & Synths)
Top 20 Synthwave Plugins (+ 11 Best FREE Plugins)
Top 15 Plugins For Techno, House, Electro, Tech House, UK Garage
Top 6 Plugins For Latin Music  (And 4 FREE Tools)
Top 12 Plugins For Hip-Hop (+ Best Kontakt Libraries)
Top 7 Plugins For Game & Film Scoring  (+ 6 Best Kontakt Libraries)
Top 10 R&B And Pop Music Plugins & KONTAKT Libraries 
30 Best Free Plugins For DnB, EDM, IDM & Experimental Music 
EQ Plugins
Top 12 Free EQ Plugins For Precise Mixing & Mastering
Top 9 Mid/Side EQ Plugins  For Mixing & Mastering (+ 2 Free Tools)
Top 7 Graphic EQ Plugins  (With 3 Best Free EQs)
Top 7 EQ Plugins For Mastering In | And Best FREE Mastering EQs
Top 6 Passive EQ Plugins (Klevgrand, SPL, UAD, Waves, IK Multimedia)
Top 11 Plugins For Making Metal (Best Guitars, Drums & Effects)
Metering:
Top 5 Audio Metering Plugins (LUFS, RMS, LRA, True Peak)
Top 6 Spectrum Analyzer Plugins  – Spectral Analysis Tools
Top 6 Oscilloscope Plugins To See The Waveforms
Top 5 Key Detection Plugins & Software  (+ Best FREE App)
Kontakt Libraries
20 Best Kontakt Libraries For All Categories (Synths, Drums, Vocals)
Top 7 Drum Libraries For KONTAKT (And 4 Freebies)
Top 7 Trap Music Kontakt Libraries (And Best Lo-Fi Kontakt Library)
Top 7 Metal & Rock Kontakt Libraries (Best Guitars & Drums)
Top 10 Guitar Libraries For Kontakt (Acoustic, Electric, Bass & Freebies)
Top 7 Trailer Scoring Plugins & Kontakt Libraries 
20 Best Free KONTAKT Libraries For Various Instruments
Top 9 Piano Kontakt Sample Libraries  (And 5 Best Free Pianos)
Top 10 Percussion KONTAKT Libraries  (And 3 Freebies)
Top 7 Kontakt Libraries For Horror & Thriller Scoring (No VSTs)
Audio Restoration, Calibration & Utility:
Top 6 Noise Reduction Plugins (And 3 Best Free Tools)
6 Best Audio Restoration Plugins & Software 
Top 7 Phase Alignment Plugins To Fix Your Bass & Drums
Top 10 Room Calibration & Headphones/Speakers Correction Plugins 
Instrument Plugins: 
Top 6 Vocoder Plugins (Effects & Synths + FREE Vocoder)
11 Best Rhodes VST Plugins (AND 5 Free Rhodes Plugins)
Top 12 Randomizer Plugins Including FREE Plugins
Top 6 Kick Drum Plugins (Best Kick Designer Tools)
Top 12 Woodwind Plugins (And KONTAKT Libraries)
Top 10 Double Bass Plugins (Best Upright Basses)
Top 5 Strings VST Plugins (AND 4 Best Free Instruments)
Top 6 Sampler Plugins (And 3 Best FREE Plugins)
Top 6 Classical Guitar Plugins & Kontakt Libraries (And FREE Guitars)
Top 12 Sub Plugins (Best 808 & Bass Tools For Massive Low End)
Top 10 Plugins On PluginBoutique (And 7 Best Free Plugins)
Top 11 Plugins On Plugin Alliance 
Top 7 Acoustic Guitar Plugins (And 4 Best Kontakt Libraries)
9 Best Bass Guitar Plugins (And 2 Best Freebies)
Top 6 Electric Guitar Plugins (Best PAID & FREE Picks)
Top 10 Arpeggiator VST Plugins (Best Synths, MIDI Effects & Tools)
Top 10 Modular Synth Plugins (And 3 Best FREE Plugins)
Top 6 Choir Plugins & Sample Libraries (And 3 Best Free Plugins)
11 Best Percussion & Drum VST Plugins (And FREE Plugins)
Top 8 Piano Plugins (Best Sounding Pianos & 5 FREE Piano Plugins)
Top 6 Organ Plugins Ever Made  (And 3 Best Free Organs)
Top 14 VST Plugins For Beginners (And 9 FREE Plugins)
Top 9 Drum Machine Plugins (And Groovebox Plugins)
4 Best Banjo Plugins (Best Banjo Instruments)
The 5 Best Ukulele Plugins & Kontakt Libraries 
Top 13 Synth Plugins (And 5 Best FREE Synths Plugins)
Top 13 Sequencer Plugins  (Synth, MIDI & Step Sequencers)
The 10 Best Multi-Effect Plugins (And 3 Best Free Plugins)
Top 12 Plugin Bundles For Musicians (Synths, Mixing & Mastering)
Processing & Sound Design:
8 Best Lo-Fi Plugins (PAID & FREE)
Top 11 Plugins For Mixing Vocals  (For Home Studio)
Top 12 Saturation Plugins (Best Mixing & Mastering Tools)
Top 6 Pitch Shifter Plugins (And 3 Best FREE Pitch Shifters)
Top 6 Chorus VST Plugins For Musicians (And 3 FREE Plugins)
Top 6 Limiter Plugins For Precise Mastering & Mixing
The 8 Best Filter Plugins For Precise Cuts & Boosts (+ 5 Free Filters)
6 Best Autotune Plugins To Improve & Enhance Your Vocals
Top 10 Transient Shaper Plugins (VST, AU, AAX)
Top 7 Enhancer Plugins (For Bass, Drums, Vocals & Harmonics)
Top 6 Flanger Plugins (And 5 Best FREE Flanger Emulators)
Top 7 Phaser Plugins (And 3 Best FREE Phasers)
Top 10 Plugins For Mixing Drums (And 3 Best Free Plugins)
Top 7 Bitcrusher Plugins (And 4 Best FREE Bitcrushers + 3 Bonuses)
Top 6 Plugins For Voice-Over & Dialogue Cleaning (Post Production)
Top 10 Stereo Imaging Plugins (Best Old & Modern Picks)
Top 5 Multiband Limiter Plugins 
Top 7 De-Esser Plugins For Better Vocals (And 4 FREE Plugins)
Top 7 Clipper Plugins (Best Limiter Alternatives)
Top 6 Chord Generator Plugins That Inspire Melodies (+ FREE Tools)
7 Best Exciter Plugins For Mixing & Mastering
Top 7 Channel Strip Plugins (And 2 Best Free Plugins)
Top 11 Distortion Plugins (And 4 Top Free Plugins)
Top 5 Comb Filter & Resonator Plugins | Melda, Kilohearts, Tritik
The 7 Best Vibrato VST Plugins | Audec, Audiority, Melda
The 7 Best Tremolo Plugins | Eventide, Melda, SoundToys, Kuassa…
The 7 Best Harmonizer Plugins | Eventide, Melda, Aegean Music
7 Best Sidechain Plugins (VST, AU, AAX) | Xfer, Cableguys..
Top 10 Noise Gate Plugins (And 6 FREE Free Gate Tools)
The 6 Best Ring Modulator VST Plugins | KiloHearts, Melda
7 Best Autopan VST Plugins | CableGuys, Melda, Waves, Soundtoys
The 6 Best Frequency Shifter VST Plugins
Top 11 Granulizer Plugins For Future Sound Design
29 Best Sound Design VST Plugins
Compressor Plugins
Top 11 Free Compressor Plugins (VCA, Vari-Mu, FET, Digital)
Top 7 Multiband Compressor Plugins (And 4 FREE Plugins)
Top 5 Diode-Bridge Compressor Plugins 
Top 6 Mastering Chain Plugins: Complete VST Solutions 
The 7 Best VCA Compressor Plugins (VST, AU, AAX)
Top 11 Mastering Compressor Plugins (And 2 FREE Plugins)
Top 10 Opto Compressor Plugins For Transparent Sound
The 7 Best Vari-Mu Compressor Plugins (And 2 Best FREE Tools)
Reverb & Delay Plugins:
Top 12 Reverb Plugins (And 5 FREE Reverb Plugins)
The 6 Best Spring Reverb VST Plugins | AudioThing, GSi, u-he, Eventide
Top 12 Delay Plugins For Music Production In (VST, AU, AAX)
Top 10 FREE Delay Plugins (VST, AU, AAX)
The 10 Best Convolution Reverb Plugins 
Amps & Preamps:
Top 10 Guitar Amp Plugins (And 5 Best FREE Simulators)
Top 10 Bass Amp Plugins (And 5 Best Free Simulators)
Top 9 Preamp Plugins (For Vocals, Guitars & More!) + Free Preamps
Guitar/Amp Focused:
Can I Put Nylon Strings on a Steel-string Guitar?
Do Electric Guitars Sound Good Unplugged?
Buying Your First Guitar: 2 Things To Know
Are Tube Amps Worth It? (Tube vs Solid-State Amps)
How Often Does A Guitar Need a Setup?
Can I Play Classical Guitar On A Steel-String Guitar?
How often guitar necks need reset?
Can You Play Two Guitars Through One Amp?
Can a 6 String Bass Be Tuned Like A Guitar?
Can I leave My Guitar Tuned Down a Step? Yes, But Is It Safe?
Should I Learn 4, 5 Or 6 String Bass Guitar & Why?
How To Know If your Guitar Amp Is Broken?
How To Fix Distorted Bass Guitar Sound?
Do Fender Guitars Appreciate In Value?
Should You Put Stickers On A Bass Guitar?
How Acoustic And Electric Guitars Are Made?
Is Electric Guitar Too Loud for an Apartment?
Does a Preamp Improve Sound Quality?
If I Learn Acoustic Guitar Can I Play Electric Guitar?
How Many Hours A Day Should You Practice Bass Guitar?
Do I need an AMP/DAC To Run Bookshelf Speakers?
How to Record Electric Guitar Into Logic Pro X?
Do headphones get worse with age?
DAW Related:
Best DAWs For Musicians Available (With FREE DAWs)
What's The Most CPU Efficient DAW? – 5 DAWs Compared
How To Make Music Without Using A DAW?
Pro Tools Guide: How To Use AutoTune & Pitch Correction?
Ableton Review: Is It Worth The Money? (Cons & Pros)
Logic Pro X Review: Is It Worth It? (Cons & Pros)
How To Use Auto-tune & Pitch Correction In Cubase?
How To Fix Ableton Crackling, Crashing & Freezing? Step By Step
Plugin Related:
What Are Audio Plugins? Different Types of Plugins Explained
What Are The Best Tools To Develop VST Plugins & How Are They Made?
Cost of Developing Audio VST Plugin: Several Factors (With Table)
VST, VST, AU and AAX – What's The Difference? Plugin Formats Explained
Complete Guide To Noise Gate – What It Is, What It Does & How To Use It?
How To Clip My Drums? Here Is How & Audio Teasers (Before/After)
Complete Guide To Limiter: How To Use It (+ Best Plugins & Analog Limiters)
Mixing With Reverb: How To Add Life To Your Mixes
Linear Phase vs Minimum Phase EQ – Full Guide
Difference Between LUFS, RMS & True Peak Loudness Meters
How And When To Use Algorithmic And Convolution Reverb In Your Mix?
Difference Between Active EQ, Passive EQ and Dynamic EQ
Headphones & Studio Monitors:
Do headphones get worse with age?
Monitors vs Studio Headphones For Mixing & Mastering
Top 10 Room Calibration & Headphones/Speakers Correction Plugins 
Are Noise-Canceling Headphones Good For Music Production?
Can Headphones Break in Cold Weather?
Why do headphones & cables get sticky?
Can Wearing Headphones Cause Hair Loss?
How Do I know If My Studio Monitor Is Blown?
Side Effects Of Sleeping With Your Headphones On
Do You Need Music Amplifier For Studio Monitors or Studio Headphones?
Do Headphones or Earphones Damage Your Brain?
Can Headphones or Earphones cause Deafness or Toothache?
FarField, MidField & NearField Monitors – Their Uses, Pros & Cons
MIDI & Synths:
Should I Buy A MIDI Keyboard Or Synth? (Are Synths Worth It Anymore?)
Why Is Audio Gear So Expensive? (Especially Synths)
Top 12 Synth Brands – Analog, Digital & Modular Synth Manufacturers
11 Tips How To Choose MIDI Keyboard 
Sultan Zafar is a guitar player from Islamabad, Pakistan. He has been playing music with various mainstream musicians for over 20 years. He is a song writer and music producer. These days he spends his time exploring different music genres and collaborating with fellow musicians on various projects. Read more..